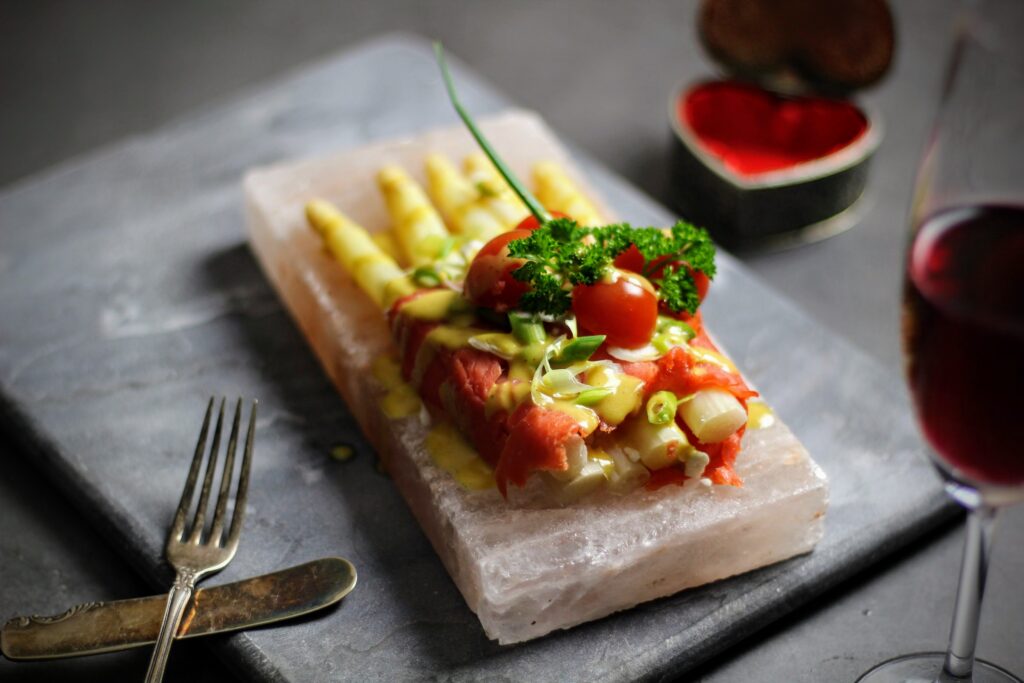 Savor a Romantic Valentine's Dinner at Home with Recipes from California's Boutique Inns
The most memorable moments in any love story often occur during quiet, candlelit dinners at home. In fact, no matter the love language, few romantic gestures can compete with a home-cooked meal exquisitely presented. We asked California innkeepers—known for their ability to conjure romance—for their most amorous dinner recipes for two. Featuring ingredients that are accessible yet unexpected, any of these appetizer, entrée, or dessert options is sure to set the mood for a romantic evening.
White Asparagus Wrapped with Smoked Salmon
Milder and a bit sweeter than its green counterpart, white asparagus has been a European delicacy since the 1600s. The venerable East Brother Light Station carries on the tradition with this recipe for White Asparagus Wrapped with Smoked Salmon. In this make-ahead-and-serve-cold dish, cream-colored asparagus is blanketed in vibrant pink smoked salmon, then dressed with a tart, mustard-based vinaigrette. The result is a bright, palate-cleansing appetizer or light entrée that evokes the colors of romance and the anticipation of spring.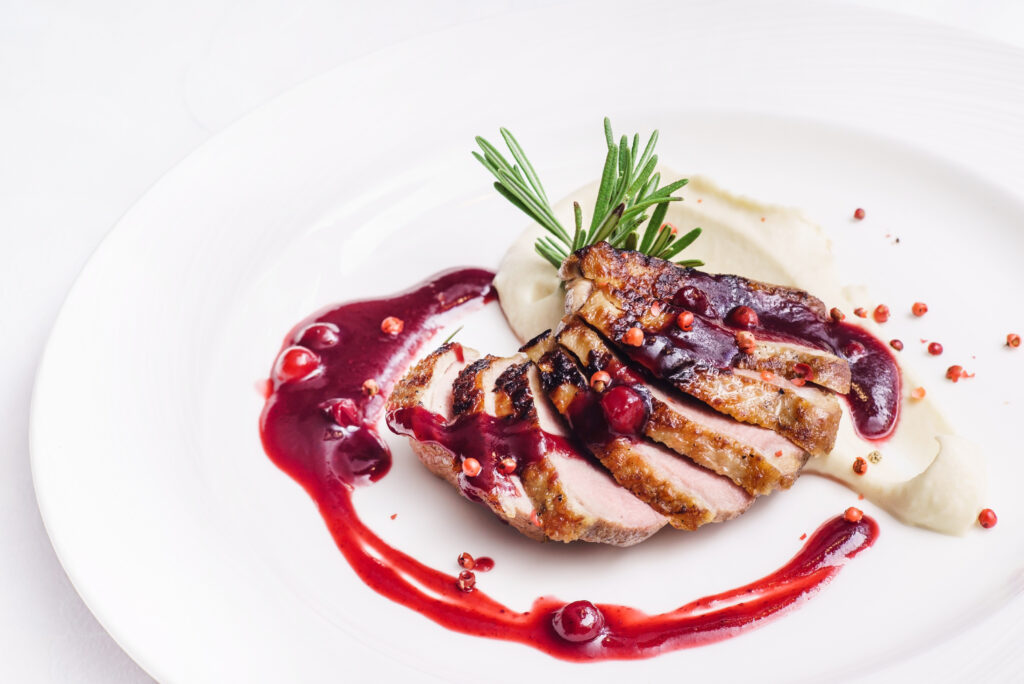 Pan-Seared Duck Breasts with Cherry Pinot Noir Sauce
A modern interpretation of the classic French Caneton aux Cérises (roast duckling with cherries), Ballard Inn & Gathering Table's Pan-Seared Duck Breasts with Cherry Pinot Noir Sauce is easy to prepare, but retains all of the flavor of a special occasion dish. The duck breasts are pan-seared to render some of the fat and crisp the skin, roasted to medium-rare, and then paired with a delicately sweet reduction featuring cherries, raisins, brandy, and red wine. Serve with creamy polenta or pureed potatoes to create an impressive Valentine's Day meal.
Tofu Satay with Peanut Sauce
One of the most popular menu items at Stanford Inn by the Sea's Ravens Restaurant is their Tofu Satay with Peanut Sauce. Teriyaki tofu is skewered and lightly grilled, then served alongside a Thai-inspired sauce featuring coconut milk, cilantro, lime, and crunchy peanut butter. Whether served as an appetizer or entrée, this vegan recipe offers maximum results for minimal effort. Pair the tofu satays with sticky rice and a simple green salad for a romantic dinner for two.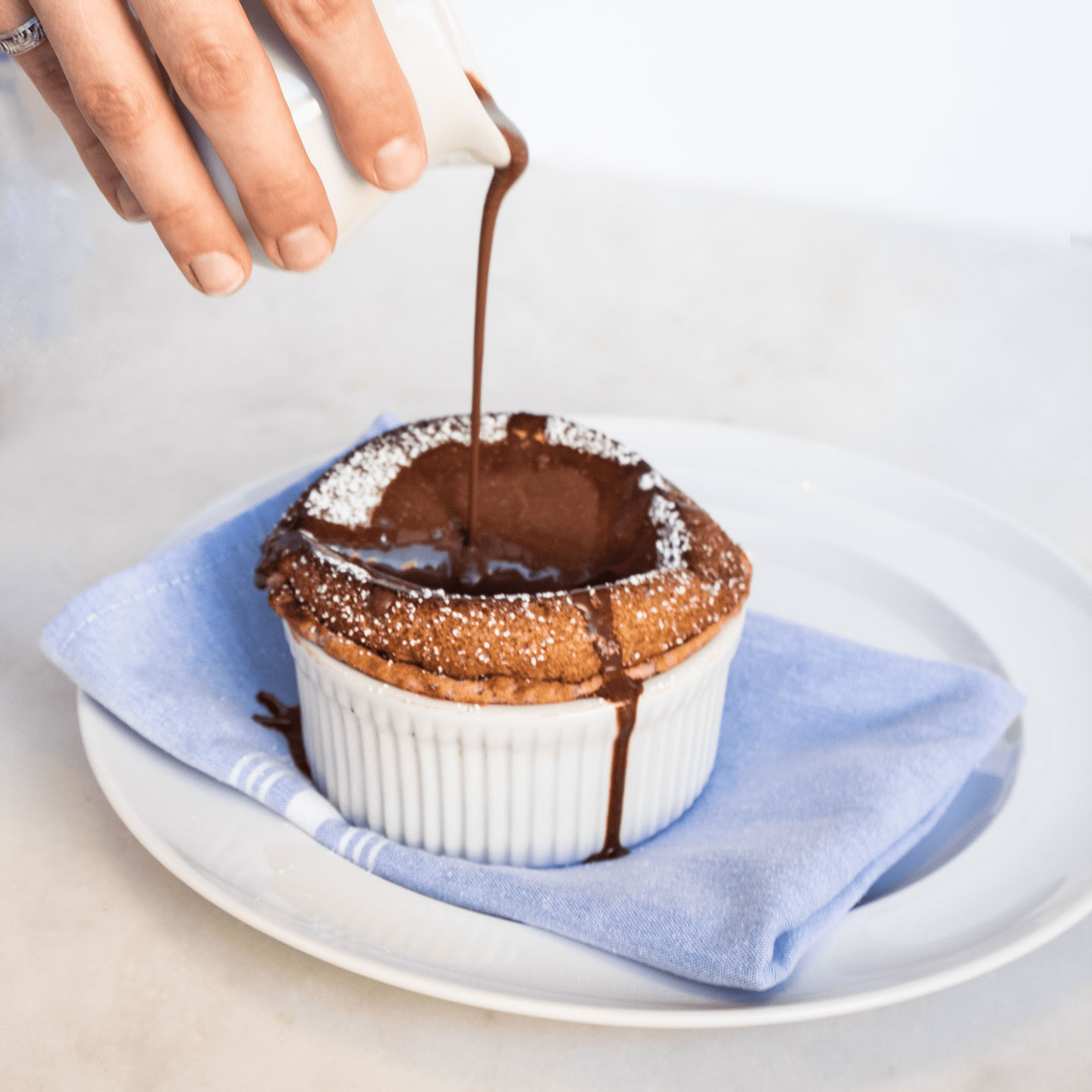 Raspberry Souffle
Raspberry Souffle is the last of seven courses Hotel Cerro will be serving this Valentine's Day weekend, each course inspired by one of the Seven Deadly Sins. The seventh sin is lust, hardly an exaggeration when describing this classic pairing of fluffy meringue, dark chocolate, raspberries, and crème anglaise. Attempting a souffle might not seem like the safest bet for a date, but it sends an unmistakable message: "I'd risk it all for you."