The Avalon Hotel on Catalina Island
Spring Breezes on Catalina Island at The Avalon Hotel
Spring on Catalina Island can be magical.
An unusually high rainfall this year is sure to bring a super bloom of wildflowers, including lupin, indian paintbrush, poppies, mariposa lilies and bush sunflowers to the interior of the island. Plus the rugged hills will be lush with tall grasses, scrub oaks and flowering cacti as mule deer, Catalina fox and the ever popular American bison roam the pristine, wild interior. Guests can trek into these wildlands via the Trans Catalina Trail (TCT), a guided Jeep Eco Tour or via mountain bike through the help of Bike Catalina.
Or get a unique vantage point from a 2-3 hour sailing charter aboard a 36 foot sailboat with Catalina Adventure Sailing that can cruise up the coast past lush canyons where American bald eagle nest or see pelicans fly in formation as they patrol for bait fish and pods of dolphins, sometimes numbering in the hundreds, will flank the boat and dance an underwater ballet as they surf the bow swell of the boat as it motors up the coast towards the majestic Long Point and keyhole rock.
Or perhaps journey south east towards the east end of the island to sail past a sea lion rookery and past Church Rock just in time to see the sun dip below the distant south Pacific's horizon while enjoying a glass of wine and light refreshments.
All this can be enjoyed by contacting the helpful innkeepers at The Avalon Hotel who will help put together a custom Spring Breezes on Catalina Package that will include:
• 2 round trip tickets on the Catalina Express cross-channel ferry from 4 ports in Southern CA
• Complimentary taxi from Avalon port to hotel
• 2 night, mid-week stay in one of sumptuous guest rooms decorated in the Craftsman Style
• Extended Continental Breakfast each morning in our private Koi Pond Garden
And for additional charge, concierge can arrange any of following:
• Shuttle to Airport in the Sky and Mountain Bike back past wildflowers through rugged interior hosted by Bike Catalina.
• 2-3 hours boat cruise along sheltered side of island or sunset cruise past east end of island to view open Pacific.
• Private jeep tour of the interior to track down Catalina wildlife, see pristine beaches and coves and seek out the super bloom of wildflowers.
Base package of 2 nights in a Garden View Room with 2 roundtrip ferry tickets starts at $353 per person, excluding excursions, double occupancy required. Balcony View and Ocean View rooms available for upcharge. Described excursions require an extra, per person charge. Inquire at time of booking.
This package is available from March 19th, 2023 to May 12, 2023 and is available by calling one of our helpful innkeepers during desk hours from 8am to 6pm daily at 310-510-7070.
Package is dependent on availability of desired room type and activities which could be affected by weather conditions.
Second Summer- 3rd NIGHT FREE
Now you have more time to relax! Stay 2 nights and get the 3rd night free, any mid-week Sunday -Thursday  nights where we have availability, excluding Fri and Sat nights. Starting at $782 per couple with taxes included.
Package Includes:
3 nights, mid-week, in any of our room types
Taxi transfers to and from hotel
Extended continental breakfast in our koi garden
Lined bathrobes
Use of Beach Bag and Beach Towels during your stay
Complimentary in-room beverages
This special applies to new reservations only. Travel must be completed before November 2nd, 2023 and can not be combined with any other offer. Reservations can be made by  visiting theavalonhotel.com/specials or by calling 310-510-7070 8am-7pm daily to speak with a personal concierge to help you plan your visit. Offer is valid  August 20th, 2023 – November 2nd, 2023.
#BeachVibes On Catalina Island Boat & Hotel Package
We've got your summer California getaway completely planned with gear for a perfect week with your toes in the sand on Catalina Island: beach day kit, boat fare and a luxurious hotel stay. We make it easy with this bundled, mid-week package of round trip ferry tickets and two nights' accommodation. Just 100 steps from the shore we have all you need for a great vacation at the beach.
Stay Midweek At Catalina Island's Top Rated Hotel
This Catalina Island Ferry and Hotel Package is at one of the highest rated Catalina Island hotels according to Google, TripAdvisor and Yelp.
Packages start at $474 per person – 2 night, double occupancy required.
This Avalon Hotel & Catalina Ferry Package Includes:
2-night stay in a Garden View room for 2 guests
2 round-trip boat tickets on the Catalina Express or Newport Flyer.
FREE taxi to and from the hotel once you arrive in Avalon.
2-night stay in a Garden View room for 2 guests
Extended Continental Breakfast in our private, koi pond garden.
Beach Expedition Kit: beach chairs, tote, towels, bottled waters and sunscreen.
Expert recommendations on beach spots, restaurants, shops within easy walking distance.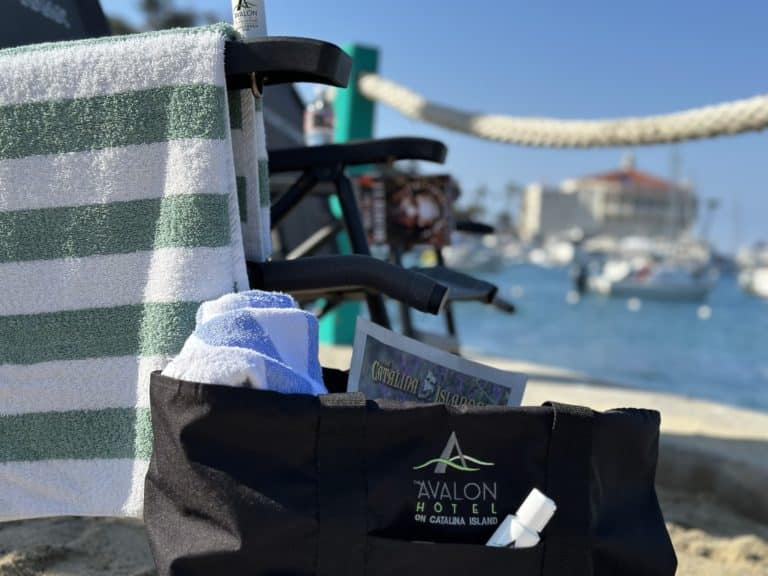 Please inquire about packages for more than 2 guests or upgrades to partial or full Ocean View rooms with balconies and about arranging first-class cabin on The Catalina Express, called "The Commodore Lounge". Valid now through to November 3, 2022. Package available for midweek stays Sun-Thur (excludes Fri & Sat nights). Can not be combined with other offers or discounts. Valid June 4, 2023 to Oct 17, 2023. – Holidays and Special Event dates excluded. Please call 310-510-7070 or book online to reserve.