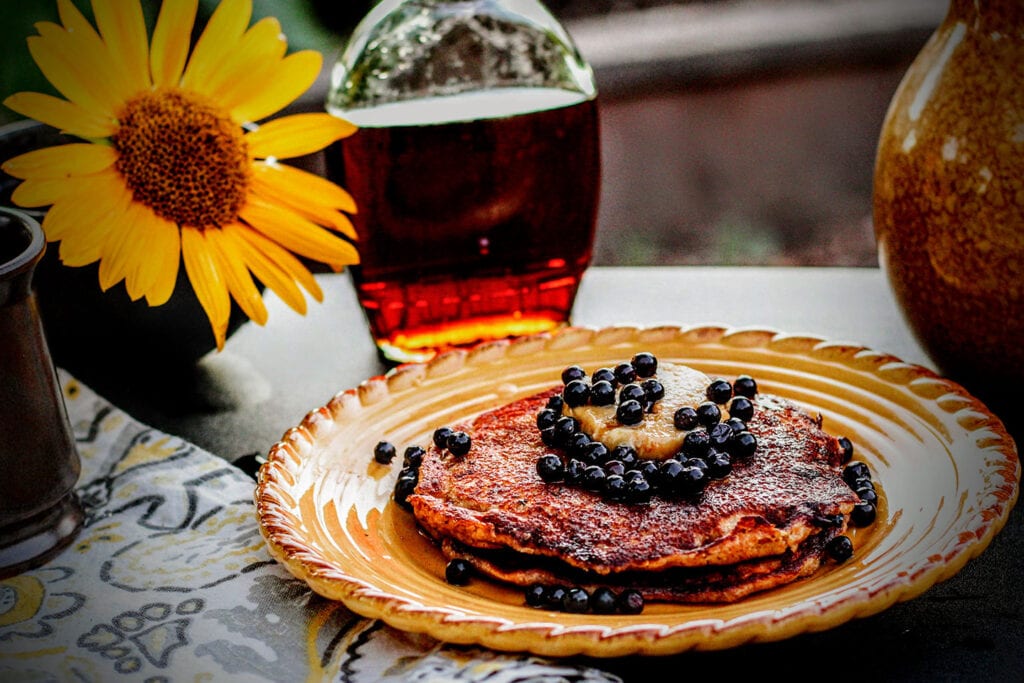 Wild Huckleberry Whole Wheat Pancakes with Pine Nut Butter
Among all the seasons, I can always count on summer to make me crave food that's locally grown, seasonally harvested, and minimally processed. But despite a return to this type of food in recent decades by the modern foodie culture, I associate this simpler, slower way of eating with my grandparents. I suppose I'm drawn to how natural and uncontrived their food choices were at the time. For my grandparents—at least when they were children—there was no such thing as "organic produce" or "whole wheat," or "wild berries." For my grandparents, they were just "produce," "wheat," and "berries."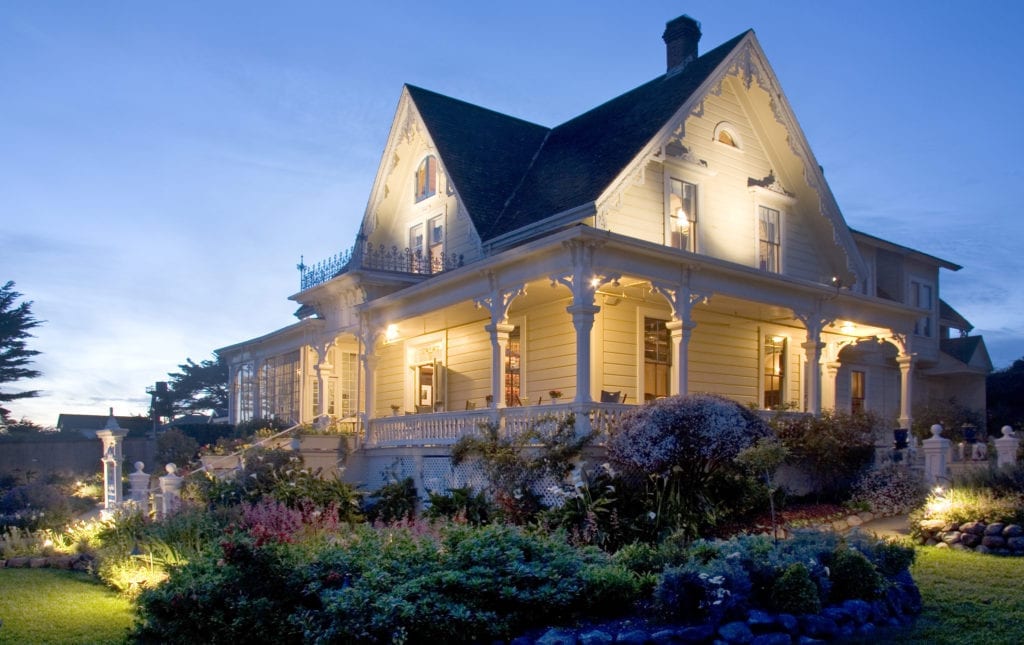 I came across a recipe recently from the MacCallum House Inn in Mendocino, whose title brought back vivid memories of summer in my grandparents' garden. I remember asking my grandmother repeatedly when the huckleberries would ripen. They seemed to be taking forever. It's getting to be about that time now where I live, so I couldn't help but smile and read on. It turns out the recipe featured not only whole wheat and fresh huckleberries, but it was also low in refined sugar and saturated fat. In fact, if I'd skipped the pine nut butter, these pancakes would have been even lower in both. But in this case, I did not skip the pine nut butter.
These hearty pancakes managed to also be light and fluffy, a balance that made me feel at once grounded and indulgent. The tiny huckleberries did their own balancing act between sweet and tart, and a thick pat of pine nut butter melted with a drizzle of maple syrup to add just the right amount of sweetness and richness. The next time I make this recipe I might go for the optional ice cream topping. But this time, I kept it simple. Just like my grandparents would have.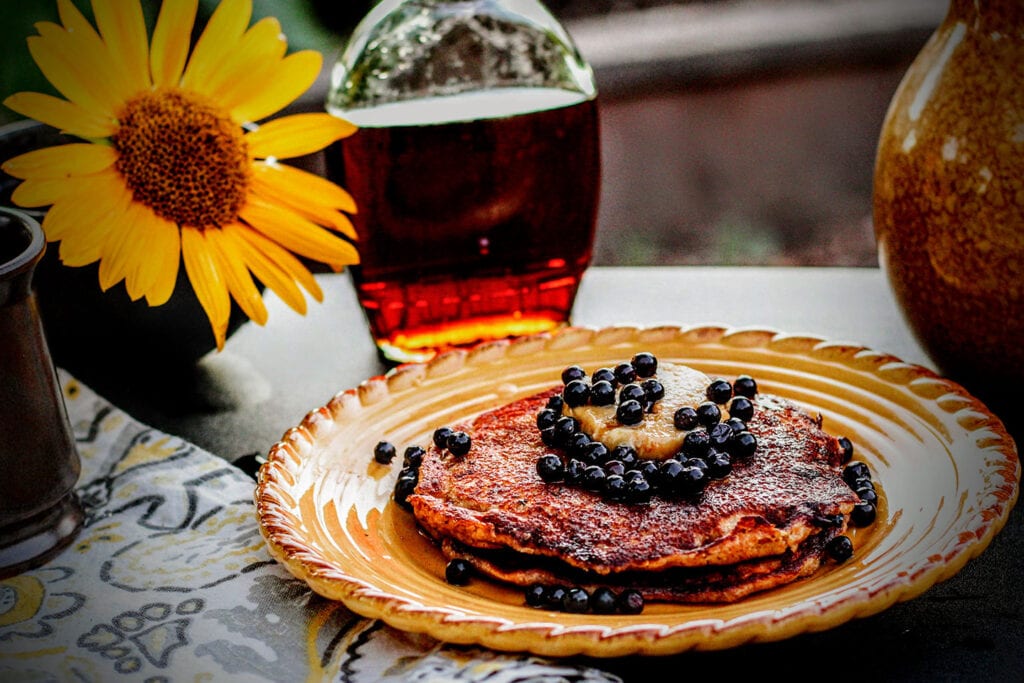 Wild Huckleberry Whole Wheat Pancakes with Pine Nut Butter
Courtesy of MacCallum House Inn
Makes 6 Servings
Ingredients
Dry Ingredients:
1 cup organic whole wheat flour
½ cup whole wheat pastry flour
¼ cup toasted wheat germ
¼ cup wheat bran
2½ teaspoons baking powder
1 teaspoon baking soda
½ teaspoon sea salt
Wet Ingredients:
¾ cup canola oil
2 cups buttermilk
2 eggs
1 tablespoon honey
½ teaspoon vanilla extract
½ cup applesauce
¾ cup huckleberries
Butter for griddle
Pine Nut Butter:
½ cup toasted pine nuts*
½ teaspoon sea salt
1 stick unsalted butter, sliced into ½-inch pieces
2 tablespoons powdered sugar
Toppings:
Maple syrup
More fresh huckleberries
Vanilla ice cream (optional)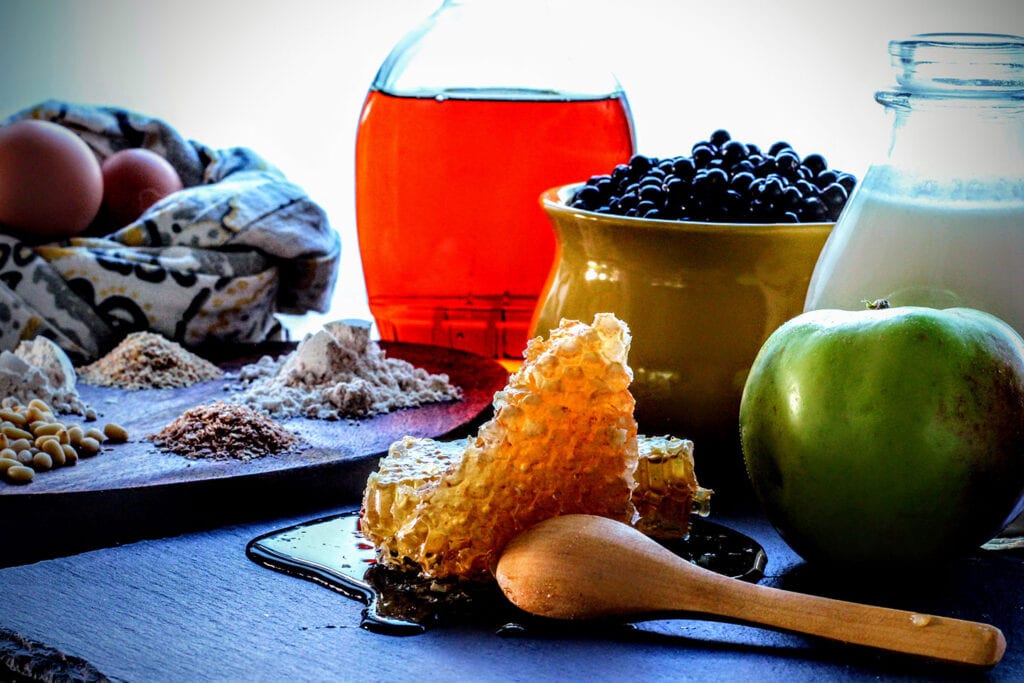 Directions
To make the pine nut butter, purée pine nuts* and salt in a food processor until smooth like a creamy peanut butter. Put all of the pine nut butter ingredients into a mixer with a paddle and mix until smooth, scraping down the sides as you go. The butter will be very soft. Place mixing bowl in the refrigerator until the mixture sets up enough to form into a log (about 15 minutes). Place butter log on parchment paper and roll into a 2-inch diameter log to store for future use.
*To toast pine nuts: Preheat oven to 350°F. Place nuts in a single layer on a sheet pan and toast in oven until slightly golden (approximately 8 minutes); watch them carefully so they don't burn.
In a medium bowl, mix together dry ingredients (wheat flour, pastry flour, wheat germ, bran, baking soda, and salt).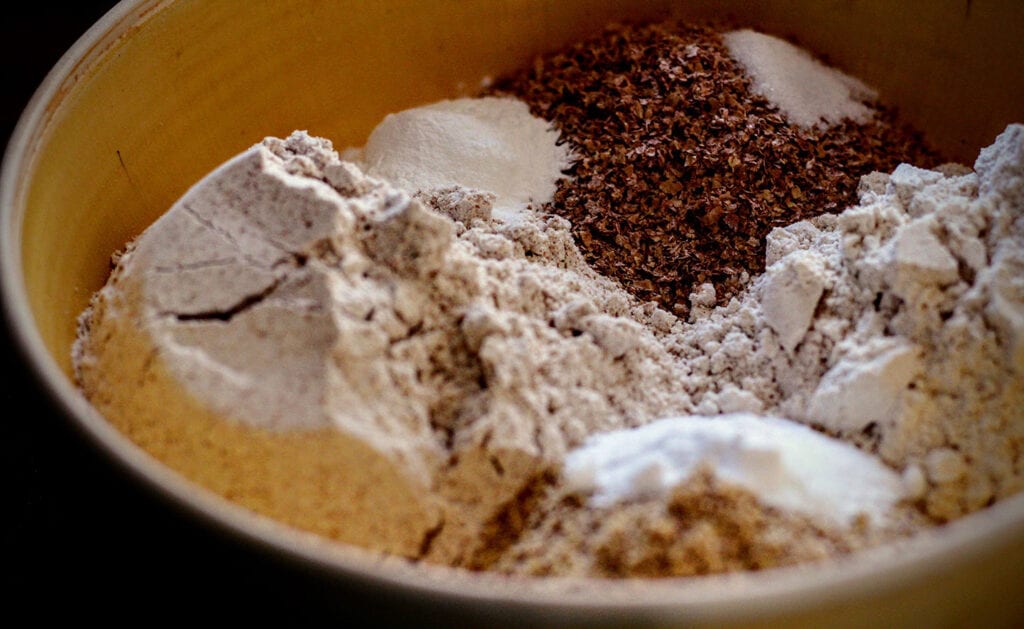 In a large bowl, mix together wet ingredients (oil, buttermilk, eggs, honey, vanilla extract, and applesauce).
Combine wet and dry ingredients, stirring just until mixed (leave mixture slightly clumpy – do not overmix or pancakes will be tough).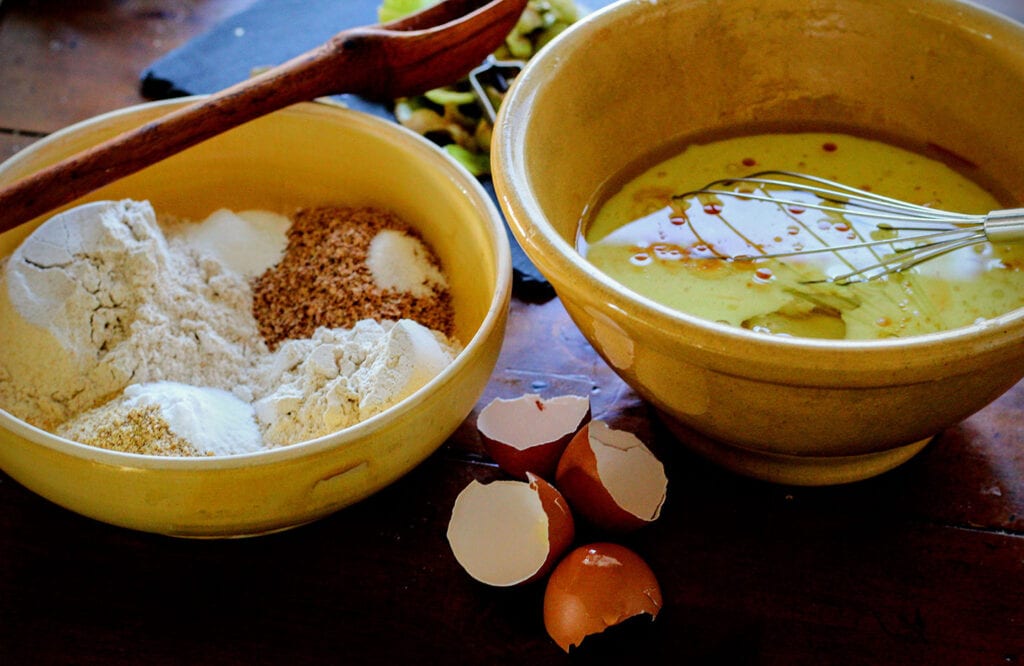 Melt butter on a heated griddle or skillet. Pour batter by half-cupsful onto griddle; scatter 1 tablespoon of huckleberries over top.
Cook until bubbles appear at the edge of the pancake. Flip over and cook until golden brown on the other side.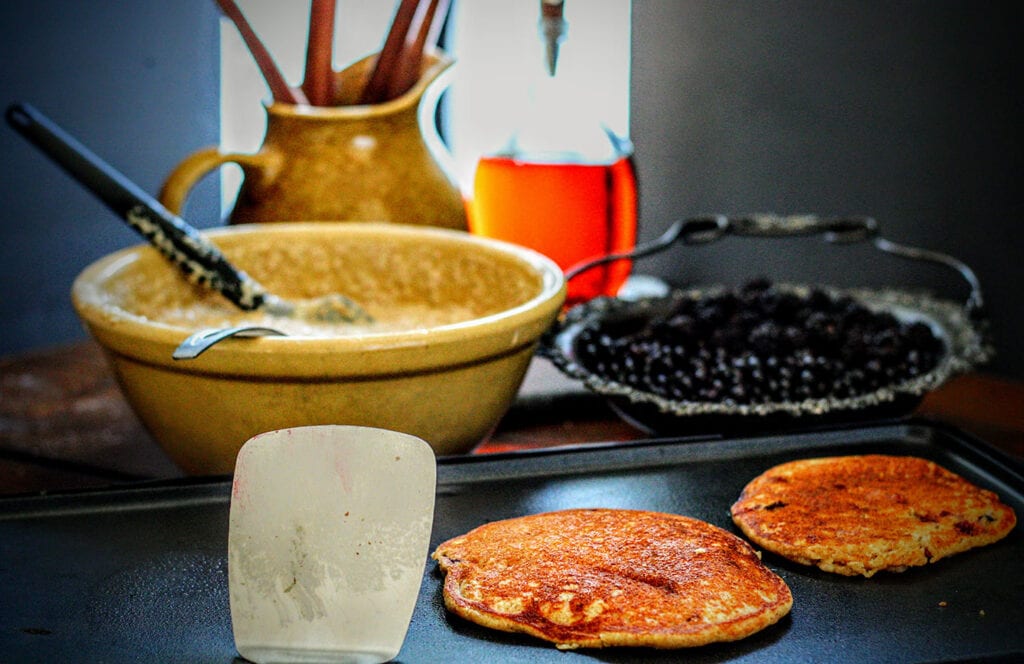 Place two pancakes on a plate and top immediately with a ¼-inch slice of the pine nut butter. Drizzle with maple syrup. Garnish with huckleberries and a scoop of vanilla ice cream if you like.