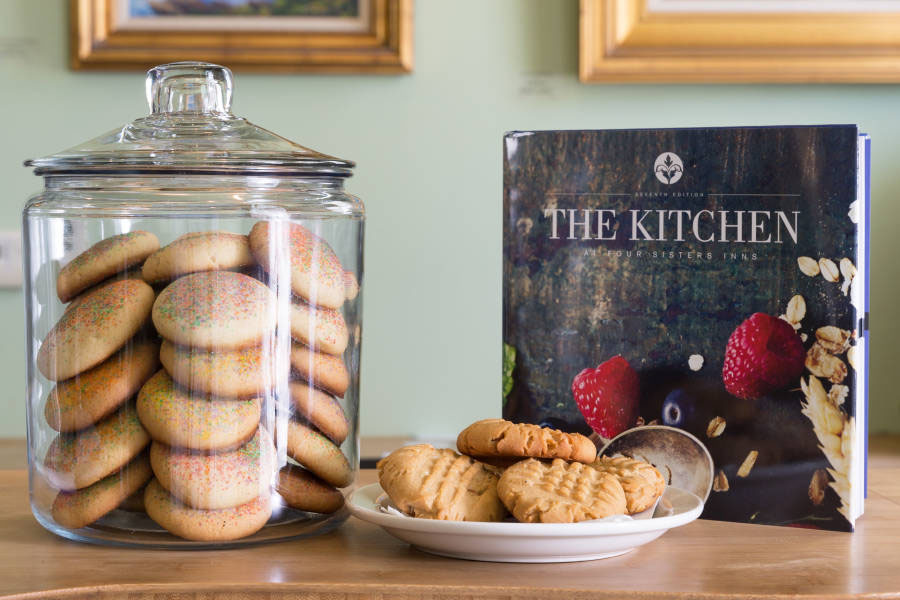 Unique Holiday Gift Ideas from California Boutique Hotels
Boutique hotel gift shops are notable for their unique and locally-crafted items that make for fabulous gifts. With the holidays approaching and many California inns shuttered due to the new stay-at-home orders, you can support these small businesses (and the local artisans they help sustain) by purchasing holiday gifts from their gift shops. We've compiled a list of inns with cool gift shop finds for those hard-to-please people on your list. Many of the gifts are available for purchase online, while others are just a phone call away.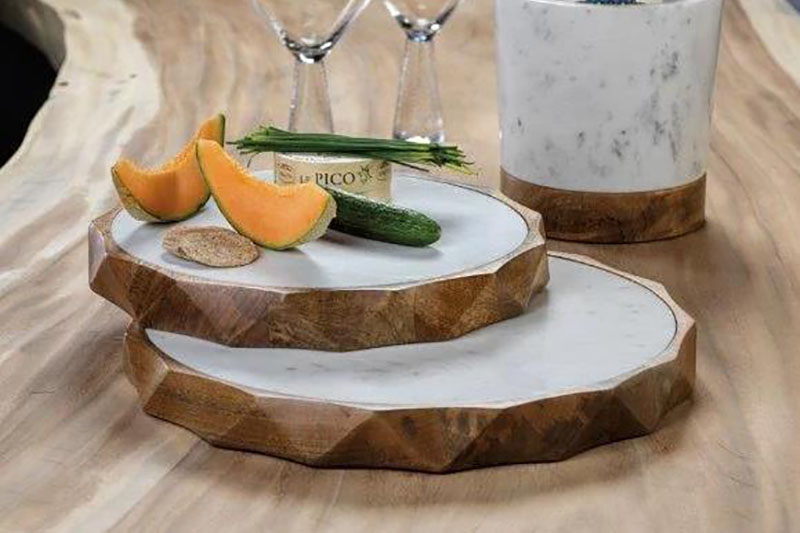 The Madrones
Nestled in the heart of the Anderson Valley wine country, the gift shop at The Madrones is a veritable guide to the good life and a well-curated resource for unique holiday gifts. Check out the stylish serving boards pairing mango wood with polished white marble or the delicate, hand-etched glassware inspired by nature. The inn's extensive online gift shop also features handsome barware, fashionable eyewear, cashmere scarves, unique wallets and purses, bath and body products, books, journals, puzzles, crafts, games, and novelty gifts with a healthy dose of wry humor.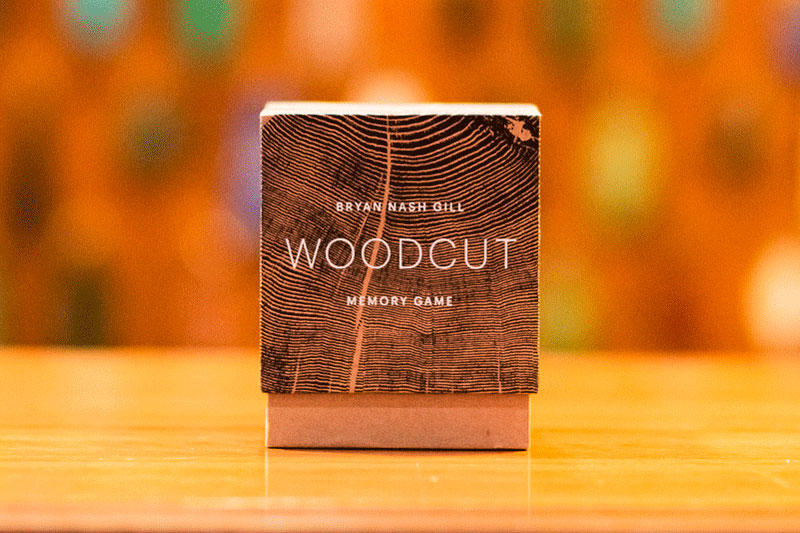 The Redwood Riverwalk Hotel
On the northern end of Humboldt County's famed Avenue of the Giants, The Redwood Riverwalk Hotel's TR Mercantile bills itself as "a resource for mostly useful things." There are no cheap shot glasses or plastic snow globes here; just unique gifts from the redwood coast that share the love for the world's tallest trees. One of the coolest gifts is a memory game featuring woodcut prints made from cross sections of trees and the mesmerizing patterns of their arboreal rings. The online gift shop also features vintage postcards, games, and books.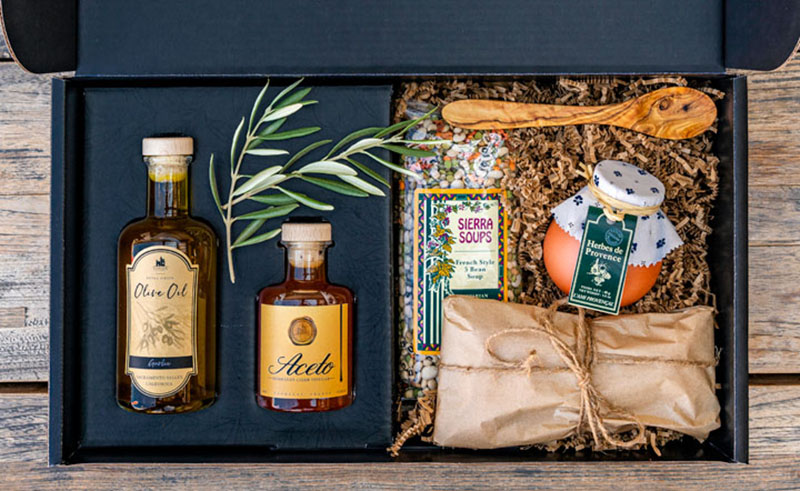 The Inn at Europa Village
Gift a taste of Europe from Southern California's The Inn at Europa Village in Temecula Valley wine country. One of the highlights of the inn's the online shop is its seasonal, curated collections of imported olive oils and specialty vinegars paired with unique culinary finds. The items are packaged in a beautiful gift box and shipped four times a year. It's an ideal gift for the home chef. The online shop also includes over 20 wines from Europa Villages' three on-site wineries and wine club memberships.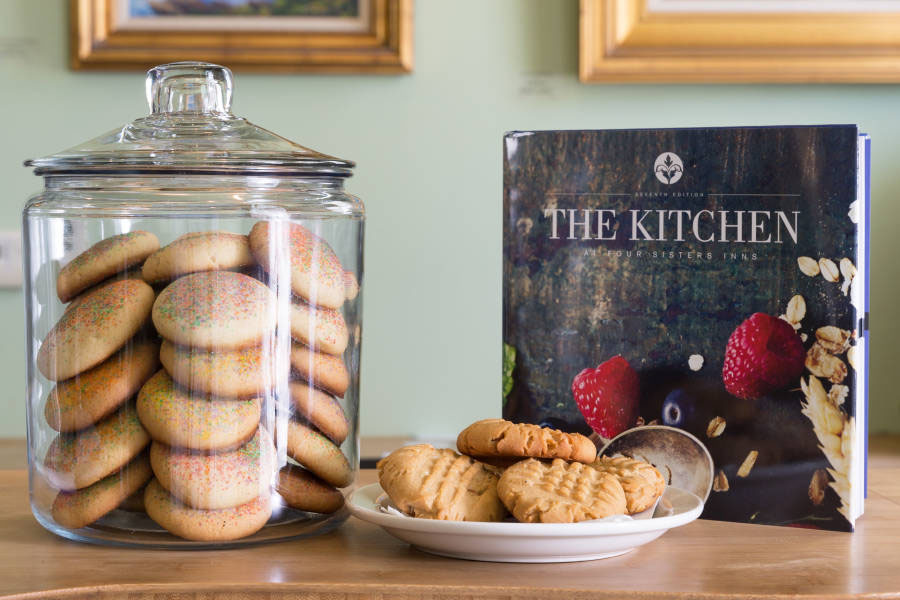 Four Sisters Inns
Four Sisters Inns is a stunning collection of 17 boutique inns and hotels located in the most spectacular destinations of California. Guests of the inns have often requested recipes, which led to the compilation of a cookbook, The Kitchen at Four Sisters Inns. Now in its seventh edition, the beautiful, hardbound, full-color cookbook includes more than 100 recipes. Recipe categories include breakfast sweets, breakfast dishes, cookies, tea time sweets, tea time savories and a new section, "happy hour." The cookbooks can be requested through the Four Sisters Inns' website.
Nick's Cove & Cottages
Overlooking Tomales Bay, Nick's Cove is a collection of historic seaside cottages with one-of-a-kind gifts in its online gift shop. One of the highlights from the shop are the cotton tea towels with whimsical illustrations by Nicky Ovitt. Another popular item is the inn's very own handcrafted s'mores kit featuring house-made graham crackers and marshmallows with TCHO Chocolates. The online shop also features the inn's luxurious microfiber robes, wine glasses, corkscrews, and logo apparel.
The Casitas at Arroyo Grande
At The Casitas at Arroyo Grande, one of the questions they hear most from their guests is "where did you get those sheets?" The inn prides itself on providing guests with a good night's sleep and a great breakfast.  But while they can't ship their breakfasts, they can easily send you their sheets. The incredibly soft and durable sheet sets, which are made by Comphy Company, are available for purchase at discounted pricing through an order form on the inn's website.  The sheet sets are available in a variety of sizes and colors and make a fabulous holiday gift.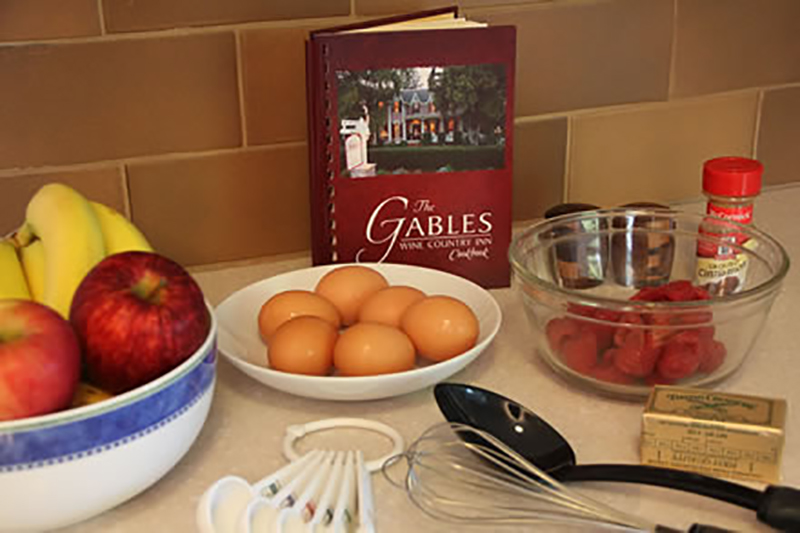 The Gables Wine Country Inn
In Sonoma wine country, The Gables Wine Country Inn's online gift shop features an assortment of creature comforts to gift for the holidays. Items include beautifully packaged lavender bath salts, soaps, shower gels, and candles made with Sonoma lavender, hand-thrown ceramic coffee mugs, Comphy Company sheet sets, and the inn's long-awaited cookbook. The cookbook features many of the inn's beloved recipes such as its Breakfast BTL, Eggs Gruyère with spinach and almonds, Cajun Bread Pudding, Pam's Lavender Blackberry Scones and Lemon Muffins, and more.
The Purple Orchid Wine Country Inn & Spa
In Livermore Valley, The Purple Orchid Wine Country Inn & Spa's online gift shop features quality skin care and spa products from Eminence, LaCuna Botanicals, and Grecian Soap Company. A spa night gift pack includes all-natural body scrub, lotion, and soap in a choice of three scents. Other highlights from the online shop include the inn's very own Handprints Estate Extra Virgin Olive Oil (which is made from olives grown on-site), the inn's luxurious bath robes, and Comphy Company sheet sets and neck wraps.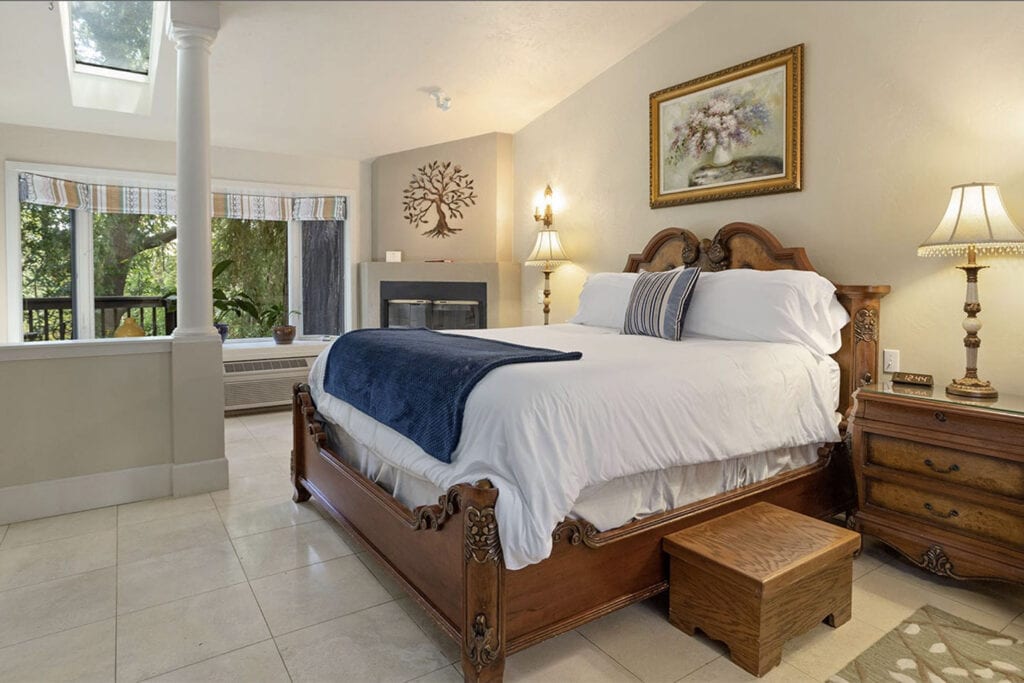 Candlelight Inn
The Candlelight Inn near downtown Napa also features Comphy Company's luxurious linens in its guest rooms and makes the sheet sets available for purchase through its website.  The incredibly soft, microfiber fabric sheet sets make indulgent gifts and are available in a variety of colors and sizes. The sets include an 18-inch fitted sheet, flat sheet, and two pillowcases. To browse the selections and place an order, visit the inn's website.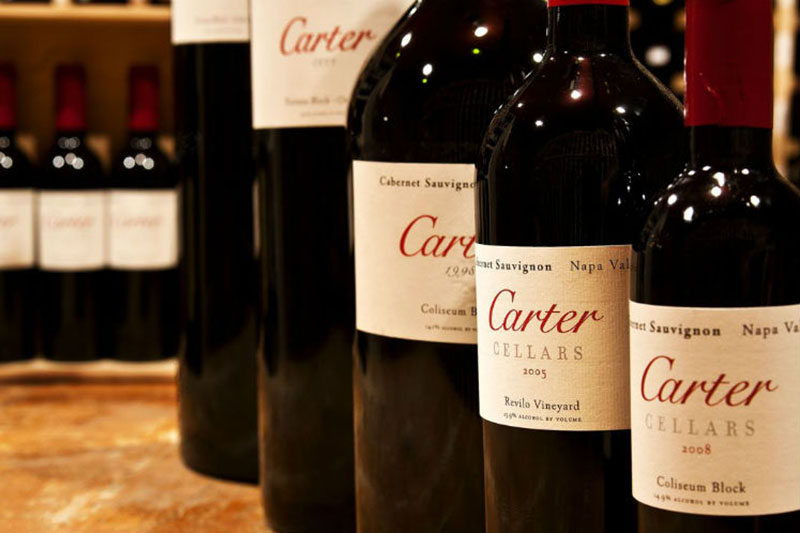 Carter House Inns
The legendary Restaurant 301 at the Carter House Inns in Eureka has shuttered due to COVID-19, but wines from their award-winning wine list are available for purchase. Restaurant 301 was a proud recipient of the Wine Spectator Grand Award for nearly 20 years beginning in 1998. The prestigious award was bestowed upon only 77 other restaurants in the world. Restaurant 301's wine list includes over 3,800 selections noted for their depth and quality. The hotel can ship wines upon request. For inquires and pricing information, email michael@carterhouse.com.
Elk Cove Inn & Spa
Perched on a bluff overlooking the Mendocino Coast, Elk Cove Inn & Spa offers an extensive lobby gift shop. But while a visit to the inn may be on hold, the gifts can still be purchased by phone. Notable items include colorful ceramic mugs made by Deneen Pottery and the inn's luxuriously plush robes. You can also request soaps and lotion gift sets, books, note cards, and more. To place an order, please call the inn at 800-275-2967.
Carmel Valley Lodge
One of the most unique hotel gift shops is the Gift Gallery at Carmel Valley Lodge. Blending art gallery with gift shop, the inn features the work of artisans who create decorative and wearable art inspired by nature. You'll find bright, colorful, handmade metal floral sculptures, handmade ceramics and pottery, heartwarming ceramics "Schrommz" by JJ Pots, warm and cozy hand-knit scarves and shawls, hand-embroidered jackets and purses, and handmade floral soaps, jewelry, and much more. Call 831-659-2261 for more information.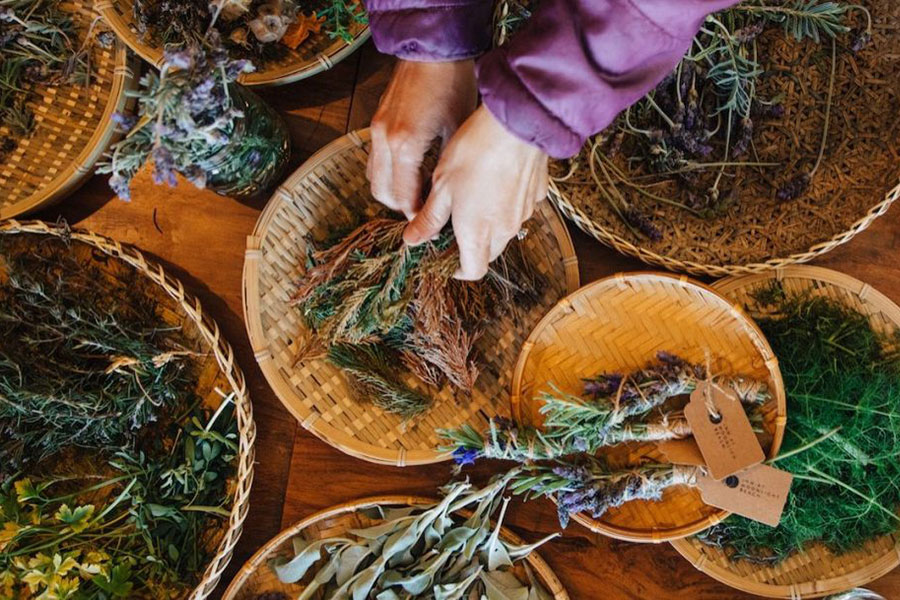 Inn at Moonlight Beach
The Inn at Moonlight Beach's Moonlight Farmstand features a thoughtfully selected assortment of products honoring local sustainable farmers and culinary artisans. Provisions include small batch jams made with herbs grown on site at the inn, pure honey soap handmade at the inn, locally-sourced raw honey, organic extra virgin olive oil, balsamic vinegar, beeswax candles, organic teas, and more. To share the inn's provisions as a holiday gift please call 760-450-5028 to place an order.