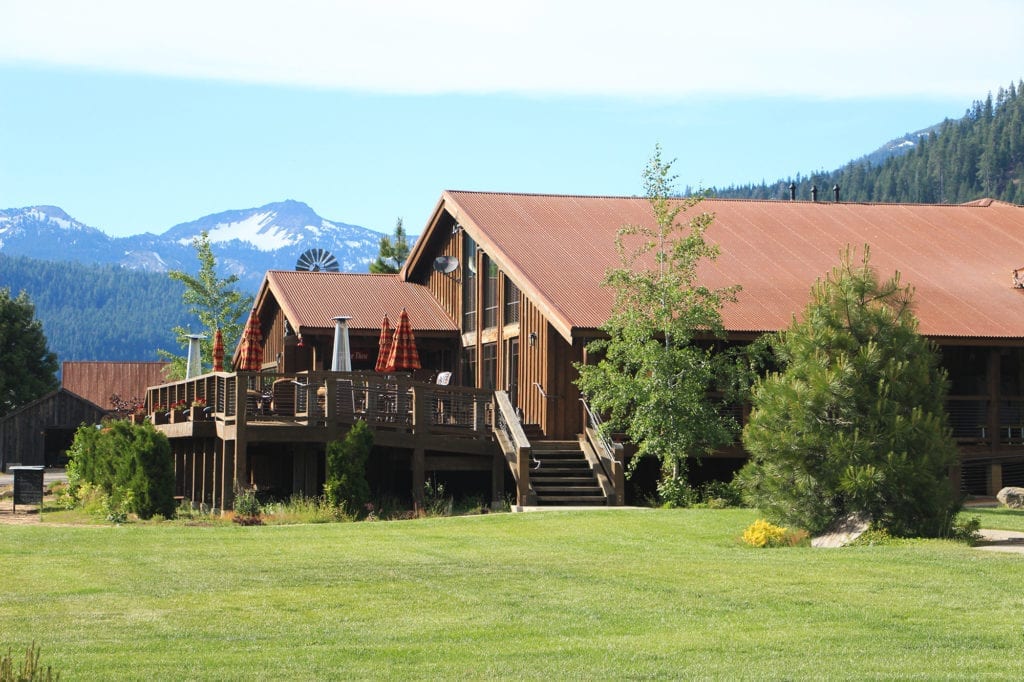 Undiscovered Gems at Lassen Volcanic National Park and Highlands Ranch Resort
In Northern California, the fumaroles, bubbling mud pots, and boiling lakes at Lassen Volcanic National Park are far less known than the famous hydrothermal features at Yellowstone National Park, but they're also far less crowded. In 2018, Lassen received just 499,435 visitors compared with the four million visitors that descended upon Yellowstone.
Another difference is what visitors can see from the road versus what they find by hiking deeper into the park. Most of Yellowstone's star attractions are accessible by car–as long as you can find a parking spot. And while some of Lassen's attractions are also located right off the road (like the boiling mud pots and steam vents at Sulphur Works), reaching some of the park's best hydrothermal features require hikes of a half mile or longer.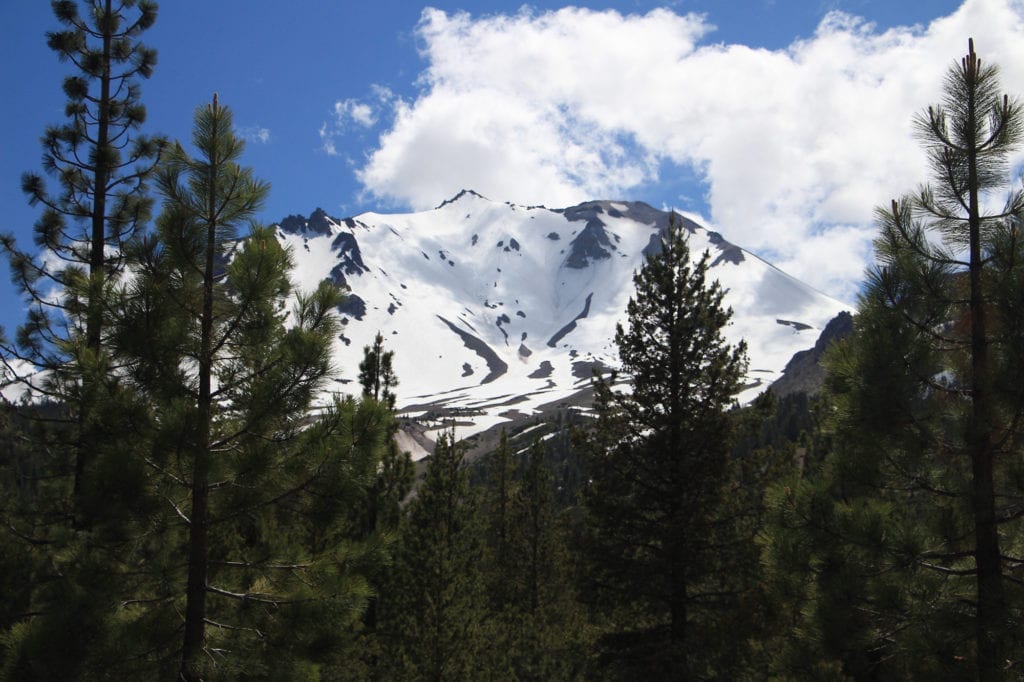 The result is the chance to wander in relative solitude through other-worldly landscapes with steaming fumaroles, gurgling mud pots, milky aquamarine waters, and swaths of earth painted yellow and red. The landscapes are dominated by the 10,475-foot Lassen Peak, which last erupted between 1914 and 1922. Nearly 90 percent of the park has been designated as a wilderness area.  The park offers 150 miles of trails, including 17 miles of the Pacific Crest Trail.  Only one road runs the full length of the park from north to south.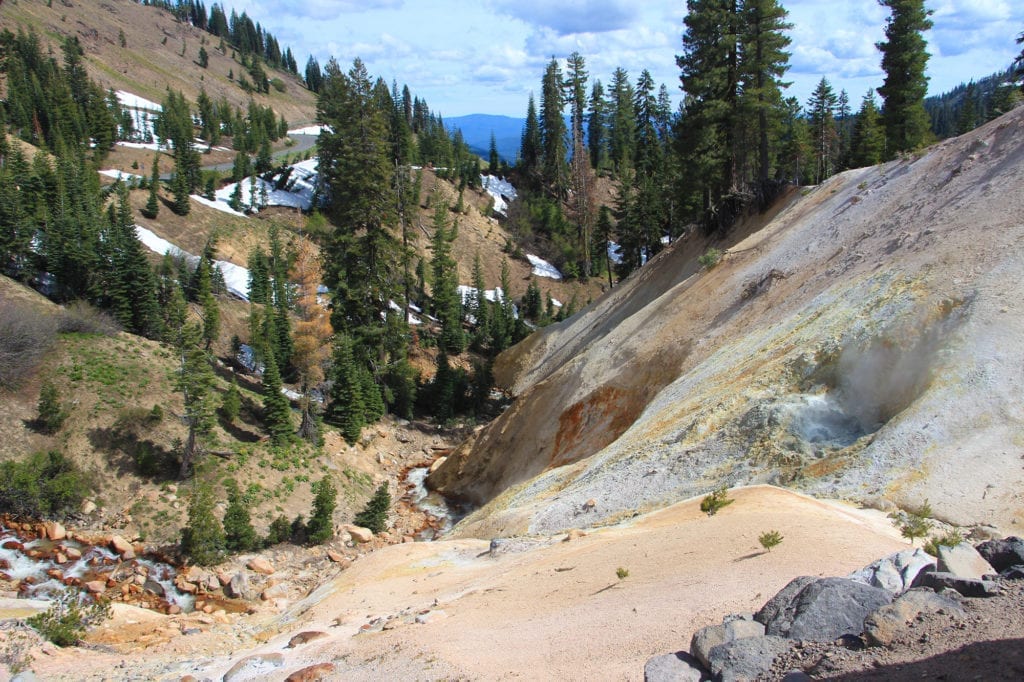 When I visited in late June, Lassen was just emerging from an epic winter season and the road had just been cleared of snow in the park's higher elevations. I hiked around the lovely Manzanita Lake with a snowcapped Lassen Peak reflecting off the water. I stopped by Hot Rock, which is a 300-ton piece of lava the size of a VW van that was thrown five miles from Lassen Peak's volcanic crater when it erupted in 1915. I toured the interpretive trail at the Devastated Area and marveled at the boiling mud pots at Sulphur Works. I saw dozens of serpentine ski tracks carved into the snow from late spring backcountry skiers. I had wanted to visit Kings Creek Falls and Bumpass Hell, but the trails to both were impassable due to the snow.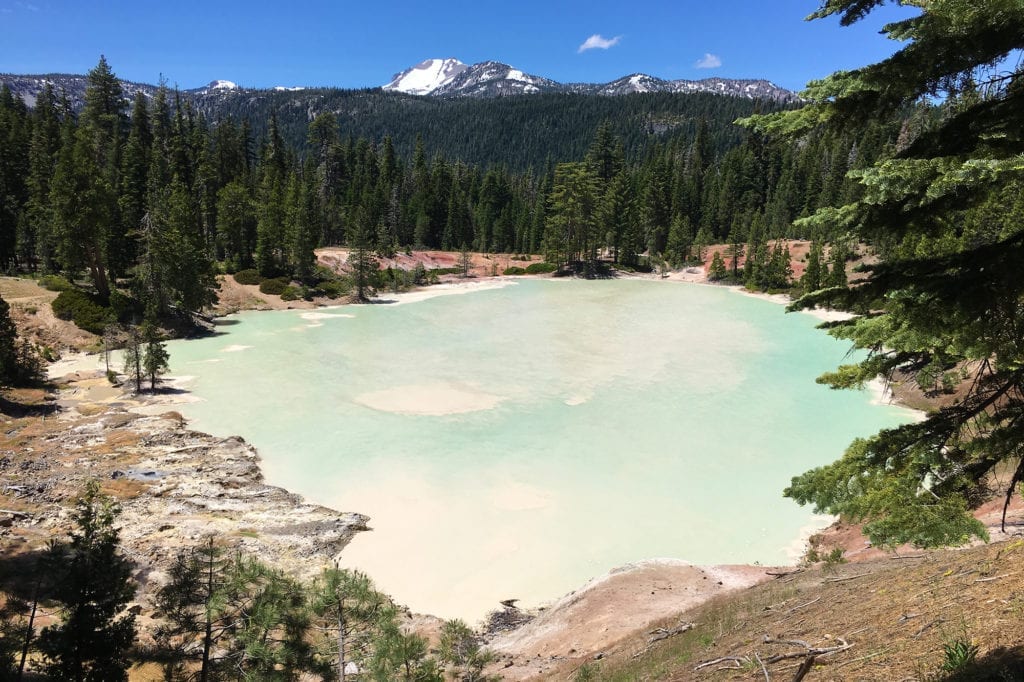 To avoid the snow, a ranger suggested I explore the hydrothermal features in the lower elevation Warner Valley, and it was the highlight of my trip in the park. Passing through lush green meadows and dense pine forests along a stretch of the Pacific Crest Trail with relatively few hikers, I arrived at Boiling Springs Lake. The 125-degree lake is lined with bubbling mud pots, hissing steam vents, and mounds of multicolored earth. I sat atop a hillside gazing across the milky, aquamarine-colored lake, listening to the sounds rising from deep within the earth. Further along the trail, I arrived at Terminal Geyser. Though not a true geyser, Terminal Geyser is a fumarole in the middle of a creek with a billowing cloud of steam spouting high into the air. Perched on a rock a safe distance away, I watched the fumarole's mesmerizing show while I ate lunch. And for the full time I was there, I had Terminal Geyser all to myself with no other hikers in sight.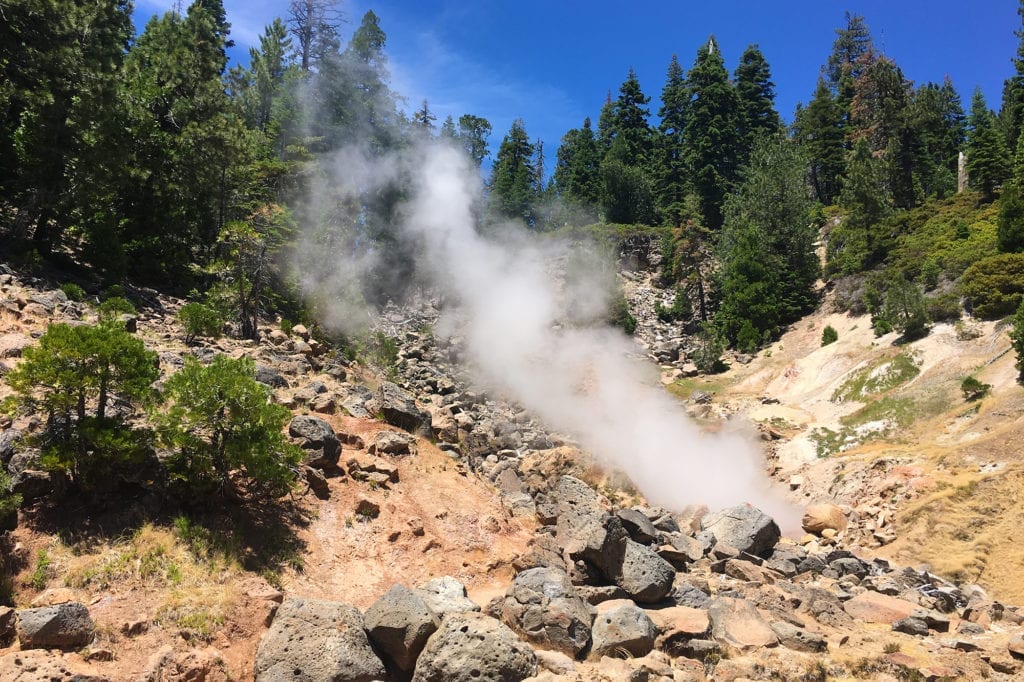 * * *
Highlands Ranch Resort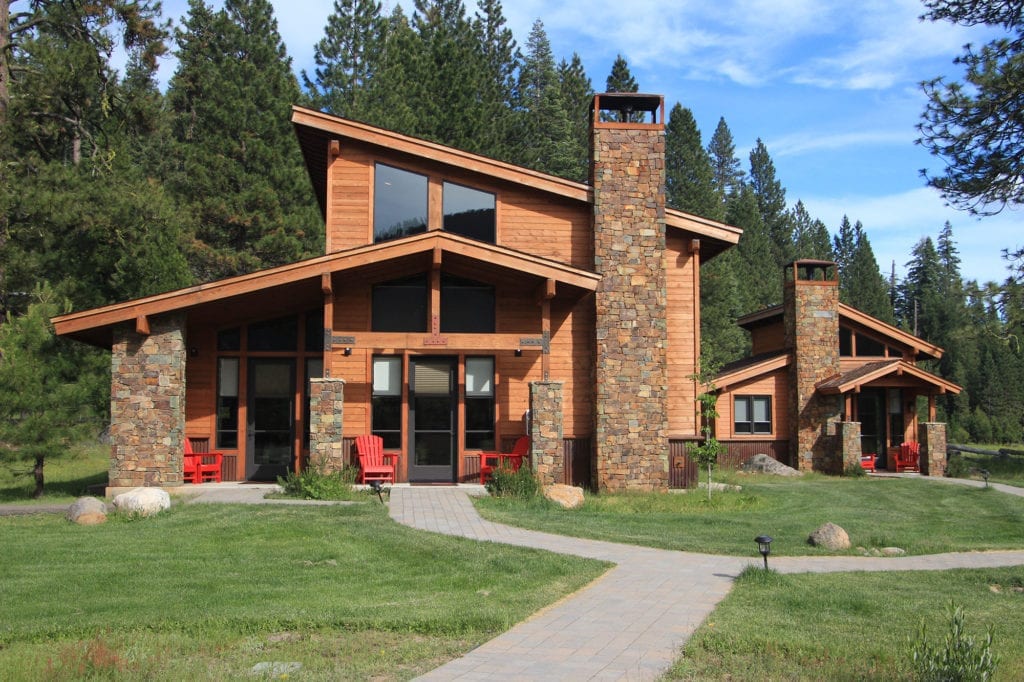 While visiting the park, I stayed at the luxurious Highlands Ranch Resort, which is located just four miles from the park's southwest entrance, just off Highway 36 in Mill Creek. The resort sits on 175 acres at the edge of a bucolic meadow against a backdrop of snowcapped peaks. Visitors to the area will also find water sports on nearby Lake Almanor, golf courses, world class fly fishing, horseback riding, snowmobiling, cross-country skiing, and ranger-led snow shoe adventures.
The resort is anchored by an upscale rustic lodge which houses a spacious, full-service restaurant and bar. The interior features vaulted ceilings, exposed wood beams, a large rock fireplace, and a bank of windows overlooking the meadow and pine-studded hills across the way. An expansive outdoor deck wraps around the lodge with views in every direction. The restaurant serves breakfast, lunch, and dinner daily from late May through October and is open four days a week (Thursday-Sunday) from November to mid-May. The menu features refined bistro cuisine with a focus on fresh, seasonal ingredients and quality meats. For dinner during my stay, I opted for the pan-seared salmon, which was served over a stack of tempura asparagus and vegetable fried rice with drizzles of garlic sriracha aioli and ginger soy syrup. I also enjoyed a wedge salad with dinner while sipping lavender old fashioned. The resort's full service bar boasts a great cocktail list and an impressive selection of wines, spirits, and craft beers.
Salmon entree at Highlands Ranch Resort

Lodge fireplace at Highlands Ranch Resort

Restaurant and bar at Highlands Ranch Resort
In addition to the restaurant and bar, the resort offers seven newly-built cottages scattered along the edge of the meadow, all with private entrances, gas fireplaces, heated bathroom floors, and premium quality beds with luxurious linens. Two of the cottages feature private, outdoor hot tubs for two. A chef-prepared breakfast in the lodge is included each morning with any stay.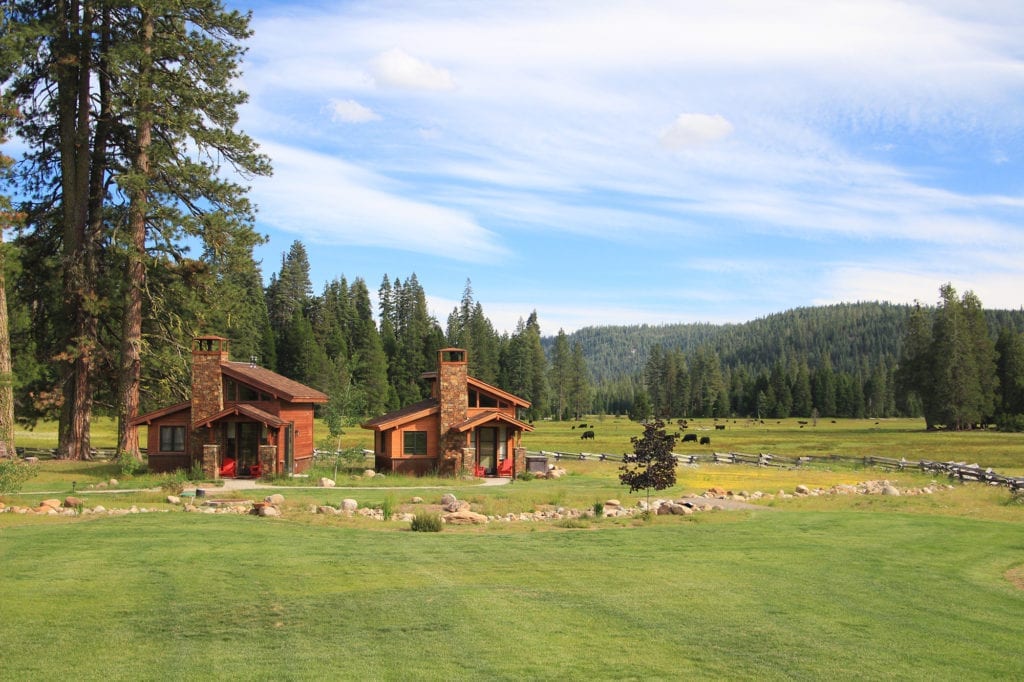 I stayed in the Lavender Suite, which is an elegant, light-filled, two-story cottage that could easily accommodate up to eight guests. On the first level, the suite offers a living room with a sofa sleeper facing the gas fireplace, a mini bar with a coffeemaker and a small refrigerator, a private bedroom with a king size bed, and a private bath. The upstairs loft, which is accessed via a spiral staircase, features a second king bed, sofa sleeper, and private bath. Both baths have handsome slate-tiled showers, oil-rubbed dark bronze fixtures, and heated floors. Clerestory windows offers views of the snowcapped mountains in Lassen Volcanic National Park.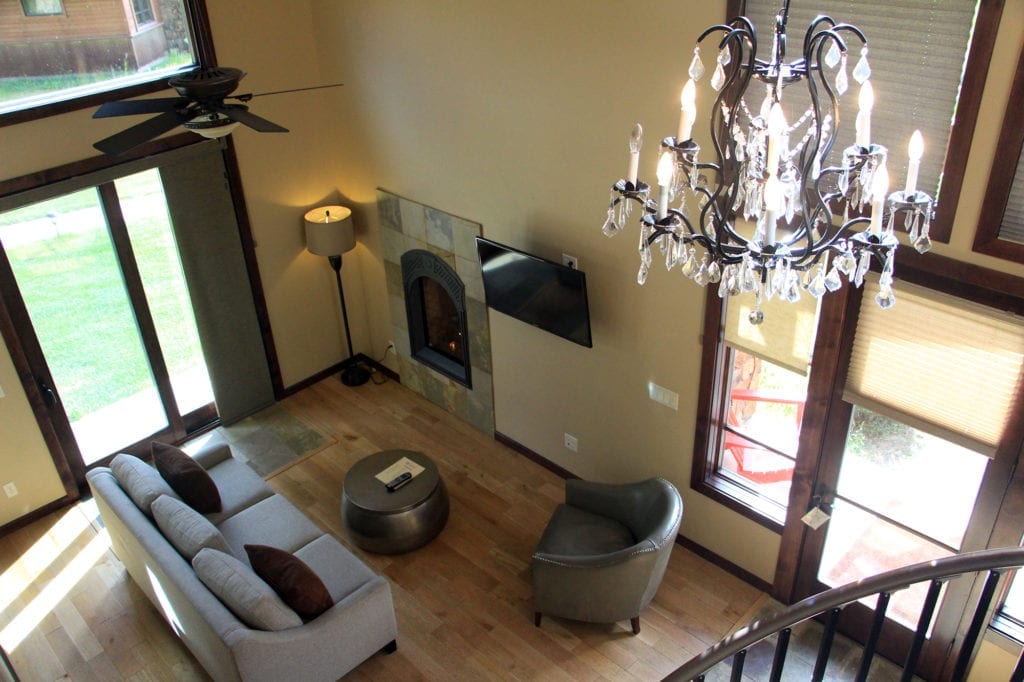 Loft bedroom of the Lavender Suite at Highlands Ranch Resort

Loft bedroom of the Lavender Suite at Highlands Ranch Resort

Living room of the Lavender Suite at Highlands Ranch Resort

Living room of the Lavender Suite at Highlands Ranch Resort
Just outside, stone paths lead to the lodge and an outdoor fire pit overlooking the expanse of meadow. After dinner, I bundled up to sit by the fire as the sun set behind the mountains. Daylight faded, and a multitude of stars lit up the clear, crisp night sky over this little-known swath of Northern California.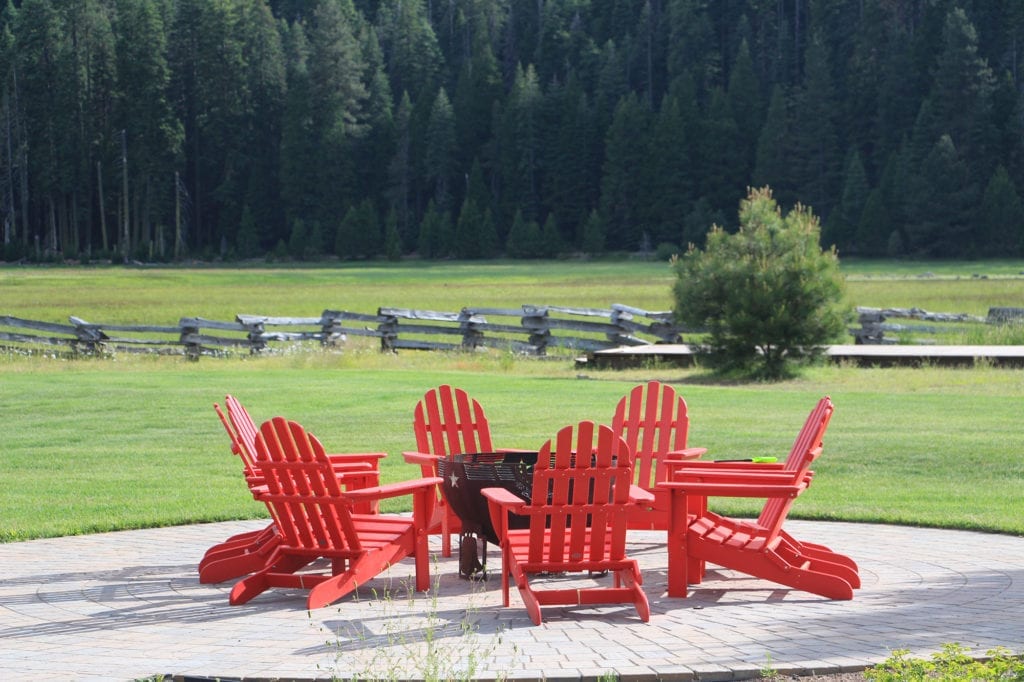 Highlands Ranch Resort
41515 Highway 36E
Mill Creek CA 96061
530-595-3388
highlandsranchresort.com