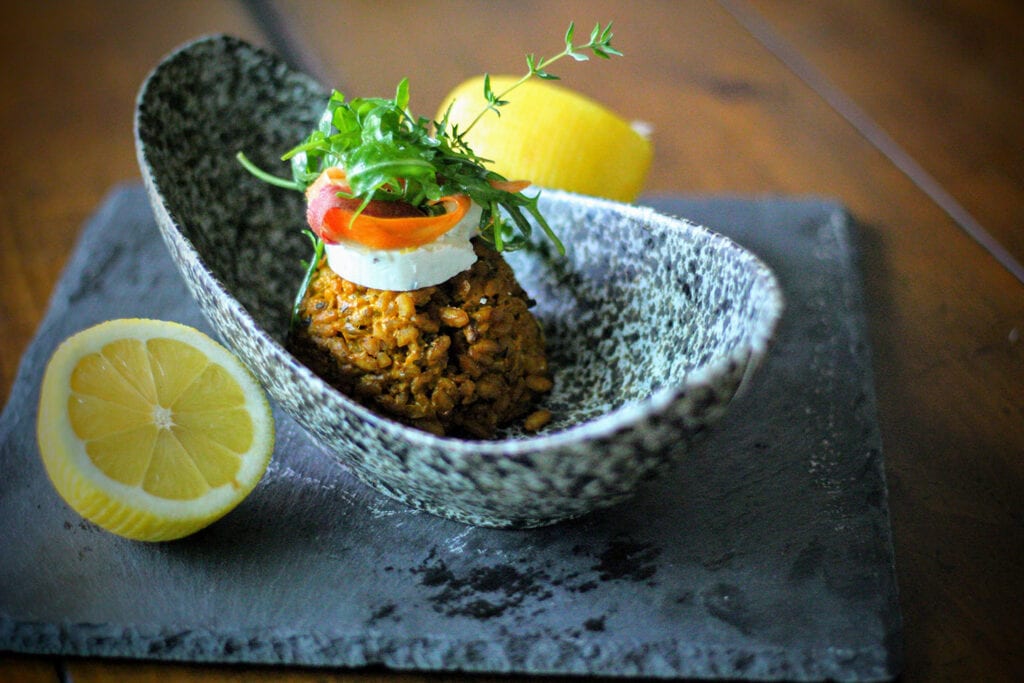 Truffle Carrot Risotto from Hotel Cerro
Like many of us, I've been cooking at home more these past few months. For the most part, I'm happy to be spending more time in the kitchen, but I do miss the dishes I normally associate exclusively with restaurant dining. At the top of my list of "restaurant-only" dishes is risotto. I generally don't make it at home, preferring instead to leave all those complicated steps and the constant stirring to well-trained chefs. Fortunately, Hotel Cerro's Executive Chef James Anderson has created a risotto recipe that comes together quickly and is accessible to the home cook. I decided to give it a try. Chef Anderson's version of this dish flouts conventional wisdom to great success, adding half the liquid up front and only requiring stirring every couple of minutes. It was a refreshing departure from the constant baby-sitting and brutal arm workouts of most risotto recipes.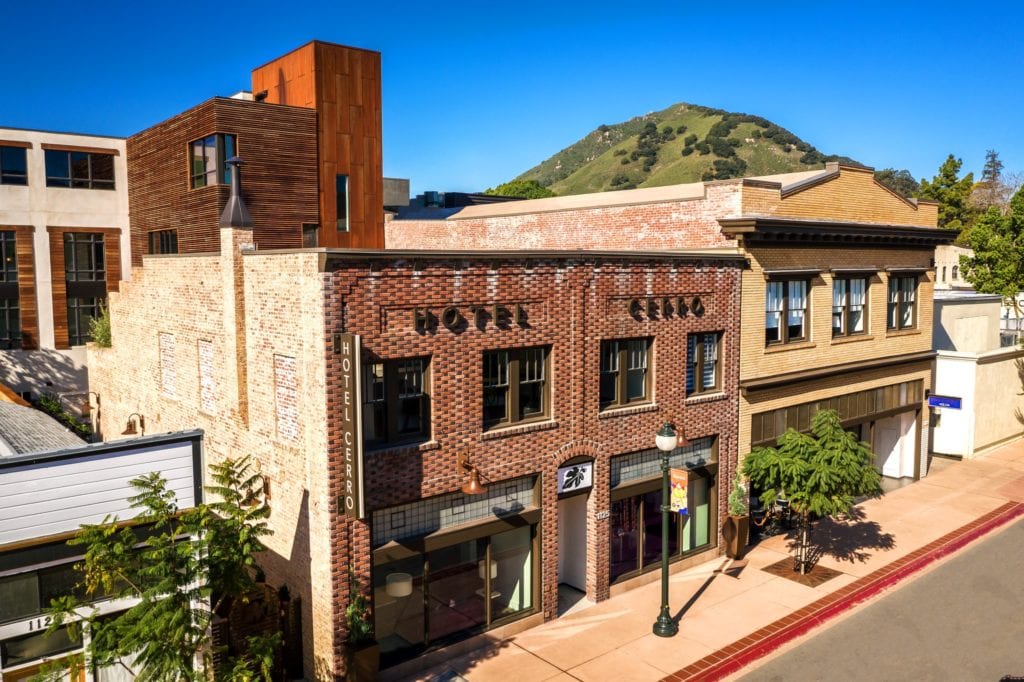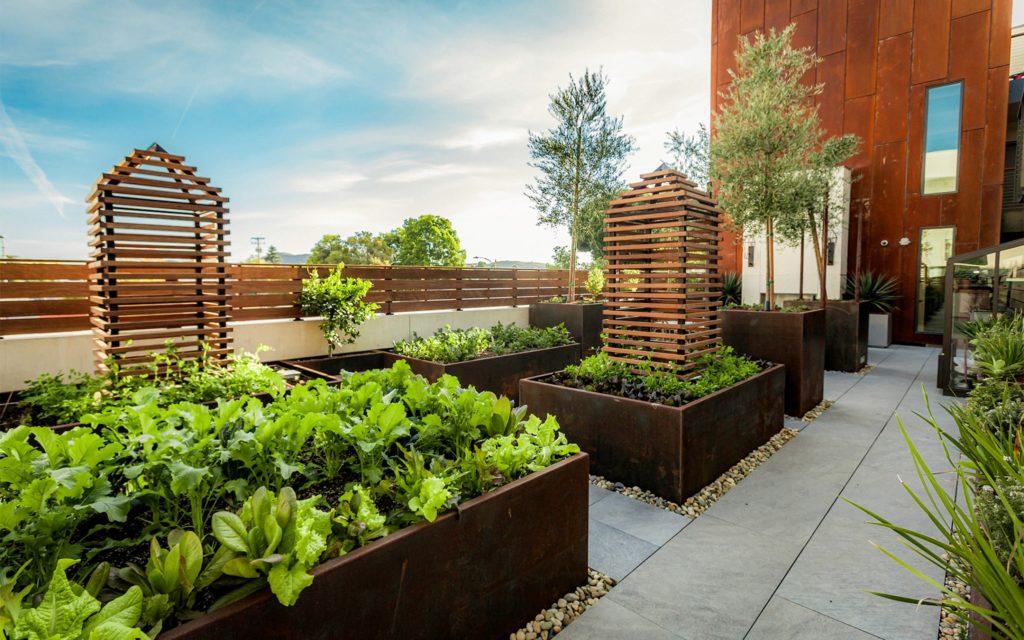 One giveaway that a recipe has been meticulously crafted is the specificity with which the chef recommends its ingredients. In the case of this dish, Chef Anderson goes as far as recommending specific brands that work well with the dish. But don't worry, the dish will work beautifully using any locally available brands that meet your quality standards.
Another way you can tell when a recipe has been obsessed over is when the first bite is a singular taste explosion like nothing you've ever experienced. That's exactly what happened when I took a bite of this risotto. The earthy sweetness of the carrots and the distinctive tang of crème fraiche and goat cheese melded together to create the ultimate embodiment of umami flavor, while a hint of acid from the white wine, sherry vinegar, and lemon added just the right amount of brightness.
Extremely versatile, this risotto pairs well with any main dish, from a lightly steamed fish to a breaded-and-fried pork chop. Either way, this ultra-refined recipe will instantly remind you and your family of your most treasured fine dining experiences.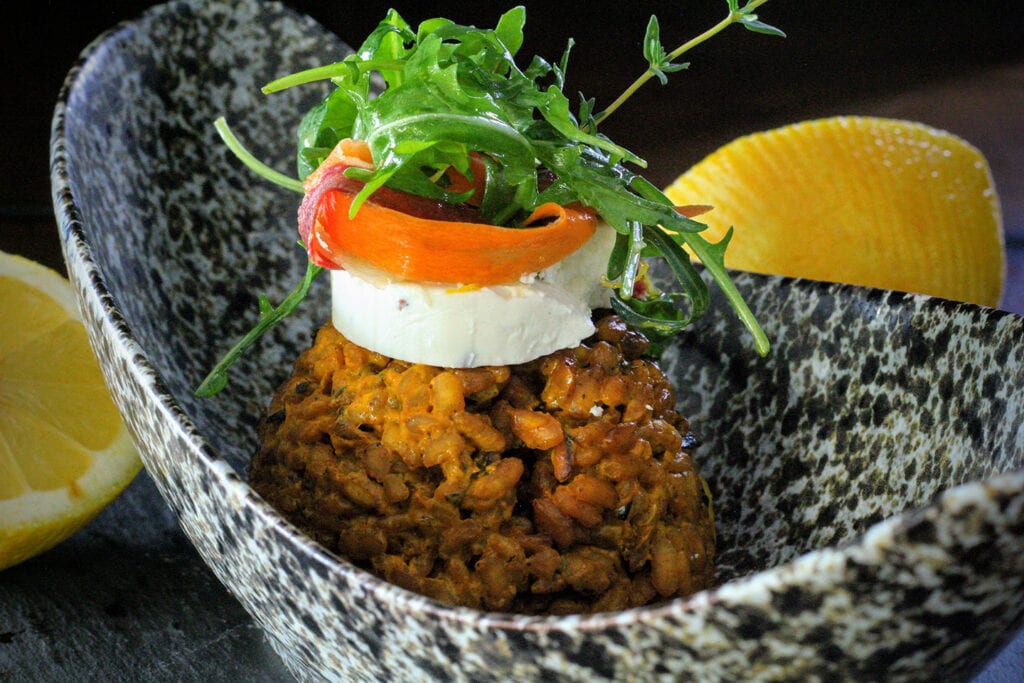 Truffle Carrot Risotto
Courtesy of Hotel Cerro
Makes 4 to 6 Servings
Ingredients
2 tablespoons extra virgin olive oil
2 shallots, peeled and finely chopped
2 cups rice–Carnaroli (preferred), Arborio, or Spanish Bomba
2 tablespoons sherry vinegar
1 cup white wine (sauvignon blanc preferred)
5 cups carrot juice
1 tablespoon fresh picked thyme leaves, roughly chopped
kosher salt & ground black pepper to taste
1 cup crème fraiche (Bellweather Farm Sheep's Milk preferred)
2.25 ounces fresh goat cheese (Laura Chenel is a clean and smooth option for those whose palates find goat cheese to be too strong)
1 squeeze of lemon juice (grate zest first and reserve for garnish)
Garnish:
2 carrots, multi-color if possible
1 cup small-leaved salad greens (arugula, mâche, cress, baby mustard)
2 tablespoons black truffle oil, tartufata sauce, walnut oil, or extra virgin olive oil
Grated zest of 1 lemon
2.25 ounces goat cheese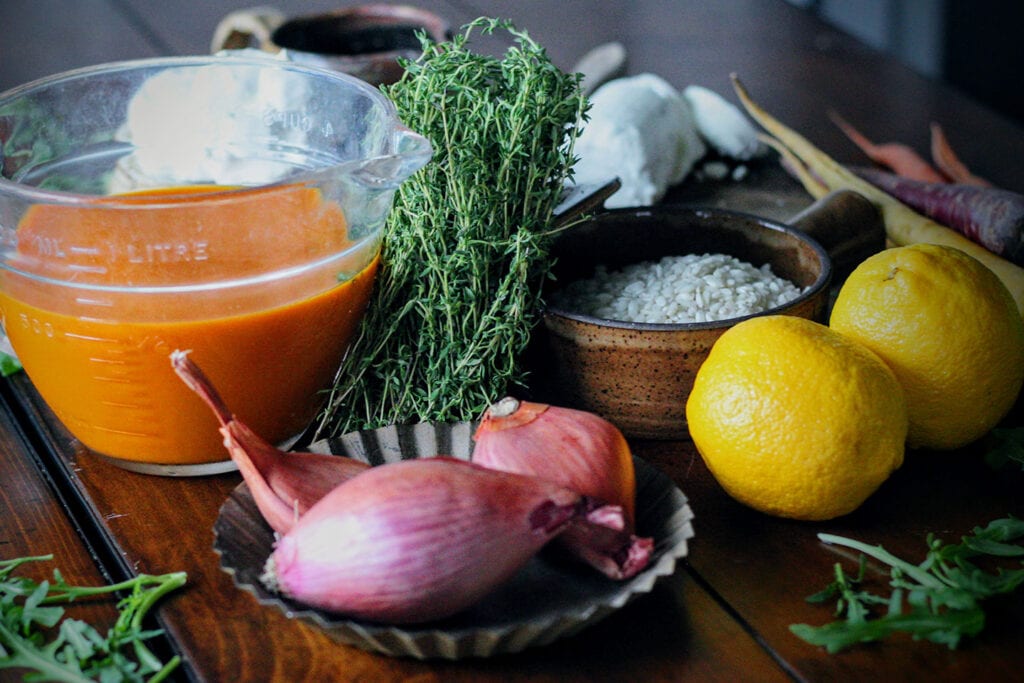 Directions
For the rice:
In a medium saucepan, bring the carrot juice to a simmer and reduce the heat to low. The goal is just to keep it hot.
In a 2.5-quart heavy bottomed sauté pan, add shallots and olive oil over medium-low heat, using a wooden spoon to stir for 3 to 5 mins, or until shallots are translucent. Add the rice, stirring until well mixed, then sauté another 2 to 3 minutes to lightly toast the rice. Add vinegar, stirring nonstop until there is no visible liquid. Add white wine, kosher salt, and thyme, stirring until the liquid is absorbed, about 5 minutes.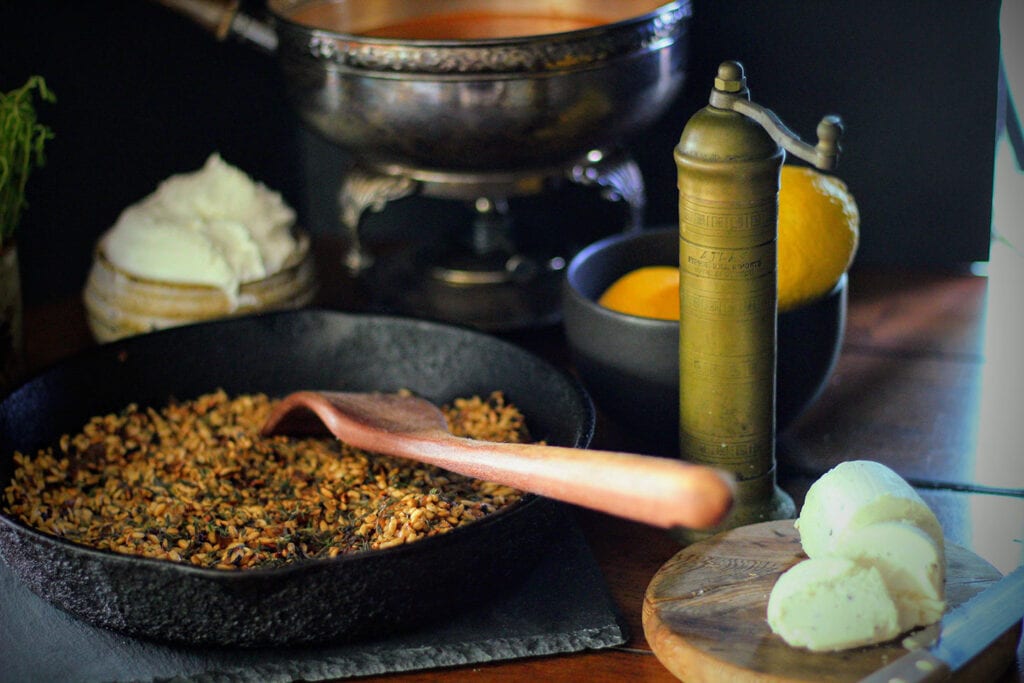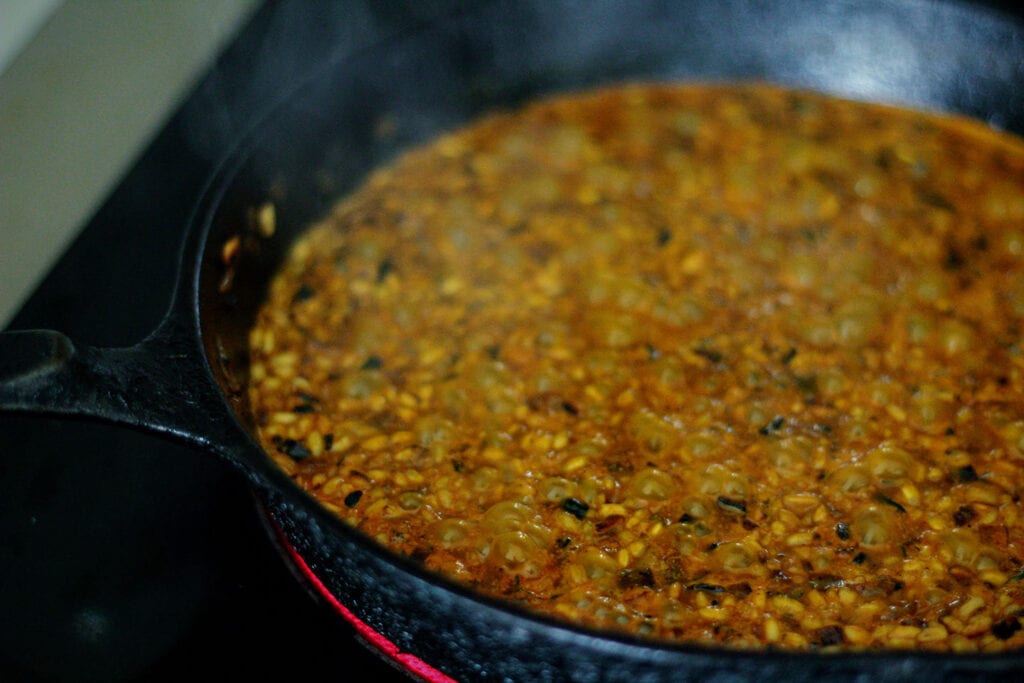 Add half of the carrot juice to the rice. Adjust the heat so the rice and liquid are at a gentle simmer. Stir every couple of minutes. As the carrot juice absorbs, add a ladle more at a time over about 15 minutes. Remove from heat. The rice should be opaque and tender (al dente), yet not chalky in the center of the grain. Stir in the crème fraiche, and season heavily with black pepper. Add 2.5 ounces of goat cheese, keeping the other half for garnish. Add a squeeze of lemon. Gently heat just to melt the goat cheese. Taste, adding salt or pepper to your liking.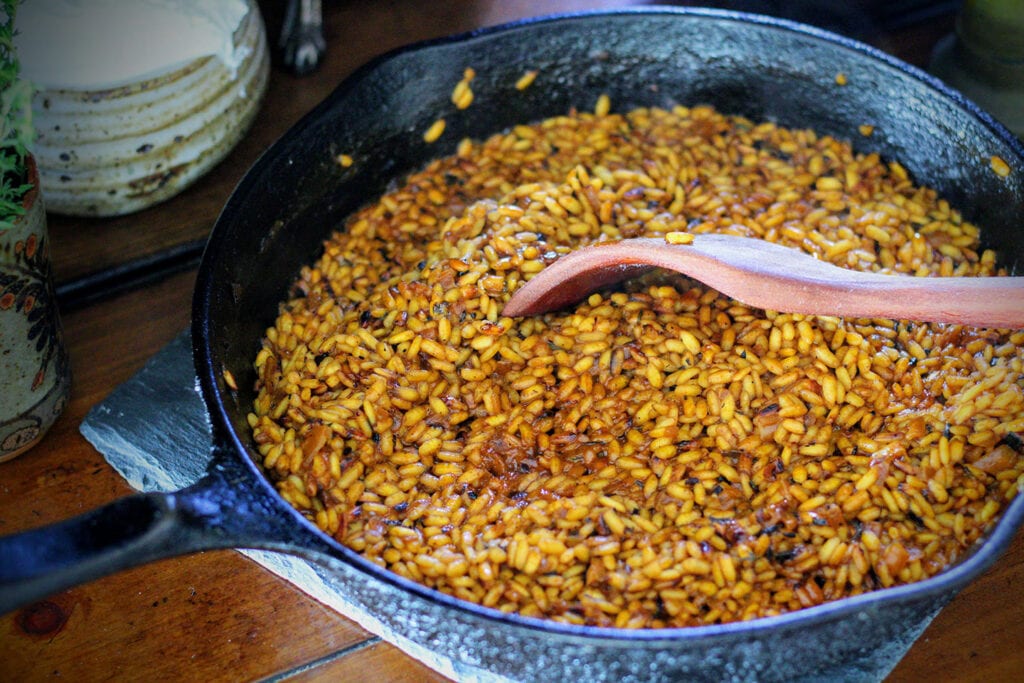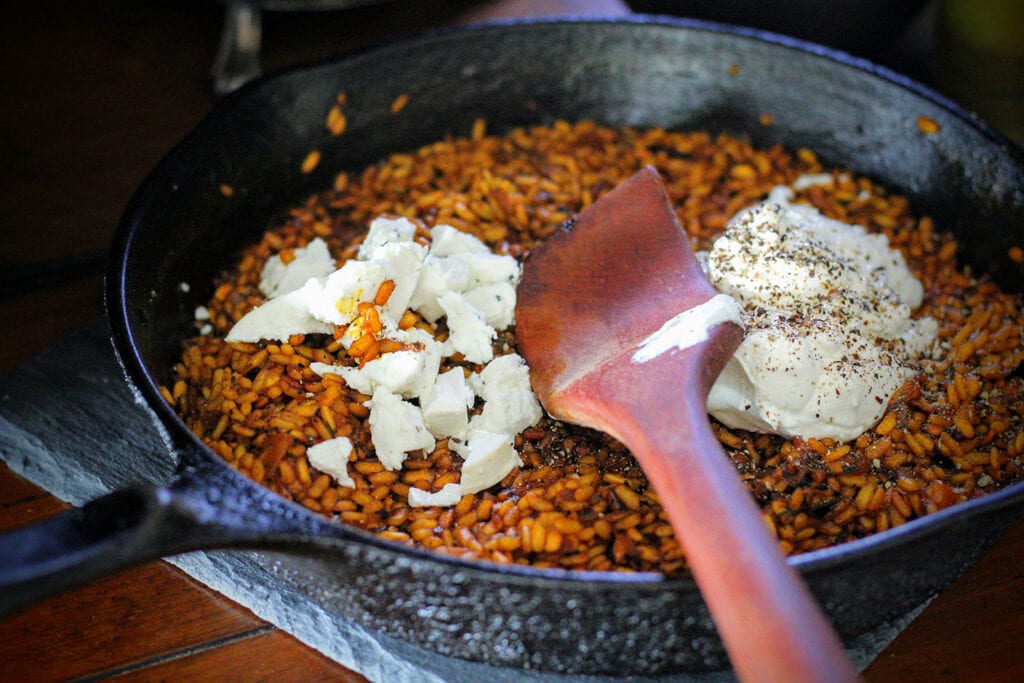 For the garnish:
Use a wide peeler to clean the outside of the carrots, then peel the length of each carrot 5 to 6 times in the same spot, creating ribbons. Add the salad greens, lemon zest, and a drop of your choice of oil, then toss together.
Divide the risotto into warm bowls, then add the garnish to the top of each one. Little chunks of goat cheese can hold the salad in place in each bowl.