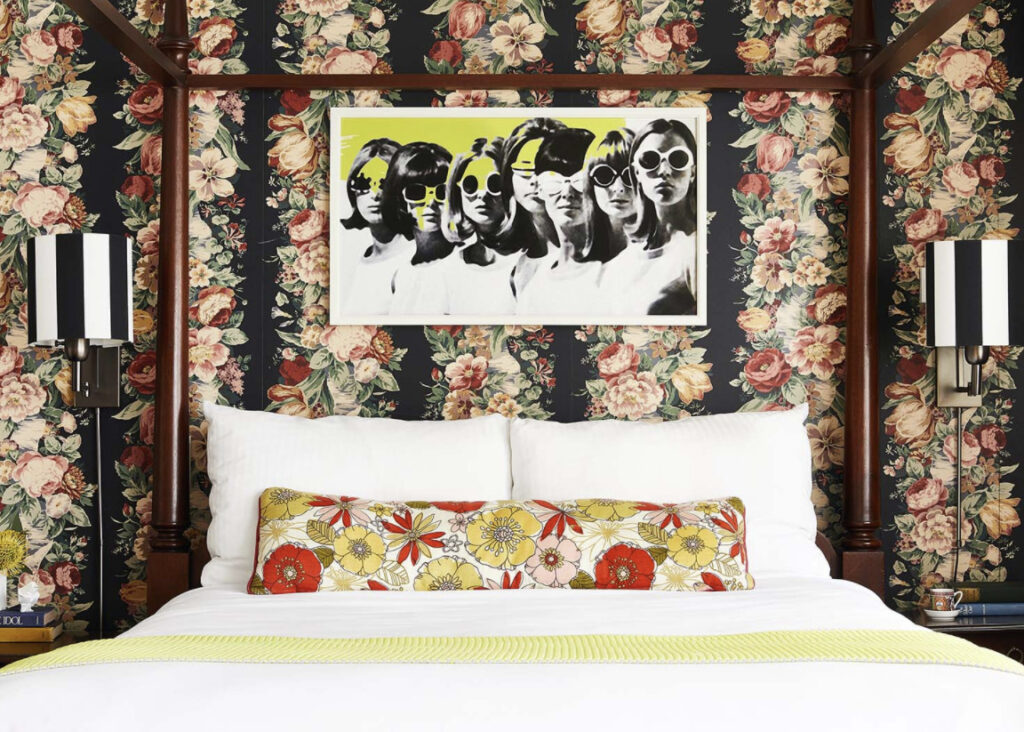 Time Travel Escapes at California Boutique Hotels
If you find yourself wishing you could turn back the clock to a bygone era or be whisked away to another continent altogether, some California hotels could be your ticket for an escape. Between historic hotels that have been barely touched by time and imaginative inns that have recreated the experience of a foreign lands and eras, these hotels are virtual time machines. Whether you're longing for a turn-of-the-century Parisian hideaway, a Moroccan desert oasis, or high Victorian splendor, you can check into California's time-traveling hotels to escape to the past.
1859 Historic National Hotel
Step back in time to California's Gold Rush with a stay at the 1859 Historic National Hotel in Jamestown.  The hotel's authentic Gold Rush-era saloon features the original back bar from 1859, a stamped tin ceiling, and an antique brass scale for weighing gold flakes and nuggets. While the guest rooms have been renovated with modern plumbing and electrical, they retain their historic charm with high ceilings, dark-stained wood trim, and antique furnishings.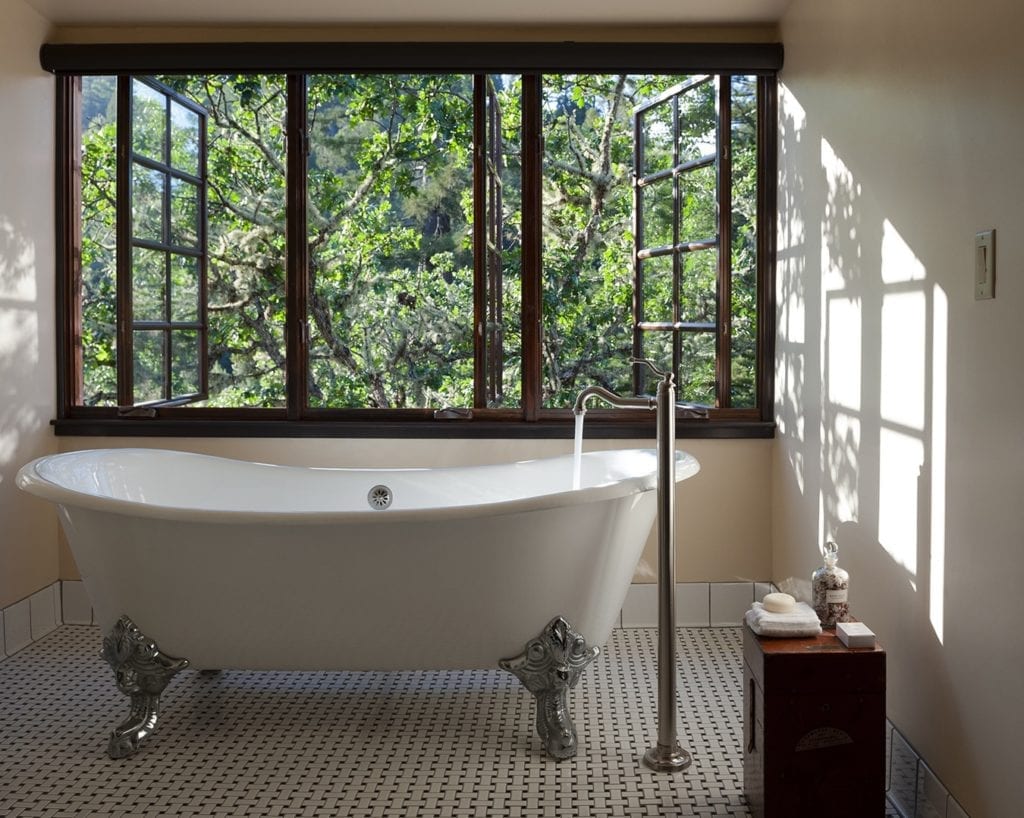 Benbow Historic Inn
Steeped in Old World charm, Benbow Historic Inn in Humboldt County is an elegant, Tudor-style hotel listed on the National Register of Historic Places. Built above the banks of the Eel River in 1926, the hotel became a popular resort destination for Hollywood stars and motoring tourists traveling the Redwood Highway. With a long list of period architectural details and guest service traditions, the hotel exudes the grace and hospitality of a bygone era effortlessly fused with modern luxury.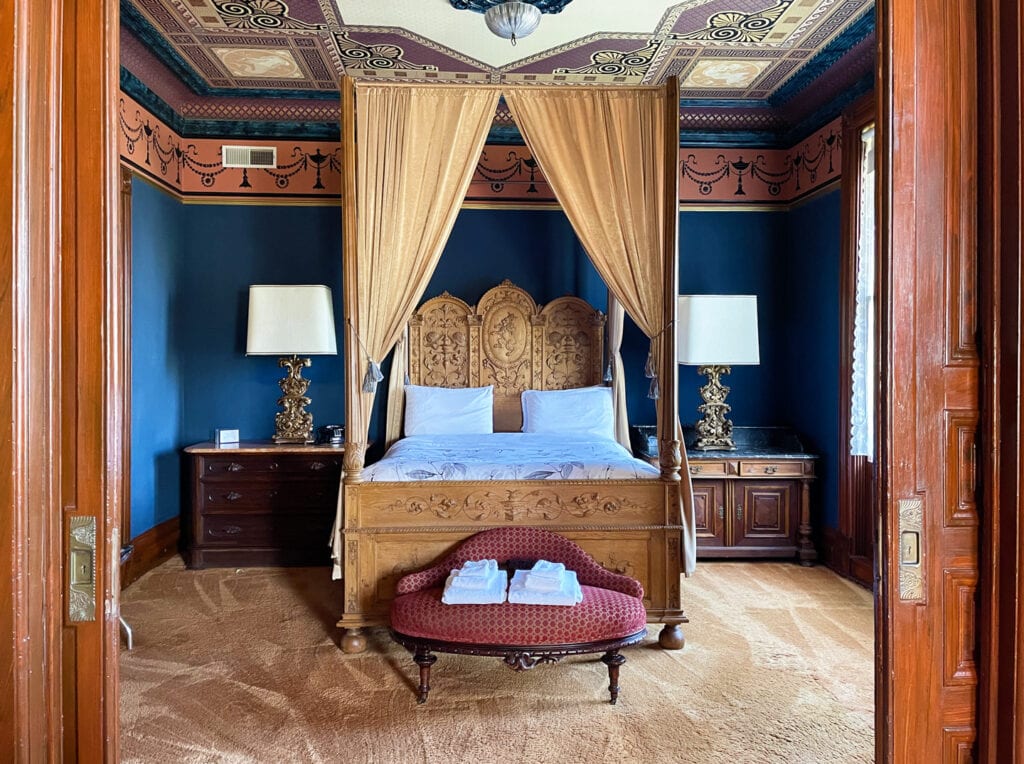 Chateau Tivoli Bed & Breakfast Inn
Just three blocks from San Francisco's Painted Ladies at Alamo Square, the Chateau Tivoli Bed & Breakfast is a meticulously restored Victorian built in 1892. The mansion's 22 exterior paint colors and gold-leaf trim are just a prelude to the grandeur of the interiors. Step inside and guests will find a world of Victorian splendor with a grand oak staircase, hand-carved woodwork, period wallpapers, Persian rugs, and antique furnishings from the estates of the Vanderbilts, Charles DeGaulle, and J. Paul Getty.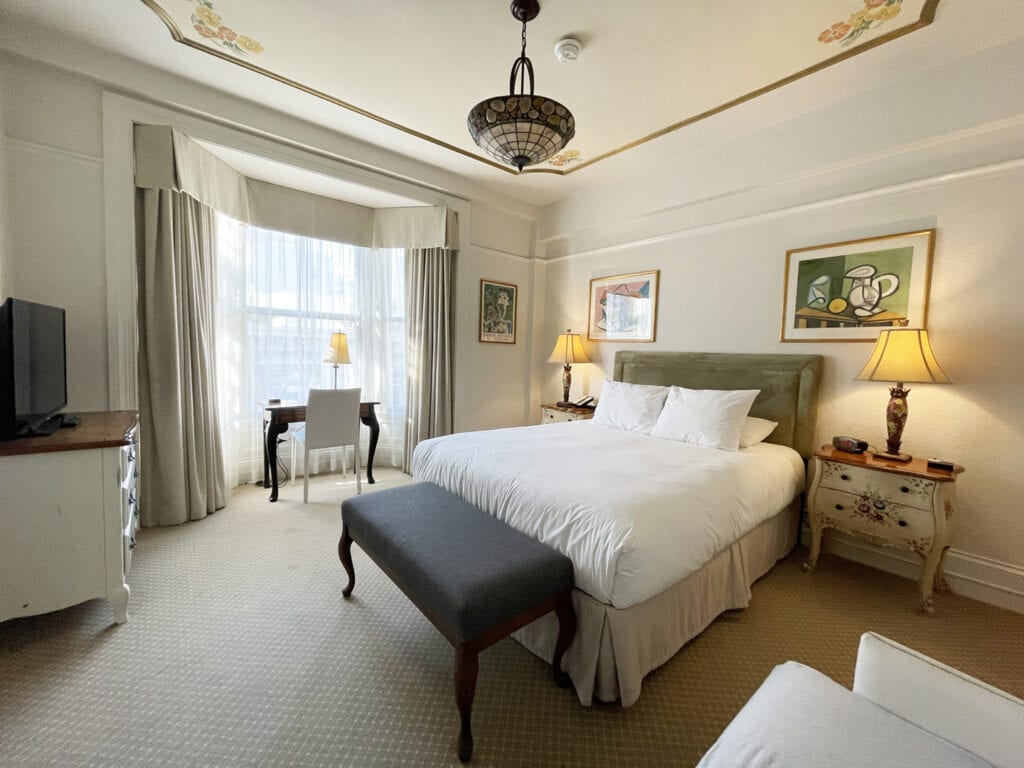 Cornell Hotel De France
Francophiles and lovers of French art will especially appreciate the Cornell Hotel De France, a historic San Francisco boutique hotel reminiscent of a turn-of-the-century Parisian hideaway along the Rive Gauche. The music of Edith Piaf fills the air and fine art prints from French masters line the walls, each floor devoted to a single artist. The guest rooms also feature French provincial furnishings and hand-painted frescos. Breakfast includes warm croissants delivered to the room.
Delta King Hotel
Step aboard the Delta King Hotel and reminisce about the ship's heyday filled with prohibition-era drinking, jazz bands, gambling, and fine dining. Built in 1927, the paddlewheel riverboat once carried passengers nightly on the 10-hour cruise between San Francisco and Sacramento. Now moored along the Old Sacramento waterfront, the meticulously restored ship is a boutique hotel with two restaurants and bars. The renovated staterooms feature period touches along with luxurious amenities and riverside views.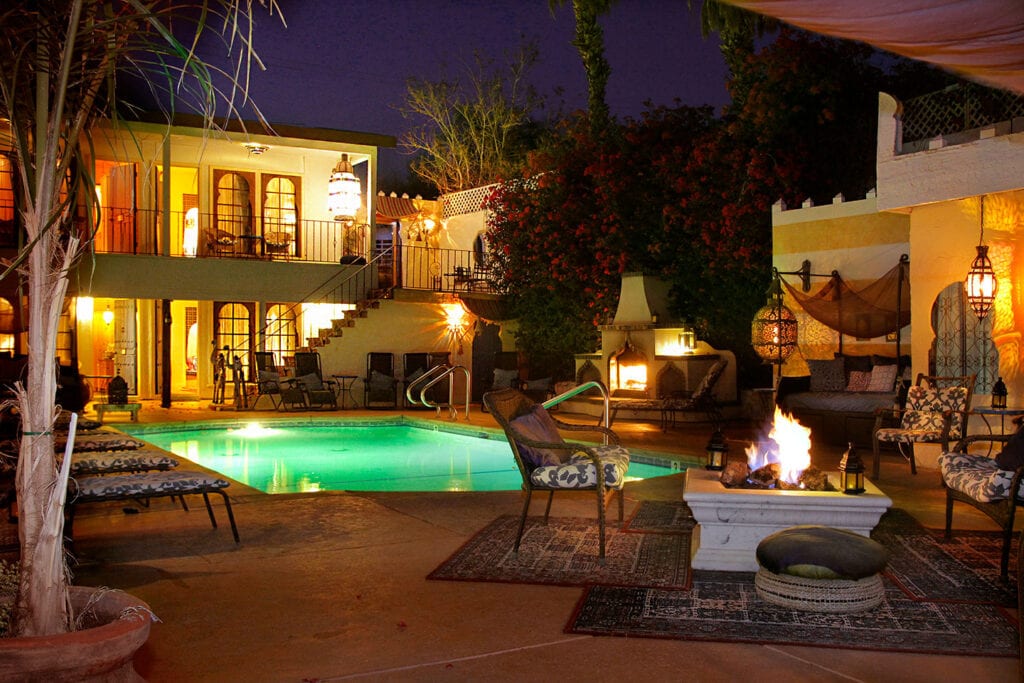 El Morocco Inn & Day Spa
In Desert Hot Springs, El Morocco Inn & Day Spa whisks guests on a magic carpet ride to a quiet, Moroccan-inspired oasis. Handcrafted fabrics billow in the desert breeze, Moroccan lamps cast light in geometric patterns, and faint strains of Moroccan music float over the warm pools of natural spring-fed mineral water surrounded by glowing lanterns and Moroccan poufs. Romantic guest rooms feature authentic Moroccan antiques and beds draped in mosquito netting.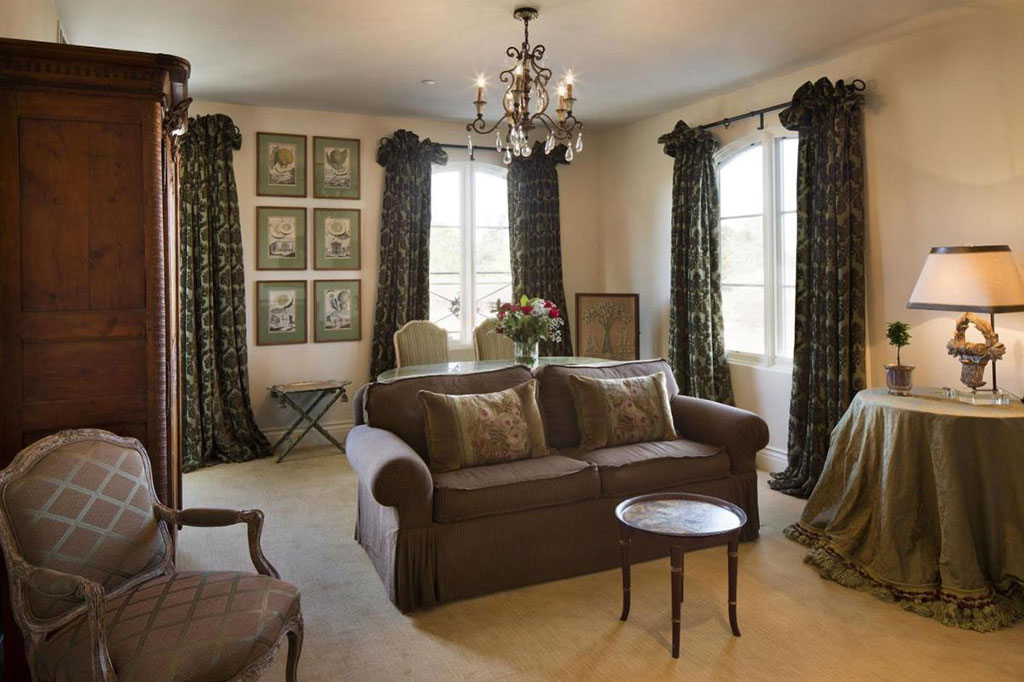 Enchanté Boutique Hotel
Every door opens to old-world sophistication and refinement at this French chateau-inspired hotel in the heart of Silicon Valley. The Enchanté Boutique Hotel features authentic French art and antiques, including hand-selected treasures the owner purchased on multiple trips abroad. The luxurious guestrooms exude Paris chic and the hotel's French bistro opens to a Parisian style plaza with gas lighting. Altogether, they create the ambiance of a fine European hotel for travelers longing for La Vie en Rose.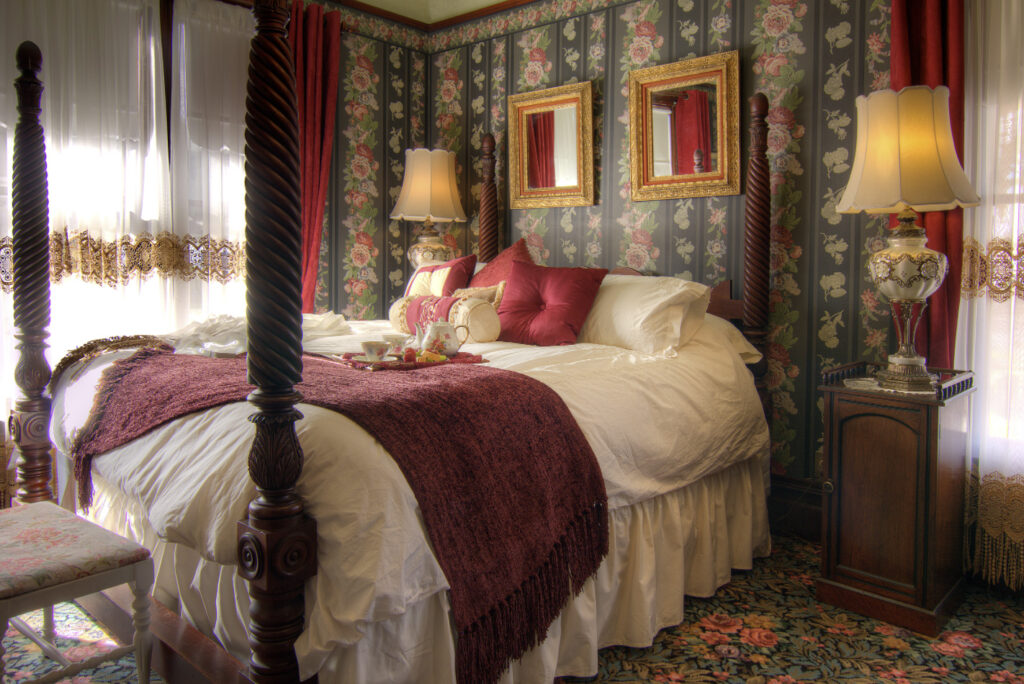 Gingerbread Mansion
In the village of Ferndale, staying at the Gingerbread Mansion Inn is like stepping into a Victorian fairytale. The meticulously restored yellow and orange Victorian and one of the most photographed inns in Northern California. Romantic guest rooms evoke a bygone era with opulent wallpapers and bedding, antique furnishings, and clawfoot tubs. One room, the Veneto, features hand-painted trompe l'oeil murals of Venice with an elevated clawfoot tub to take in the views.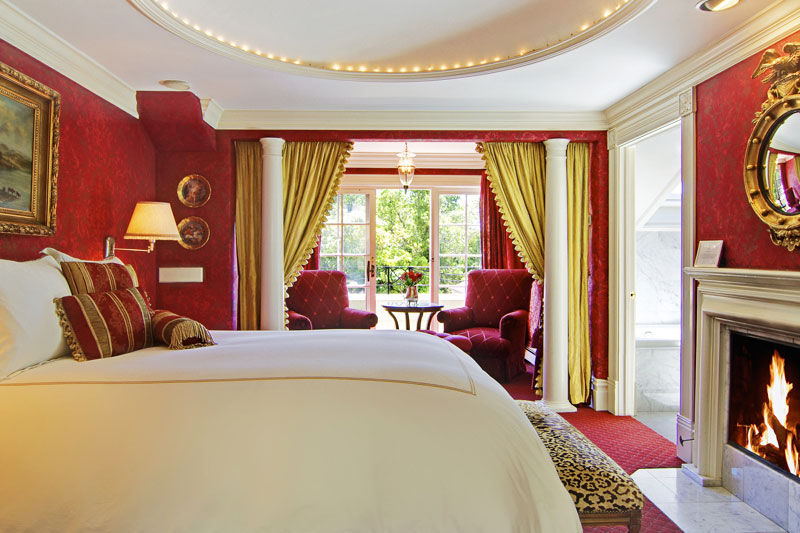 Inn at Depot Hill
From the romance of Paris to the serenity of Kyoto, the luxurious guest rooms at the Inn at Depot Hill in Capitola have been designed to evoke the Golden Era of travel. The Railroad Baron's guest room resembles a luxurious, vintage Pullman car with majestic columns and gold brocade drapes. Travel back in time to Stratford on Avon with a half-canopied bed and an English cottage ambiance. Other rooms will whisk guests to the Cote d'Azur, Portofino, and other destinations around the world.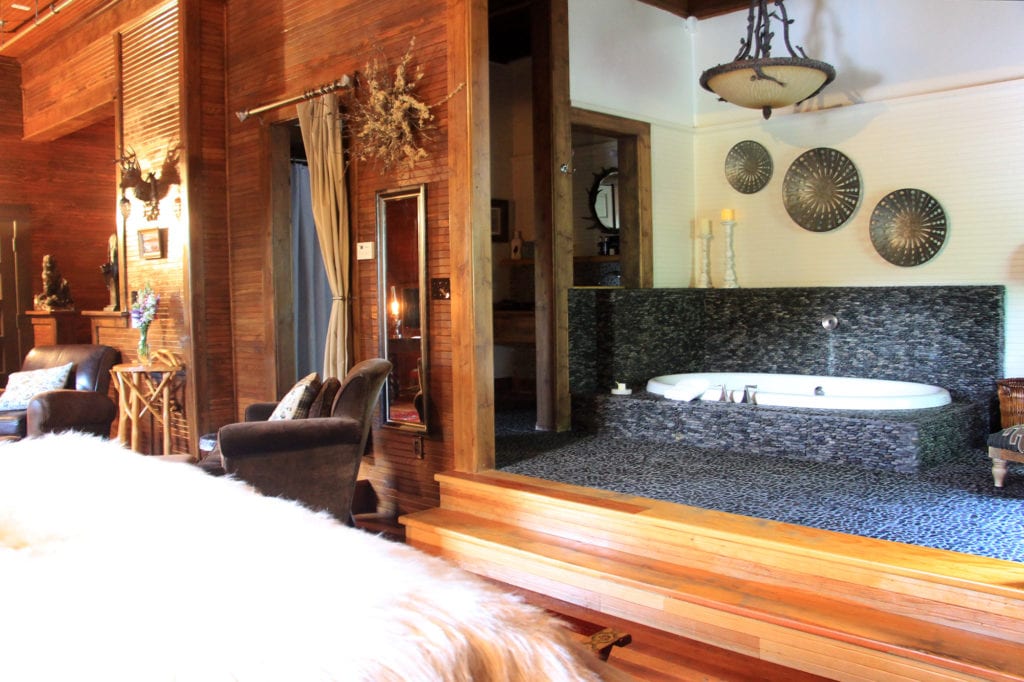 McCloud Mercantile Hotel
Near Mt. Shasta, McCloud Mercantile Hotel is housed inside the original 1895 McCloud River Mercantile and features 12 unique guest rooms, each inspired by an aspect of the region's rich history. Some of the rooms are tributes to McCloud's pioneers, lumber mills, railroads, and photographers, while other rooms are time capsules of different eras. The Shasta Wintu Suite pays homage to the local Native American tribe with its rugs, artwork, rustic finishes, and enormous log platform bed draped with white faux fur.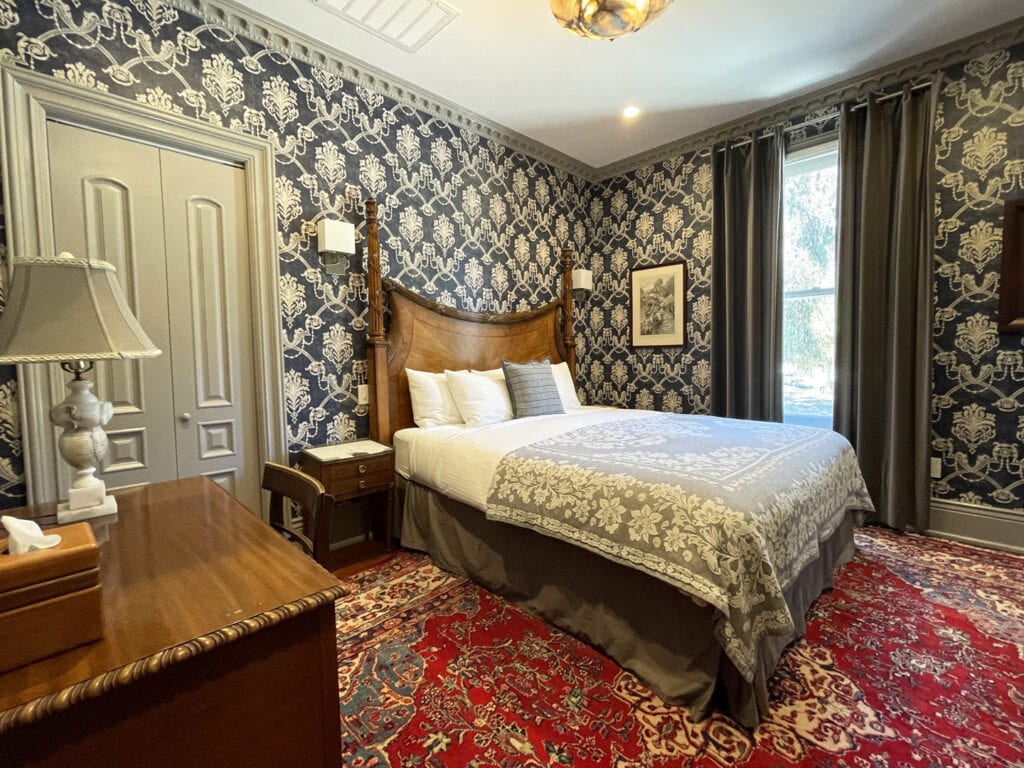 Monte Cristo Bed & Breakfast Inn
Originally built in 1875 as a bordello and saloon, the Monte Cristo Bed & Breakfast Inn is possibly the oldest surviving hospitality building in San Francisco. The current owner has lovingly restored the hotel with Bradbury & Bradbury wallpapers, Persian rugs, intricate crown molding, vintage light fixtures, beautiful antiques, and other period-perfect details that transport guests back to Victorian San Francisco. One of the few nods to the 21st Century are the luxuriously modern baths in each room.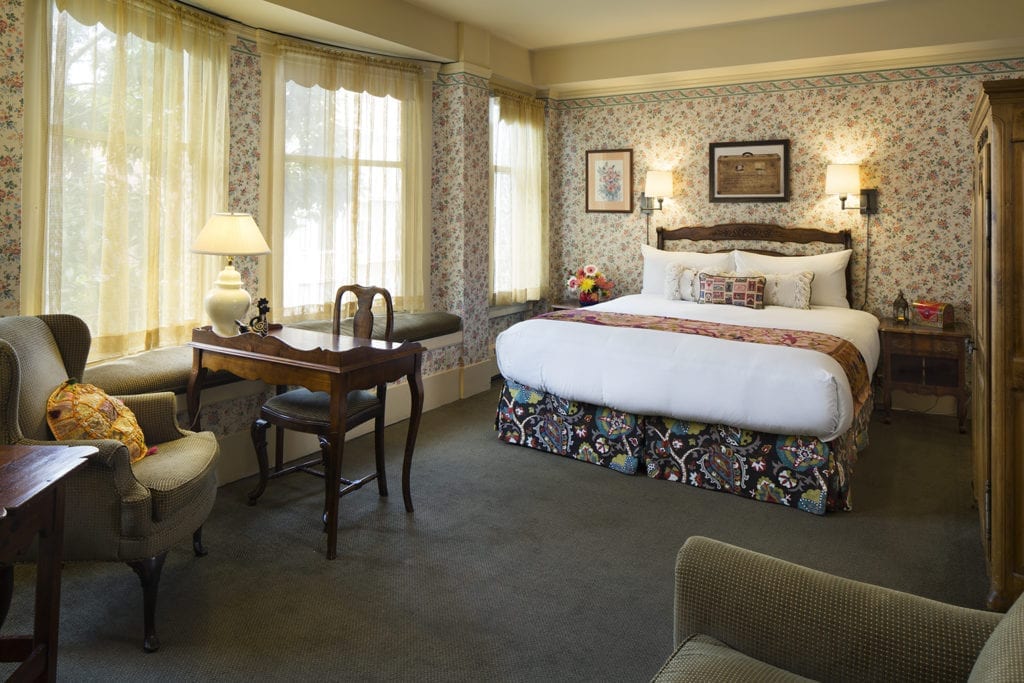 Petite Auberge
If you had a well-traveled French aunt who owned a hotel in San Francisco, it might well look like Petite Auberge. This cozy boutique hotel blends French countryside charm with a curated selection of global objets d'art to craft a whimsical, romantic ambiance. The inn's ornate wallpapers, French antiques, and old-fashioned writing desks will have guests continuously wondering whether they're in The City of Lights or The City by the Bay. It's the perfect pied-à-terre for nomads of all stripes.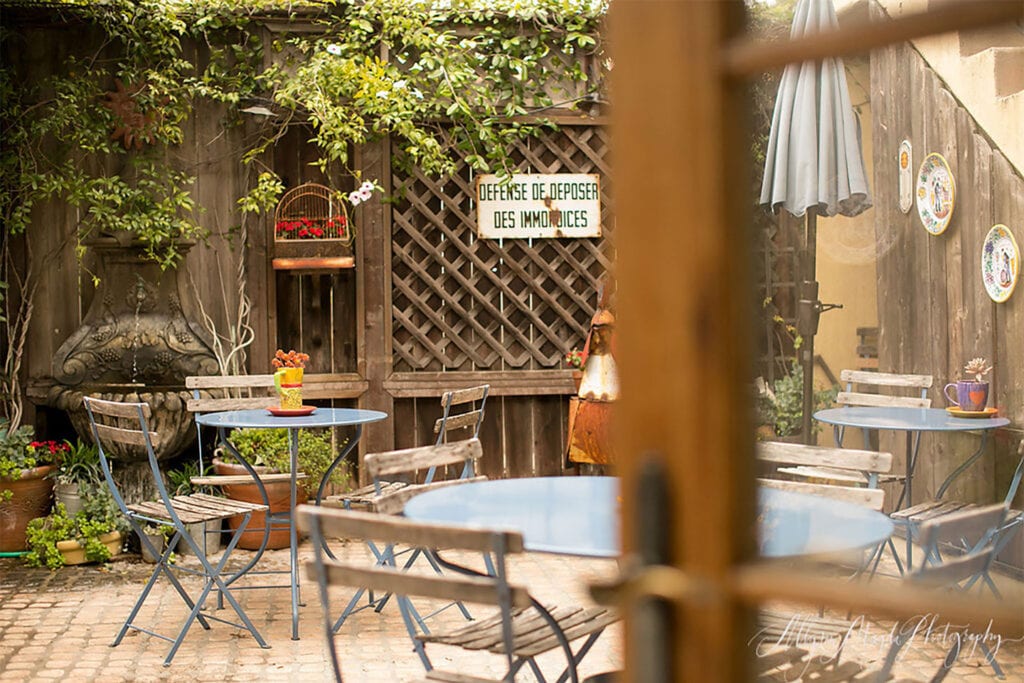 Petit Soleil Bed et Breakfast
Step inside the time-worn cobblestone courtyard at the Petit Soleil Bed et Breakfast and be transported to the rustic charm and colors of Provence. The owners lived and traveled extensively through Europe and sought to recreate the ambiance of a European bed and breakfast in San Luis Obispo. Every object has its own story of love and intention. The rooms evoke a Provençal farmhouse feel with an eclectic mix of floral, toile, and quilted fabrics in buttery hues of yellow, red, and sky blue.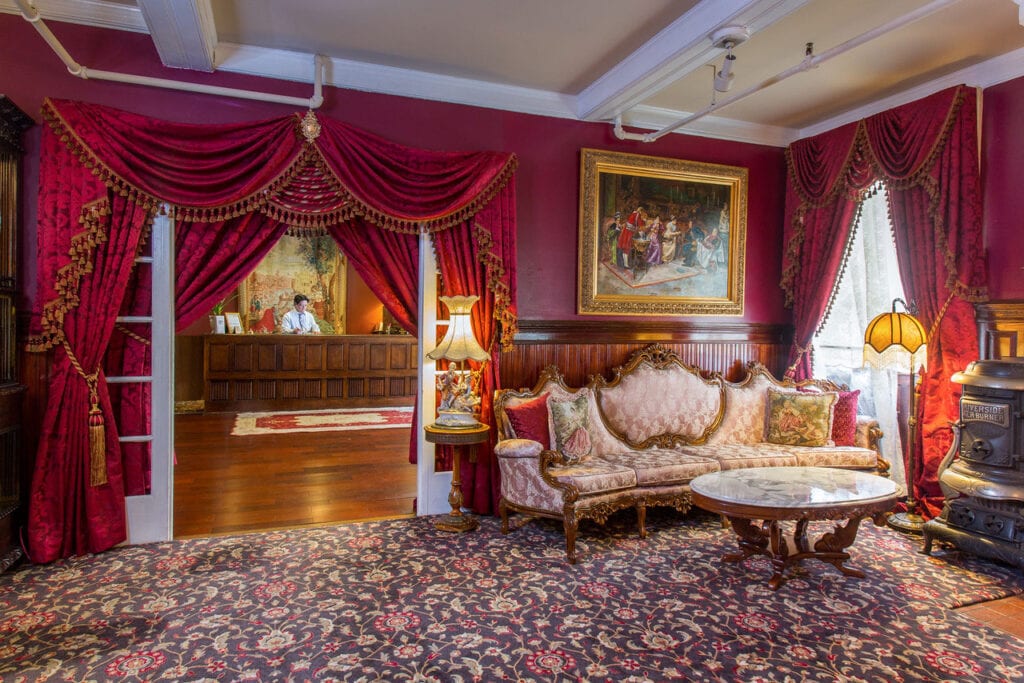 Queen Anne Hotel
Entering through etched glass doors of the Queen Anne Hotel in San Francisco, guests step back in time to an opulent, bygone era. Built in 1890, this grand Victorian rose from the wealth produced by the California Gold Rush. A spacious parlor welcomes guests with roaring fireplaces, crystal chandeliers, fine antiques, and afternoon tea and sherry. The grand staircase leads to 48 elegant guest rooms and suites, all with luxurious amenities and lavish Victorian charm.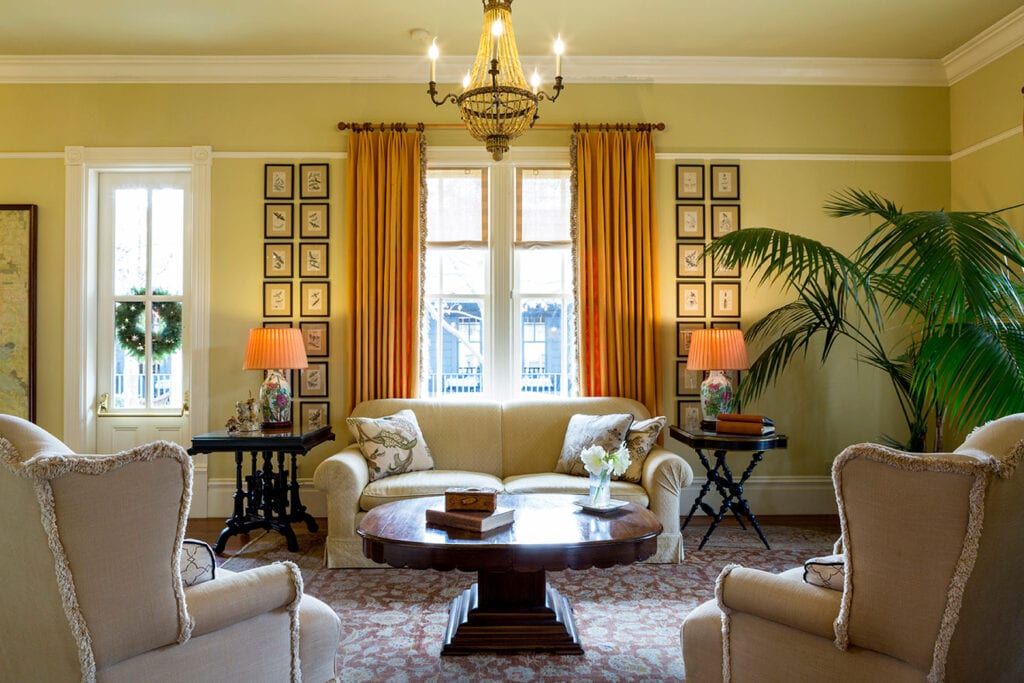 Tallman Hotel
Walking the wide, wrap-around porch of the elegant Tallman Hotel in Upper Lake is like stepping back in time. The meticulously-restored 1870s hotel evokes the romance of California's Old West. The period-perfect architectural details provide the backdrop for a sophisticated blend of antiques, eclectic treasures, wallcoverings, and fabrics that evoke a bygone era while appealing to modern sensibilities. It exudes the grace and luxury of a historic hotel run by a family with impeccable taste.
The Pelican Inn
If a bunch of 16th Century English sailors washed ashore and built an inn at Muir Beach, it might well look like The Pelican Inn. With whitewashed walls, rough-hewn timbers etched with graffiti, low ceilings, leaded windows, and nary a straight line in sight, the Tudor-style country inn is an amusing plunge into archaic British customs and superstitions. It's also a convivial place to feast by candlelight, throwback a pint, and sleep beneath heavily-draped canopy beds with magical hag stones.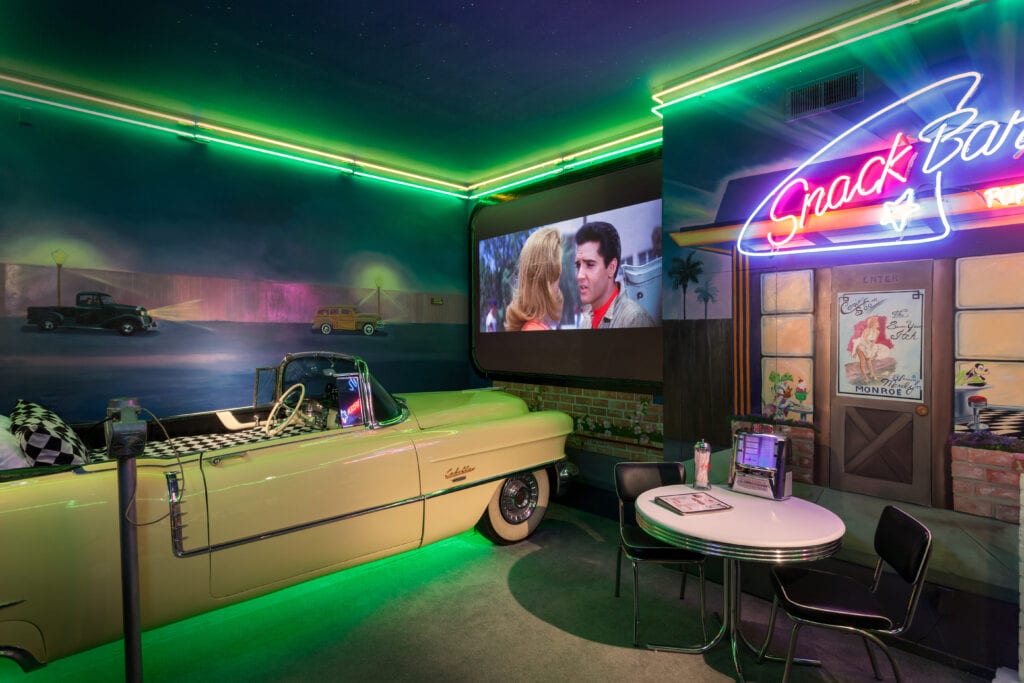 The Victorian Mansion
Inside whimsical The Victorian Mansion in Los Alamos, six themed suites transport guests to the fantasy of their choice. The Pirate's Suite resembles the hull of a ship and features sea lanterns that sway with the sound of waves. In the Roman Suite, guests can sleep in a chariot bed and climb marble steps up to a column-lined hot tub while Rome burns in the background. Other suite themes include a sheik's tent, a 1950's drive-in, a gypsy caravan, and an artist's Parisian loft.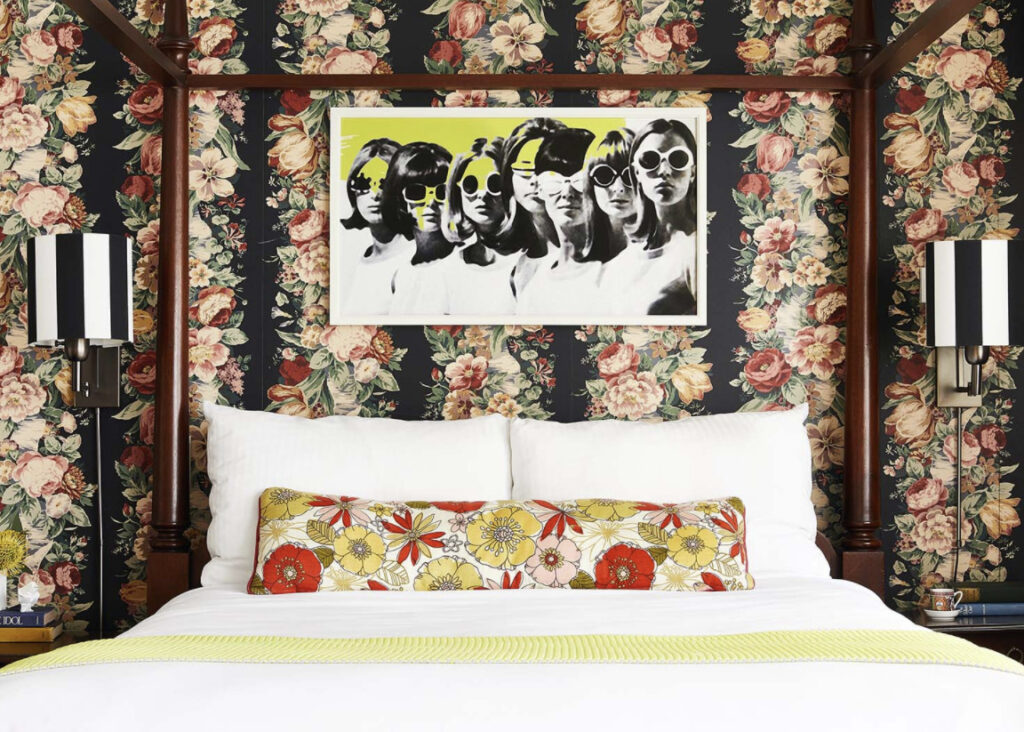 White Swan Inn
One part 1960s Carnaby Street, one part Cotswolds, the White Swan Inn is a clever homage to all things mod-meets-English Country glam. This hip, boutique hotel located in San Francisco's Nob Hill features a mash-up of florals, houndstooth, and polka dots with bold, irreverent art that is both whimsical and welcoming. It's a delightful place to enjoy a cup of tea and nosh with a dose of British panache without actually having to cross the pond.