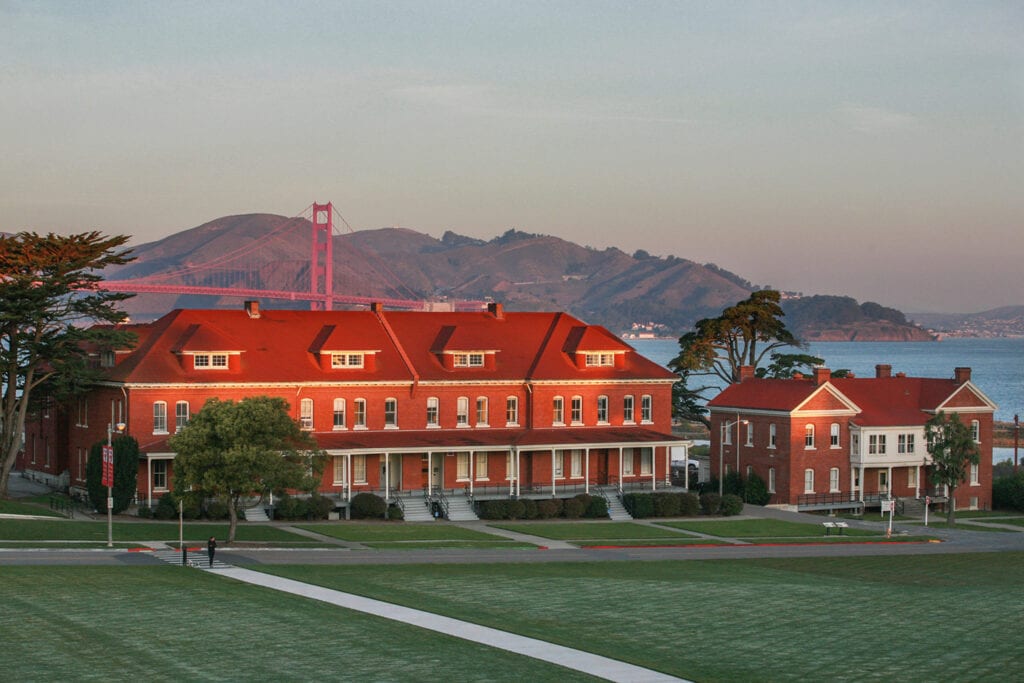 The Best Time to Visit San Francisco is Now
There may be no better time to visit San Francisco than now. Fewer crowds, rare hotel bargains, expanded outdoor dining, newly-reopened attractions, and high vaccination rates (over 80%) have made this dazzling city by the bay all the more alluring.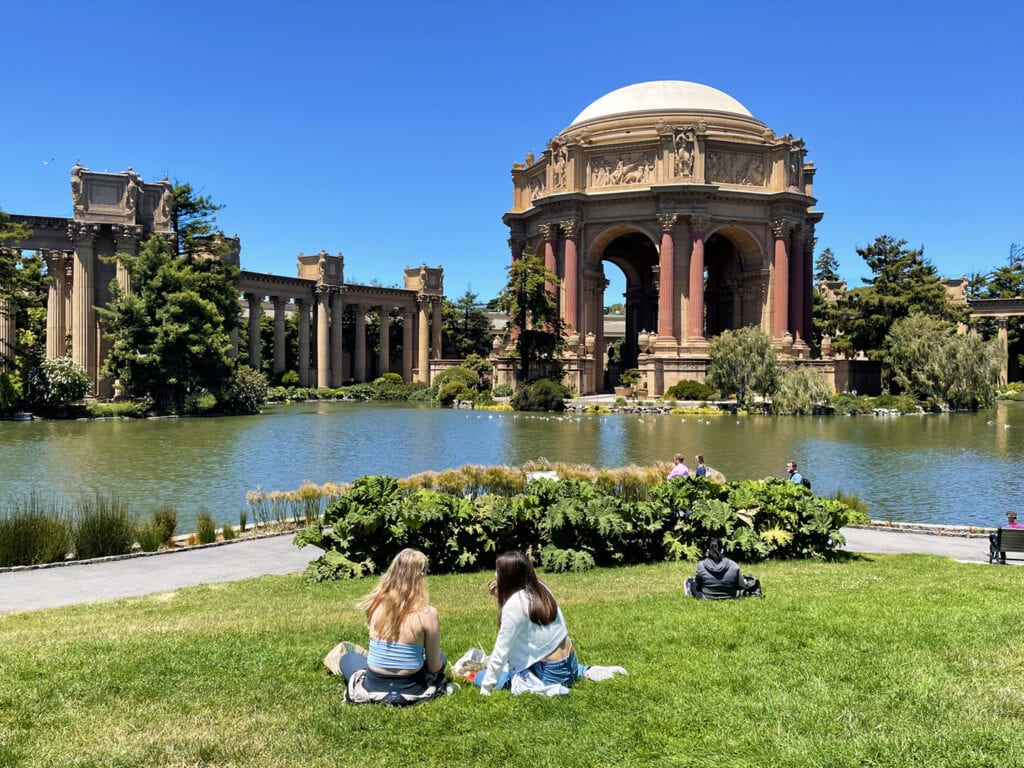 In accordance with California's full reopening on June 15, San Francisco lifted nearly all restrictions regarding capacity limits, physical distancing, and masks for fully vaccinated individuals. Exceptions include public transportation and San Francisco International Airport, where masks are still required. Individual businesses may also require masks, so it's best to keep one handy.
Here's what to expect on a trip this summer to San Francisco:
Transportation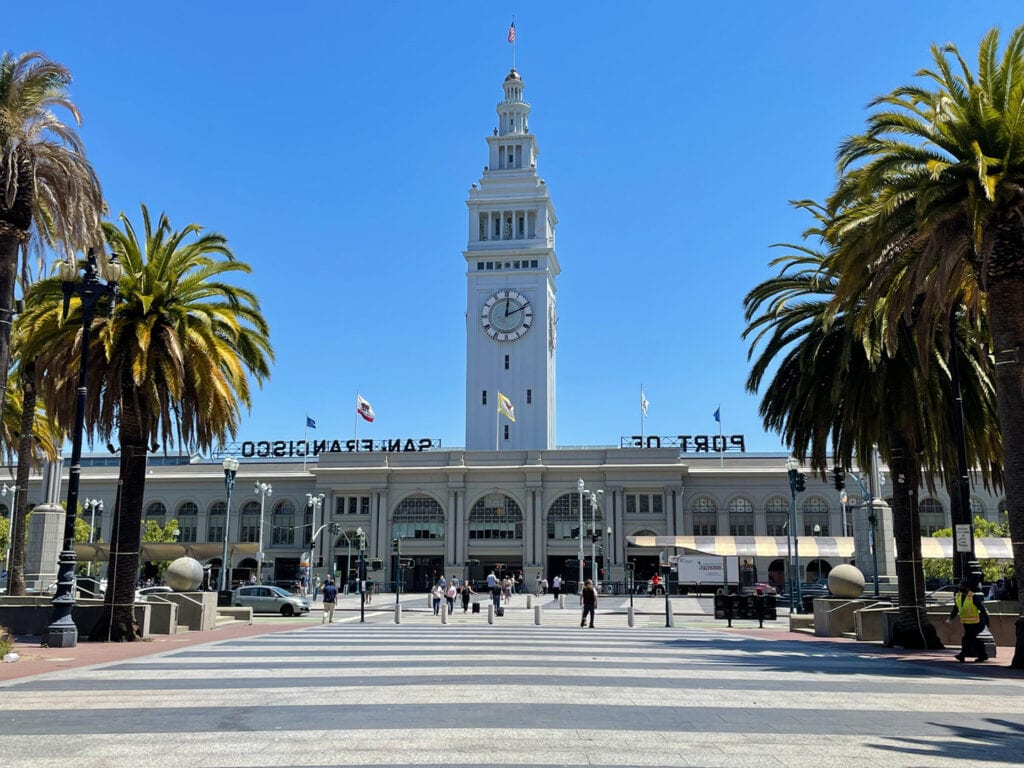 Arriving to San Francisco International Airport, you'll find an array of protocols and health measures in place to protect of health of travelers, including upgraded cleaning procedures, protective barriers, hand sanitizer stations, and mask requirements. The airport is also offering free COVID-19 vaccinations and testing. Appointments are recommended, but walk-ins are also available on first-come, first-served basis.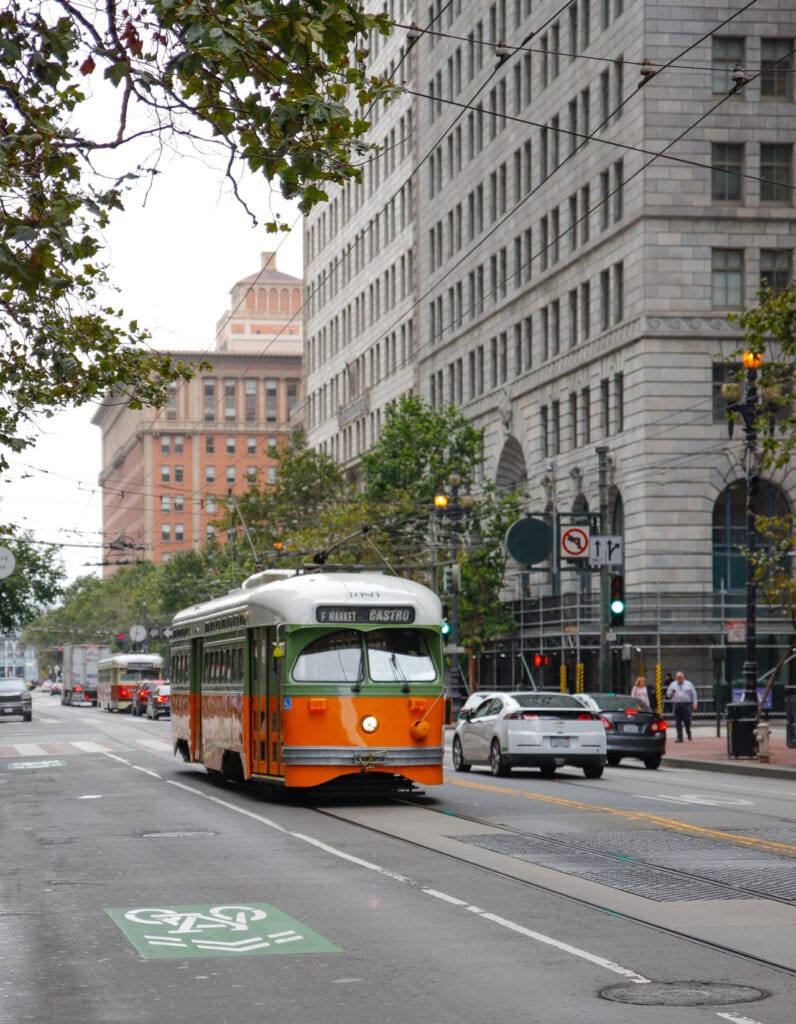 It's less than $10 to get from the airport into downtown via Bay Area Rapid Transit (BART), but you can also easily catch a taxi or rideshare into the city. Once you've arrived, walking is the best way to explore the city's neighborhoods, but San Francisco's hybrid buses, light rail, and charming vintage streetcars are great bets for crosstown treks and climbing those incredibly steep hills. The city's legendary cable cars are not currently operating, but are set to resume service in August.
Attractions
All of San Francisco's major attractions have reopened, but a bit of advance planning is key to a successful visit. Most indoor attractions and museums require timed-entry tickets to minimize crowds and provide a safe, comfortable experience. (Imagine standing in one of the halls at SFMOMA and enjoying a masterpiece all to yourself!) New museum exhibitions include a retrospective of Walt Disney Studios' little-known contributions to the World War II effort at the Walt Disney Family Museum and a fascinating shark exhibit at the California Academy of Sciences.
Advance tickets to outdoor attractions like the Japanese Tea Garden or the 150-foot SkyStar Observation Wheel in Golden Gate Park are also recommended. Tickets for all attractions can be purchased online in advance.
No tickets are required for enjoying the great outdoors at any of the city's parks. Enjoy the skyline views at Alamo Square Park, the people watching at Dolores Park, or the rich history and wildlife habitats at the Presidio. This 1491-acre former military installation opened to the public as a national park in 1994. It features 24 miles of hiking and biking trails, beautiful beaches, and breathtaking views of the bay, Golden Gate Bridge, and the Pacific Ocean.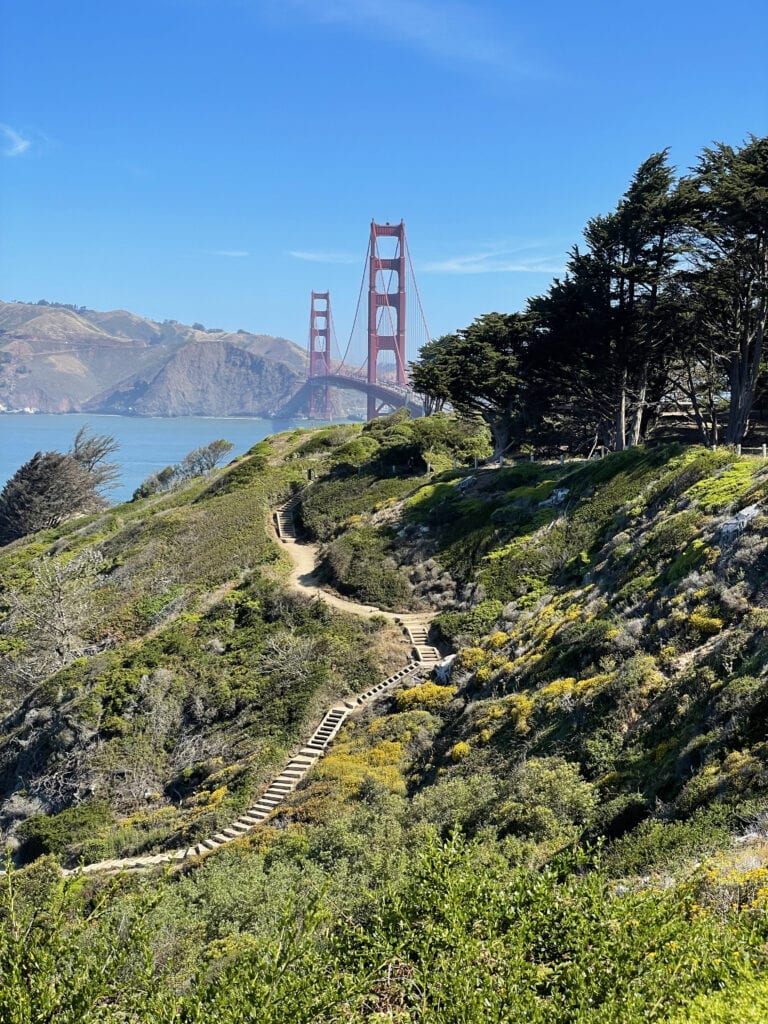 Dining
San Francisco's amazing restaurants are now able to host indoor dining at full capacity but don't miss the city's expanded al fresco dining options. The charming parklets and outdoor patios many restaurants created during the pandemic serve up superb meals with a magical ambiance. Some streets like Valencia are even closed to vehicular traffic in the evenings for diners to enjoy a festive, laid-back vibe as pedestrians stroll through the streets and buskers entertain the crowds.
A few recommendations include Fable in the Castro, which serves up fresh, seasonal California cuisine in one of the city's best garden patios. In the Richmond District, Aziza features the innovative Moroccan cuisine of Michelin-starred chef, Mourad Lahlou. Under a canopy strung with lights near the Financial District, Café Bastille is a bustling Parisian-style bistro serving delightful French classics. For a truly sublime experience, book a table at the Michelin-starred Spruce in Pacific Heights, where inspired cuisine is paired with an incredible wine list featuring over 3,500 selections.
Hotels
San Francisco's boutique hotels and bed and breakfasts are excited to welcome you back. You'll notice heightened cleaning procedures and modifications to some services like breakfast and wine receptions, but more than that, you'll notice the staffs' warm smiles and the welcoming touches they add to your stay. 
Franck Legrand, the general manager at the Cornell Hotel de France, said that while he's always strived to provide the highest levels of customer service for the hotel, the pandemic changed him. "I'm doing my job differently now," said Legrand. "I find myself thinking about my guests all of the time. I try to spend as much time with them to ensure they feel safe, relaxed, and well cared for."
CABBI has compiled a list of the best boutique hotels and bed and breakfast inns in San Francisco. These unique hotels are steeped in charm and offer the highest levels of personalized service.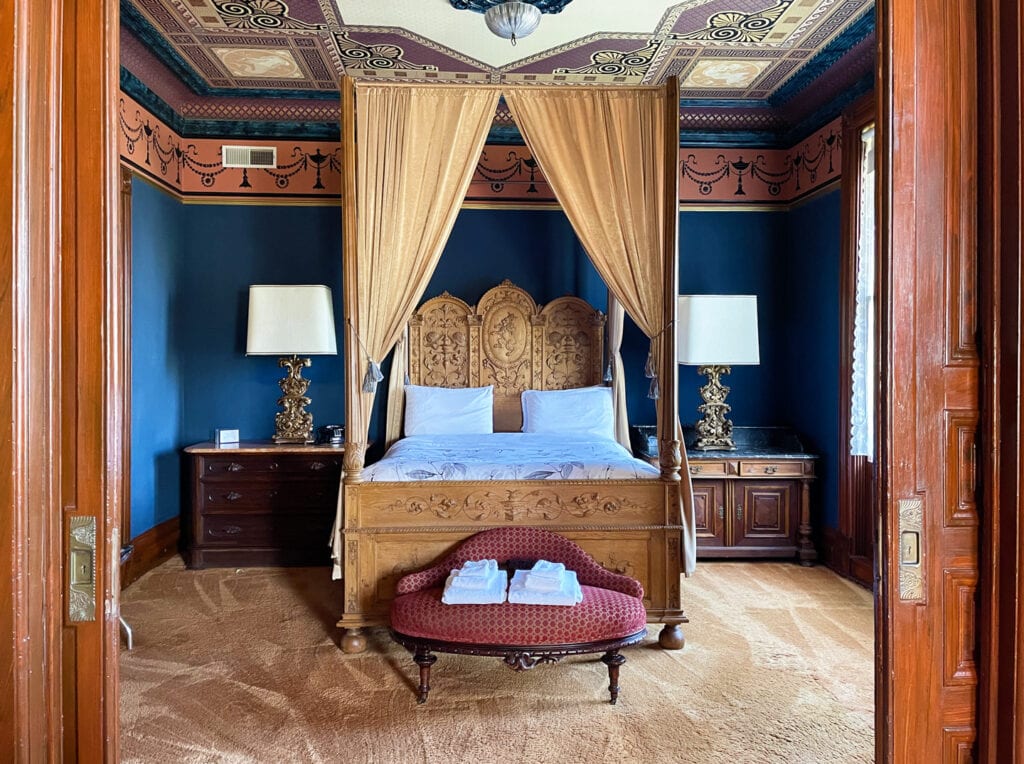 Chateau Tivoli Bed & Breakfast Inn
Just three blocks from the Painted Ladies at Alamo Square, the Chateau Tivoli Bed & Breakfast is a meticulously restored Victorian built in 1892. The mansion's 22 exterior paint colors and gold-leaf trim are just a prelude to the grandeur of the interior. Inside, you'll find a world of Victorian splendor with a grand oak staircase, hand-carved woodwork, period wallpapers, Persian rugs, and antique furnishings from the estates of the Vanderbilts, Charles DeGaulle, and J. Paul Getty. The inn offers nine lavishly appointed rooms and a newly-expanded complimentary breakfast.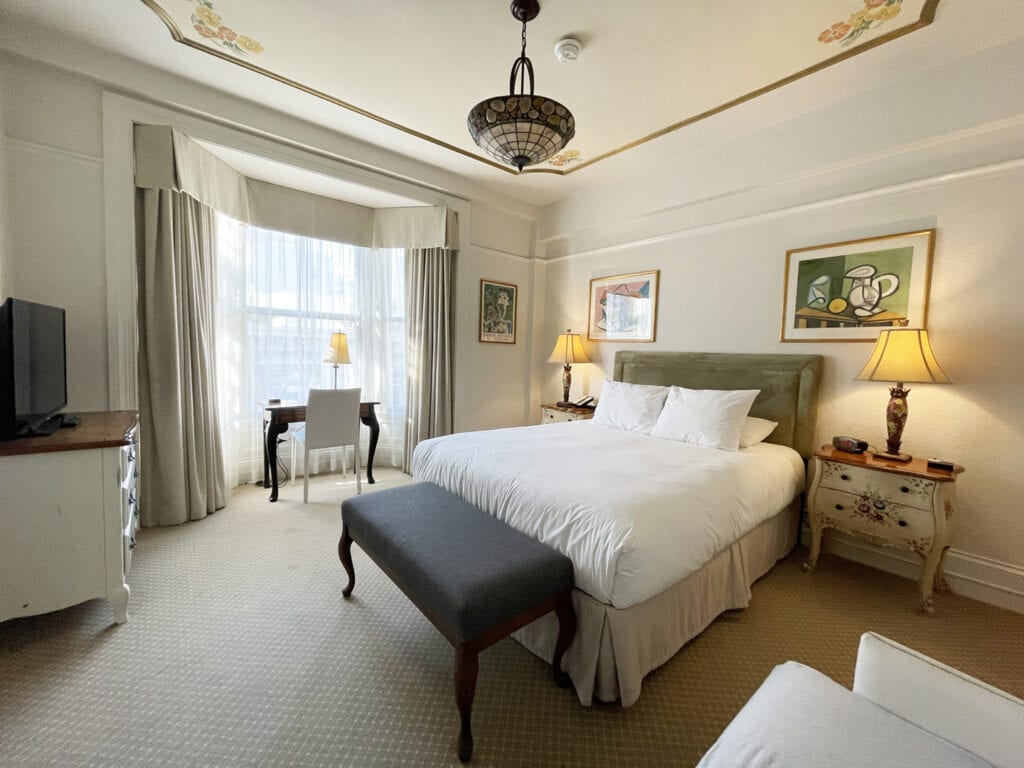 Cornell Hotel de France
The delightful and moderately priced Cornell Hotel de France is a bit of Paris in the heart of San Francisco. Upon entering this renovated 1910 hotel, strains of Edith Piaf fills the air and fine art prints from French masters line the walls. In fact, each of the hotel's six floors showcases a different artist: Modigliani, Matisse, Chagall, Gauguin, Toulouse, and Lautrec. The guest rooms feature charming French provincial furnishings coupled with modern amenities. Breakfast includes warm croissants delivered to the room. The hotel is located in Nob Hill just steps from Chinatown and the posh shops at Union Square.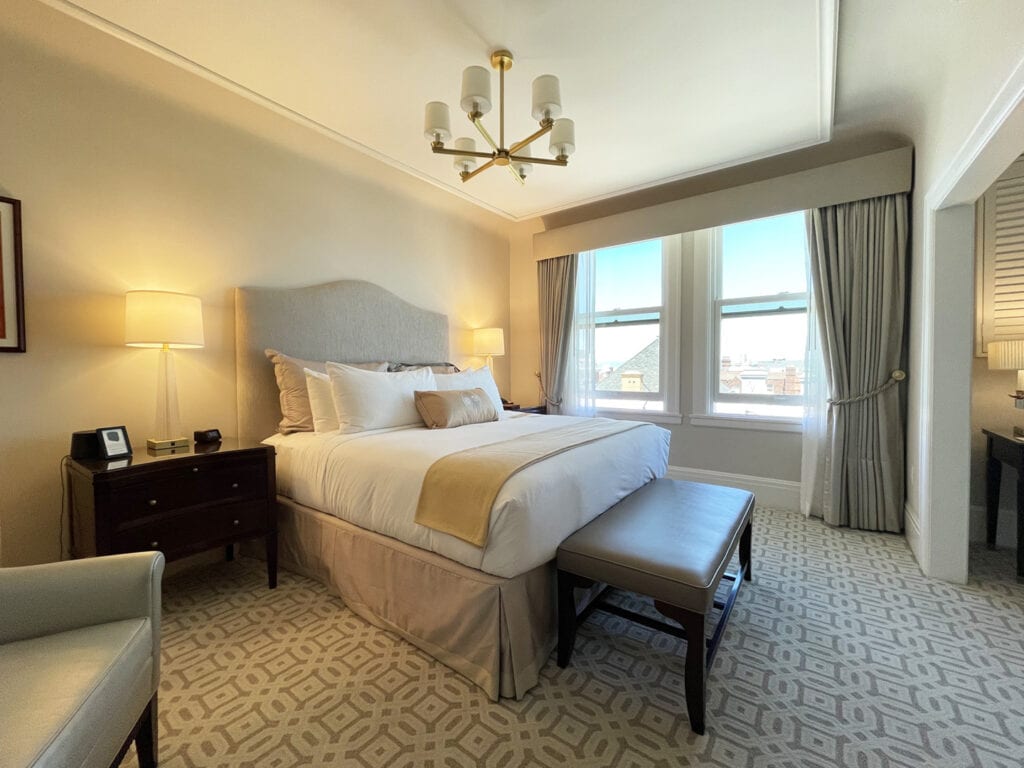 Hotel Drisco
Atop San Francisco's most prestigious Pacific Heights neighborhood, the Hotel Drisco offers impeccable service and a dazzling array of all-inclusive amenities to welcome and pamper guests. The elegantly restored 1903 Edwardian hotel is staffed by sincere, well-connected hosts who are poised to help you make the most of your stay. The luxurious suites offer every comfort imaginable as well as delightful surprises that put the hotel in a class of its own. And unlike the other five-star hotels, stays at the Hotel Drisco include complimentary extras such as breakfast, an evening wine reception, parking, and more.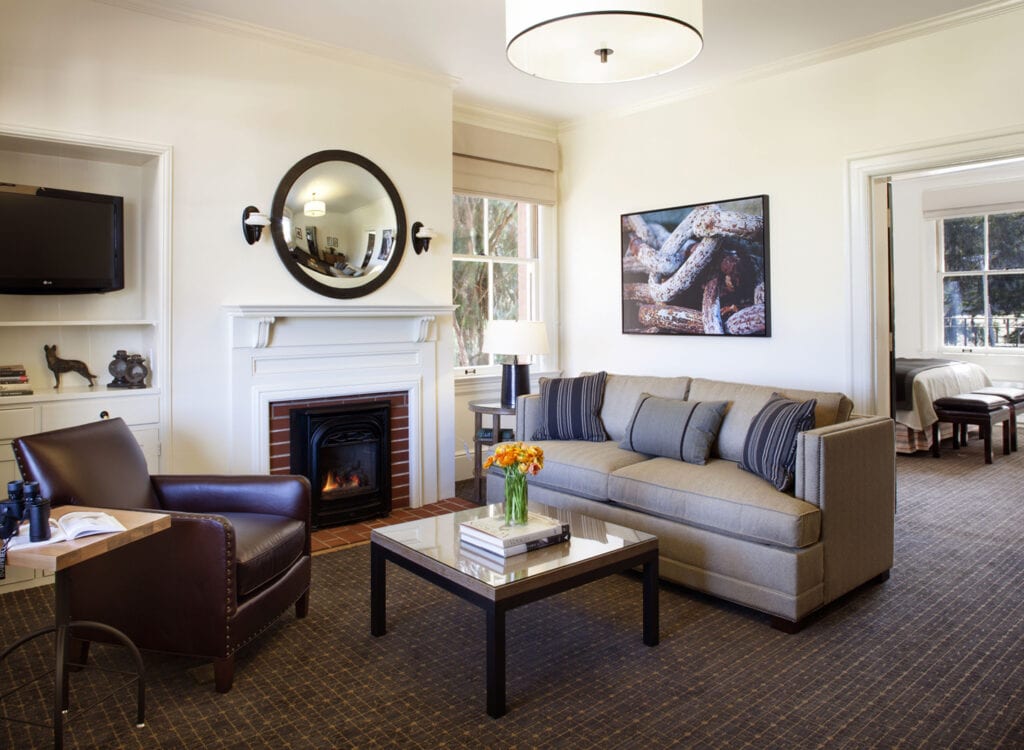 Inn at the Presidio
Enjoy the understated luxury and comfort once reserved for Army officers at the Inn at the Presidio. The boutique hotel is housed inside of a historic Georgian-Revival brick building that served as the Bachelor Officer's Quarters when the Presidio was still a U.S. Army post. The hotel features a broad porch lined with rocking chairs, an outdoor fire pit, complimentary breakfast and wine reception, and spacious, handsomely appointed guest rooms with thoughtful amenities. A nature trail behind the hotel winds through the eucalyptus trees to a viewpoint overlooking the bay and Alcatraz Island.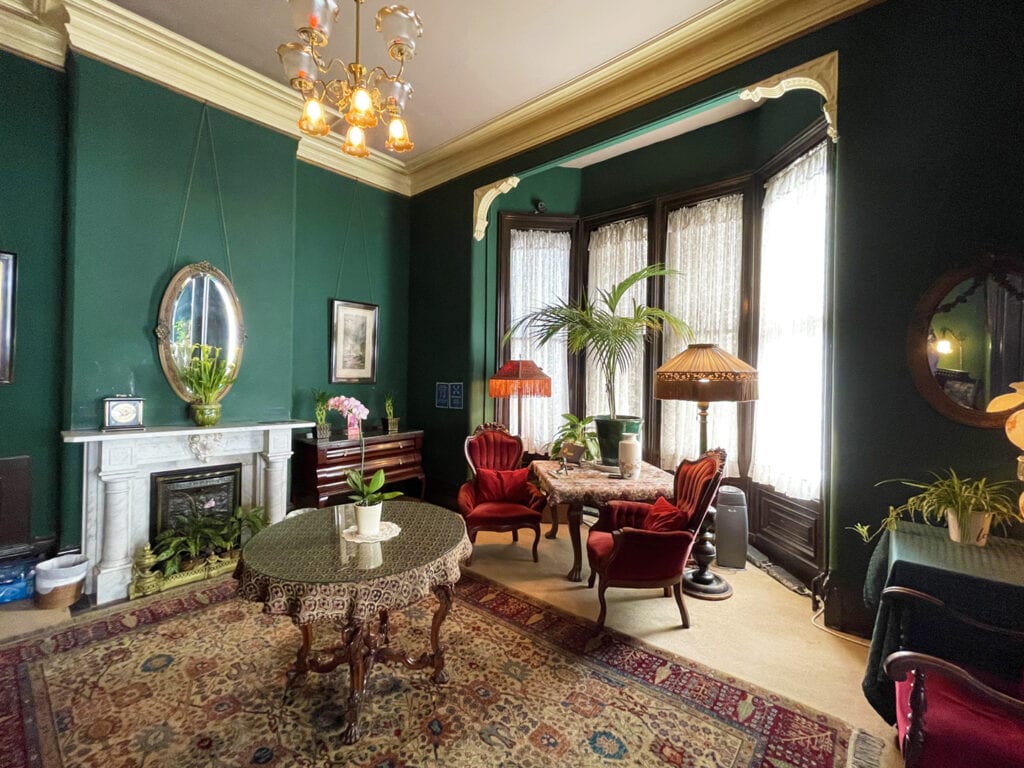 Inn San Francisco
Inn San Francisco is an 1872 Victorian mansion with 21 guest rooms in the heart of the vibrant Mission District. Classical music and high-ceilinged rooms furnished with elegant antiques invite guests to step back in time to a bygone era. The mansion also features a rooftop deck with 360° views of the city and a private backyard garden with an inviting redwood hot tub. Stays include a choice of breakfast selections delivered to the room. The inn's location is ideal for exploring the Mission's treasure trove of great restaurants and colorful murals.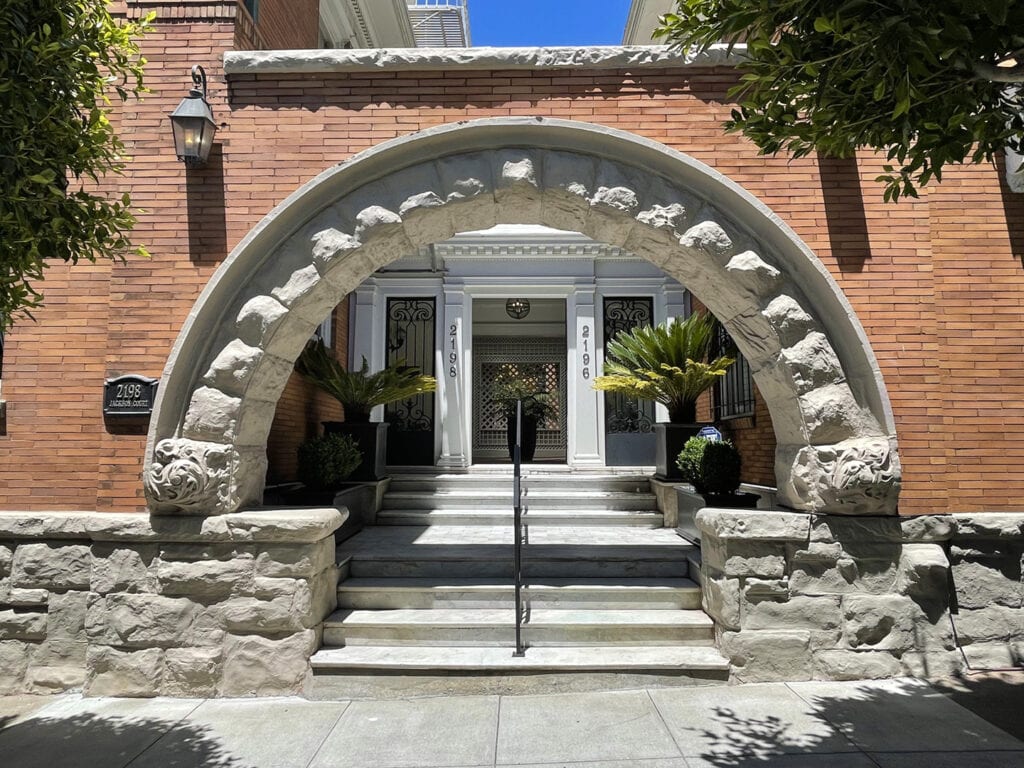 Jackson Court
Built in 1900, Jackson Court is a magnificent brownstone mansion located in the upscale residential neighborhood of Pacific Heights. An arched entrance and flower-lined courtyard welcome you to the understated elegance and tranquility of the inn. Each of the 10 guest rooms is individually decorated with a blend of antiques and contemporary furnishings. Stays include a complimentary continental breakfast and afternoon tea and cookies. The trendy boutiques and cafes of Union and Fillmore Streets are within an easy stroll of the inn.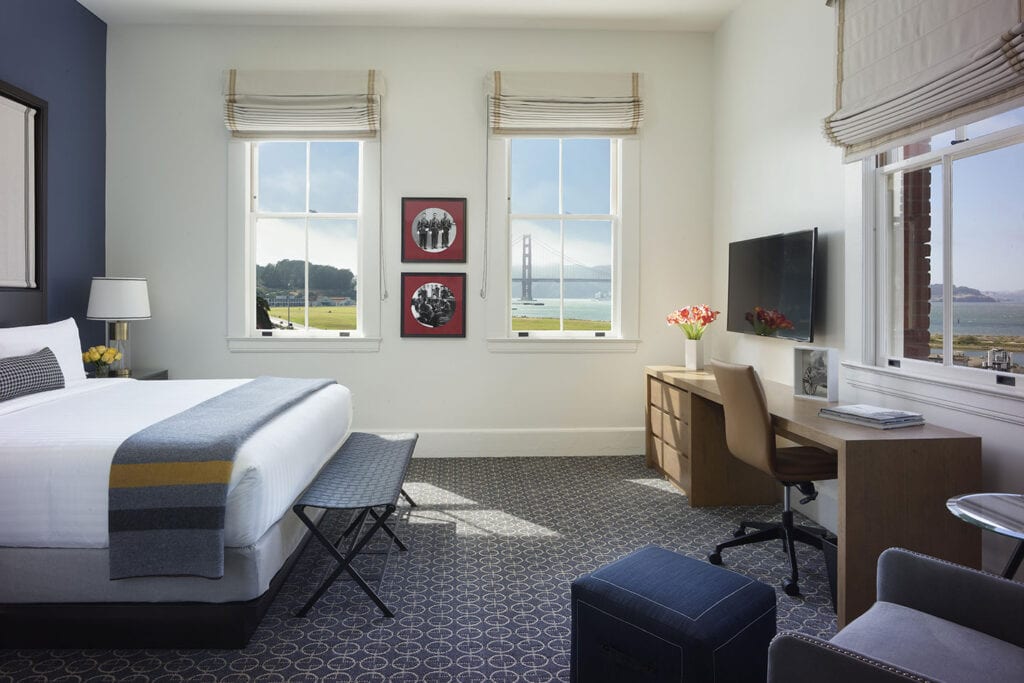 Lodge at the Presidio
Located in the heart of the Presidio, the Lodge at the Presidio is San Francisco's closest hotel to the Golden Gate Bridge. The 42-room, three-story hotel is housed inside former U.S. Army barracks that were built between 1895 and 1897 and beautifully renovated into a boutique hotel in 2017. Many of the guestrooms feature stunning views of the San Francisco Bay, the city skyline, the Golden Gate Bridge, or a combination thereof. The contemporary design for the hotel salutes building's military history and provides an ideal basecamp for exploring this unique national park.
Parker Guest House
Nestled between two vibrant neighborhoods—the Castro and the Mission—the Parker Guest House provides a uniquely San Francisco experience for visitors with a relaxed, convivial atmosphere. The boutique hotel is comprised of two side-by-side Victorian homes sharing delightful secret gardens and beautifully designed common spaces. The elegant guest rooms display meticulous attention to detail and include thoughtful amenities. The hotel serves a complimentary continental breakfast and wine social each day. Its location places guests within walking distance of some of the city's best restaurants.
Petite Auberge
If you had a well-traveled French aunt who owned a hotel in San Francisco, it might well look like Petite Auberge. This cozy boutique hotel in San Francisco's Nob Hill blends French countryside charm with a curated selection of global objets d'art to craft a whimsical, romantic appeal. The hotel offers 26 guest rooms filled with carved armoires, plush bedding, bathrobes, and other creature comforts. The hotel's charming garden patio is idyllic for enjoying the hotel's complimentary breakfast and evening wine. The hotel is also just steps from Chinatown and the swanky Union Square shopping district.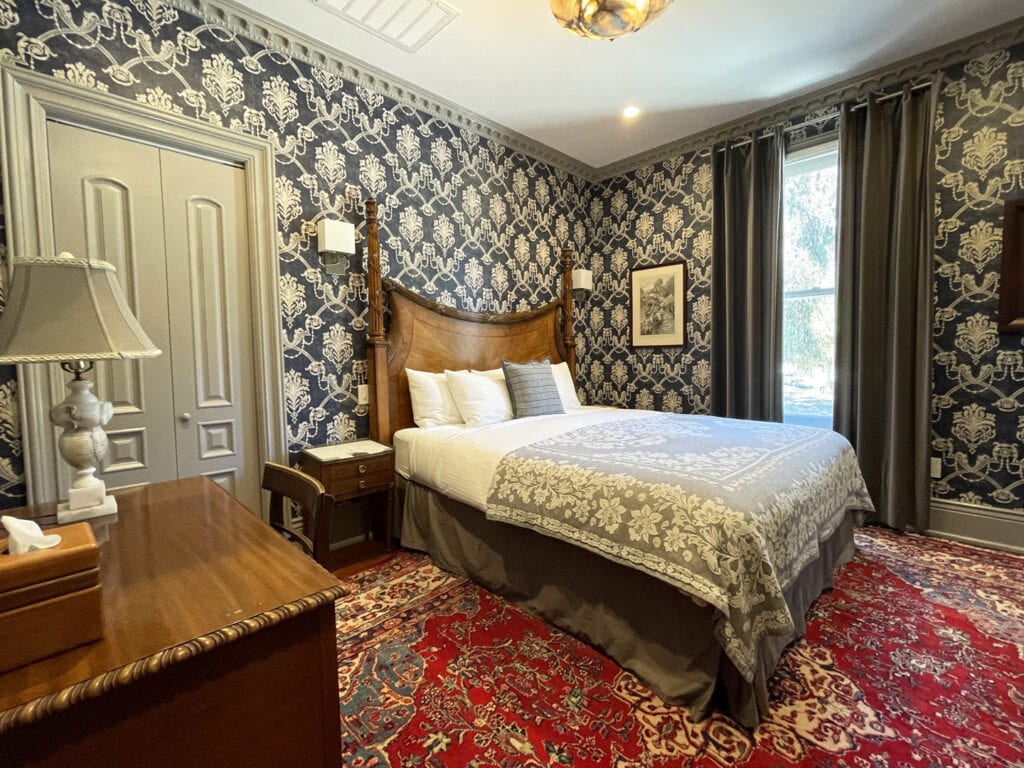 Monte Cristo Inn
If the walls of the Monte Cristo Bed & Breakfast Inn could talk, they would undoubtedly have stories to tell. Possibly the oldest surviving hospitality building in San Francisco, the hotel was originally built in 1875 as a bordello and saloon. The 14-room bed and breakfast has been lovingly restored and features high ceilings, hardwood floors, Persian rugs, authentic antique furnishings, and luxurious modern baths. The hotel serves a complimentary breakfast each morning and is within an easy stroll of the great shops and restaurants on Union Street and Fillmore Street.
Queen Anne Hotel
Entering through etched glass doors of the Queen Anne Hotel in San Francisco, guests step back in time to an opulent, bygone era. Built in 1890, this grand Victorian offers 48 elegant rooms and suites with luxurious amenities, period-perfect details, and lavish Victorian charm. Some of the rooms offer large bay windows, wood burning fireplaces, or Jacuzzi tubs for two. The hotel serves an expanded continental breakfast each morning and tea and sherry in the afternoon. The hotel's central location near Pacific Heights provides great access to shops and restaurants.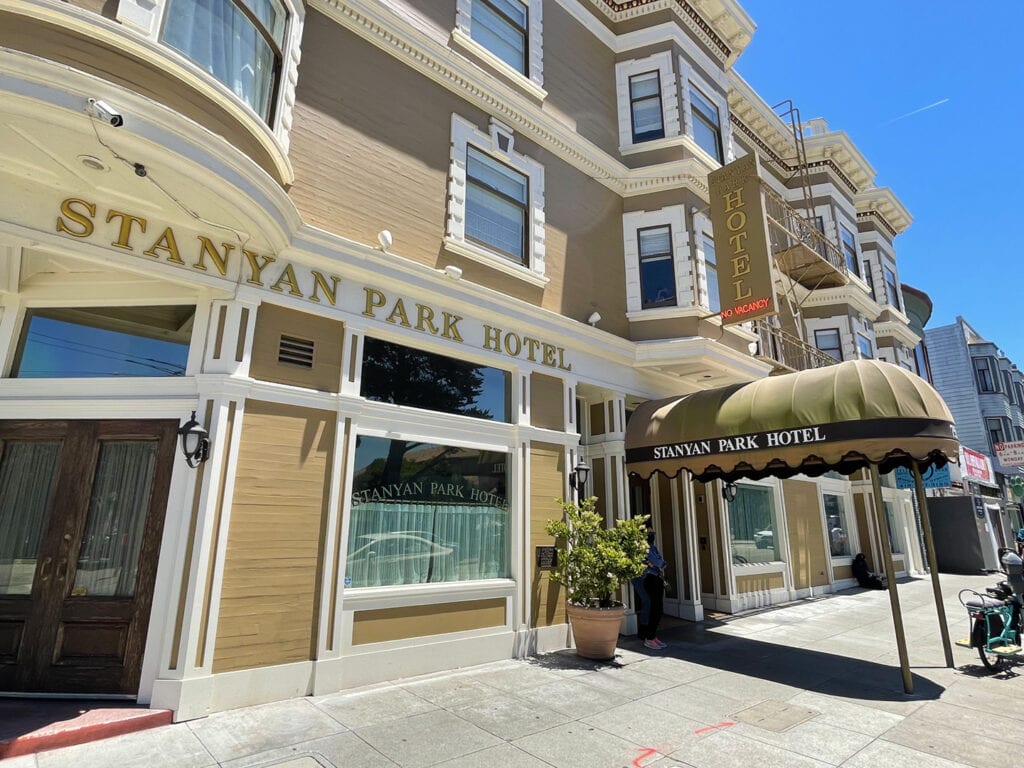 Stanyan Park Hotel
On the National Register of Historic Places, Stanyan Park Hotel is an affordable, elegantly-restored, 1883 Beaux Arts-style hotel located directly across from San Francisco's famous Golden Gate Park. It's also just a stone's throw from the historic Haight-Ashbury neighborhood. The hotel's 36 rooms are furnished in an understated Victorian style with a cheerful color palette of buttery yellows. The hotel serves a complimentary breakfast each morning and will soon reopen its new dining room featuring rare poster art from Jefferson Airplane, Janis Joplin, and other legendary musicians.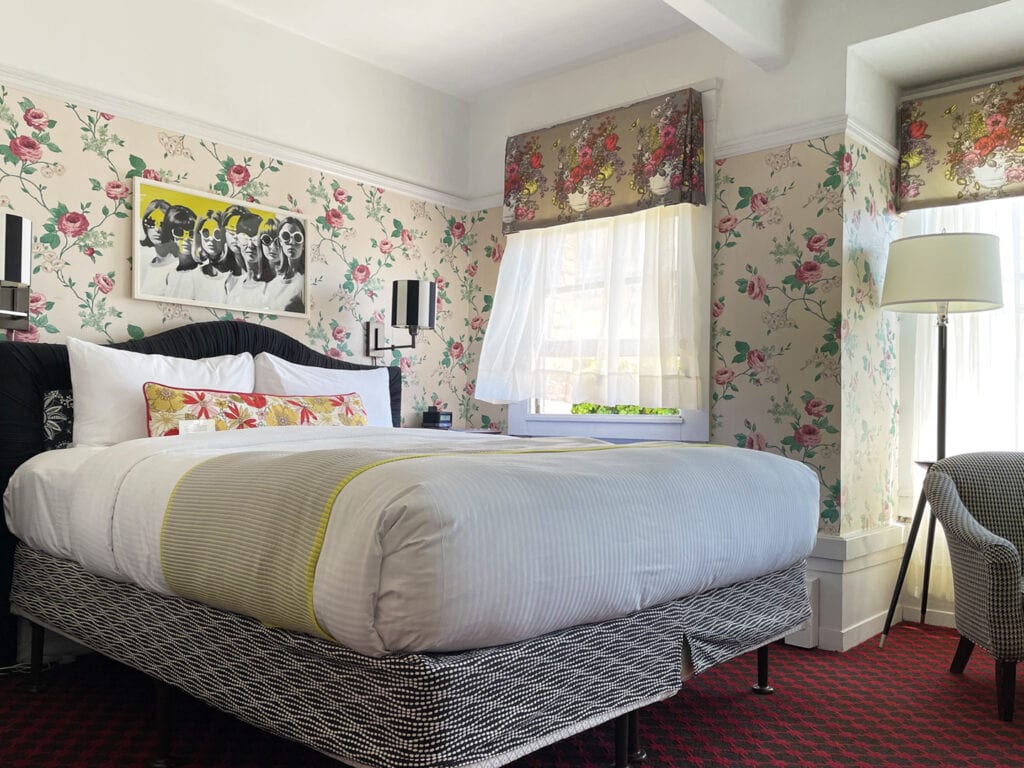 White Swan Inn
The White Swan Inn is a hip, boutique hotel blending the charm of an old English hotel with the sassy, mod flair of 1960s London. The décor is a mash-up of florals, houndstooth, and polka dots with bold, irreverent art that is both whimsical and welcoming. All of the hotel's spacious guest rooms feature gas fireplaces, sitting areas, and wet bars with complimentary soft drinks. Stays also include complimentary breakfast and an evening wine reception. The hotel's Nob Hill location places guests just a few blocks from Chinatown and the glitzy shops in Union Square.