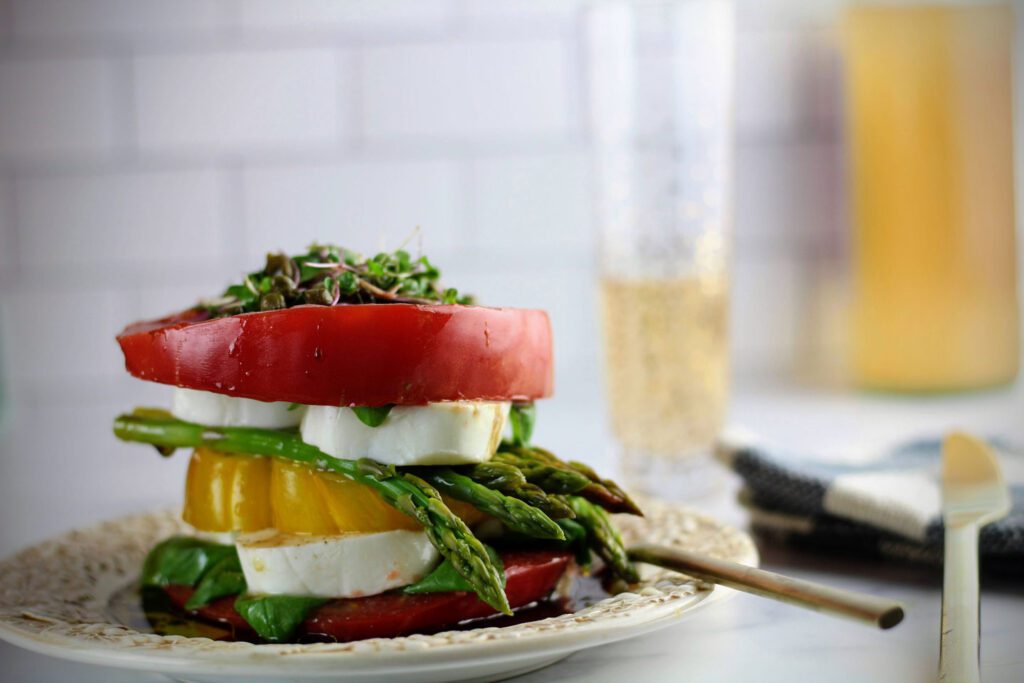 Stacked Caprese Salad with Asparagus from McCaffrey House Bed & Breakfast Inn
Just an hour from Yosemite, McCaffrey House Bed & Breakfast Inn is a welcoming three-story retreat nestled in a quiet forest hollow near the town of Twain Harte. The charming mountain town sits at an elevation of 4,000 feet and was named for two American authors—Mark Twain and Bret Harte—who wrote stories about the region during the California Gold Rush.
The McCaffrey House opened in February 1996. It was built by the owners and innkeepers Michael and Stephanie McCaffrey on the site of their family's former vacation cottage. Since the 1960s, the family had spent their summers at the cottage. In the winter, they came up on weekends to ski at Dodge Ridge Ski Area. As the McCaffreys were planning for retirement, they decided to build a bed and breakfast on the property where the family's cottage once stood. The inn blends traditional mountain charm with modern comforts. Each of the eight spacious guest rooms offers enchanting forest views, cozy fire stoves, pine furnishings, beautiful quilts, and luxurious bedding. And though the inn is much larger than the family's original cottage, it retains the cottage's original warmth and coziness.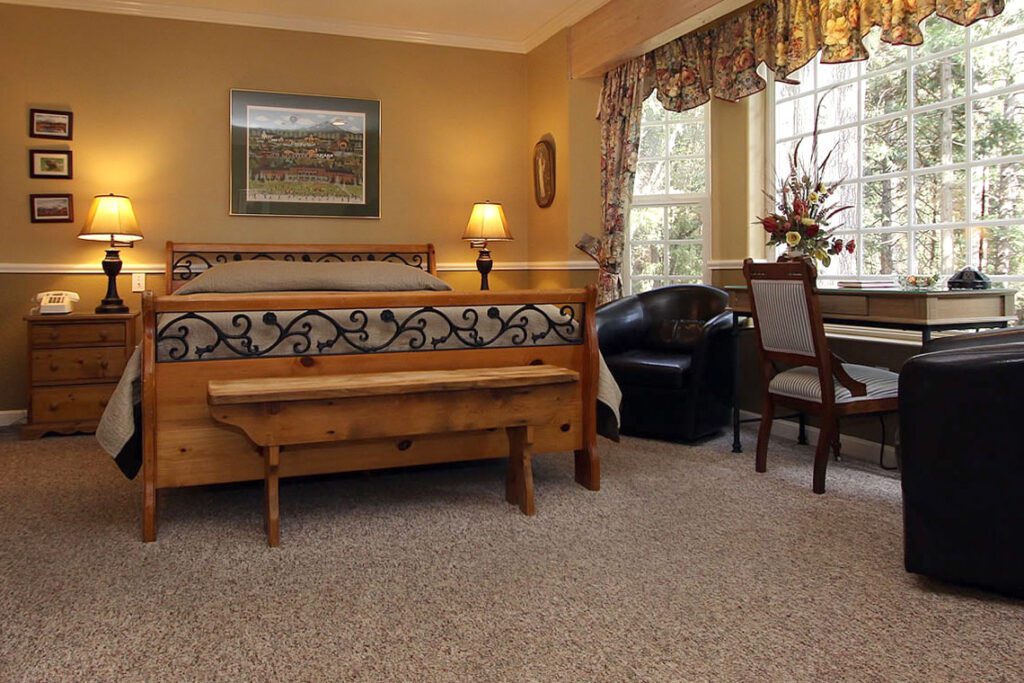 The McCaffrey House is known for its gracious hospitality and outstanding culinary offerings, including a hearty candlelit breakfast guaranteed to fuel any adventure. For McCaffrey House guests, that adventure might include hiking, biking, boating, autumn leaf-peeping, winter skiing, or exploring the region's historic gold rush towns. Enjoyed on the inn's outdoor deck or charming dining room, Stephanie's breakfasts combine candlelight, thoughtful presentation, and treehouse views of the surrounding forest to create a romantic experience.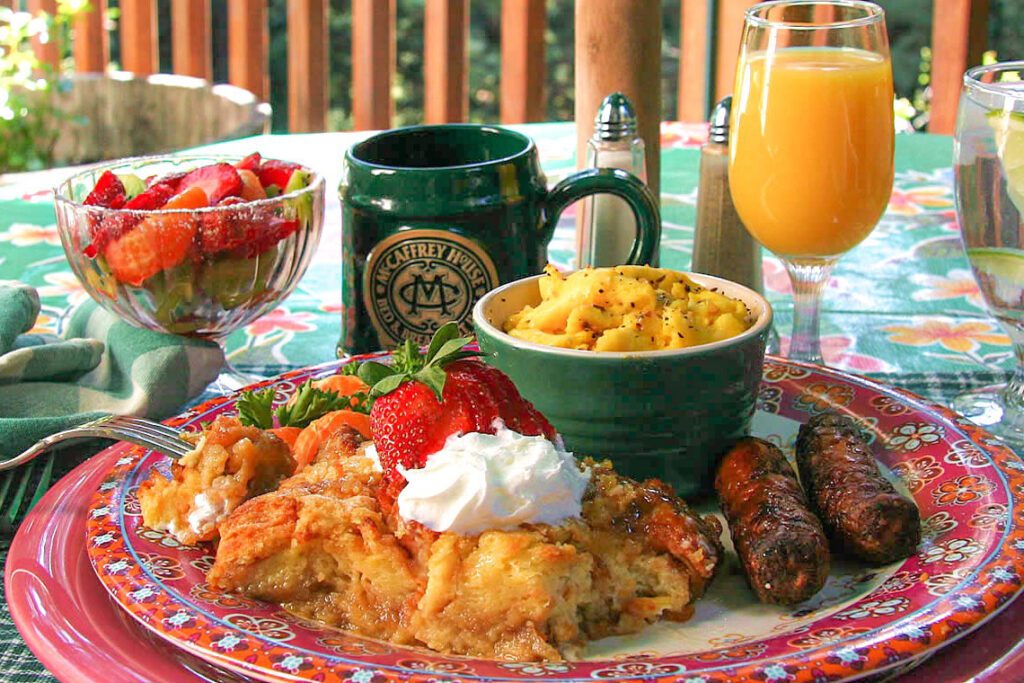 Stephanie's culinary repertoire extends far beyond breakfast. In the summer months, as tomatoes are ripening, one of her favorite dishes is an easy and refreshing riff on the classic Caprese salad.
It could be argued that the traditional Caprese salad is perfect as-is, with no room for improvement. But maybe it's more accurate to say it leaves nowhere to go but up. Stacking the salad's elements instead of spreading them out on the plate offers a unique, eye-catching presentation, while the addition of asparagus and microgreens brings in another layer of flavor and makes an already healthy dish that much more nutrient dense.
Whether made with perfectly round beefsteak tomatoes for a more symmetrical presentation or ripe summer heirlooms for maximum flavor, this salad is sure to add visual interest and bold flavors to any summer gathering. And although the original caprese salad included red tomatoes to honor the Italian flag, there's no rule against using yellow, orange, purple, burgundy, or even almost-black tomatoes to create an even more eye-catching display.
Stacked Caprese Salad with Asparagus
Courtesy of McCaffrey House Bed & Breakfast Inn
Makes 1 serving (multiply as needed)
Ingredients
For the stacked salad:
1 very large, ripe tomato
1 large ball of buffalo mozzarella
1 bunch of asparagus
fresh basil
balsamic vinegar
lemon-infused olive oil
sea salt and fresh-ground black pepper, to taste
For garnish:
microgreens
1 tablespoon capers, drained and rinsed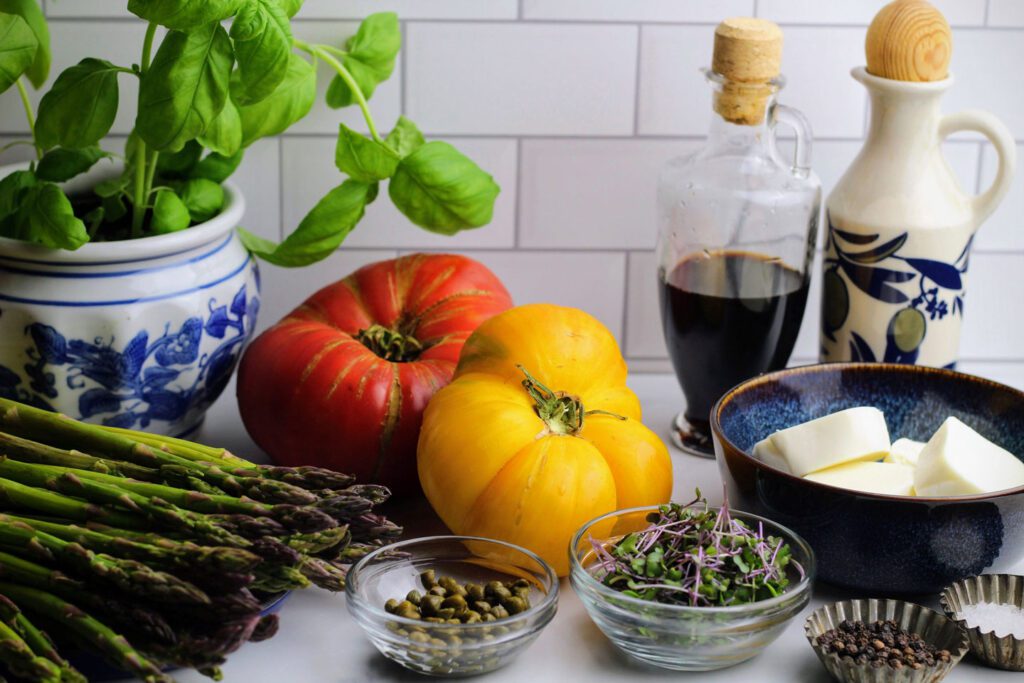 Directions
Steam the asparagus for approximately 8 minutes, then move it to a bowl of ice water to stop the cooking process.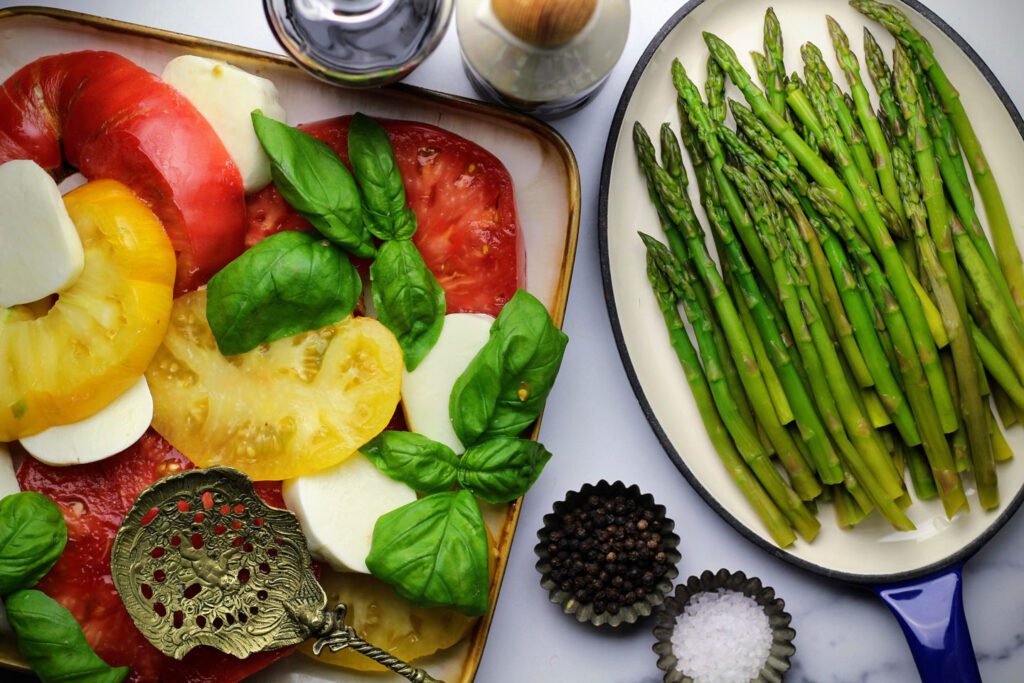 Slice the tomatoes about a ½-inch thick, then slice the mozzarella in the same way.
Start the stack with a tomato slice first and add a tiny bit of sea salt. Then place basil leaves on top of the tomato, followed by a layer of mozzarella. Add a bit of pepper to the mozzarella.
Place another tomato on the mozzarella (adding a little sea salt), then lay the asparagus on top.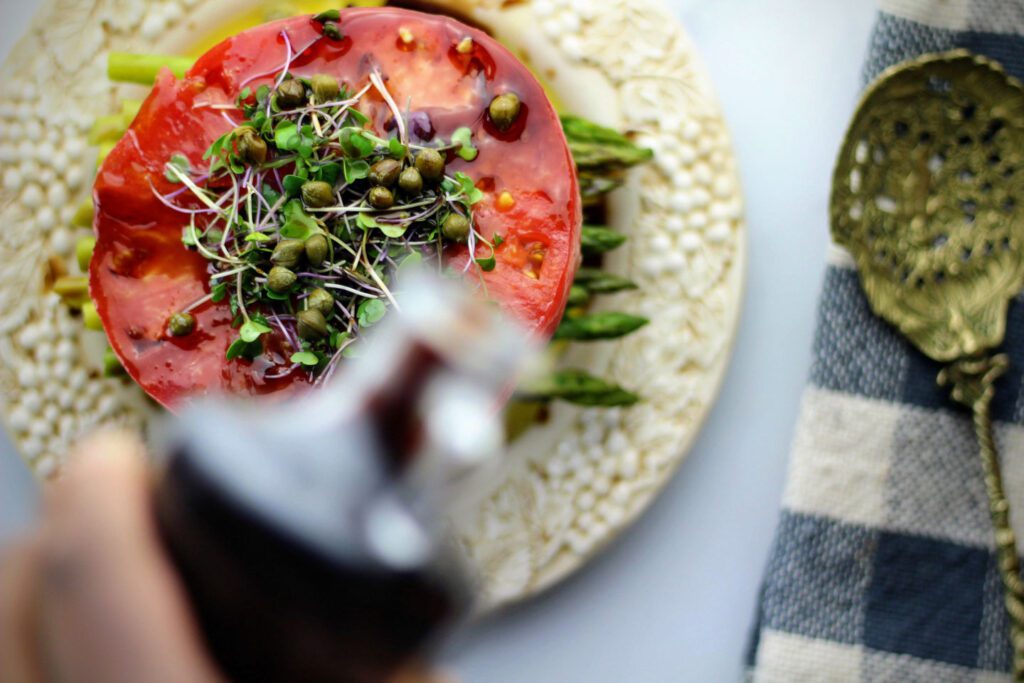 Drizzle extra virgin olive oil on the asparagus, then place a slice of mozzarella and basil leaves on top of the asparagus. Top with another tomato slice.
Garnish with micro greens and capers.
Add drops of balsamic vinegar and drizzle olive oil on the plate for dressing and presentation.
Slice in half and serve.