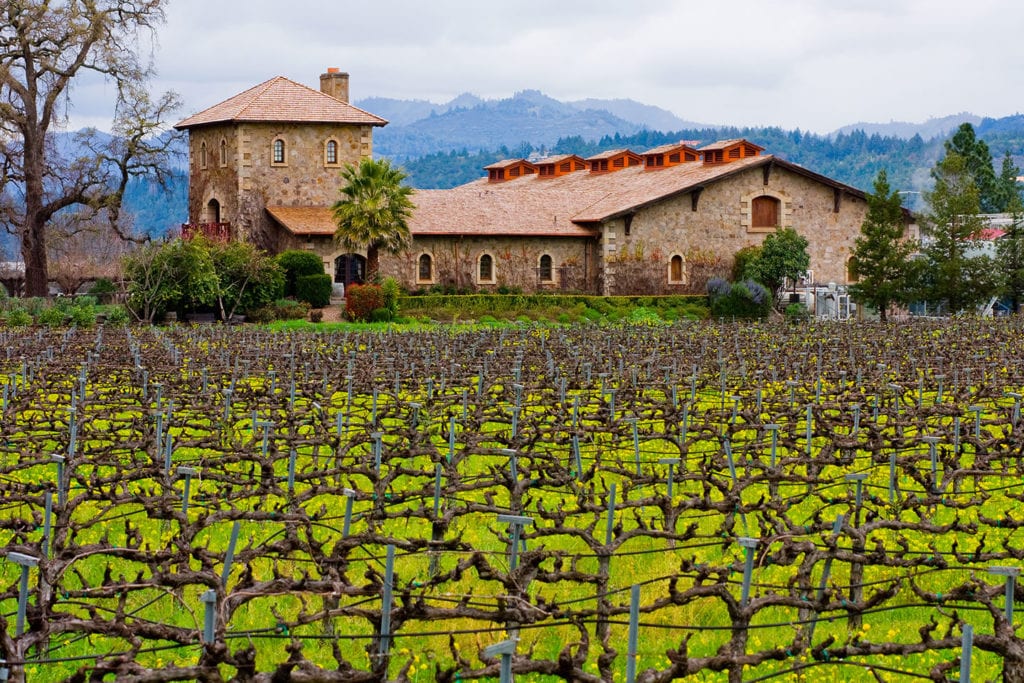 Savor Cabernet Season with a Stay in Napa Valley this Winter
Wintertime in Napa Valley exudes a cozy, quiet kind of magic. Known as Cabernet season, it arrives as the temperature drops, the crowds thin, and the last of the grapes have been harvested and set to slumber in their barrels. The fall foliage fades and is replaced with carpets of yellow mustard flowers blooming between the vines. Wisps of low clouds cling to the hills and occasionally give way to glorious sun breaks that bathe the vineyards in a golden light. Spas beckon visitors with therapeutic hot springs, warm mud baths, and cocoons of pampered luxury. Strands of twinkle lights lend a festive air to the tasting rooms and restaurants (where it's far less crowded and far easier to snag a reservation). And all around the valley, roaring fireplaces and fire pits draw visitors to snuggle up to the hearth with a glass of wine.
Cabernet season is also the time for great deals. Napa Valley Restaurant Week runs January 21-30, 2022 and offers 10 days of delicious discounts celebrating the region's talented chefs and world-class cuisine. Through February 6, 2022, Calistoga's Winter in the Wineries Passport program provides complimentary tastings at 14 wineries for just $60 per person. St. Helena's Little Book of Big Experiences Wine Passport offers special tastings, food and wine pairings, and tours at 12 wineries for $85 per person and runs through April 2022.
Napa Valley's luxurious boutique hotels and cozy bed and breakfast inns are also offering their lowest prices of the year. Pack your sweaters and book a stay to savor Cabernet season in Napa.
Where to Stay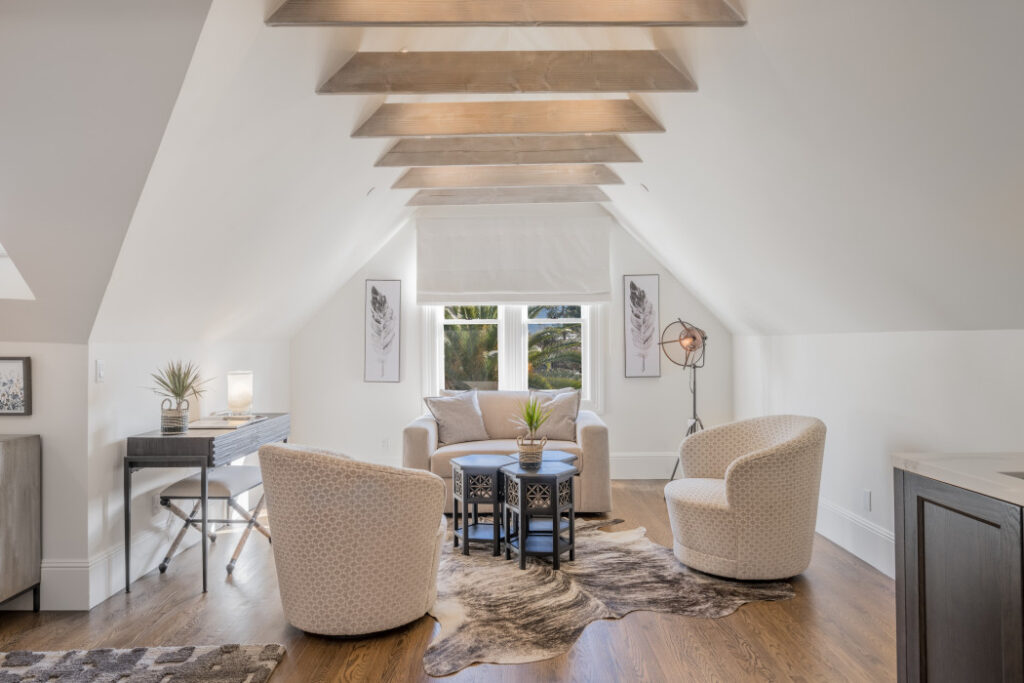 Downtown Napa's newest boutique hotel looks as though it's torn from the pages of an interior design magazine. Housed inside of a grand, elegantly renovated Victorian, The George remains true to the building's historic architectural details while creating gorgeous interiors steeped in modern style and luxury. The dreamy beds, heated bathroom floors, plush amenities, and keyless entry systems are only surpassed by the hotel's warm and generous hospitality.
The venerable McClelland-Priest Bed & Breakfast Inn underwent an extraordinary top-to-bottom renovation to reopen in September 2021 as the new grande dame of luxury inns in downtown Napa. The renovation's exquisite detail recreates the old-world grandeur of the landmark Victorian while appealing to modern design sensibilities. Amenities include a stunning chef's kitchen, complimentary electric bikes, and complimentary chauffeur service.
R Inn Napa is an unexpected oasis of modern design in downtown Napa. Inspired by small European art hotels, the inn features bold original artwork, sleek décor, and every high-tech comfort imaginable. The stunning two-story loft suites and courtyard guest rooms offer automatically adjustable beds, remote-controlled bidet toilets with heated seats, large QLED smart TVs, gas fireplaces, rainfall showerheads, and complimentary bottles of wine.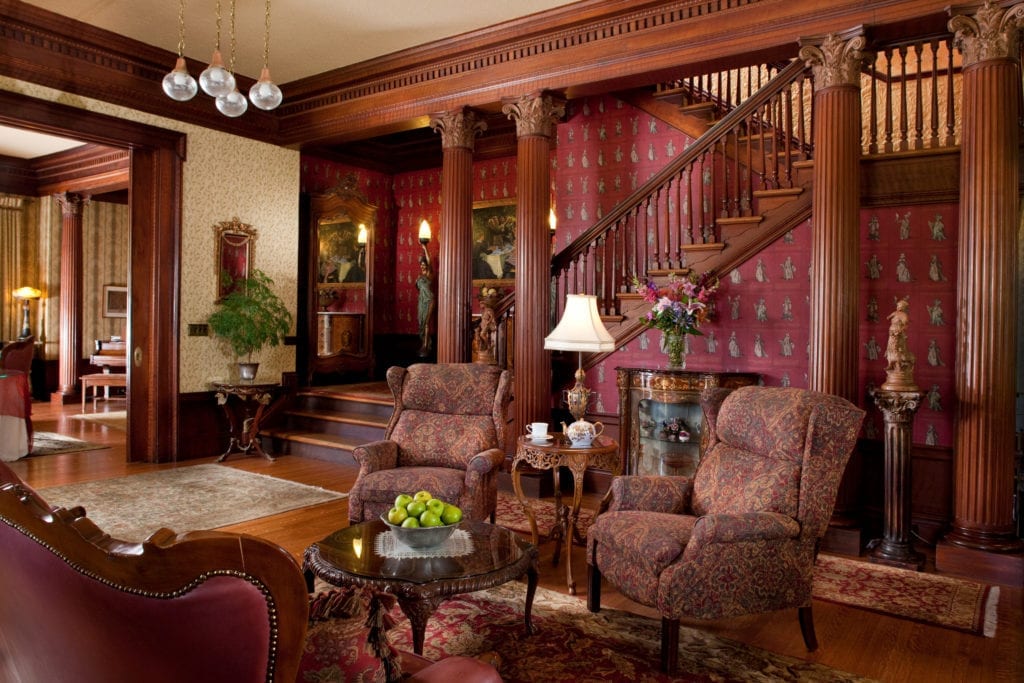 Nestled on an acre of lawns and gardens near downtown Napa, Churchill Manor is an architectural treasure listed on the National Register of Historic Places. The grand Second Empire mansion features elegant parlors with beautifully preserved woodwork, European antiques, cozy fireplaces, and a wide, wraparound porch. Evening wine and cheese and a multi-course breakfast are served with convivial hospitality from long-time owners Brian and Joanna.
Within walking distance of downtown Napa, the Inn on Randolph blends old-world charm with modern design elements. A thoughtful renovation transformed the 19th Century estate into an elegant bed and breakfast inn with a soothing neutral color palette and luxurious amenities like heated bathroom floors and jetted tubs. Tranquil gardens and a private spa room add to the appeal. Stays include a gourmet breakfast prepared in a 100% gluten-free kitchen.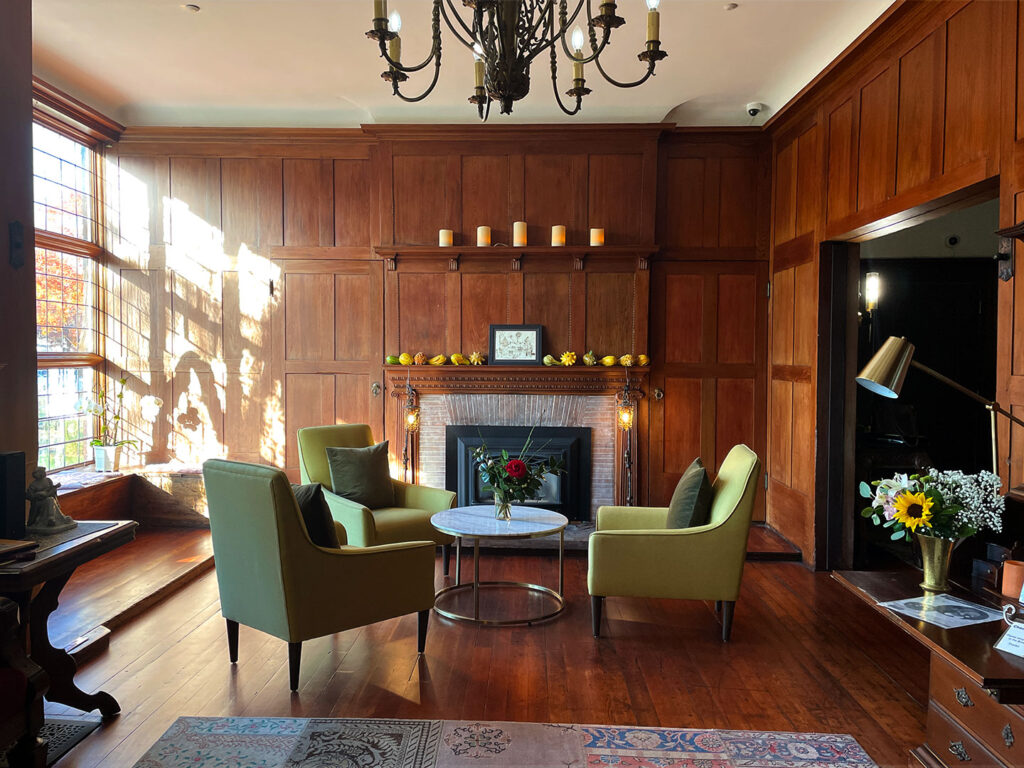 Designed by Ernest Coxhead, who was one of San Francisco's most prominent architects in the late 19th Century, the Cedar Gables Inn is a one-of-a-kind Arts & Crafts mansion near downtown Napa. The 10,000-square-foot inn features original redwood interiors, leaded glass windows with gothic flourishes, and 11 unique guest rooms with an eclectic mix of antique and modern furnishings. Stays include a complimentary three-course breakfast served each morning.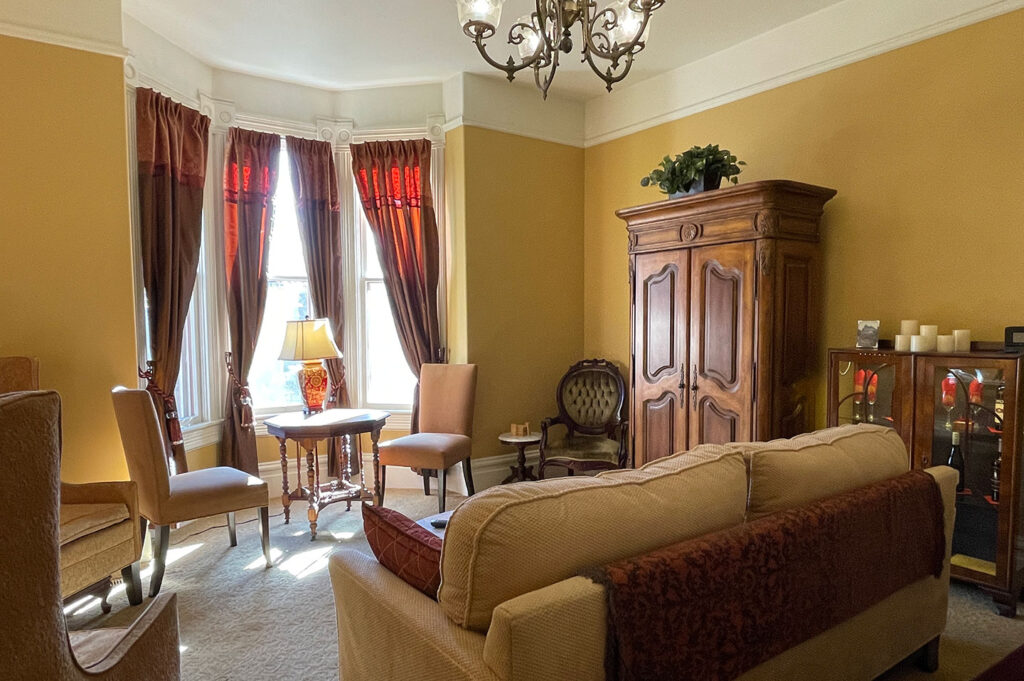 The Hennessey House Bed and Breakfast Inn is a lovely 1889 Queen Anne Victorian located at the top of restaurant row in downtown Napa. Renovated in 2017, the guest rooms are imbued with romantic vintage details. Many also offer fireplaces and clawfoot or whirlpool tubs. Guests are treated to freshly baked cookies, evening wine and cheese, and a made-from-scratch breakfast served each morning in the dining room or the relaxing garden patio.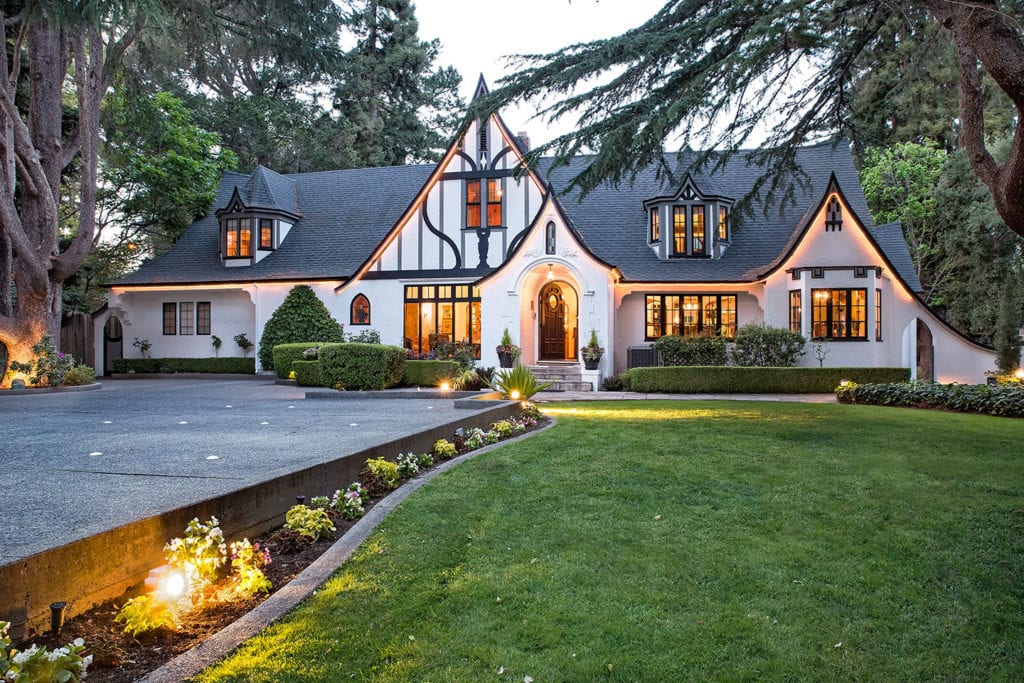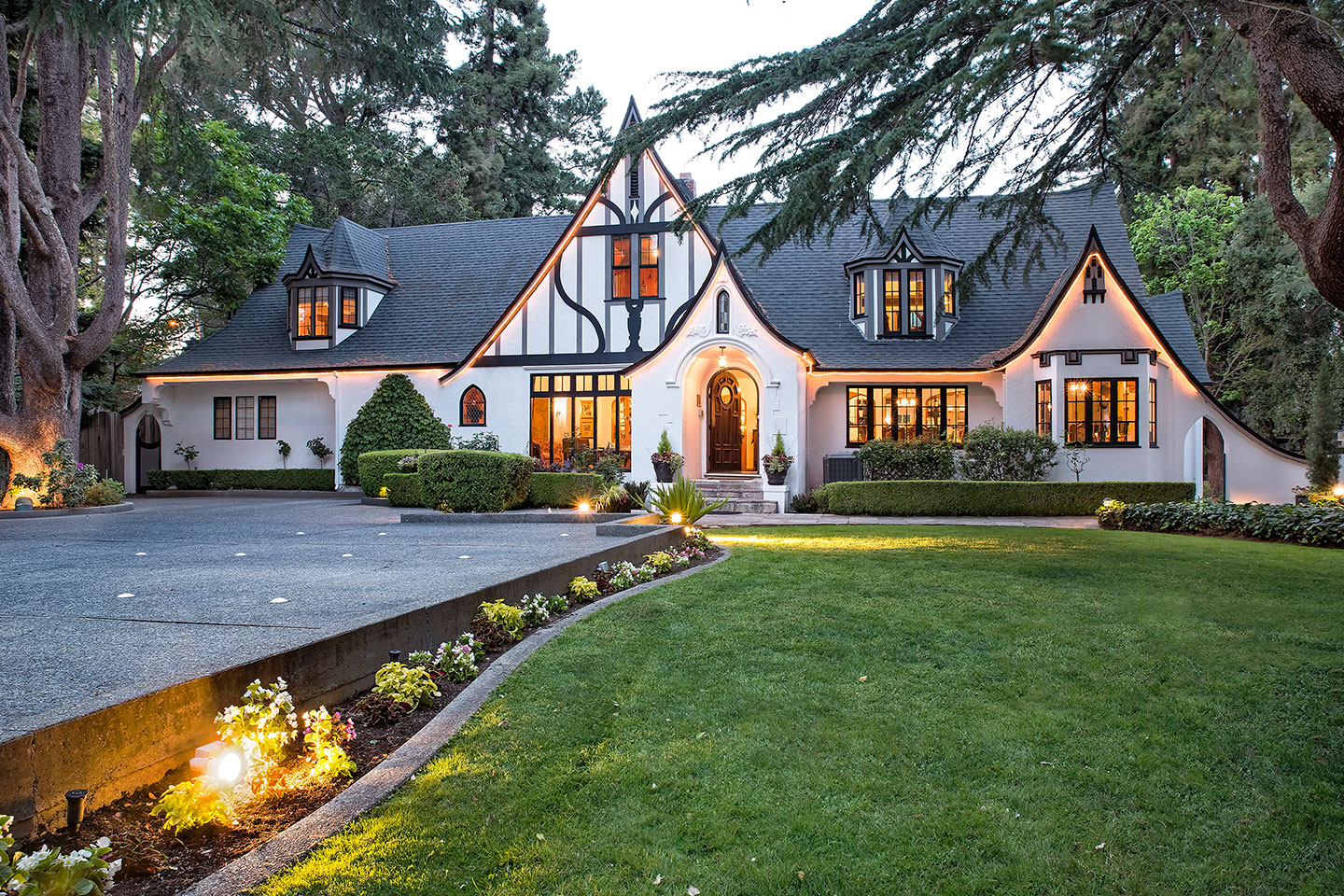 Secluded in a wooded creekside setting just a short drive from downtown Napa, Candlelight Inn exudes romance. Built in 1929, the English Tudor-style estate enchants guests with its beautifully tended gardens, swimming pool area, and dreamy guest rooms featuring Jacuzzi tubs and private decks. Guests can relax poolside beneath a wisteria-draped arbor or enjoy lawn games in the yard. A multi-course gourmet breakfast is served each morning.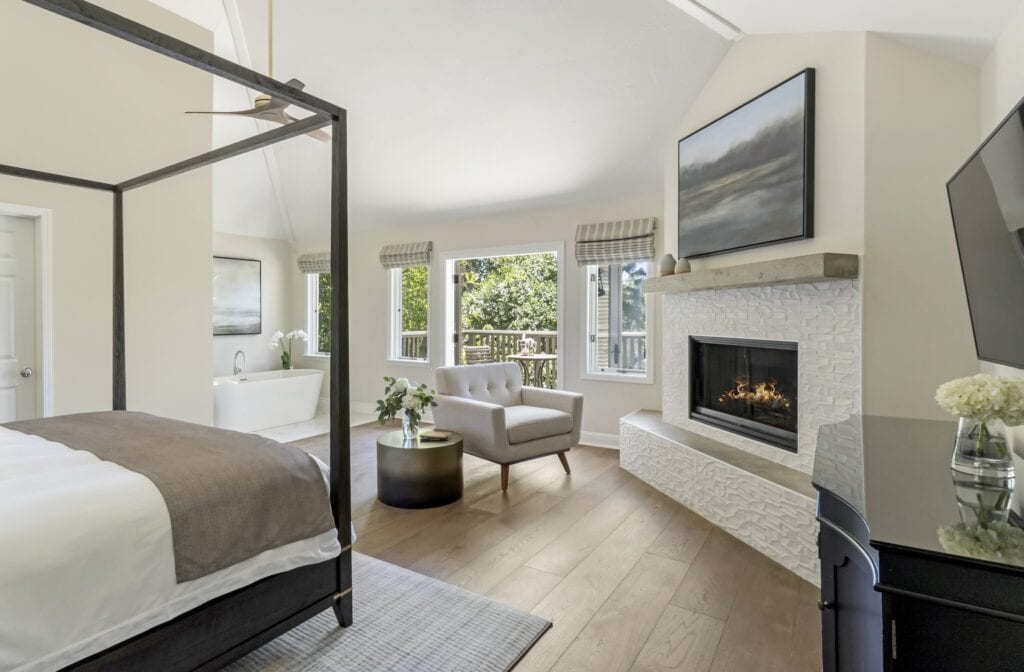 Completely redesigned in 2021, Milliken Creek Inn is an exclusive hideaway tucked along the banks of the Napa River. The tranquil, three-acre setting offers sleek fire pits, trickling fountains, a koi pond, and intimate seating areas. The luxe interiors were designed with modern furnishings and muted color palettes that play off the verdant views to create a serene ambiance. Guest room highlights include deep soaking tubs and in-room iPads for ordering breakfast, wine, and more.
Enjoy your own private cottage in Napa wine country. Nestled along cobbled pathways under mature trees, eight vintage cottages have been beautifully renovated with luxurious creature comforts such as heated tile floors, gas fireplaces, and soaking tubs. Each also has its own wood-burning chiminea on a private patio for roasting s'mores. Pedal the Vine Trail between Napa and Yountville on complimentary cruiser bikes and enjoy fresh pastries delivered to the door.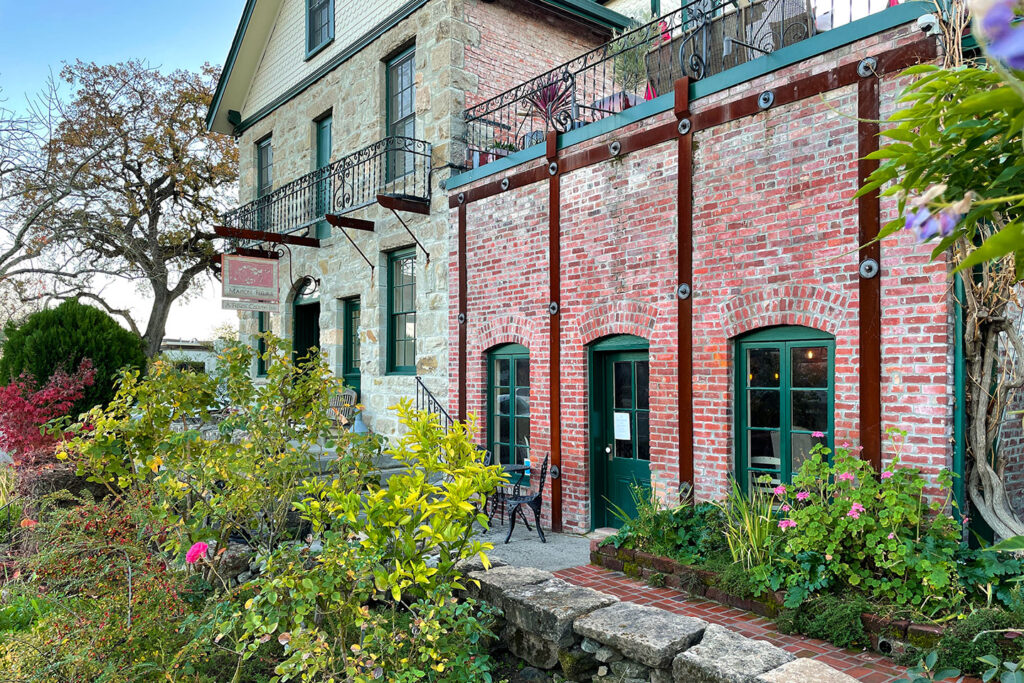 Built in 1873, Maison Fleurie in downtown Yountville is Napa Valley's oldest hotel. The historic main house resembles an inn plucked from the south of France. Profuse gardens, handcrafted furniture, and an exposed brick dining room with a fireplace add to the enchantment. The bed and breakfast inn also features a pool, jacuzzi, and rooftop deck with views of Napa's rolling hills. The inn is within an easy stroll to several tasting rooms and Michelin-starred restaurants.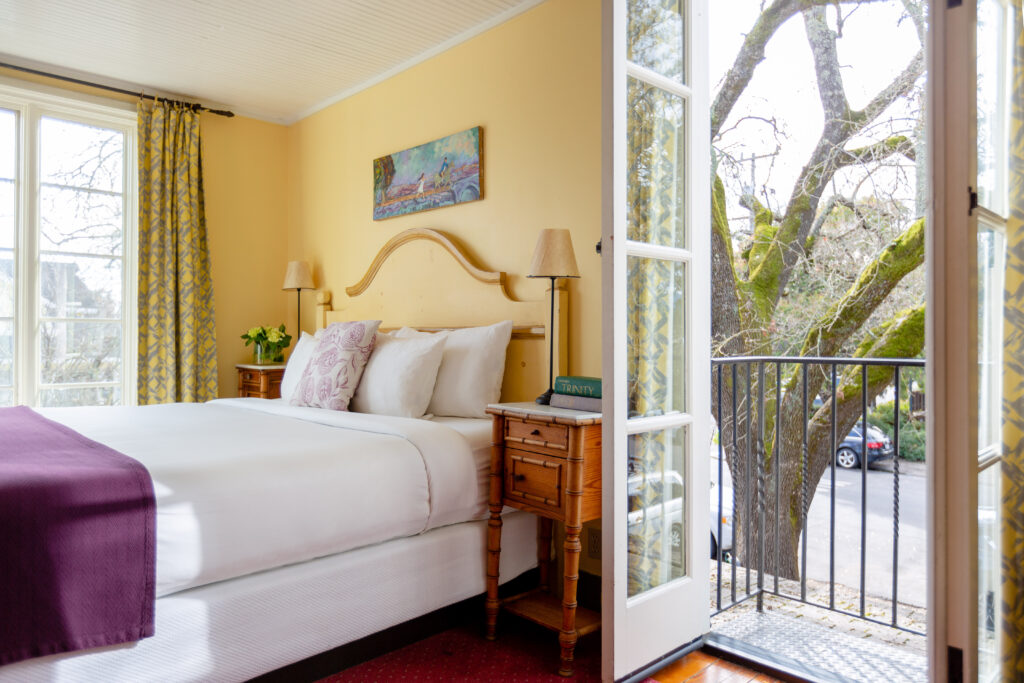 Just two blocks from the famed French Laundry restaurant in Yountville, Lavender is an intimate bed and breakfast inn combining the warm colors of Provence with contemporary design elements. The historic main house features a wraparound porch and an enclosed veranda where breakfast is served daily. Surrounding the main house, enchanting courtyard rooms feature vaulted ceilings, fireplaces, and private patios, many of which also have outdoor spa tubs.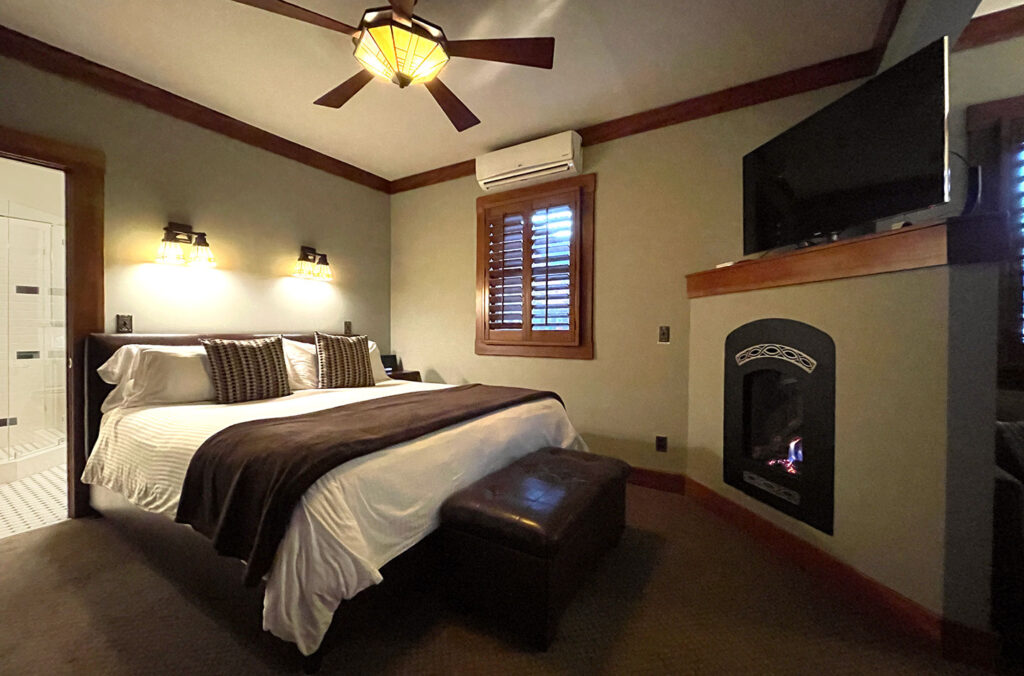 Built at the turn of the century and lovingly restored, Wine Way Inn is Calistoga's oldest bed and breakfast and is one of the town's finest examples of Craftsman architecture. The inn's eight guest rooms range in size and price, but all are furnished in period style and include thoughtful amenities. A multi-level redwood deck with beautiful gardens and a fire pit climbs a steep slope behind the inn to offer sweeping views of Mount St. Helena and the Palisades.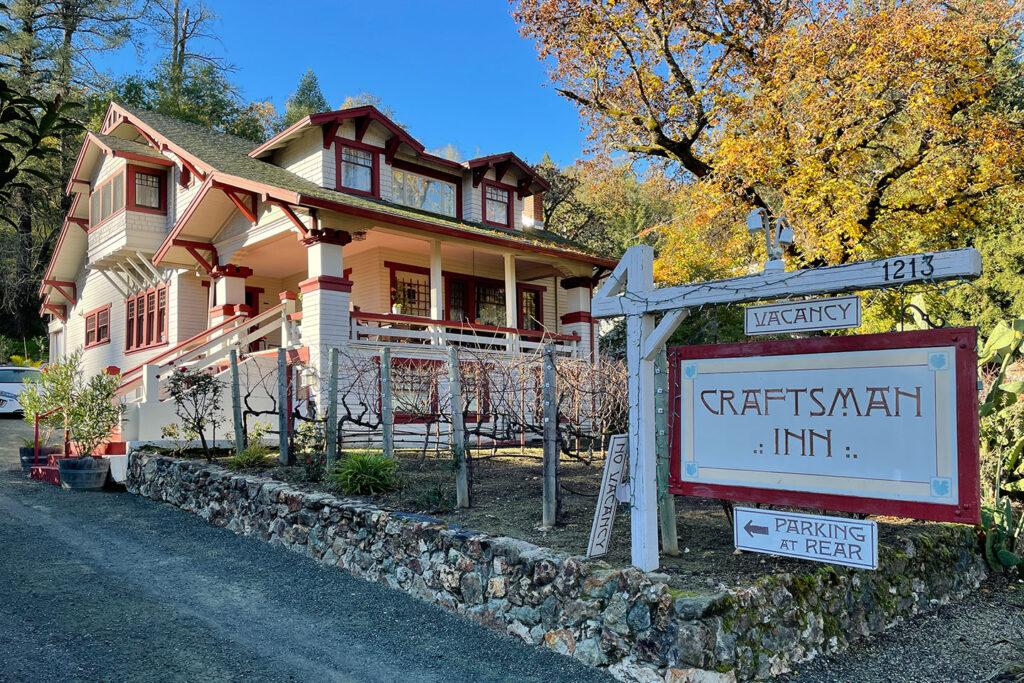 Calistoga Wine Way Inn's sister property, the Craftsman Inn, is located just two blocks down the road.  Innkeepers Nick and Gillian Kite are only the second family to own the home, which was built in 1912. After a two-year renovation, they opened the five-room inn in 2007. The elegant rooms feature unique period architectural details; a few also offer two-person Jacuzzi tubs.  A sunny wraparound porch overlooks grapevines in the front yard.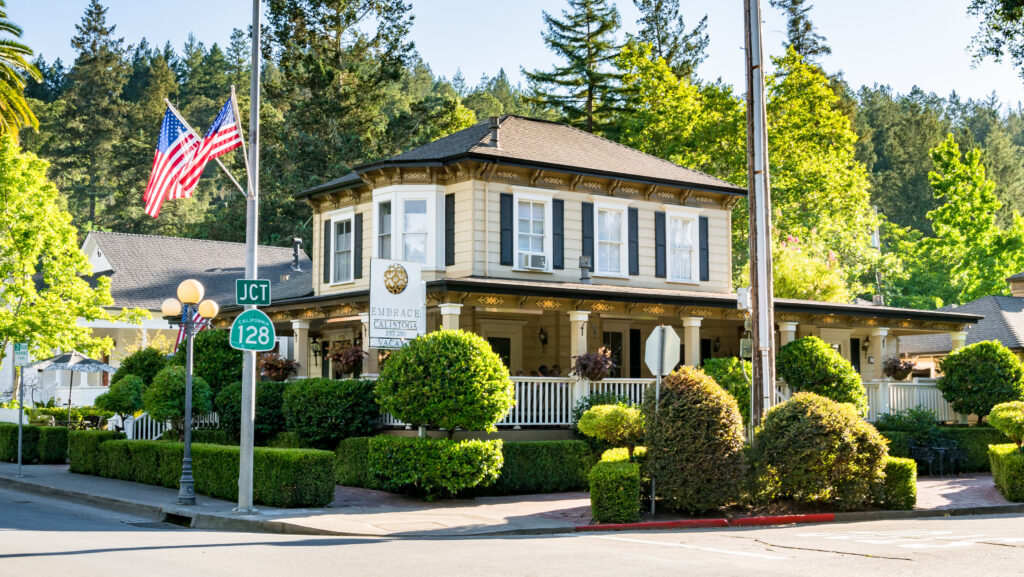 Built in 1873, Embrace Calistoga is a five-room luxury inn at the entrance to downtown Calistoga. The elegant guest rooms feature a harmonious blend of styles incorporating Asian antiques, luxurious fabrics, touches of contemporary glamour, and original art collected from travels around the globe. A wide, welcoming, wraparound porch is the heart of the experience where guests gather for breakfast, happy hour, and watching the world pass by.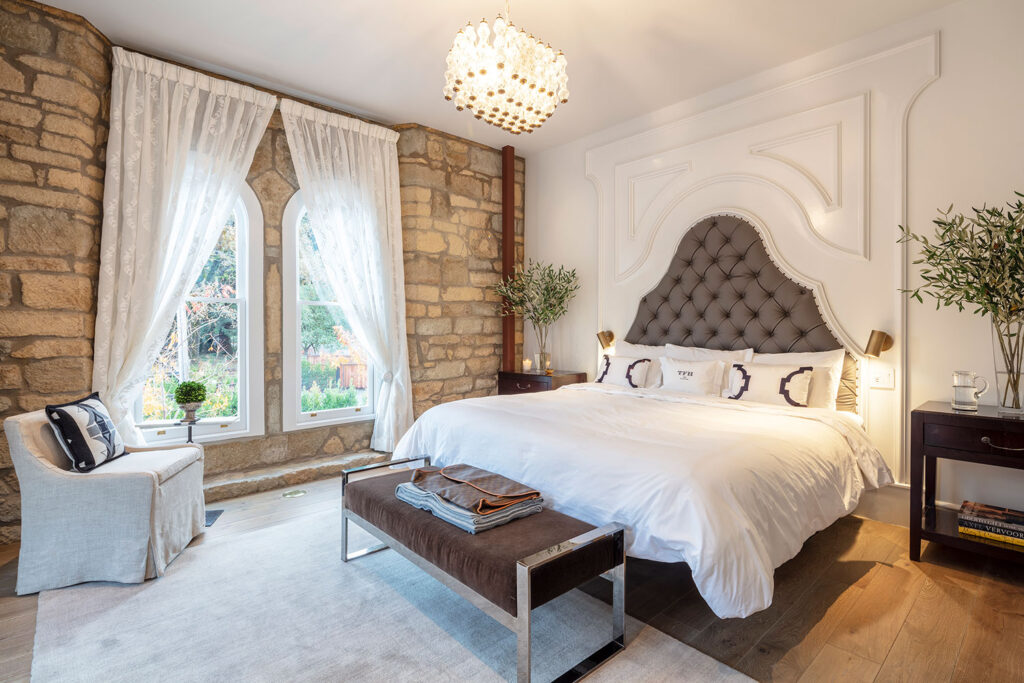 This small luxury resort hotel brings old-world Parisian elegance to the heart of Calistoga. The exquisitely restored 1886 landmark features French Second Empire architecture with original stone walls and grounds reminiscent of the French countryside. Inside, the opulent guest rooms are a celebration of contemporary French design, mixing old with new at every turn. Amenities include a heated pool, sauna, fire pit, tennis court, and extraordinary breakfasts.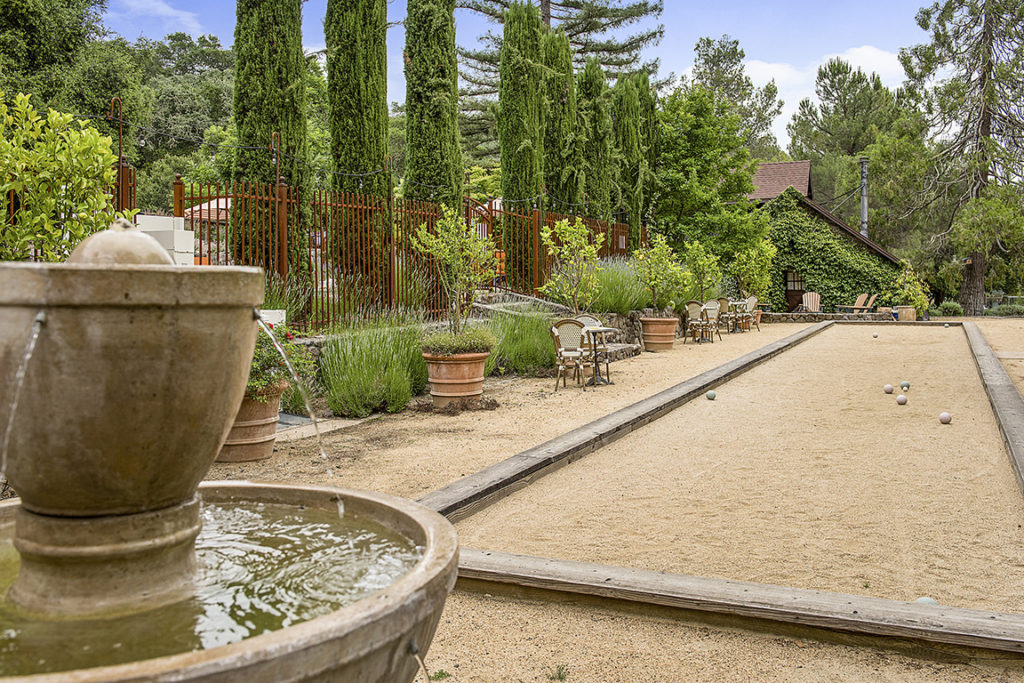 Located on a gated four-acre estate along the famed Silverado Trail, Vignoble House is a contemporary three-story inn with four guest rooms, a chef's kitchen, inviting communal spaces, and resort-like grounds. Outside, guests can enjoy a swimming pool, bocce ball court, outdoor fire pits, gardens, hammocks, and private decks. Over 40 olive trees separate the inn from the road and are harvested annually to produce olive oil.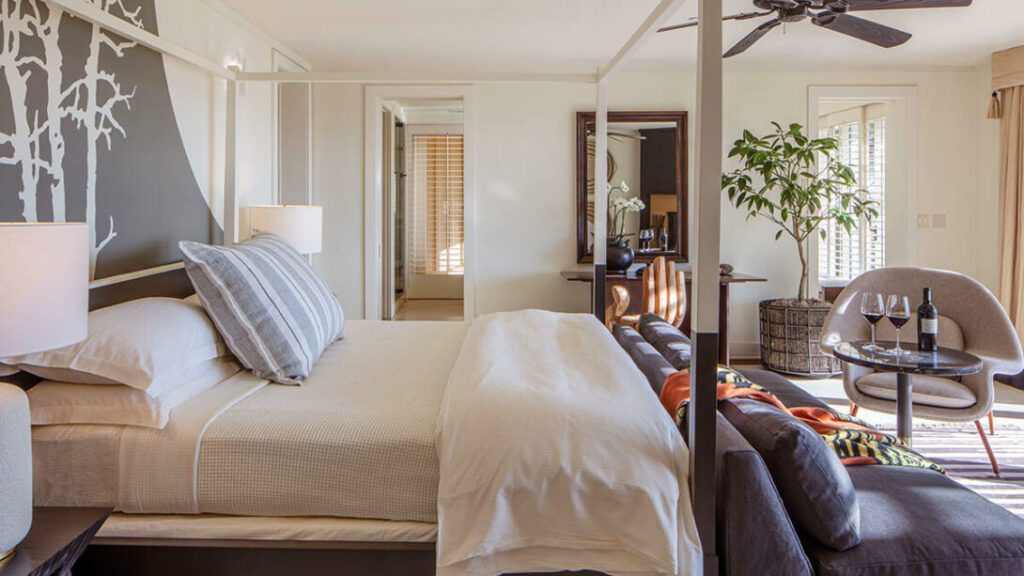 Poetry Inn Napa Valley is a small, exclusive luxury hotel, perched on a hillside vineyard of Cabernet Sauvignon in Napa's Stags Leap District. It offers the ultimate wine country sanctuary for those seeking privacy with unparalleled service. Beyond its gated drive, the property offers five spacious suites with stunning views, a spa treatment room, a wine cellar featuring current and rare library vintages from the Lede Family Wines portfolio, and much more.