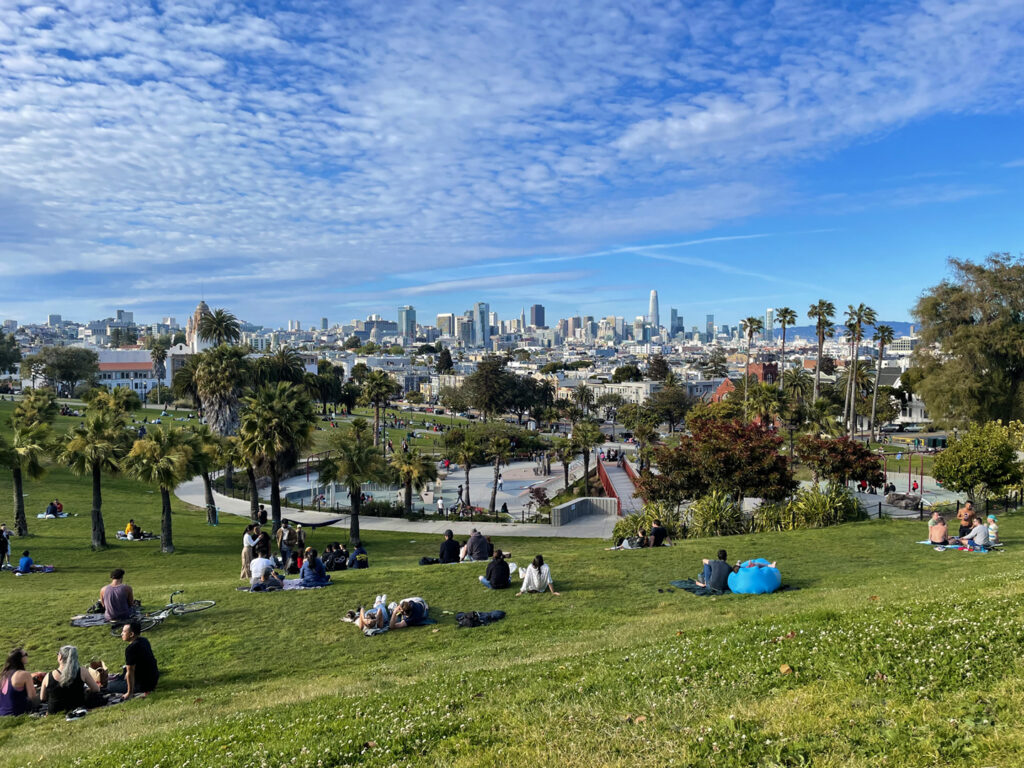 San Francisco's Vibrant Mission District Offers Authentic Taste of the City
If there was a silver lining in the pandemic for San Francisco, it would be the rise of pedestrian-only shared spaces and expanded outdoor dining. On a recent Saturday night in the Mission District, I strolled down the middle of Valencia Street with my husband as string lights glowed overhead, music filled the air, and bustling cafés spilled out into the sidewalks and parklets stretching along both sides of the street. Valencia Street has long been home to some of the city's best restaurants and bars, a dazzling array of eclectic shops, and colorful murals. Post-pandemic, it seems to have flourished into an even more vibrant destination.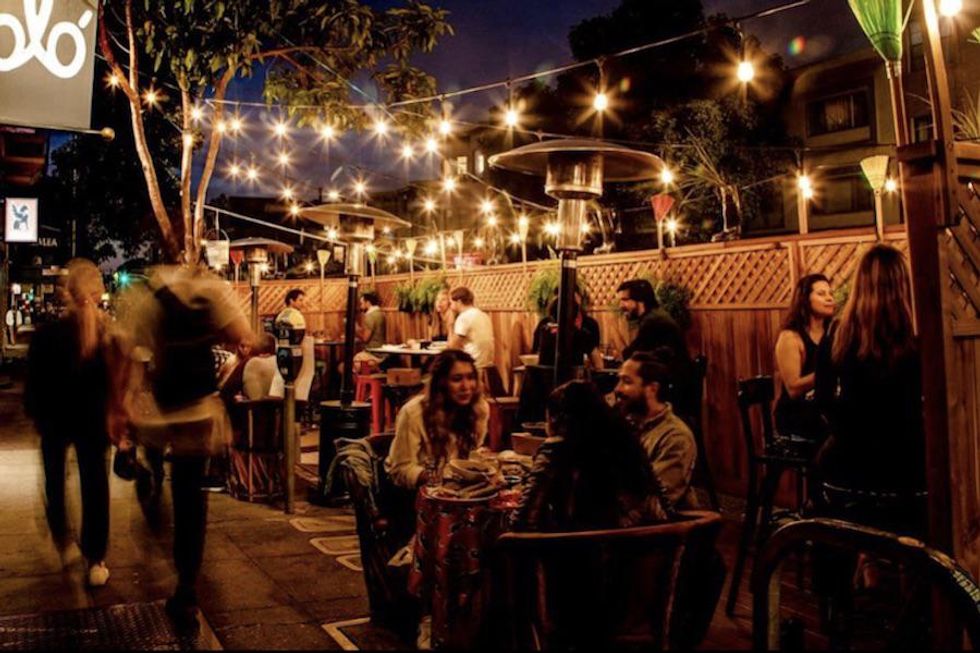 At Loló, you'll find Mexican-inspired tapas served with mezcal cocktails while Hawker Fare delights with Laotian street food. Perennial favorite Flour + Water features creative pasta and wood-fired pizzas. Countless more restaurants—including old-school taquerias and gourmet ice-cream shops—round out the food offerings. Storefront windows entice masked shoppers inside with trendy clothing, books, records, antiques, hip home décor, and more.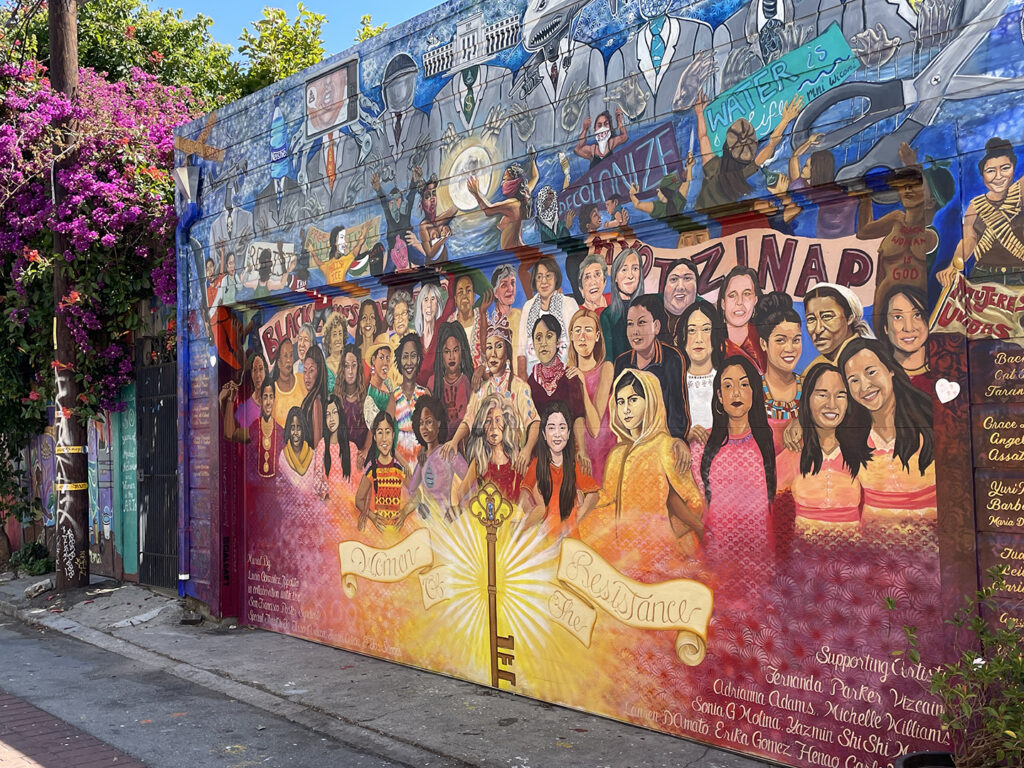 Between Valencia and Mission Streets, Clarion Alley showcases murals painted by local artists. Another collection of murals can be found on Balmy Alley. Walking between the two destinations, you'll discover even more public art along the way.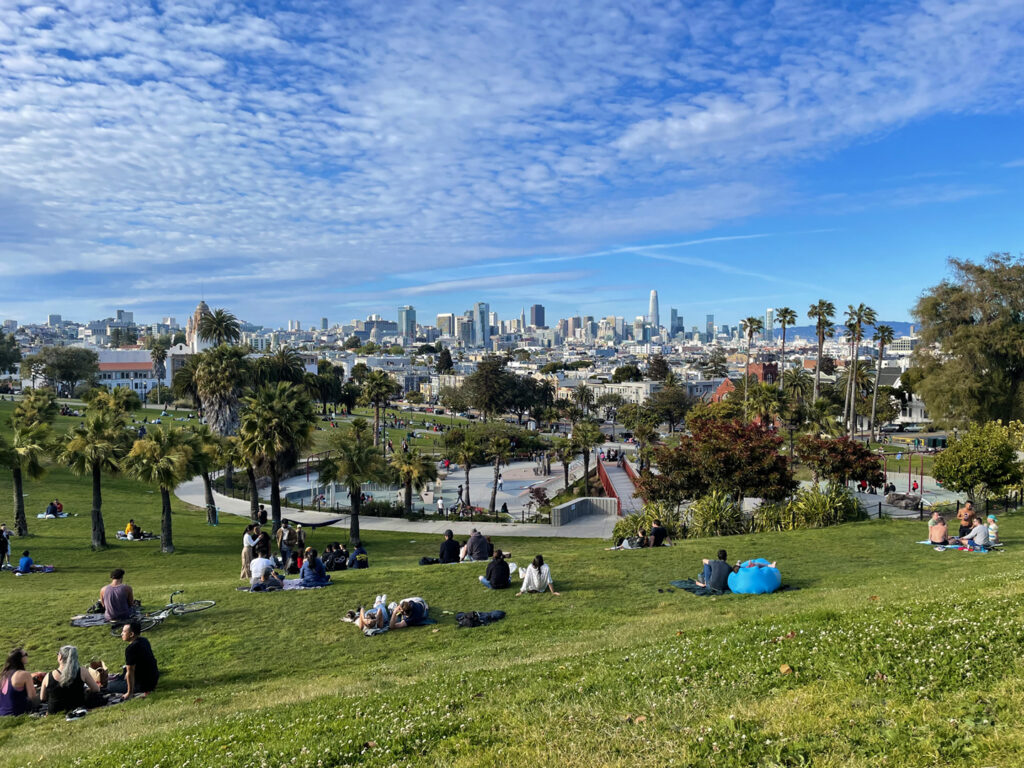 Mission Dolores Park is a locals' favorite for picnicking with stunning skyline views of downtown. On a sunny afternoon, grab provisions from Bi-Rite Market and spread a blanket on the grassy hillside to enjoy the views and endless people watching.
Named for the 1776 Spanish-built Mission Dolores (also worth a visit), the Mission District is among the city's oldest and most diverse neighborhoods. With Victorian architecture, Latino roots, and a hipster vibe, the neighborhood is ever-evolving. The cheaper rents attract both working-class families and chefs launching new restaurant ventures. As a result, The Mission District offers visitors one of the most authentic tastes of San Francisco living.  Its bevy of public transportation options also makes it easy for visitors to catch a ride anywhere else in the city.  
Face coverings are currently required on all public transportation and inside many San Francisco businesses. Proof of vaccination is required for indoor dining and some attractions.
WHERE TO STAY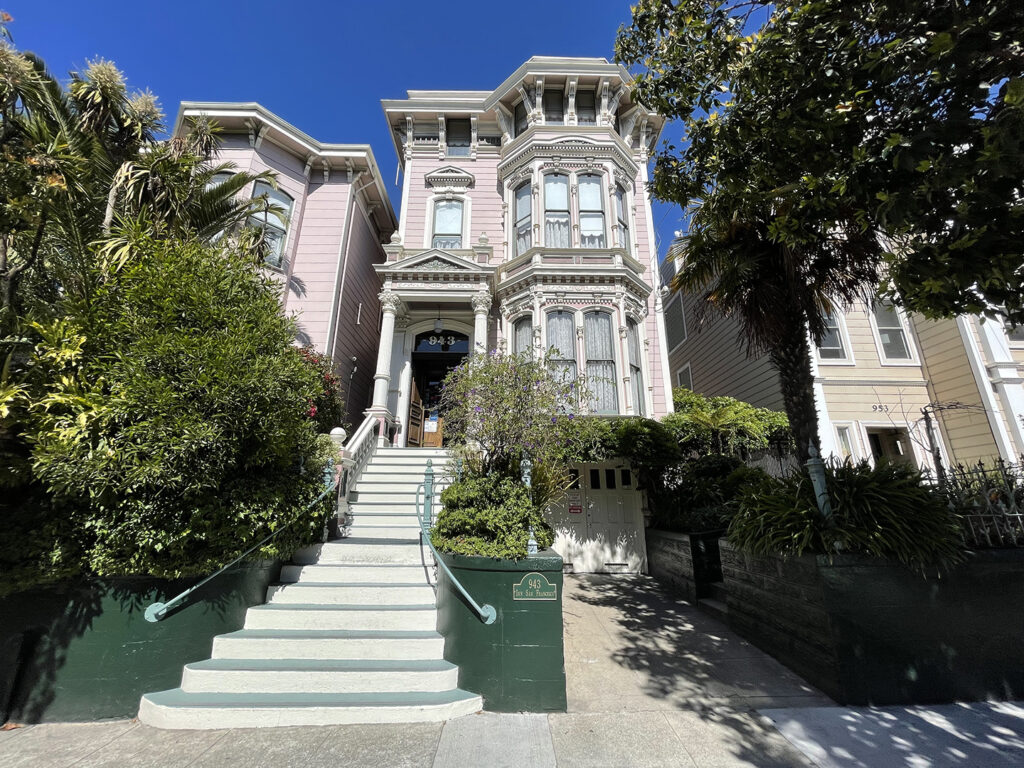 Inn San Francisco
Step back in time to a bygone era with a stay at Inn San Francisco. The 1872 Victorian mansion welcomes guests with classical music, candlelight, and grand double parlors featuring high ceilings, intricate woodwork, marble fireplaces, bay windows, and elegant antiques. The beautifully restored guest rooms range from charming and cozy to stately and spacious, but all are furnished in Victorian style with modern amenities. Most of the rooms have private baths, some of which offer clawfoot tubs or jetted spa tubs. Some of the rooms also feature fireplaces.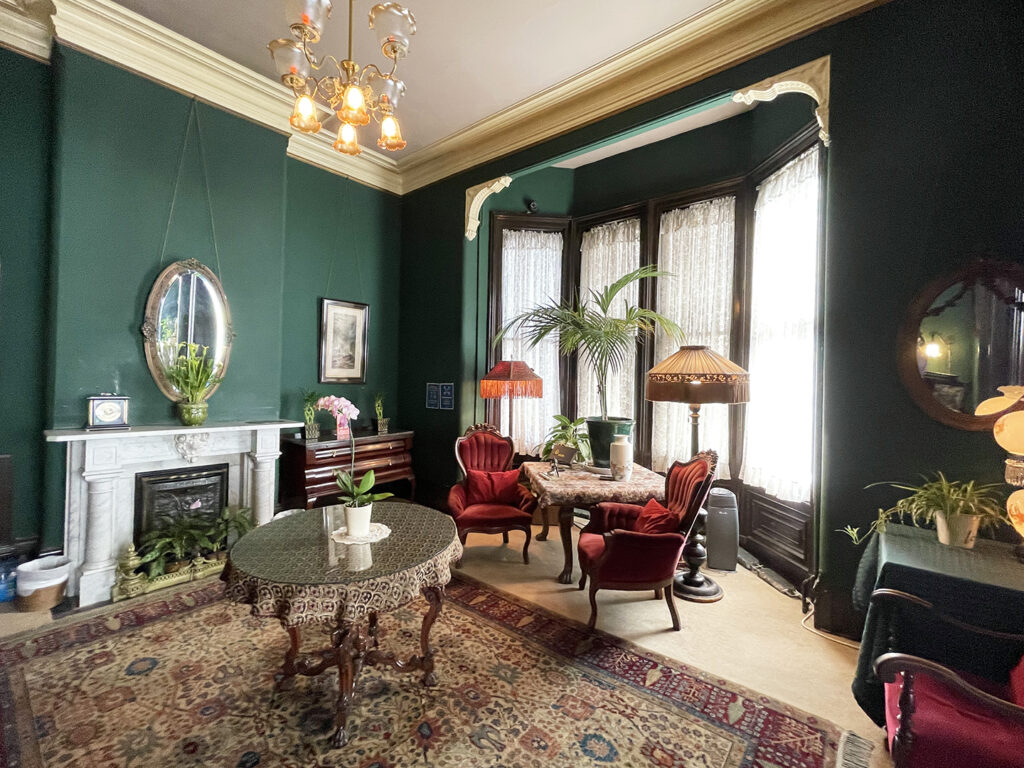 The inn's rooftop sundeck offers panoramic views of the city, including Twin Peaks, downtown, and the Bay Bridge. In the backyard, an enchanting English garden features year-round blooms, multiple seating areas beneath the shade of the trees, and a redwood hot tub nestled inside a gazebo. The hot tub is open to guests 24 hours a day.
The inn serves a complimentary breakfast, which can be enjoyed in the guest room, on the rooftop deck, or in the garden. Complimentary coffee, tea, and sherry are also available throughout the day. Garage parking across the street is available to guests for a fee.
The inn's warm and friendly staff go above and beyond to ensure their guests feel at home. Marty Neely has owned Inn San Francisco since 1990 and abides by two tenets of innkeeping. The first is to be a good neighbor. He and his staff sweep the sidewalks on both sides of the street multiple times a day and remove graffiti from a large swath of Van Ness Avenue every week. His second tenet is to go beyond customer service to befriend his guests.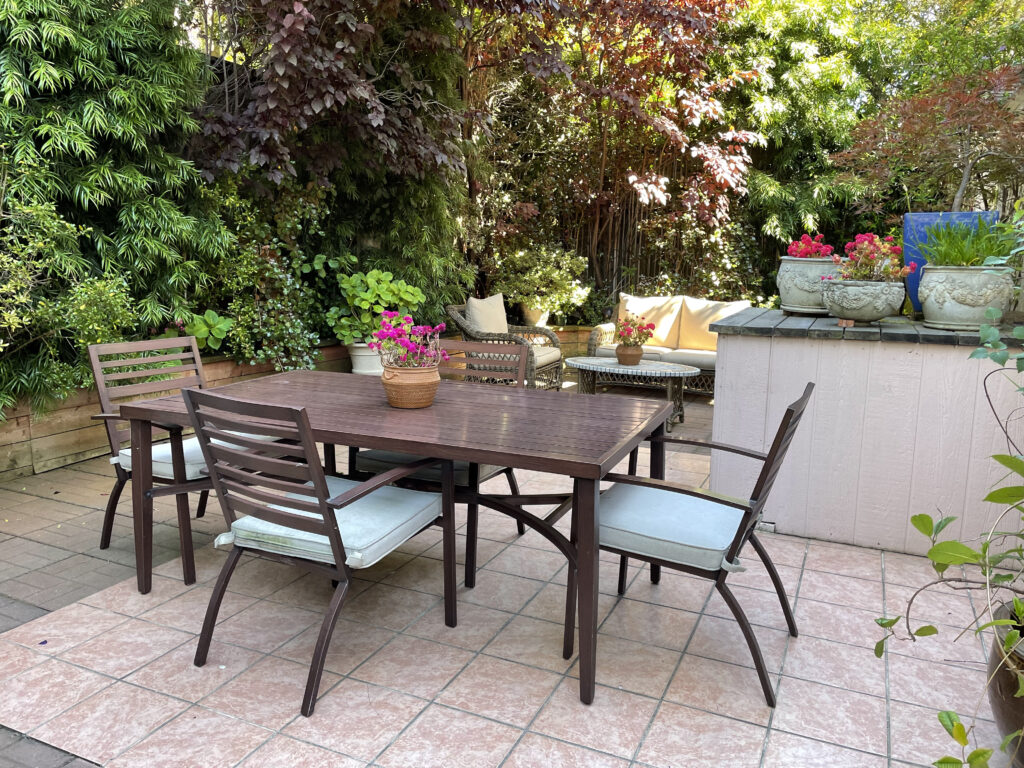 A recent guest visiting from New Jersey could attest to Marty's friendship. The guest's daughter and grandchildren live nearby and he and his wife have been coming out to visit multiple times a year for the last nine years. Every time they visit, they stay at Inn San Francisco. "There are few places in the Mission this lovely," he said. "And Marty is a fixture in the neighborhood."
In fact, one of the murals on the famed Balmy Alley depicts Marty and his inn.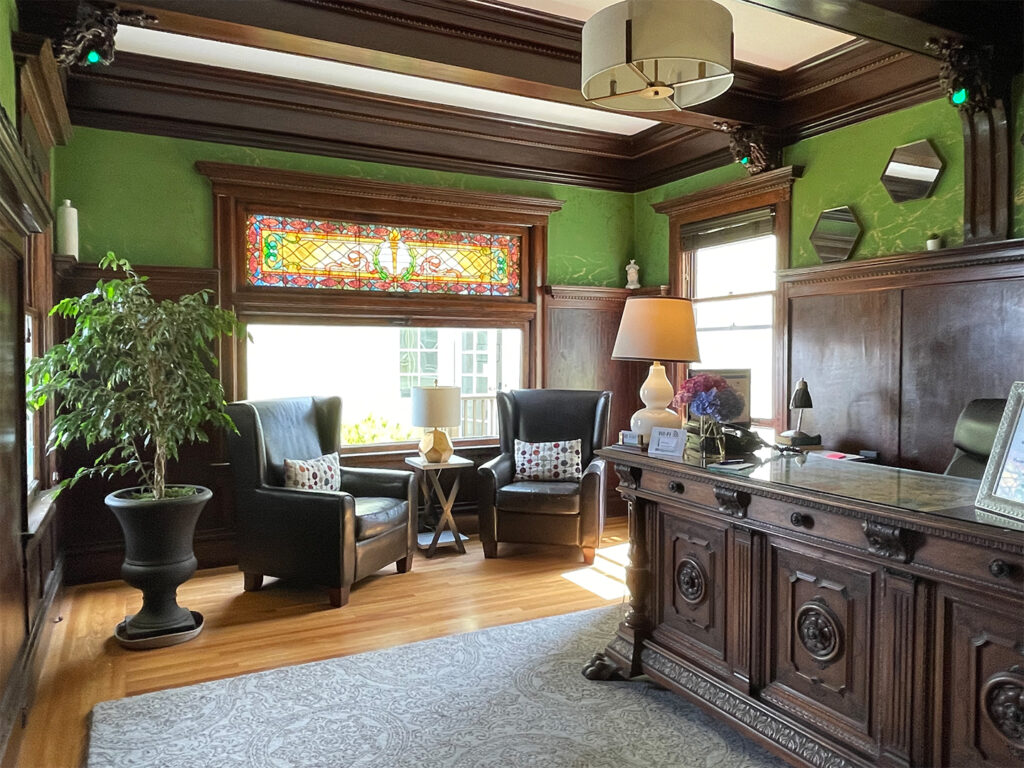 Parker Guest House
Nestled between the vibrant neighborhoods of the Mission and the Castro, the Parker Guest House is an urban hideaway providing guests with an authentic San Francisco experience. The boutique hotel is comprised of two side-by-side Victorians sharing a secret backyard garden and a delightful patio running beneath them.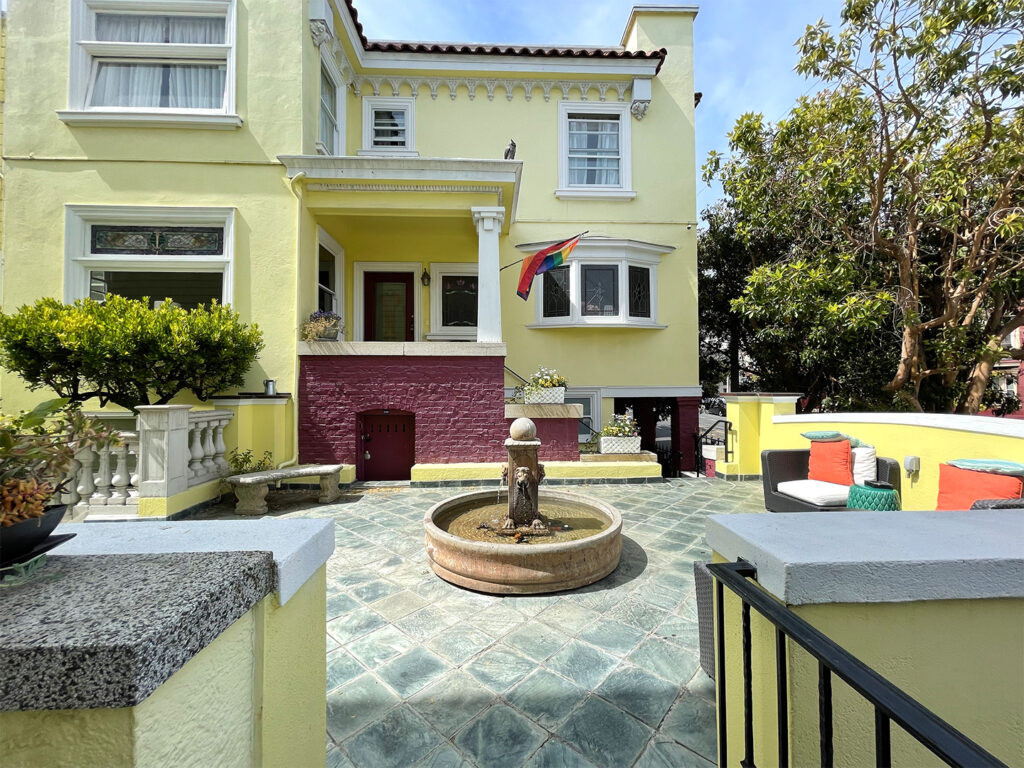 Beautifully renovated, the buildings retain their period architectural charm with intricate woodwork and stained-glass windows, but the décor blends vintage touches with a refined, airy, modern aesthetic. The boutique hotel's elegant guest rooms display meticulous attention to detail and include thoughtful amenities such as bathrobes, flatscreen televisions, and dimming alarm clocks. Writing desks in the king rooms coupled with high-speed WiFi are perfect for remote work.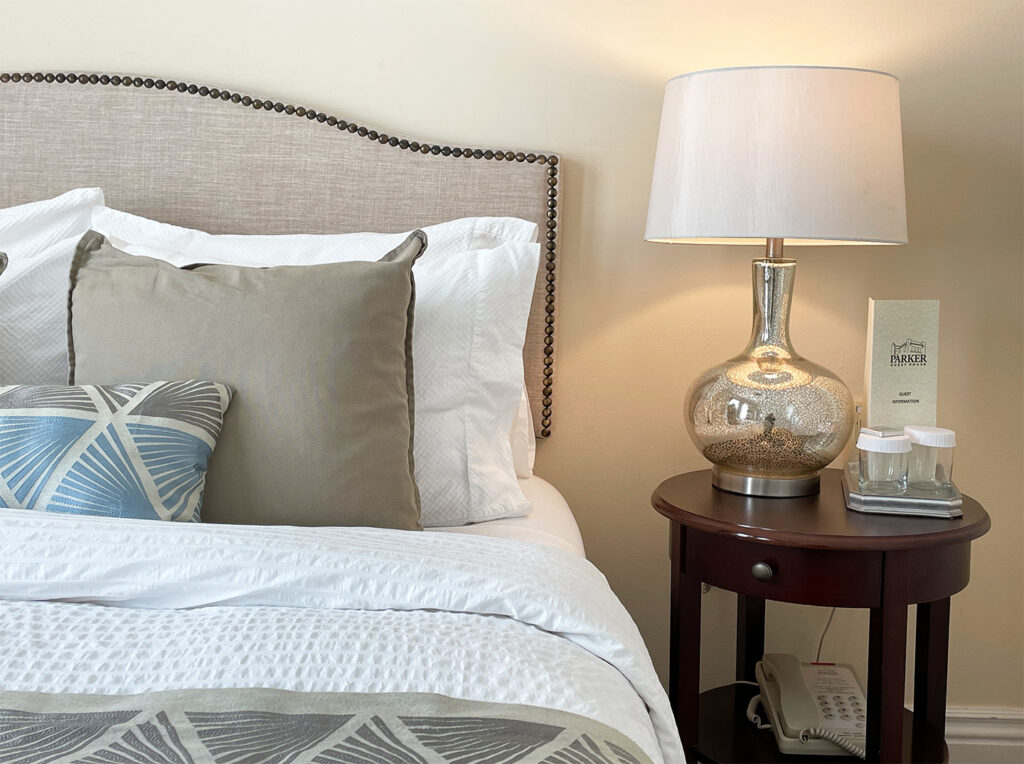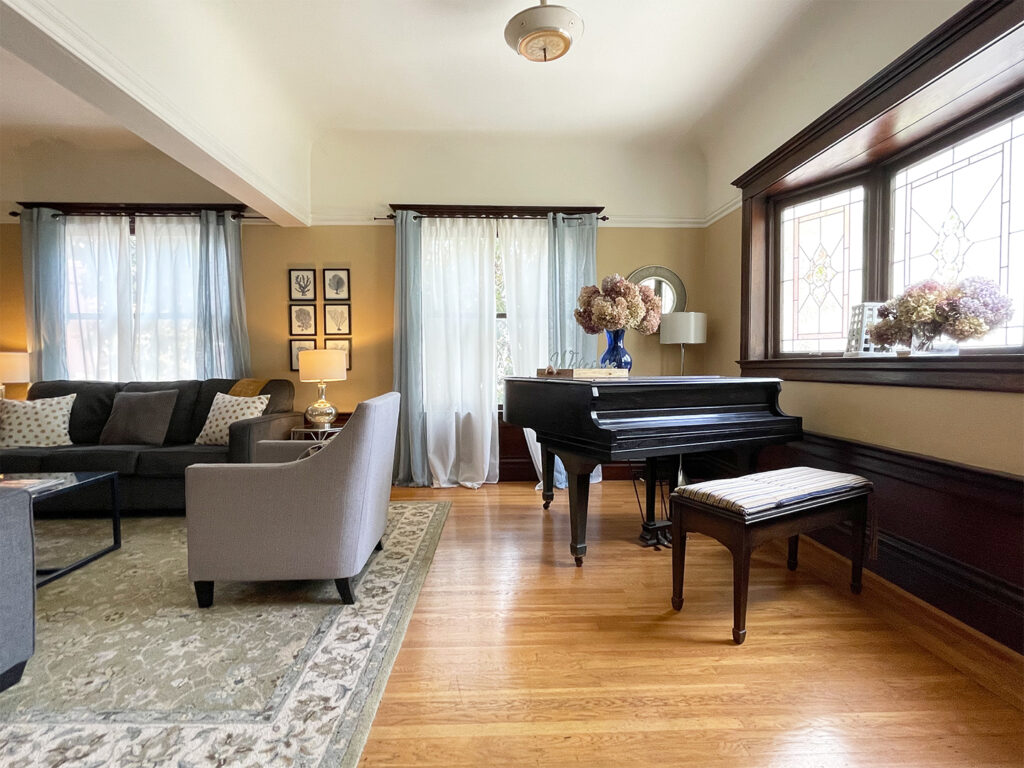 Lounges in both buildings provide places to unwind by the fire with a book and a glass of sherry or play a bit of piano. The kitchens are open 24 hours a day and offer complimentary coffee and tea. Beneath the shade of mature trees, the enchanting backyard gardens offer lovely spots to unwind amid the blooms, serenaded by songbirds and trickling fountains. At night, the gardens are lit by the soft glow of string lights.
Bill Boeddiker and his partner purchased and restored the first of the Victorians in 1995 and opened their hotel in 1997. They expanded a few years later by purchasing the second Victorian in 2000.  They, along with the innkeeper, Michelle, delight in providing an authentic San Francisco experience for their guests. Through their warm and welcoming hospitality, the innkeepers have created a convivial atmosphere where guests gather in the gardens and common areas to swap stories of their travels over wine or breakfast. The inn attracts a mix of gay and straight couples, both young and old, and everyone in between.  Even through the pandemic, the hotel has managed to retain aspects of the boutique hotel's social appeal.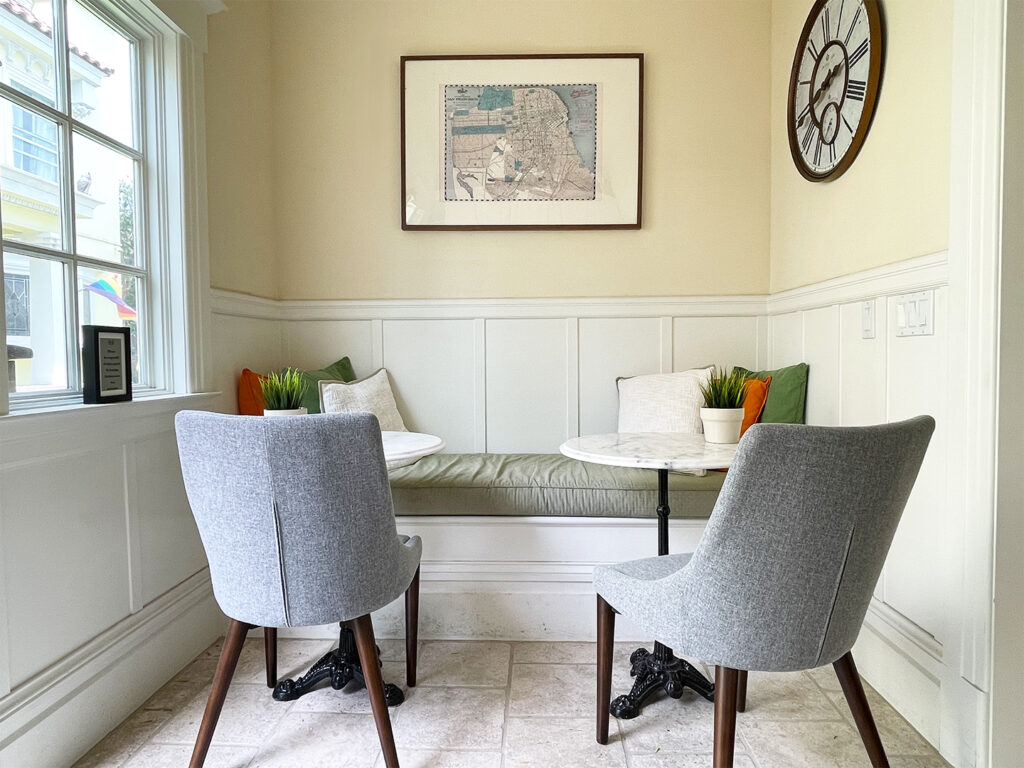 The hotel hosts a complimentary wine social in the evenings and serves a complimentary continental breakfast buffet each morning. On-site parking is available for a fee. A vintage streetcar route runs right in front of the hotel and carries passengers into downtown.