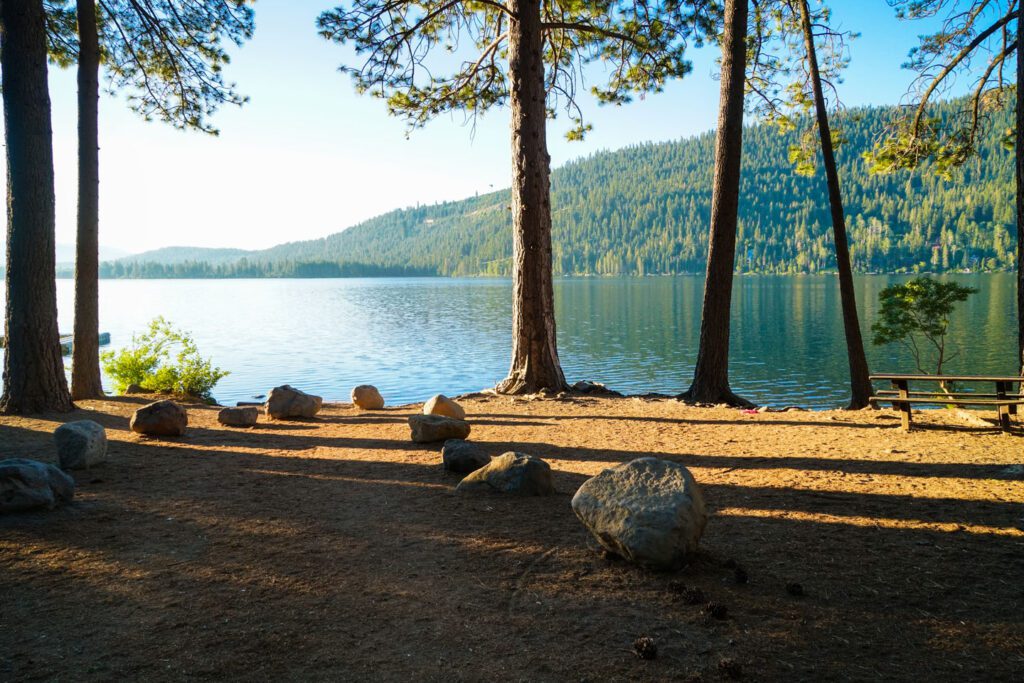 River and Lake Retreats for a Summer Getaway
California's waterways are brimming with winter's record snow and rainfall. Plan a getaway to the Golden State's rivers and lakes this summer to soak up all the fun. Below, you'll find great options for swimming, fishing, paddling, whitewater rafting, or just relaxing on the water. We've also included the best boutique hotels and B&Bs to enjoy a summer retreat near the water's edge.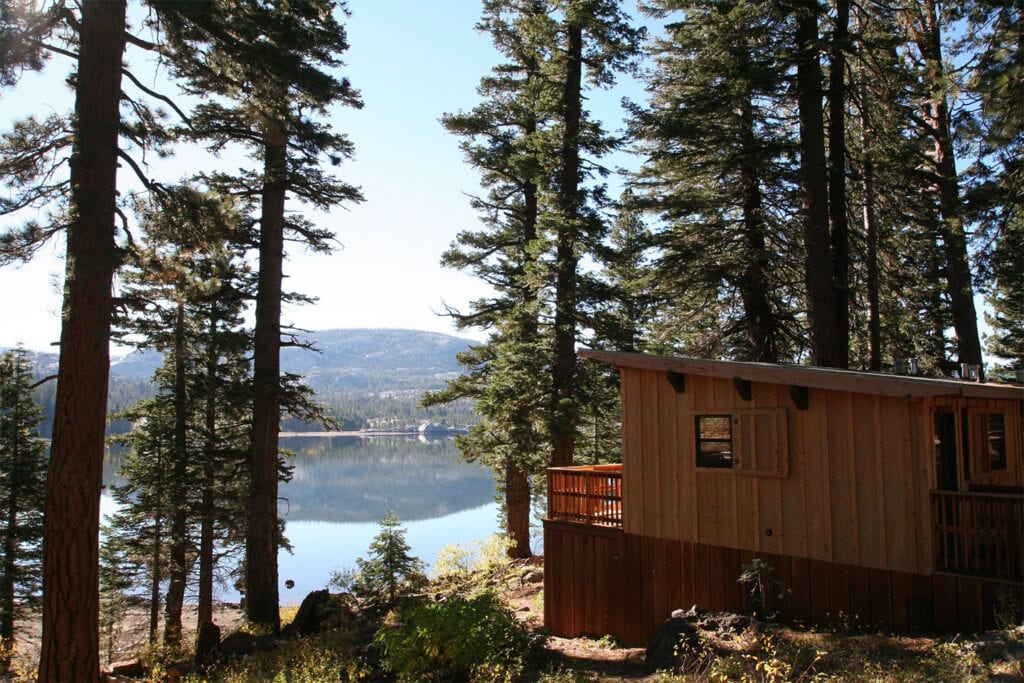 Silver Lake
Near Carson Pass in the High Sierra, the 525-acre Silver Lake is a beautiful alpine reservoir ringed by pine trees. Paddlers can explore the lake's seven miles of shoreline or paddle out to Treasure Island in the center of the lake for an idyllic picnic spot accessible only by boat. The lake is also a fishing paradise with the opportunity to catch rainbow, German brown, and Mackinaw Lake trout. Along the shoreline, the historic Kit Carson Lodge rents out SUPs, kayaks, and canoes by the hour. The lodge also offers charming cabins and hotel rooms with majestic views of the lake.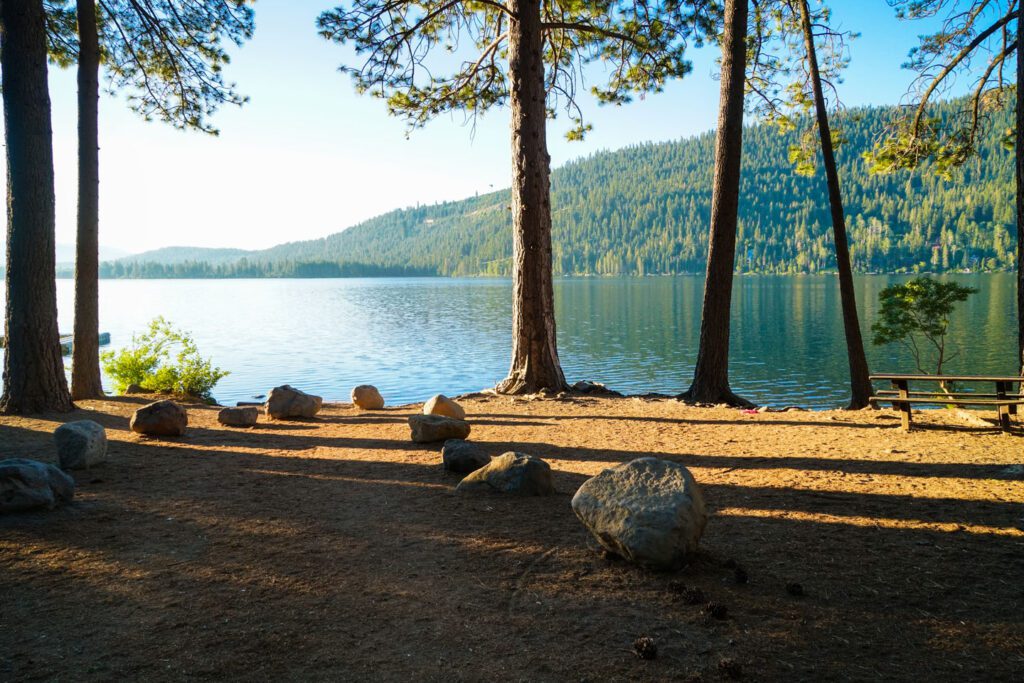 Donner Lake and the Truckee River
Surrounded by snow-capped peaks, scenic Donner Lake in Truckee (north of Lake Tahoe) offers serene waters for stand-up paddle boarding, kayaking, and waterskiing. Dotting the lake's eight miles of shoreline are multiple beaches, fishing spots, and 37 public piers perfect for a picnic, casting a line, or spotting eagles soaring overhead. The lake also features public launches for boaters. Donner Lake Marina provides rentals of SUPs, kayaks, canoes, hydrobikes, and pedal boats. For added fun, the nearby Truckee River offers rafting and top-rated, catch-and-release flyfishing. Donner Lake Inn is a cozy, lodge-style B&B just a three-minute walk from the lake and the marina.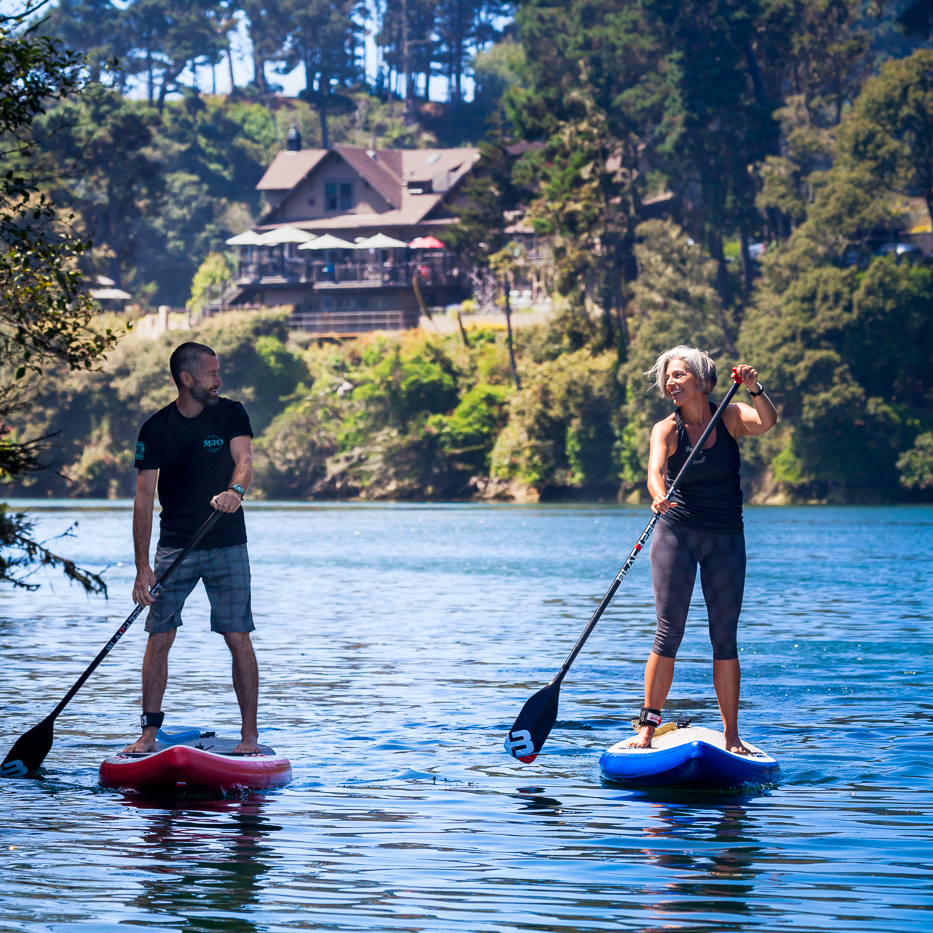 Noyo River Estuary
The rugged Mendocino Coast offers paddling adventures of every sort. In Fort Bragg, the Noyo River is a favorite spot for kayaking and stand-up paddleboarding. The river winds for miles past wildlife, towering redwoods, bucolic horse pastures, and sections of the popular Skunk Train route. Liquid Fusion Kayaking offers kayak rentals and guided tours of the Noyo River Estuary, and visitors can also enjoy the river from a self-guided vantage point atop their own stand-up paddleboard. The luxurious Noyo Harbor Inn is a beautifully restored Craftsman rising above the Noyo River and Noyo Harbor. A private path from the inn leads to the harbor.
Clear Lake
Lake County is a windfall for water recreation. Kayaking, boating, and stand-up paddleboarding are all easily accessible throughout the region's network of lakes and waterways. Clear Lake, the largest lake in the area, is a kayaker's dream with its system of established water trails, including Rodman Slough that showcases the lake's serene landscapes and abundant wildlife. At Clear Lake, Disney's Boat Rentals offers kayak and SUP rentals, among other equipment. Blue Lakes, Clear Lake State Park, and Highland Springs are other paddle-friendly destinations in the vicinity. The elegantly restored Tallman Hotel in Upper Lake is minutes from all the action.
West Shore of Lake Tahoe
Lake Tahoe's famed clarity is a luring call to kayakers, paddleboarders, and boaters. With 72 miles of shoreline, Lake Tahoe offers endless opportunities for water-bound exploration. From the lake's west shore, paddlers and boaters can cruise past historic lakefront estates, beaches, and tranquil coves. Numerous public access points offer easy entry for paddleboarders and kayakers and paved boat launches are available for motorized fun. Sunnyside Marina and Resort offers boat rentals, while West Shore Sports stocks rental kayaks and paddleboards. The Cottage Inn, located a few miles from Tahoe City, is just steps from the lake, and guests have access to the neighborhood's private beach.
Big River Estuary
Just south of Mendocino Village, Big River winds eight miles through a forested wilderness with playful river otters, harbor seals, and a variety of birds along the route. This mellow, tidal estuary is ideal for exploring via paddleboard, kayak, or canoe. Nestled in a small cove near the river's mouth, The Stanford Inn's Catch a Canoe rental shop offers one-of-kind outrigger canoes that are locally designed and built from repurposed redwood. The ultra-stable outriggers can hold 2-7 people. Some can accommodate pets, too. The shop also rents kayaks, SUPs, conventional canoes, and bikes. Rising above the river and the Mendocino Coast, the Stanford Inn offers an incredible opportunity to reconnect with nature.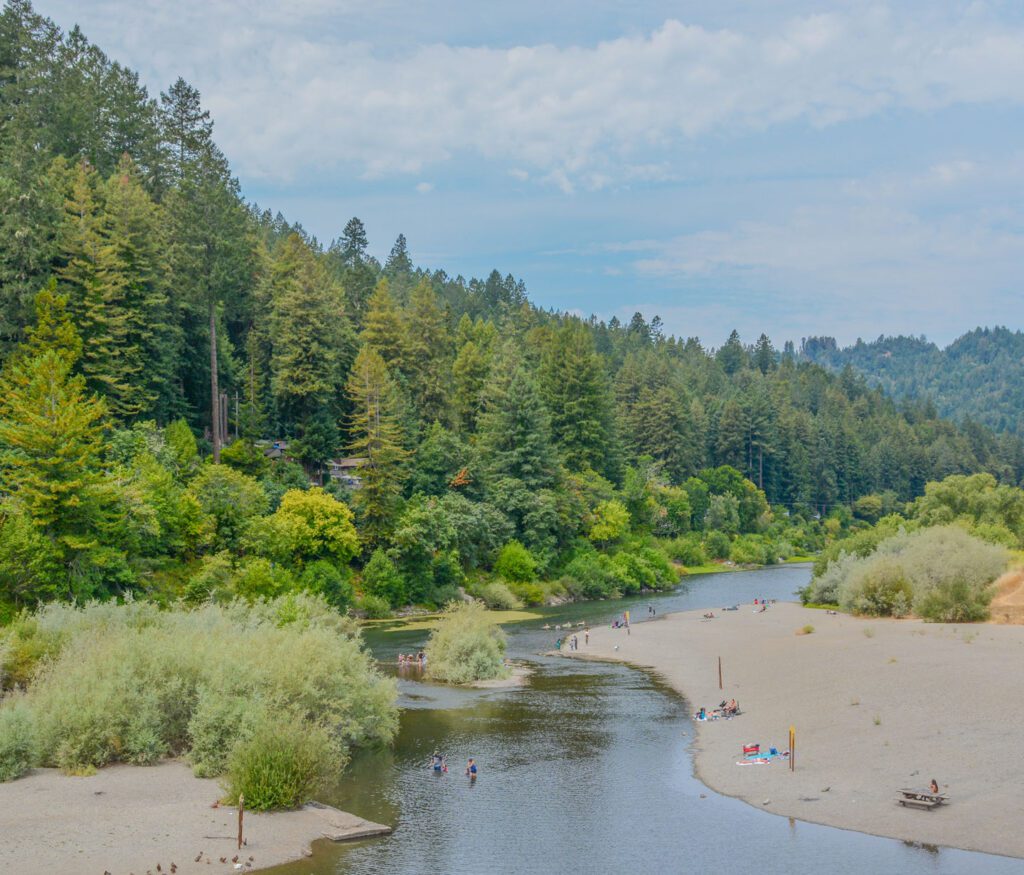 Russian River
Floaters and paddlers familiar with the Russian River know that this gem of a waterway is a summer delight. Monte Rio Beach is the hot spot for easy launching and is suitable for casual paddling or more ambitious experiences, like the 11-mile journey to Jenner where the river meets the Pacific. Dozens of tiny beaches flank the riverbank offering scenic spots to picnic with ospreys and bald eagles soaring overhead. River's Edge Kayak and Canoe and King's Sport and Tackle offer equipment rentals, as well as guided excursions. Located just 600 feet from the Russian River in Guerneville, Mine + Farm puts a modern spin on a historic bed and breakfast inn.
South Lake Tahoe
South Lake Tahoe ups the ante for water-bound adventures. In addition to kayaking, stand-up paddleboarding, waterskiing and wakeboarding, visitors to Lake Tahoe's south shore can try their hand at electric-powered bodyboarding and hydrofoil. It's all accessible from Ski Run Marina. The adjacent wide sandy beach doubles as a convenient launch point and resting spot. Ski Run Boat Company offers a complete rental inventory of motorboats, jet skis, kayaks, and paddleboards. Electric hydrofoils and body board rentals and lessons are available at Lake & Wake Adventures. Within walking distance from the marina and lakeshore, Black Bear Lodge features private cabins and lodge-style accommodations nestled in the pines.
South Fork of the American River, Slab Creek Reservoir, Jenkinson Lake, and More
Gold Country visitors enjoy extensive options for kayaking, paddle boarding, and rafting. The South Fork of the American River is the region's star attraction for whitewater thrills with several outfitters offering adrenaline-fueled trips through the rapids. For those seeking calmer waters, Slab Creek Reservoir, Jenkinson Lake, Lake Natoma, and Brown's Ravine at Folsom Lake offer serene settings and easy access for kayakers and paddle boarders. Located near Placerville, Eden Vale Inn is four miles from the meet-up spot for rafting trips on the South Fork and offers a 15% discount for trips booked with All-Outdoors California Whitewater Rafting. The inn is also just a short drive to other recreation sites.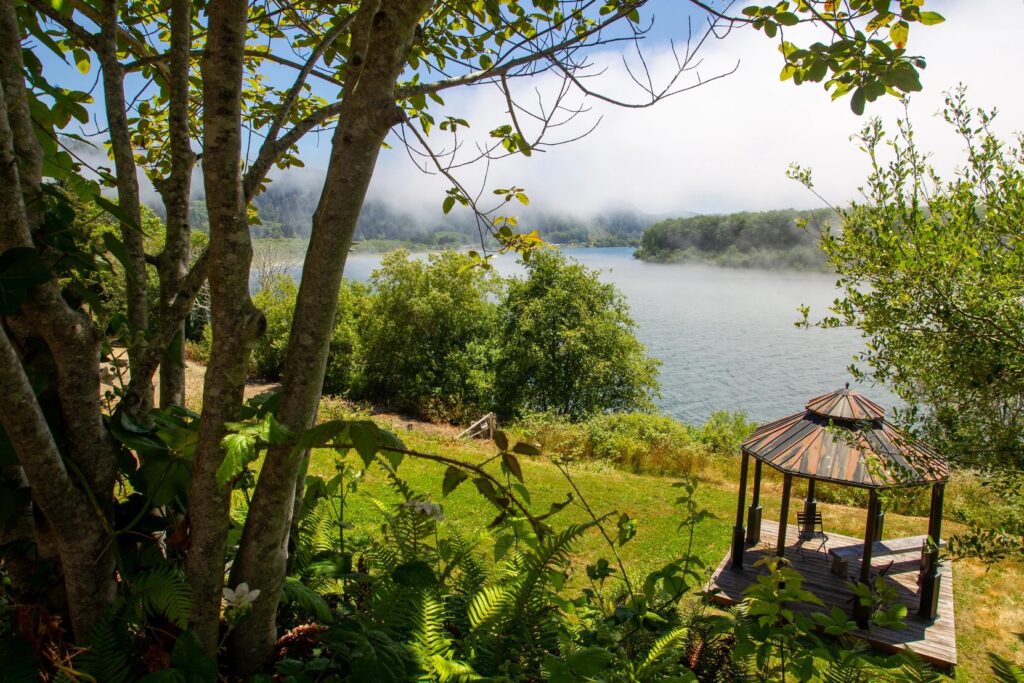 Klamath River
The Klamath River flows with enchanting rhythm through Northern California's vast Redwood National Park system. It beckons anglers and boaters with its twists and turns, until meeting its match at the Pacific Ocean. Restricted public access makes flyfishing and floating on the river best served with professional guide services. Redwood Yurok Canoe Tours is a unique way to experience the Klamath as the indigenous Yurok did – in a dugout canoe handcrafted from the region's giant redwoods. Historic Requa Inn stands above the banks of the Klamath River, offering visitors front row seating to the magnificent waterway.
Mammoth Lakes
Kayaking, canoeing, and stand-up paddleboarding are endless and easily accessible in Mammoth Lakes. Chances are, one trip will scarcely scratch the surface. Twin Lakes, Horseshoe Lake, and Lakes Mamie, George, and Mary are just the beginning. These glacier-carved lakes are ringed in pines and offer staggering views of granite peaks. Scenic June Lake and Mono Lake are also nearby. Mono Lake is saltier than the ocean and features protruding limestone structures known as tufa towers. Tamarack Bike & Paddle offers kayak and SUP rentals. Cinnamon Bear Inn is a family-friendly B&B close to the action in the heart of downtown Mammoth Lakes.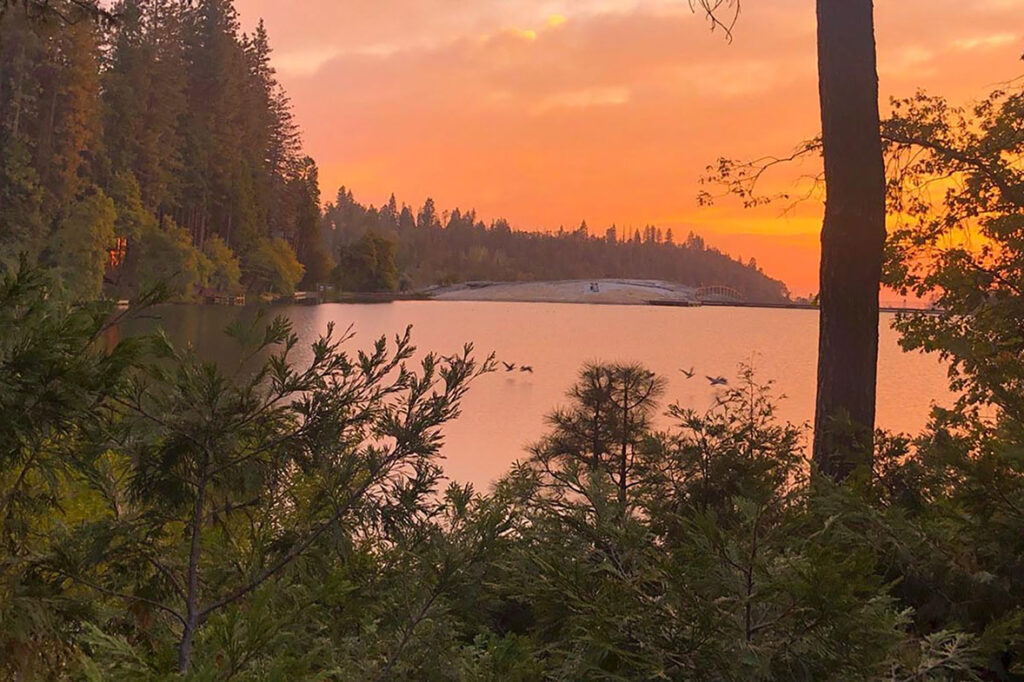 Pinecrest Lake and Twain Harte Lake
On the way to Sonora Pass in the High Sierra, two alpine lakes are popular spots for kayaking and paddleboarding. The 300-acre Pinecrest Lake is nestled amid the pines at 5,600 feet in the Stanislaus National Forest. The marina rents kayaks, paddle boats, and other watercraft. Spanning 40-acres, Twain Harte Lake is a fun pocket-size alternative with crystal clear waters. SUP and water bike rentals are available. Twain Harte Lake is a private lake that guests of the McCaffrey House Bed & Breakfast Inn can access for a small fee. The charming B&B is five minutes Twain Harte Lake and 20 minutes from Pinecrest Lake.