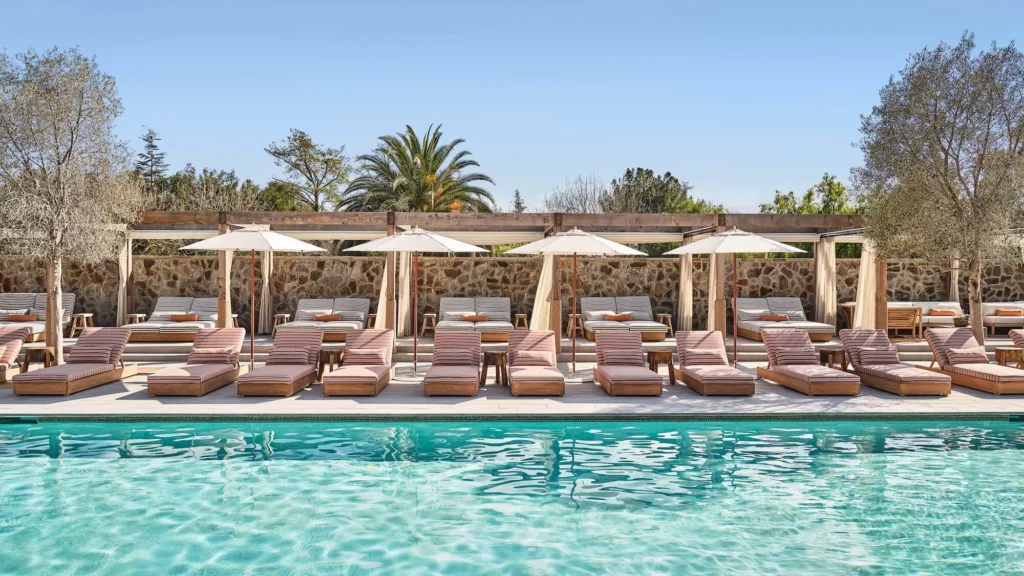 Poolside Escapes for a Relaxing Summer Retreat
Swimming pools are nearly synonymous with summer vacation, but not all hotel pools are created equal. To find the best spots for quiet poolside relaxation, consider California's boutique hotels and bed and breakfast inns. These smaller-scale properties offer serene escapes that take poolside lounging to new heights with stunning views, private cabanas, stylish loungers, poolside dining, and more.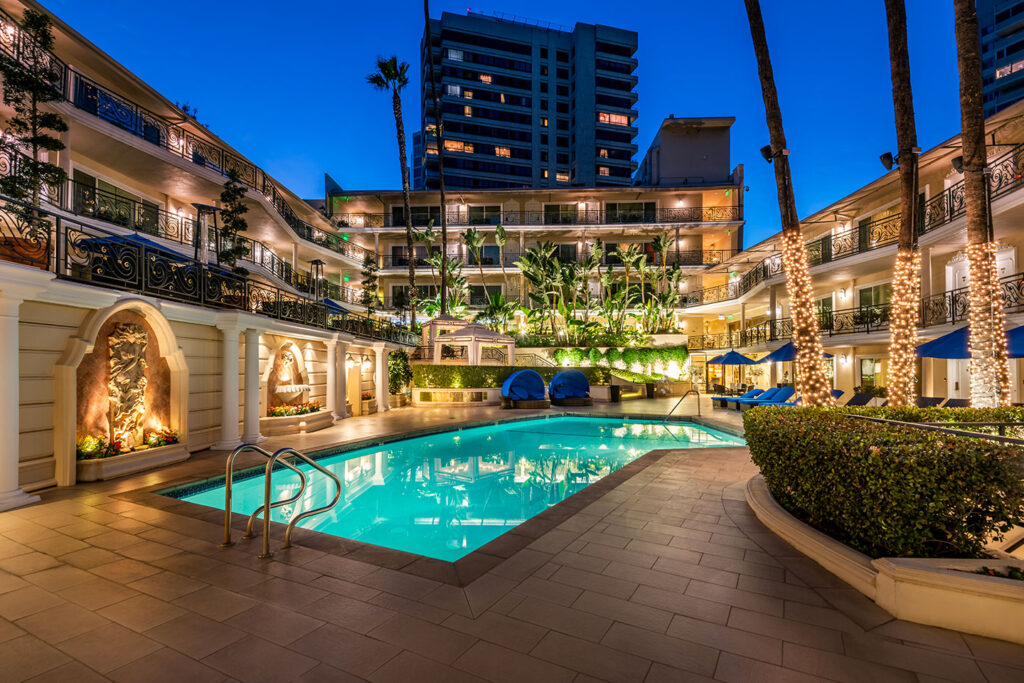 The hedge-trimmed pool terrace of this Wilshire Boulevard hotel is an urban treasure. The heated swimming pool is perfect for an invigorating workout or a refreshing dip, and the sunken hot tub provides soothing relief. Poolside seating includes private cabanas and umbrella-shaded lounges for a restful break.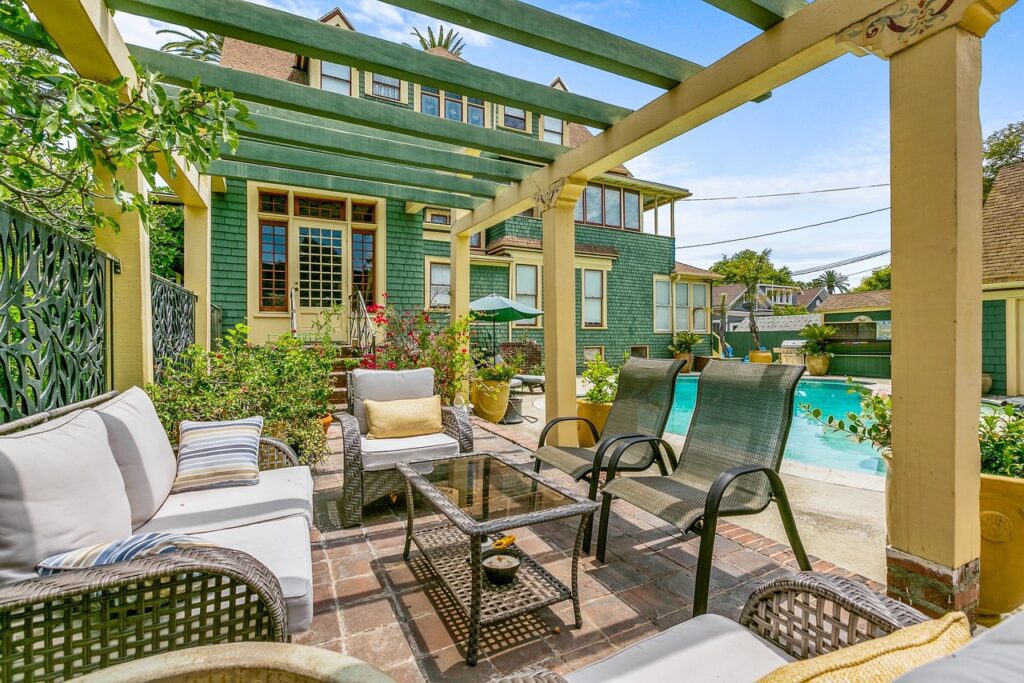 Relaxing poolside at The Bissell House is transportive. Built in 1887, the mansion is located along South Pasadena's historic Millionaire's Row. From the shaded chaise lounges that ring the backyard pool, it's easy to imagine the elegant garden parties that Bissell vacuum heiress Anna Bissell McCay once hosted here.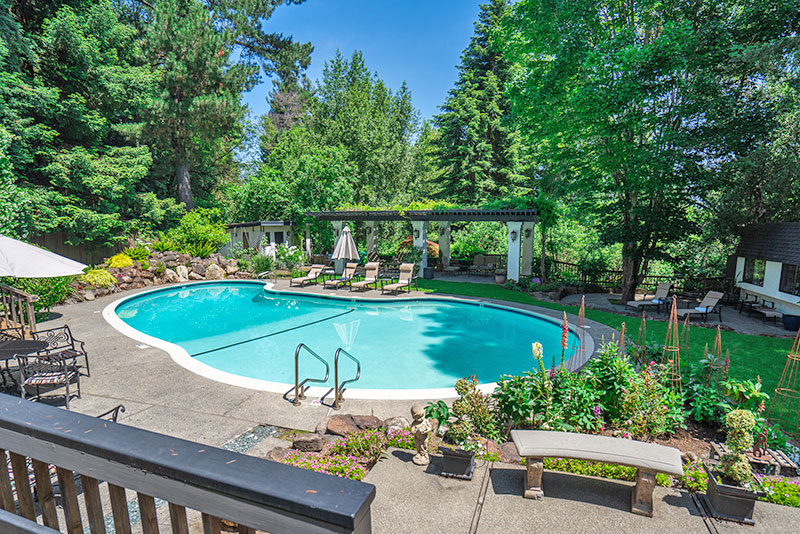 Surrounded by intimate sitting areas, carefully tended gardens, and a canopy of mature trees, the spacious pool at Candlelight Inn offers exceptional quiet spots for poolside relaxation. A shady, wisteria-draped arbor runs along the pool's length and features additional seating for cooling off on a hot summer day.
Rolling hills and forever sky are the backdrop to poolside relaxation at Carmel Valley Lodge eco-retreat. Lounge seating around the sparkling-blue pool offers comfortable options for sun and shade throughout the day. The pool area is surrounded by the property's three-acre sanctuary of flower gardens and natural landscapes.
The 82-foot lap pool at Casitas is arguably one of California's most scenic. Breathtaking views of Arroyo Grande Valley unfold in every direction. The sundeck features umbrella-shaded chaise lounges for front-row viewing steps from the solar-heated pool. A poolside bocce ball court invites friendly competition.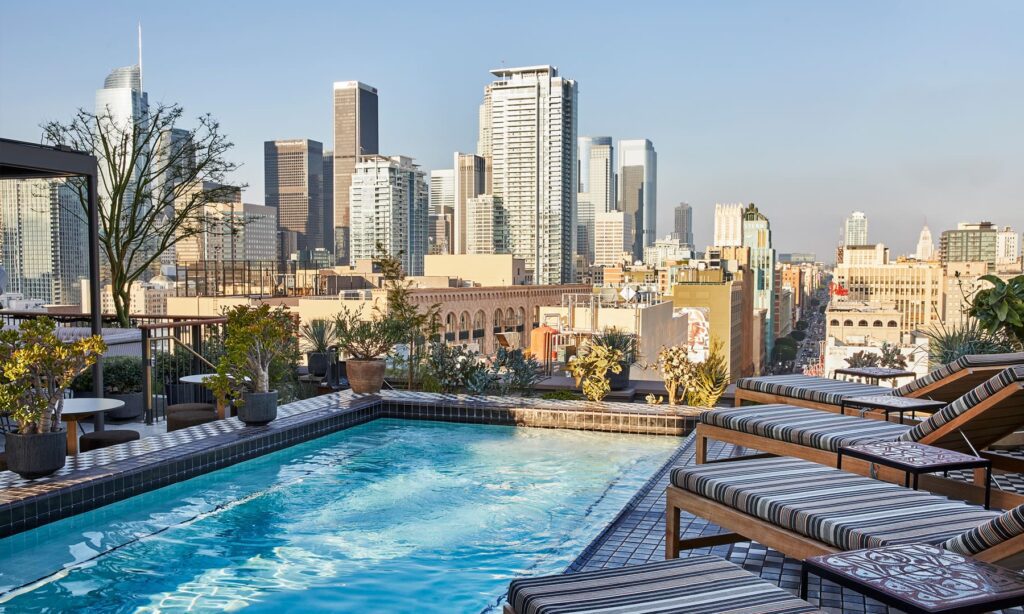 From Proper Hotel's rooftop heated pool and swanky sundeck, L.A.'s skyline appears deceptively within hand's grasp. For those who prefer their pools in private, the hotel's Pool Suite is unmatched. The suite's living room features the 35 x 12-foot swimming pool refurbished from the building's YWCA days.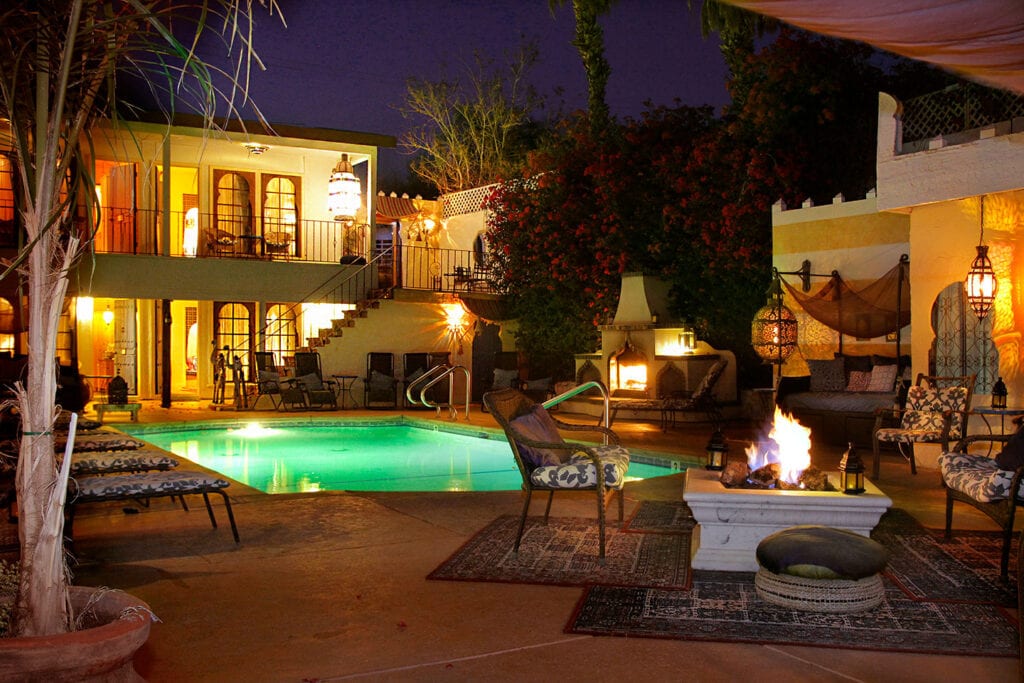 Natural hot springs flowing underground feed the heated mineral pool at El Morocco Inn & Spa. A midnight soak under the stars is a dreamy escape at this Moroccan-inspired retreat. The pool and large hot tub are made more enchanting by twinkling lanterns and the flickering glow of two poolside fireplaces.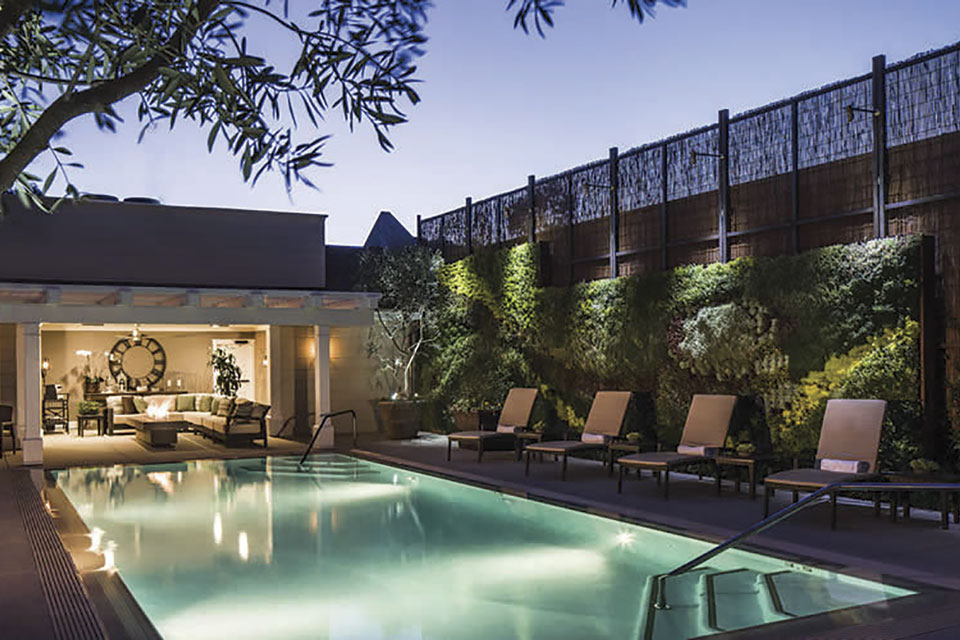 Fess Parker's rimless modern pool appears like a sheet of shimmering glass that transitions seamlessly into the patio. A sprawling succulent wall creates a stunning backdrop, while chaise lounges line each side of the pool. A luxurious outdoor room under a shady arbor offers a plush outpost for wine tasting.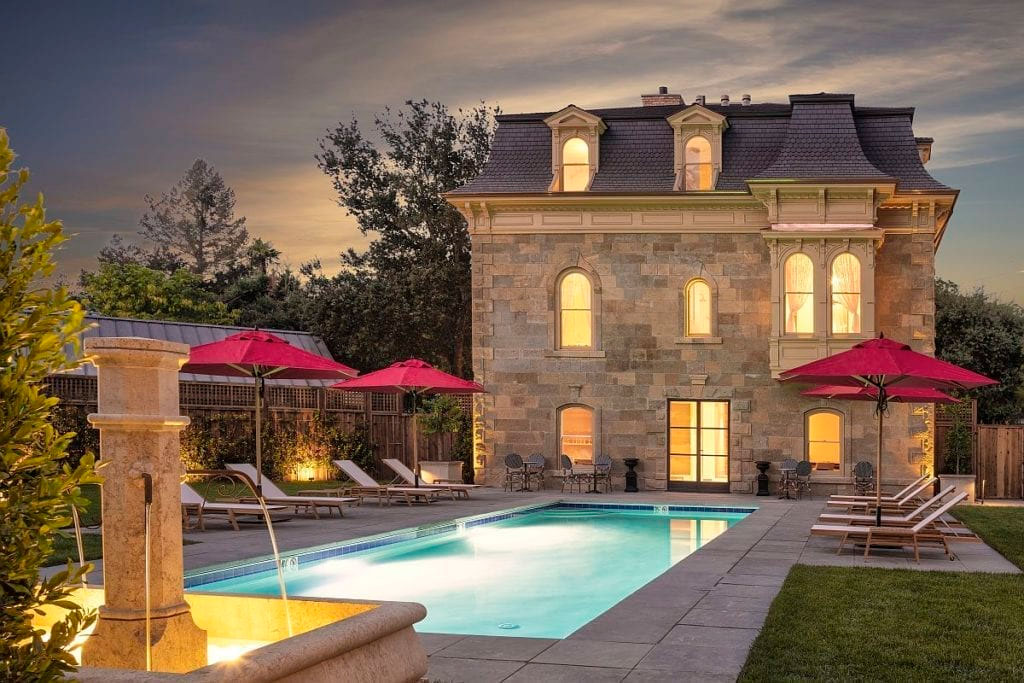 Stretching behind the French Second Empire-inspired Francis House, a heated pool and lawn-trimmed patio offer a tranquil hideaway. Lounge chairs line each side of the pool and a stone fountain provides the background melody of trickling water. Poolside bistro tables are perfect for enjoying the complimentary gourmet breakfast.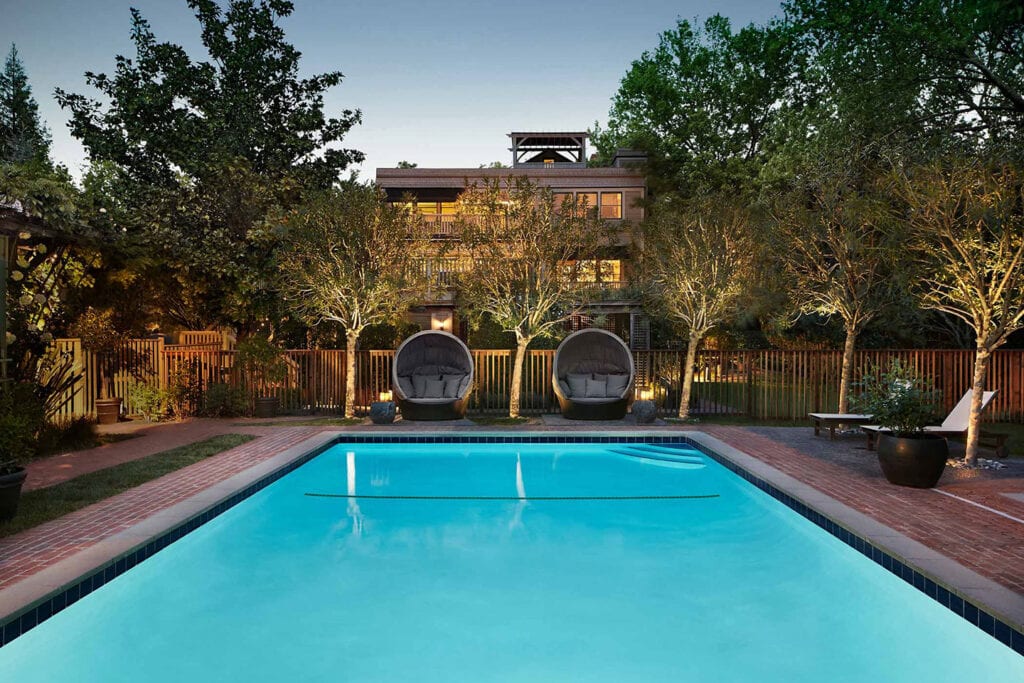 Inspired by Asian principles of wellness, it's fitting that Gaige House's outdoor pool space is veiled in soothing energy. A brick-paved patio leads to quiet seating areas and a secluded hot tub. The serene setting covers over an acre of manicured gardens along the rippling Calabazas Creek.
Poolside leisure at Hollywood Hotel exudes stylish backyard comfort. Padded chaise lounges with large sun umbrellas encircle the pool, which plays nicely to an unhindered saunter to the water's edge. Rustling palms, dense Italian cypress, and a vine-dressed wall run the perimeter of the pool area for verdant privacy.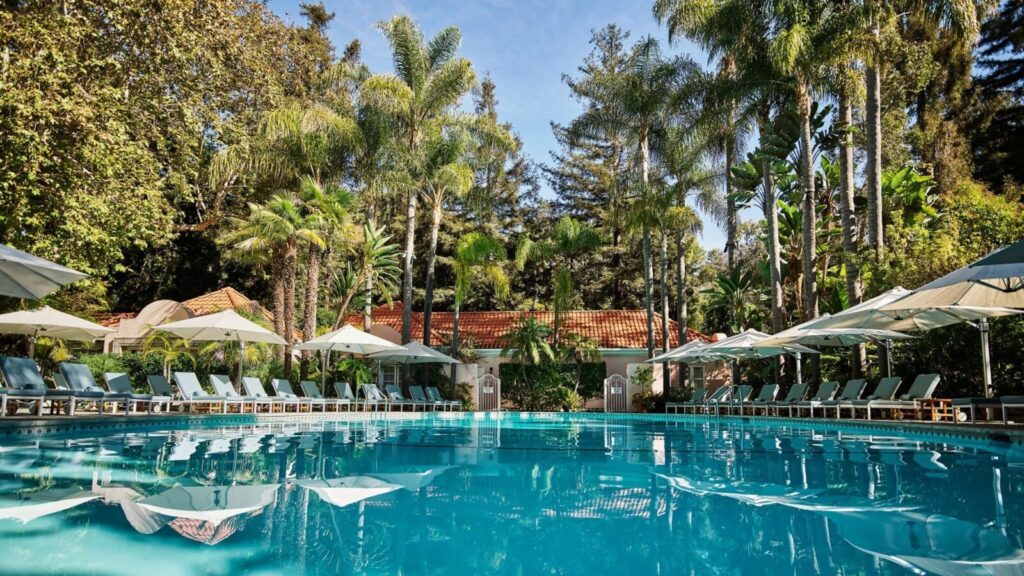 Hidden by lush gardens and swaying palms, the oval pool at Hotel Bel-Air is a storied retreat. Since the 1940s, guests have found respite at this poolside hideaway that features chaise lounge seating with sun shades, full-service dining, and pampered extras including sunglasses cleaning. The pool is heated year-round.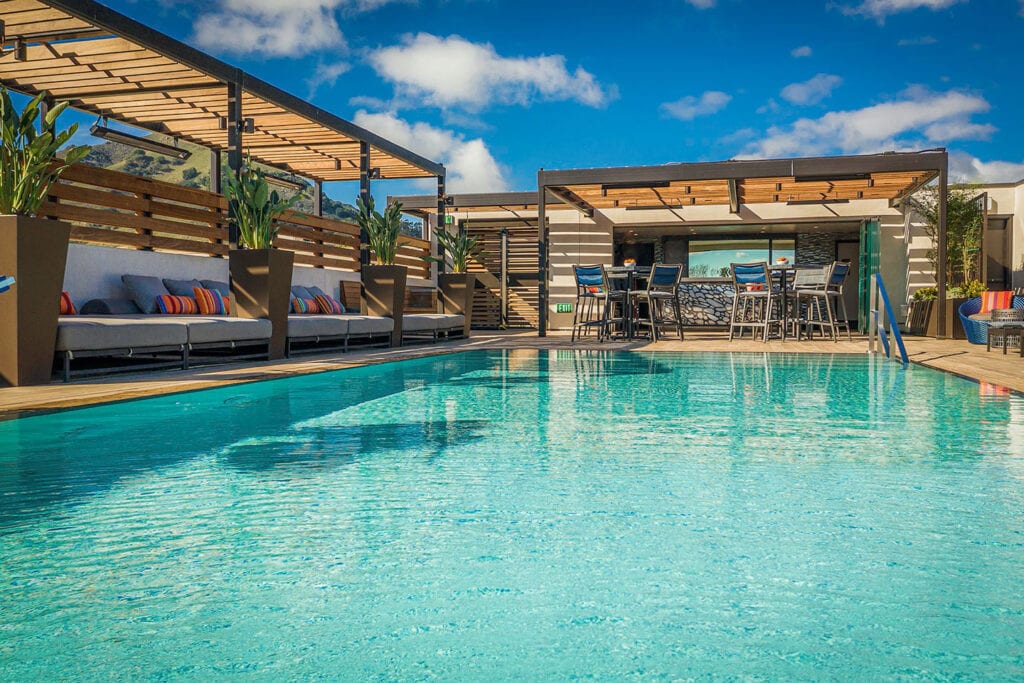 The rooftop pool and terrace at Hotel Cerro is a SLO hot spot for summer fun. Partitioned banquettes, comfortable lounge chairs, and cabanas surround the pool offering wide views of the surrounding hills. Poolside service includes light lunches, beverages, and cocktails garnished with seasonal sprigs from the inn's garden.
Masterfully hidden just off the lobby and top-shelf bar, Hotel San Luis Obispo's outdoor pool terrace teases now you see me, now you don't. This oasis tucked from the view features a 50-foot swimming pool, sunken spa, and chaise lounges with side tables for poolside cocktails and snacks.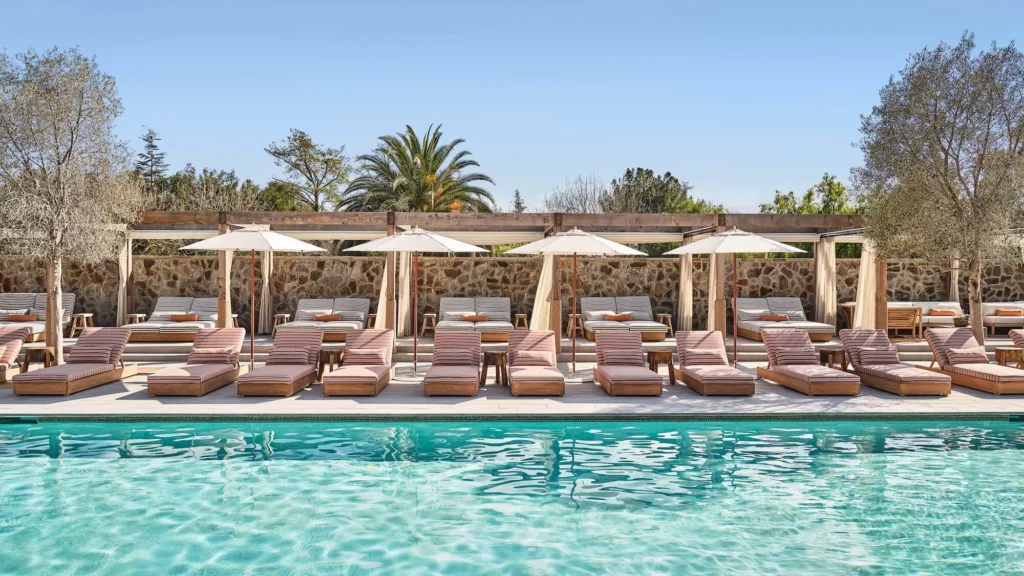 Mattei's casual-meets-luxury ambiance extends outdoors to the enclosed pool area. Chaise lounges and private cabana seating inspire wine country relaxation, with umbrellas and olive trees shading just the right spots. For guests interested in more rigorous pursuits than a nap or refreshing dip, the pool accommodates lap swimming.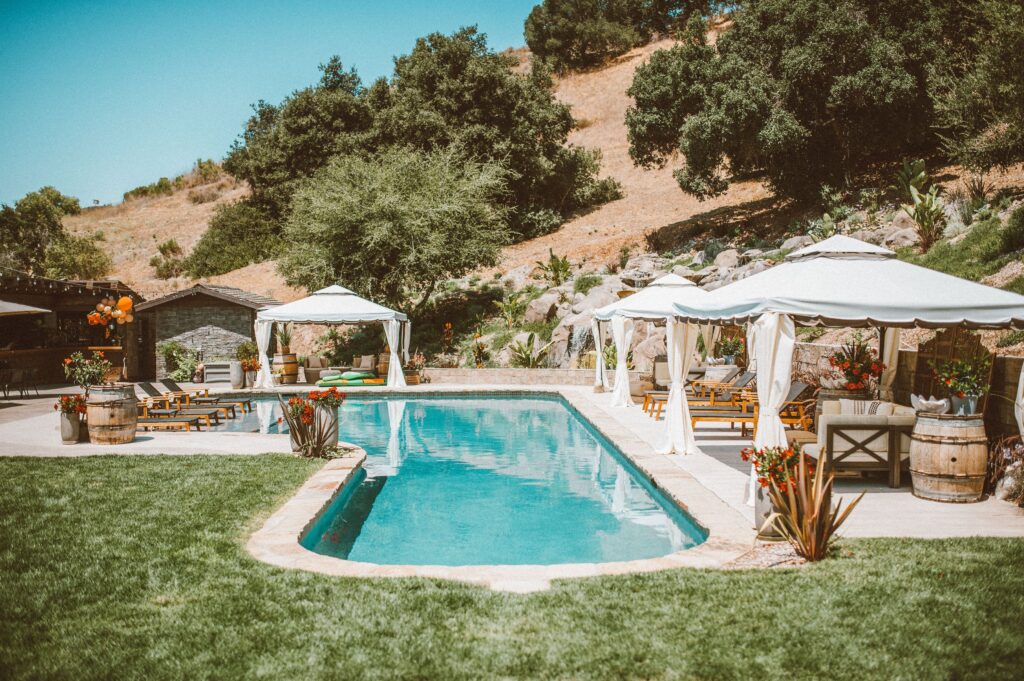 Old World English countryside inspires the oak-studded setting at Inn at Zaca Creek. Tucked behind a garden retaining wall, the inn's L-shaped swimming pool and stone patio offer a quiet nook for cooling off on hot summer days. Shaded cabanas provide extra luxury for poolside lounging.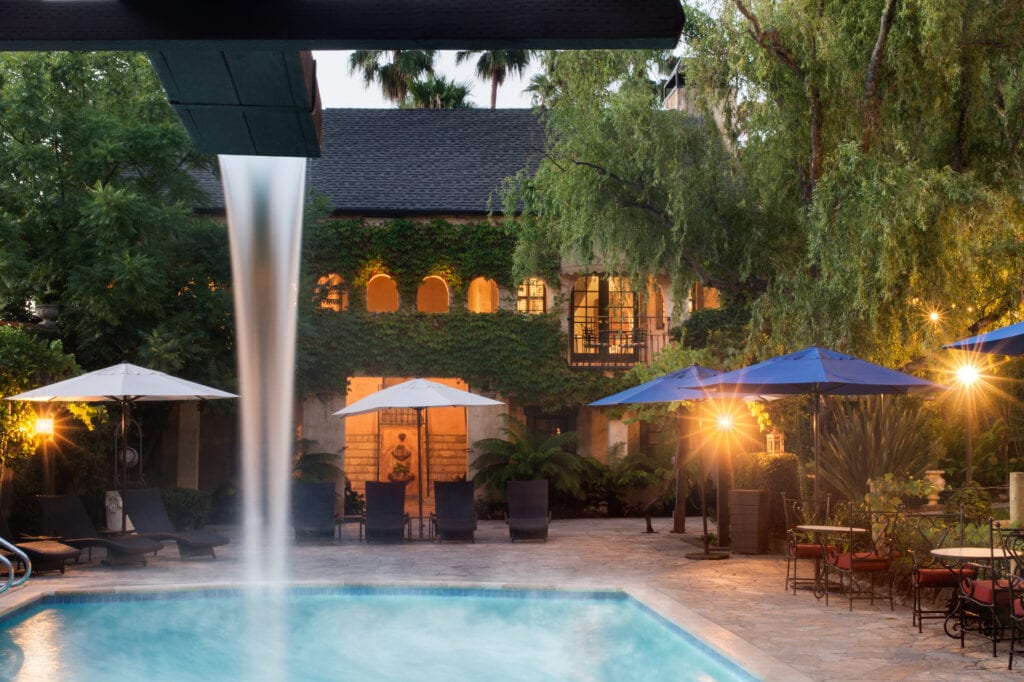 Kenwood Inn & Spa elevates poolside relaxation in Sonoma wine country. A Mediterranean-style courtyard features umbrella-shaded bistro tables, chaise lounges, and semi-private cabanas surrounding the main pool. A warming pool and hot tub are steps away. For luxurious privacy, the Poolside Retreat cabana for two is a top choice.
Bold vibes ricochet off giant muralled walls at the neon-chic Kinney pool. Here, the hot tub spills into an oversized plunge pool, appeasing whims of hot or cool. Chaise lounges and pod-style rockers offer comfy seating, and a fire pit and ping-pong tables complete the post-worthy scene.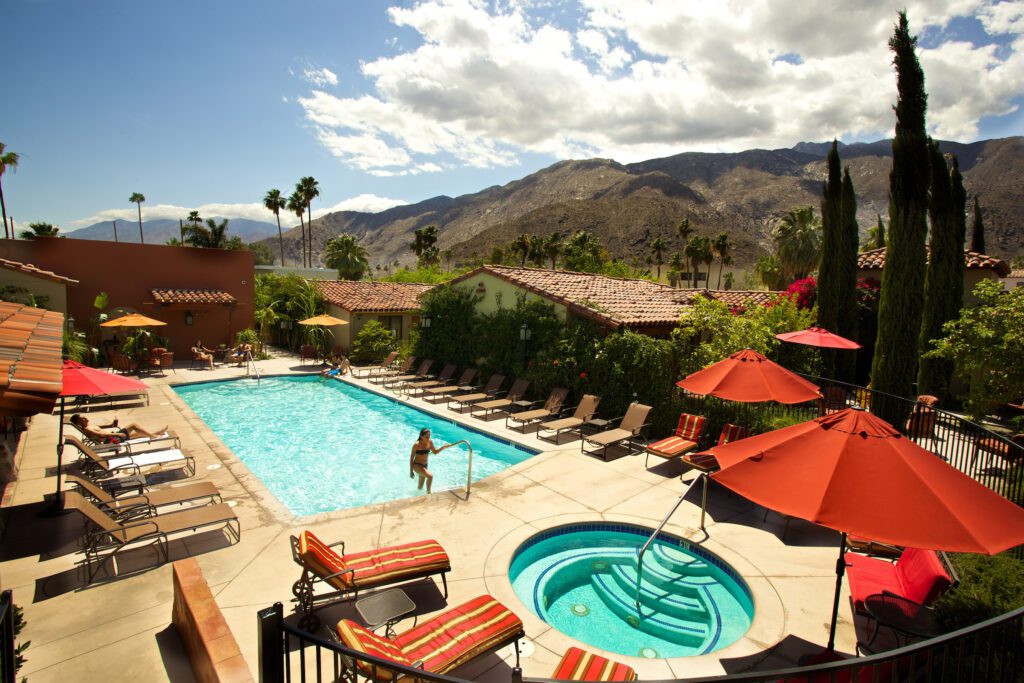 The hacienda-style courtyard pool at Los Arboles is a desert refuge. Chaise lounges frame the patio for maximum sunbathing or shaded relief, and the heated pool features two entry points. The sunken spa is the courtyard's prime seat for views of the San Jacinto Mountains, especially at dusk.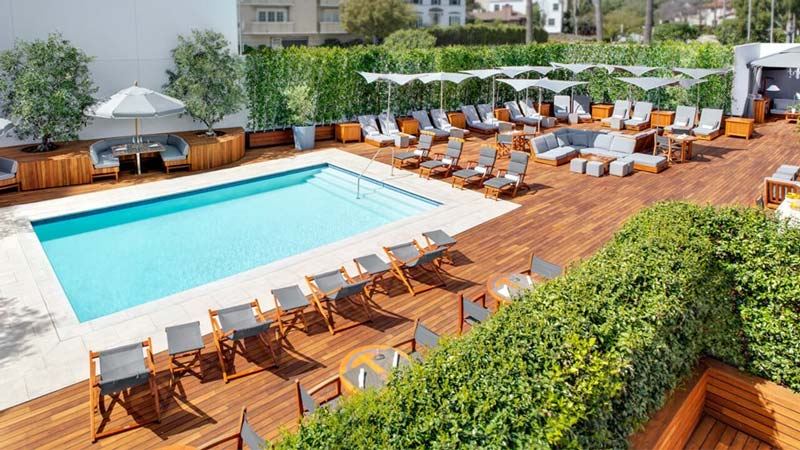 Mr. C's 4,500-square-foot pool deck drips in designer luxury. Amenity-rich cabanas, complete with privacy drapes and seating for six, offer a glam alternative to the oversized chaises and patio couches spaced within steps of the heated pool. Poolside cocktails and dining round out the Beverly Hills experience.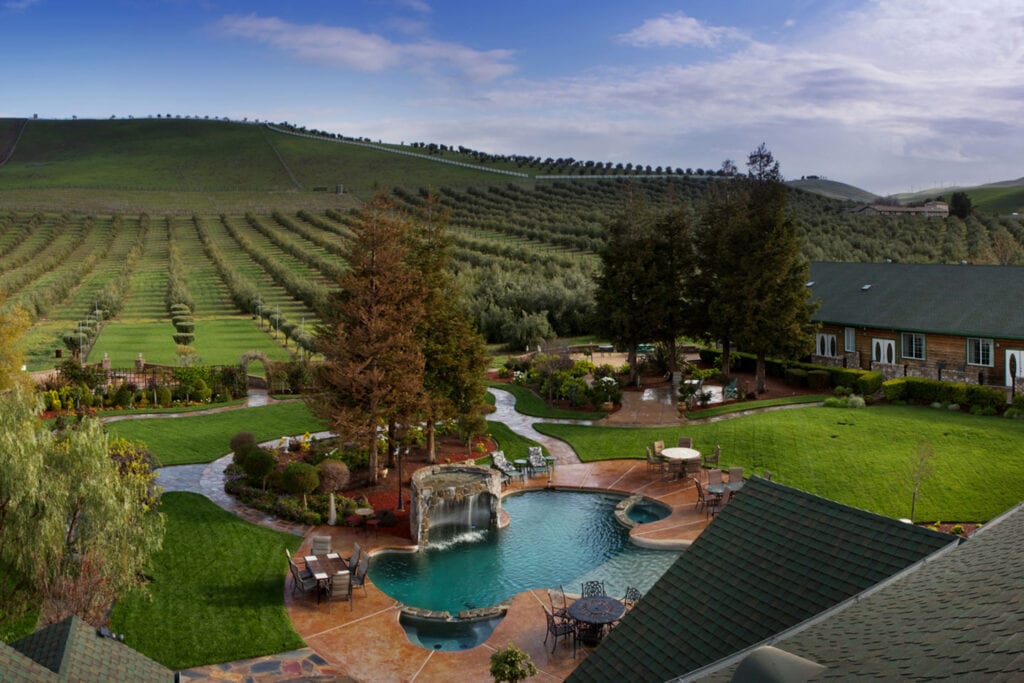 With its rock waterfall, beach entrance, and stone-enclosed hot tubs at either end, the pool at Purple Orchid feels pulled from a river lagoon. Rolling hills and olive orchards are visible from chaise lounges and dining tables that surround the pool, offering a scenic backdrop for ultimate relaxation.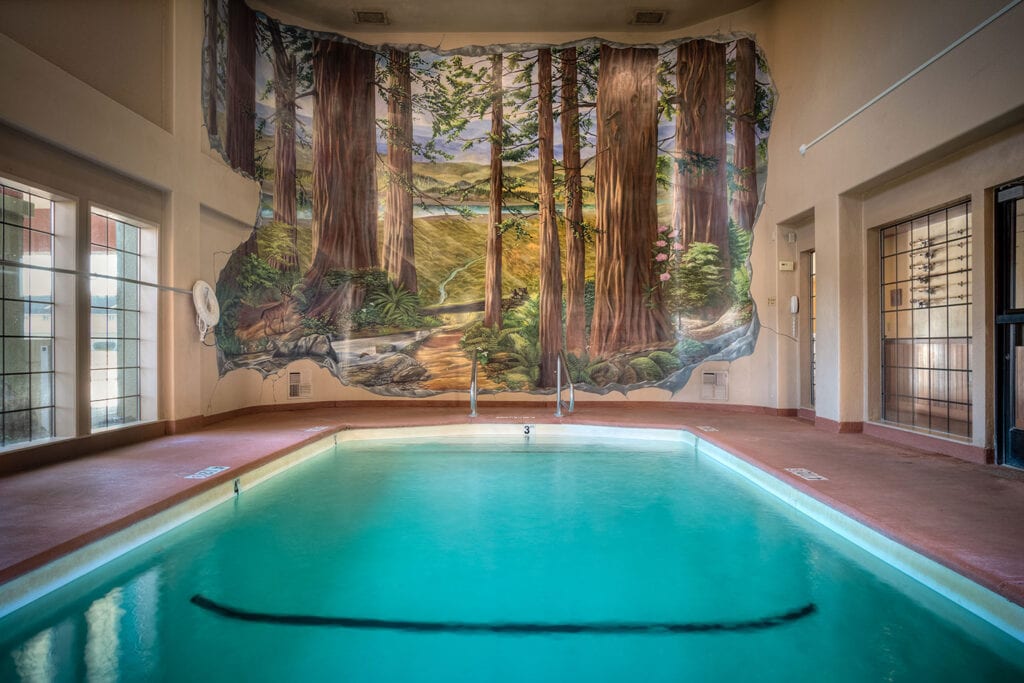 The Redwood's inviting indoor pool, affectionately known as the swimming hole, is backed by a hand-painted floor-to-ceiling mural that honors local giant redwoods. The hallway leading into pool is lined with vintage fly-fishing rods and reels and a collection of hand-tied flies that enhance the pool's woodsy theme.
Dip into a dreamy poolside scene on the elevated pool deck of the Silver Lake Pool & Inn. Overlooking one of the hippest neighborhoods in Los Angeles, the elevated deck features a sparkling pool lined with chic loungers, striped umbrellas, and a breezy outdoor bar serving up cool cocktails.
Easily mistaken for one of the property's deluxe greenhouses of sustainable bounty, Stanford Inn's pool complex is a wellness retreat of swim, soak, rest, repeat. The heated solarium features a saltwater swimming pool with five lanes, a hot tub, a dry sauna, and comfortable seating. Tropical plants add a calming touch.