Poolside Escapes for a Quiet Summer Retreat
Before social distancing was a thing, the quiet pools at boutique hotels were the preferred choice of savvy travelers for poolside lounging. Generally built on smaller scales and with fewer rooms, these pools are seldom, if ever, crowded, meaning guests can keep a healthy distance without much effort at all. Check out these spectacular pools at California boutique hotels and bed and breakfast inns for your next poolside vacation.
Surrounded by intimate sitting areas, carefully tended gardens, and a canopy of mature trees, this spacious pool has no shortage of quiet spots for poolside relaxation. A shady, wisteria-draped arbor runs along the pool's length, offering a drier option for cooling off on a hot summer day.
A sparkling-blue outdoor pool is surrounded by abundant flower gardens on a three-acre sanctuary, an eco-friendly retreat that celebrates the local flora and fauna. Venturing out beyond the pool guests will see rare old trees, unique water features, and inviting fire pits, all in view of the beautiful Carmel Valley.
A solar-heated, 82-foot lap pool features heart-stopping views of the Arroyo Grande valley. Just beyond are a poolside bocce ball court and seven acres of lush gardens, including an underwater-themed succulent sea garden, bulb garden, butterfly garden, groves of olives, and Provence lavender.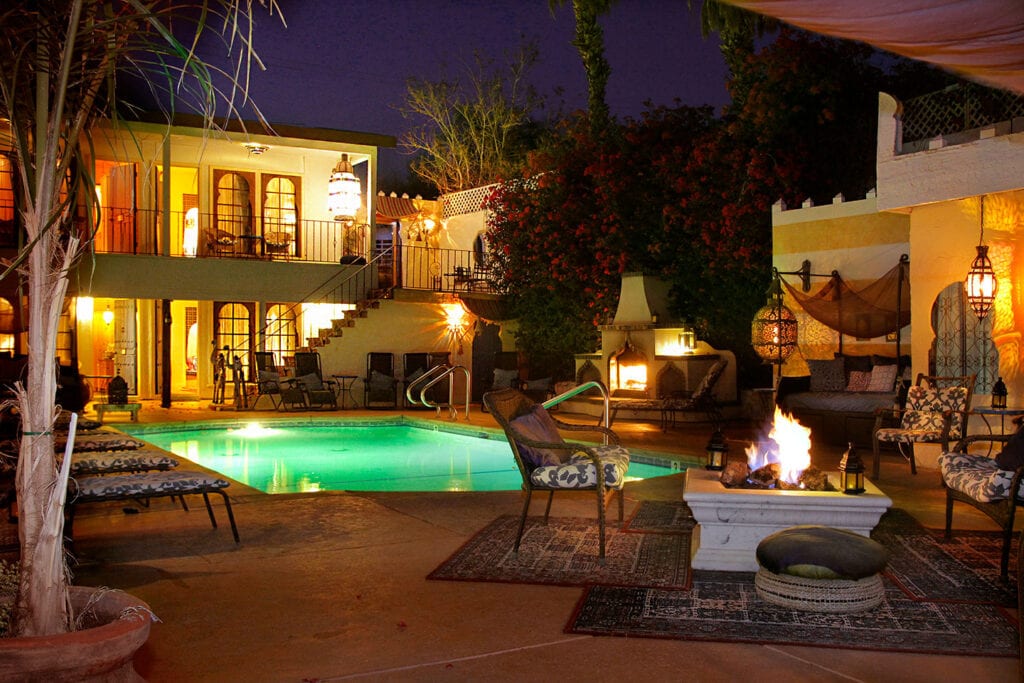 A midnight soak under the stars is like something out of a dream at this Moroccan-inspired retreat. The heated spring-fed mineral pool and large hot tub are made more enchanting by twinkling Moroccan lanterns and the flickering glow of two poolside fireplaces.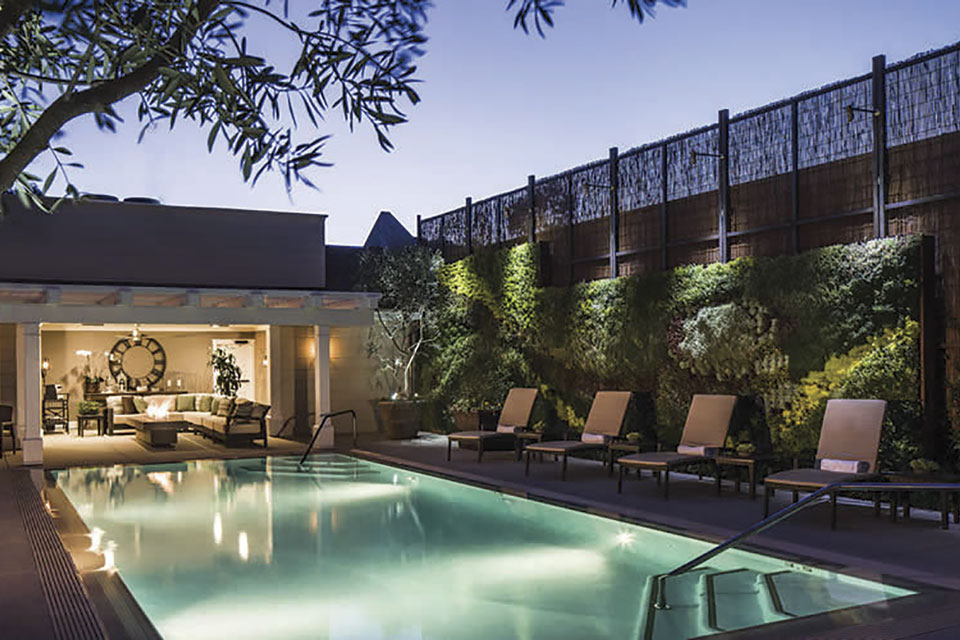 Like a sheet of shimmering glass, this rimless modern pool appears to blur right into the surrounding deck. A sprawling succulent wall creates a stunning backdrop, while a row of chaise lounges lines each side of the pool. Plush seating beckons from a luxurious outdoor room under a shady arbor.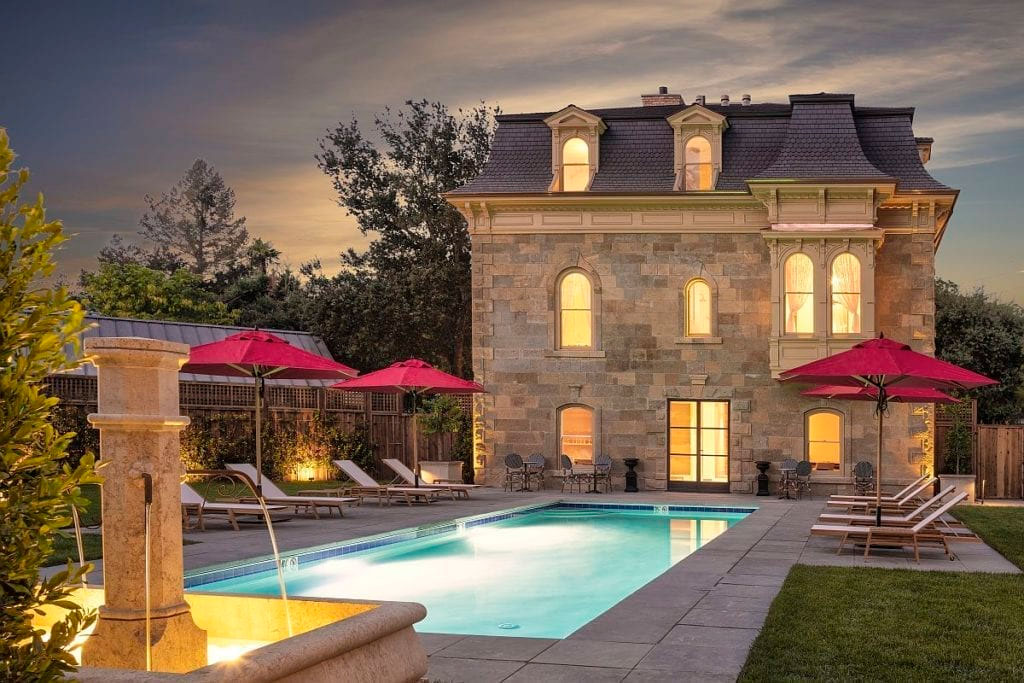 Stretching out behind an authentic stone house of French Second Empire architecture and capped off by an imposing fountain, this stately body of water recalls a reflecting pool at a French estate. Lounge chairs face each other from either side, while bistro tables invite casual dining or a cup of coffee.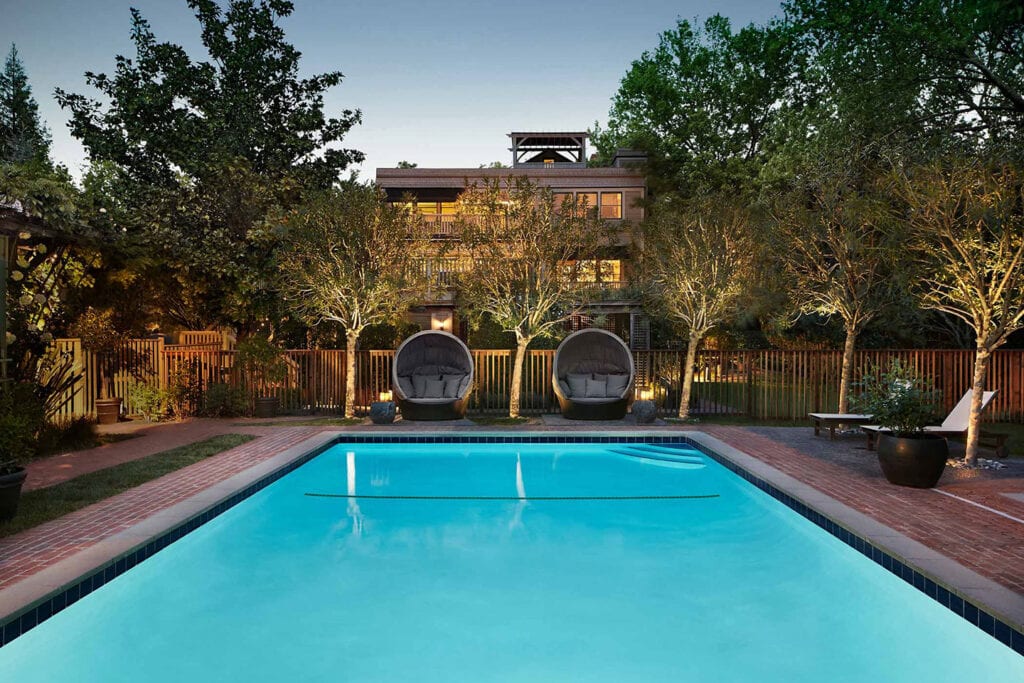 This Zen hideaway extends its tribute to Japanese hospitality outdoors with a serene pool on over an acre of manicured grounds. A brick-paved deck leads to an array of unique seating—newly arranged for safe social distancing—including pillow-lined, cocoon-like lounge chairs for two.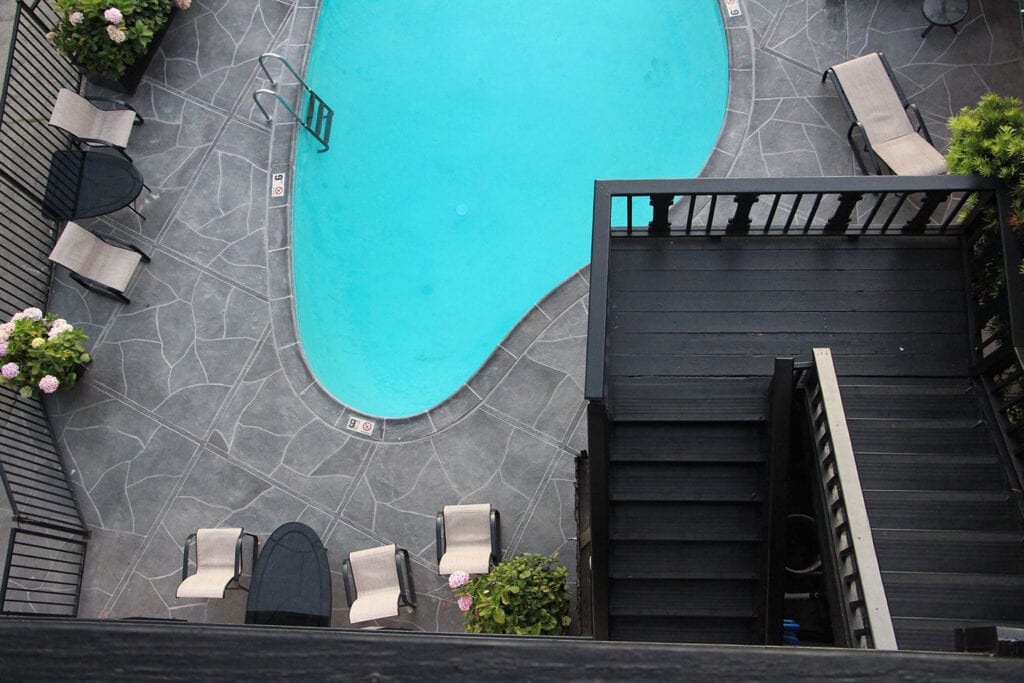 An inviting kidney-shaped pool—heated year-round—is surrounded by a spacious flagstone deck, complete with intimate seating areas and bountiful container plantings dripping with blooms. A European dry sauna awaits after a refreshing swim or a walk to the beach, just eight blocks away.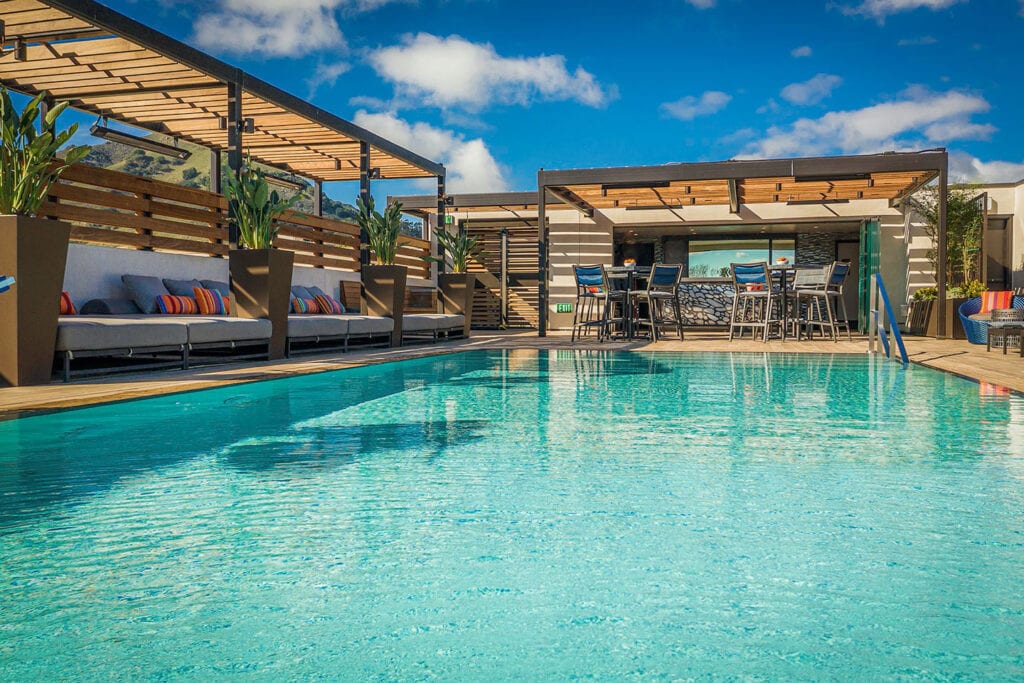 Unique among San Luis Obispo hotels, this stunning poolside terrace is lined with partitioned banquettes, comfortable lounge chairs, and cabanas—a plethora of choices for taking in the views of the surrounding hillside. Poolside service features light lunches, beverages, and cocktails in a unique, captivating setting.
This 50-foot swimming pool is the centerpiece of an expansive garden terrace that, like the rest of the property, weaves Chinese artistic and cultural elements throughout its minimalist design. A separate jacuzzi and poolside dining service make this pool the perfect spot for cooling off on a summer day.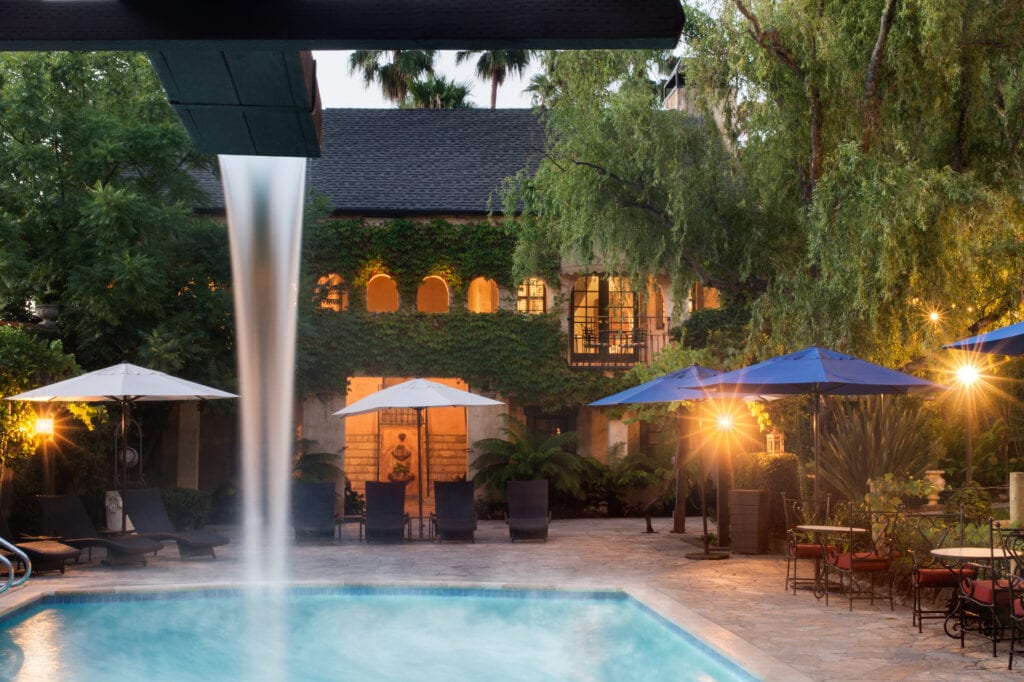 The pool area at this Mediterranean-style villa has a courtyard ambiance that makes it a worthy place to spend some quality downtime. Umbrella-shaded bistro tables and chaise lounges surround the perimeter, enveloped and overlooked by dramatic colonnades, stone fountains, and French-doored balconies.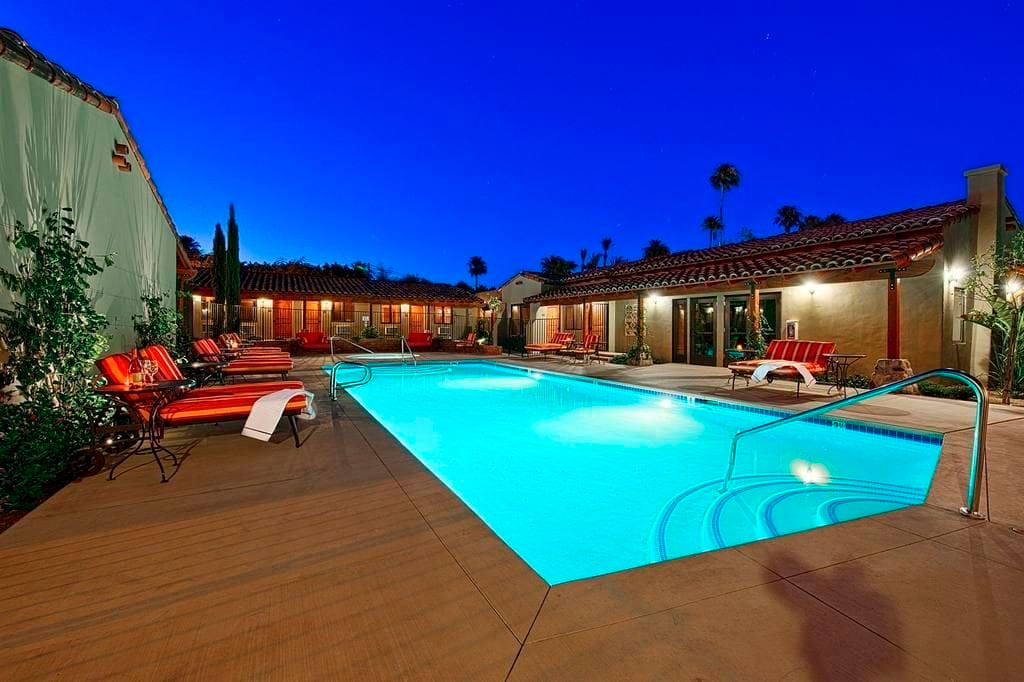 Colorful wrought-iron lounge chairs and wood-toned decking bring Mexican flair to this quiet heated pool nestled in a central courtyard between quaint mission-style buildings. Soft light dances around the courtyard at night as the San Jacinto mountain range looms majestically in the background. (The inn is temporarily closed for the summer, but will re-open in September 2020.)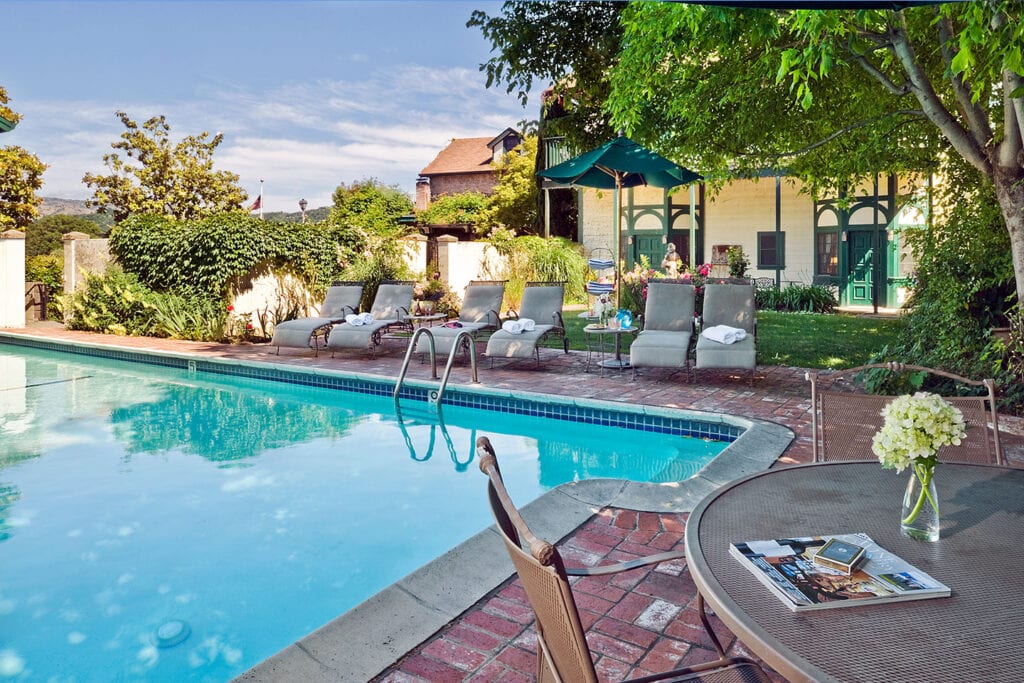 The pool at this Provence-inspired inn is surrounded by a brick pool deck that spills out onto lavish gardens bursting with vibrant blossoms. In fact, the gardens inspired the inn's name, which means flowering house in French. In the distance, beyond a greenery-draped wall, poolside guests can see the Napa Valley's rolling hills.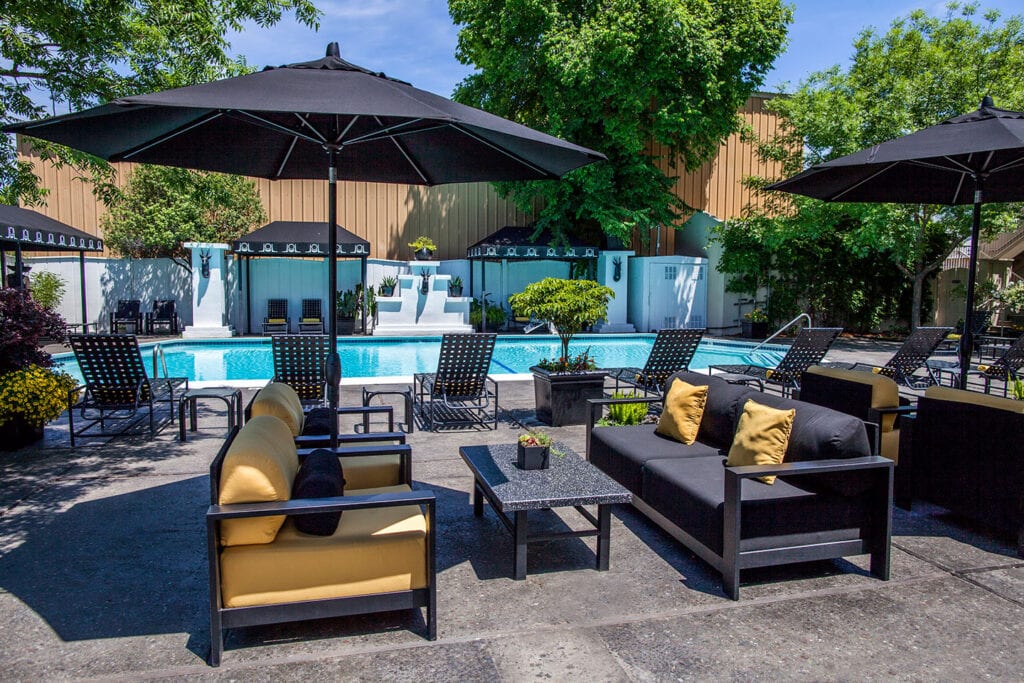 Clean lines and modern style permeate this Downtown Calistoga oasis, including around the outdoor heated pool. Intimate cabanas look out across the pool to a row of lounge chairs, beyond which lie a series of outdoor seating areas that continue the soothing color palette of dark greys and mustard yellow.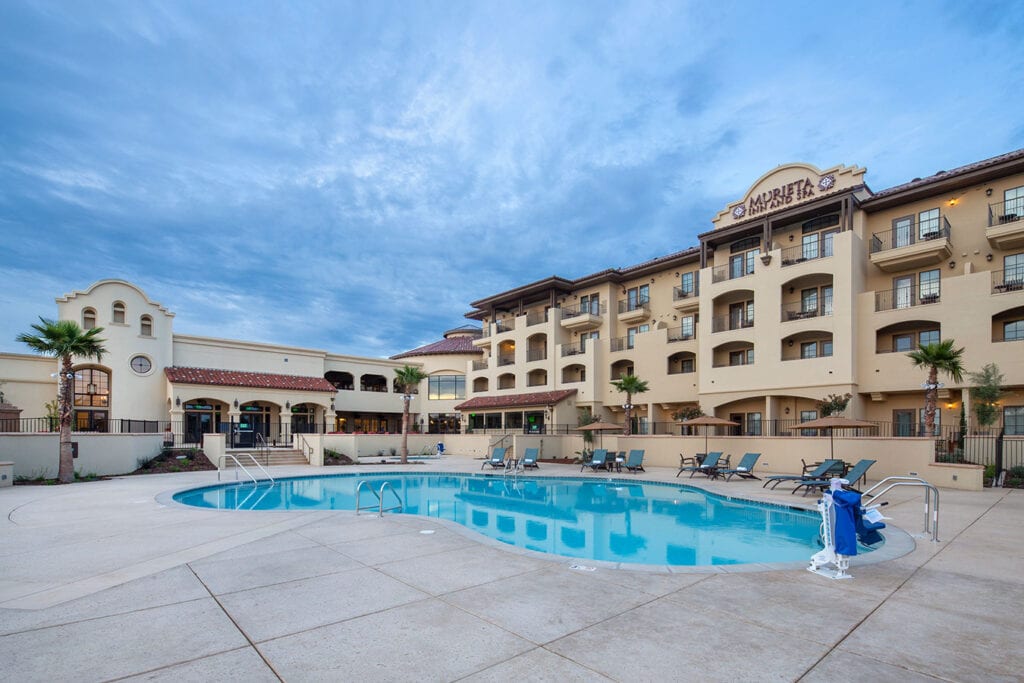 A sizable pool amid sprawling grounds makes social distancing easy at this Spanish hacienda-inspired property, even though it is a larger boutique hotel. With at least as much surrounding deck space as the pool itself, there's never a problem finding a comfortable place to lounge safely.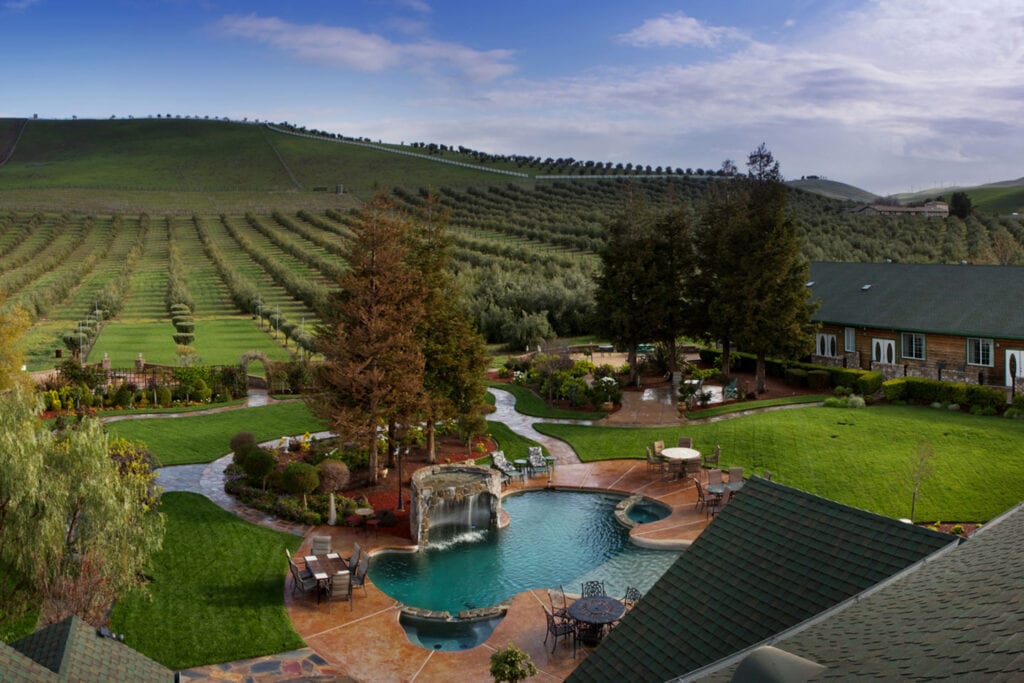 This extreme pool feels more like a lagoon, with its rock waterfall, beach entrance, and stone-enclosed hot tubs at either end. From the chaise lounges and dining tables surrounding the pool guests see acres of rolling hills and olive orchards, a scenic backdrop for the ultimate in relaxation.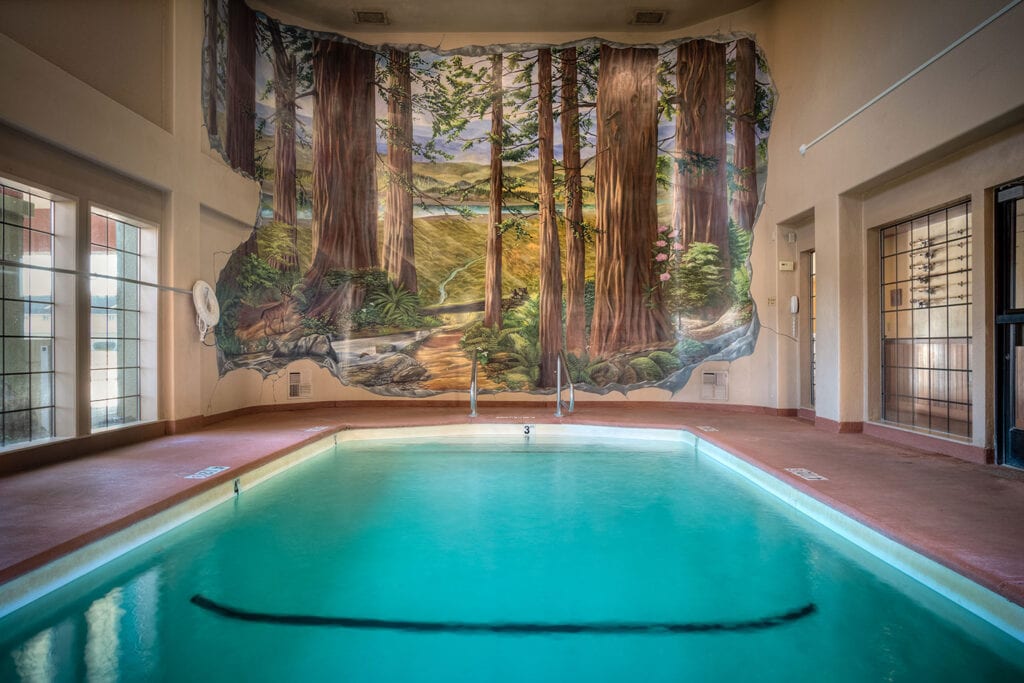 This inviting indoor pool, affectionately known as the swimming hole, is backed by a hand-painted floor-to-ceiling mural that pays homage to local giant redwoods. The hallway leading into pool is lined with vintage fly-fishing rods and reels and a collection of hand-tied flies that enhance the pool's woodsy theme.
It's fitting that this indoor pool is in a heated solarium that could easily be mistaken for another of the greenhouses lining the back of the property's 10-acre farm. While the greenhouses grow signature ingredients for the inn's award-winning vegan restaurant, this steamy retreat features a hot tub and sauna, comfortable seating, and tropical plants.
Reminiscent of an intimate Hollywood pool party, this cozy oasis is at once welcoming and theatrical. Terra cotta planters, whimsical garden art, and an ornate concrete patio table combine to create the feeling of a lazy Saturday in one's own backyard.