Poached Eggs on Polenta with Tomato Salsa from Churchill Manor
In 1889, a prominent Napa banker named Edward Churchill had a magnificent mansion built for his family, paving the way for the old-world craftsmanship and convivial hospitality for which Churchill Manor Bed & Breakfast is known today. With nearly 10,000 square feet of interior space, the property was thought to be the largest Napa Valley residence constructed during the 1800s. Later, when much of the Churchill family wealth disappeared during the Great Depression and Prohibition, Edward's descendants began hosting events and taking in boarders, putting the proceeds toward the mansion's expensive upkeep. That stroke of ingenuity not only allowed for the property to take a prominent place on the National Register of Historic Places today, but it also began a proud tradition of consummate hosting.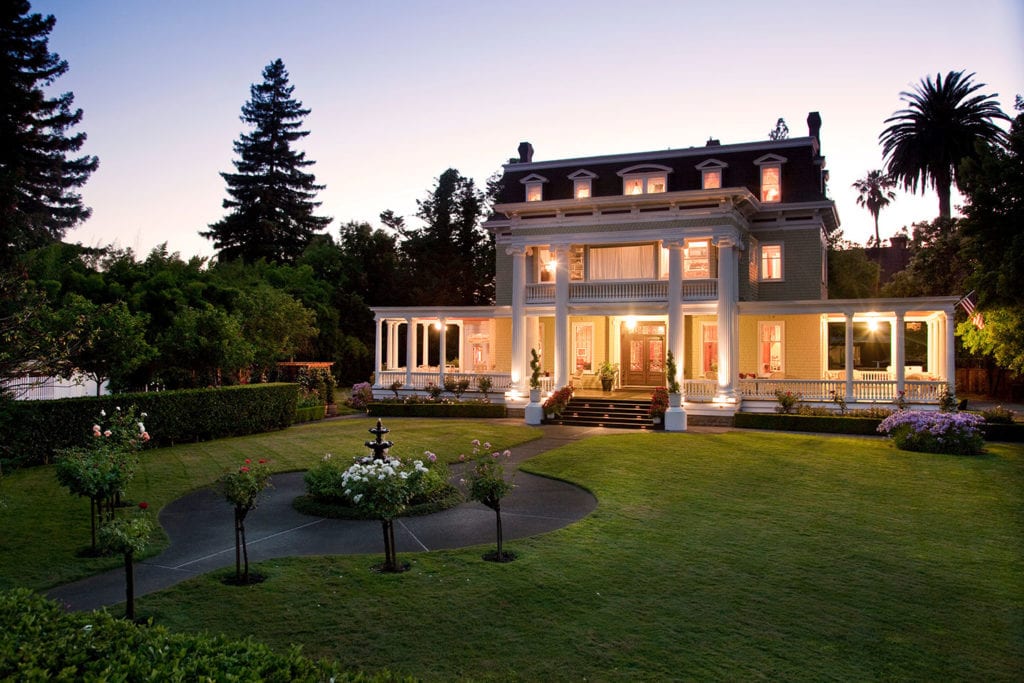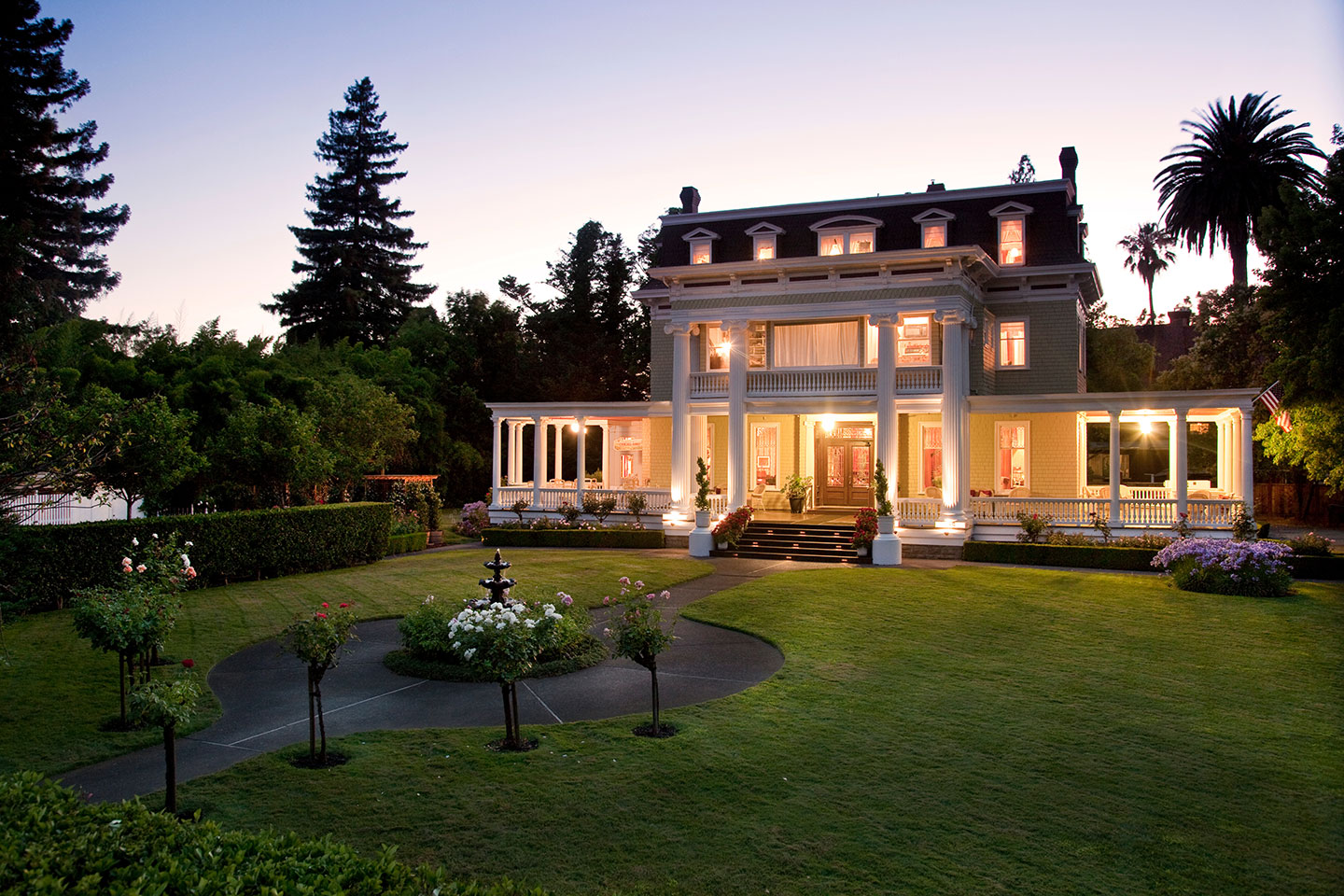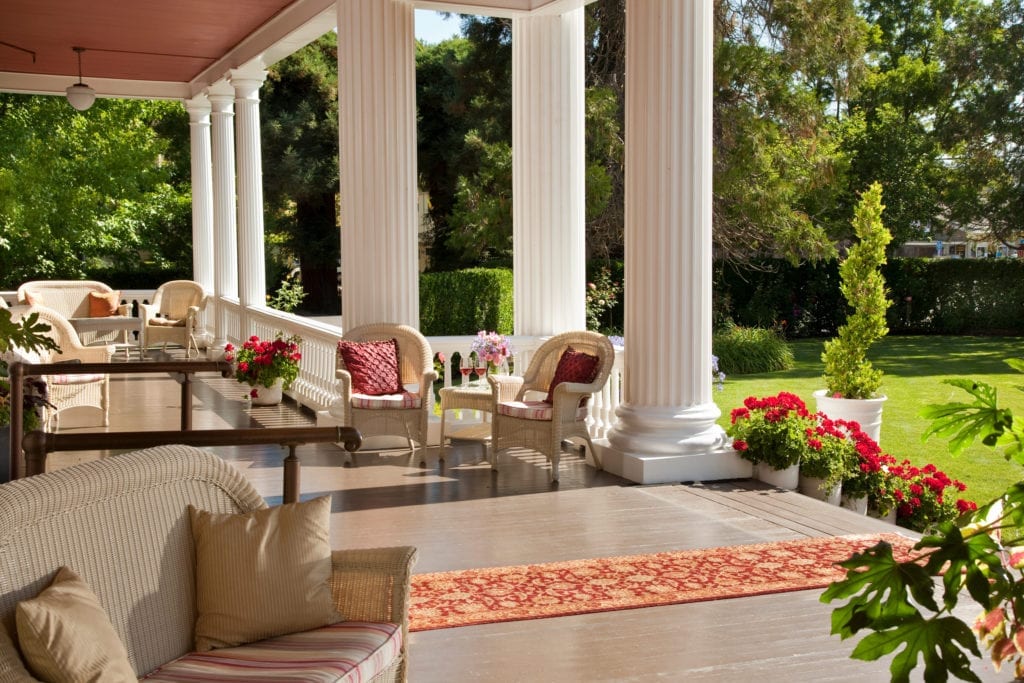 When Joanna Guidotti and Brian Jensen purchased the property in 1987, they were delighted to find that much of its original grand interior had remained untouched: leaded glass doors opening into four grand parlors, four fireplaces with ornate ribbon-grained redwood mantels and paneling, massive solid redwood pocket doors, twelve-foot ceilings with 17 layers of detailed redwood moldings, and fluted Corinthian redwood columns. In fact, none of the mansion's impressive woodwork had ever been painted. It was the perfect setup for the couple to continue the tradition of hosting travelers and weddings on the grand scale of the 1800s.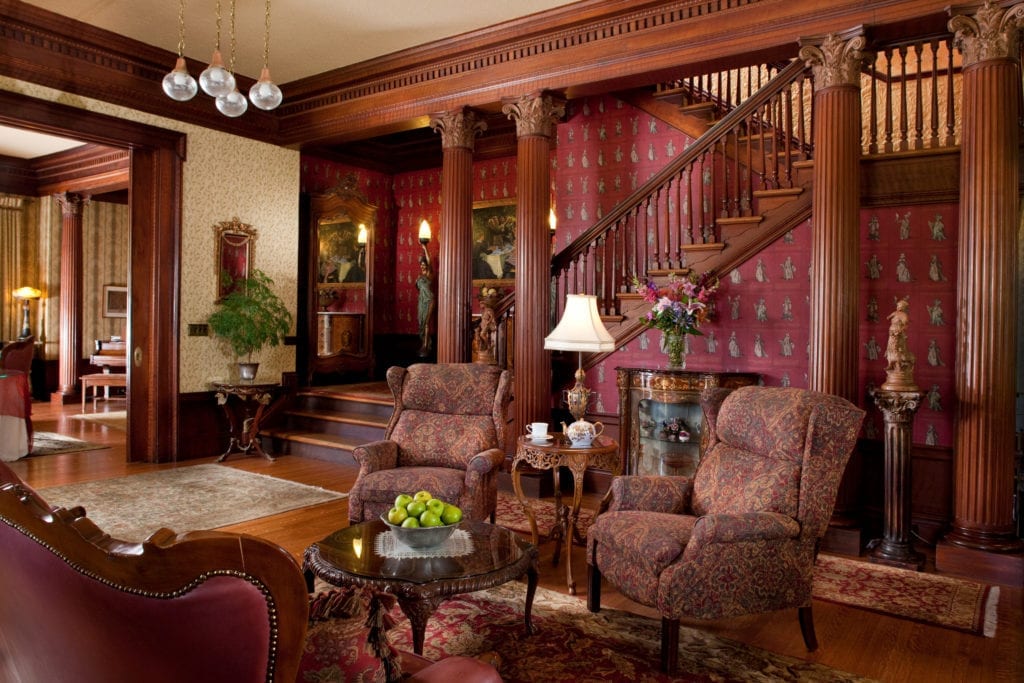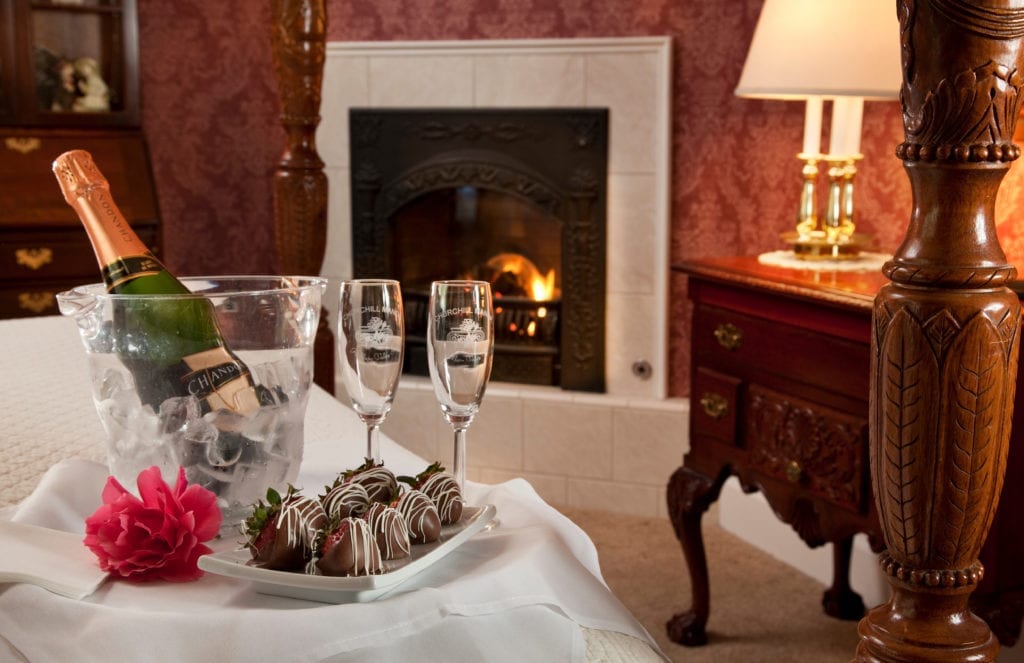 However, hosting modern travelers at a historic property requires some innovation. For instance, Joanna and Brian knew they wanted to serve their guests a decadent three-course breakfasts fit for indulgent vacations. They specifically had their eyes set on a hearty eggs benedict as one of their daily changing hot entrees. But without an electric broiler, the innkeepers couldn't toast English muffins to their liking. Their solution was to serve the dish over a wedge of cheesy polenta and to replace the fussy hollandaise sauce with a spicy tomato salsa, creating what has become one of their most popular breakfast entrees. Whether guests choose to dine in the vineyard-frescoed sunroom or the expansive wrap-around veranda overlooking the rose gardens, Poached Eggs on Polenta with Tomato Salsa now takes a prominent spot on the Churchill Manor menu, alongside a buffet of freshly baked pastries, gourmet coffee, and tea, freshly squeezed orange juice, granola, yogurt, and a fruit course that changes daily.
Churchill Manor's Poached Eggs on Polenta recipe steps up the humble bacon-and-egg breakfast while maintaining a subtle flavor profile that allows for a gentle breaking of the fast. When guests are offered a choice between this inventive version of eggs benedict and the day's sweet entrée, they often opt for this enticing edifice of cheesy polenta, rich bacon, tender egg whites, creamy yolks, and a smoky salsa with just enough kick to awaken a sleepy palate. The recipe also has the advantage of being gluten-free. It can also be easily made vegetarian by excluding or replacing the Canadian bacon and substituting vegetable or mushroom stock for the chicken stock. Using polenta instead of English muffins in this recipe means the home cook can also experiment with a variety of polenta shapes, but serving the polenta as Churchill Manor does—in serving-size wedges—is always an elegant option.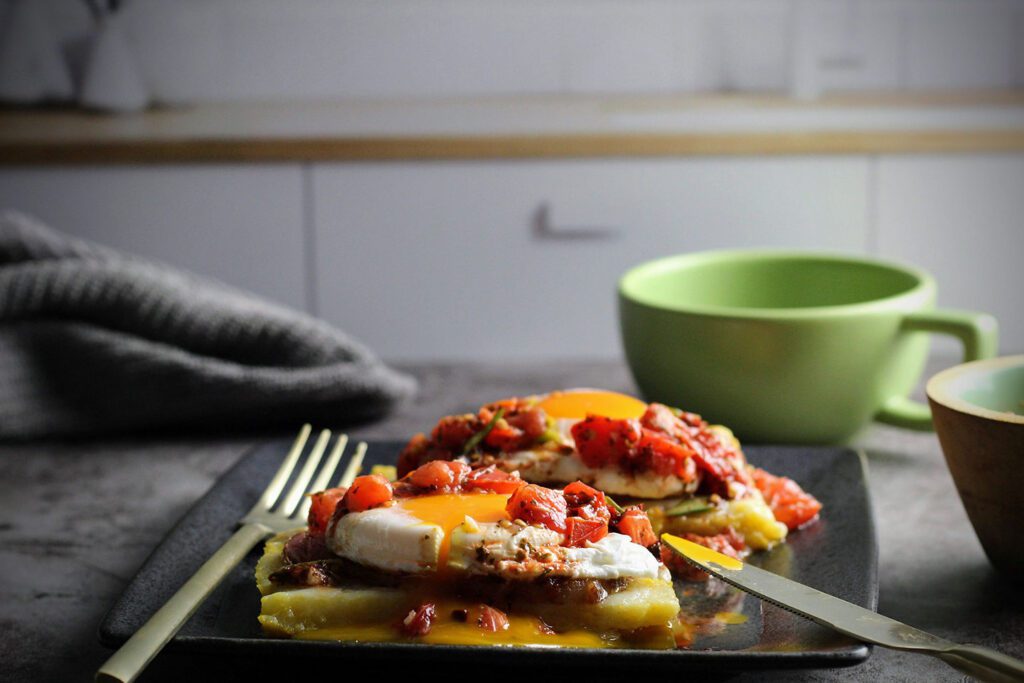 Poached Eggs on Polenta with Tomato Salsa
Courtesy of Churchill Manor Bed & Breakfast
Makes 5 servings
Ingredients
For the Poached Eggs on Polenta
1 cup polenta
4 cups chicken stock
2 cups shredded Monterey Jack cheese
10 slices of Canadian bacon
10 poached eggs*
Butter for the pan
Vinegar for poaching the eggs
Salt and pepper
For the Tomato Salsa
3 large ripe tomatoes, chopped
1 green onion, chopped
1 garlic clove, minced
¼ cup chopped parsley
½ chipotle pepper in Adobo sauce, chopped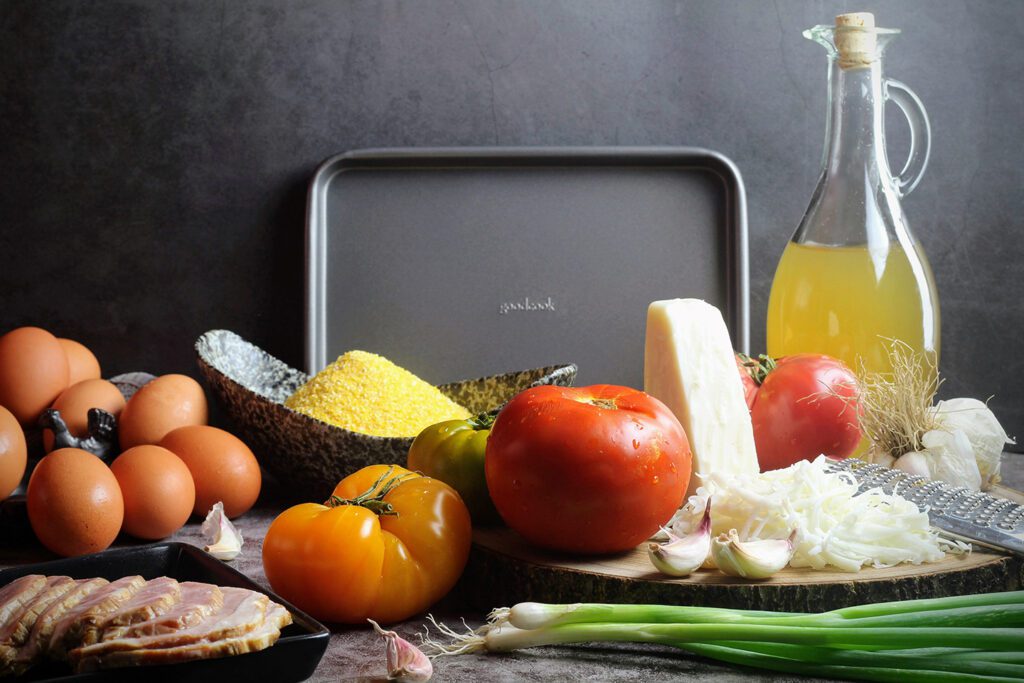 Directions
Polenta
Boil the chicken stock and stir in the polenta. Reduce the heat and cook for 10 minutes, stirring frequently. Add salt and pepper to taste. Pour the polenta mixture into a half-sheet pan or other shallow, oven-proof pan with straight sides. Sprinkle the Monterey Jack cheese over the polenta; cover and refrigerate until set. Remove the polenta from the refrigerator and cut into serving-size wedges. Place the wedges into a buttered sauté pan, cover, and heat until cheese melts.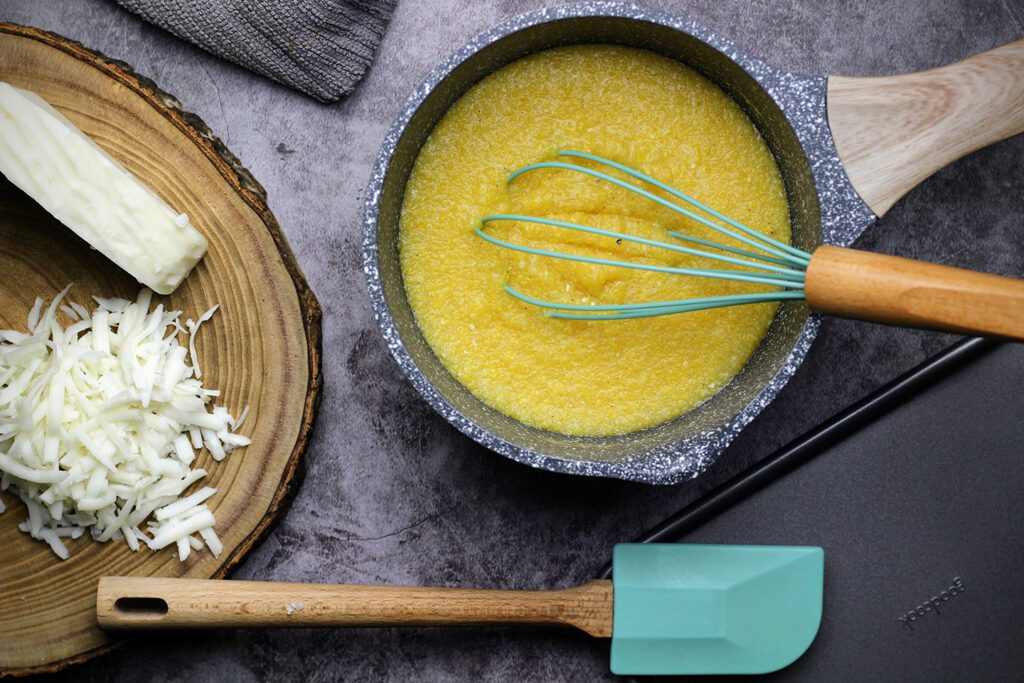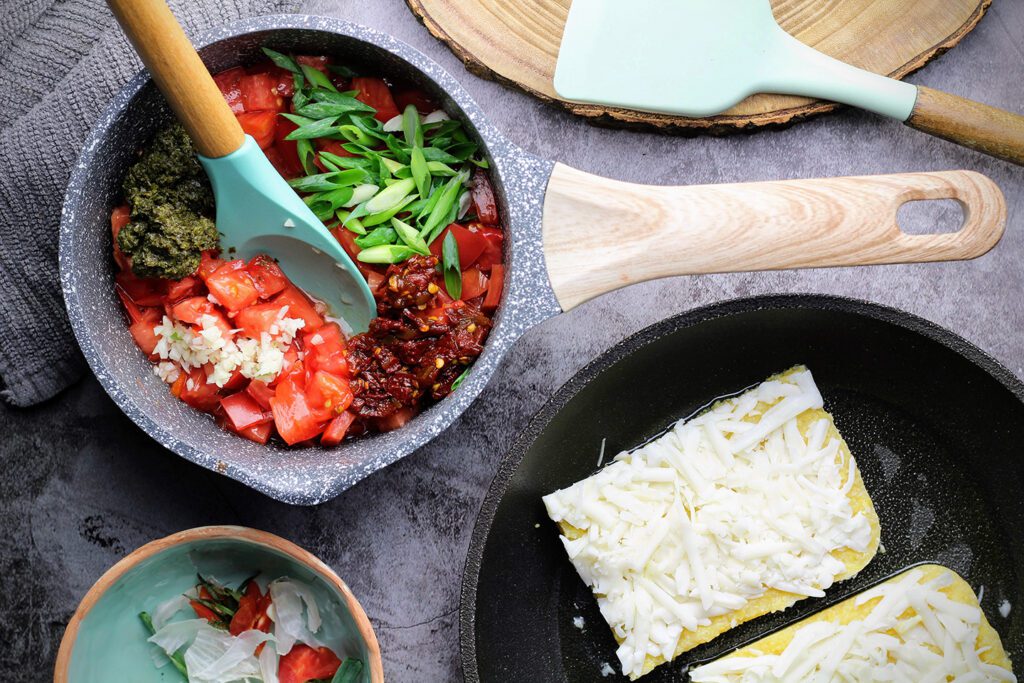 Tomato Salsa
In a medium saucepan, combine the salsa ingredients and heat over medium-low heat until some of the liquid evaporates.
Poached Eggs
Heat two inches of water to a simmer with a tablespoon of vinegar and a pinch of salt. Gently crack each egg into a small bowl, then pour into the simmering water while holding the lip of the bowl as close as possible to the water's surface. Poach for about three minutes, then transfer to a paper towel.
To Assemble
Place two polenta wedges on each plate. Top each wedge with a slice of Canadian bacon, one poached egg, and hot tomato salsa.