Pistachio-Encrusted Rock Cod with Riesling Beurre Blanc and Grape Relish from Brewery Gulch Inn
Travel + Leisure, Conde Nast, and USA Today have all ranked Brewery Gulch Inn & Spa among the top resorts in the world. Contributing to its stellar reputation are its location (atop a windswept bluff overlooking the rugged Mendocino coast), its contemporary Arts and Crafts style (built from eco-salvaged redwood), and the impeccable details that wrap guests in a cocoon of luxury.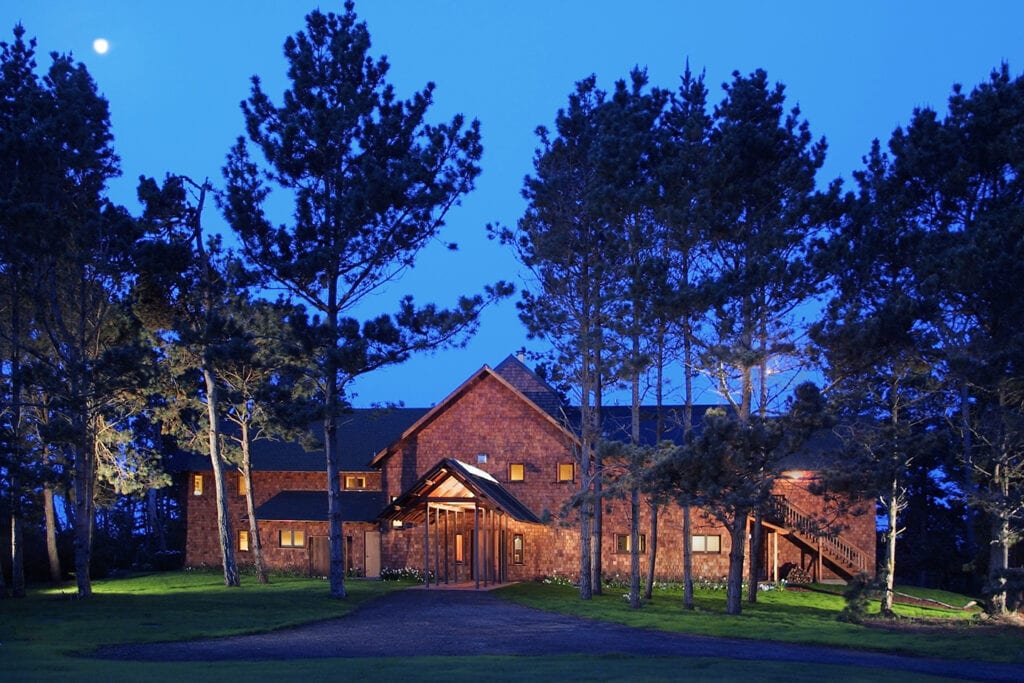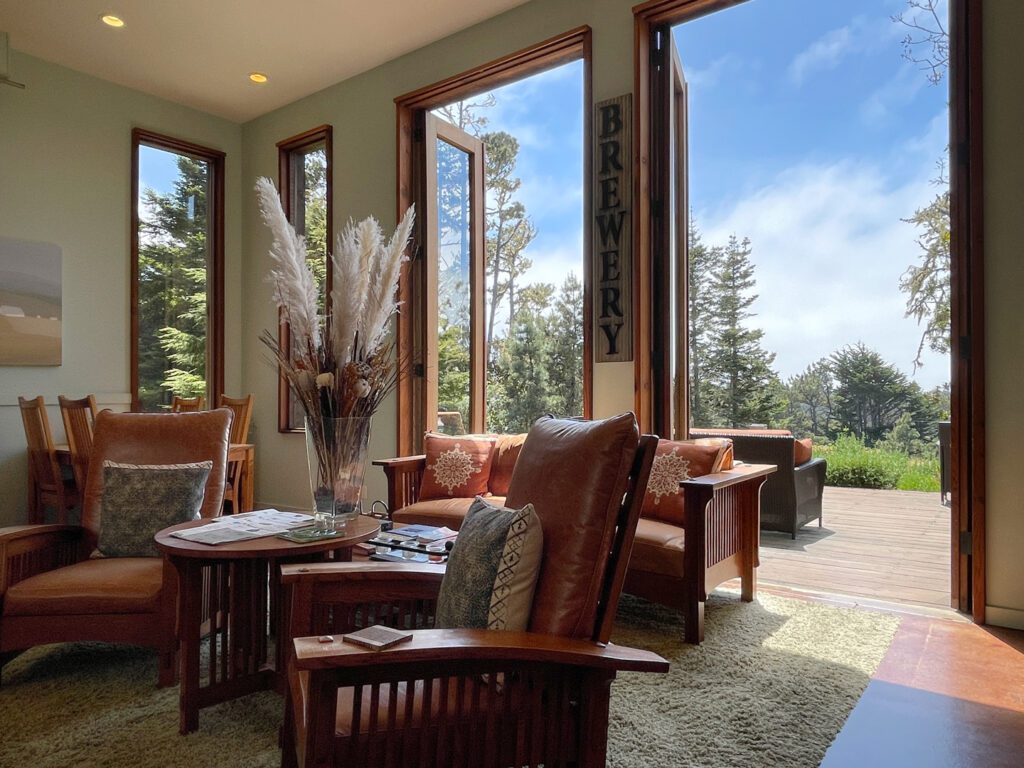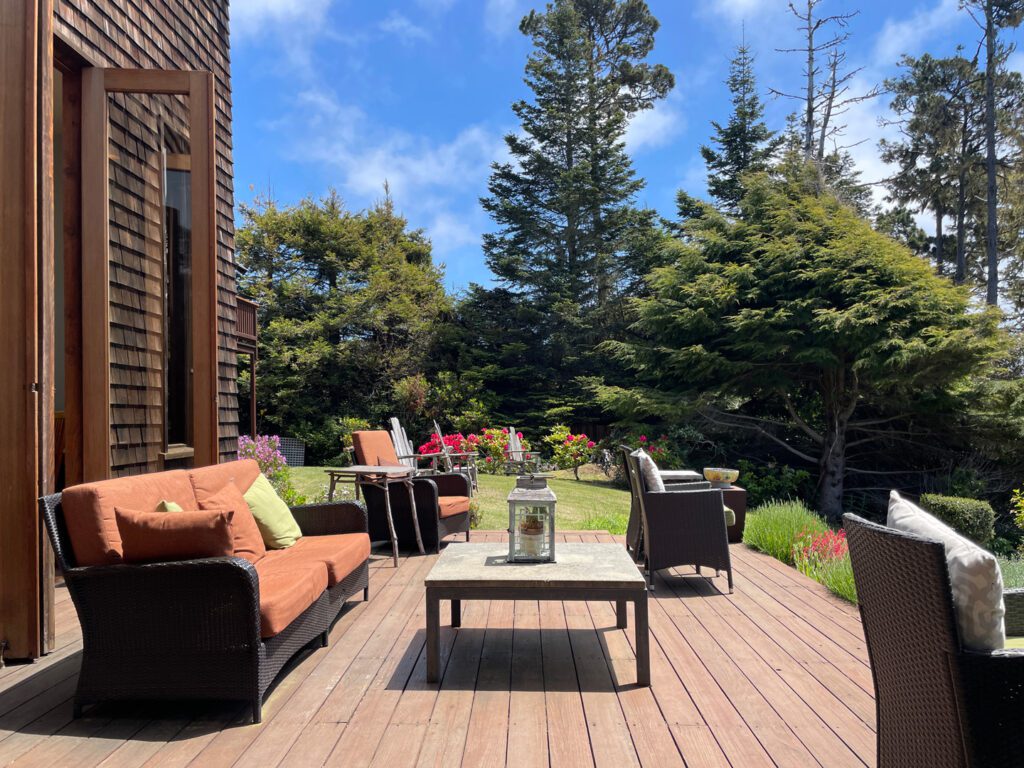 But equally iconic are the AAA Four-Diamond inn's culinary offerings. With a focus on natural and organic ingredients, the inn draws from local farmers and purveyors. Dishes feature free-range meats, wild-caught seafood, seasonal fruits and vegetables from its own garden, and mushrooms foraged from the surrounding forests.
Guests begin their day with a seasonal cooked-to-order breakfast, served either ensuite or in the light-filled great room overlooking Smuggler's Cove. Complete with fresh pastries, whipped Belgian hot chocolate, artisan coffee, organic eggs, fresh-squeezed juices, and specialties like the inn's famous Millionaire's Bacon, breakfasts at the Brewery Gulch Inn are an experience not to be missed.
Each evening, the inn delivers a selection of appetizers to the rooms. The chef custom-tailors the selections to each guest's dietary restrictions. The appetizers are presented in room-specific "Mendo Boxes" (a local take on the traditional Japanese bento box), which were hand-crafted from the same eco-salvaged redwood used to build the inn. But in place of the ordinary cheese and fruit platters one might expect, the inn's Mendo Boxes hold generous helpings of finely tuned dishes fit for a Michelin-starred restaurant.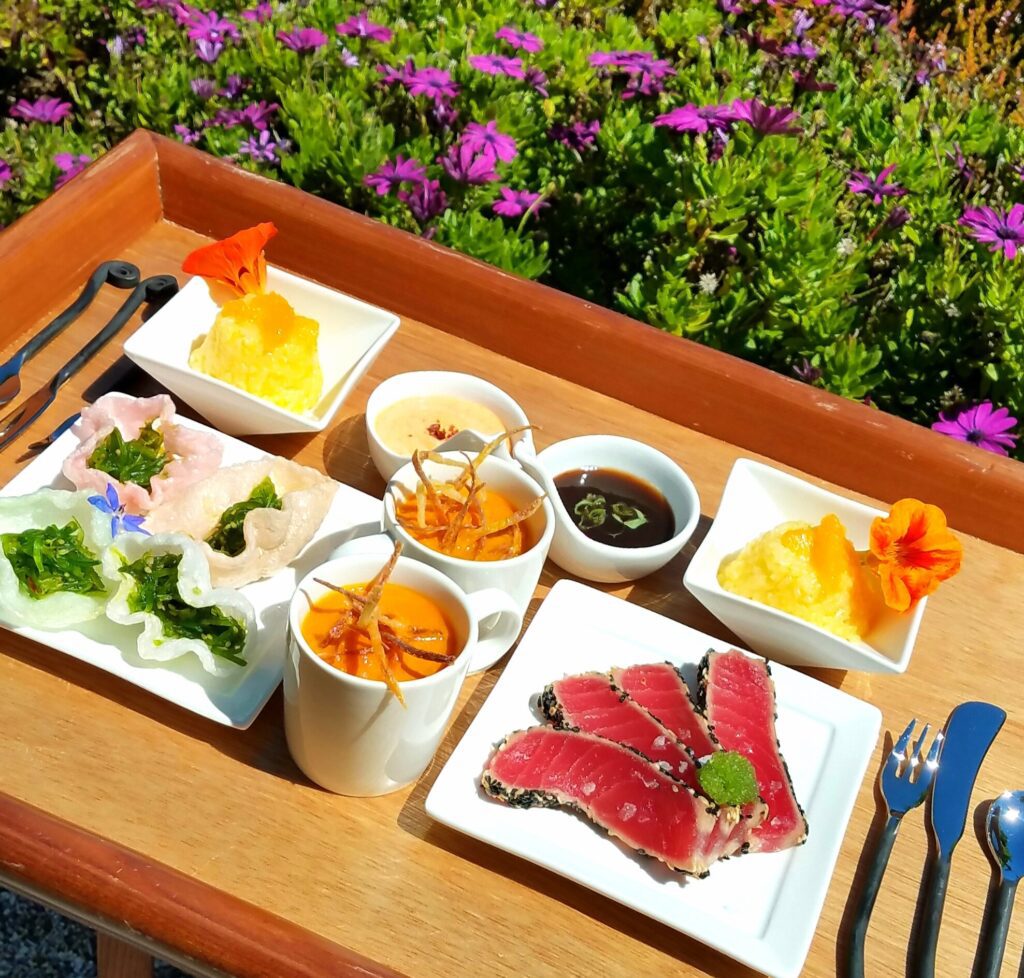 Past appetizer dishes have included Sesame-Seared Ahi with Kabayaki & Siracha Aioli, Herb-Crusted Lamb Lollipops with Pear-Mint Redux, Garden Caviar, Shredded Short Rib Sliders, and Chocolate-Grand Marnier Mousse. The Mendo Box appetizers are, in fact, so impressive that some guests end up canceling their dinner reservations in town.
One of the more recent culinary developments at the Brewery Gulch Inn is the addition of a new executive chef, Stephen Smith. A long-time fixture on the North Coast, Chef Stephen once worked the line at Jeremiah Tower's venerable Stars restaurant, apprenticed at the acclaimed Chinois East/West, and acted as personal chef to noted designer Donna Karan during her Mendocino visit. 
Locals know and revere him for the 30 years he spent as executive chef at the Albion River Inn, winning Wine Spectator's coveted Award of Excellence year after year. Chef Stephen's cuisine is influenced in part by his travels throughout California, Mexico, Thailand, India, Nepal, and South America (including a month-long trek through the Andes).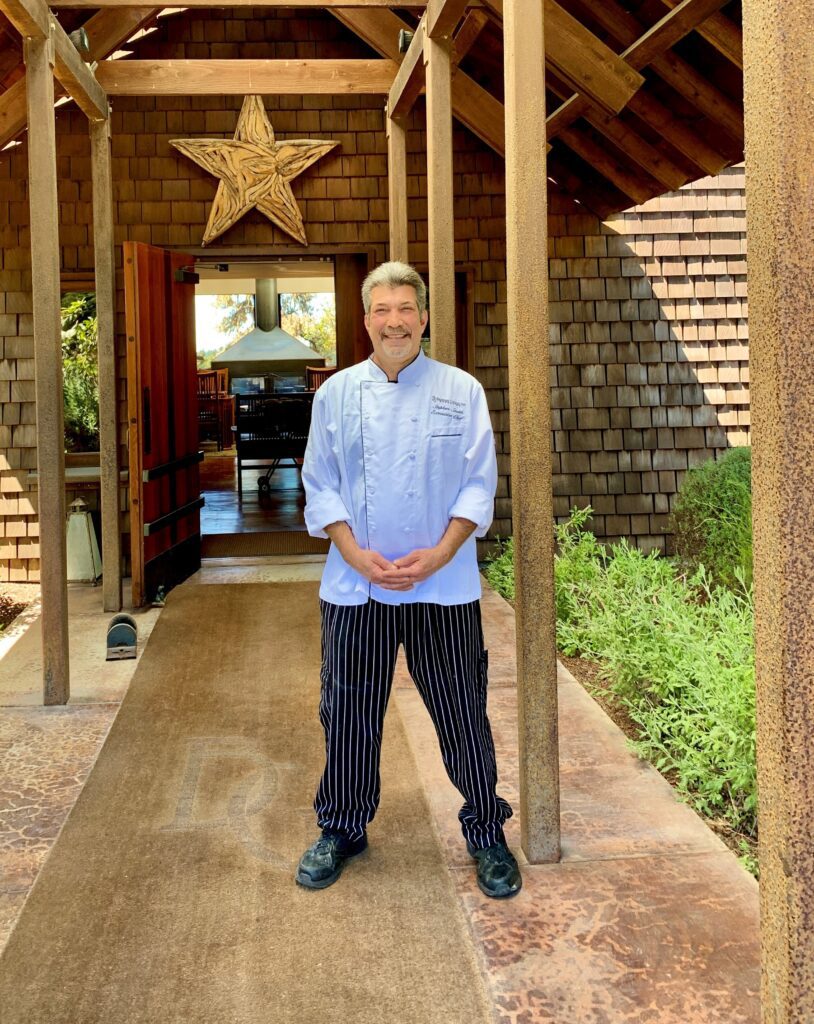 At the height of his esteemed career, Chef Stephen decided he wanted a shift from the full-service restaurant scene, opting instead to refocus his attention on the intimate elegance of food crafted for a smaller crowd. He could think of no better venue for his aspirations than the Brewery Gulch Inn, where he has since wowed staff and guests with his inventive cuisine and his calm and steady presence in the kitchen.
Chef Stephen's years of experience have brought a fresh new perspective to the Brewery Gulch Inn, but his vision is to "maintain the inn's respected food tradition." He's enjoyed crafting bold new seasonal dishes for the celebrated Mendo Boxes, including a Pistachio-Encrusted Rock Cod.
An ingenious display of finesse and restraint, Chef Stephen's recipe celebrates the most common near-shore fish on the West Coast (rock cod) and Mendocino's number one agricultural product (grapes). Rock cod (which might also be labeled "rockfish," or "Pacific red snapper") is the perfect protein for the dish, with its mild, slightly sweet flavor and firm texture. Topped with a grape relish that combines tart, sweet, and savory, along with a creamy beurre blanc made from the most food-friendly of all wines (Riesling), the humble fish transforms into a sublime delicacy. Despite its sophisticated-sounding name and complex symphony of flavors, this foolproof recipe's most complicated steps involve cutting grapes in half and shelling pistachios.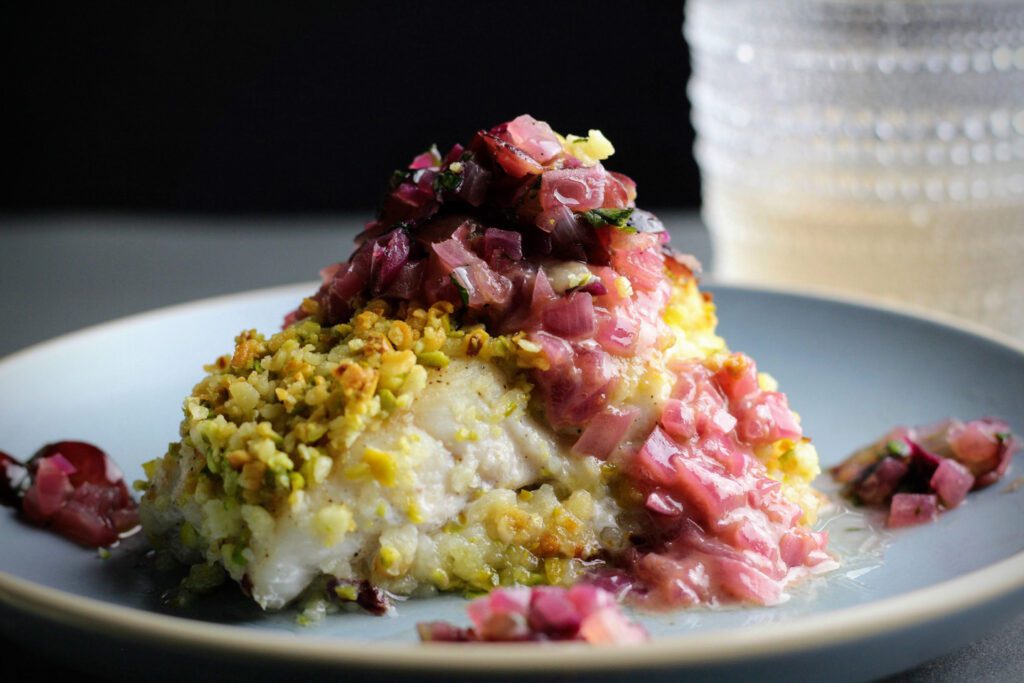 Pistachio-Encrusted Rock Cod with Riesling Beurre Blanc and Grape Relish
Courtesy of Brewery Gulch Inn & Spa
Makes 4 servings
Ingredients
For the cod:
4 6-ounce pieces of rock cod, seasoned with salt and pepper
2 ounces pistachio nuts, chopped
1/2 cup panko breadcrumbs
1 tablespoon olive oil
1 ounce (2 tablespoons) melted butter
For the grape relish:
1 tablespoon olive oil
1 tablespoon seasoned rice wine vinegar
1/2 small red onion, peeled and diced
16 seedless red grapes (about 3 ounces), quartered
6 basil leaves, chopped
Salt & Pepper
For the beurre blanc:
12 seedless red grapes (about 2 ½ ounces), pureed
1 shallot, minced
1/2 cup Riesling wine
1 ounce (2 tablespoons) heavy cream
2 ounces (¼ cup) whole butter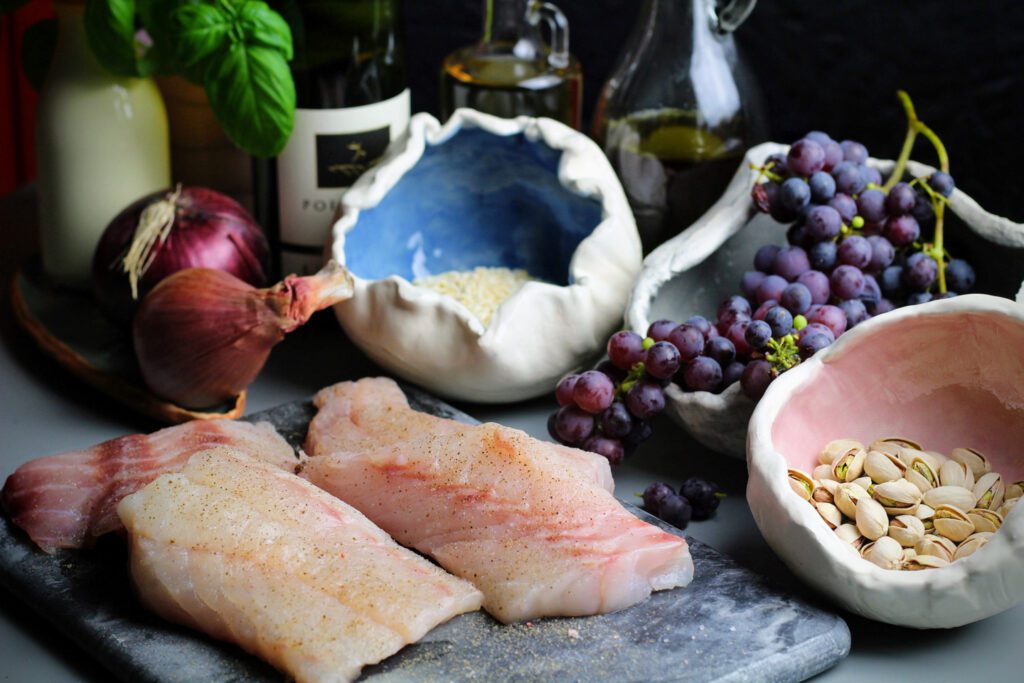 Directions
Cod
Put the chopped pistachios and panko crumbs in a bowl, pour in the olive oil and melted butter, and combine. Place equal amounts of the mixture on top of each fish filet. Bake at 400 degrees Fahrenheit for 10 minutes. Turn the oven off and let the fish remain in the oven so it stays hot while you prepare the sauce and relish.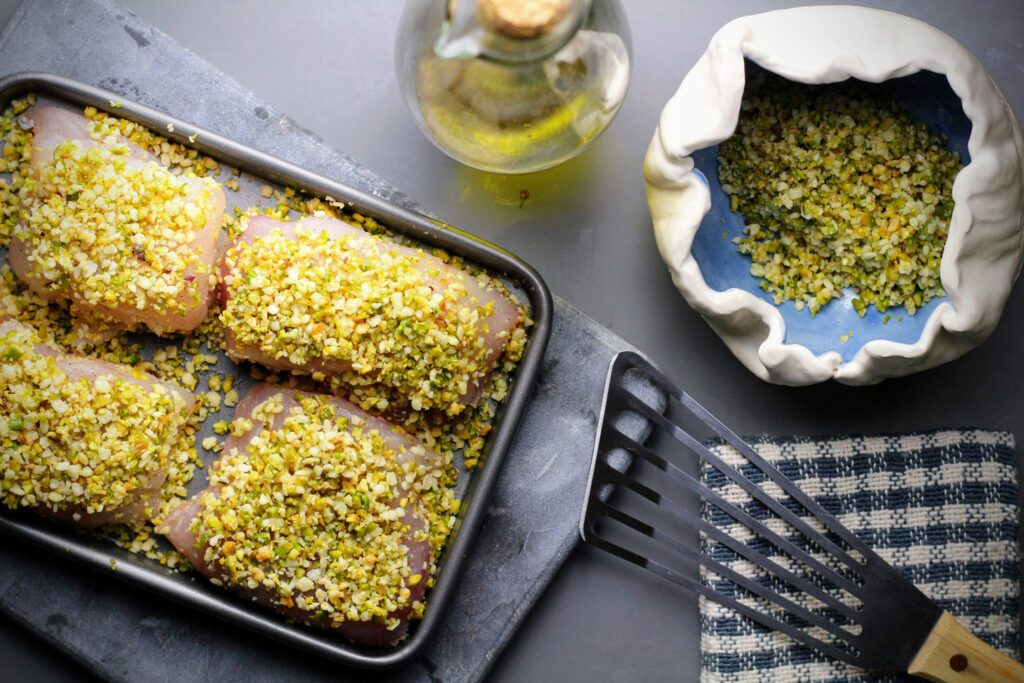 Relish
Heat the olive oil in a small sauté pan. Add the onions and cook until translucent. Place the onions in a bowl and combine with the grapes, vinegar, basil, and a little salt and pepper. Set the relish aside, leaving it at room temperature while making the sauce.
Buerre Blanc
Place the grape puree, shallots, wine, and heavy cream in a small sauté pan and reduce it until it is almost dry. Remove from the heat and swirl in the butter.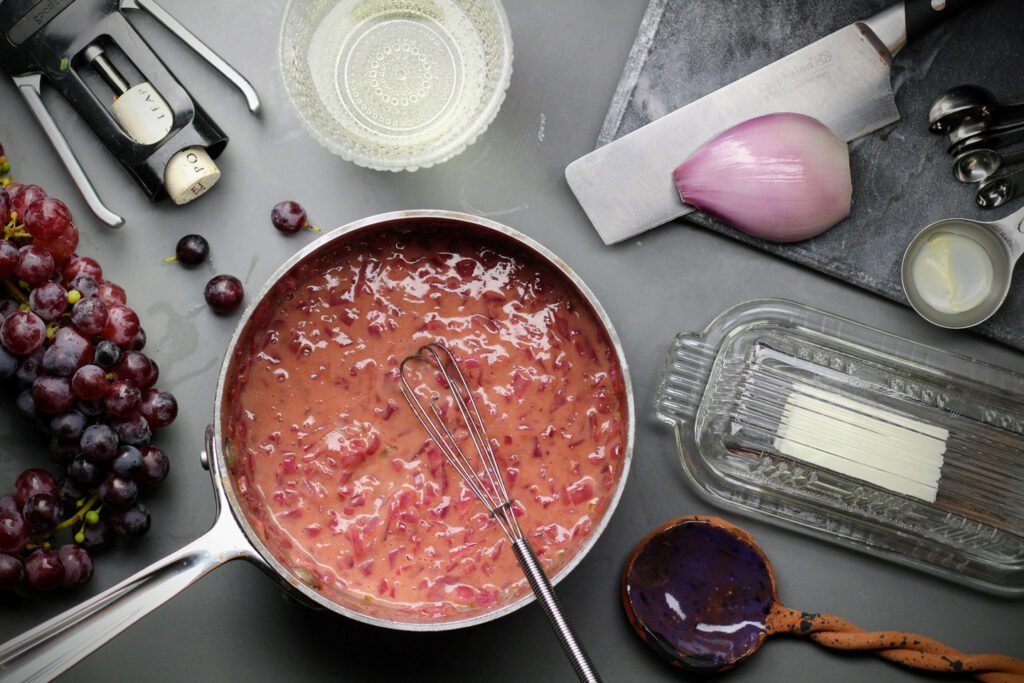 Plating and Serving:
Remove the fish from the oven and arrange it on plates. Spoon the sauce over the filets and finish with a dollop of grape relish on top and a swirl around the fish.