7 Pet-Friendly Inns in California
California boutique hotels and B&Bs make it easy to travel on vacation with our furry, four-legged friends. There are more than 60 pet-friendly CABBI-member inns, many of which go out of their way to pamper pooches with special treats, blankets, and more. Below are just some of the most pet-friendly inns in the state; many more can be found on CABBI's website. Before traveling, please check each inn's website for pet fees, restrictions, and notification requirements.
Carmel Country Inn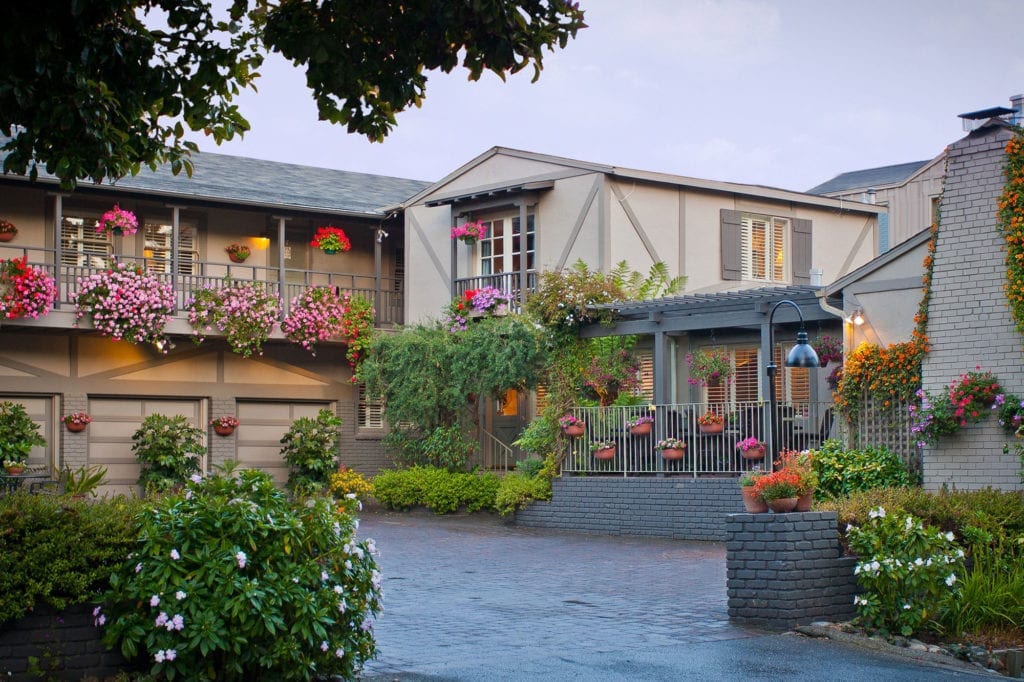 On the California Central Coast, Carmel-by-the-Sea has long been known as a welcoming destination for dogs, and the delightful Carmel Country Inn is among the most pet-friendly. Each of the inn's 12 romantic suites and studios are pet friendly and there are no breed or size restrictions. Pets are warmly welcomed with unlimited dog biscuits during their stay and their photo is taken for display in the guest lobby. Returning four-legged guests will see their photo and names on the welcome board at check-in. The inn provides sheets for covering the bed linens and charges a pet fee of just $20 per pet, per day. A 100% leash-free Carmel Beach is just a short walk away from the inn. The inn's bathing station with a hose and towels is available for cleaning up after a romp on the sand. The inn also provides a list of pet-friendly restaurants, pet-sitters, and other pet services in Carmel.
Pet welcome board

Dining room

Exterior corridor

Guest room at Carmel Country Inn
Carmel Country Inn
Dolores Street at Third Avenue
Carmel, CA 93921
831-625-3263
www.carmelcountryinn.com
Nick's Cove & Cottages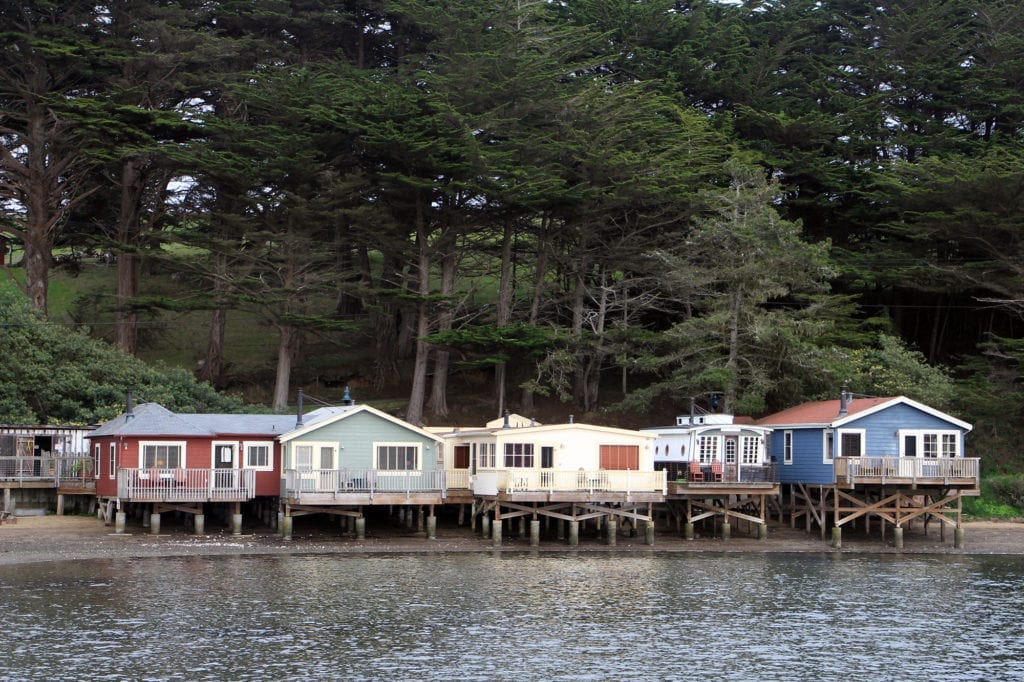 Located about an hour north of San Francisco in a serene, sheltered cove on Tomales Bay Nick's Cove & Cottages is not just pet-friendly, but pet-passionate. Upon arrival, the inn welcomes pups with homemade treats freshly-baked by the pastry chef and delivered to your door (along with BBQ oysters for the dog's human counterparts). The inn also supplies dog beds, a map of local dog-friendly beaches and trails, muddy paw towels, and water bowls. Guests can even schedule a canine massage with a local pet masseuse. Pets are welcome in most of the inn's 12 luxurious waterfront and water view cottages. The pet fee is $50 per pet, per stay. Every April, the inn offers a Pampered Pooch Package which includes all of the standard pet amenities plus a canine massage, stuffed toy, ball launcher, and a bottle of Nick's Cove Merlot for the humans. The package is $75 and can be added to any stay during the month of April.
Bedroom of Al's Cottage

Bath of Al's Cottage

The Croft at Nick's Cove
Nick's Cove & Cottages
23240 Highway 1
Marshall, CA 94940
415-663-1033
nickscove.com
McCloud Hotel Bed & Breakfast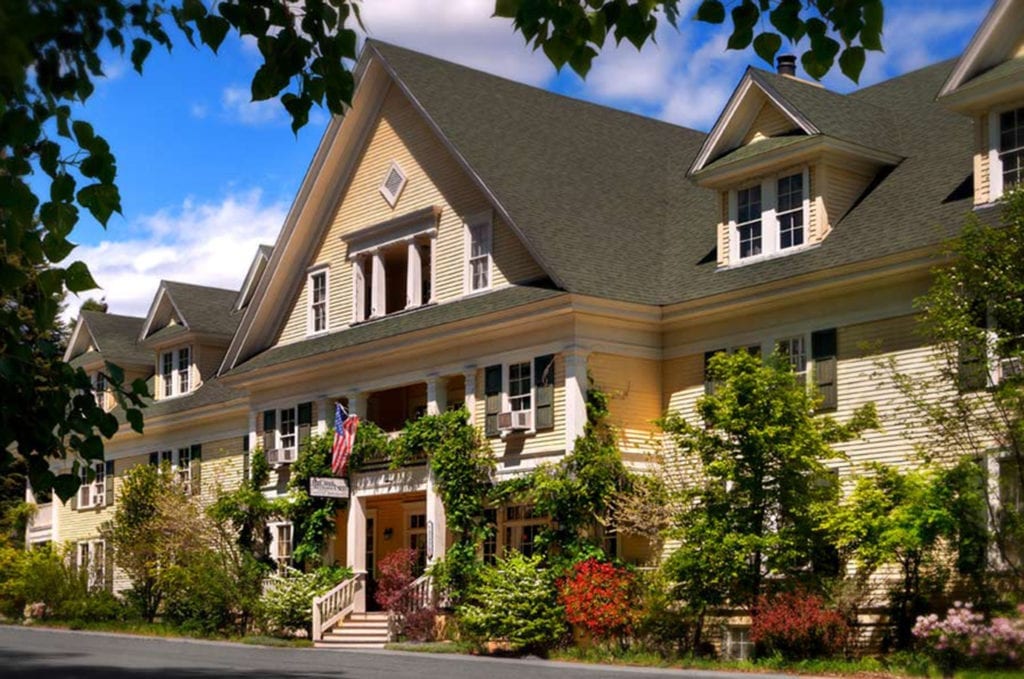 At Mount Shasta's McCloud Hotel Bed & Breakfast, dogs are welcome to stay in any of the historic hotel's 16 rooms and suites. The hotel's Wagging Tails Welcome package includes a custom-made pet bed, dog bowl, and pet treat upon arrival. The picturesque park across the street makes for an easy excursion with pets, and the inn provides courtesy pet waste bags to make cleaning up easy. Guests might also spend quality time with their pets while making s'mores around the gas fire pit, wandering through hidden nooks in the garden, or enjoying a lazy day on the McCloud River. The hotel's on-site restaurant even offers a gourmet "paw" menu for the pampered pet, featuring organic chicken and rice or prime wild-foraged beef from Mount Shasta Wild. Guests can dine with their pooch in the lobby or on the inn's outdoor terrace. The inn has a one-time pet cleaning fee of $30.
McCloud Hotel pet bed

Sage Restaurant

Lobby of the McCloud Hotel
McCloud Hotel Bed & Breakfast
408 Main Street
McCloud, CA 96057
530-964-2822
mccloudhotel.com
Elk Cove Inn & Spa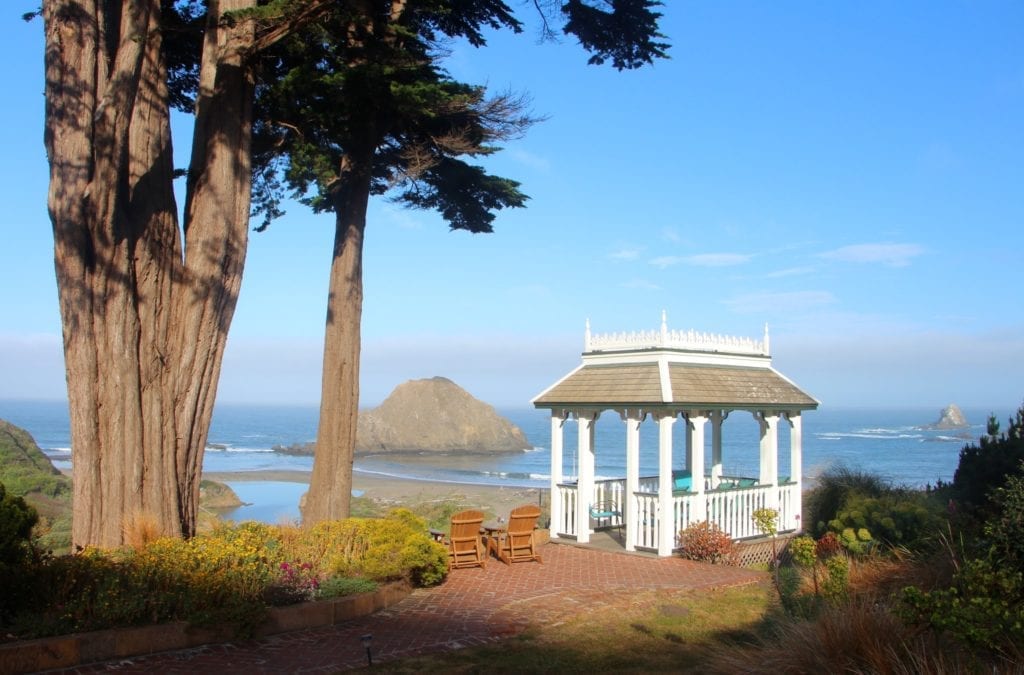 Pets stay for free at the Elk Cove Inn & Spa on the Mendocino Coast, a historic mansion that became one of the first B&Bs on this breathtaking stretch of coastline. The inn offers a variety of pet-friendly rooms, including garden view rooms, ocean view cottages, and ocean view suites. The innkeepers provide doggy treats at check in along with a welcome basket which includes beach towels, sheets to cover the bed, a place mat, food and water bowls, and pet waste bags. A pet relief area is located at the north end of the property's parking lot. Nestled in seclusion atop a bluff, the inn overlooks a mile of dramatic beachfront and is surrounded by native trees. It has direct access via private stairs to the driftwood-strewn beach below and all the sticks a dog could want.
Pets at Elk Cove Inn & Spa

Oceanfront junior suites and gazebo

Greenwood State Beach
Elk Cove Inn & Spa
6300 S. Highway One
Elk, CA 95432
800-275-2967 or 707-877-3321
https://elkcoveinn.com
The Redwood Riverwalk Hotel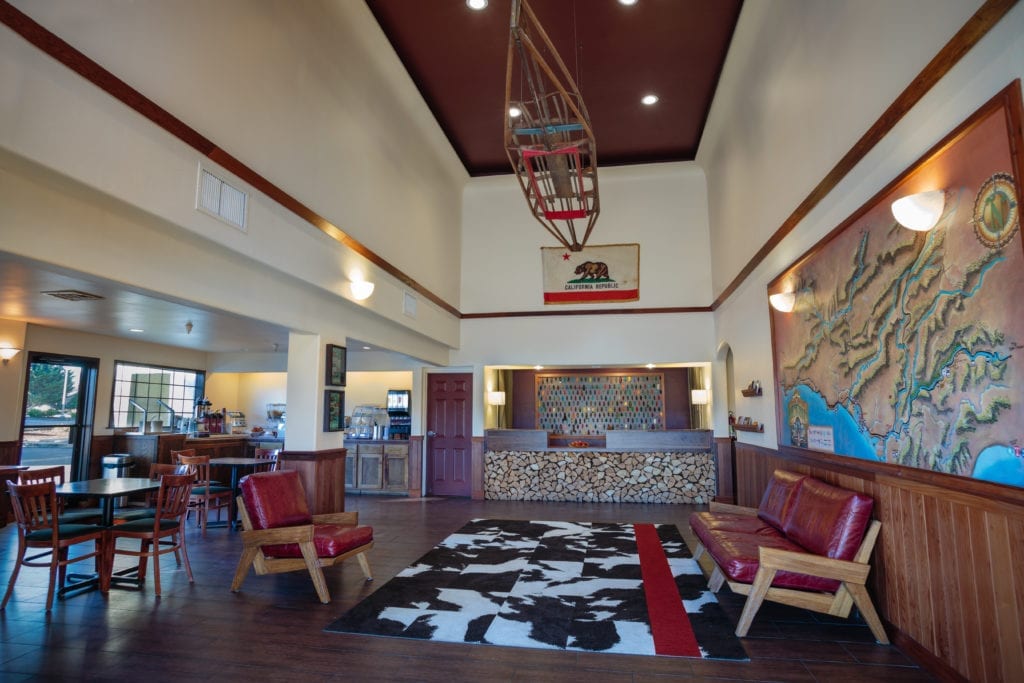 Humboldt County's 100-mile-long Redwood Coast is a misty and majestic slice of California that should be on every dog traveler's list. Pets are part of the family at The Redwood Riverwalk Hotel and guests traveling with their four-legged companions will find a welcoming blend of convenience, service, and comfort. Located right off Highway 101 in Fortuna, the hotel is the perfect base camp for exploring the Redwood Coast, home to the world's oldest and tallest redwood trees. The Redwood Riverwalk recently added a dedicated on-site, off-leash dog park, and each accompanying pet receives a welcome gift upon arrival. Just 200 feet behind the hotel, the scenic Eel River levee trail provides a great walk for guests and their pets with views of the Eel River Valley. The inn also offers a list of pet-friendly trails and beaches along the North Coast. The hotel has a one-time pet cleaning fee of $25.
Exterior

Picnic area

Stella

Indoor pool
The Redwood Riverwalk Hotel
1859 Alamar Way
Fortuna, CA 95540-8535
707-725-5500
www.theredwoodhotel.com
Stanford Inn by the Sea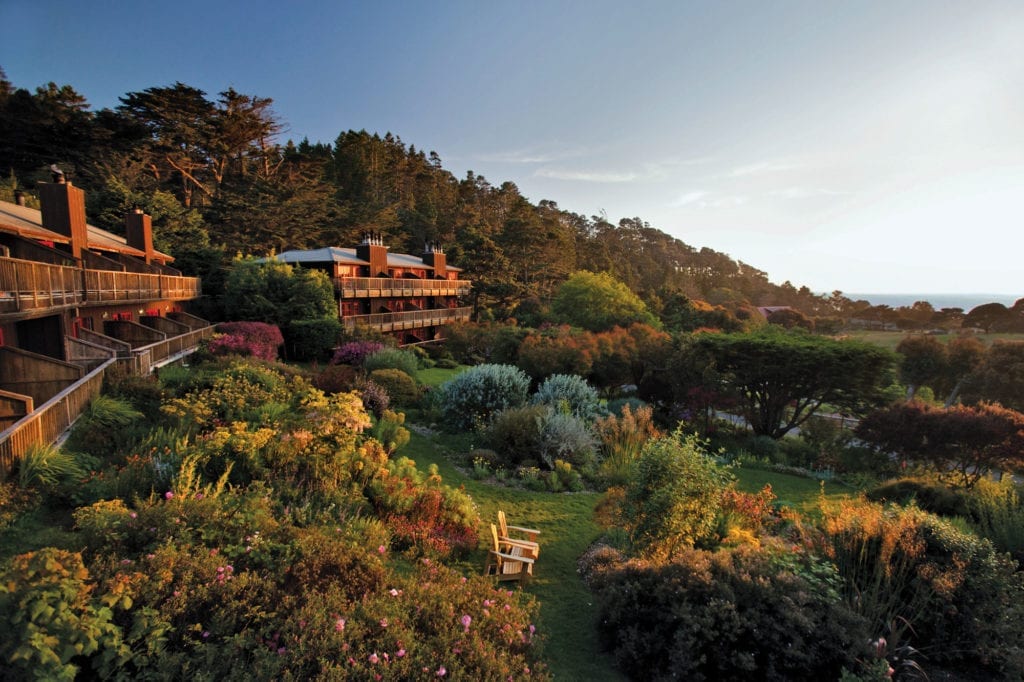 Perched on a hillside overlooking the Pacific Ocean, The Stanford Inn By the Sea, is a luxurious eco-friendly haven for pets and humans alike. According to Sunset Magazine, the inn "tops the list of best dog-friendly vacations." Stanford Inn was one of the first B&Bs in California to welcome pets nearly 40 years ago. In that time, it has hosted a variety of non-human visitors: dogs and cats as well as iguanas, parrots, pot belly pigs, and even a tortoise. There are no weight or breed restrictions. Pets are welcome in nearly all of the inn's facilities with the exception of the pool and the dining room, but guests can choose to dine with their dogs in the lobby. The innkeepers will happily accommodate special food requests and provide information on local veterinary services and pet sitters. Upon check-in, pets are greeted with handmade, digestion-friendly treat, stainless steel food and water dishes, waste bags, and dog sheets to protect furniture and bedding. There is a $45.00 charge per stay for the first pet; additional pets are $22.50.
Lobby of the Stanford Inn by the Sea

Guest room at Stanford Inn by the Sea

Stanford Inn by the Sea
Stanford Inn by the Sea
Highway 1 & Comptche-Ukiah Road
Mendocino, CA 95460
707-937-5615 or 800-331-8884
www.stanfordinn.com
The Landsby
The Landsby in Solvang believes vacations are meant for everyone—including furry friends—and their Stay & Play Pet Package reflects their commitment to pet-friendly hospitality. Guests and their four-legged companions are welcomed by a plush chew toy made with durable canvas and eco-friendly filler, a bottle of Apollo Peak's Chardognay (calming faux wine beverage designed with Chamomile herb and yellow beet color), waste bags and a dispenser for walks, plus food and water bowls for use on the property. The property's outdoor garden lounge space provides an oasis for human and non-human guests to relax. A maximum of two dogs are permitted per pet-friendly room. Weight restrictions apply. A non-refundable pet cleaning fee of $75 per stay is due upon check-in and includes all of the perks listed above.
Deluxe Room at The Landsby

Pet amenities at The Landsby

Garden lounge at The Landsby
The Landsby
1576 Mission Drive
Solvang, CA 93463
805-688-3121
www.thelandsby.com