Pasadena: A Treasure Trove of Cultural and Culinary Attractions
To walk amid the gardens at The Huntington Library, Art Museum, and Botanical Garden is to be transported far from Los Angeles' dense urban sprawl and tangle of freeways. The 207-acre estate in Pasadena is home to over a dozen themed gardens with botanical collections spanning six continents. In the Jungle Garden, you can wind your way through a tropical understory of orchids, ferns, palms, and vines that climb high into a forested canopy. In the Desert Garden, you can marvel at the 500 yellow-spine, spring-flowering Golden Barrel cacti, the largest of which are more than 85 years old. The Japanese Garden enchants visitors with picture-postcard views of its distinctive moon bridge, koi-filled ponds, and historic Japanese House nestled amid a verdant sanctuary. In the Rose Garden, 1,300 different varieties of roses cascade over pergolas and alongside walkways in a profusion of color, filling the air with their sweet perfume. 
The Huntington is a collections-based research and educational institution founded in 1919 by railroad and real estate magnate Henry E. Huntington. He and his wife Arabella Huntington shared a passion for rare books, art, and gardens. Together, they amassed incredibly extensive library, art, and botanical collections. Today, the institution is a feast for the senses and scholarly pursuits with 450,000 rare books (including a 15th-century Ellesmere manuscript of Geoffrey Chaucer's The Canterbury Tales and one of 12 surviving copies of the Gutenberg Bible), 8 million manuscripts, 42,000 works of art, and 15,000 different varieties of plants.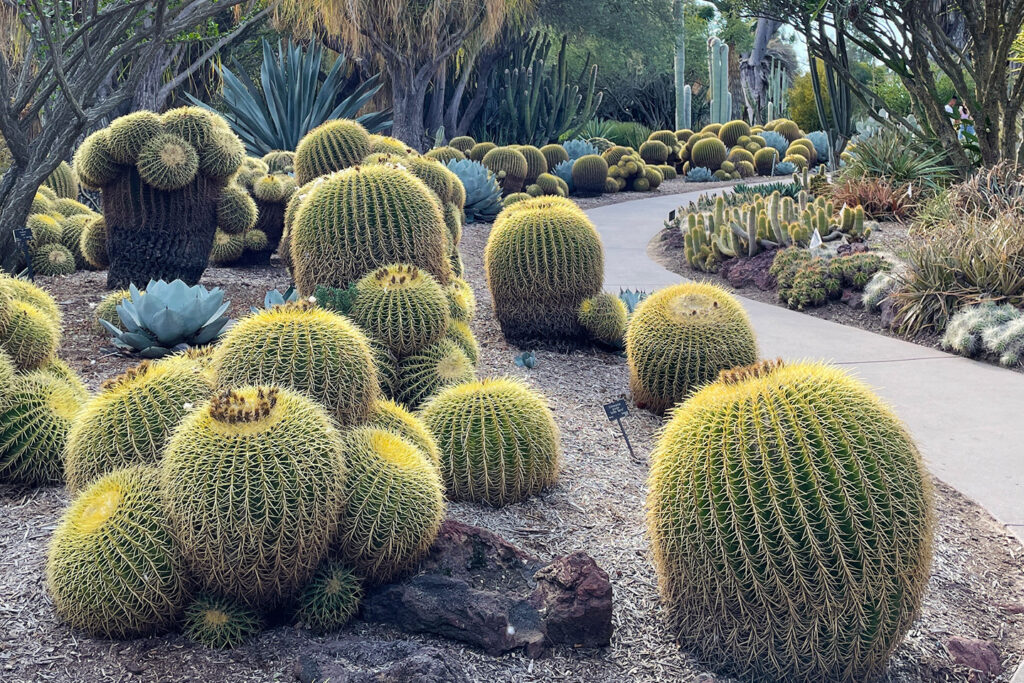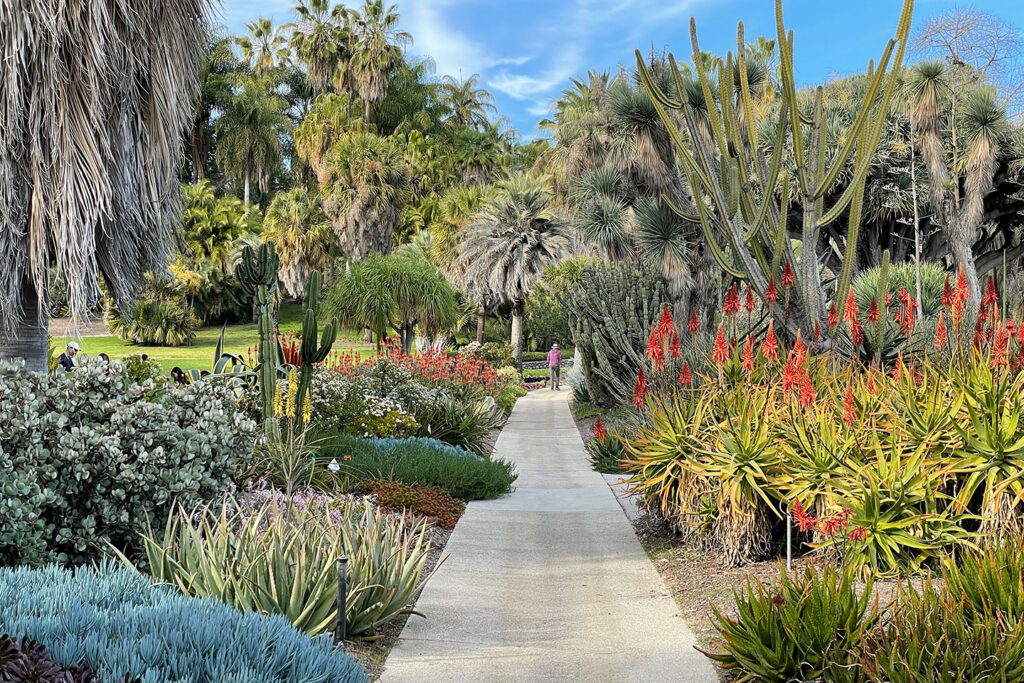 I could have easily spent several days wandering through The Huntington's libraries, galleries, and gardens. But I only had a couple of days in Pasadena, so I crammed as much as I possibly could into my visit and vowed to return.
A sunny oasis just 10 miles northeast of Los Angeles, Pasadena is a treasure trove of cultural and culinary attractions. In addition to The Huntington, the city boasts the Norton Simon Museum, which houses one of the most remarkable private art collections ever assembled. Industrialist Norton Simon spent over 30 years amassing an astonishing collection of European art from the Renaissance to the 20th century, and a stellar collection of Indian and Southeast Asian art spanning 2,000 years. 
The nearby Gamble House is considered one of the finest examples of early 20th-century Craftsman architecture anywhere. Designed in 1908 by Pasadena architects Greene & Greene, the Gamble House is well-preserved with all its original furnishings (which were also designed by the architects) and listed on the National Register of Historic Places.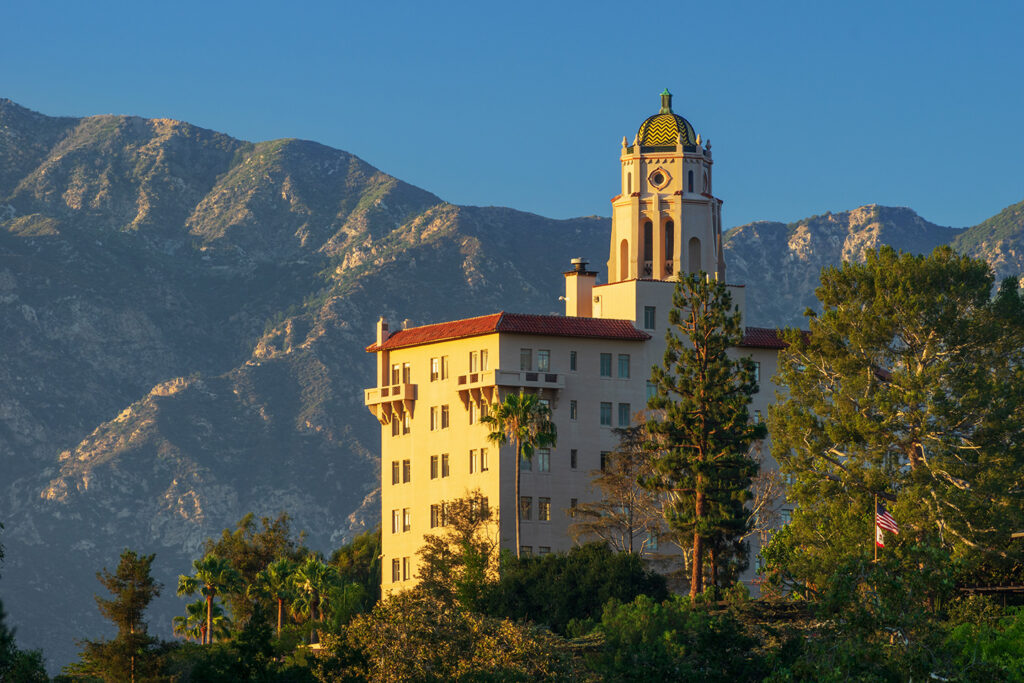 A National Register Historic District, the 22-block swath of Old Pasadena combines historic architecture with a vibrant culinary scene. The district offers more than 100 restaurants including upscale, chef-driven hot spots, romantic bistros, cozy cafes, and dessert shops. Opt for a table inside or enjoy alfresco dining amid Old Pasadena's charming patios and sidewalks. With over 600 restaurants citywide, Pasadena claims to have more restaurants per capita than even New York City.
Where to stay
Arroyo Vista Inn
Nestled amid sprawling oak trees, the Arroyo Vista Inn is an intimate, 10-room bed and breakfast built on a two-acre hillside overlooking the San Gabriel Mountains. The inn is just seven miles from downtown Los Angeles, less than five miles from Old Pasadena, and a 15-minute walk from the South Pasadena Gold Line Metro Station.
Renowned architect Lester Moore originally built the three-story craftsman home in 1910 for a wealthy Pasadena family. The home was converted into a bed and breakfast in 2006. Current owner Janice Lupien purchased the inn in 2016, bringing her passion for cooking and entertaining.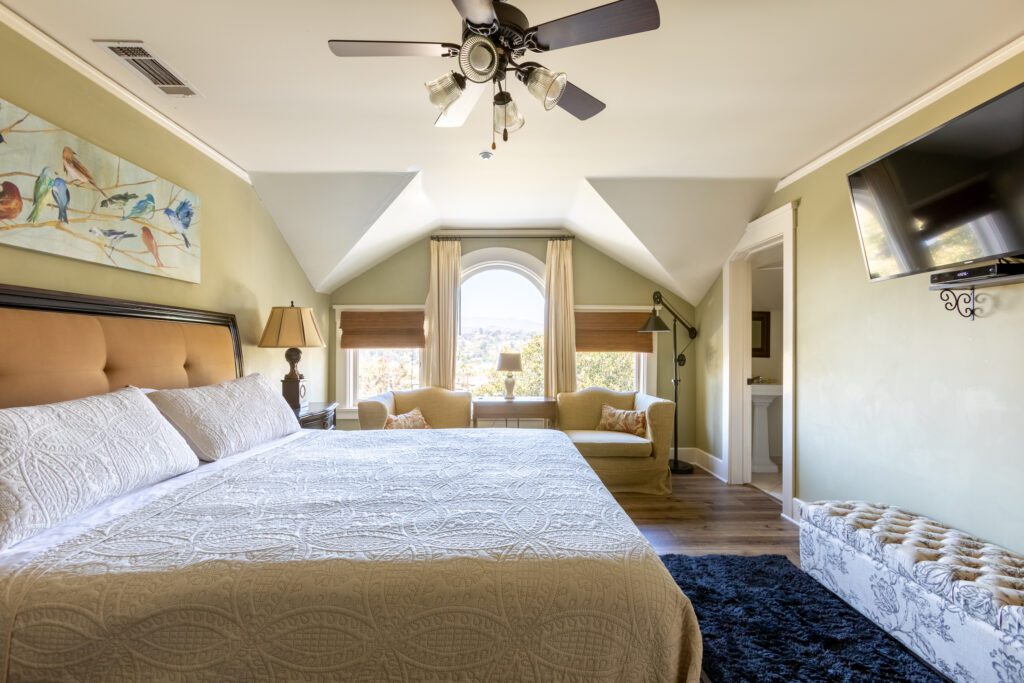 I stayed in the Monte Vista Room, which has the best views in the house. From this third-floor perch with an arched window, I had panoramic views of the mountains and the city lights at night. The spacious room features a king bed, a sitting area near the windows, and a tiled, glass-enclosed shower with two showerheads. Each of the inn's 10 guest rooms offers private baths, flat-screen televisions, and an eclectic mix of furnishings. Some of the rooms offer luxurious spa tubs. Select rooms are also pet-friendly.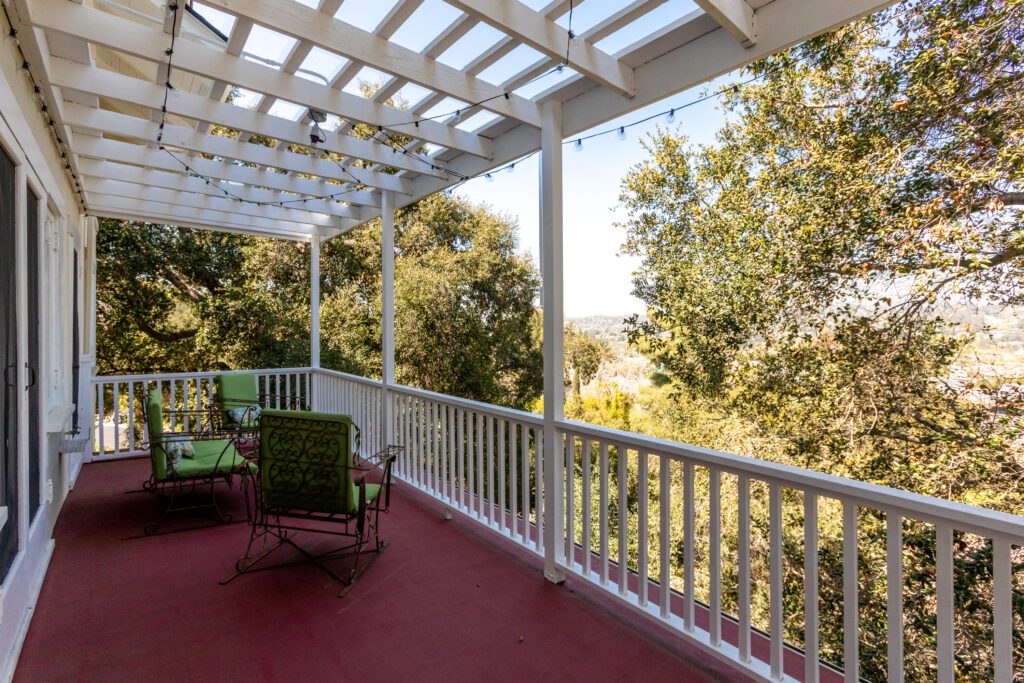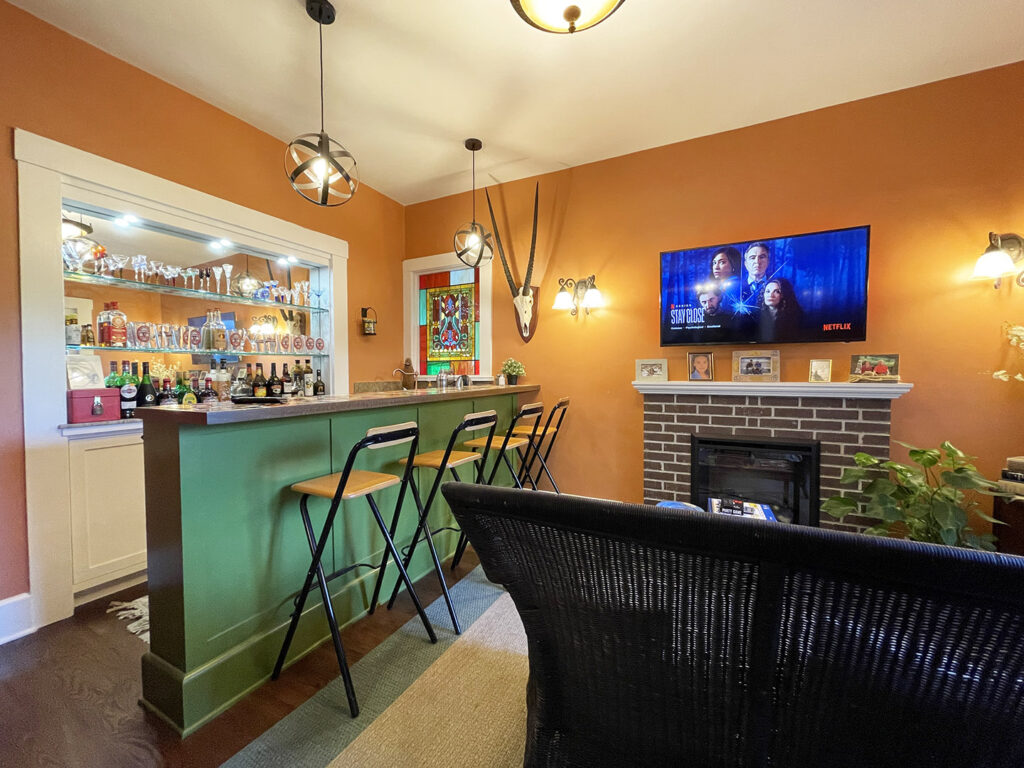 The front porch, second-floor balcony, and fountain area are all inviting outdoor spots to unwind with a glass of wine or a cocktail. The inn serves complimentary wine and cheese each evening from 5 to 7 p.m. A cheerful space at the back of the house features an honor bar for guests to mix their own cocktails. Tea and coffee are also available around the clock.  In the morning, Janice serves a delicious, house-made breakfast in the dining room featuring one of her signature egg dishes. Guests also have the option of having breakfast delivered to their room for a fee. All stays at the inn include complimentary breakfast, happy hour, WiFi, and parking.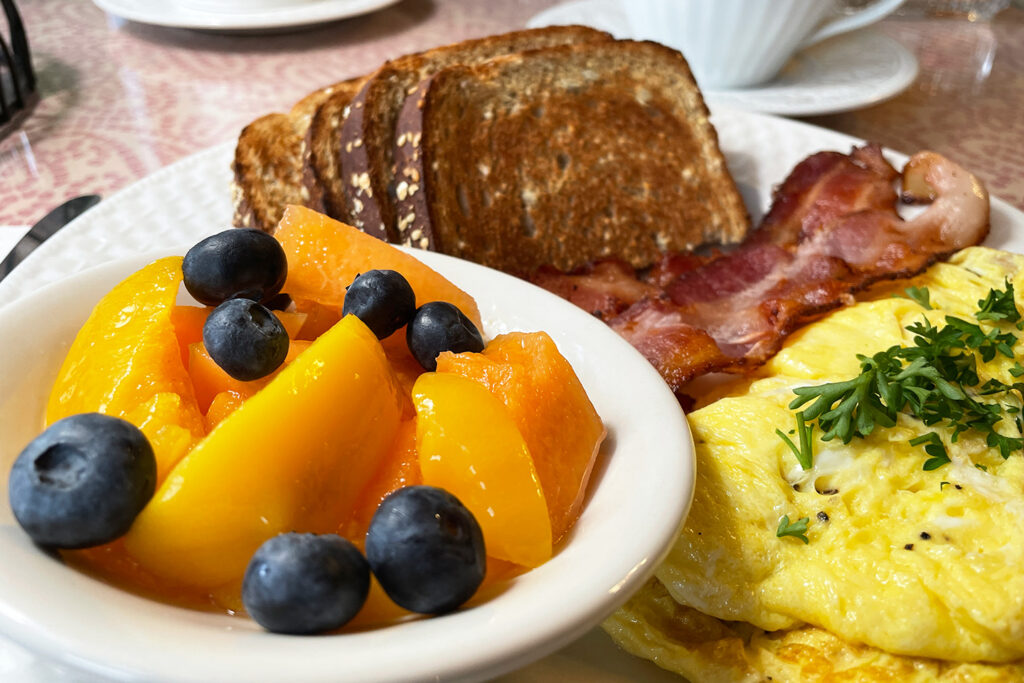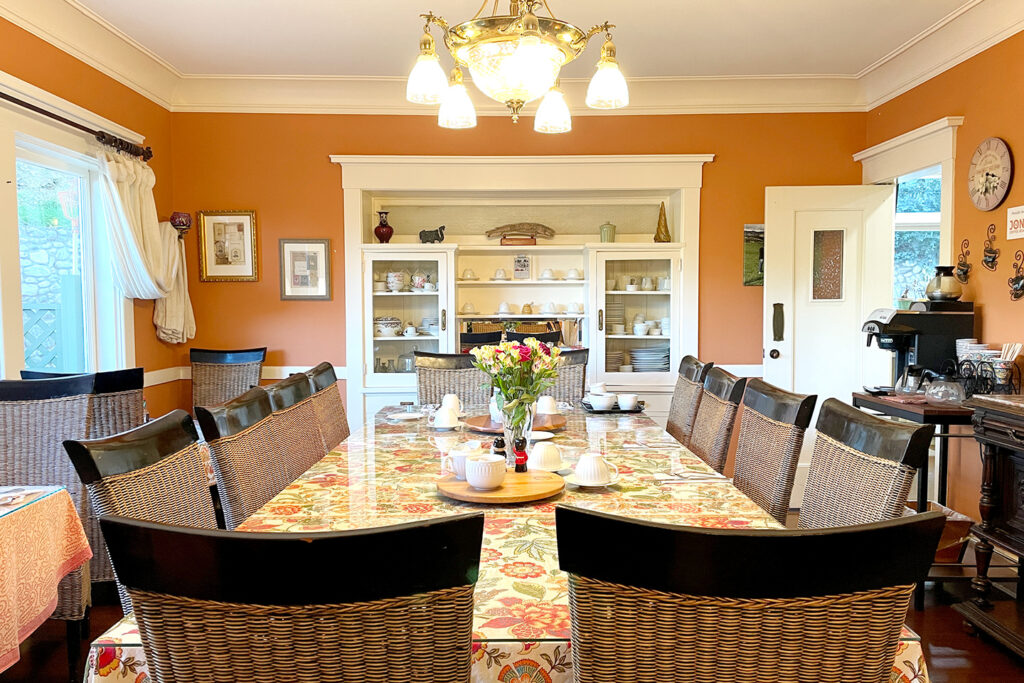 Lead photo of Pasadena City Hall by Matt Gush