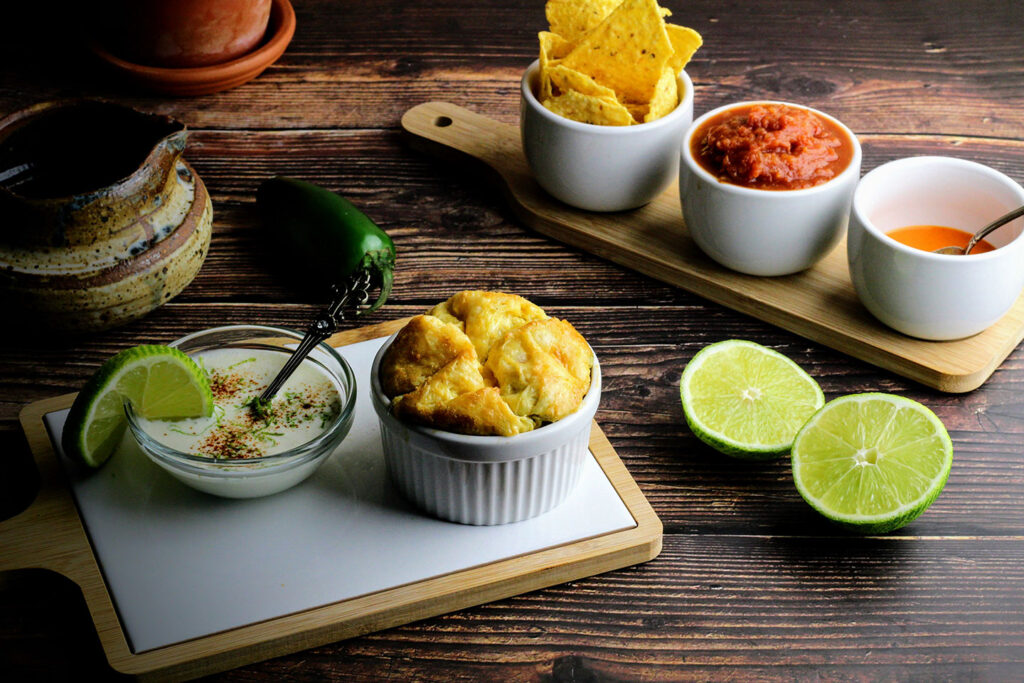 Martha's Southwestern Eggs from the Headlands Inn
Headlands Inn Bed and Breakfast feels as integral to Mendocino's history as the area's iconic redwood forests and rugged coastline. The stately three-story Victorian has been a prominent town fixture since the building first opened as a barber shop in 1868. In 1979, the property was transformed into a bed and breakfast and named to reflect Mendocino's iconic location on a section of land jutting out into the Pacific Ocean. Forty years later, John Crocker and Ashly Myrick-Crocker became the inn's new owners. The couple upgraded the entire guest experience, from its seven elegant guest rooms with down comforters and wood-burning fireplaces to its expansive gardens complete with an impressive ocean view.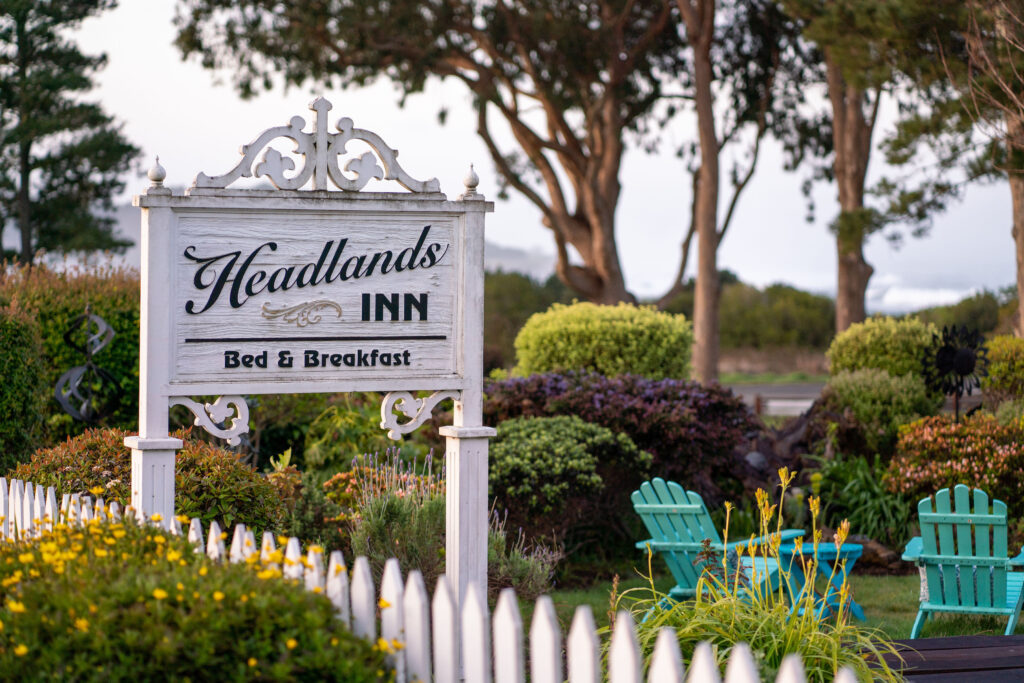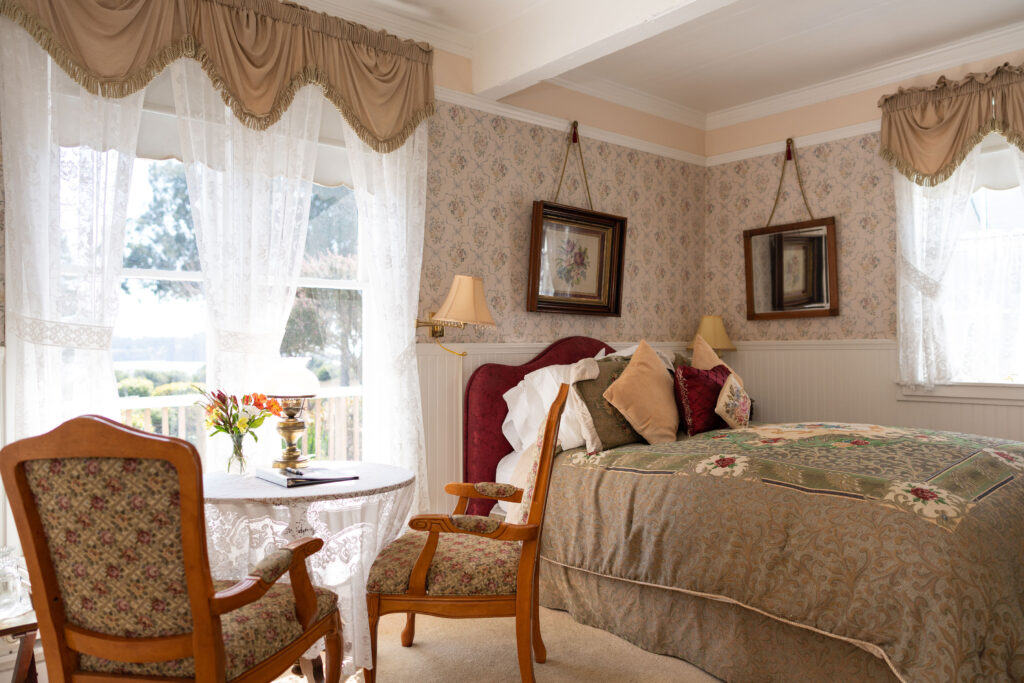 The Crockers also set out to update and expand the Headlands Inn breakfast offerings, informed heavily by John's culinary training combined with Ashly's baking and gardening prowess. The inn now encourages its guests to "begin the morning gently" with a gourmet breakfast served on vintage English china and delivered to the privacy of their rooms. Featuring ingredients from local purveyors and edible flowers from the garden, breakfast at Headlands Inn is an elaborate affair of vivid color and ingenious flavor combinations. Alongside house-baked pastries, juice, coffee, tea, and fresh fruit, the innkeepers serve a rotating hot entrée, chosen from a repertoire extensive enough to prevent guests from repeating a dish (unless, of course, a favorite is requested).
On the inn's social media feeds, enticing snapshots of its breakfasts are met with high culinary praise from former guests, along with frequent suggestions that the inn publish its recipes in a cookbook.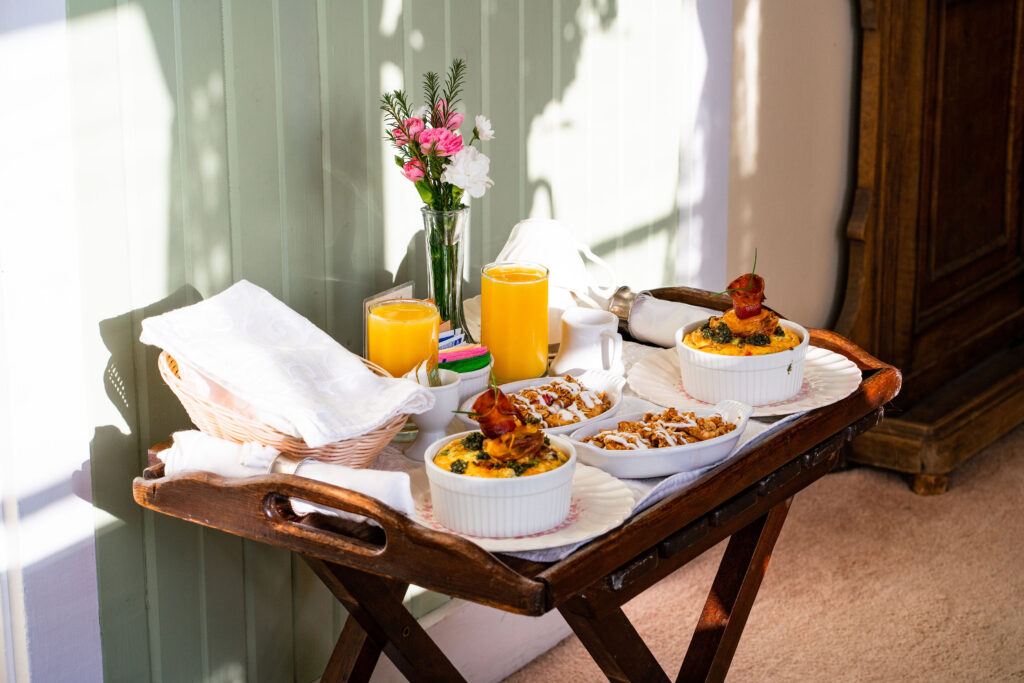 When John and Ashly took the helm, a loyal and competent staff awaited them. That included Martha, a 15-year veteran at the inn and fearless leader of the housekeeping staff. After witnessing Martha bringing in delectable hand-made Yucatan-style tamales and empanadas for the staff, the new owners expanded her role. In addition to her housekeeping management role, Martha is now an integral part of the kitchen staff. It made perfect sense to the couple that one of the inn's most-requested recipes, and one that featured some of Martha's favorite ingredients, be named in her honor.
This version of Martha's Southwestern Eggs, which can be adjusted to suit vegetarians and meat eaters alike, features the distinctive flavors of cumin, smoked paprika, and green chiles, allowing guests to experience the tastes of the Southwest at home. The dish has an impressive presentation and mirrors Martha's spirit of cheerfulness and hospitality, whether it's prepped the night before or whipped up in the morning as a last-minute entrée.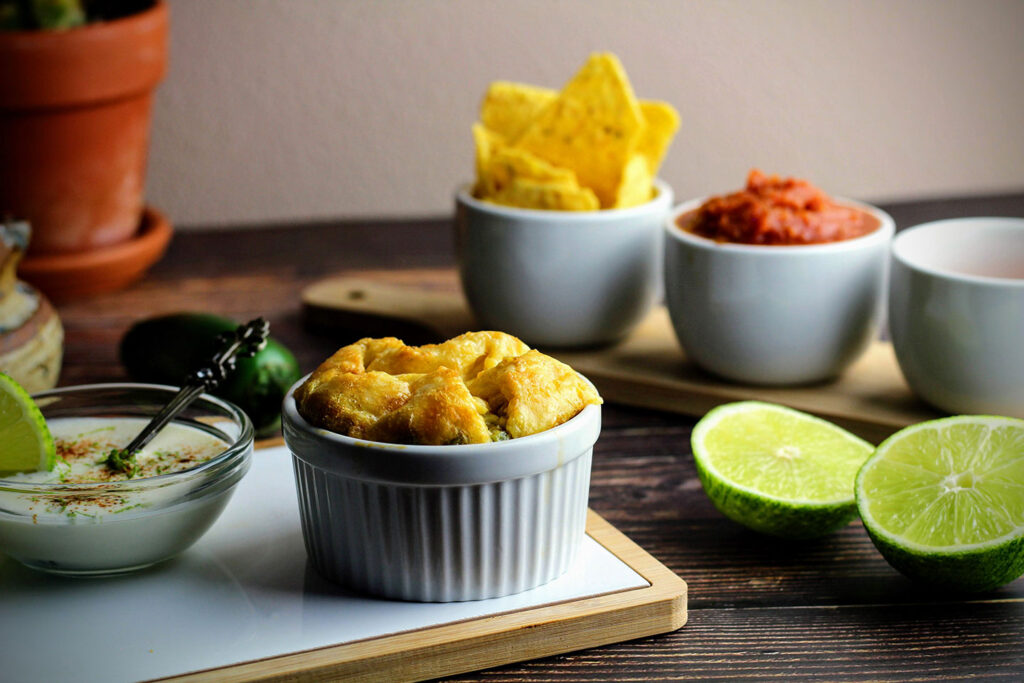 Martha's Southwestern Eggs
Courtesy of Headlands Inn
Makes 7 servings
Ingredients
18 eggs
¾ cup heavy cream or half and half
½ teaspoon smoked paprika
½ teaspoon salt
1 teaspoon white pepper
1 tablespoon cumin
½ cup shredded sharp cheddar cheese
3 ½ ounces diced green chiles, fresh or canned
½ cup corn kernels
½ cup finely diced white onion
2 ½ ounces chorizo (optional)
2 ½ ounces ground beef (optional)
¼ cup crème fraiche, Mexican crema, or sour cream (sauce will not be as firm with sour cream)
1 ½ tablespoons orange juice
2 limes (for garnish)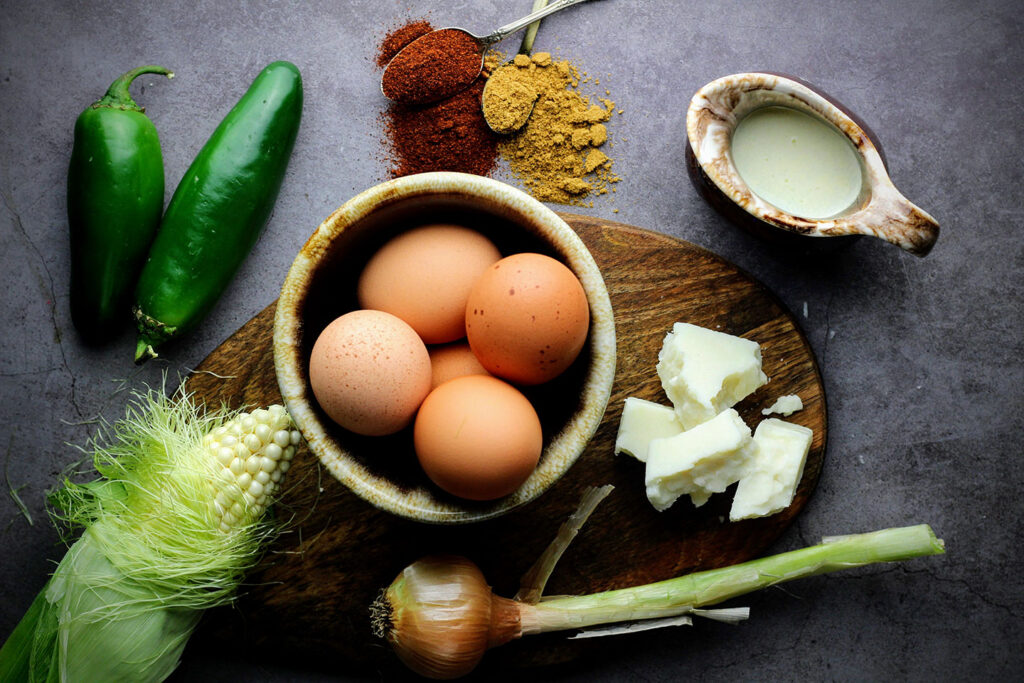 Directions
Preheat the oven to 350 degrees Fahrenheit.
To make the citrus crema garnish, stir orange juice into crème fraiche, sour cream, or crema.
For the non-vegetarian option, brown the chorizo and ground beef together until browned. Drain the excess fat and set it to the side to cool.
Sauté the green chiles, onion, and corn until caramelized. Set aside to cool.
In a bowl, beat the eggs and cream until frothy. Add the dry spices (paprika, white pepper, cumin, salt) and mix until blended.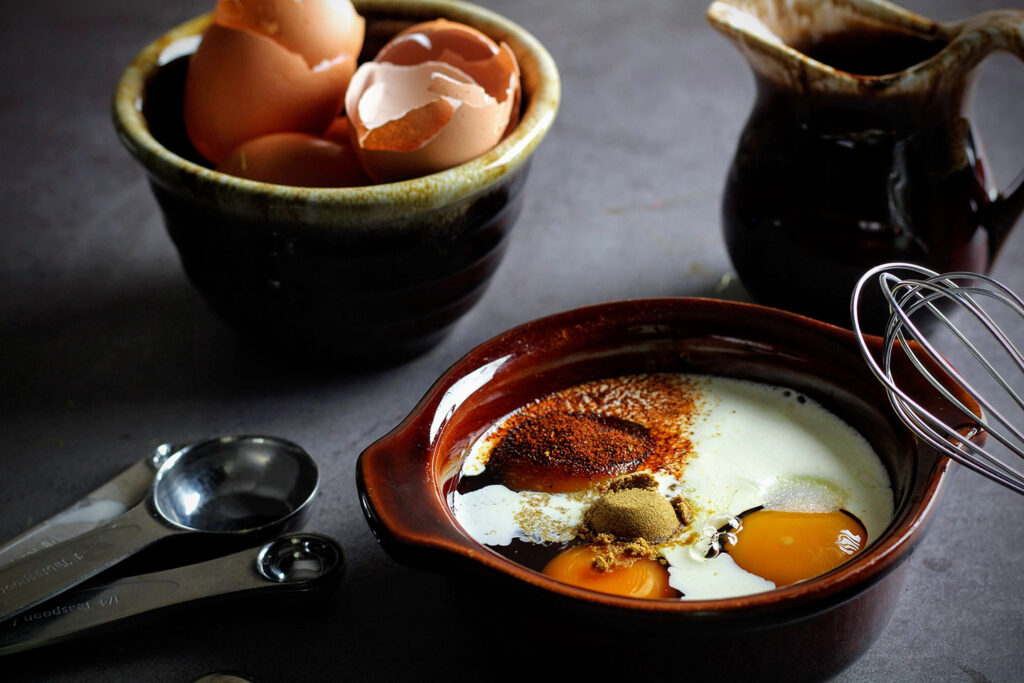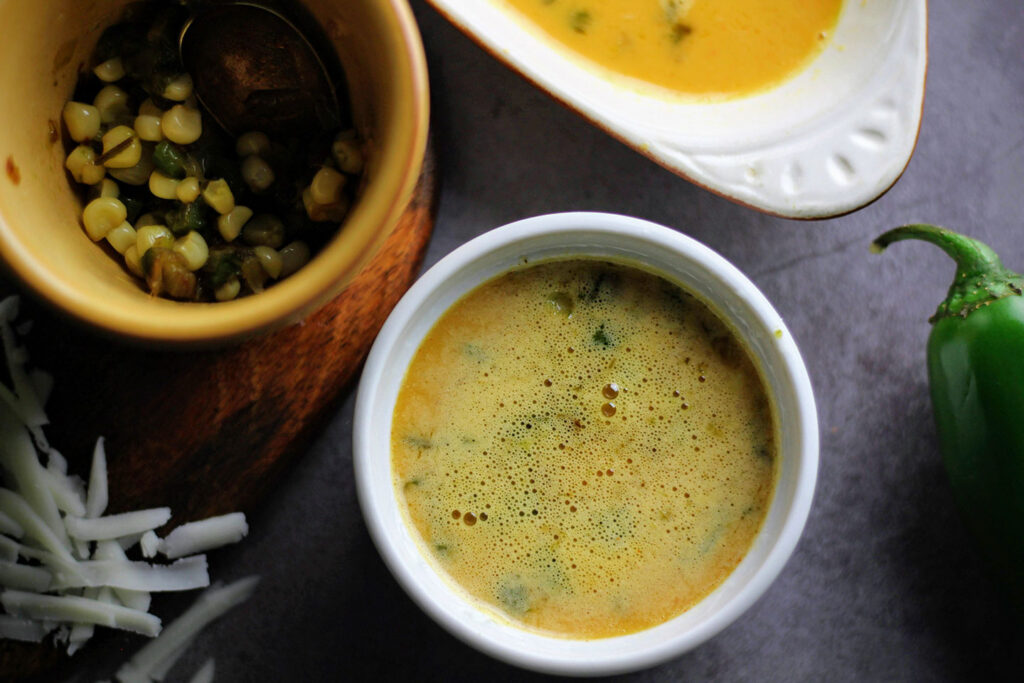 Pour the egg and cream mixture into individual serving-sized ceramic baking dishes, until they are three-quarters full.
Add one tablespoon of the chorizo and beef mixture (if using) to each serving, then one tablespoon of the caramelized vegetables.
Cover the top of the egg mixture with shredded sharp cheddar cheese.
Bake for around 30 minutes, or until the eggs are set, puffed, and light golden brown.
Garnish with citrus crema, lime slices, and lime zest.
Serve with tortilla chips, fruit, salsa, and hot sauce on the side.