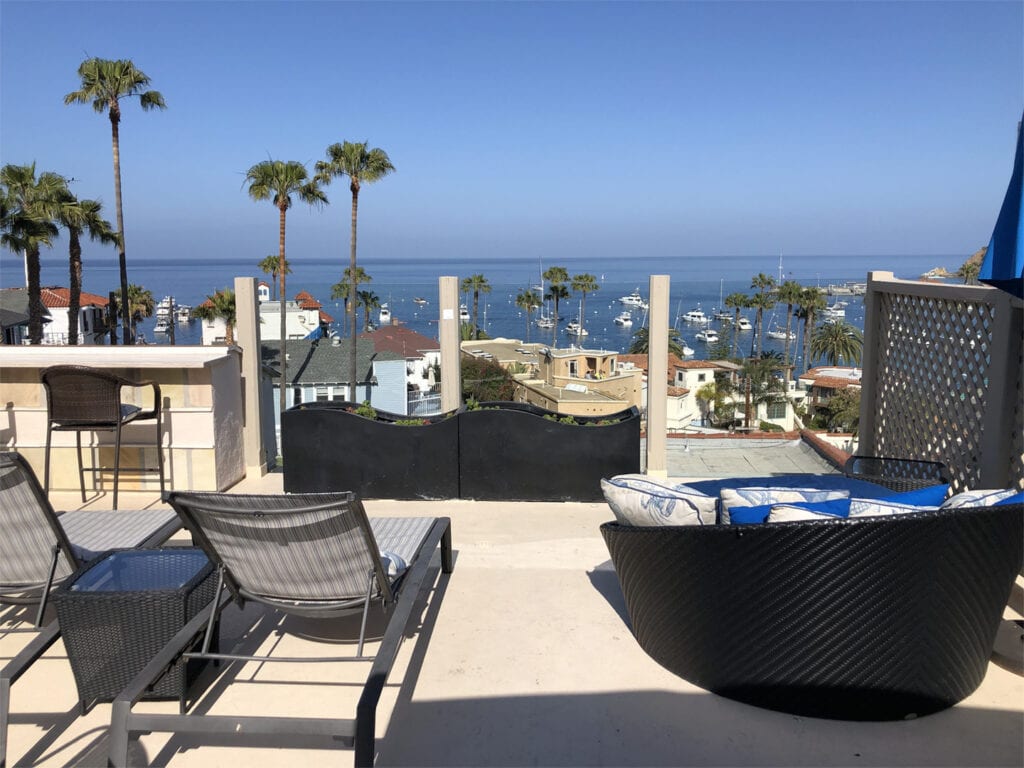 How to Spend a Perfect Weekend on Catalina Island
by Molly O'Brien
Catalina Island is a spectacular and relaxing getaway located right off the coast of Southern California. And even though it's technically a part of Los Angeles County, it feels as though it's another world, entirely.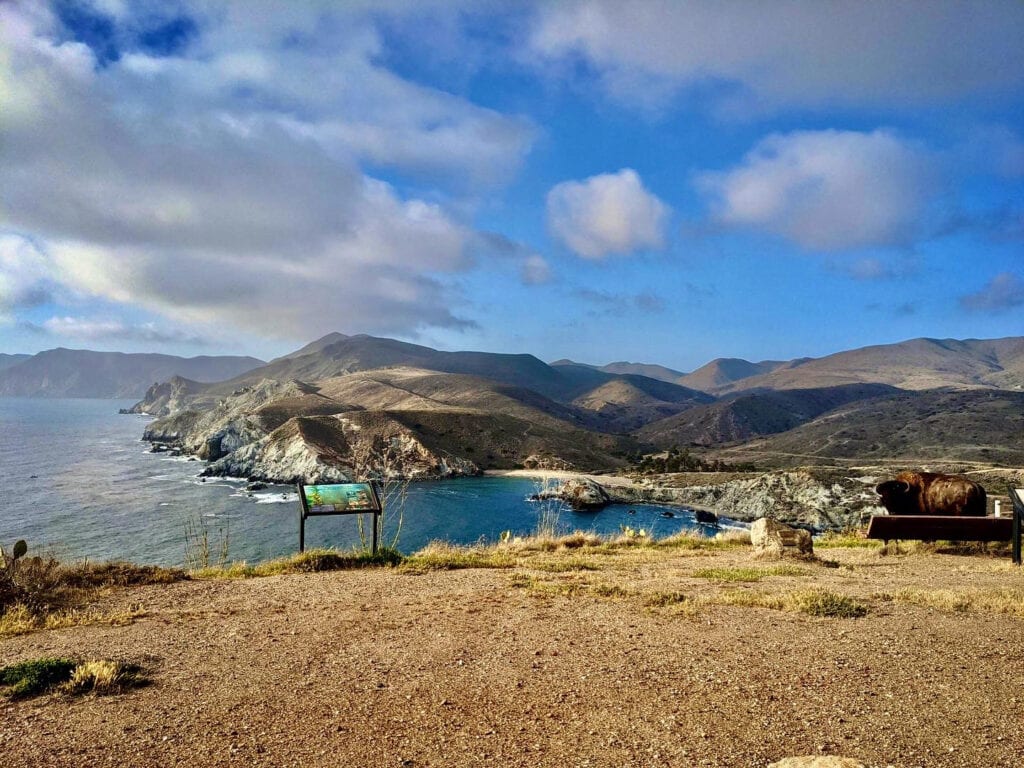 After embarking on a short boat ride on the Catalina Express from Long Beach, San Pedro, or Dana Point, travelers can escape the hustle and bustle of city life and immerse themselves into laid-back island life. Catalina Island has a year-round population of just 4,000 and encompasses over 76 square miles, but the majority of the land (including 62 miles of coastline) is protected by the Catalina Island Conservancy.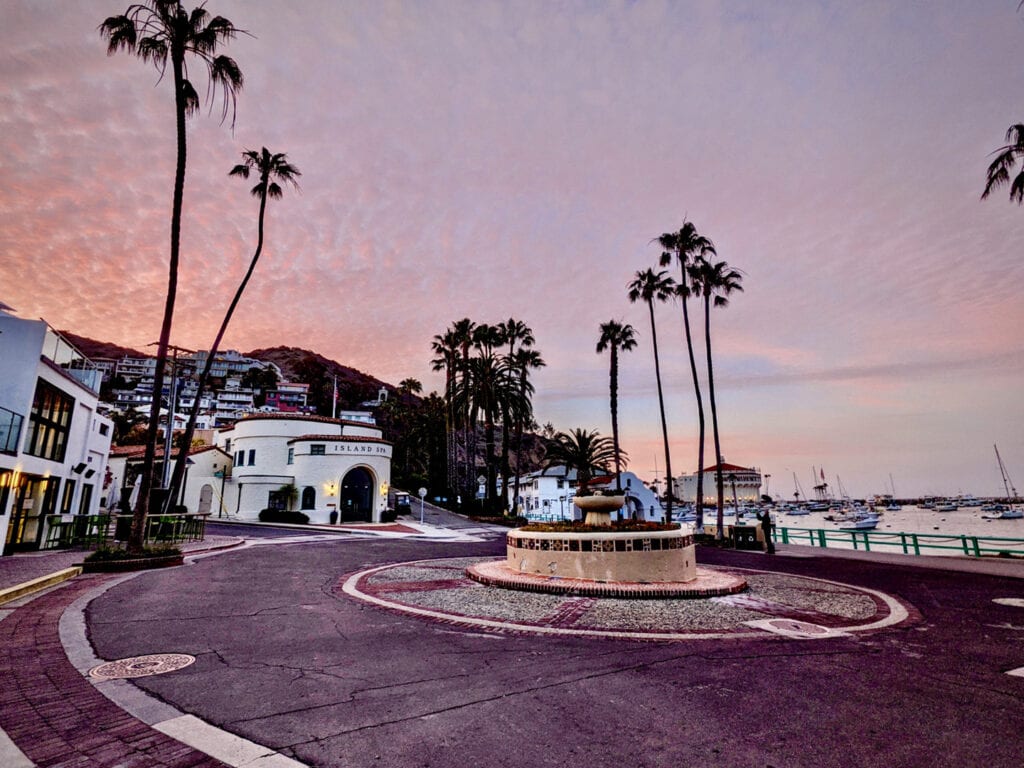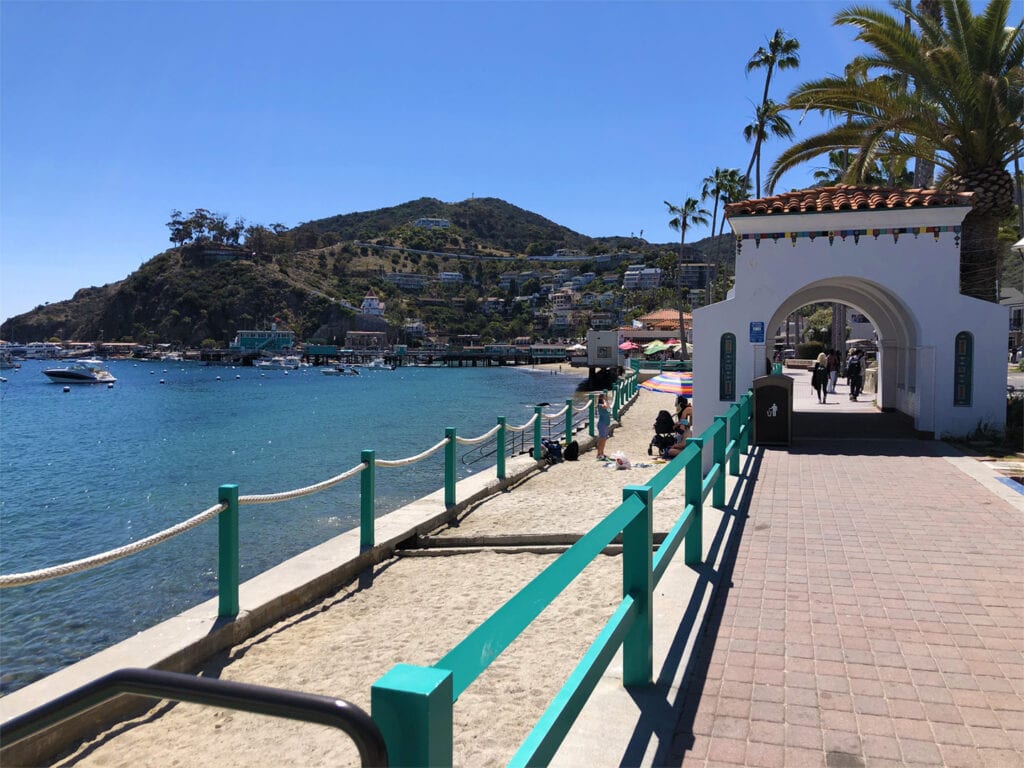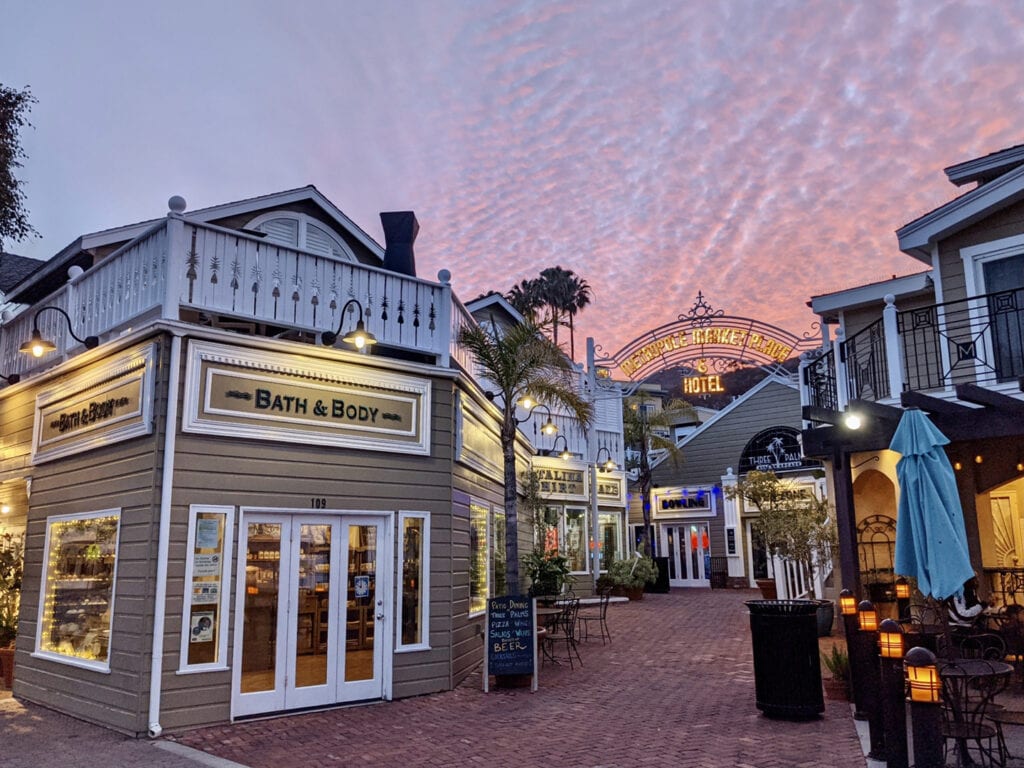 Most of the island's attractions are centered in the quaint seaside villages of Avalon and Two Harbors. Of the two, Avalon is more densely populated, easily accessible by boat, and offers a multitude of activities for a weekend getaway.
Getting to the Island
Catalina Express
Begin the trip with a quick ride on the Catalina Express, which is an efficient, convenient, and safe way to travel to the island. They provide up to 30 daily departures from Southern California. Plus, many of the hotels on the island offer great deals on bundled hotel packages that include boat transportation.
Catalina Express was founded in 1981 as a commuter service for Catalina residents with just one 60-person boat. As the interest in traveling to the island quickly grew, Catalina Express expanded its services. Today, the company operates eight boats that carry more than one million passengers each year to and from the island.
Travelers will find a mix of indoor and outdoor seating on the boat for enjoying both the fresh air and panoramic views. If you're lucky, you might even spot a whale or a pod of dolphins.
Avalon Adventures
Once you're on the island, there are a plethora of adventurous activities to partake in no matter the season.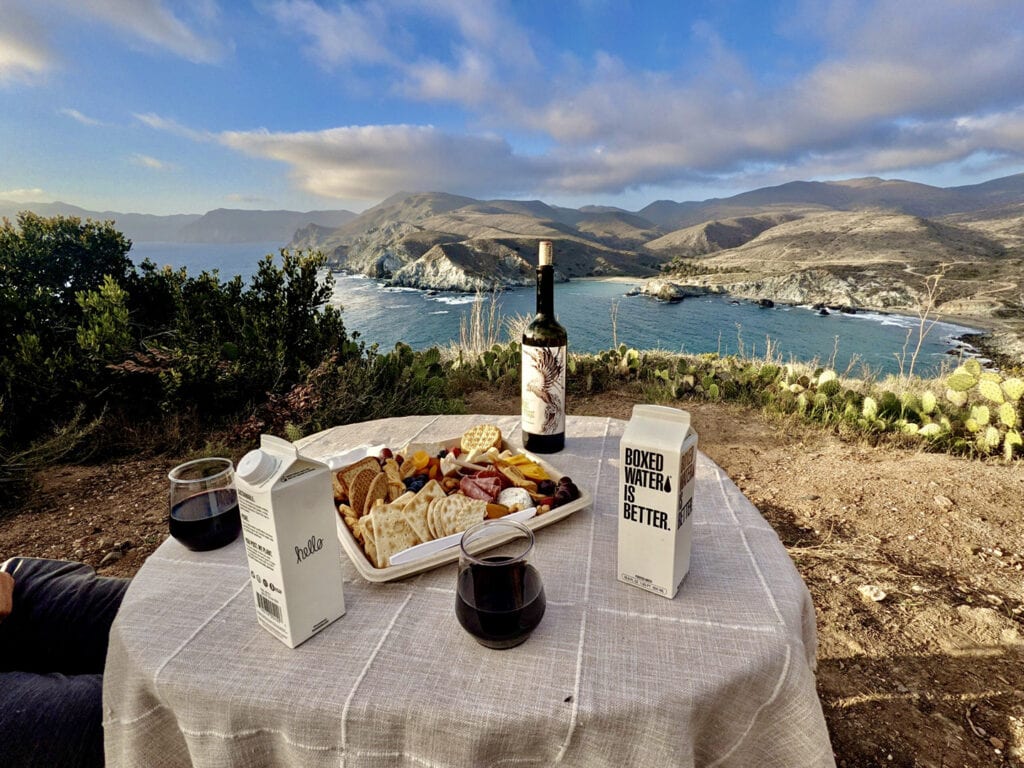 Catalina Taxi and Tours
Catalina's rugged beauty offers some of the most unforgettable views in the state. For the chance to soak up the island's incredible but little-known vistas, visitors can book a tour with Catalina Taxi and Tours. The company offers a range of Jeep tours that take visitors through Catalina's interior wilderness.
The tour drivers are extremely knowledgeable about the island's ecosystem, and the open-air Jeeps offer 360° views of nature. Those who are lucky might even catch a glimpse of the island's largest resident, the bison, or some of the smallest, the clever Catalina Island foxes.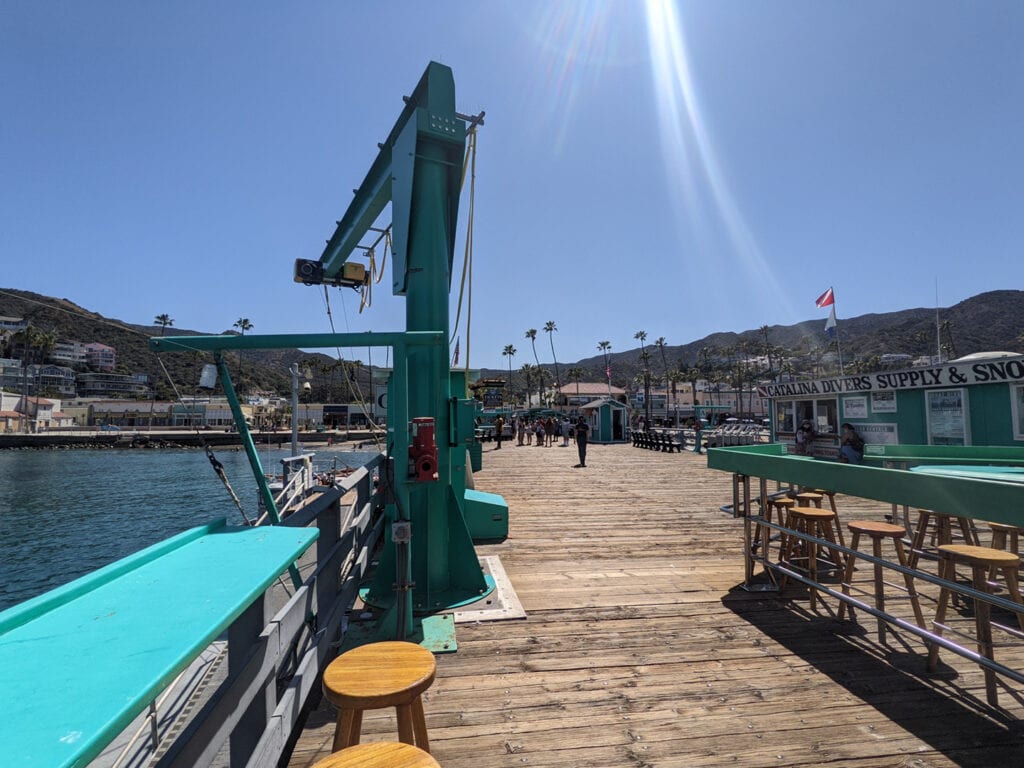 Catalina Divers Supply Snorkeling Tour
Ocean lovers can embark on a guided snorkel tour with locally owned and operated Catalina Divers Supply in the island's protected marine reserve, the Avalon Dive Park. The park is located next to the Casino on the way to Descanso Beach. A snorkeling tour comes with everything visitors will need, including a mask, snorkel, fins, and wetsuit.
The Avalon Dive Park is a marine preserve that hosts an abundance of local marine life such as the bright orange garibaldi, the schooling blacksmith, the kelp bass, the bat rays, and the seasonal Giant Black Sea Bass. Underwater, snorkelers will find themselves surrounded by a diverse range of fish and marine life while a knowledgeable local guide explains the backstory of the island's oldest (aquatic) residents.
Catalina Aerial Adventure
Those who feel especially brave can "take to the trees" on a Catalina Aerial Adventure, This outdoor adventure is just a short walk from the Descanso Beach Club, but it feels as though it's deep in the wilderness. Visitors can climb, swing, and crawl through a series of obstacles suspended above a grove of eucalyptus trees.
There are five self-guided and self-paced aerial courses made up of obstacles such as rope ladders, log bridges, balance beams, zip lines, and more. Each course is divided by skill level. There are two beginner courses, two intermediate courses, and one advanced course offering an ideal experience for any daredevil regardless of their skill or athletic ability.
How to Spend the Night Right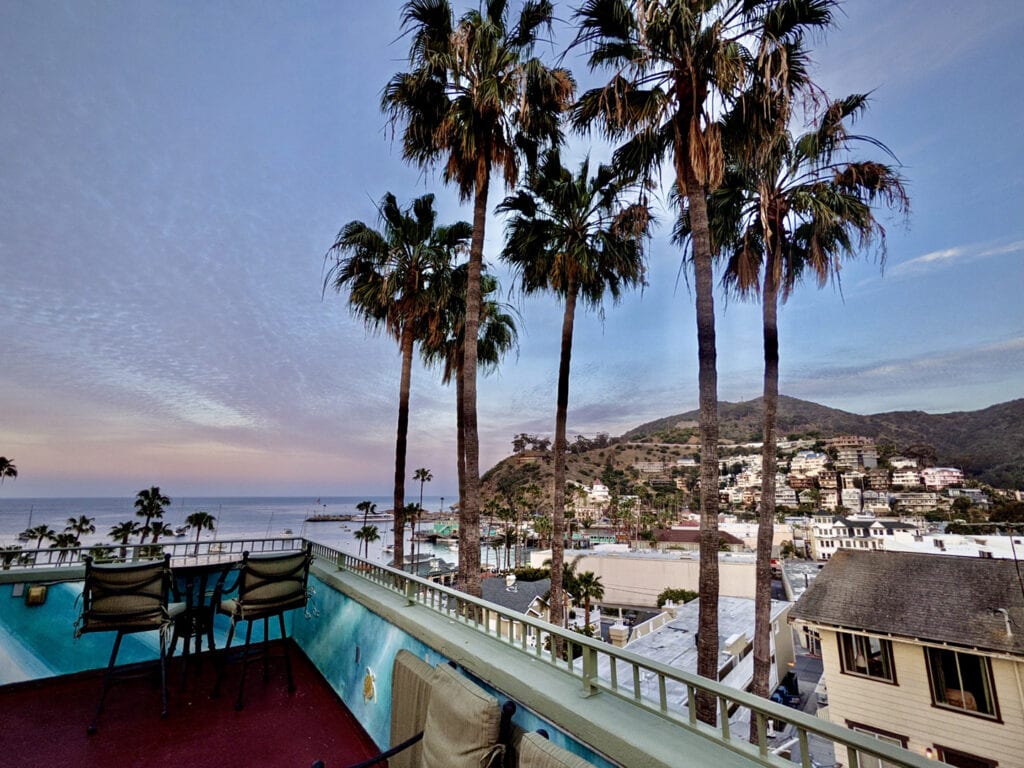 The Avalon Hotel
The Avalon Hotel is one of the best places to stay for an authentic Catalina experience. This picturesque bed and breakfast is owned and operated by a couple of locals who truly care about their guests and their town.
The hotel offers all the pampering of a relaxing vacation with the cozy touches of home. Elegant guest rooms feature private balconies with sweeping ocean vistas. Candy dishes in each of the rooms are stocked with handmade saltwater taffy from a local sweet shop. Room keys feature photos of one of the cutest Avalon residents: a local baby sea lion.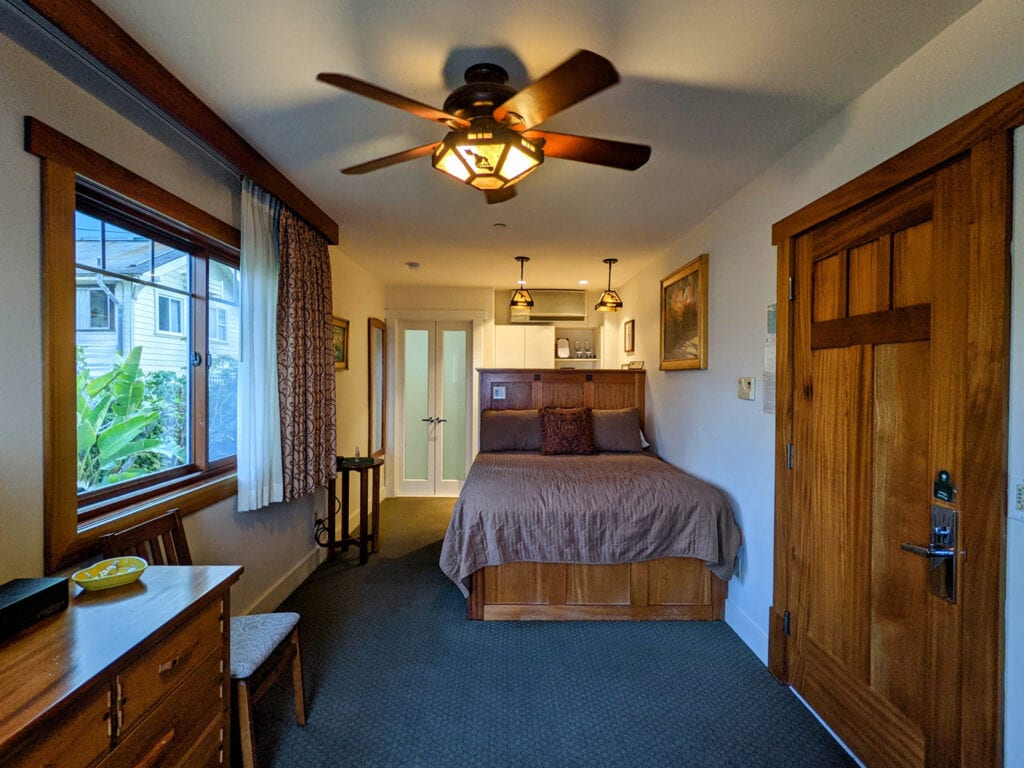 Each morning, the hotel serves a tasty complimentary breakfast in the courtyard, which features a koi fish pond. A fireside wine happy hour is served in the afternoon.
The hotel's scenic and spacious rooftop patio is perfect for soaking up the sun (or sunset) and relaxing with a book or glass of wine (or both). Best of all, the hotel is located within walking distance of nearly every Avalon attraction, including shops, restaurants, and the beach.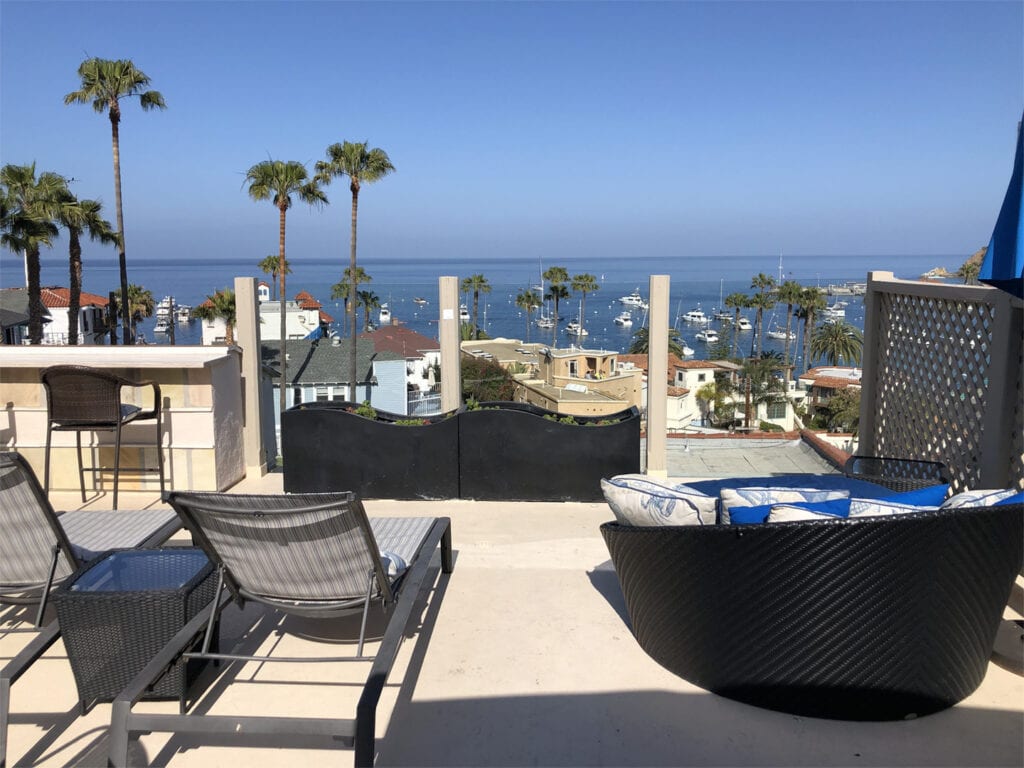 Aurora Hotel
The interior and exterior of Aurora Hotel are inspired by the cool colors and powerful waves of the sea. Sleek, modern, and cool, the hotel feels like a polished, hip B&B outpost nestled within the quaintness of the usual village accommodations.
Inside and out, there's a contemporary look that reflects the beauty of Southern California's natural oceanic wonders, represented by the sea life photography that adorns the walls of each guest room and the chic downstairs lobby. The property's crisp interior design offers visitors a relaxing, laid-back atmosphere with a sophisticated design and style.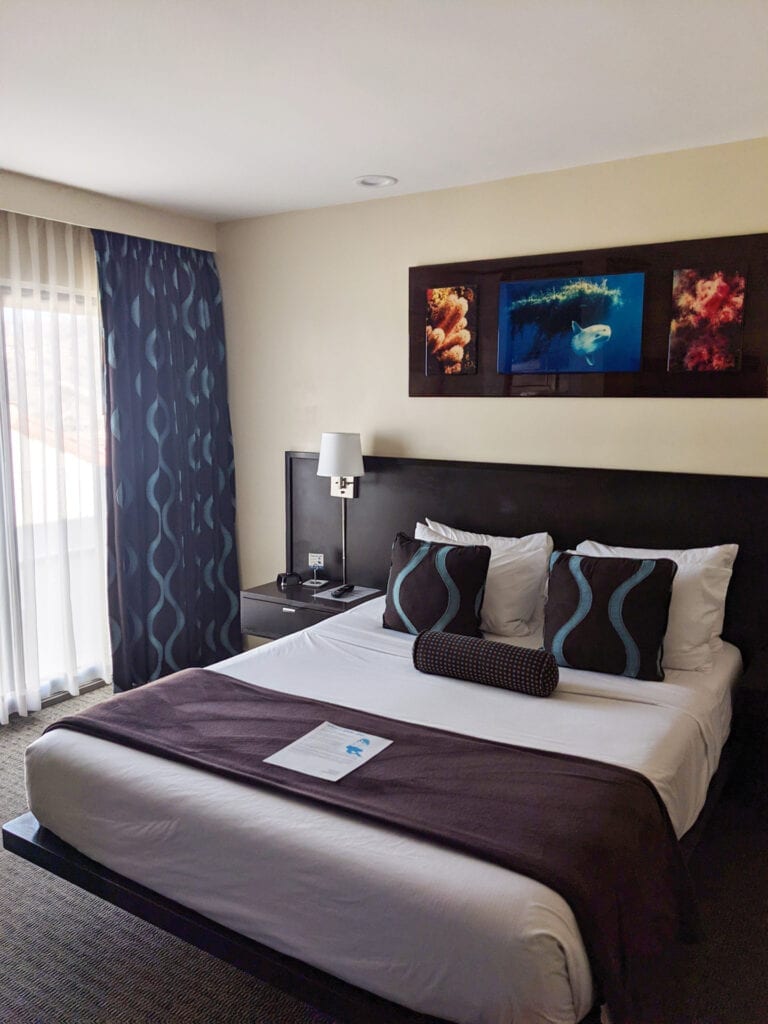 The Aurora Hotel is located just a short walk from the town's restaurants and shopping area and approximately 100 yards from the beach. The hotel features a gorgeous rooftop deck with views of the ocean and the harbor; it's a fabulous place to enjoy a glass of wine or a good book in the SoCal sunshine. Breakfast each morning in the lobby includes coffee, fresh juice, hard-boiled eggs, oatmeal, fresh fruit, and a generous selection of pastries and bread.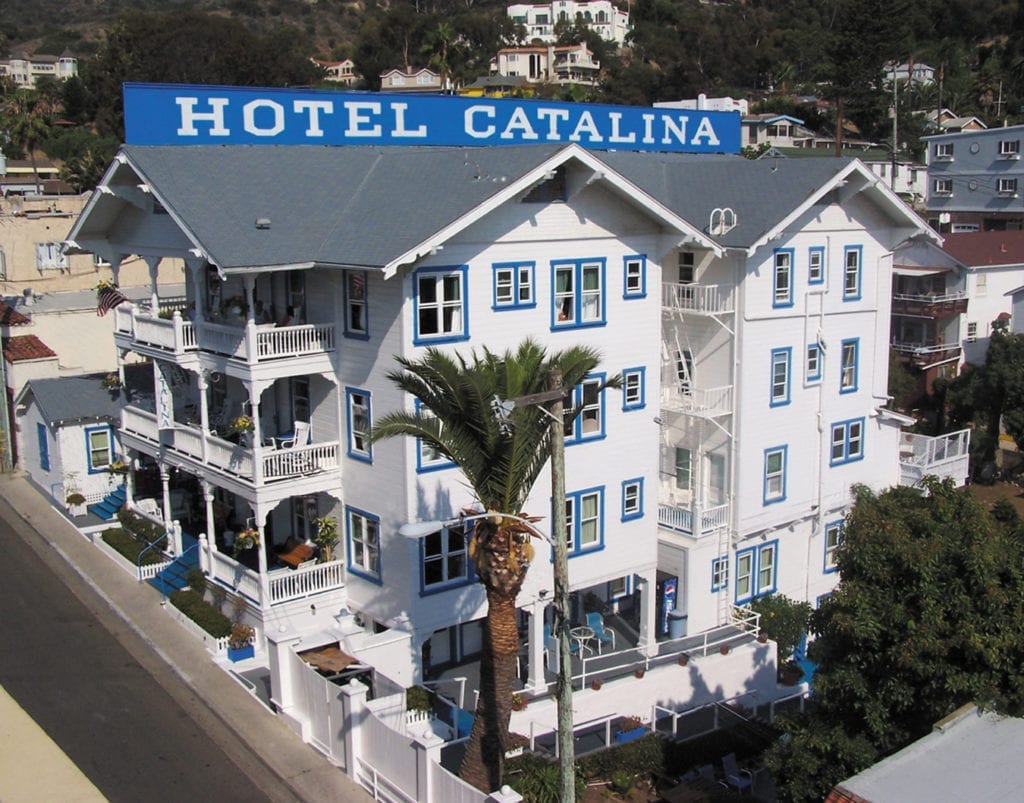 Hotel Catalina
Perched on a hillside in Avalon, the Hotel Catalina shines in bright white and blue paint like something out of a vintage Mediterranean dream. Its Victorian architectural design and enormous rooftop sign can be spotted immediately as guests are pulling into the harbor of Avalon. Built in 1916, the hotel exudes the charm and hospitality of yesteryear with all the comfort of modern amenities.
The hotel offers 27 guest rooms spanning across three floors, as well as three cottages (two family-sized cottages and one "Honeymoon Cottage"). The hotel's multiple balconies—one on each floor—are ideal for soaking up both the sun and the ocean views.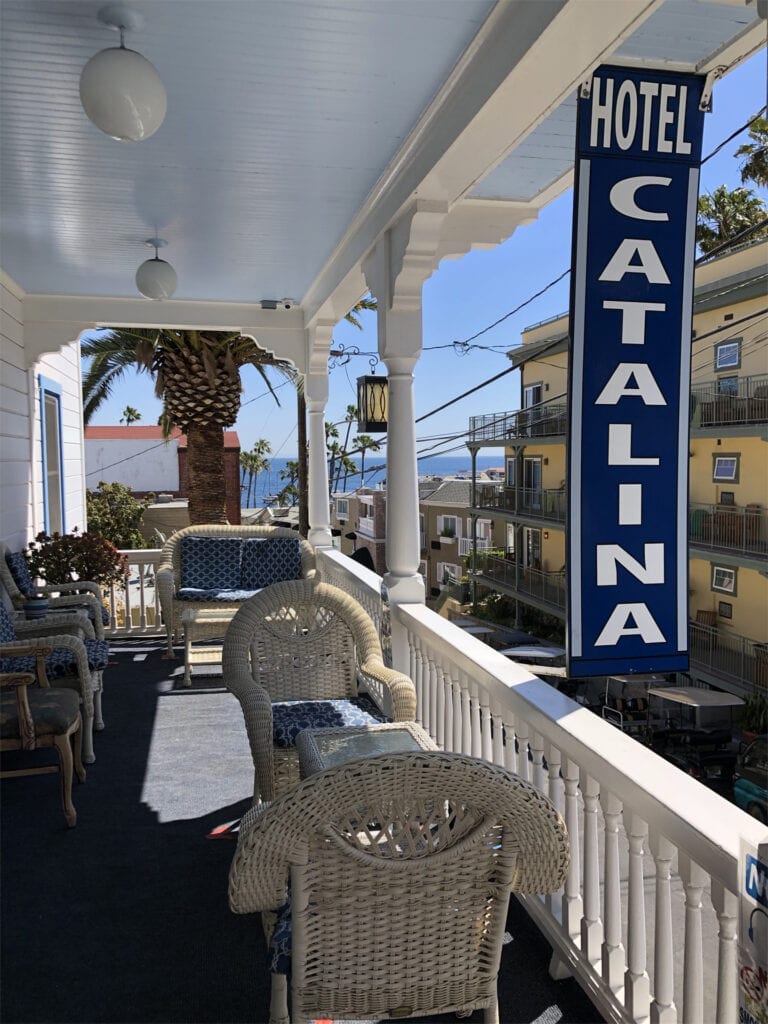 In the lobby, the hotel serves breakfast each morning featuring Kona coffee, tea, juice, and a selection of baked goods from the Avalon Bake Shop. Guests also receive discounted coupons for breakfast, lunch, or dinner at a choice of four Avalon restaurants. The hotel is located just steps from the sand and all of Avalon's attractions.
Bites and Beverages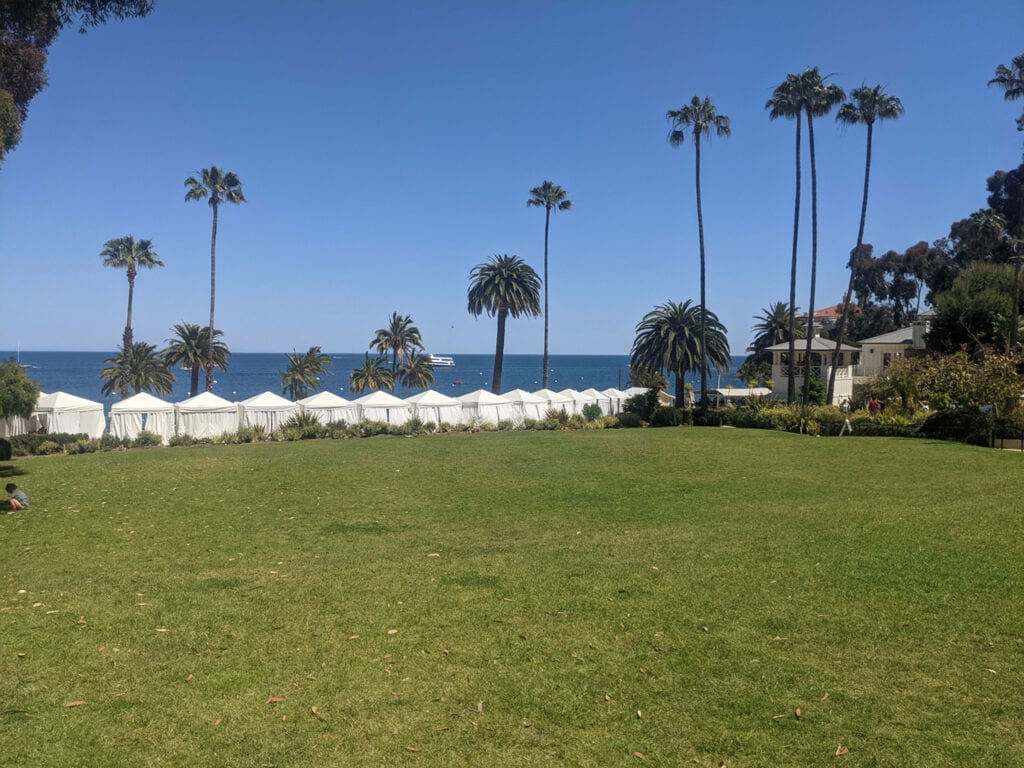 Descanso Beach Club
The Descanso Beach Club is the hip, happening place to be for those who just want to relax and sip a cocktail in a beach chair, cabana, chaise lounge, or right on the soft sands of Descanso Beach.
The beach club features Avalon's only beachside restaurant and bar with a generous selection of fresh, Cali-style signature appetizers and classic Catalina cocktails.
There's seating on an ocean-view patio available on a first-come, first-serve basis. Those who want to kick back straight on the sand can take their libations seaside. For a special treat, visitors can kick up their Descanso experience a notch and have their food and beverages delivered to a pre-reserved private cabana or chaise lounge, which comes with personal beach butler service and seasonal amenities such as fresh-cut fruit and chilled popsicles.
Bluewater Grill – Avalon
For an upscale seaside meal, visit the trendy Bluewater Avalon restaurant which specializes in serving fresh and sustainably caught fish, oysters, lobster, king crab, and shrimp from local waters. For those who aren't a huge fan of seafood, the grill also serves salads, sandwiches, burgers, and steaks.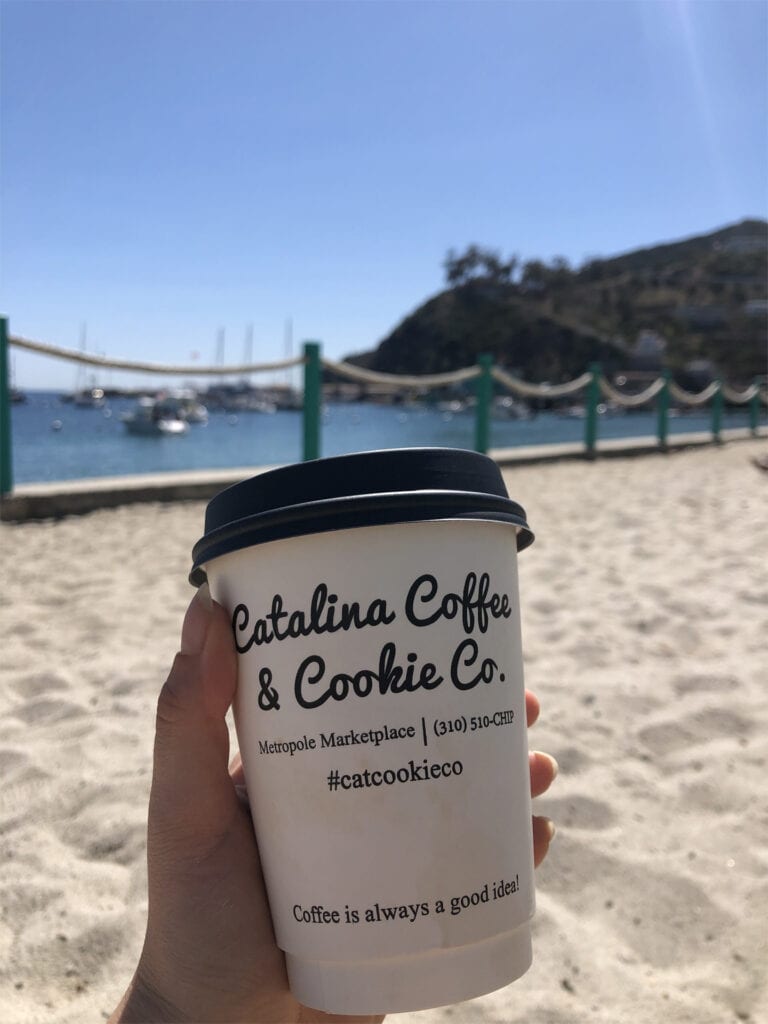 Catalina Coffee & Cookie Co.
Those who seek a selection of fresh-baked pastries (with ample gluten-free options) and a generous selection of gourmet coffee will be thrilled with a trip to the local, family-owned and operated Catalina Coffee & Cookie Co. Here, visitors will find more than a dozen types of freshly brewed coffees to choose from, as well as lattes, cappuccinos, and other espresso drinks alongside the enormous, freshly baked cookies.
Lloyd's of Avalon
Lloyd's of Avalon Confectionery is an Avalon staple. The shop has been a family favorite of Catalina Island for almost a century, creating its world-renowned saltwater taffy, caramel apples, fudge, and chocolates in the window on Avalon's Crescent Avenue since 1934.
All confections are handmade from personal recipes. Visitors walking by on the street can usually catch a glimpse of the saltwater taffy as it is being pulled to perfection each day in the shop's window. The sight makes it especially challenging to resist the temptation of going inside and buying a bag (or two or three) of sweets as a souvenir.
Molly O'Brien is a freelance travel writer currently residing in Los Angeles, California. She enjoys travel, hiking, outdoor adventure, and hospitality properties that can tell a great story.