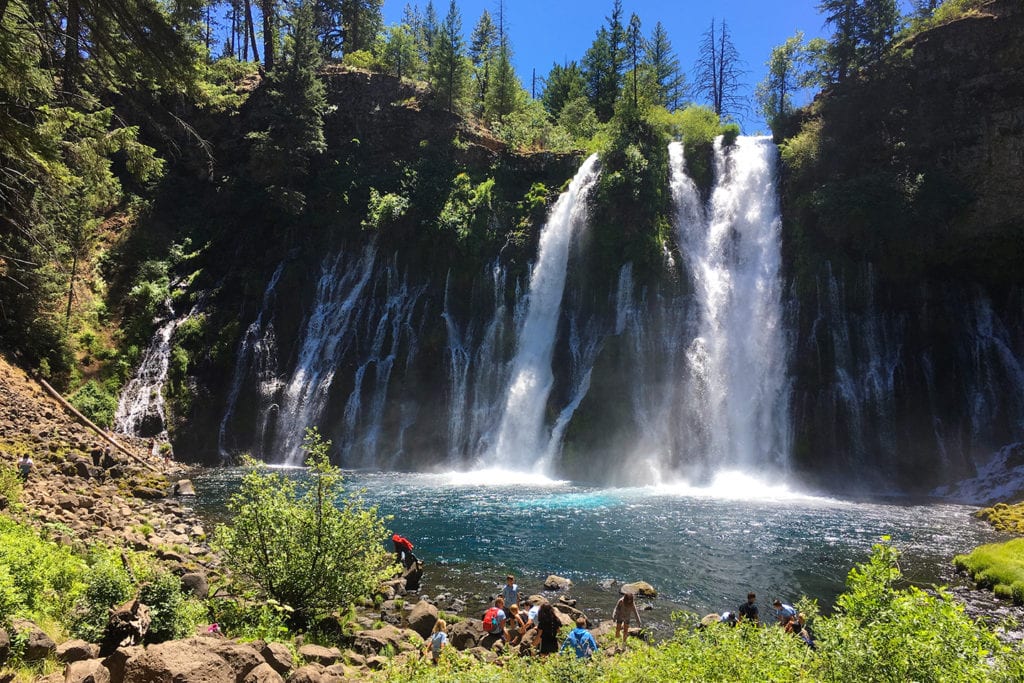 Historic Fall River Hotel is a Gateway to Outdoor Adventure
Nestled in a remote river valley between the volcanic peaks of Mt. Shasta and Mt. Lassen, Fall River Mills is a wonderland for outdoor adventures. You can cast a line over the crystal clear waters of the Fall River, which is teeming with native trout. Many more nearby creeks and rivers—including the Pit River and McCloud River—allow you to fly fish multiple rivers in a single day. Golfers can hit the links at the Fall River Valley Golf and Country Club. This uncrowded, championship course features rolling terrain with pine forests and shimmering lakes, abundant wildlife, and beautiful views of the surrounding mountains.
Just 20 minutes west of town, McArthur Burney Falls State Park is home to the majestic, 129-foot Burney Falls. The spring-fed cascade over black basalt is possibly the most beautiful waterfall in the state. 20 minutes north of town, at Ahjumawi Lava Springs State Park, you can explore primeval landscapes of rugged lava rock, aquamarine bays, and tree-studded islets. You can only reach by park by boat, which only adds to the appeal, because it's one of the least visited state parks in California.
In the quaint town of Fall River Mills, the historic Fall River Hotel is only full-service lodging property for miles around and is a destination unto itself. Built in 1939, the western-style, three-story hotel trimmed with vintage neon signs is the most prominent building in town. The hotel has hosted anglers, golfers, hunters, and weary travelers for over 80 years. The hotel offers 15 modest, but comfortable rooms, each with private baths. Original upper floor rooms open to an outdoor balcony overlooking main street while newer suites look out onto a tree-lined courtyard with a basalt fountain. The fact that co-owner Sandra Jensen comes from a family of artists and artisans is reflected in the hotel's charming furnishings, including quilts hand-sewn by her sisters and willow branch beds made by one of her cousins.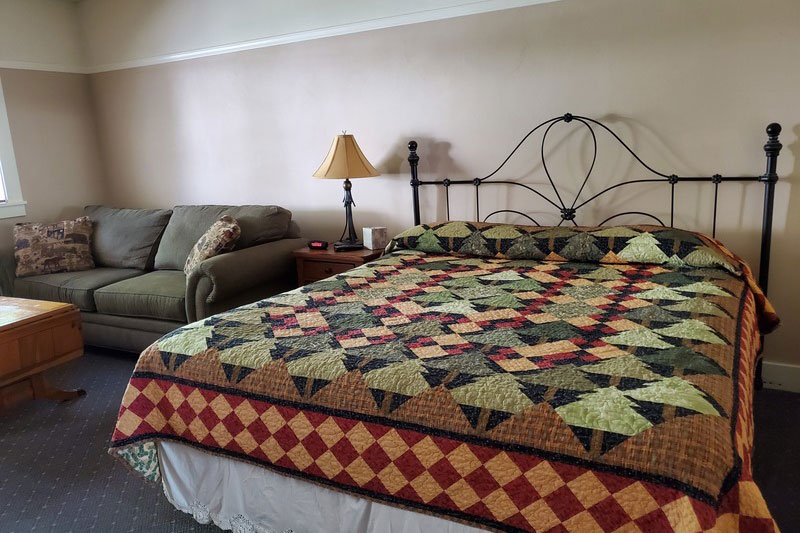 After a day exploring the great outdoors, guests can relax in the hotel's restaurant and bar.  The friendly, lively bar serves as "Tap Room East" for the Fall River Brewing Company and is known for its Bloody Marys and margaritas. The restaurant serves breakfast, lunch, and dinner in a charming dining room with exposed wood beams and a river rock fireplace. Dinner specialties include beer-battered prawns, tender pork loin medallions with a burgundy reduction, and succulent prime rib.
Fall River Hotel
24860 Main Street
Fall River Mills, CA 96028
530-336-5550
fallriverhotel.com