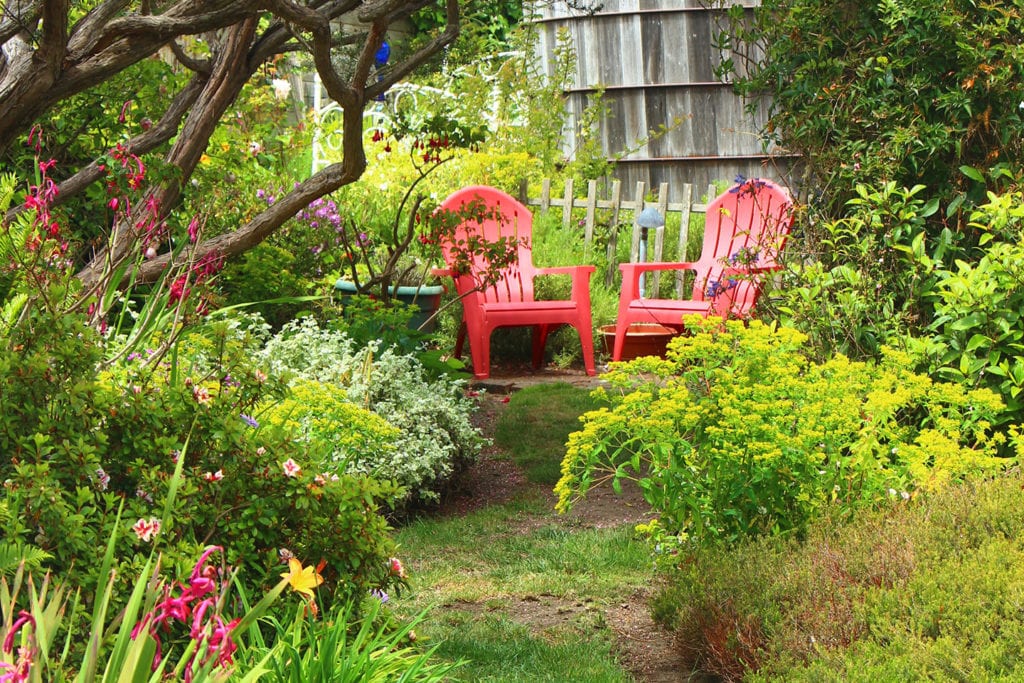 Garden Inspiration from California Inns
Gardening has always been a form of therapy for me, but never more so in the age of coronavirus. Sharing a house with my husband and a grumpy teenage stepson, the garden is the place that I go to seek refuge from both the weight of current events and what feels like increasingly cramped living quarters. In the garden, the simple task of weeding manages to clear my head. Working the soil and planting provides a sense of accomplishment. Watching a leaf begin to unfurl or a bud breaking open renews my spirit. And while the world rages around me, the garden imparts a sense of peace.
If you're looking for garden inspiration to create your own refuge, I've collected photos of some of my favorite gardens I've discovered while traveling to California inns.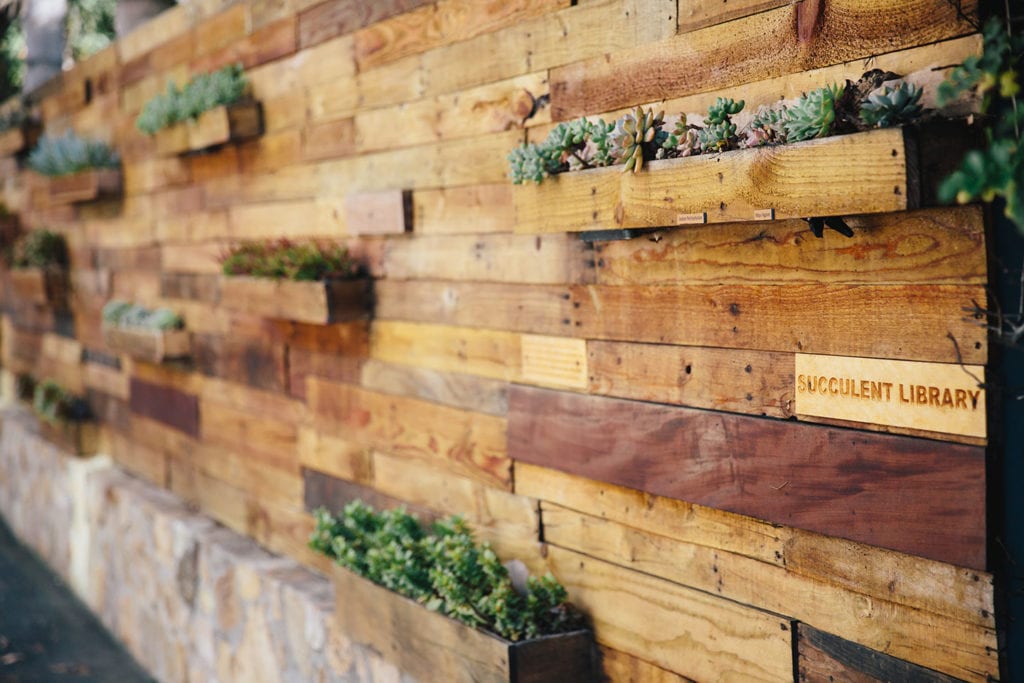 Inn at Moonlight Beach
Following biodynamic farming principles of planting, harvesting, and watering according to the cycles of the moon, the productive gardens at the Inn at Moonlight Beach yield a bounty medicinal herbs, cut flowers, succulents, and fresh vegetables, fruit and tea, all of which are shared with guests. You can even learn how to create your own succulent planter or blend teas at the inn.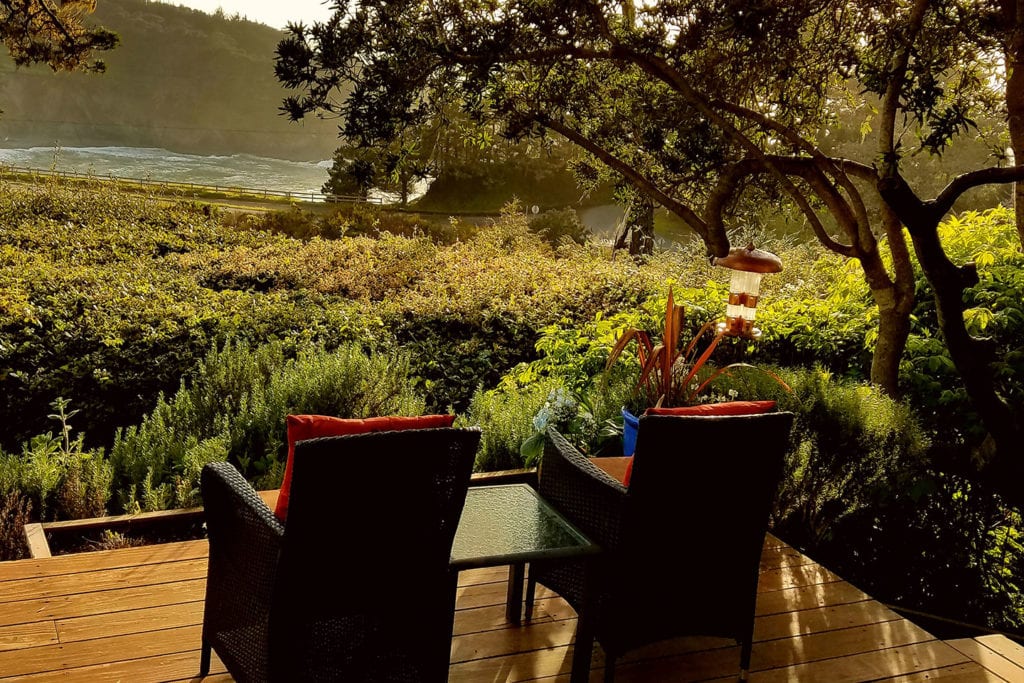 Brewery Gulch Inn
Overlooking the Mendocino Coast, the gardens at the Brewery Gulch Inn blend seamlessly with the natural environment. Utilizing almost exclusively native bushes, flowers, and trees, the inn has created a tapestry of colors and textures that also encourage a healthy local ecosystem. In addition, the inn partners with the Audubon Society to provide sanctuary for indigenous birds.
1906 Lodge
At the 1906 Lodge on San Diego's Coronado Island, subtropical plants thrive in the mild, sun-kissed climate. A lush garden pathway lined with palms, ferns, gardenias, and pops of bright red anthurium lead to a central courtyard featuring bubbling fountains cascading into a shallow pool. The courtyard's perimeter blooms with gardenias, roses, wisteria, and bougainvillea.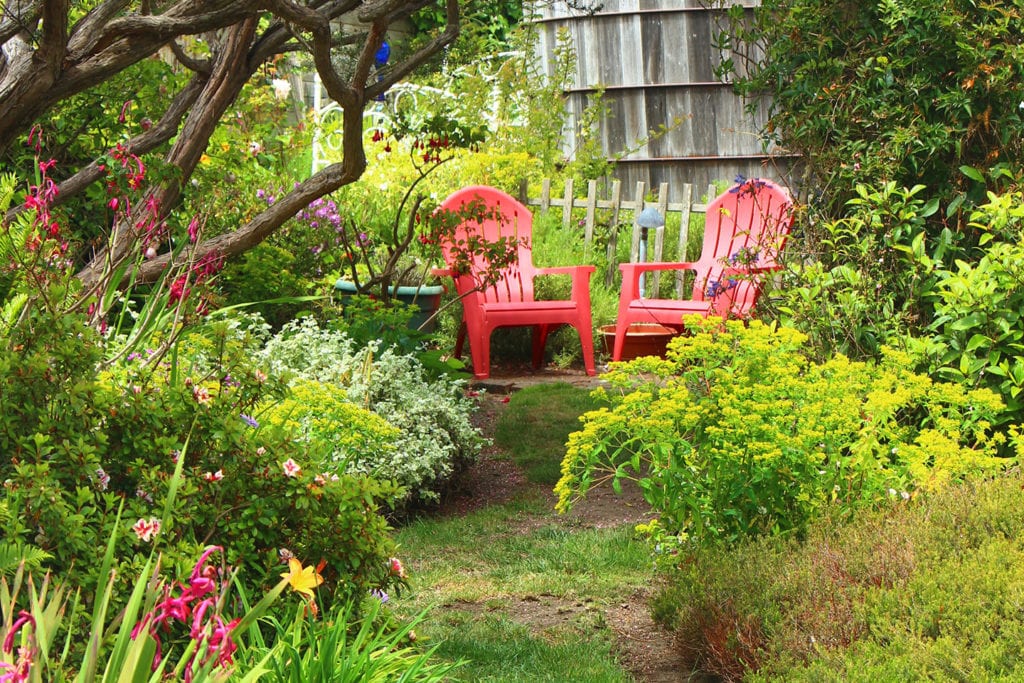 Headlands Inn
Boxwood, azaleas, roses, a verdant lawn and ocean views await guests at Mendocino's Headlands Inn. The inn's meticulously maintained English gardens feature inviting hidden seating areas and metal wind sculptures that animate the landscape. The inn also grows a variety of edible flowers that appear as garnishes on guests' breakfast plates each morning.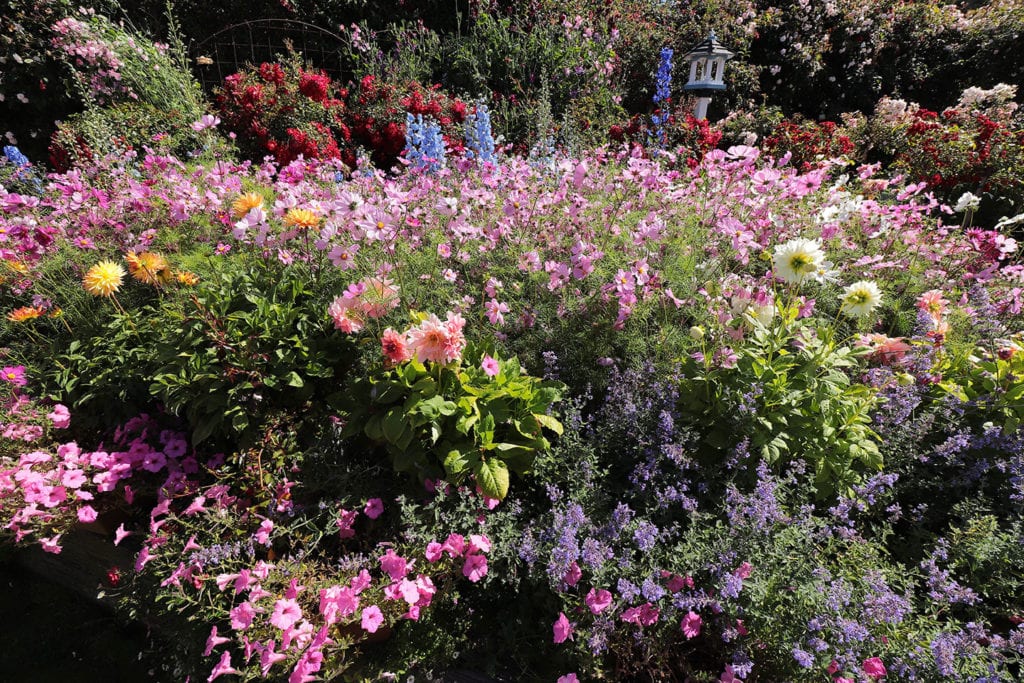 Mill Rose Inn
Set on nearly an acre, the gardens at Mill Rose Inn in Half Moon Bay burst with color year-round and feature hundreds of fragrant perennials, annuals, and more than 200 rose bushes. One of the highlights is a flower-filled gazebo which shelters an intimate outdoor hot tub. The inn's owners (who have degrees in horticulture) designed the gardens and have tended them for 40 years.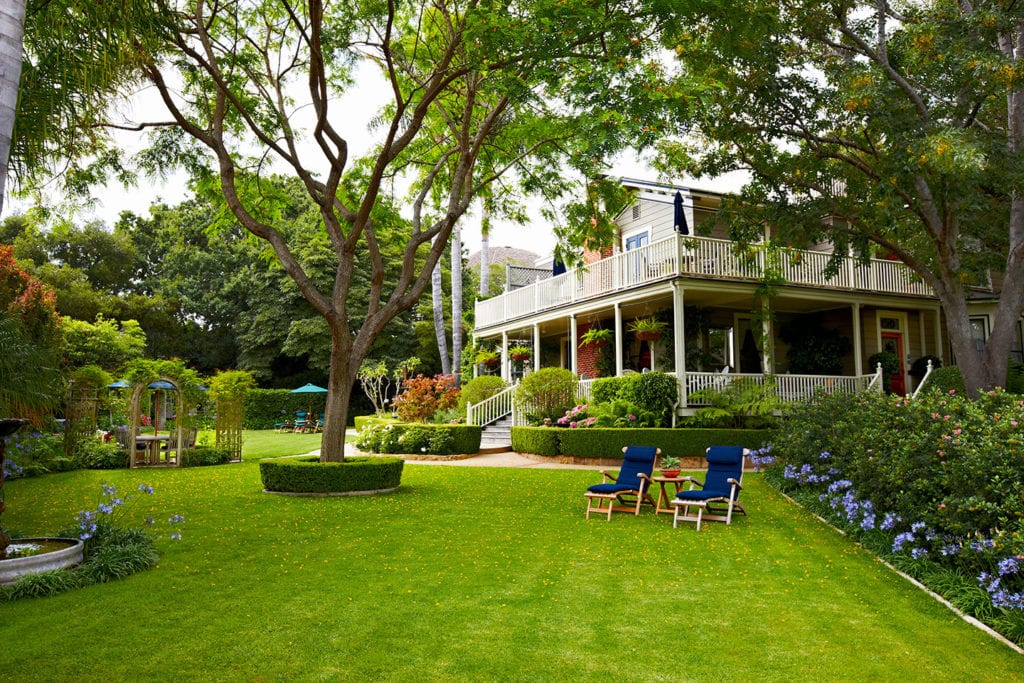 Simpson House Inn
An elegantly restored Victorian estate in Santa Barbara, the Simpson House Inn is secluded behind tall hedges on an acre of beautifully manicured English gardens with expansive lawns, mature trees, seating areas, and relaxing water features. Boxwood hedges are offset with large ferns and blooms of agapanthus, azalea, and hydrangea while scents of jasmine and lavender mingle in the air.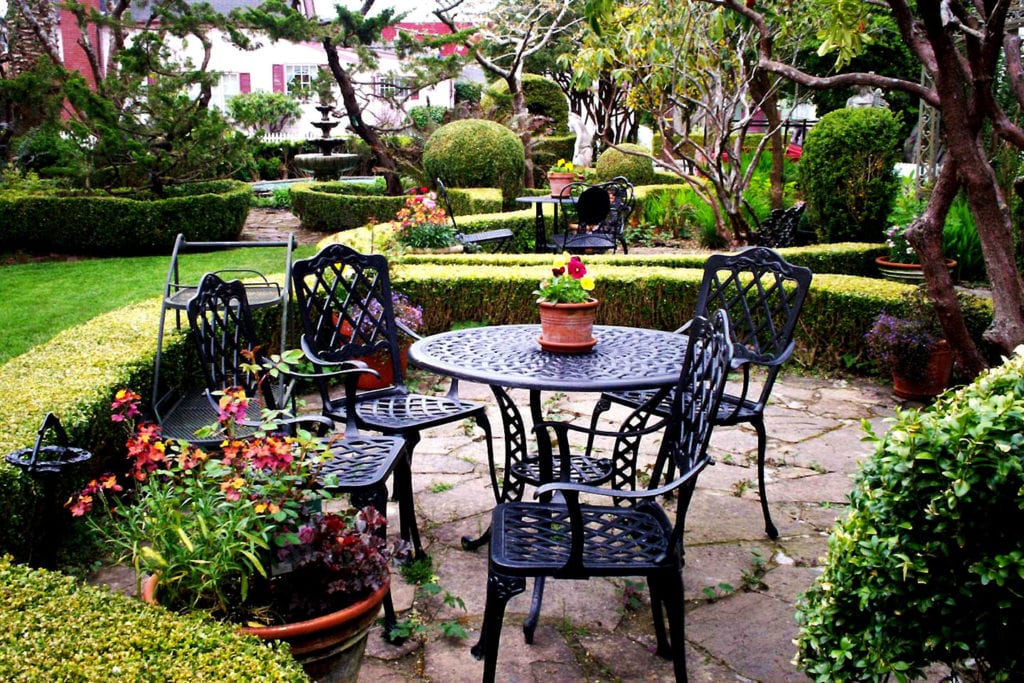 Gingerbread Mansion Inn
Ferndale's Gingerbread Mansion Inn features a lush, perfectly-manicured English garden with topiary-style shrubs, story-tall camellias, brick paths, old-world statues, and a stately fountain. Sitting areas flank the fountain, which is a perfect spot for cuddling with a sweetheart or a book. Decks and other seating areas provide intimate spots for enjoying the garden with morning coffee or a glass of wine.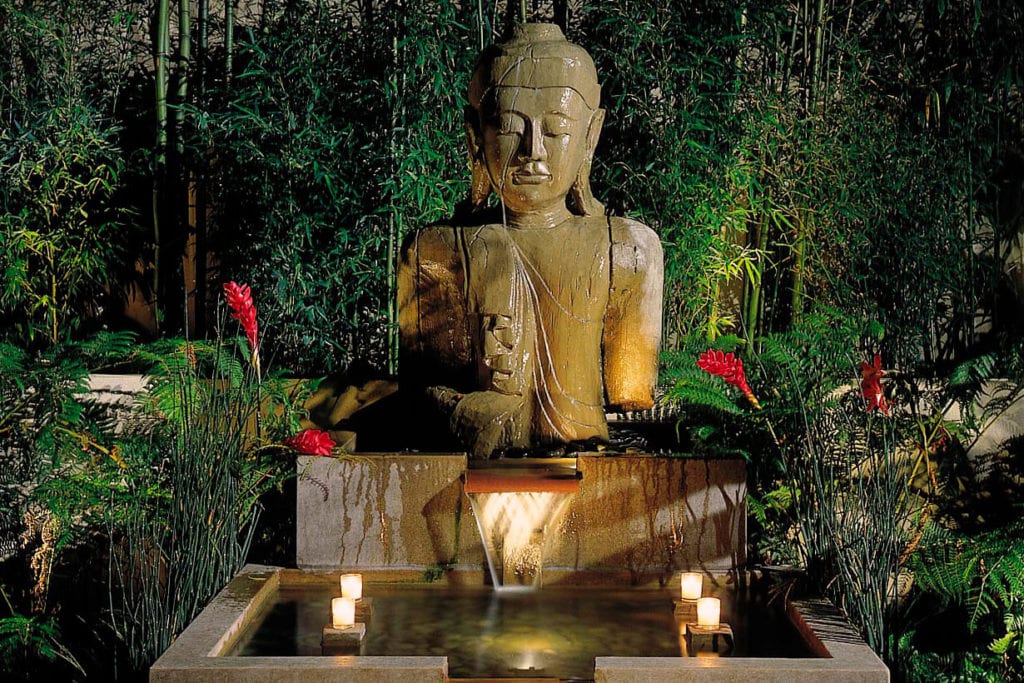 Tradewinds Carmel
Inspired by principles of feng shui, the gardens Tradewinds Carmel incorporate Japanese, Balinese, and Chinese elements, including a Zen meditation garden with towering temple bamboo, ferns, giant birds of paradise, flowering ginger, and other lush tropical plants. In the evening, guests can enjoy a relaxing fire pit while listening to the soothing sounds of bubbling fountains and a nearby stream.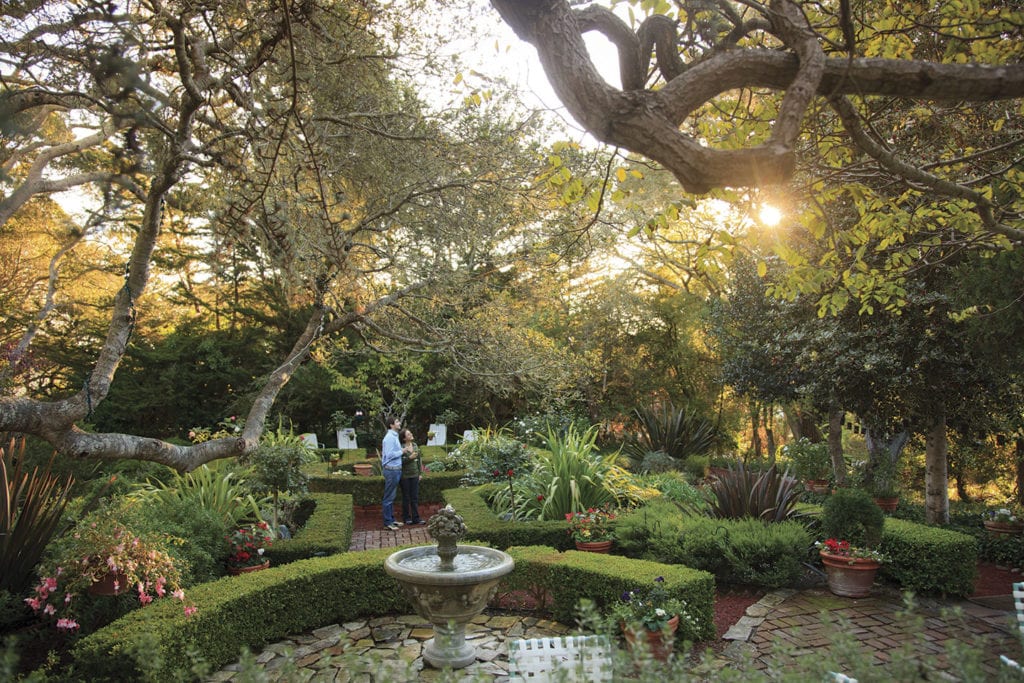 Old Monterey Inn
Walking under the old oak trees, guests of Old Monterey Inn will find a profusion of flowers in a whimsical cottage garden that looks as though it was drawn from the pages of a fairytale. Wander the different paths to discover roses, lavender, and hummingbirds. Secluded sitting areas are perfect for enjoying a glass of wine or a good book while listening to soothing fountains.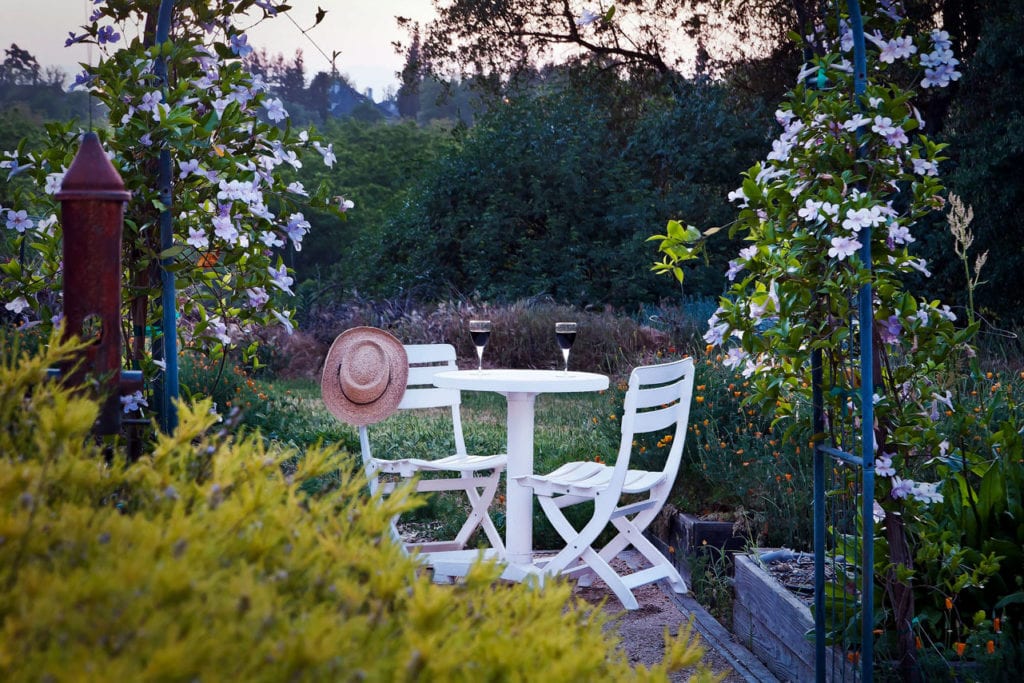 Inn at Locke House
At the historic Inn at Locke House near Lodi, papery white Matilija poppies, delicate pink peonies, rose campion, English daisies, iris and roses of all hues are just some of the treasures that bloom during the year. An assortment of evergreens, native and ornamental trees including Canary Island pine, blue and valley oaks provide shady spots to sit and view the changing landscape.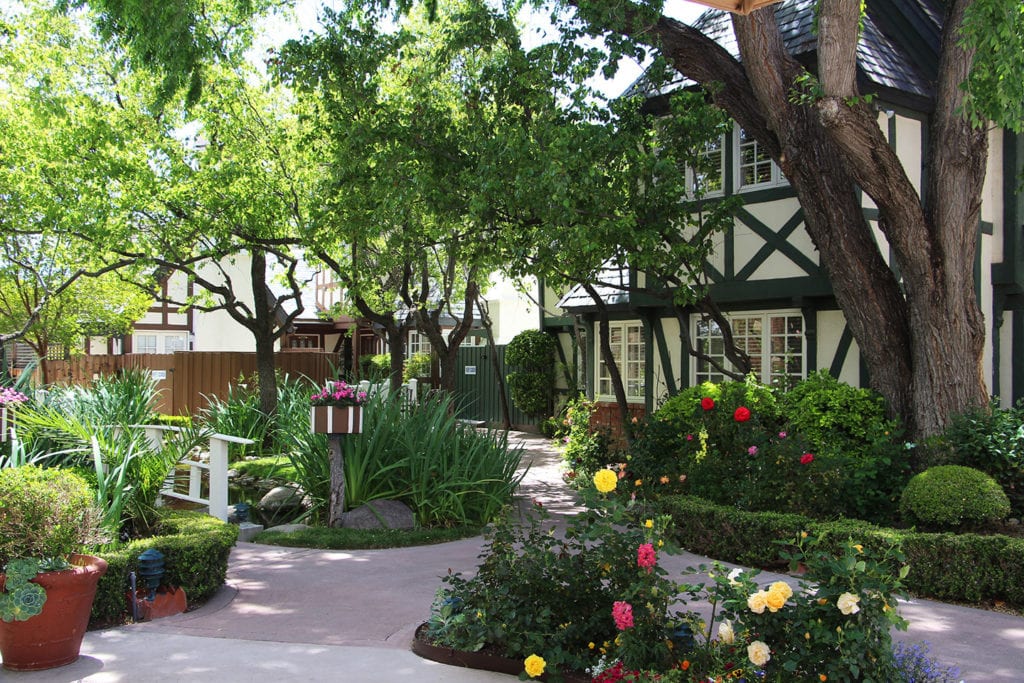 Wine Valley Inn & Cottages
In Solvang, under the shade of stately willow and oak trees, guests of the Wine Valley Inn & Cottages can meander along hidden garden paths and footbridges to watch fish swim in the koi ponds and find inspiration in the cascades of greenery and blooms. The wheelchair accessible garden also features an outdoor fireplace for gathering around on cooler evenings.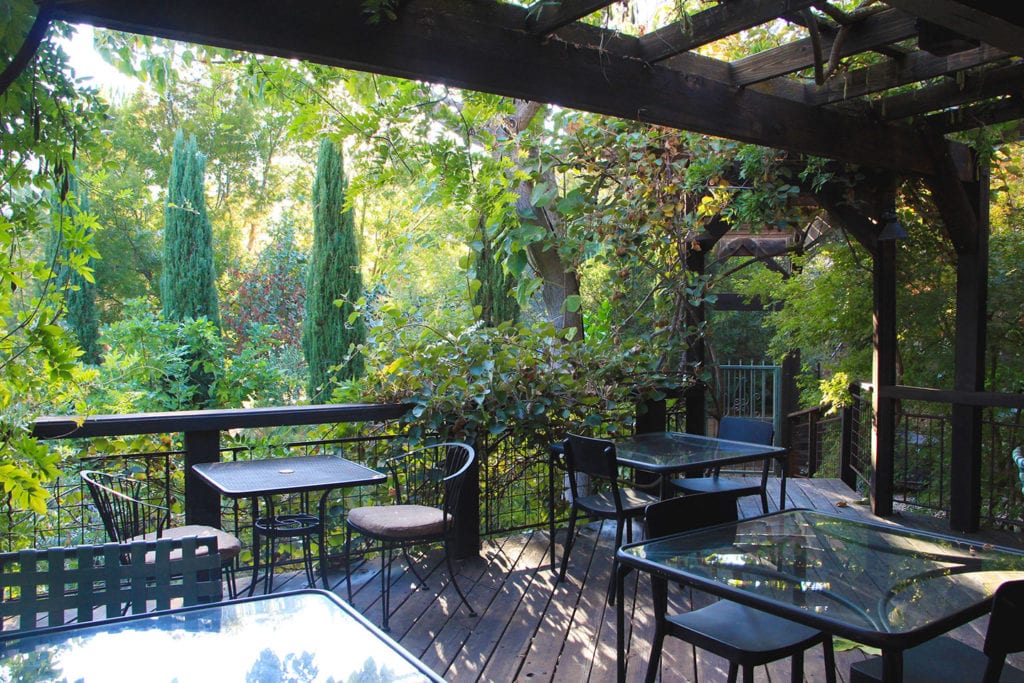 Eden Vale Inn
Eden Vale Inn is a verdant sanctuary nestled in the straw-colored hills of California's Gold Country. Over the years, the land surrounding the inn have been transformed into a lush paradise. A wide array of trees, shrubs, vines, and grasses have grown into a beautiful three-dimensional tapestry of color and texture, which attract over 50 different types of birds.
Cheshire Cat Inn
In Santa Barbara, the enchanting gardens at the Cheshire Cat Inn flourish beneath the sprawling branches of an old oak tree. One of the garden's most striking aspects are the clusters of bloodleaf with red and pink variegated leaves and deep burgundy cordyline that offset the garden's greenery. Tables and chairs scattered throughout the garden invite quiet enjoyment.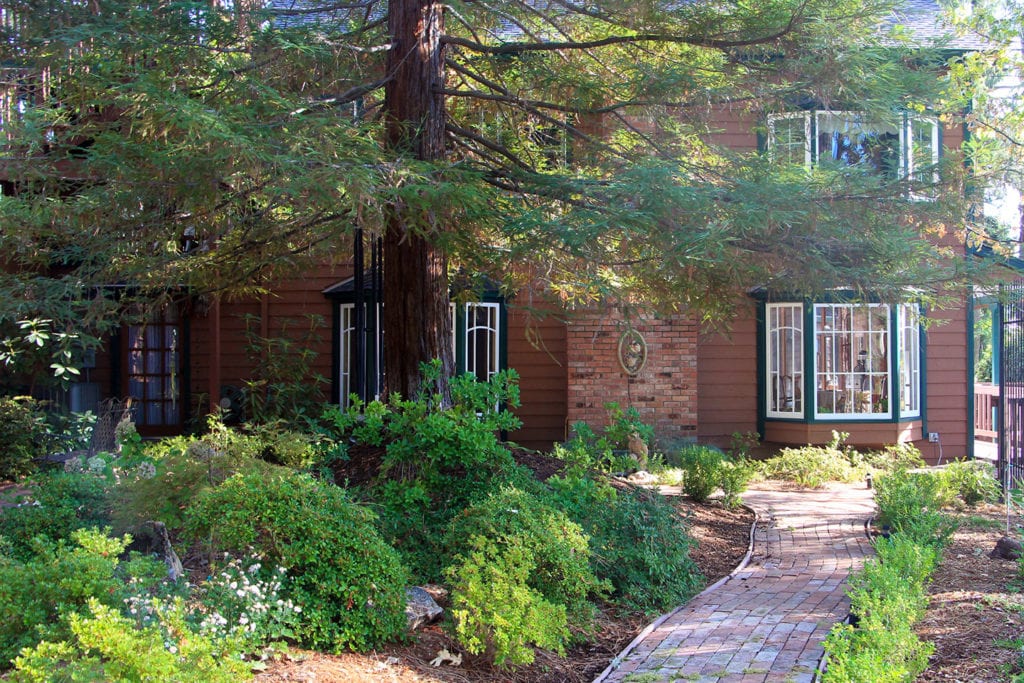 The Green Toad Bed & Breakfast
In a little-known region of the Sierra Foothills near the historic gold rush town of Georgetown, The Green Toad Bed & Breakfast is a gardener's delight nestled on 40 acres. It features a lovely azalea garden amid the shade of a redwood tree. Venturing a bit further on the paths through the forest, you'll find secret koi ponds and other garden surprises.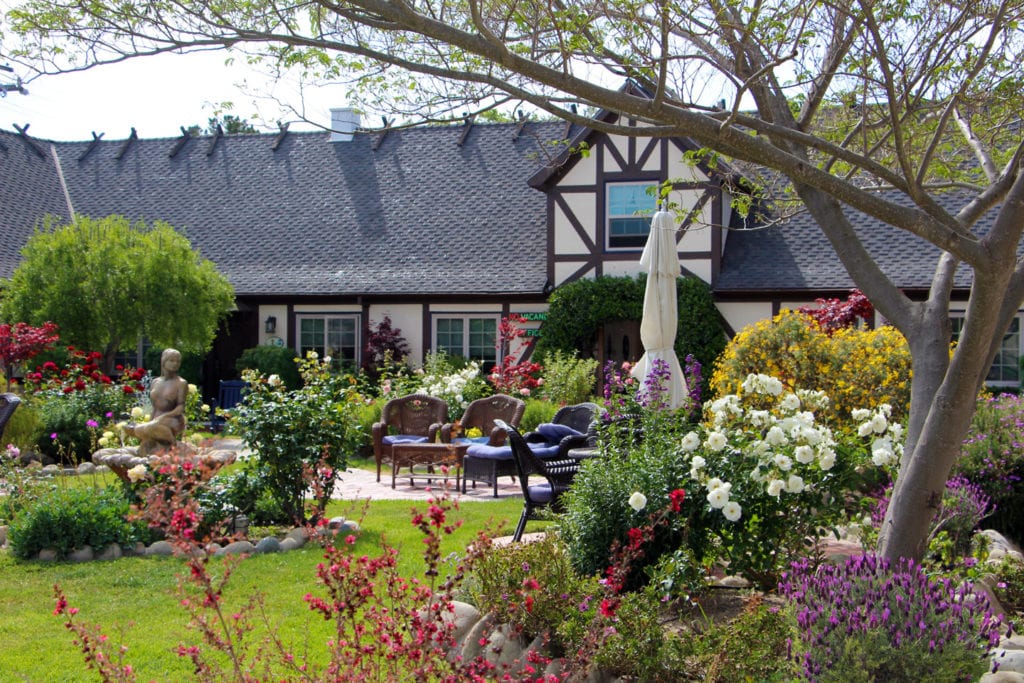 The M Solvang
Two blocks from downtown, The M Solvang (formerly the Solvang Gardens Lodge) is Solvang's oldest hotel, built in 1950. Against the backdrop of its half-timbered architecture, the inn's impeccably-maintained gardens hold tremendous charm with profuse blooms of roses, calla lilies, lavender, and more. The gardens' trickling fountains provide an idyllic setting to relax or play a game of bocce ball.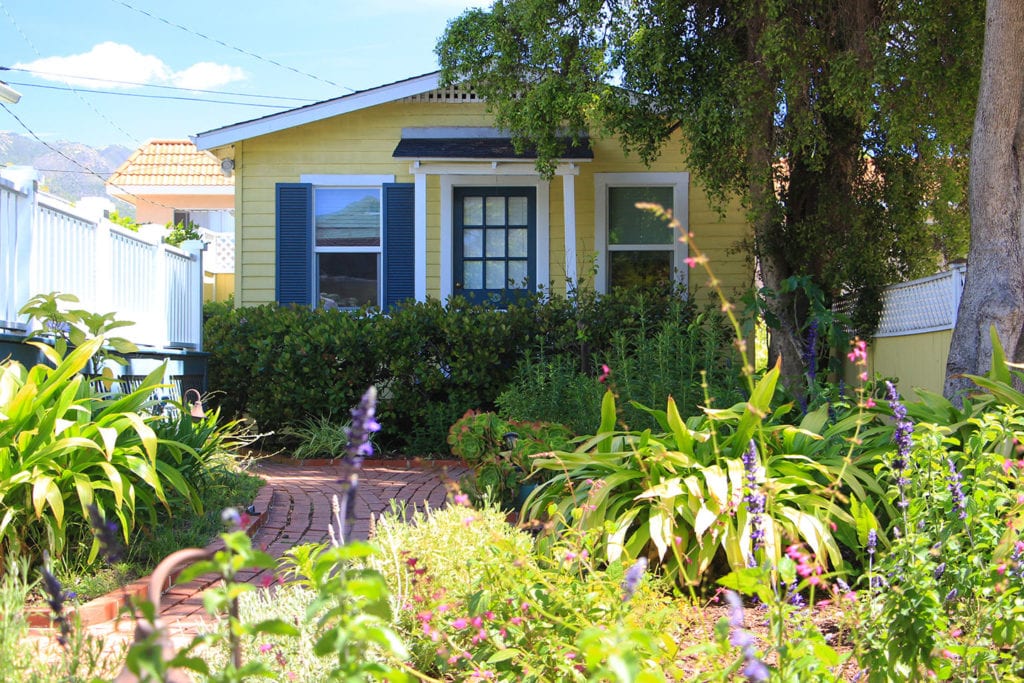 Secret Garden Inn
Secluded behind high hedges in a residential neighborhood of Santa Barbara, Secret Garden Inn's cheery yellow cottages and main house are surrounded by lovely gardens and pathways. In the backyard garden, beneath the sprawling branches of a persimmon tree, you'll find a mix of drought-tolerant mix of saliva, penstemon, ornamental grasses, and succulents.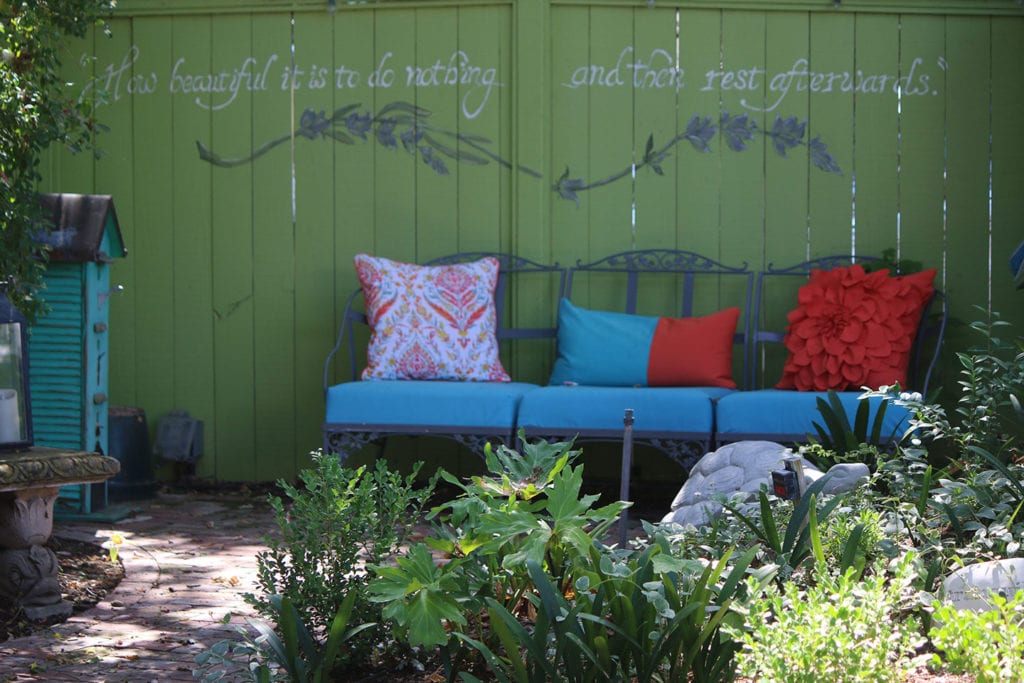 Lavender Inn
One of the highlights of the gardens at the Lavender Inn in Ojai are the many the nooks and crannies for guests to hang out privately and enjoy the garden setting. In the springtime, the gardens are bursting with color amid majestic old oaks, garden art, nine fountains, and a small waterfall that spills into a pond hosting a nightly symphony of frogs.