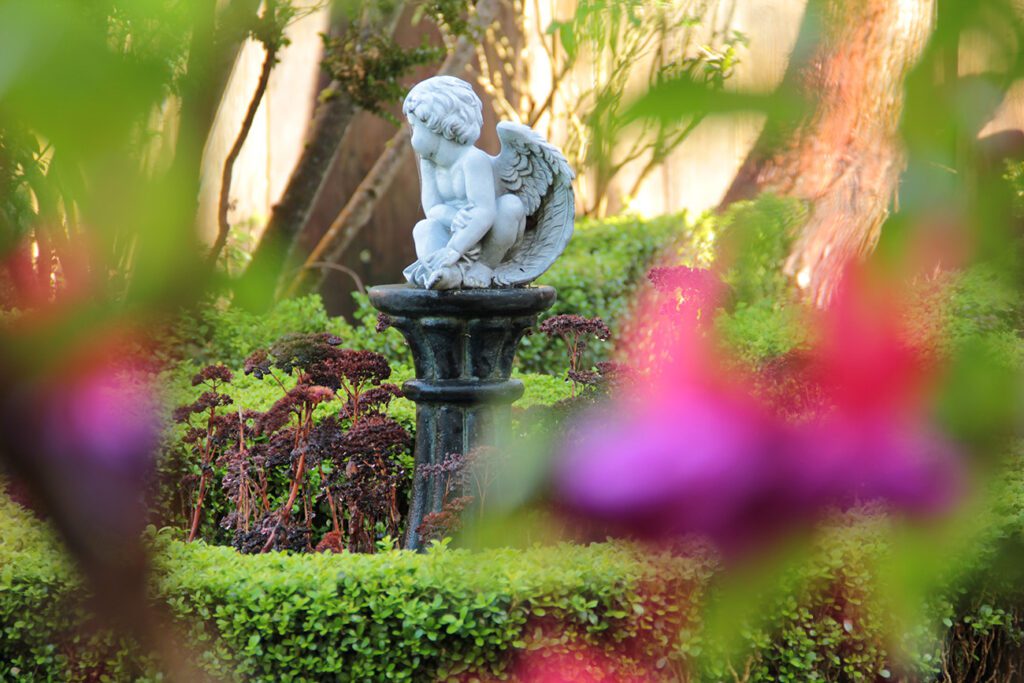 Finding Refuge in the Secret Gardens of California Inns
Gardens can have a spellbinding effect, representing a symbiotic relationship between humanity and Mother Nature. Careful tending gives way to seasons of abundance delivered in fragrant blooms, lush foliage, sprawling branches, and nourishing bounty. The delight is often greater when these verdant spaces are discovered flourishing behind gates or hedges or tucked around hidden corners. These California inns house delightful secret gardens for finding refuge in bloom.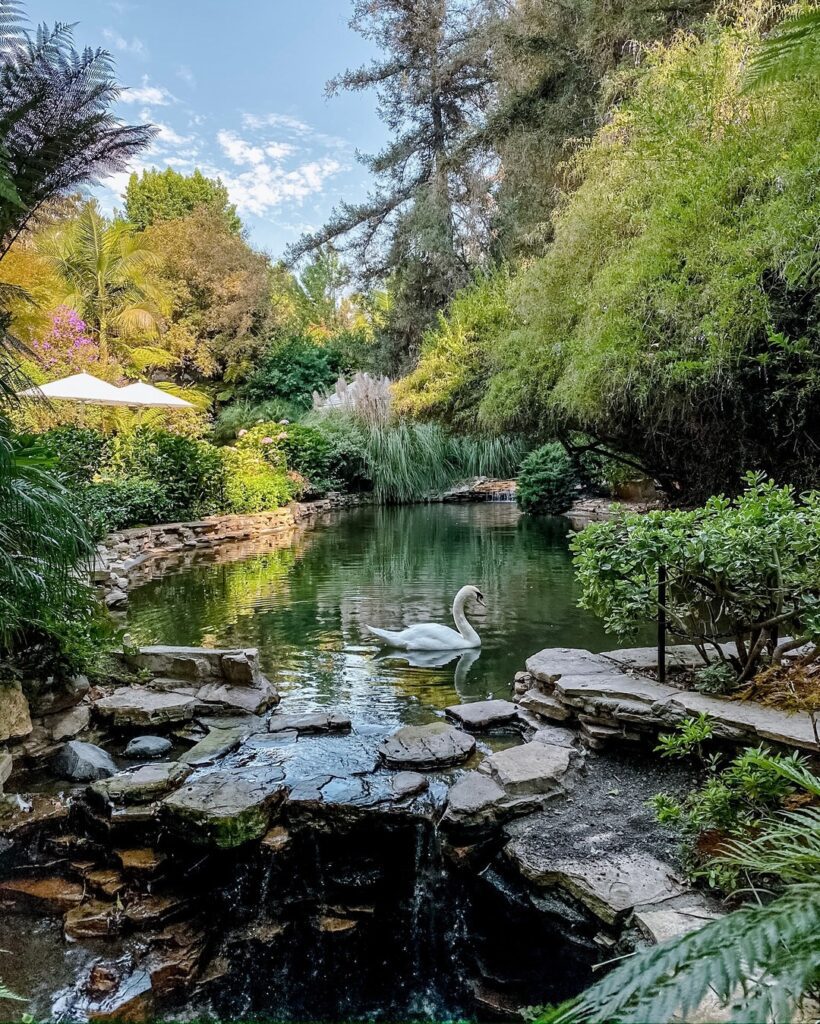 Hotel Bel-Air
The iconic tropical gardens of Hotel Bel-Air in Los Angeles treat guests to a meandering 12 acres of hushed botanical bliss. Stone paths fringed in lush greenery and colorful blooms wind their way past nearly 500 specimen trees and thousands of plants, intersecting with discreet seating areas and hidden nooks for quiet observation. The garden's signature is Swan Lake where resident swans glide the water's surface creating hardly a ripple.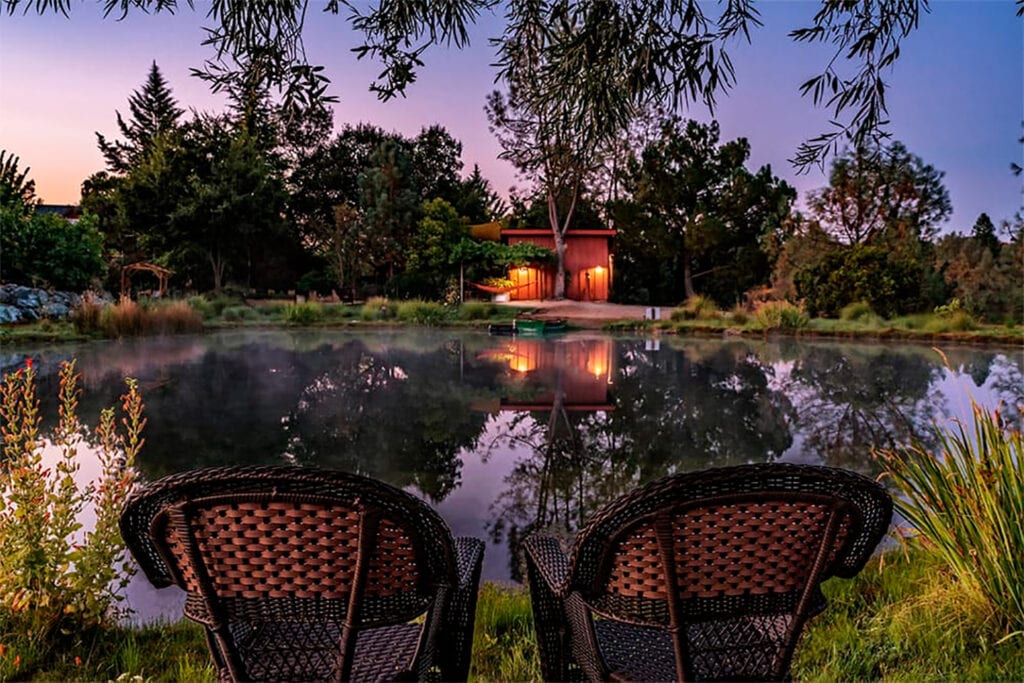 Eden Vale Inn
The gardens of Eden Vale Inn are a verdant sanctuary nestled in the straw-colored hills of California's Gold Country. A wide array of native trees, shrubs, vines, and grasses present guests with a three-dimensional tapestry of color and texture, which attract over 50 different types of birds. Guests can enjoy nature's sights and sounds from several seating areas including shaded lawns, the swimming pond's dock, and the gas fire pit.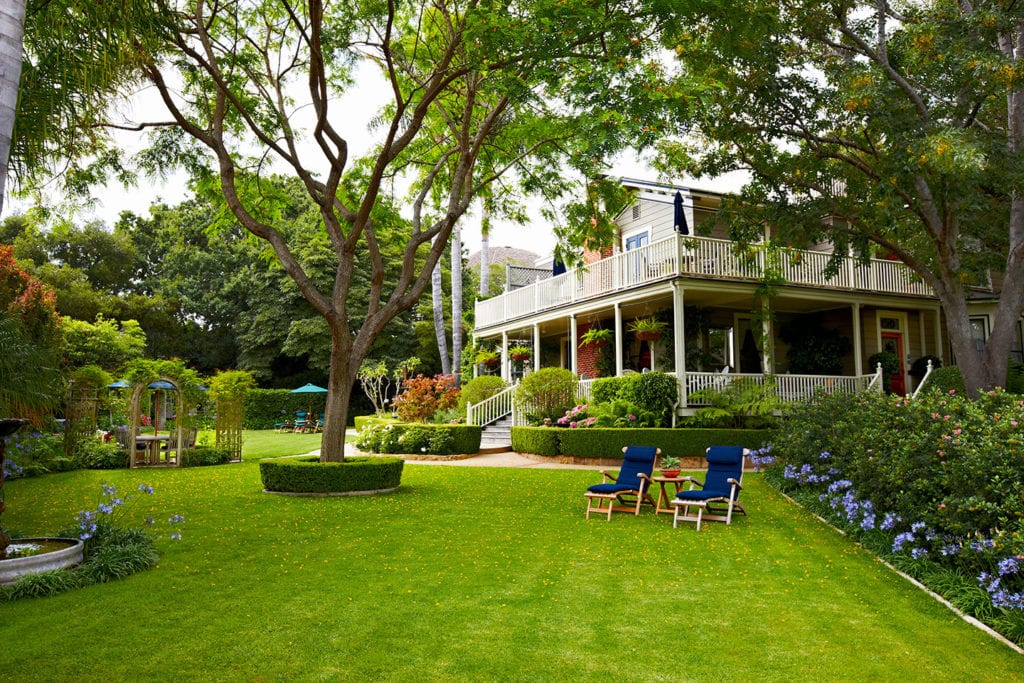 Simpson House Inn
An elegantly restored Victorian estate in Santa Barbara, the Simpson House Inn is secluded behind tall hedges on an acre of beautifully manicured English gardens with expansive lawns, mature trees, and relaxing water features. Boxwood hedges are offset with large ferns and blooms of agapanthus, azalea, and hydrangea while scents of jasmine and lavender mingle in the air. Seating includes chaise lounges, umbrellaed tables and chairs, and an intimate gazebo.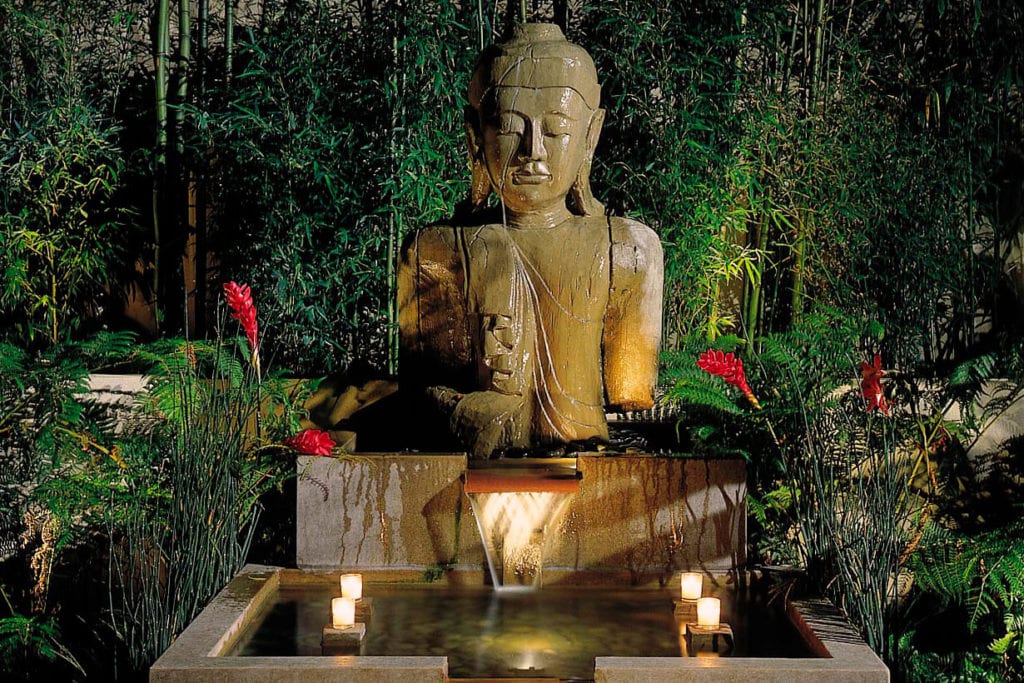 Tradewinds Carmel
Inspired by principles of feng shui, the gardens at Tradewinds Carmel incorporate Japanese, Balinese, and Chinese elements, including a Zen meditation garden with towering temple bamboo, ferns, giant birds of paradise, flowering ginger, and other lush tropical plants. A regal Buddha statue anchors the garden's terraced fountain. In the evening, guests can enjoy a relaxing fire pit while listening to the soothing sounds of bubbling fountains and a nearby stream.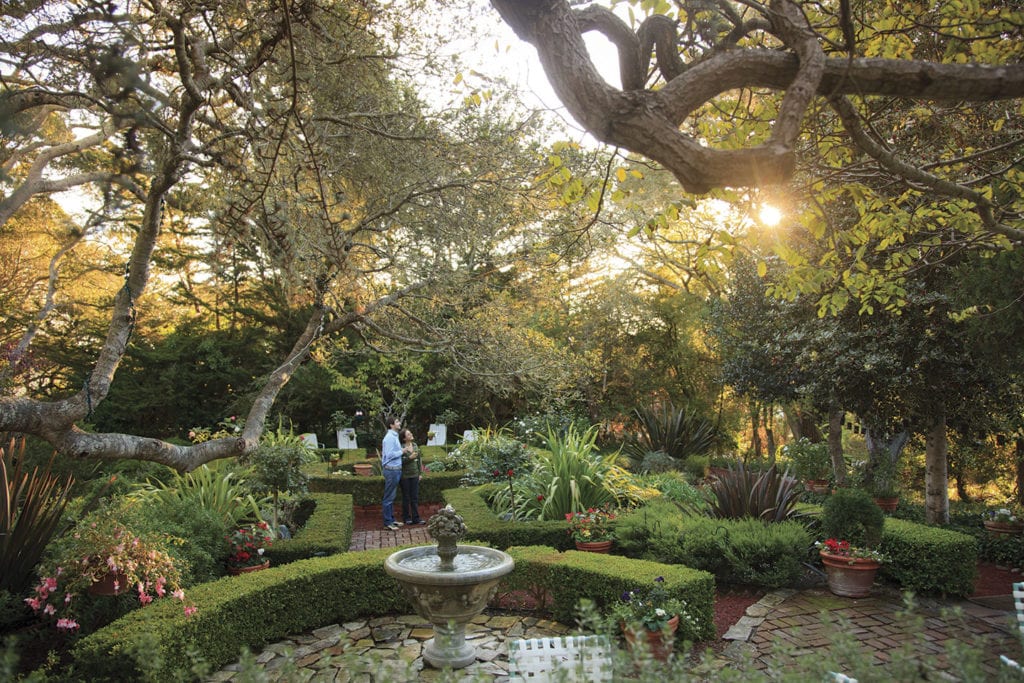 Old Monterey Inn
Walking under the old oak trees, guests of Old Monterey Inn will find a profusion of flowers in a whimsical cottage garden that looks as though it was drawn from the pages of a fairytale. Wander paths of stone and brick that lead to fragrant clusters of roses and lavender. Secluded sitting areas are perfect for spying on hummingbirds, enjoying a glass of wine, or simply listening to soothing water fountains.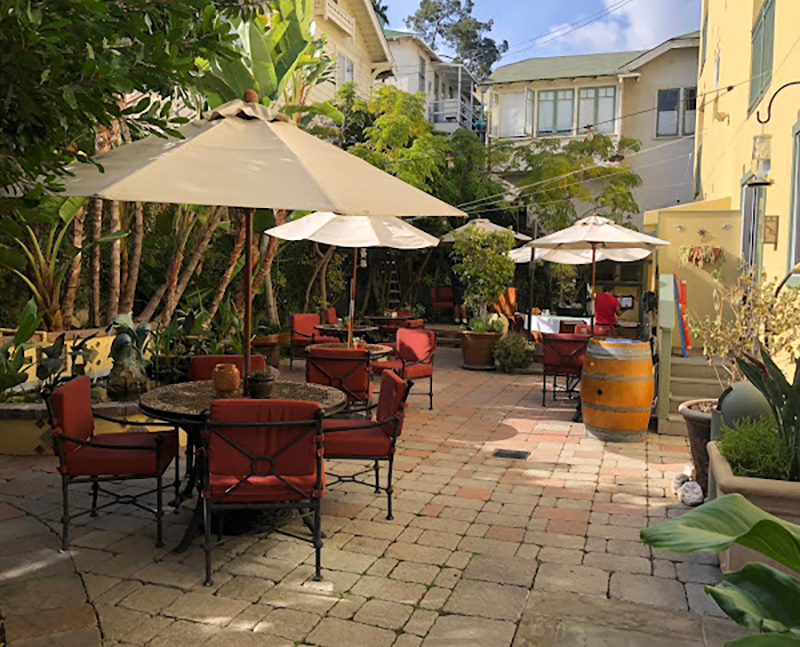 The Avalon Hotel
The Avalon Hotel's courtyard garden of towering palms and exotic plantings offers guests a tranquil space buffered from Catalina Island's tourist zone. Bistro tables and bench seating encircle the courtyard's fountain of sculpted bronze dolphins and a koi pond. Black bird of paradise evokes the island's cormorant, while fuchsia, star jasmine, and other flowering plants pop with color. In the evening, guests can cozy up to the gas fire pit.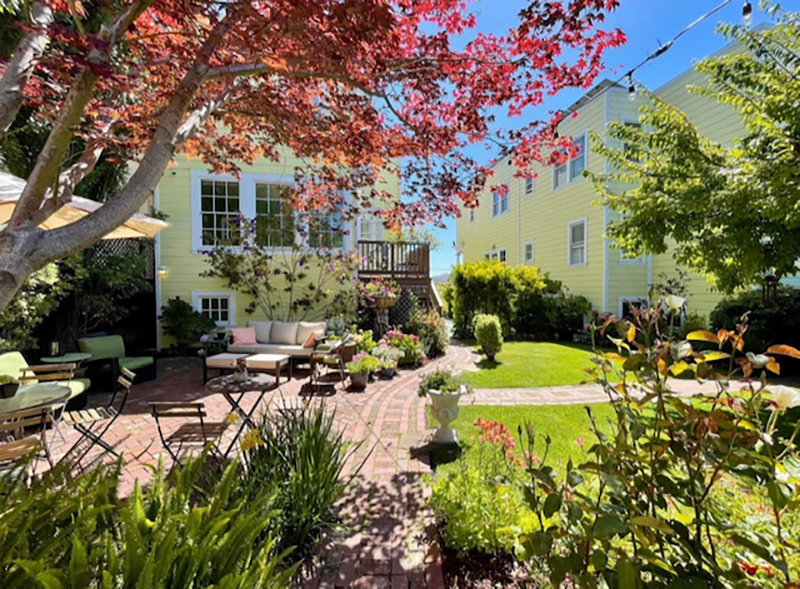 Parker Guest House
A secret garden connects the two historic homes that comprise Parker Guest House in San Francisco. Hidden behind wrought iron gates, an Italianate-tiered fountain beckons guests to wander beyond to a garden dressed in oversized ferns, fruit trees, roses, anemones, and hydrangeas. Several private sitting areas, including a shaded gazebo and a sunny patio, are within view of decorative flower-stuffed stone urns that attract nesting birds, butterflies, and hummingbirds. 
Inn at Moonlight Beach
In Encinitas, the Inn at Moonlight Beach is enveloped by an interconnected, biodynamic urban farm that yields both meditative enclaves and productive landscapes of medicinal herbs, cut flowers, succulents, and delicious vegetables, fruit, and tea that are shared with guests. While the farm is only 1/3 acre in size, it grows more than 60 different edible plants. Guests can learn about regenerative gardening and create their own mini garden to take home.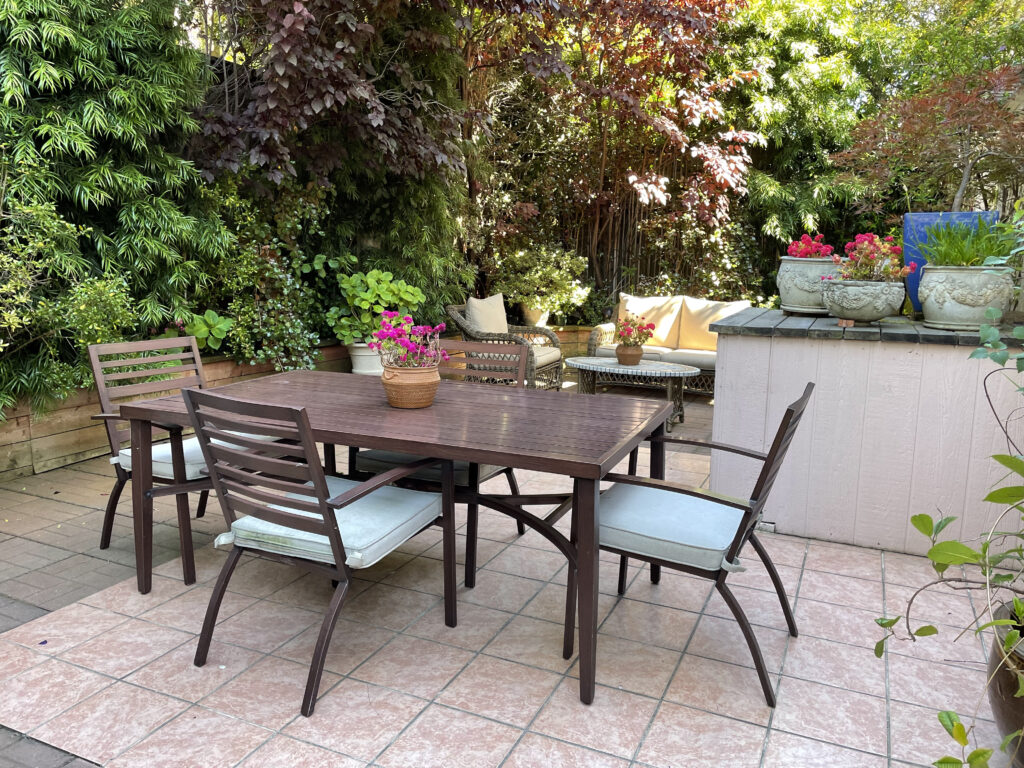 Inn San Francisco
The din of urban hustle softens in the tranquil spaces of Inn San Francisco's English-style garden. Multiple seating areas, shaded by avocado and California walnut trees, invite quiet reflection, private conversations, or small group interactions set among colorful blooms year-round. A walled gazebo features a sunken redwood hot tub trimmed with potted orchids, lush ferns, and flowering vines. The hot tub is available for guest use 24 hours a day. 
Calistoga Wine Way Inn
Sweeping views of wine country's Mount St. Helena and the Palisades mountains are a treasured discovery upon reaching the top landing of Calistoga Wine Way Inn's outdoor sanctuary. Spacious and adorned with vibrant gardens, each level of the inn's multi-level redwood deck features shaded and sun-drenched seating areas and a rotating montage of seasonal blooms. At night, guests can gather around the fire pit and gaze for shooting stars above. 
Casa del Mar Inn
Casa del Mar Inn's courtyard garden is a nod to Santa Barbara's classic Spanish-style landscape design. The white adobe walls of this private outdoor space are framed in brilliant bougainvillea, lush palms, and native ornamentals. A tiered stone fountain cascading with succulents anchors it all. Courtyard guest amenities include reclining chaise lounges and bistro table seating. Cushioned built-in benches encircle an elevated gas fire pit for enjoying crisp coastal evenings. 
1906 Lodge
At the 1906 Lodge on San Diego's Coronado Island, subtropical plants thrive in the mild, sun-kissed climate. A lush garden pathway lined with palms, ferns, gardenias, and pops of bright red anthurium lead to a central courtyard featuring tables for two and bubbling fountains cascading into a shallow pool. The courtyard's perimeter blooms with gardenias, roses, wisteria, and bougainvillea, providing a fragrant setting for enjoying morning coffee or afternoon beverages.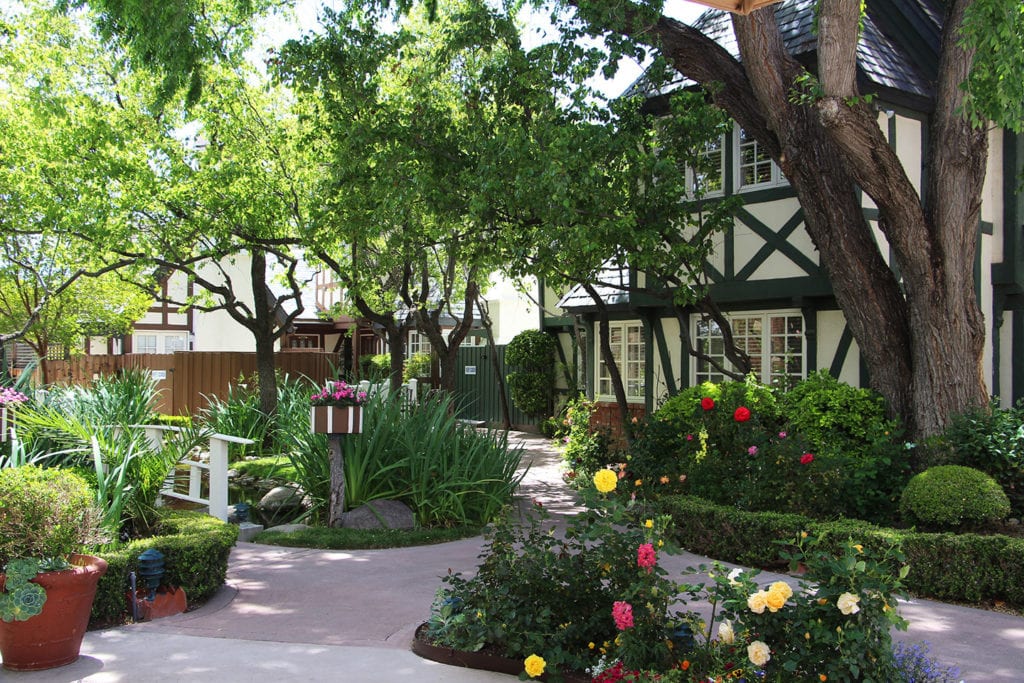 Wine Valley Inn & Cottages
Under the shade of stately willow and oak trees, guests of the Wine Valley Inn & Cottages in Solvang can meander along hidden garden paths and footbridges to watch fish swim in the koi ponds and find inspiration in the cascades of greenery and blooms. Garden seating allows guests the option of enjoying breakfast outside. The wheelchair-accessible garden also features an outdoor fireplace for gathering around on cooler evenings.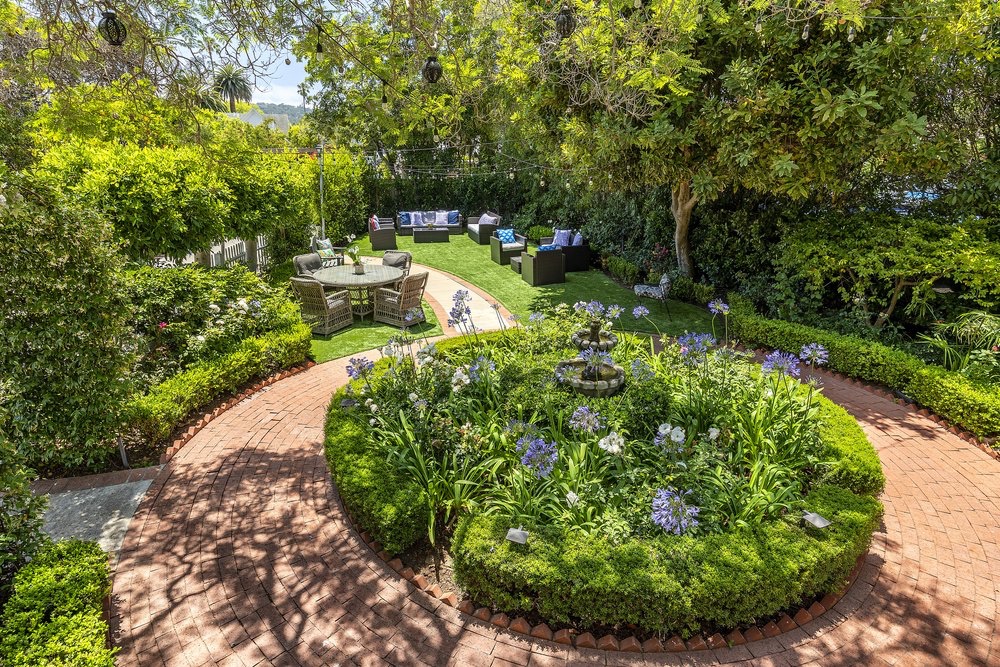 De La Vina Inn
In Santa Barbara, the treed parklike setting of De La Vina Inn indulges guests in a tranquil escape. The inn's 1/3-acre of beautifully manicured landscape features a pathway lined with boxwood hedges that guides visitors past inviting seating areas and a circular garden overflowing with blue lily of the Nile and wispy blooms. String lights illuminate a towering jacaranda tree and star jasmine hugs an adjacent arbor in a sweet fragrance.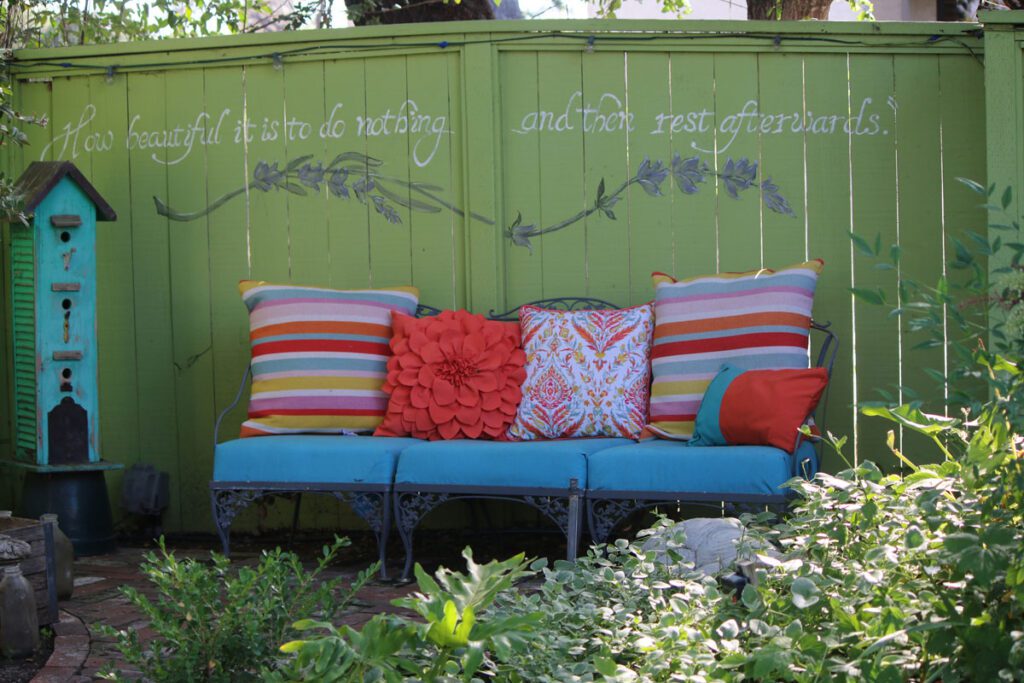 Lavender Inn
The Lavender Inn in Ojai is known for its garden's many nooks and crannies that invite guests to linger longer. Majestic oak trees stand tall over vibrant flowering plants and offer shaded seating on hot summer days. In the evenings, the garden's pond, fed by small waterfall, hosts a symphony of frogs. Guests can also enjoy the soft sounds of trickling water from nine fountains placed throughout the verdant grounds.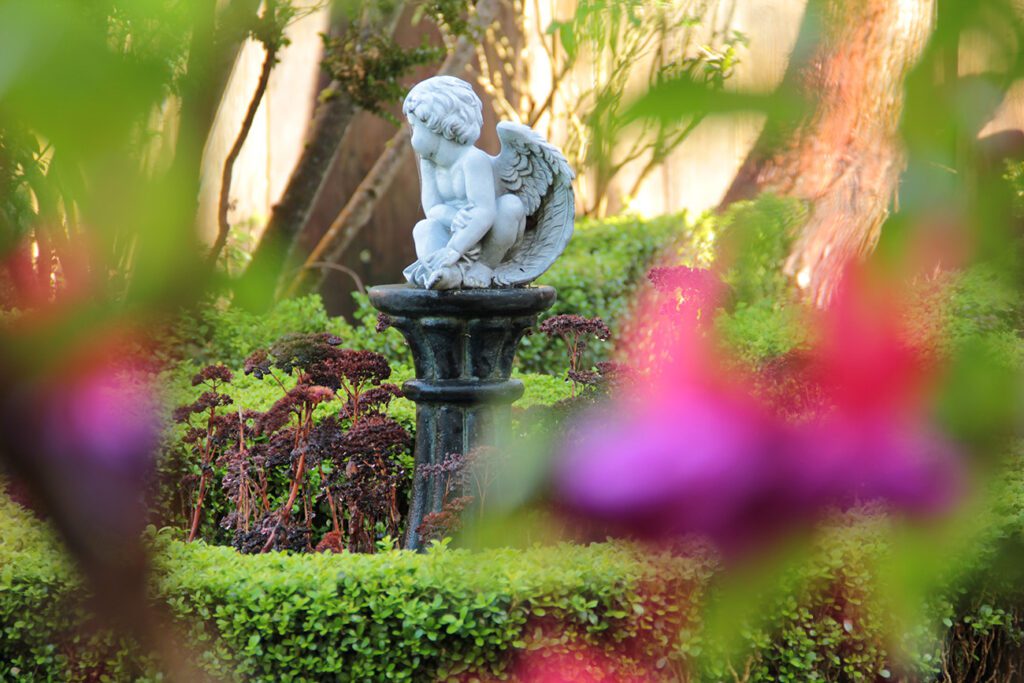 Gingerbread Mansion Inn
Ferndale's Gingerbread Mansion Inn features a lush, perfectly-manicured English garden with topiary-style shrubs, story-tall camellias, brick paths, old-world statues, and a stately fountain. Quiet sitting areas flank the fountain, which is a perfect spot for cuddling with a sweetheart or getting lost in a book. Decks and other seating areas provide intimate spots for enjoying the artful garden spaces with morning coffee or a glass of wine in the evening.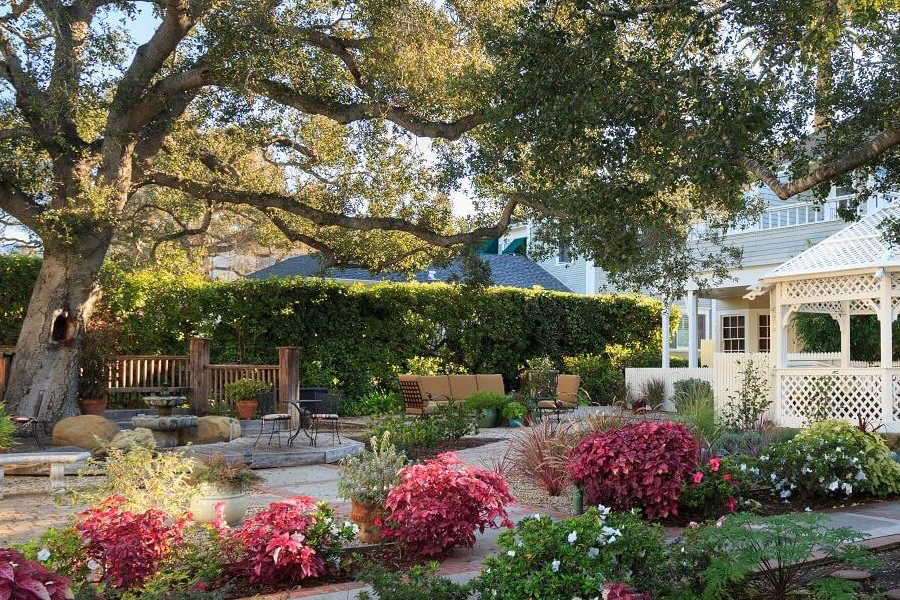 Cheshire Cat Inn
In Santa Barbara, the enchanting gardens at the Cheshire Cat Inn flourish beneath the sprawling branches of an old oak tree. Among the garden's most striking aspects are the clusters of bloodleaf with red and pink variegated leaves and deep burgundy cordyline that offset the garden's greenery. Tables and chairs arranged throughout the garden invite quiet enjoyment. A gazebo offers guests a slightly elevated view of the garden's gems.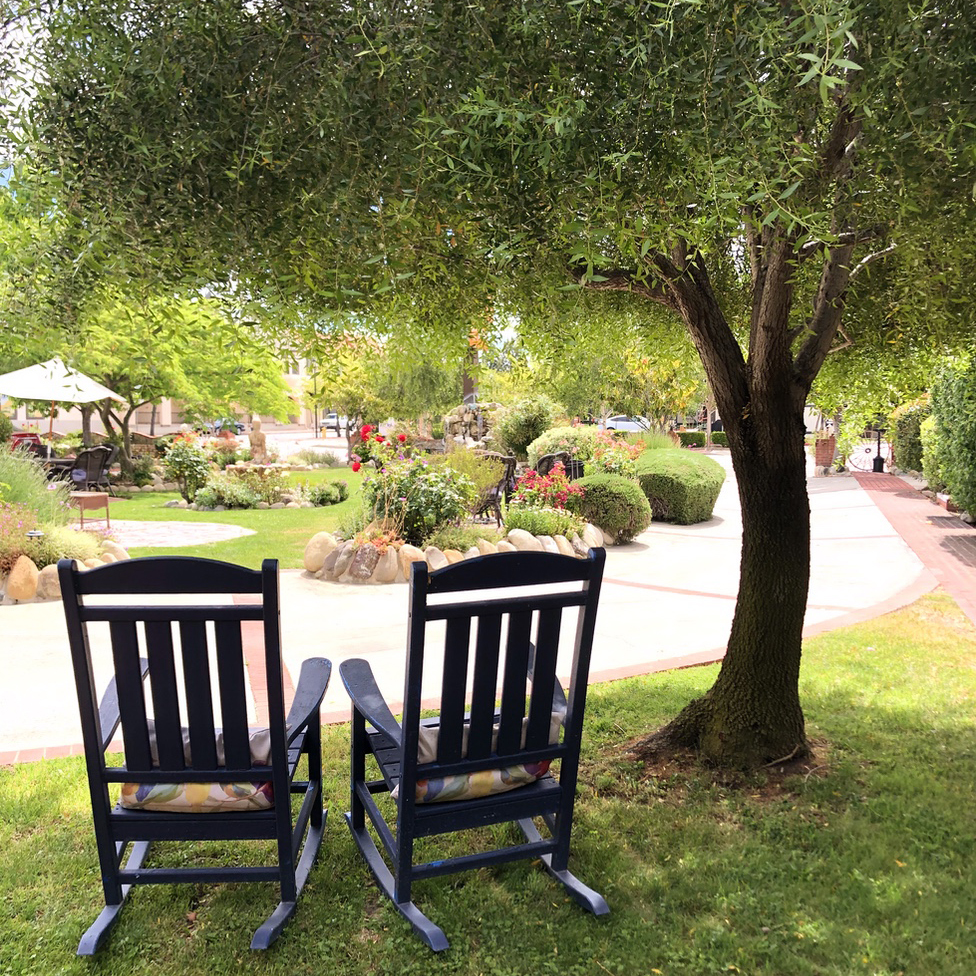 The M Solvang
Two blocks from downtown, The M Solvang (formerly the Solvang Gardens Lodge) is Solvang's oldest hotel, built in 1950. Against the backdrop of its half-timbered architecture, the inn's impeccably-maintained gardens hold tremendous charm with profuse blooms of roses, calla lilies, lavender, and more. The gardens' trickling fountains provide an idyllic setting to relax or play a game of bocce ball. Guests can also unwind in the garden's tree-shaded seating areas.
Headlands Inn
Boxwood, azaleas, roses, a verdant lawn, and dramatic ocean views await guests at Mendocino's Headlands Inn. The inn's meticulously maintained English gardens feature inviting hidden seating areas that honor the inn's dramatic yet peaceful setting. Metal wind sculptures add a whimsical touch that animates the landscape. Guests may sense a touch of bringing the outside in when they notice their breakfast plates garnished with edible flowers from the inn's garden.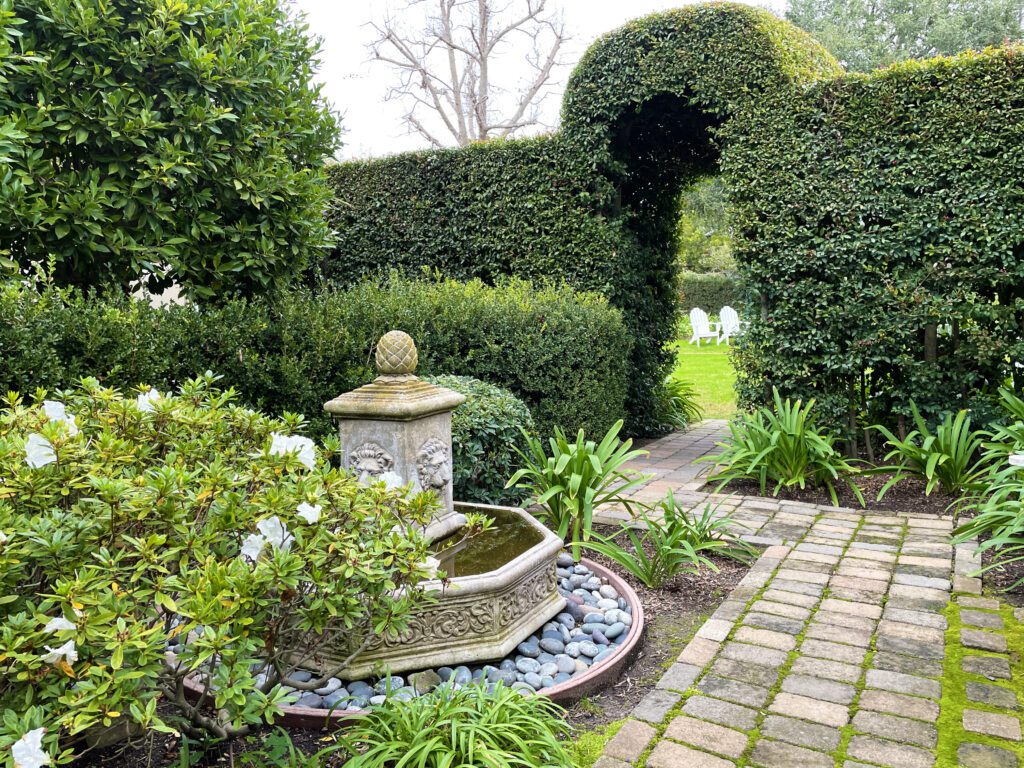 The Upham Hotel
Hidden behind thick, tall hedges at The Upham Hotel, a central landscaped courtyard and secret garden alcove are just two quiet retreats that guests enjoy at this historic Santa Barbara property. A corner gazebo offers shaded seating for views of the garden's verdant borders highlighted by a collage of camellia, azaleas, and lilies. A hedge-trimmed archway at the garden's far end opens to a meditation garden with seating.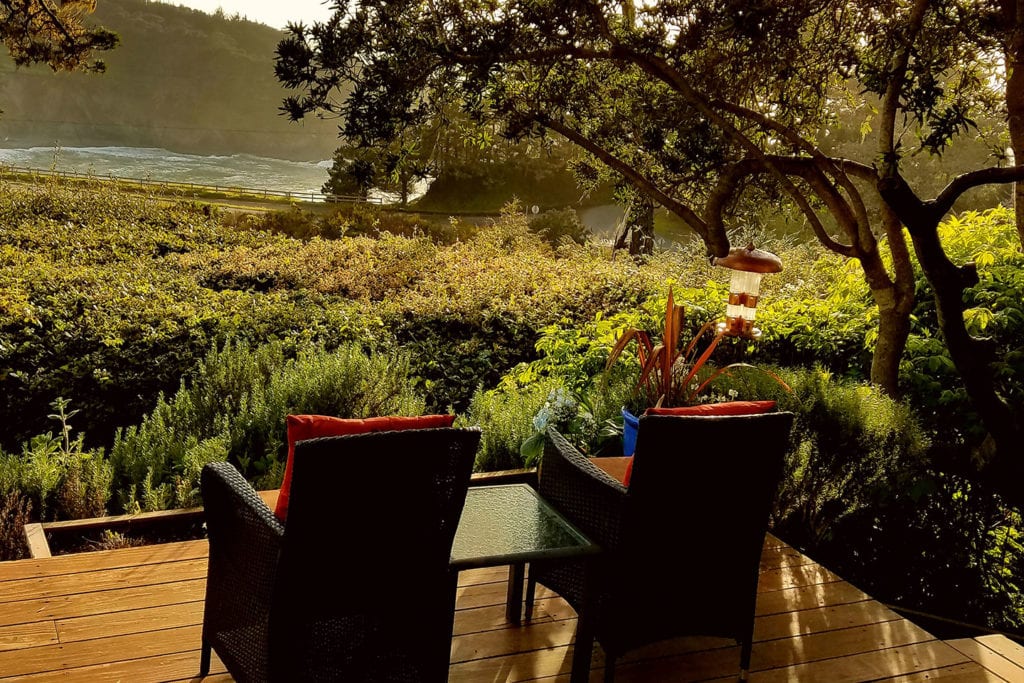 Brewery Gulch Inn
Overlooking the Mendocino Coast, the expansive gardens at the Brewery Gulch Inn blend seamlessly with the natural environment. Utilizing almost exclusively native bushes, flowers, and trees, the inn has created a kaleidoscope of colors and textures that also encourage a healthy local ecosystem. Adding to the garden's allure are the unique opportunities for wildlife and bird watching. The inn partners with the Audubon Society to provide sanctuary for indigenous birds.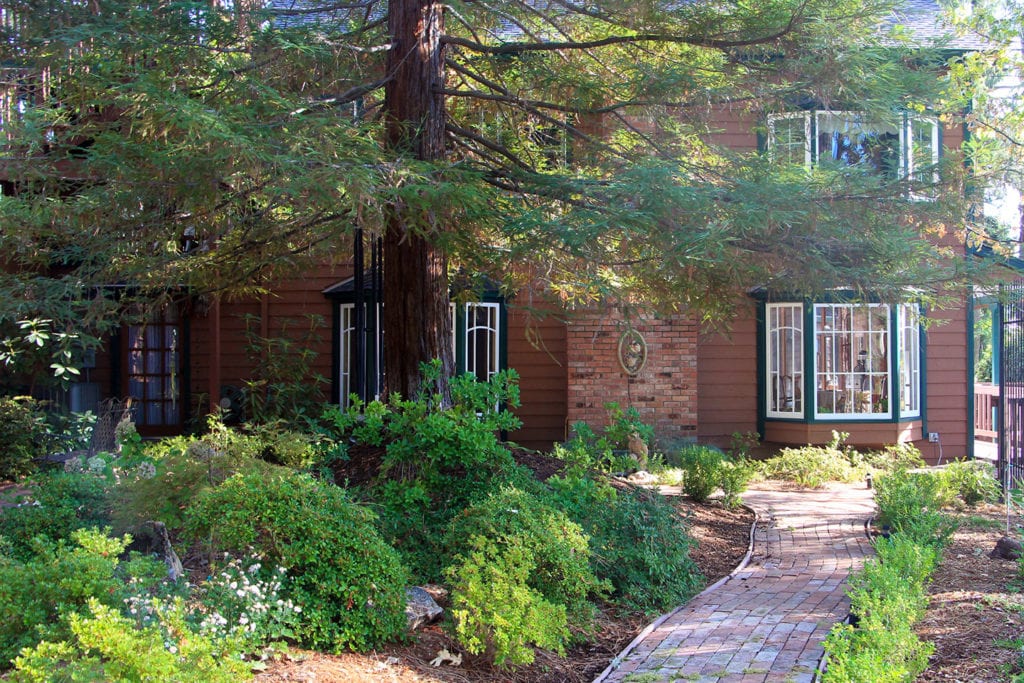 The Green Toad Bed & Breakfast
In a little-known region of the Sierra foothills near the historic Gold Rush town of Georgetown, The Green Toad Bed & Breakfast is a gardener's delight. Spanning 40 acres, the forested grounds feature walking paths that wind past towering redwood trees, an azalea garden, secret koi ponds, and other garden surprises. Guests can also enjoy the garden's peaceful beauty and expansive Sierra views seated comfortably on the inn's 3,000-square-foot deck.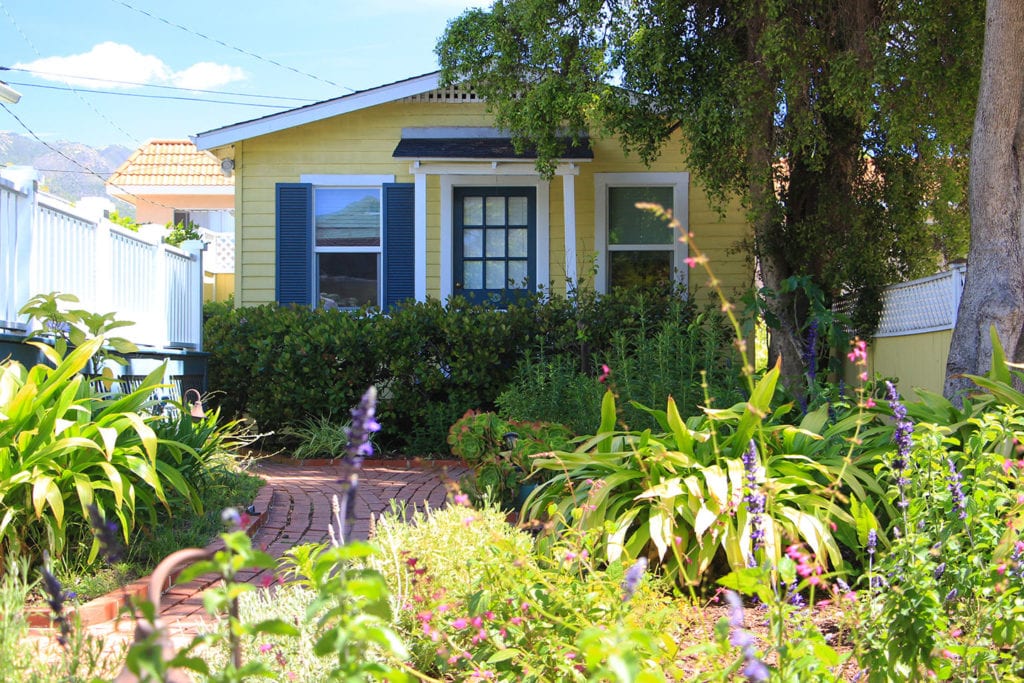 Secret Garden Inn & Cottages
Secluded behind high hedges in a residential neighborhood of Santa Barbara, Secret Garden Inn's cheery yellow cottages and main house are surrounded by vibrant gardens and brick-lined pathways. In the backyard garden, beneath the sprawling branches of a persimmon tree, guests will find a colorful drought-tolerant mix of saliva, penstemon, ornamental grasses, and succulents that thrive in the region's mild year-round climate. These tended spaces are perfect for leisurely strolls.