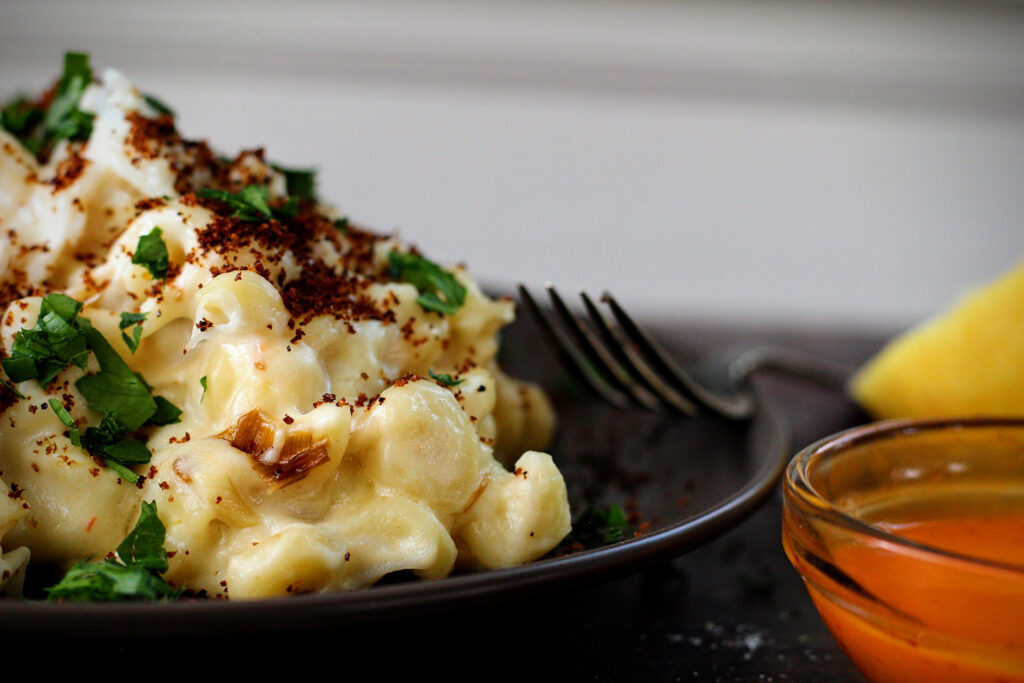 Dungeness Crab Mac and Cheese from Nick's Cove
Nick's Cove & Cottages has been welcoming guests to a tranquil, sheltered cove of Tomales Bay since the 1930s. That's when the construction of State Route 1 initially attracted a deluge of tourists to the area. Nearly a century later, the property is known as much for its award-winning cuisine as it is for its rustic yet luxurious waterfront lodging. Nick's Cove Restaurant and Oyster Bar, the award-winning onsite restaurant, harvests a large percentage of its vegetables and herbs from a thriving onsite garden known as 'The Croft'. In the hunting lodge-themed dining room, diners take in stellar views of Tomales Bay and Hog and Duck Islands.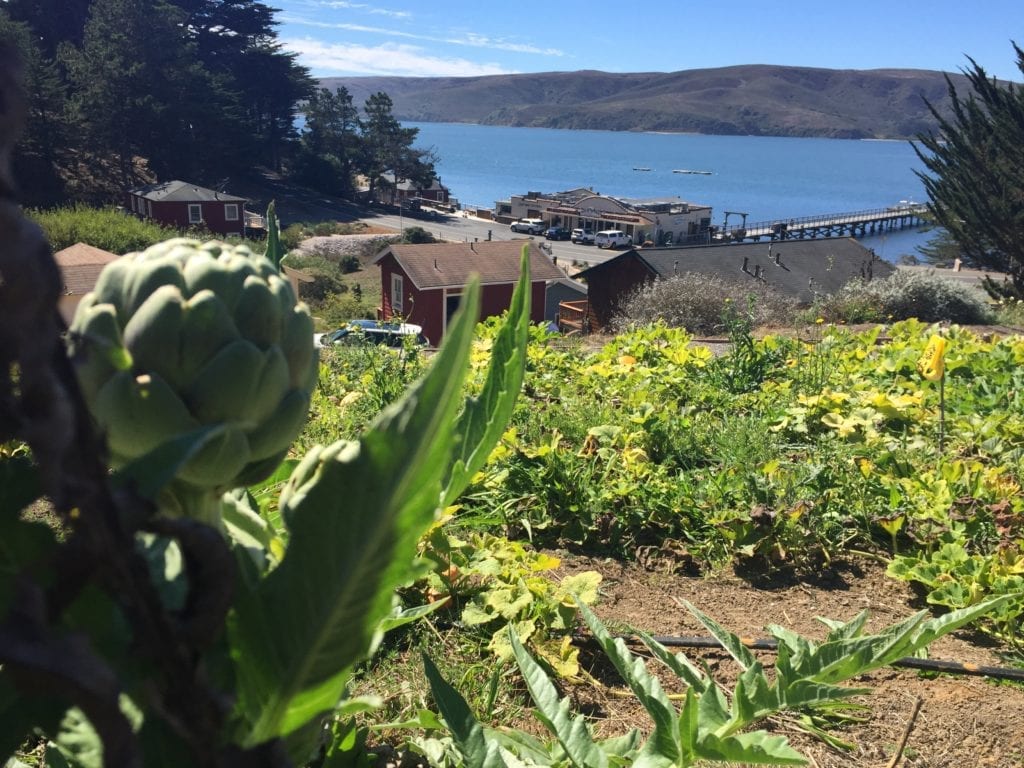 Nick's Cove recently published Table with a View: The History & Recipes of Nick's Cove, a lovingly curated collection of stories, recipes, and photographs highlighting the property's storied past and award-winning cuisine. Much more than a cookbook, the visually stunning compilation is a celebration of the cultural heritage of a region shaped largely by its culinary bounty. Fresh seafood, locally sourced meats, and seasonal produce feature prominently.
The restaurant's Dungeness Crab Mac and Cheese recipe is emblematic of Chef Kua Speer's elegant approach to hearty farm-to-table cuisine. Along with the addition of fresh crab meat and savory leeks, what makes this dish different from most macaroni and cheese recipes is its stovetop preparation. That means seasonings can easily be adjusted before serving. A combination of three cheeses adds just enough sharpness, and a splash of lemon juice cuts through the creamy cheese sauce while highlighting the delicate flavor of the crab. The result is a sophisticated but satisfying lunch or dinner entrée that celebrates the best of both land and sea.
"While our crab mac and cheese is the ultimate in decadence, it also speaks to the kid in all of us. This recipe is so good it goes fast once it's on the table, so you should consider making a double batch. When crab is out of season, you can serve the mac and cheese plain or you can mix in a drizzle of truffle oil or some crumbled cooked bacon." 
— From Table With a View: The History & Recipes of Nick's Cove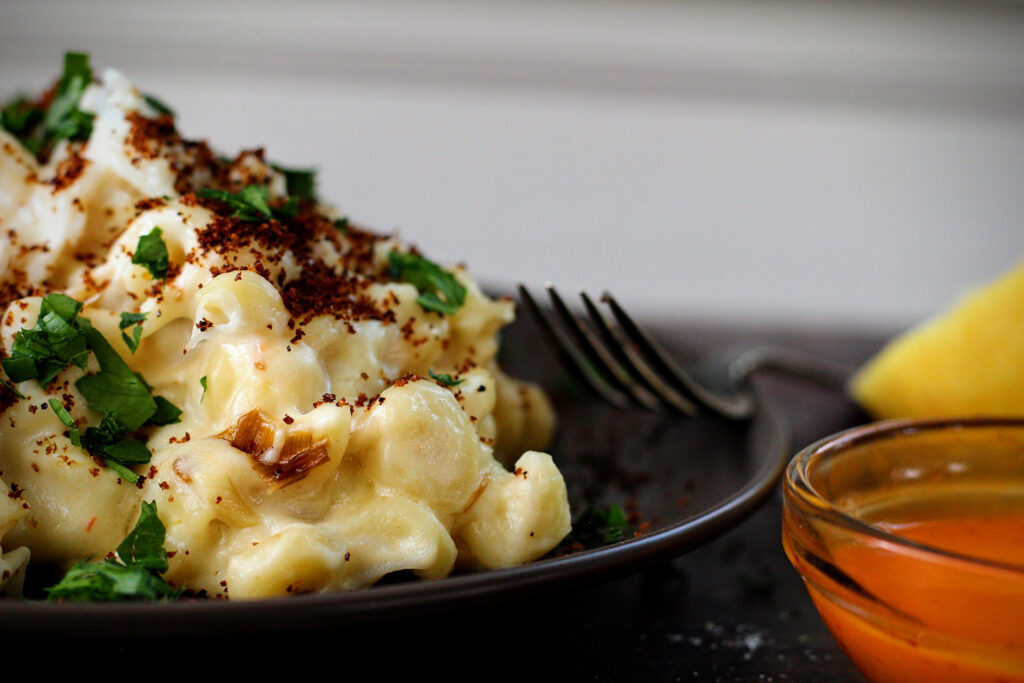 Nick's Cove Dungeness Crab Mac and Cheese
Courtesy of Nick's Cove & Cottages
Makes 6 to 8 Servings
Ingredients
1 cup unsalted butter
2 leeks, white parts only, sliced
3/4 cup all-purpose flour
3 cups whole milk
3 cups heavy cream
2 cups shredded aged Gruyère cheese, such as Gran Cru
2 cups shredded Point Reyes Toma or medium white Cheddar
1/2 cup grated Parmesan cheese
Kosher salt
Vinegar-based hot sauce (such as Tabasco), for seasoning
Juice of 1/4 lemon
1 lb dried fusilli pasta
1 tablespoon extra-virgin olive oil
1/2 cup fresh bread crumbs
1 lb fresh-cooked Dungeness crabmeat, picked over for shell fragments
2 tablespoons chopped fresh flat-leaf parsley leaves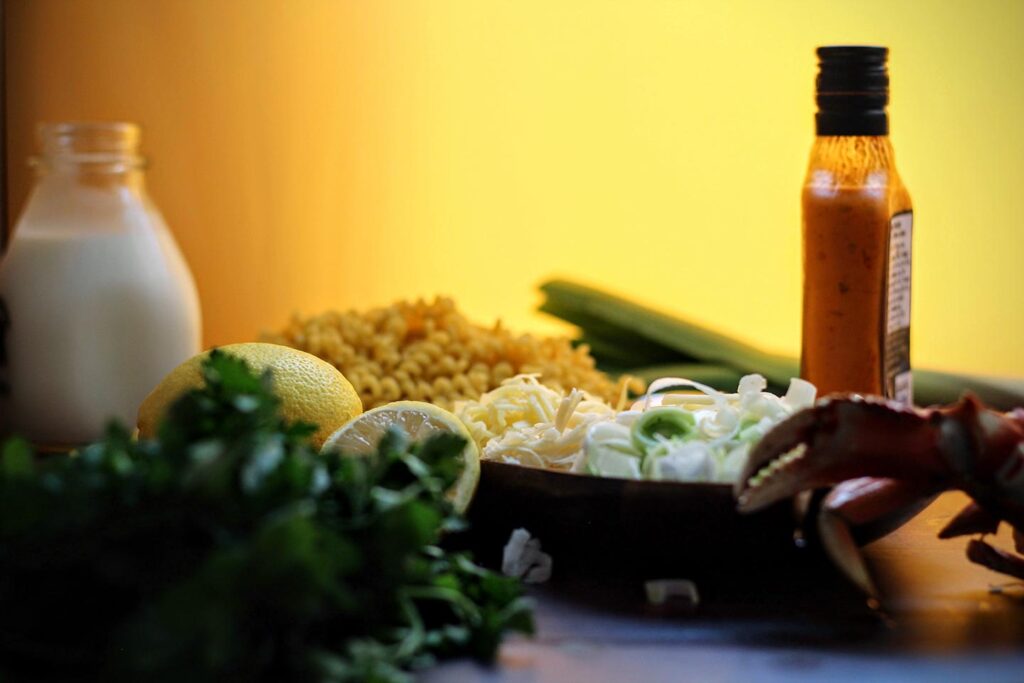 Directions
In a large, heavy saucepan, melt the butter over medium heat. Add the leeks and cook, stirring occasionally, until softened, 5 to 7 minutes. Add the flour, whisk until smooth, then cook, stirring constantly, until the mixture bubbles and starts to smell of shortbread, 2 to 3 minutes.
Slowly add the milk, continuing to stir until the mixture is smooth and comes to a boil. Reduce the heat to low and simmer, stirring, until slightly thickened, about 5 minutes. Stir in the cream. Continue to simmer, stirring, until the mixture begins to thicken, about 5 minutes. Add the Gruyère, Toma, and Parmesan, a handful at a time, stirring after each addition until melted before adding more. Season to taste with salt, hot sauce, and lemon juice.
About 15 minutes before the cheese sauce is ready, begin cooking the pasta and toast the breadcrumbs:
Fill a large pot two-thirds full with salted water and bring to a boil over high heat. Add the pasta and cook, stirring occasionally, until al dente, 6 to 8 minutes or according to package directions. Drain into a colander, shake the colander to force out any excess moisture, and transfer to a large bowl. Keep warm.
In a dry small skillet, warm the oil over medium heat. Add the breadcrumbs and cook, stirring, until golden brown, about 4 minutes. Remove from the heat.
Pour the cheese sauce over the pasta and stir to mix. Add the crabmeat and stir gently to distribute evenly.
Divide the pasta among individual bowls or plates. Top each serving with the toasted bread crumbs and parsley, dividing evenly. Serve at once.