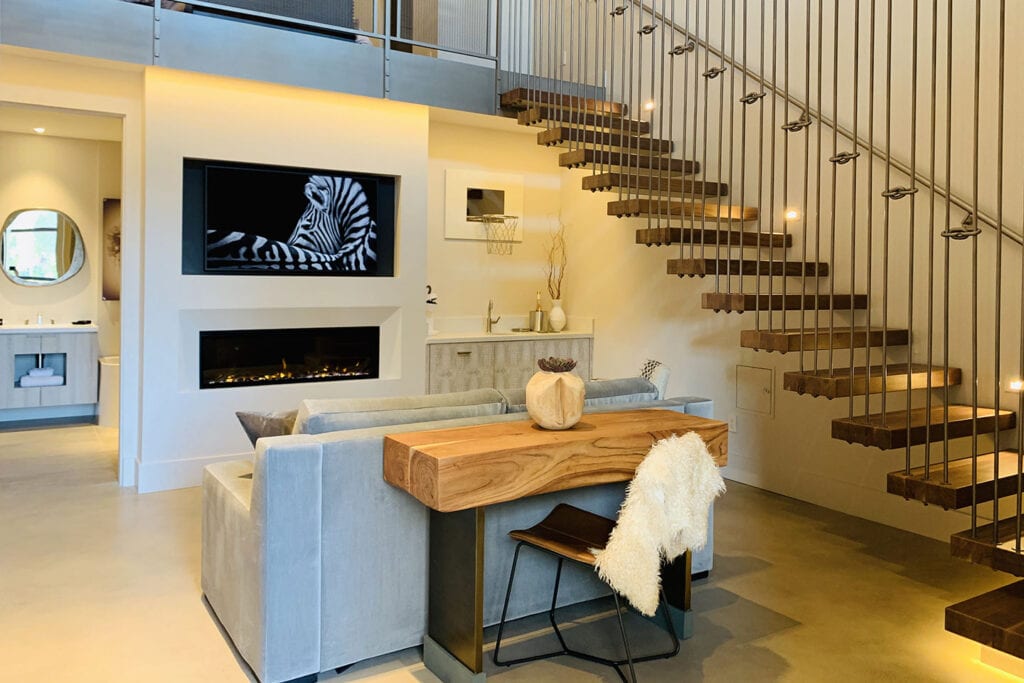 Design Inspiration from 5 California Inns
Step into a well-designed boutique hotel, and travelers often feel a sense of ease wash over them. They arrive to a harmonious space where every detail is designed to soothe, provide comfort, and invite lingering. Sometimes, the details serve to evoke a different era, a sense of place, or just a sense of wonder.
We've asked interior designers and innkeepers at five well-designed boutique hotels—with styles ranging from modern to Victorian—to share insights about their design choices. We also asked them for tips on creating spaces that can make coming home just as enjoyable as escaping.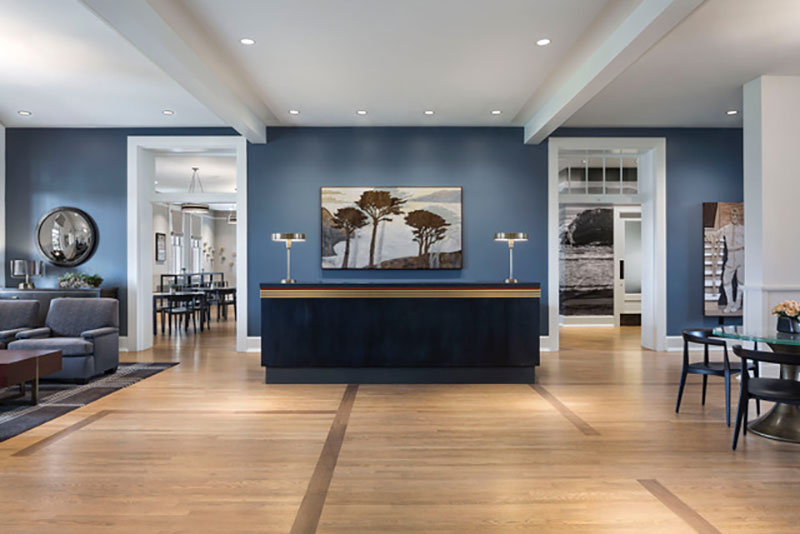 Inn at the Presidio and Lodge at the Presidio
The Presidio is a 1,500-acre national park on a former military post with views of San Francisco's Golden Gate Bridge. Laura Cook and her team at LC Interiors led the transformation of the former barracks and officer quarters into the elegantly designed Inn at the Presidio and the Lodge at the Presidio, respectively. As they worked to bring the spaces back to life, the interior design team focused on respecting the buildings' history and integrating historical references into the design.
"Military references both real and representational abound," says Laura. "The approach was to be somewhat modest and understated, as the Army had used the space in the past for operations along with living. We wanted an updated feel of comfort for the guests with our team slogan, 'At Ease.'"
For the millwork details at the lodge lobby elevator, the designers used aged pewter with brass strapping to create the look of a military metal ammunition "box." The lobby's front desk has the three brass "sergeant" stripes with red accents. Inspired by the park, the color palette features hues of blue and green with accents of military campaign colors. The interior designs also incorporate the use of military-inspired materials like brass, leather, iron, and canvas.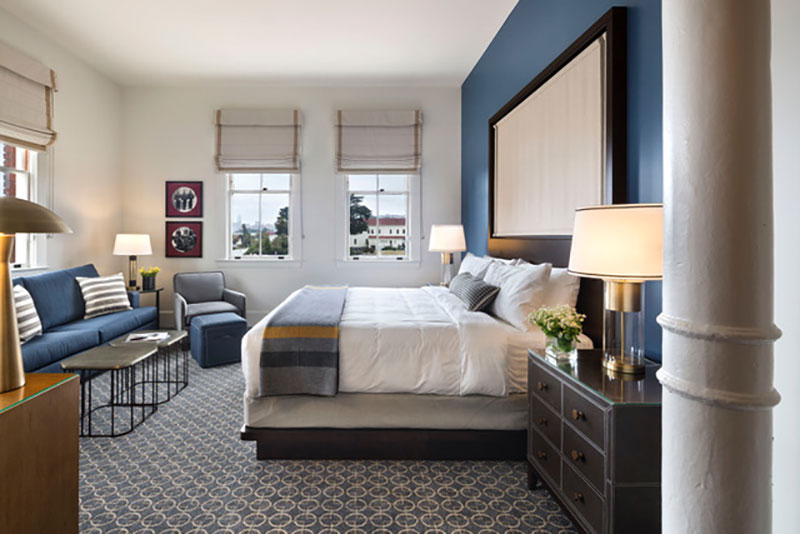 Laura's favorite spaces include main lobby areas for both the lodge and the inn. "The public spaces are such wonderful areas to relax and enjoy any time day," says Laura. "We designed these spaces with flexibility in mind, for check-in, breakfasts, wine hour, and private events."
For someone embarking on an interior design project, Laura encourages the adage that less is more. She suggests relying on exterior views to "enhance your experience of nature for the interior space and only use art and touches you love."
* * *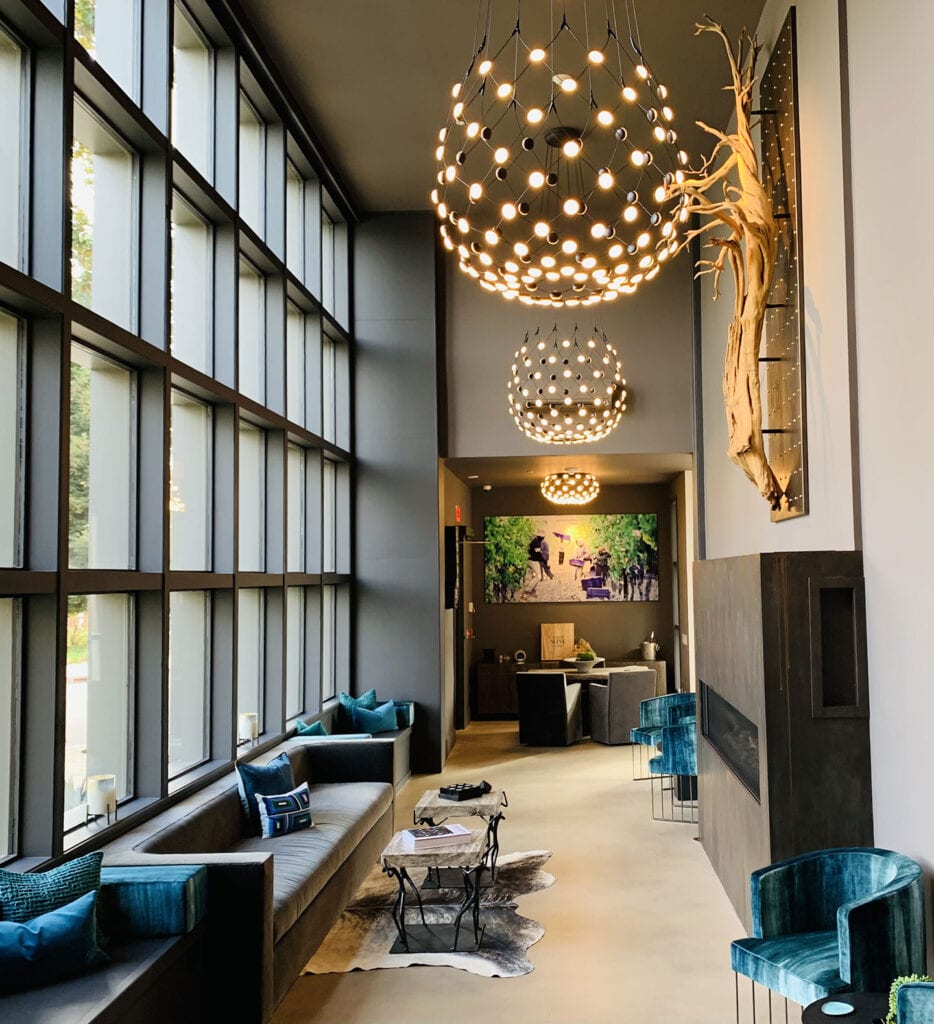 R INN NAPA
In downtown Napa, R INN NAPA is a contemporary, urban boutique hotel housed inside a historic building. Converting the building to a hotel, a father and daughter team preserved the century-old exteriors, but transformed the interiors into an unexpected oasis of modern design featuring bold, original artwork and sophisticated décor.
Co-owners and designers Maurissa Heffran and her father Dion Heffran were seeking to create an edgy, urban modern style while still keeping it relaxed and cozy. The family owned and operated hotel opened with 10 guest rooms in 2018.
One of the hotel's most striking spaces is the lobby lounge. With 20-foot ceilings, the lounge features a wall of glass windows framed in a modern grid pattern that rises the full height of the space. Chandeliers with glowing disks of light are suspended on thin, crisscrossing wire frames. Large scale art and a sleek custom fireplace provide strong focal points, while plush velvet seating and throw pillows beckon guests to sink into coziness. It's a warm, inviting space that takes an even more dramatic turn by night.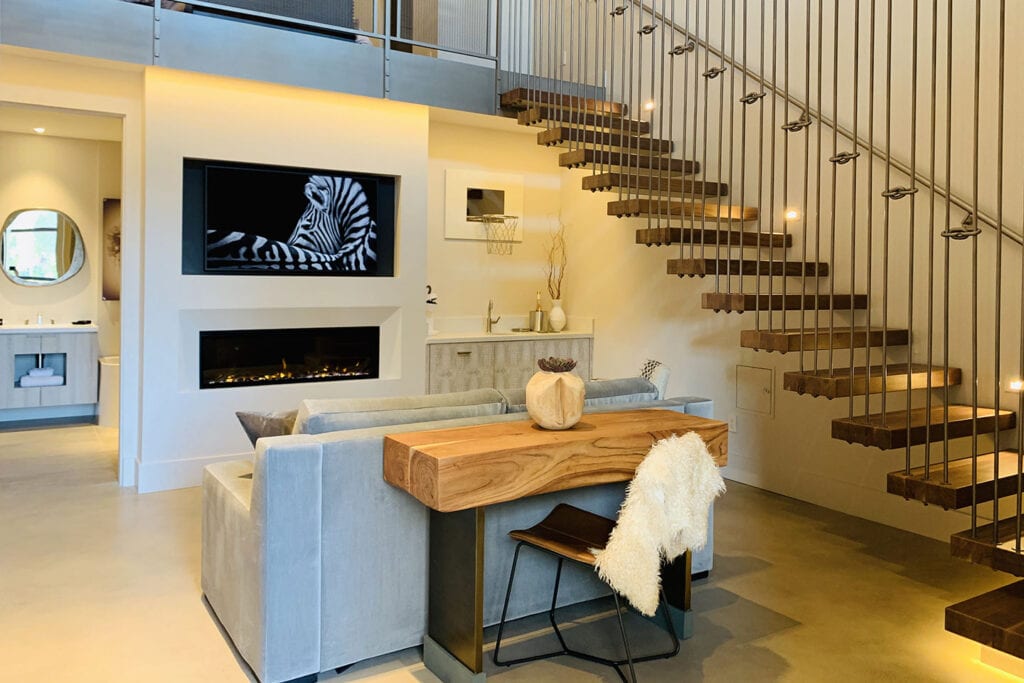 Other impressive spaces include the hotel's new two-story loft suites, which just opened in January. The suites feature 20-foot ceilings with floating wood staircases leading up a master bedroom, which overlooks the living room. Like the lobby lounge, the suites also feature large-scale original art and sleek electric fireplaces.
For design inspiration, Maurissa recommends "sitting in the space that you are creating first, and figuring out how you would want to feel when you are in that space."
* * *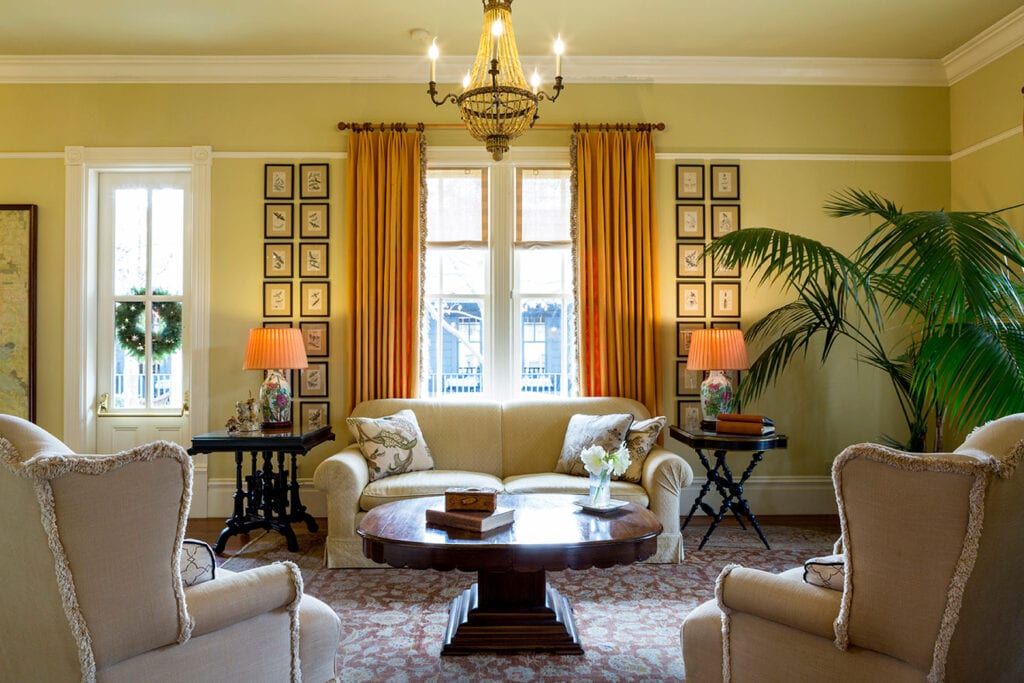 Tallman Hotel
From the moment you enter, the Tallman Hotel's period-perfect details and sophisticated design choices feel firmly rooted in the romance of a turn-of-the-century hotel, but with a modern sensibility. In their restoration of the 1880s hotel, Candra Scott and Richard Anderson of the design firm Candra Scott & Anderson sought to honor the historic hotel's past while ushering it into the 21st Century.
Another important goal for the interior design was to evoke a sense of place, weaving the natural beauty of Upper Lake's flora and fauna into the decor. The resulting interiors suggest the home of a well-traveled naturalist with a style Candra describes as "sophisticated country chic."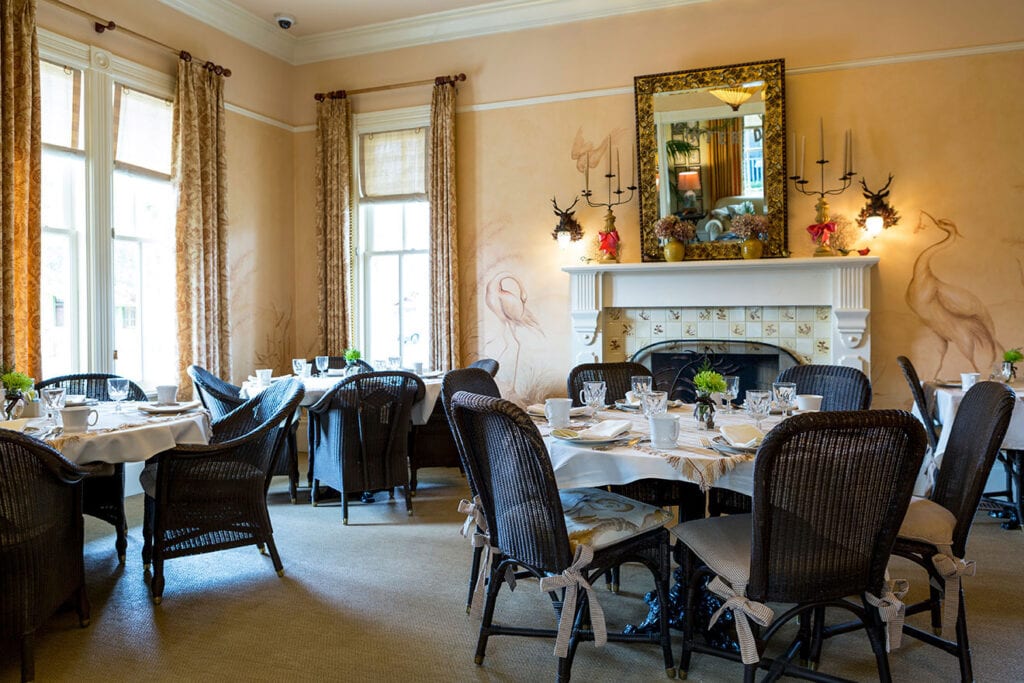 Subtle sepia-colored murals by Carol Thosath cover the dining room walls, depicting the nearby marshes. A collection of brown and white transferware dishes are displayed in the breakfront. Tiles around the fireplace were hand painted with design elements from the transferware. A large vintage Chinese paper lantern painted with a bold modern spiral adds a contemporary spin. Dozens of hand-colored bird prints cover the lobby walls and march up the staircase to the guestrooms.
Candra noted that the uniform size and coloration of the framed prints contribute to the design's modern appeal. In guiding others to achieve a similar look, Candra says that collections are always a large part of their own designs. "So if one has collections, concentrate on just one thing and showcase that in your home," says Candra. "Not only is it visually more interesting and harmonious, but it is a reflection of your own personal interests."
* * *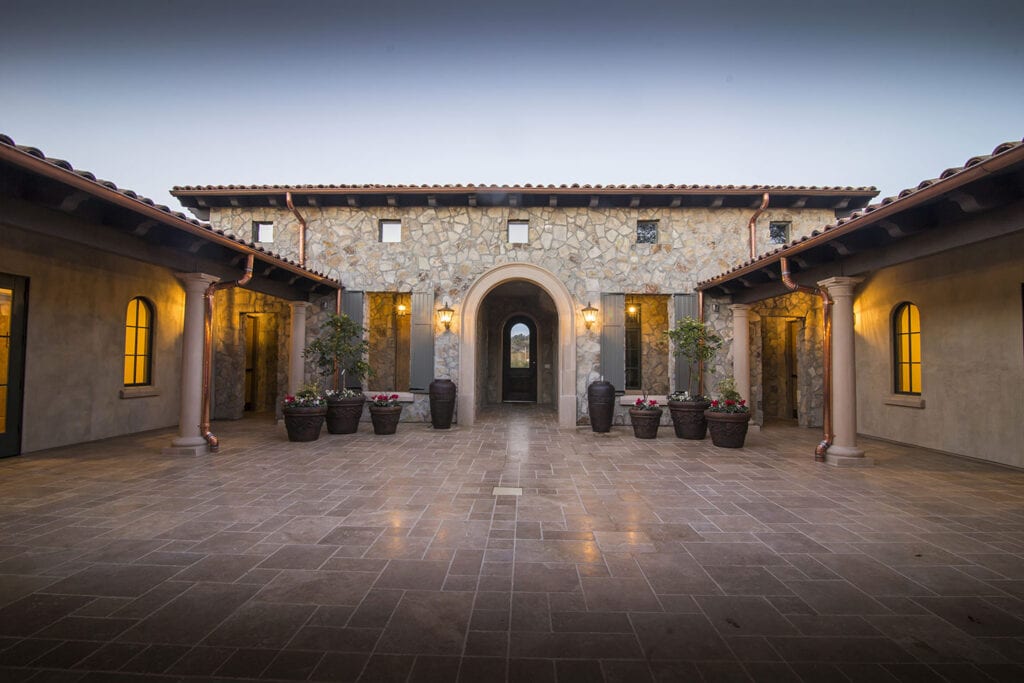 Grand Reserve Inn
Secluded on 40 acres of the Wilderotter Vineyard in Plymouth, the Grand Reserve Inn is a luxurious, 9,000 square-foot Tuscan-inspired villa with panoramic views of grapevines and the Sierra Foothills.  Built around an expansive open-air courtyard, the inn offers five spacious suites with gas fireplaces, private terraces, spa-like baths, and luxe amenities. The inn's inviting common areas include a great room, cooking class kitchen, and an onsite winery. 
"Our goal for designing the inn was to offer an upscale experience in Amador Wine Country," says general manager Colleen Bastkowski. "The premium materials used in the construction and décor give our destination a unique personality and make a lasting impression on guests."
Describing specific design choices, Colleen explains that there is limited artwork on the property. "We leveraged the surrounding vineyards as the true works of art by installing tall arched windows and glass bi-fold doors that open to sweeping vineyard views," says Colleen.
Capturing the romance of an Italian villa, the inn's façades and entryway are made of stone and topped with a tiled roof. Interiors feature travertine floors, iron chandeliers and sconces, and vaulted ceilings with exposed wood beams. Elegant furnishings made of iron and wood echo the building's design while a soothing, muted color palette reflects the natural surroundings.
When designing interiors, Colleen suggests using soft gray hues and neutral tones to create a sense of calm and tranquility. She also recommends splurging on the best mattress you can afford and topping it with fluffy down comforters, duvet covers, and silky white sheets.
* * *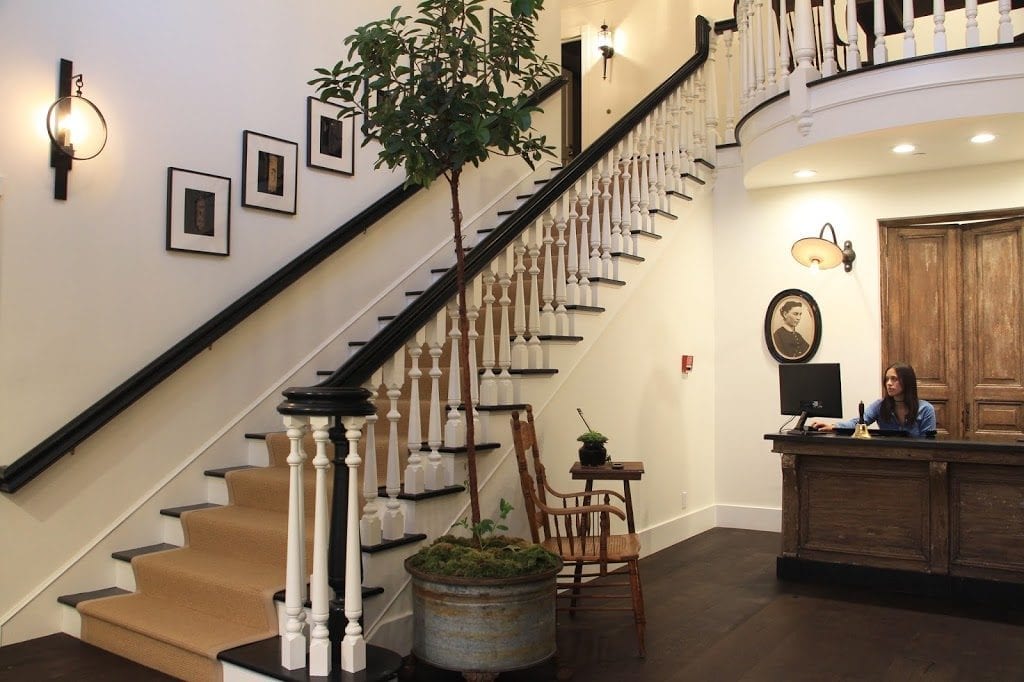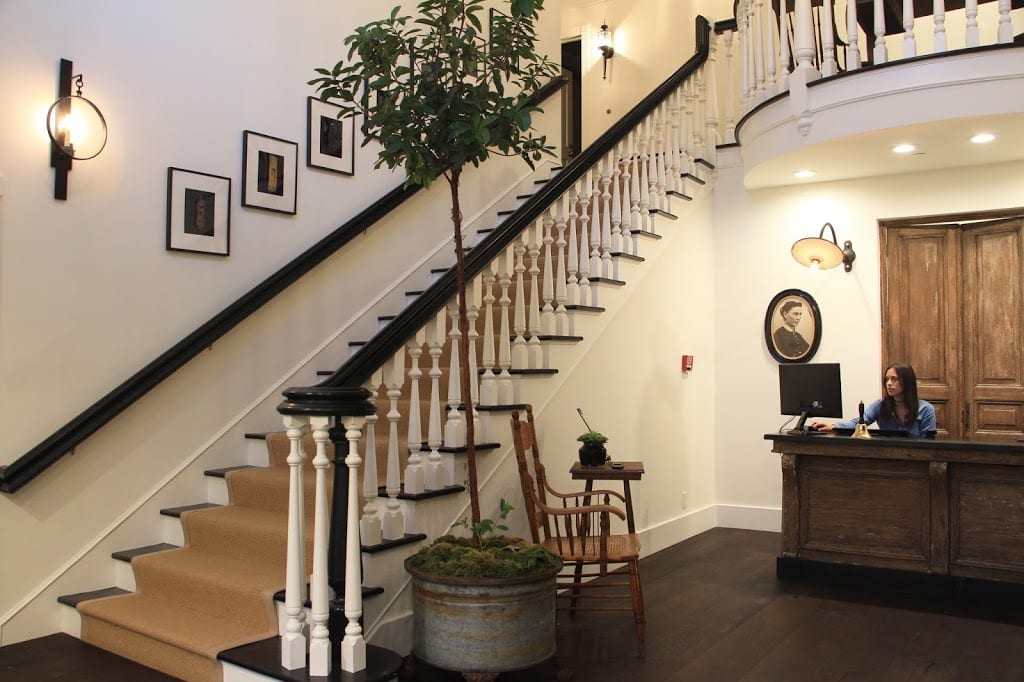 Ballard Inn and Gathering Table
Nestled among the bucolic vineyards and horse ranches of the Santa Ynez Valley, the tiny town of Ballard was founded in 1880 as the first stagecoach stop between Santa Barbara and San Luis Obispo. When the town's only business, the Ballard Inn and Gathering Table, underwent a redesign a few years ago, it drew upon the town's frontier roots. The resulting renovation combines Early American antiques with a modern aesthetic.
Principal designer Heather Saarloos of Design House in Los Olivos led the redesign. She says one of the most important factors was to create an instant feeling of history and home with inviting spaces for guests to gather with their most beloved friends.
In the lobby, a spindled staircase rises to the left of the front door and is softened by a natural fiber runner. Two oval framed, sepia-toned photographs of Ballard's earliest pioneers–Cynthia Ballard and George Lewis–hang on the back wall on either side of a pair of rustic doors and a front desk built of reclaimed wood.
The dining area is anchored by a long, rustic, farmhouse table. Two enormous black-and-white photographs of oak trees hang on the wall. The living room is a blend of antiques and modern furnishings. Brass tack leather chairs are complemented by white linen-upholstered seating draped with cozy linen/silk blankets in neutral colors.
The same blankets are draped over the backs of the leather booths in the restaurant, which features a long, communal farmhouse table in the center flanked by more intimate rustic wooden tables on either side. "The Gathering Table dining room was selfishly my favorite," says Heather. "Chef Budi Kazali is a culinary genius and we wanted to create a worthy space for the local community and travelers alike to gather together and experience his talent."