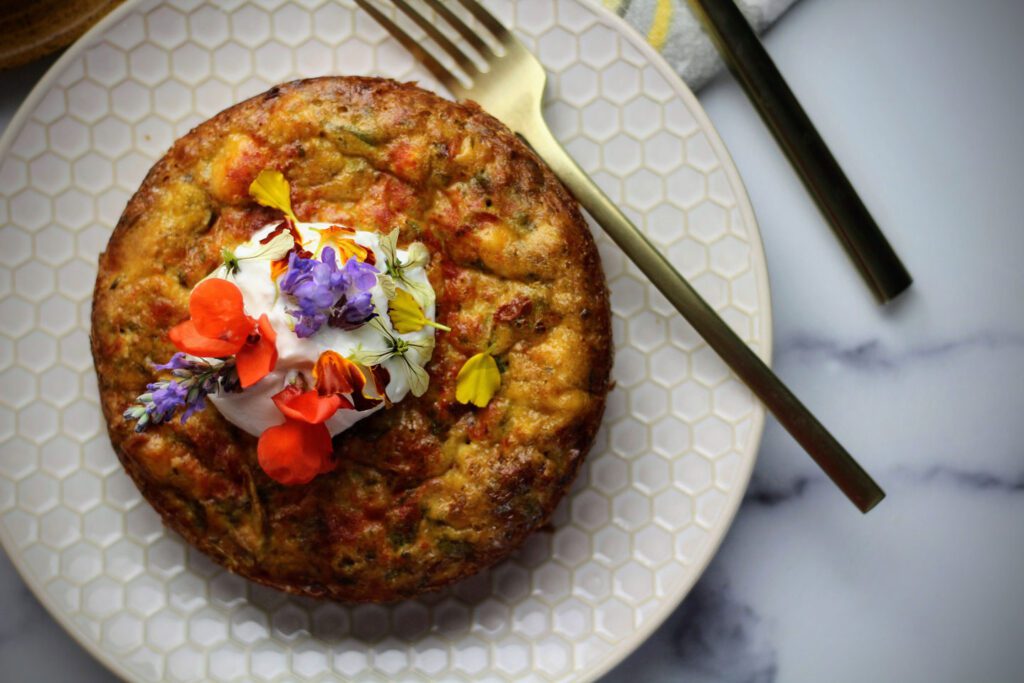 Crustless Quiche from Seagull Inn Bed & Breakfast
Nestled among the picture-postcard Victorians in Mendocino, the Seagull Inn Bed & Breakfast is one of the longest-running B&Bs in this charming seaside village. Along with its enviable location just steps from the headlands and village shops and restaurants, the inn has long been treasured for its historic charm, affordability, and delicious breakfasts.
Originally built in 1883 as a residence for the Switzer family, the Seagull Inn Bed & Breakfast has been hosting guests for over 60 years. Current owners Ian and Kim Roth purchased the inn in 2018 and are building upon the B&B's legacy while adding personal touches of their own.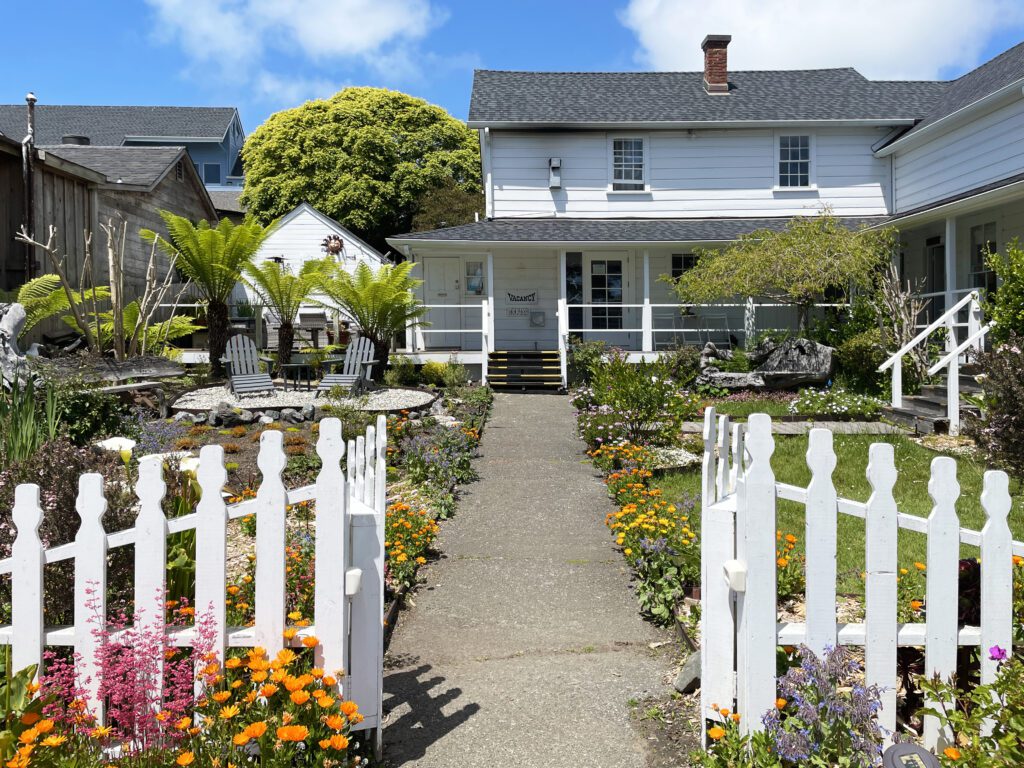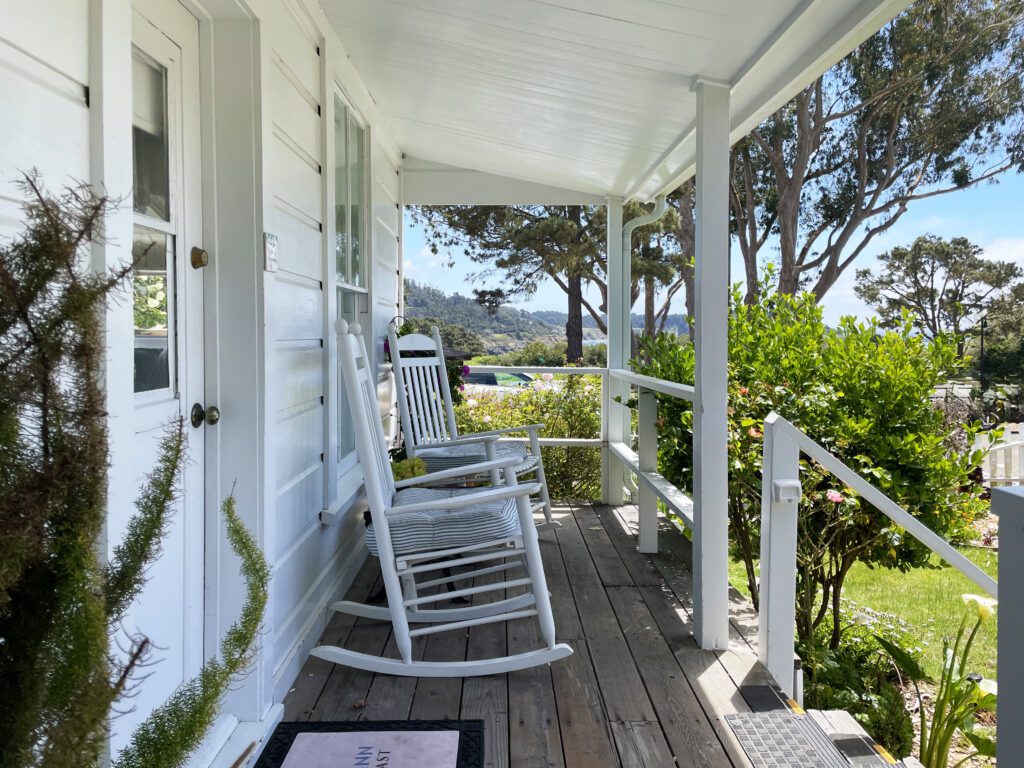 The Seagull Inn Bed & Breakfast stands behind a white picket fence overlooking Rotary Park and the ocean. The main house is surrounded by colorful blooms with intimate garden seating for enjoying the views. Nine charming guest rooms range from small, cozy hideaways to stand alone cottages. Each of the rooms have private entrances and ensuite baths. Most offer views of the dramatic Mendocino coastline and the ever-changing sea.
Ian and Kim's updates to the rooms include faster WiFi, luxurious new linens, new paint, and original art on loan from Prentice Gallery. Each room showcases the paintings or photography of a local Mendocino artist. Ian and Kim have also enhanced the guest experience by adding new packages, concierge services, and bicycles for exploring the village.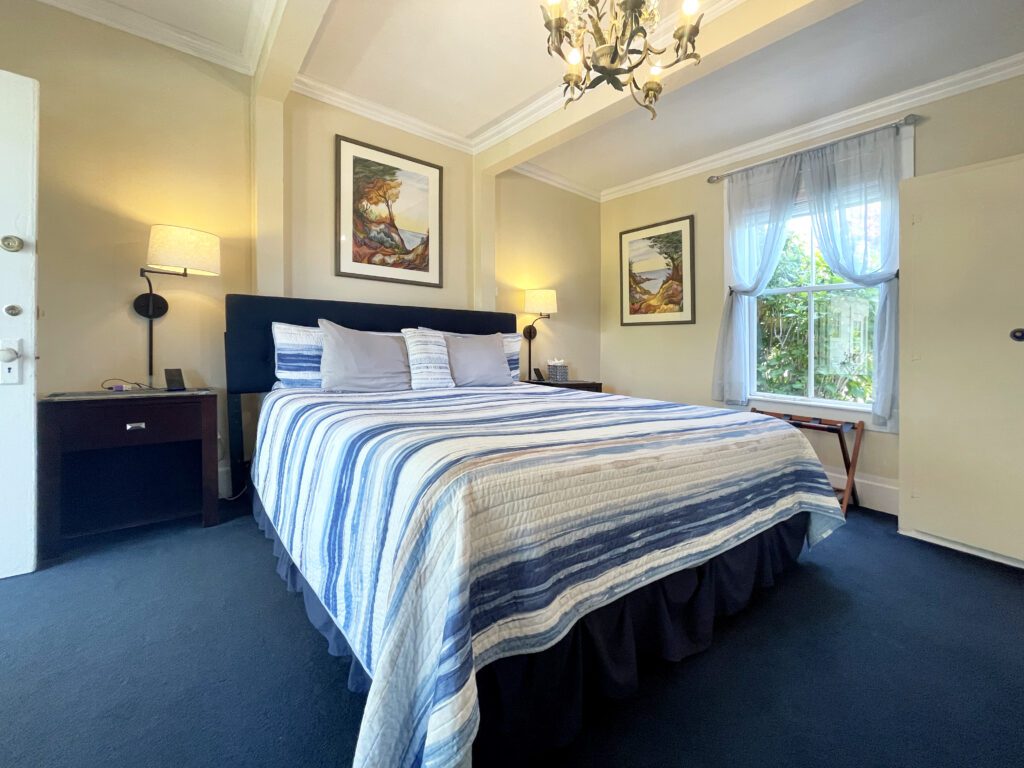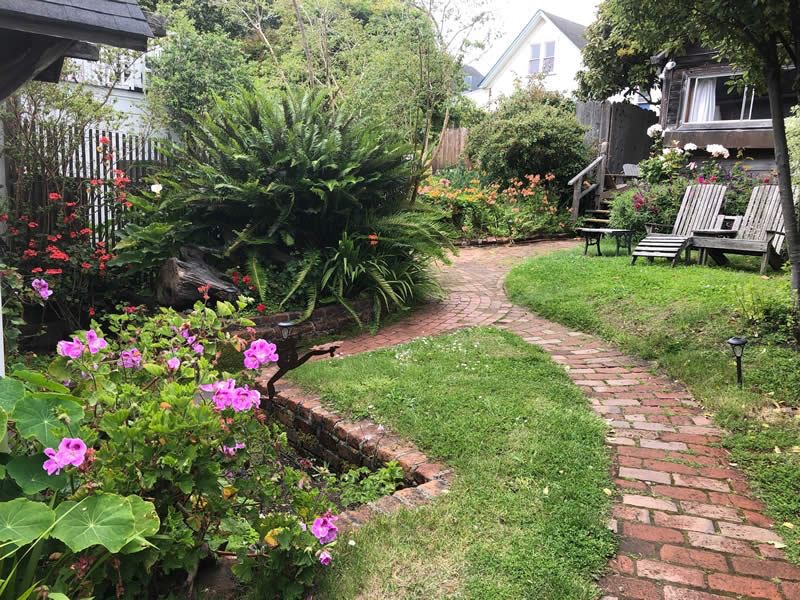 What has not changed is the Seagull Inn Bed & Breakfast's legacy of warm hospitality and incredible breakfasts. Breakfasts are delivered to the guests' rooms each morning on a tray with fresh flowers. Prepared in-house and featuring organic ingredients, the breakfasts include a main entrée with freshly baked muffins or coffee cake, fresh fruit, yogurt, coffee or tea, and juice. The inn happily accommodates gluten-free and vegan dietary restrictions. Breakfast can be enjoyed in the privacy of the guests' room, in the gardens, or on the deck.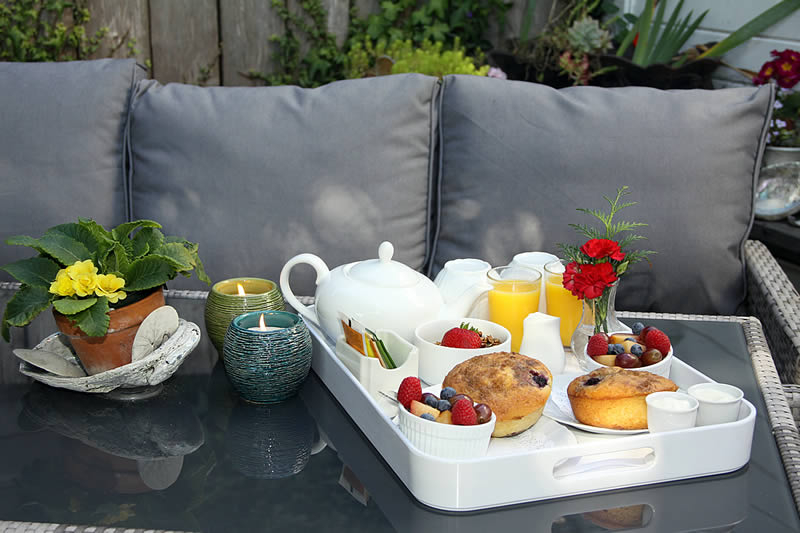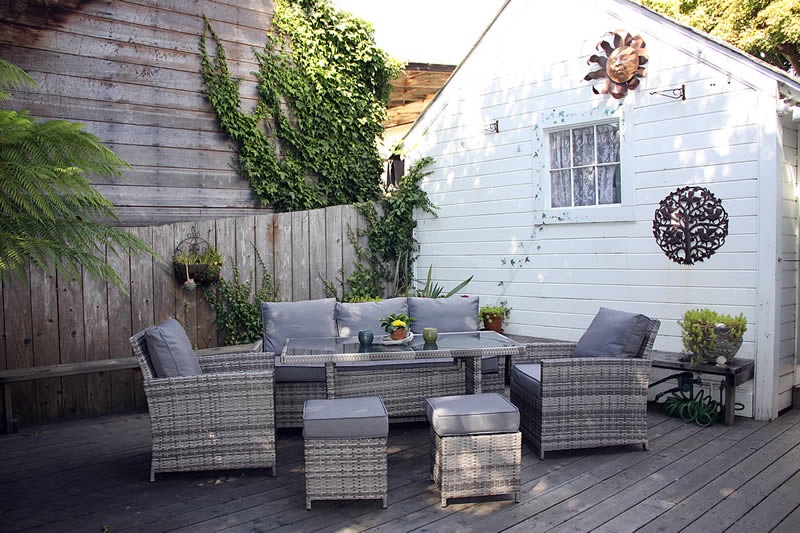 One of the Seagull Inn Bed & Breakfast's most beloved breakfast entrees is their crustless quiche, for which Ian and Kim have graciously shared the recipe. In this surprisingly simple recipe, Mediterranean flavors mingle playfully with ingredients evocative of the American Southwest. The result is a subtle yet full-bodied flavor, just bold enough to awaken your taste buds. In fact, given its layers of complex flavors, it's hard to believe the recipe is so easy and versatile. Most of the ingredients are pre-prepped, shelf-stable, and easily found on grocery shelves. And the recipe is no more complicated than mixing the ingredients together and baking in individual ramekins. The recipe is also vegetarian and can be made gluten-free by simply omitting the flour. 
While home cooks might be tempted to skip the edible flower garnish, the delightful presentation it creates is certainly worth the effort. When edible flowers are in short supply on grocery store shelves, look to the garden. Along with the nasturtiums, marigolds, and pansies many of us have growing in our yards, the blossoms of most herbs, roses, citruses, and apples are also edible.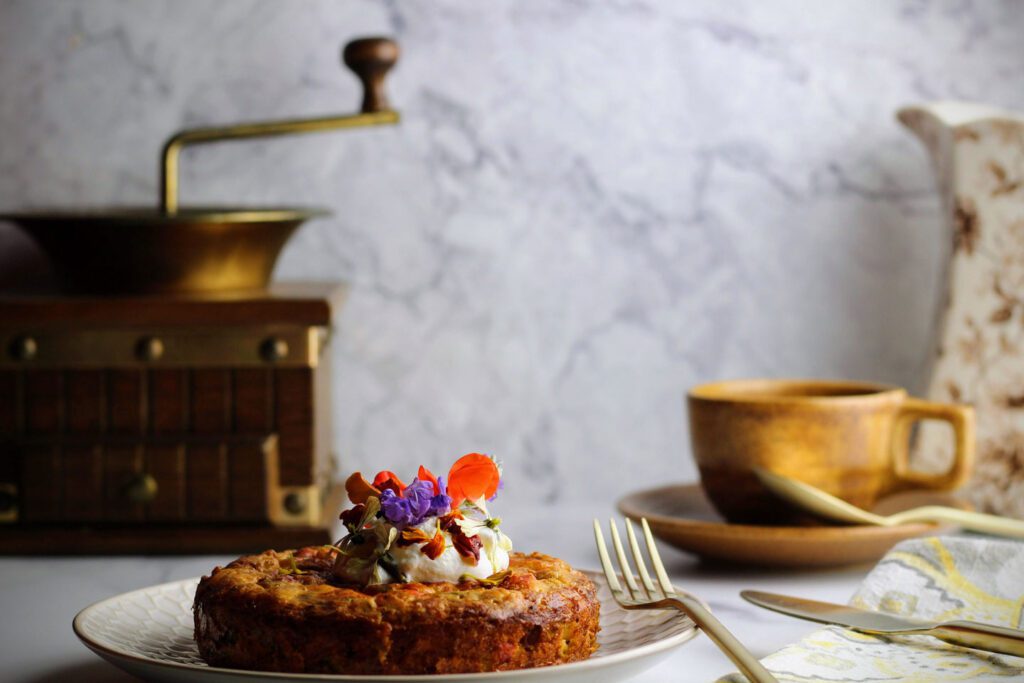 Crustless Quiche
Courtesy of Seagull Inn
Makes 6 to 7 servings
Ingredients
Mix ahead:
12-14 eggs (about 2 eggs per person)
1 pint small curd cottage cheese
1 pound feta cheese
1 7-ounce can diced green chilies
1 12-ounce can chopped marinated artichoke hearts
1 8-ounce jar chopped sun-dried tomatoes
1 tablespoon pesto
½ cup chopped cilantro
Enough dashes of Cholula Sauce to perk the taste buds (start with about 3 dashes per serving and adjust to taste)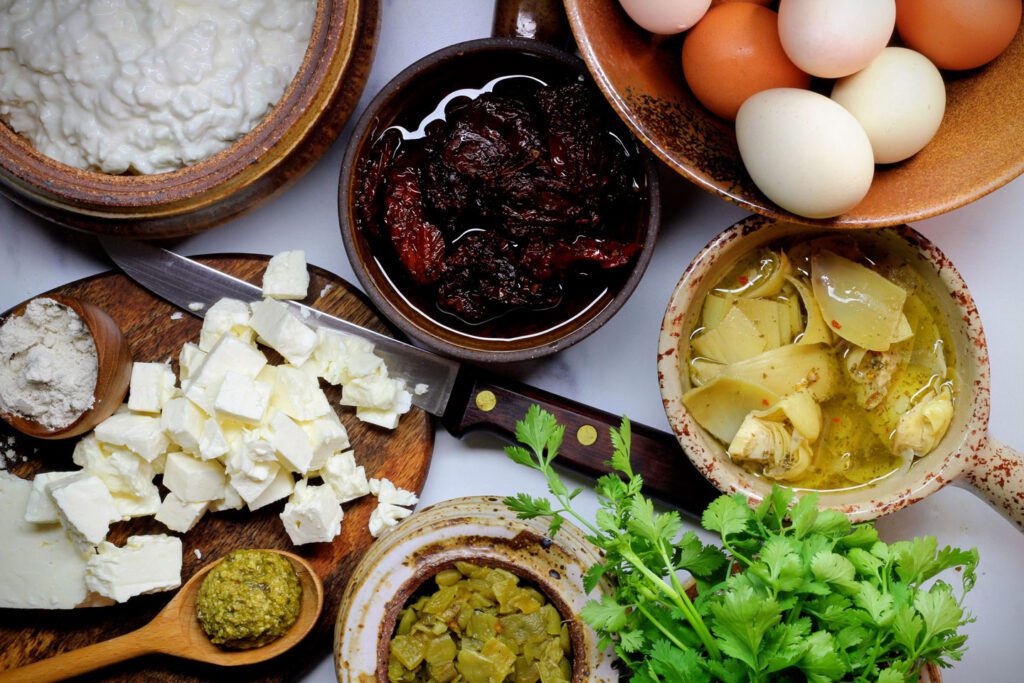 Add before baking:
½ cup flour (omit to make the recipe gluten free)
2 teaspoons baking powder
For garnish:
Paprika
Sour cream (optional)
Edible flowers (optional)
Directions
Combine all the mix-ahead ingredients in a bowl. Add flour and baking powder if baking immediately.
Spoon the mixture into greased ramekins or other oven-proof individual baking dishes that hold at least 10 ounces.
Sprinkle paprika on top.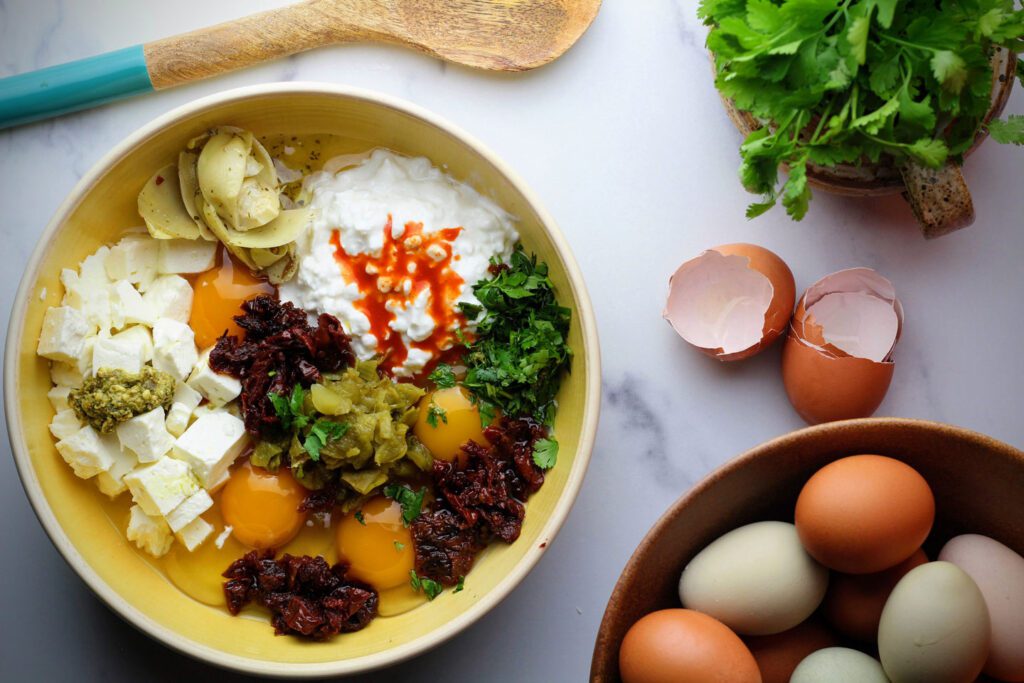 Bake at 360 degrees Fahrenheit for 45 minutes.
Let the quiches sit for 15 minutes, garnish with a dollop of sour cream and edible flowers and serve.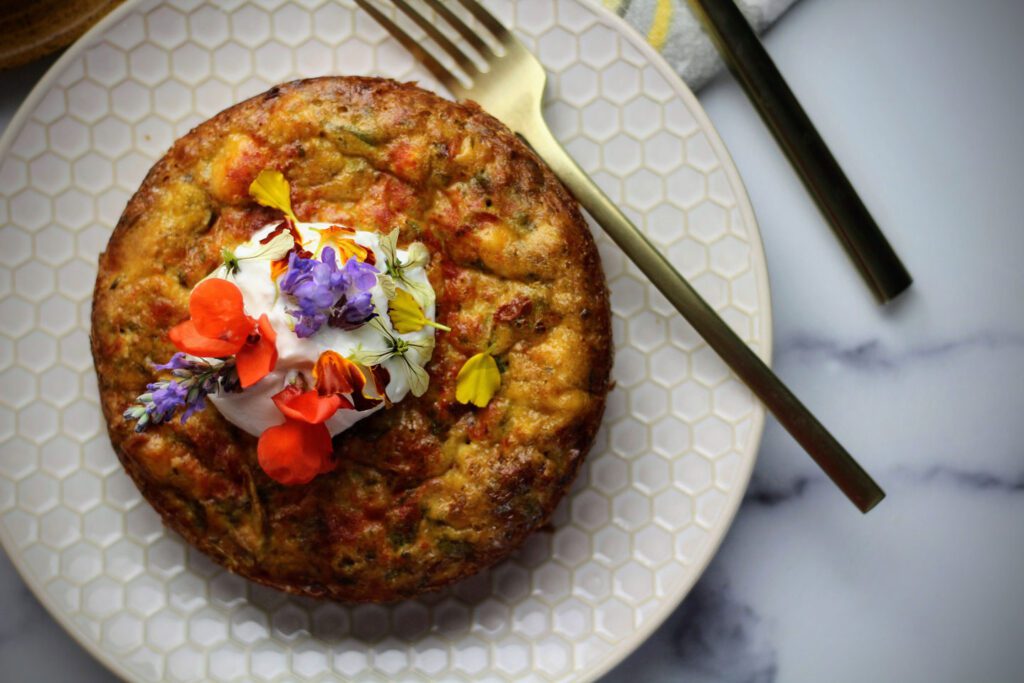 The mixture can be prepared the night before and stored in a well-sealed container in the refrigerator. However, hold the flour and baking powder to add just before baking. Otherwise, the top oxidizes and looks uninviting.