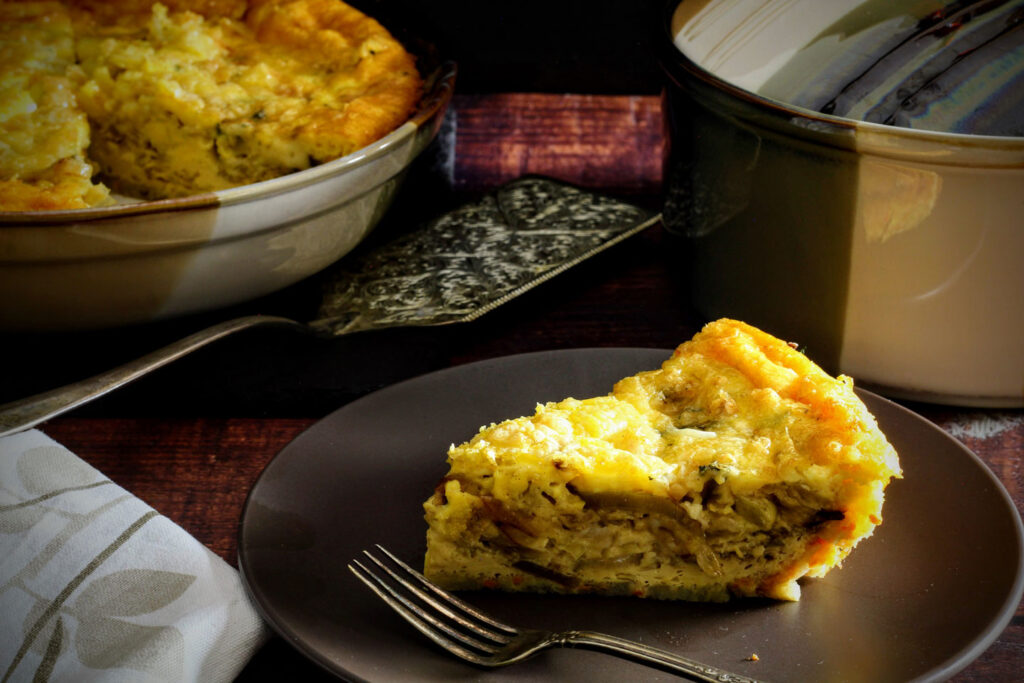 Crustless Gluten-Free Leek Quiche from Monte Cristo Inn
Tucked away in the tony Pacific Heights neighborhood of San Francisco, Monte Cristo Bed & Breakfast has been a haven of one sort or another since 1875. In business for nearly 150 years, it is said to be the oldest hospitality structure still standing in San Francisco. Originally built as a bordello and saloon, the property survived the devastating 1906 earthquake and fires that destroyed 80% of the city, then immediately transformed into a much-needed refuge for neighbors who had just lost their homes. In the 1920s, at the height of Prohibition, the hotel turned into a speakeasy. In the decades since, the Monte Cristo evolved into one of the top boutique hotels in San Francisco.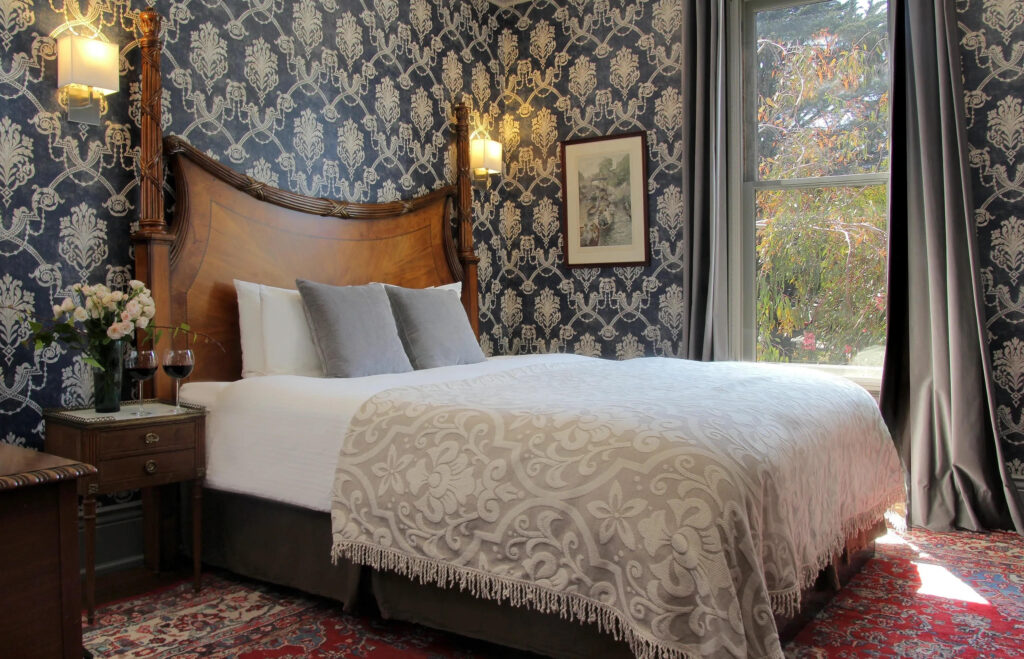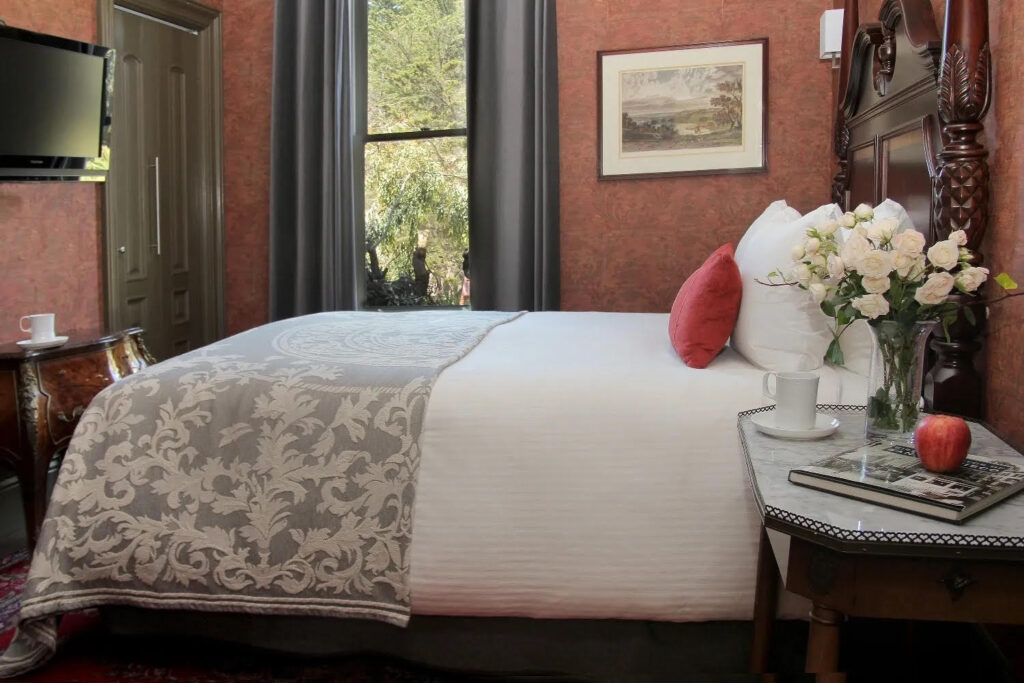 Today, the Monte Cristo is an urban respite with 14 opulent guest rooms, each exuding the style and elegance of a 19th-Century European estate. The rooms feature high ceilings, hardwood floors, Persian rugs, authentic antique furnishings, and luxurious modern baths.
The hotel's complimentary breakfast is an impressive affair with a menu focused on gluten-free and low-lactose items. Guests can choose to dine in the elegant breakfast room, a cozy adjacent sitting room, or in the privacy of their own guest rooms. The breakfast includes a fruit buffet, scrambled or sunny-side-up eggs made to order, bacon and sausage, yogurt, granola, and an assortment of baked goods that includes San Francisco sourdough toast. But for many guests, the star of the show is a creamy, oniony quiche that has become one of the inn's signature offerings.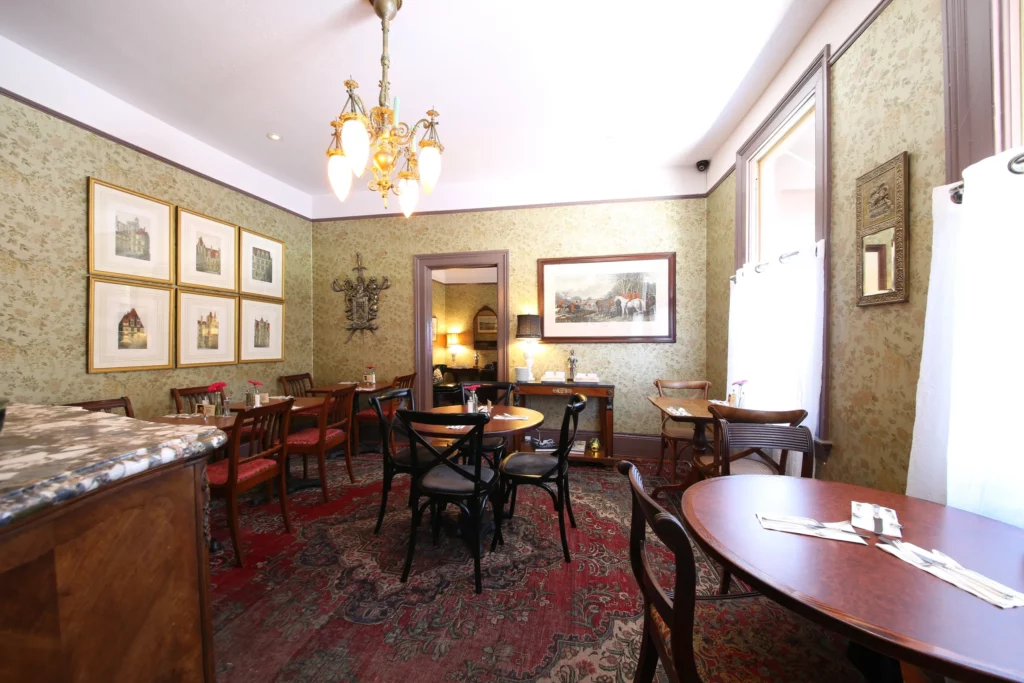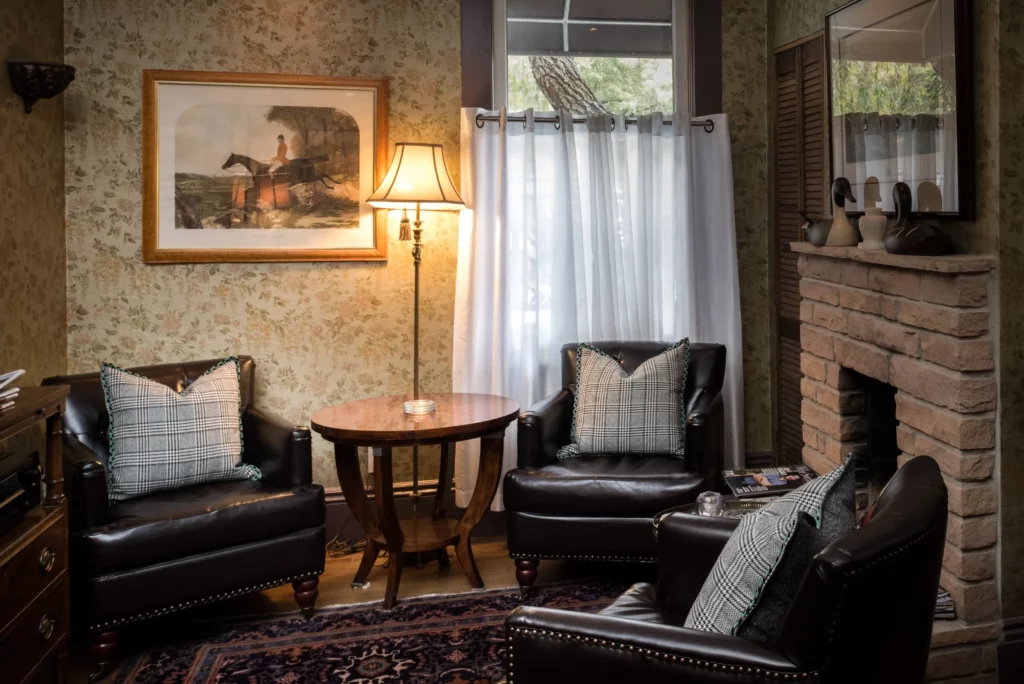 Any recipe that begins with the aroma of sautéing onions and ends with eggs and cheese is bound to be a hit, but what also stands out about this quiche is how versatile and forgiving it is. Dressed up or down, the dish can easily be tailored to the palates of those lucky enough to be sitting at the breakfast table. The recipe works well with shredded fresh potatoes, frozen hash browns, a mix of root vegetables, or even tater tots. And while sharp cheeses pair nicely with the onions and leeks, any number of cheeses would also perform well in this recipe. The potatoes in the recipe mostly add structure and texture, but there's also the option to give this crustless quiche something of a crust. Just use more potatoes (up to a pound), squeeze more water out of them before cooking, press them into the pie pan, and pre-bake until they begin to brown all over.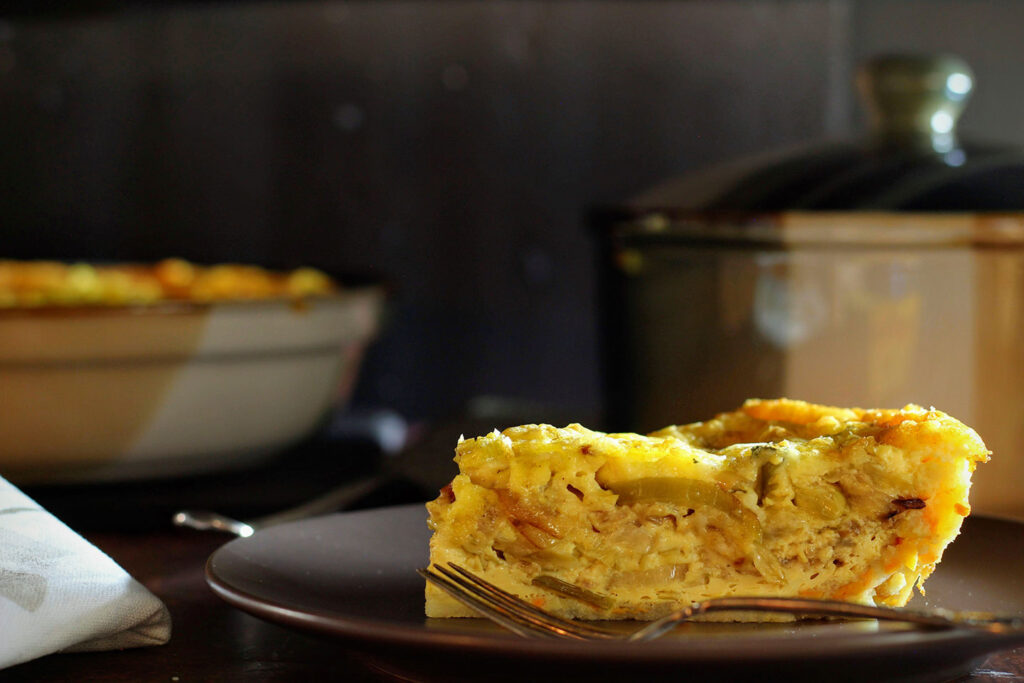 Crustless Gluten-free Leek Quiche
Courtesy of Monte Cristo Bed & Breakfast
Makes 8 servings
Ingredients
1 large leek, cleaned and sliced thin
1 large onion sliced through a food processer
Olive oil or butter for sautéing
½ cup of shredded potato, hash browns, or tater tots
1 ½ cups shredded or crumbled sharp cheese (blue and cheddar work well)
10 large, 9 extra-large, or 8 jumbo eggs
1 ½ cup heavy cream
½ cup whole milk mixed with 1 tablespoon cornstarch
1 teaspoon salt
1/8 teaspoon ground nutmeg
½ teaspoon white pepper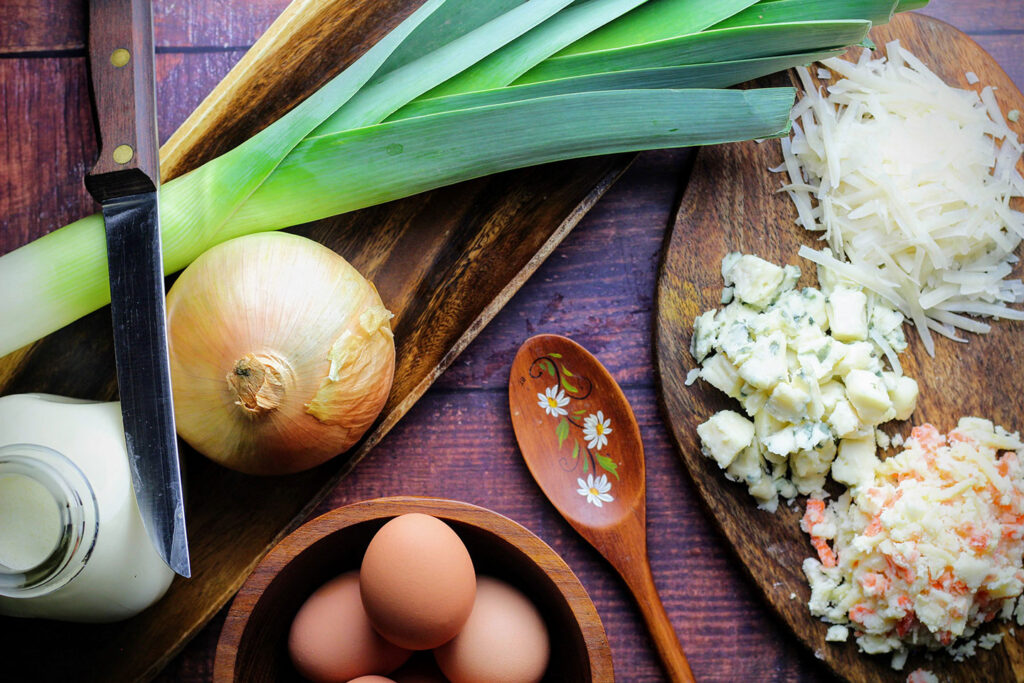 Directions
Preheat the oven to 325 degrees Fahrenheit.
Clean and thinly slice the leeks and set them aside. Use the slicing attachment on a food processor to ensure thin, even slices.
Thinly slice the onion and add to the leeks (again, using the slicing attachment on a food processor if possible).
Sauté the leek and onion with olive oil or butter over medium heat, until tender (about 8 minutes).
Line a well-greased pie or tart pan with pre-cooked frozen hash browns, shredded potatoes, or smashed tater tots.
Spread the leek and onion evenly over the potatoes.
Layer shredded/crumbled cheese over the leeks and onions.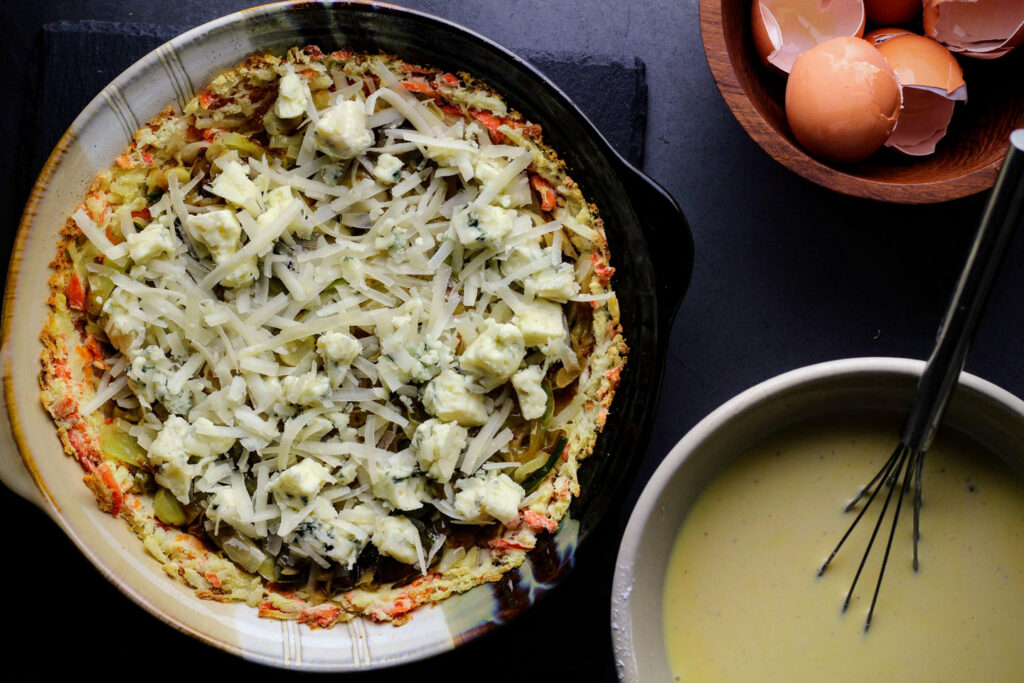 Whisk together the eggs, cream, milk, salt, pepper, and nutmeg. Gently pour the mixture over the other ingredients.
Bake for one hour, or until eggs are just set and the mixture moves as a unit when jostled.
Cool for 1 hour before slicing, reheating if desired, and serving.