Cinnamon Bread Pudding Surprise with Carmelized Apples from Donner Lake Inn
For years—from their cozy mountain lodge on a couple of quiet, forested acres just 17 miles from Lake Tahoe—innkeepers Paul and Mindy Oesterman have been serving hearty homemade breakfasts to fuel long days on the local slopes and trails. Nestled along a year-round creek and across from the placid lake into which it empties, Donner Lake Inn is ideally situated for an intimate getaway. But it's the inn's memorable breakfasts, often described as "worth getting up for," that keep guests coming back. With views of snow-laden pine trees, guests savor specialties like Hashbrown Quiche, Crème Brulee French Toast, and vegetable frittata with roasted potatoes and homemade banana bread.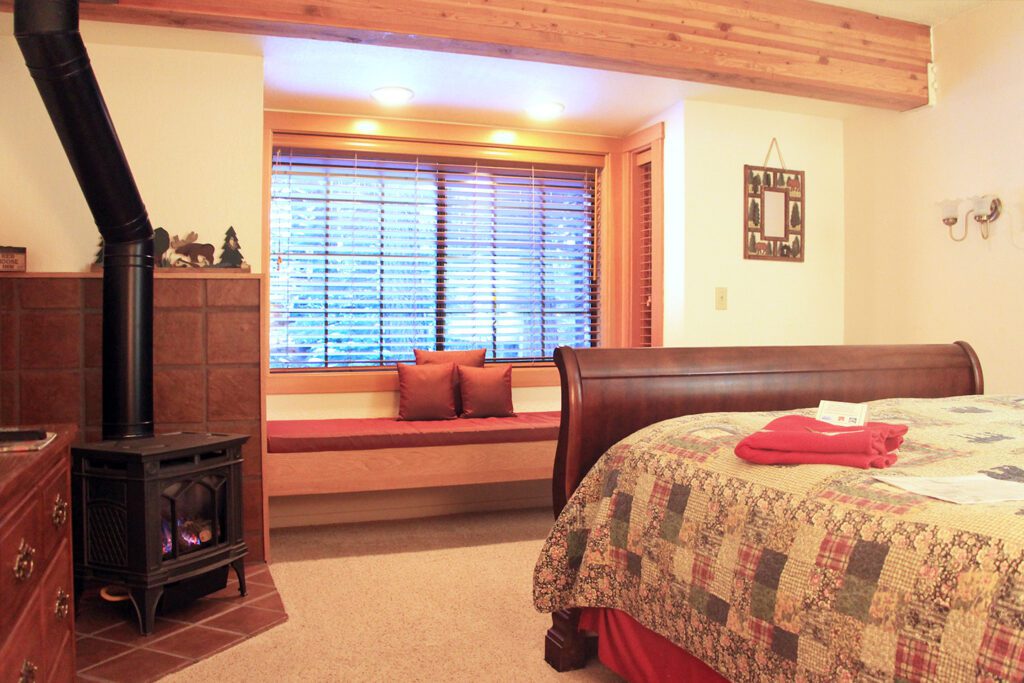 One of the inn's most requested guest favorites is their Cinnamon Bread Pudding Surprise with Caramelized Apples. The name alone explains why this dish might be so popular, but another of its notable features is its incredible versatility. As with most great breakfast entertaining recipes, much of the preparation is done the night before serving, and as with the best sweet breakfast entrees, it's as delicious served alongside a breakfast protein as underneath a scoop of vanilla ice cream for dessert. The recipe is easily modified for just about any dietary requirement. For instance, you can substitute gluten-free baking mix for the flour, coconut or almond milk for the dairy milk, coconut oil for the butter, and/or use vegan egg replacements.
While most bread puddings begin with day-old or stale bread, Donner Lake Inn makes a fresh loaf from scratch. In fact, all of the breads and pastries at Donner Lake Inn are homemade. The inn's recipe for homemade cinnamon bread works perfectly in a countertop bread machine–a marvel of modern technology that bakes up perfect loaves every time by just adding ingredients and pressing a few buttons. And since many of us bought bread machines during the pandemic, this recipe provides the perfect excuse to put it to good use again.
"Surprise" in the recipe's name is apt, considering the delightful aromas, flavors, and textures hiding in every layer: crisp caramelized apples, the deep sweetness of brown sugar, and the woody spice of Saigon cinnamon. But the real surprise may be just how many bites you'll keep going back for.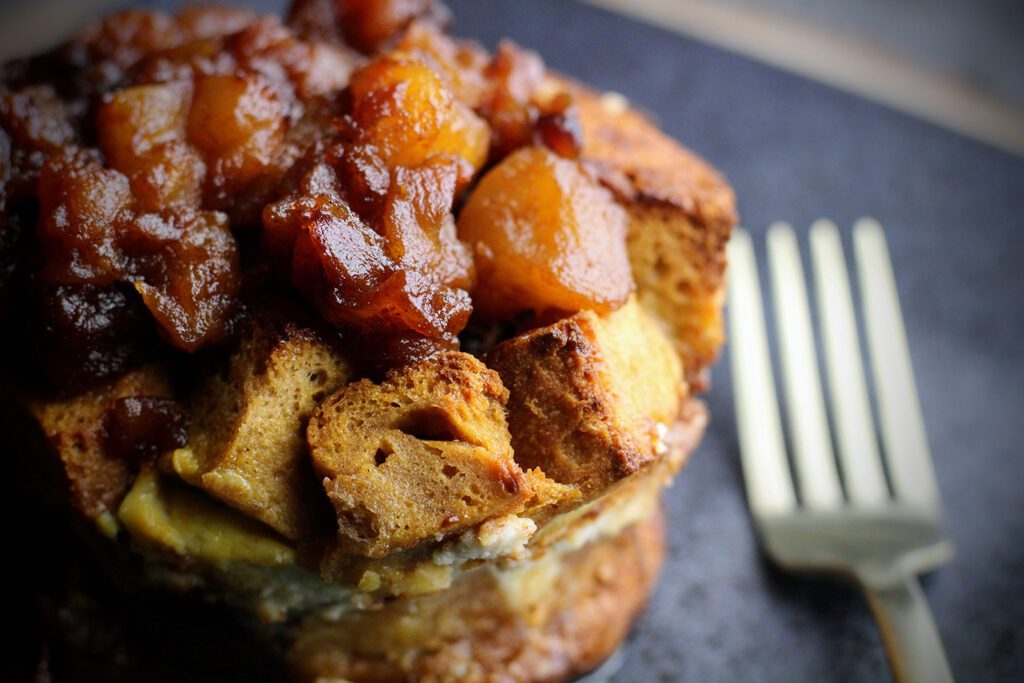 Cinnamon Bread Pudding Surprise with Caramelized Apples
Courtesy of Donner Lake Inn Bed & Breakfast
Makes 6 servings
Ingredients
For the cinnamon sugar bread:
1 cup whole milk
1/4 cup softened unsalted butter
1 large egg, beaten
1/2 cup granulated sugar
1/2 teaspoon salt
1 tablespoon Saigon cinnamon
3 cups bread flour
2 teaspoons active dry yeast
For the brown sugar cinnamon butter:
½ cup light brown sugar
2 tablespoons Saigon cinnamon
¼ cup unsalted butter, softened
For the bread pudding assembly:
6 ounces cream cheese
2 cups whole milk
6 large eggs
2 tablespoons vanilla extract
For the caramelized apples:
6 to 9 apples with crisp and sweet flesh (Donner Lake Inn uses Gala or Pippin)
6 tablespoons (3 ounces) unsalted butter
6 tablespoons brown sugar, plus more as needed
2 teaspoons cinnamon, plus more as needed
1 teaspoon salt, plus more as needed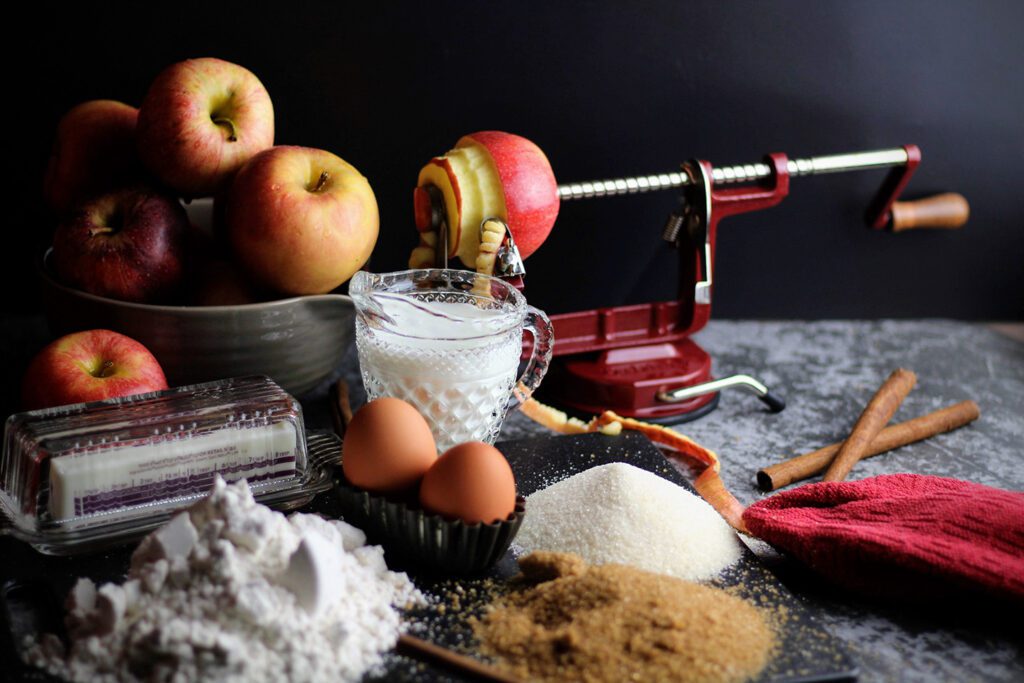 Directions
Make the cinnamon sugar bread:
Layer bread ingredients into a home bread machine, starting with the liquid ingredients, sugar, and salt. Add the yeast last. (The yeast should not initially be in contact with those ingredients.)
Set the machine to make a 1.5-pound loaf, on the sweet bread setting, with a light crust (adjust as needed for your bread machine).
Allow the loaf to cool and cut into 1-inch cubes.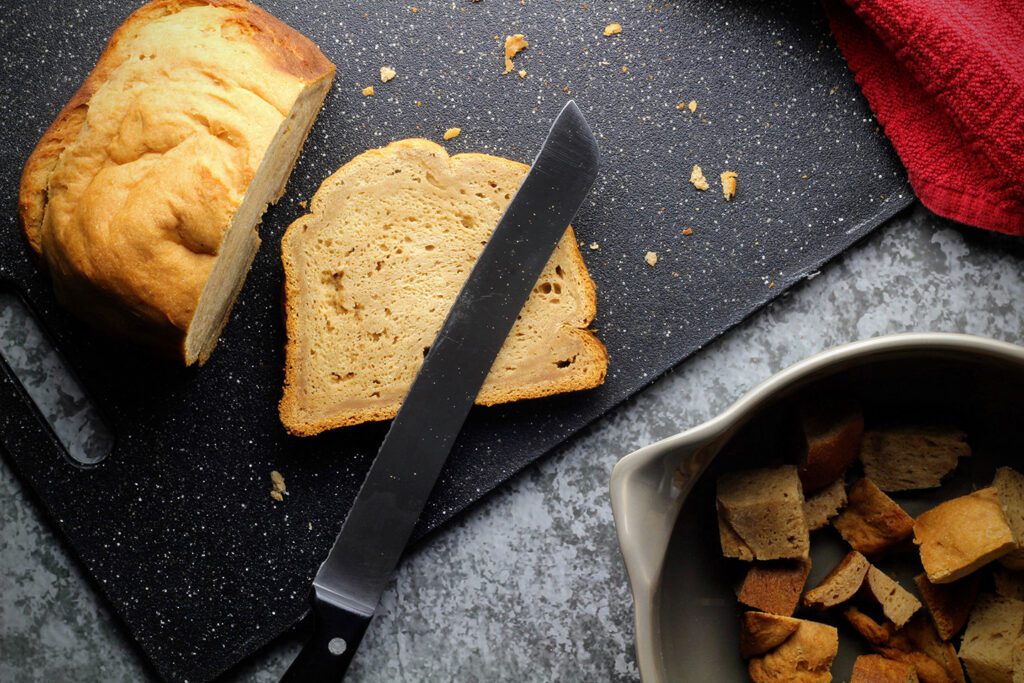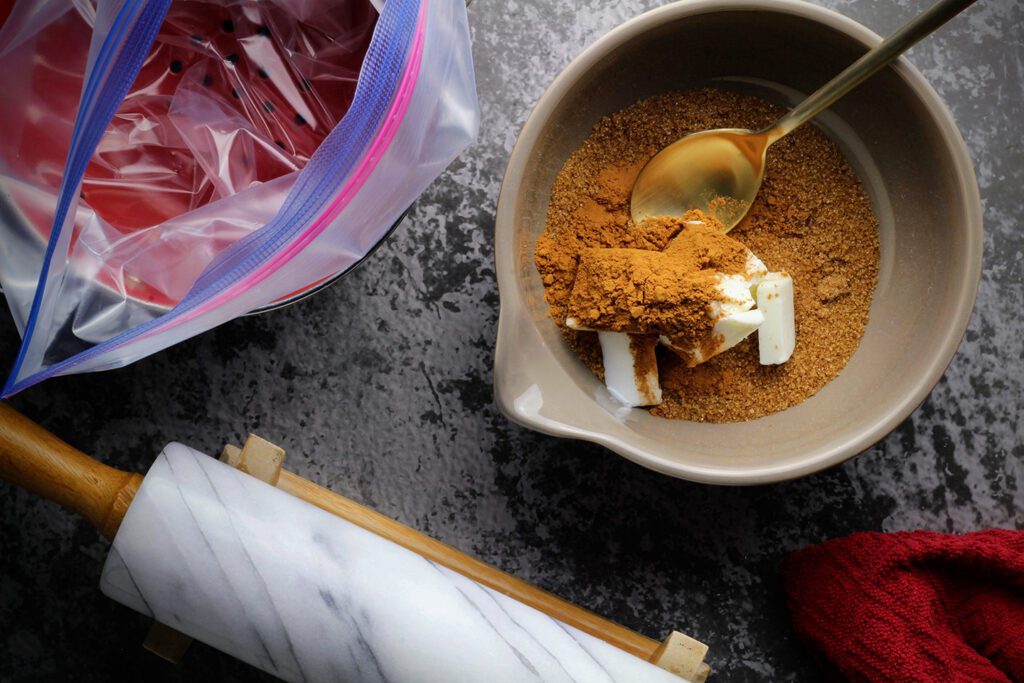 Make the brown sugar cinnamon butter:
Mix the brown sugar and cinnamon.
Add to the softened butter and mix well.
Place the mixture in a sturdy 1-gallon zipper-top bag and roll with a rolling pin until evenly flat and thin.
Refrigerate until firm.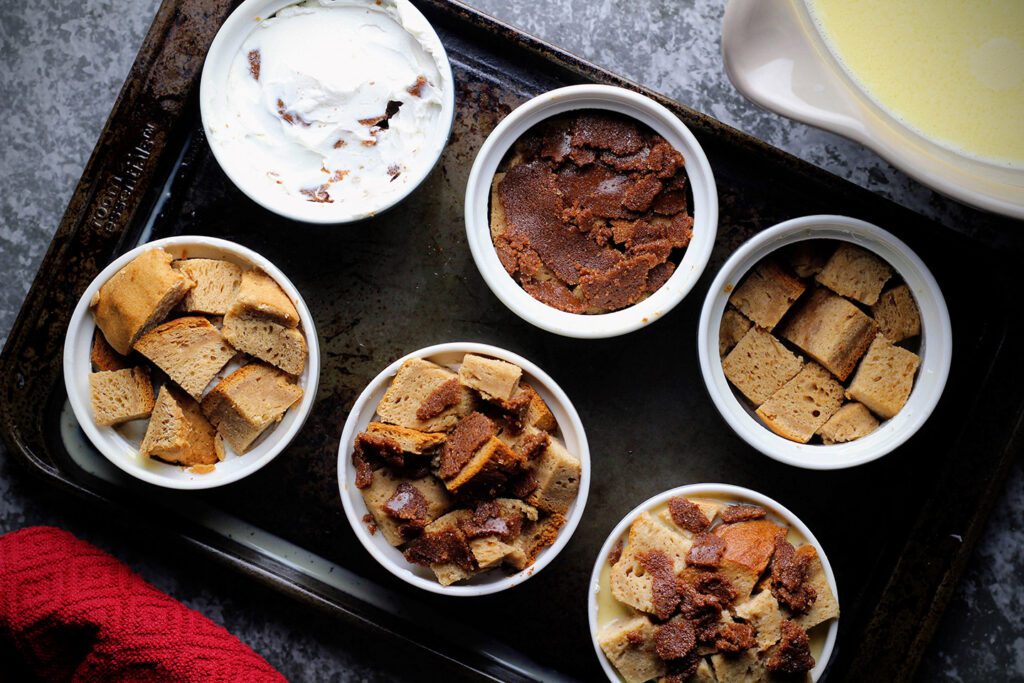 Assemble the bread pudding:
Coat 6 ramekins with cooking spray and place on a baking sheet.
Cover the bottom of each ramekin with the cubed bread.
Place a layer of brown sugar cinnamon butter over the bread cubes. Save about 1/3 for another layer.
Spoon around 2 tablespoons of the cream cheese over the brown sugar cinnamon butter, then spread with a butter knife or small spatula spreader to create a thin layer.
Fill the remainder of the ramekin with more bread cubes.
Dot with chunks of the remaining brown sugar cinnamon butter.
Slowly pour about a ½ cup of the milk-egg-vanilla mixture evenly over each ramekin, making sure to saturate the top layer of bread and waiting as necessary for the liquid to soak in before pouring more.
Cover the baking sheet with foil and refrigerate overnight.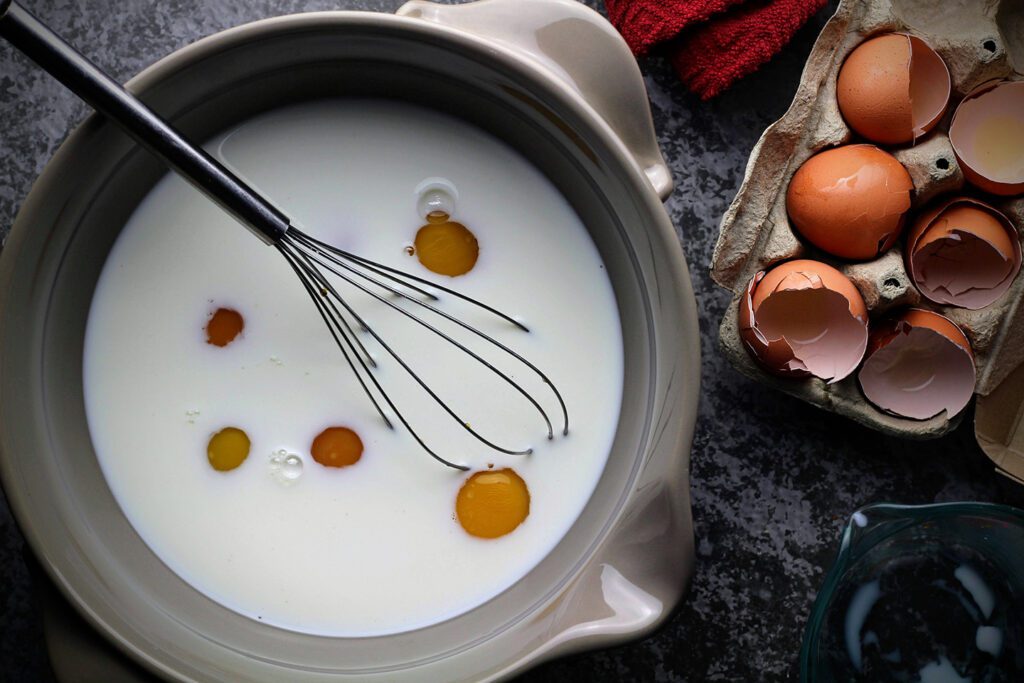 Bake the bread pudding:
Preheat the oven to 375 degrees Fahrenheit.
Bake covered for 30 minutes, then uncover and bake for an additional 15 minutes.
Caramelize the apples:
Peel, core, and cube the apples.
Melt the butter in a large sauté pan over medium heat.
Add the apples, then sprinkle with brown sugar, cinnamon, and salt.
Taste and add more brown sugar, cinnamon, or salt as needed (keeping in mind the bread pudding will already be sweet and have plenty of cinnamon flavor).
Increase to high heat and stir constantly until the apples reach the desired amount of caramelization.
Plate and serve:
Let the ramekins rest for 10 minutes, then run a knife around the edges to make sure the bread pudding releases.
Turn each ramekin out onto a plate or shallow bowl.
Spoon 1/3 to ½ cup of caramelized apples over each serving and serve immediately.