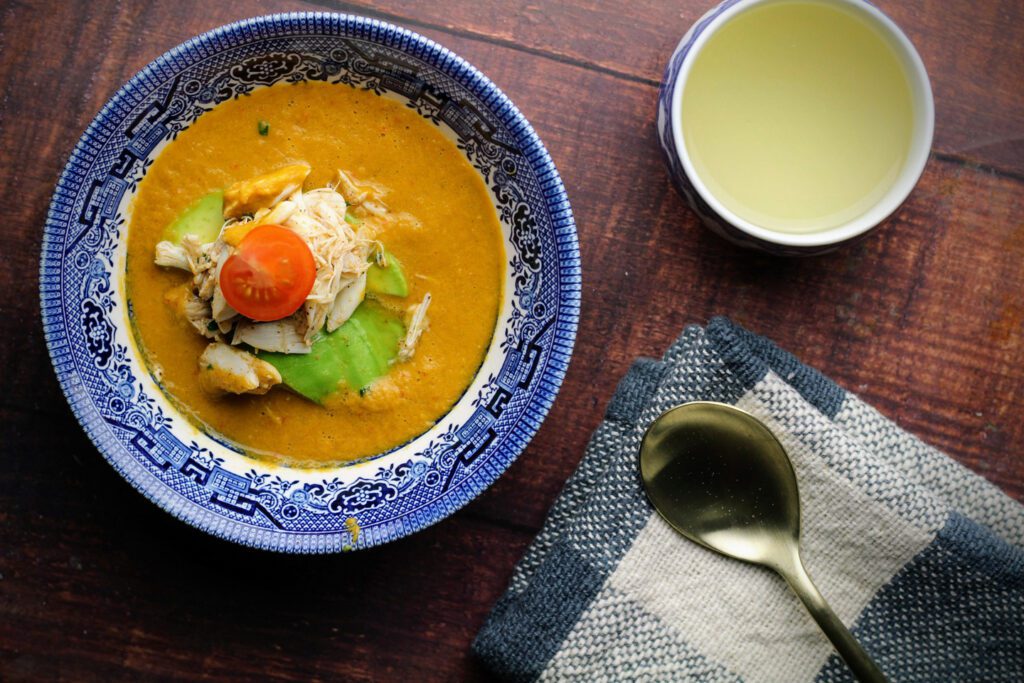 Chilled Crab Gazpacho from Montecito Inn
In the posh seaside enclave of Montecito on the Santa Barbara coast, the Montecito Inn has been rolling out the red carpet for guests since 1928. The hotel was built by silent screen legend Charlie Chaplin and a small group of investors as an upscale getaway. To this day, it exudes the glamour and elegance of a small, luxury boutique hotel.
Standing at the top of Coast Village Road, the hotel was built in classic Spanish Colonial Revival style with white-washed walls, red tile roofs, and arched windows and breezeways. Inside, the guest rooms and luxurious suites feature lavish decor and a sophisticated palette of ivory, champagne, and rich grays. Many of the suites boast fireplaces and opulent baths with imported Italian marble. Guests are treated to valet parking, 24-hour concierge services, a fitness center with a Peloton, spa services, complimentary cruiser bikes, a heated pool and hot tub with poolside dining, and two on-site restaurants.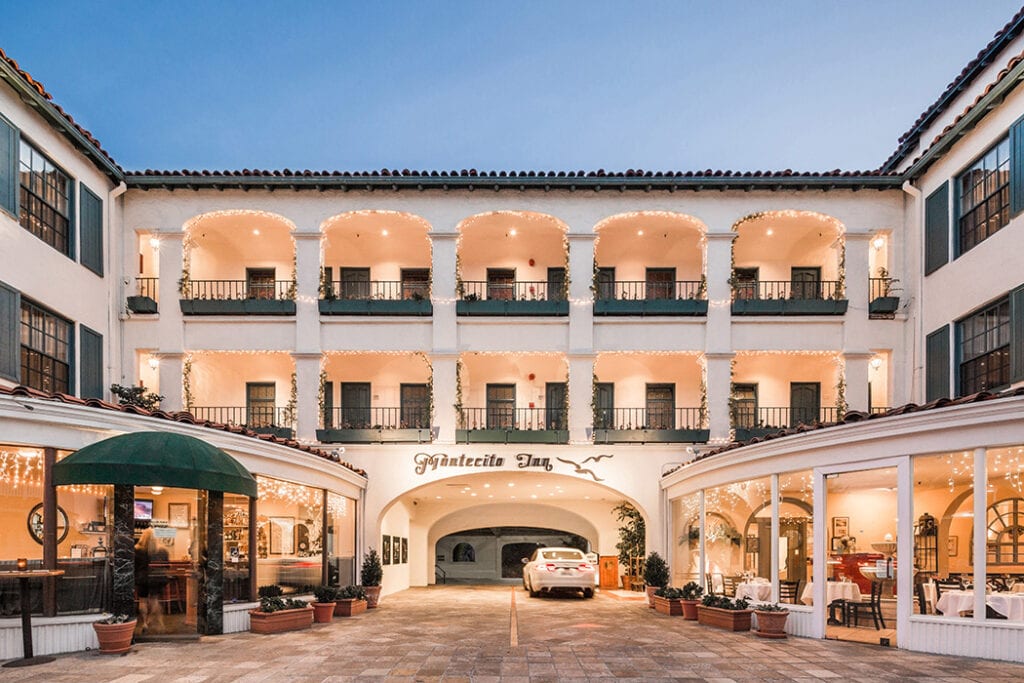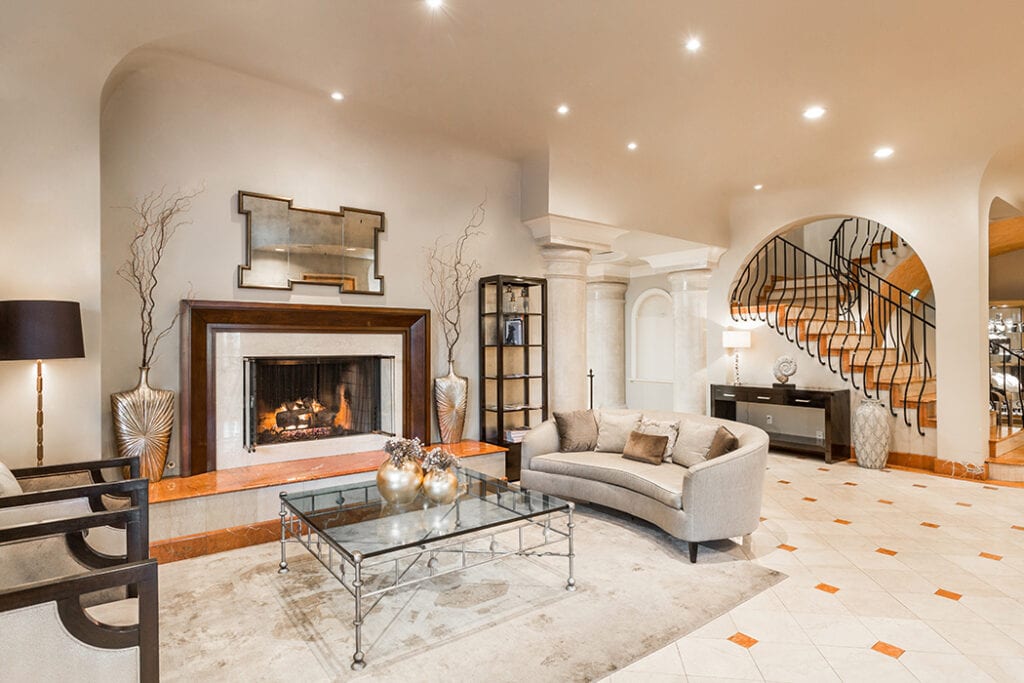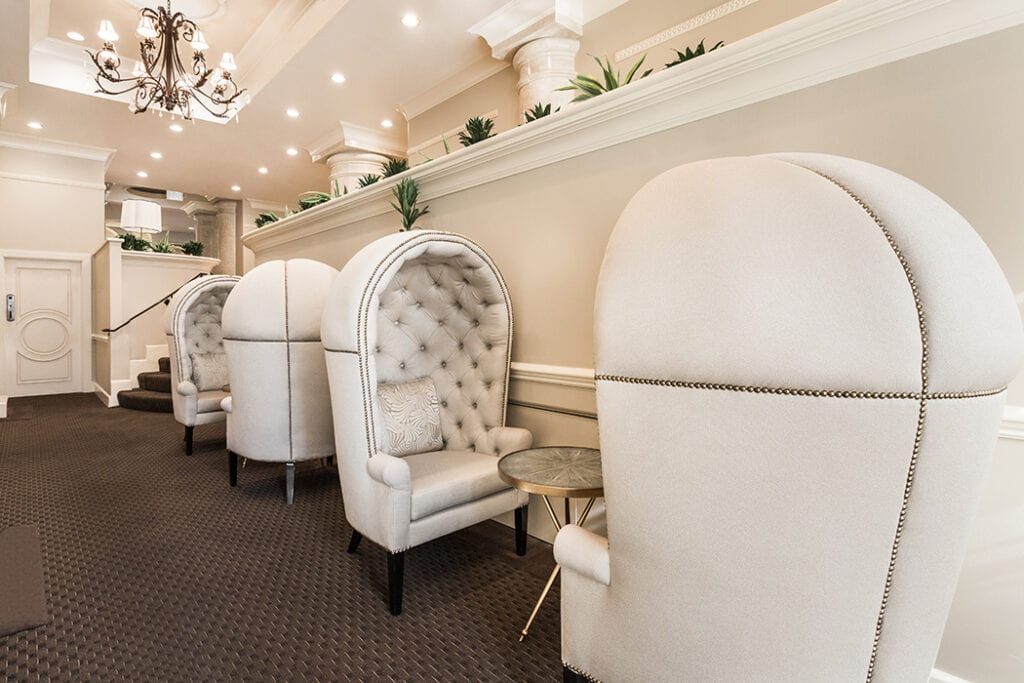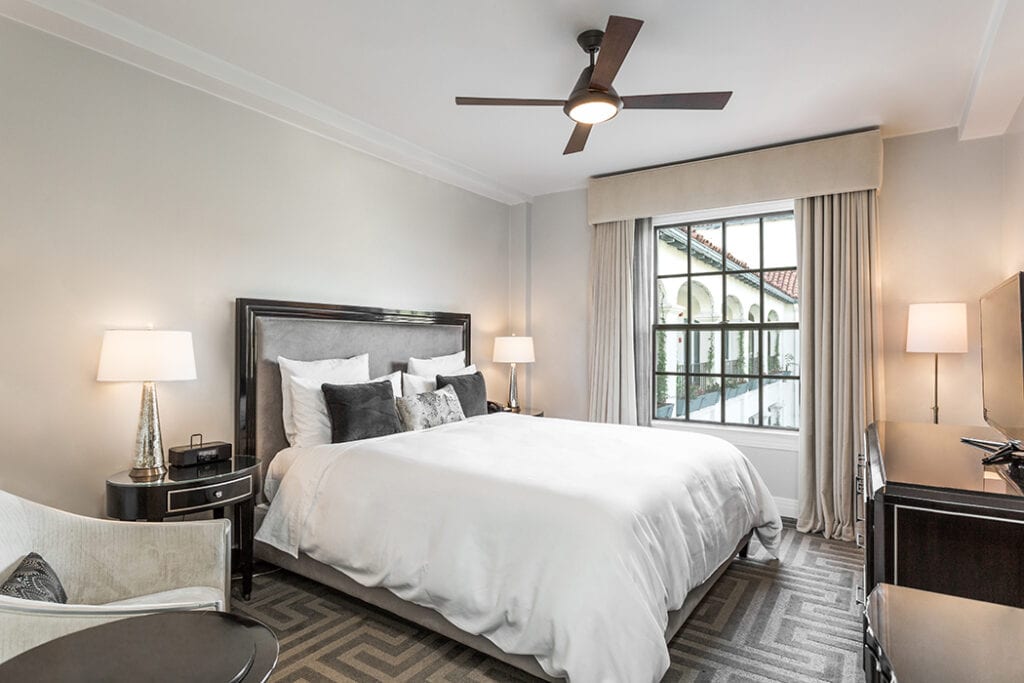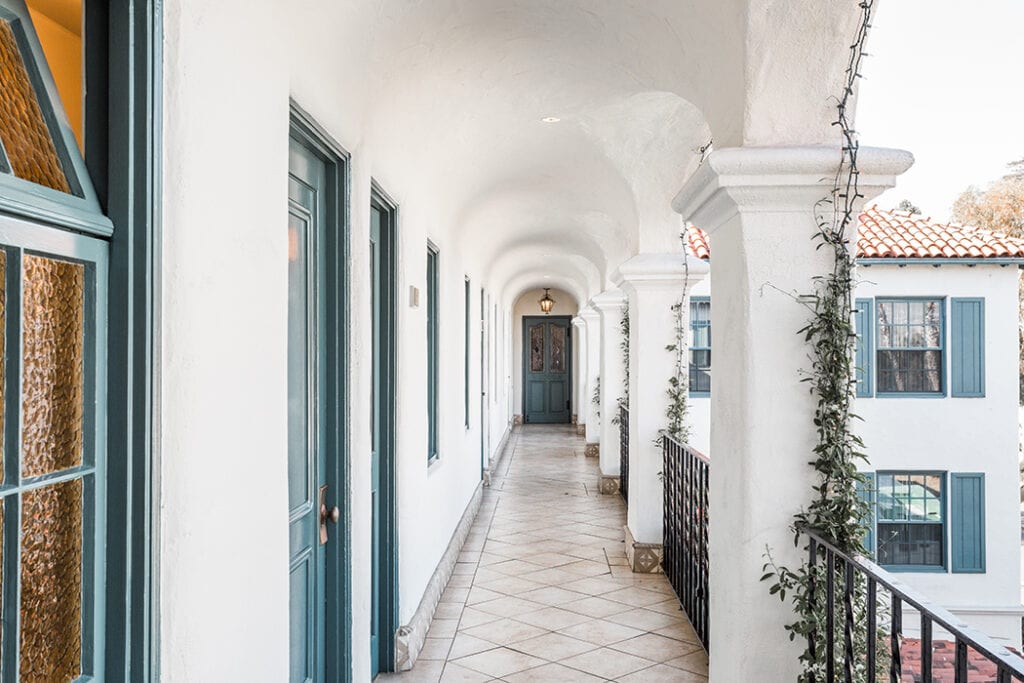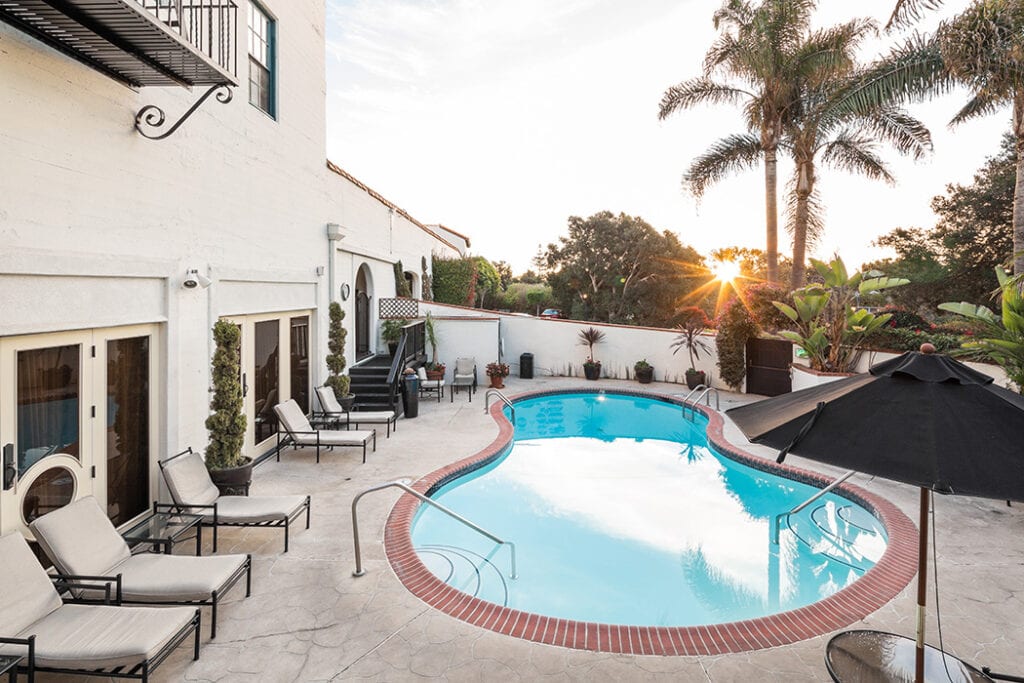 One of the hotel's restaurants is the Michelin-starred Sushi by Scratch Restaurants from Chef Phillip Frankland Lee. With just 10 seats around a traditional sushi counter, this intimate omakase serves unexpected riffs on nigiri and other delicacies in a 17-course prix fixe menu.
The other restaurant, Coast & Olive, just opened in 2020 as a warm, inviting spot for locals and guests alike to indulge in fresh, seasonally driven California cuisine. The restaurant's down-to-earth Executive Chef Chris Mottola describes the menu as simple comfort food, but the dishes sing with skillful preparation and locally sourced ingredients. Popular dishes include the sesame-crusted ahi tuna and trout almondine. 
As heirloom tomatoes come into season beginning in mid-to-late spring, the restaurant's chilled crab gazpacho steals the spotlight. "We make this fresh daily and it sells out almost every night," says Chef Chris, who graciously shared his recipe.
Putting a coastal Southern California spin on the Andalusian classic, the boldly flavored soup is marinated at room temperature—bypassing the stove—and allowing the pungent aromatics to do all the work. It's then topped with creamy avocado and a generous scoop of crab, itself marinated with a kiss of honey and a hint of Cajun spice. It's the perfect warm-weather dish, but also a refreshing delight year-round. And while the recipe owes its distinctive punch to a unique combination of aromatic ingredients, it's also easily modified to suit personal tastes.
Chilled Crab Gazpacho
Courtesy of Coast & Olive at the Montecito Inn
Makes 4 to 6 servings
Ingredients
For the gazpacho:
4 medium heirloom tomatoes, large diced
1 English cucumber, large diced
1 red bell pepper, large diced
¼ cup minced garlic (about one small head)
½ cup minced red onion (about ½ a medium onion)
2 tablespoons minced cilantro
2 teaspoons salt
¼ cup extra virgin olive oil
1 Fresno chile, minced (optional)
¼ cup sherry vinegar
For the chilled crab:
½ pound lump crab meat
1 tablespoon sherry vinegar
1 teaspoon honey
1 teaspoon Cajun spice
1 teaspoon salt
2 tablespoons thinly sliced chives
For garnish:
1 avocado
½ cup halved cherry tomatoes
extra virgin olive oil to finish
Directions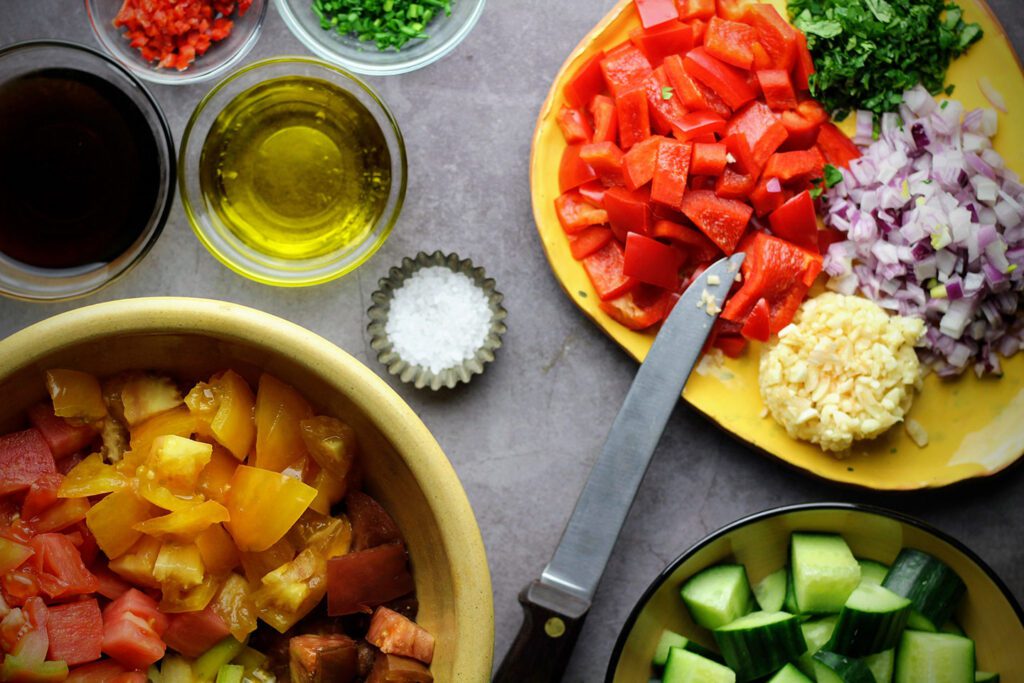 In a large saucepot, combine the tomatoes, cucumber, pepper, garlic, onion, cilantro, salt, olive oil, and diced chile. Marinate at room temperature for 15 minutes. Blend with an immersion blender, slowly, until the mixture is homogenous and sauce-like with no large pieces left. Add sherry vinegar and more salt if needed, keeping in mind that the soup will taste less salty when chilled. Refrigerate for at least one hour.
In a small bowl, mix the crab, vinegar, honey, Cajun spice, salt, and chives until thoroughly combined and the crab is broken up. Refrigerate for 30 minutes.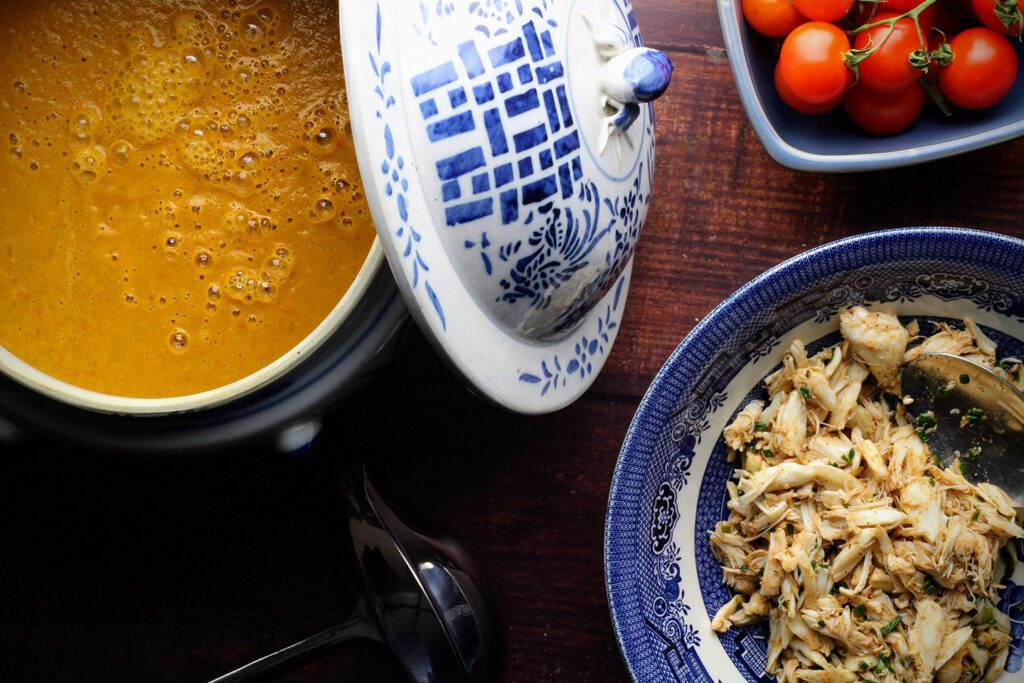 To serve, ladle servings of the gazpacho into individual bowls. Slice or dice the avocado and place it on top of the gazpacho. Place two to three tablespoons of the crab on top of the avocado, followed by one to three halved cherry tomatoes. Finish with a drizzle of olive oil.