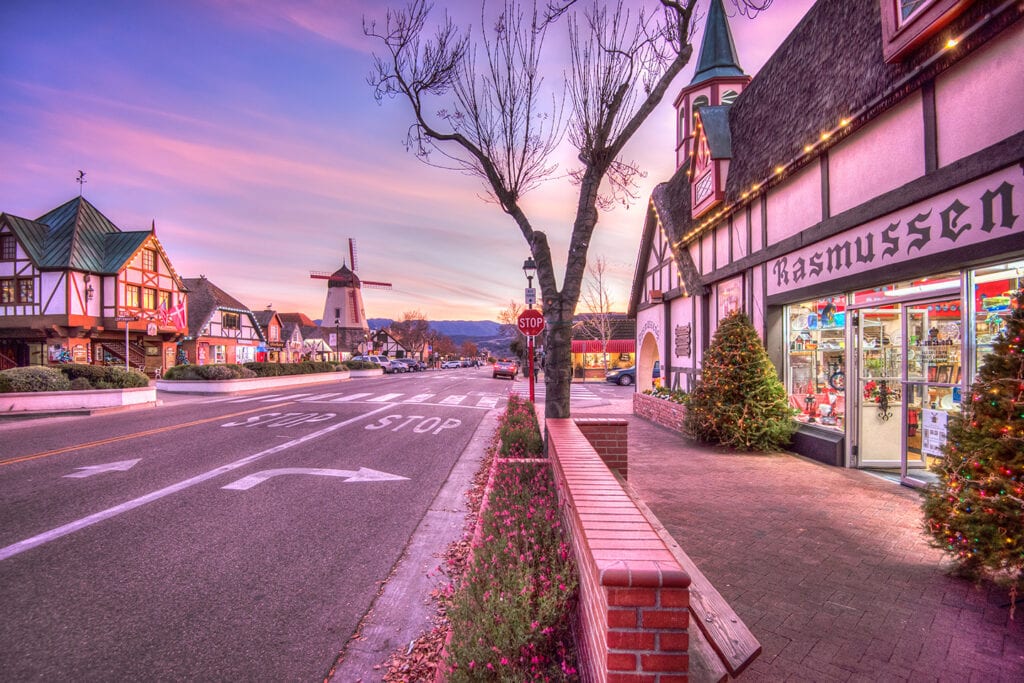 Celebrate the Holidays in Solvang with Julefest 2020
Heralded as one of the best Christmas towns in the country, the Danish village of Solvang, California hosts a month-long holiday celebration each year. While the long-standing tradition will look at bit different for 2020, Solvang's Julefest will still offer an enchanting escape steeped in holiday cheer. This year's festivities will run November 28, 2020 through January 1, 2021 and include holiday light displays, food tours, candlelight tours, a digital "Nisse Adventure" and more.
Solvang is pulling out all the stops with the holiday light displays this year. The entire village will be illuminated with twinkling lights, celebratory scenes, and Instagram-able holiday vignettes. More than 100 Christmas trees will line Solvang's streets for a tree decorating contest among the village shops, restaurants, and hotels. In addition, many of the town's merchants will welcome guests for after-hours shopping and dining in a European night market setting.
During Julefest, Solvang will host its annual Nisse Adventure, in which participants join in a city-wide hunt for the mysterious Solvang Nisse (Christmas elves). Nisse are hidden throughout the village. Elf-trackers can visit www.NisseAdventure.com for clues to Nisse hiding spots. Once participants find the Nisse, they can scan a QR code and continue the adventure, earning prizes.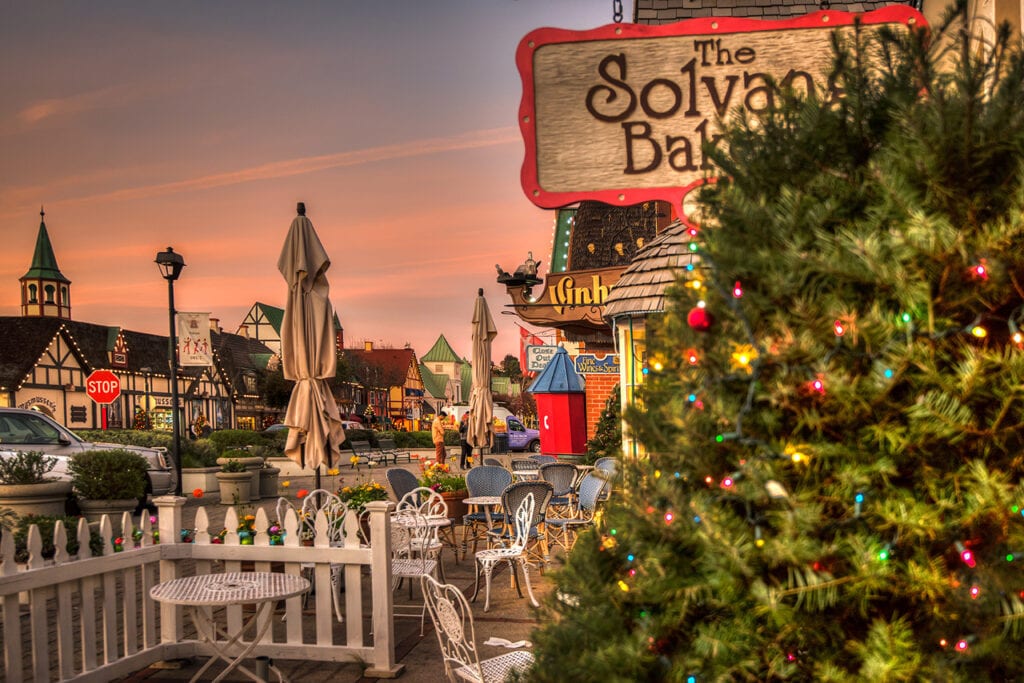 On Saturdays during Julefest, the foodie (and photo) experts at Eat This, Shoot That will lead food tours through the village. Julefest's popular evening candlelight tours will also return on select nights. Both tour options provide a unique and entertaining way to explore the village on foot during the holidays.
To stay up to date on event information and the schedule for the 2020 Solvang Julefest, visit www.solvangjulefest.org. For places to stay, check out our list below of boutique hotels and B&Bs within walking distance of all of Solvang's holiday attractions.
WHERE TO STAY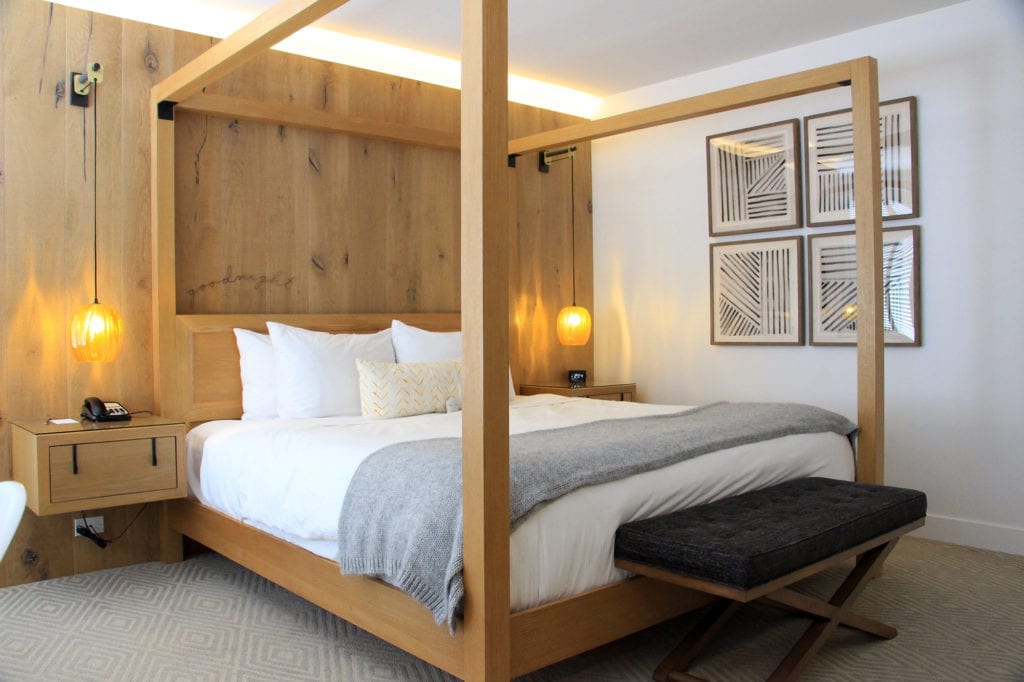 The Landsby
Completely revamped in 2015, The Landsby exudes a sophisticated Scandinavian lodge aesthetic. The boutique hotel's bright and airy guest rooms are finished with blonde woods, brushed brass fixtures, leather accents, and handcrafted furnishings. The hotel offers several room types ranging from classic and deluxe options to the luxurious, two-story tower suite with a Jacuzzi tub for two, a sitting room with a fireplace and wet bar, and a king bed upstairs. An outdoor garden lounge provides a lush oasis for guests to relax with fire pits and romantically lit trees.
Mirabelle Inn & Restaurant
Impeccable service and a pampered stay awaits guests of the elegant, European-inspired Mirabelle Inn. The three-story, half-timbered boutique hotel features 12 romantic guest rooms and an exceptional restaurant, First & Oak. The guest rooms feature gas fireplaces, luxurious bedding, plush robes and slippers, and private baths. Some of the rooms also offer Jacuzzi tubs. The décor is a tasteful of mix chic wallpapers, antiques, and a touch of retro glamour. Breakfast at the inn is wonderful, but don't miss dinner at First & Oak, which features seasonal menus and fresh, locally-sourced ingredients.
New Haven Inn
Fully remodeled in 2015, the New Haven Inn is a charming boutique inn just a few blocks from the Solvang village square. Each of the inn's 12 guest rooms are tastefully decorated with contemporary furnishings. The ground floor fireside rooms feature private patios with their own private fire pits, walk-in showers with dual showerheads, and double beds. King rooms feature vaulted ceilings with chandeliers, walk-in showers with dual showerheads, and plush king-sized beds. A variety of two and three bedroom suites are also available.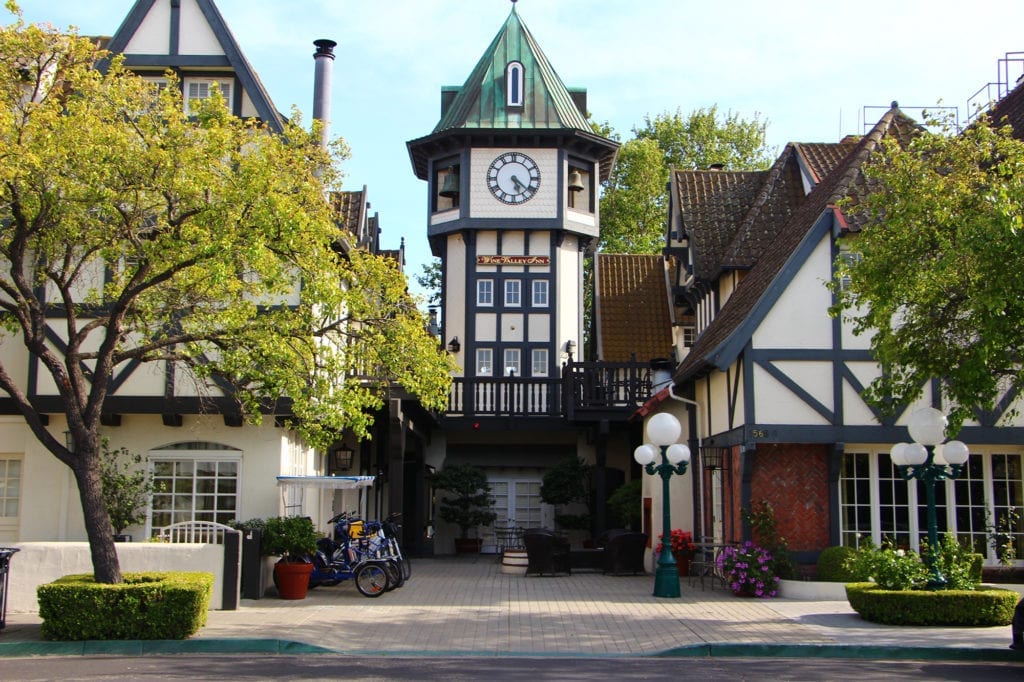 Wine Valley Inn & Cottages
With its distinctive clock tower, Wine Valley Inn & Cottages is a delightful boutique hotel built in the traditional, old-world Danish style. Tucked in the back of the property, you'll find a collection of secluded, free-standing cottages connected by shady footpaths and footbridges winding alongside lush gardens and koi ponds. Newly updated, modern-furnished guest rooms are housed inside the inn's main chateau and tower. The hotel's amenities include a wine bar, fitness center, spa treatment room, outdoor fireplaces, bicycle rentals, and a complimentary breakfast served each morning.
Atterdag Inn
Tucked on a side street just off the main drag, the Atterdag Inn was built in the traditional half-timbered Danish style, but inside, its rooms exude a modern, minimalist Scandinavian aesthetic. The renovated boutique hotel opened in 2015. Its eight rooms surround a private courtyard with comfortable outdoor seating. The airy, light-filled rooms feature modern Danish furnishings, whimsical pendant lights, vintage Copenhagen travel poster prints, and a color palette of white and gray with bright red accents. The second floor rooms also offer vaulted ceilings and views of Solvang's storybook buildings and windmills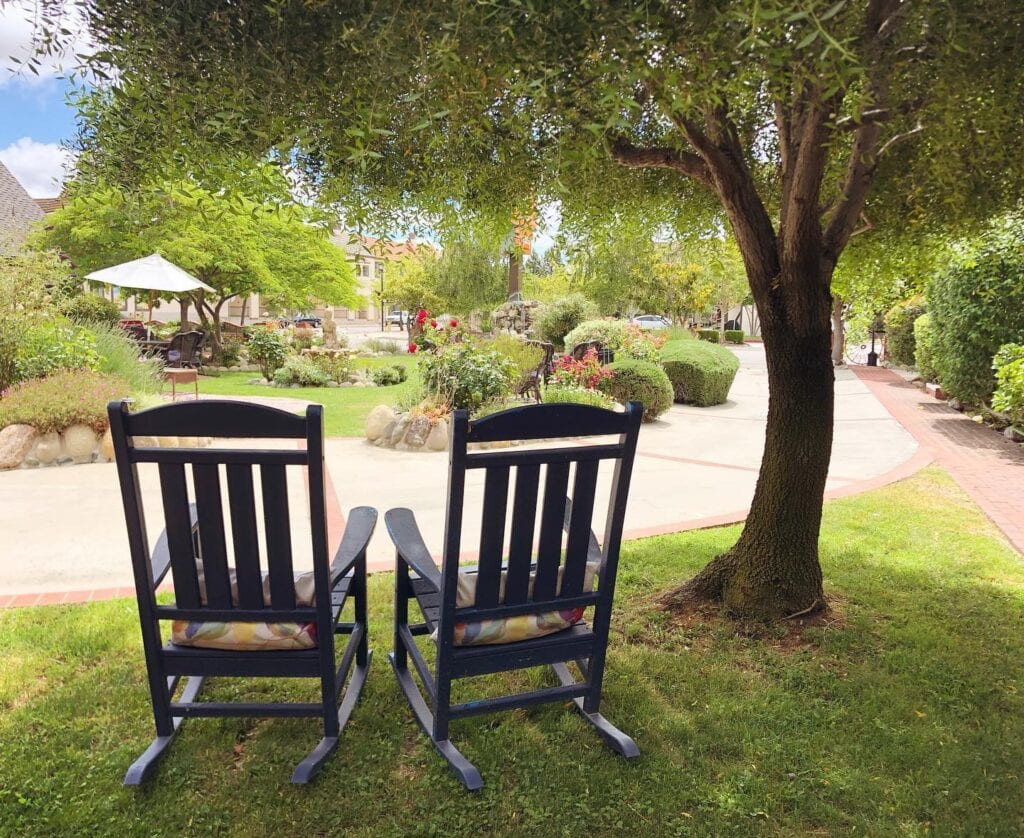 The M Solvang
Two blocks from downtown, The M Solvang (formerly Solvang Gardens Lodge) is a quiet, country inn built in the old-world Danish tradition and surrounded by beautiful garden blooms. The inn features 24 individually-decorated guest rooms with comfortable furnishings, marble tiled baths, and exterior room access. Some of the suites also have gas or electric fireplaces. The gardens and trickling fountains surrounding the inn provide an idyllic setting to relax or play a game of bocce ball. The inn serves an extended continental breakfast each morning.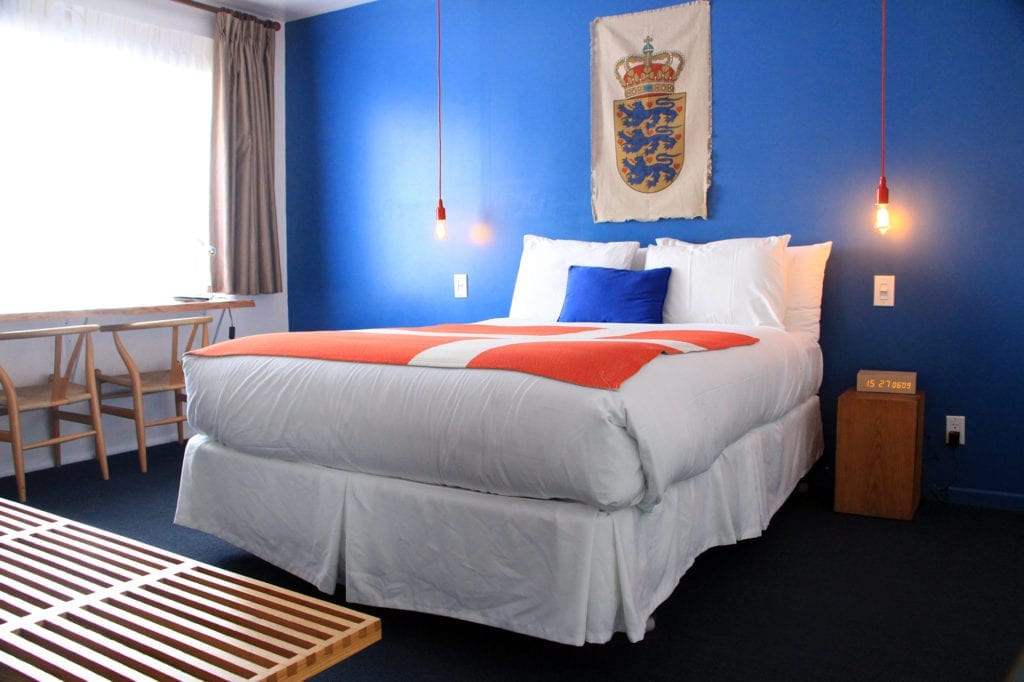 Hamlet Inn
The Hamlet Inn is a roadside motel turned budget-friendly hipster haven in the heart of Solvang. Updated in 2011, the Hamlet Inn offers 15 basic but colorful guest rooms with modern Danish furnishings. The rooms feature Hans Wegner-style wishbone chairs, red pendant lighting with exposed filament bulbs, electric blue accent walls, and beds draped with Danish flag-inspired throws. Outside, guests can challenge themselves to a game of bocce ball or take a spin around town with one the inn's complimentary bicycles. Olsen's Danish Village Bakery is located directly across the street.
Lead photo of Solvang at the holidays courtesy of Central Coast Pictures // SolvangUSA.com