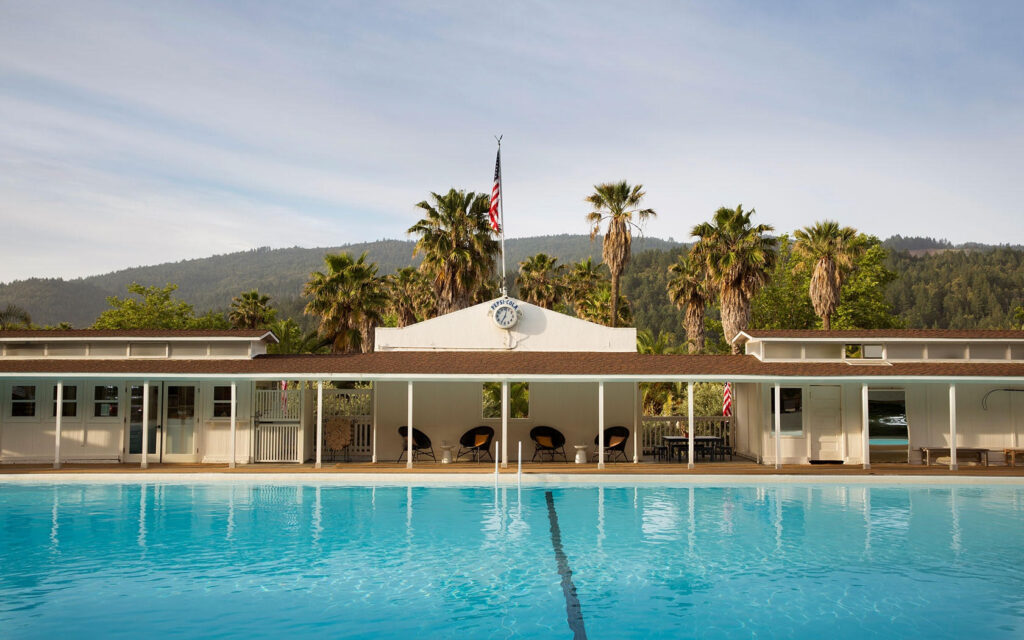 Calistoga's Soothing Hot Springs and Mud Baths
The mud was heavier than I expected, and I started to panic. I was lying naked in a vault-like tub of thick volcanic ash mixed with steaming mineral water. When my husband and I signed up to experience the detoxifying relaxation of Calistoga's famous mud baths, I had pictured a slippery smooth mud that could be slathered on like peanut butter. Instead, the mud resembled wet concrete. A bath attendant helped me ease down into the steaming mud and then quickly and tactfully heaped clumps of it onto my body until I was completely encased from the neck down. The mud was so dense, my body didn't sink. Instead, I was completely suspended in mud. The heat made me a little woozy and the weight of it all surprised me. I could barely move or breathe. What if I got stuck? I imagined being entombed in the mud like Han Solo being frozen in carbonite.
The bath attendant must have sensed my rising panic. She placed a cool washcloth over my forehead and reminded me to breathe.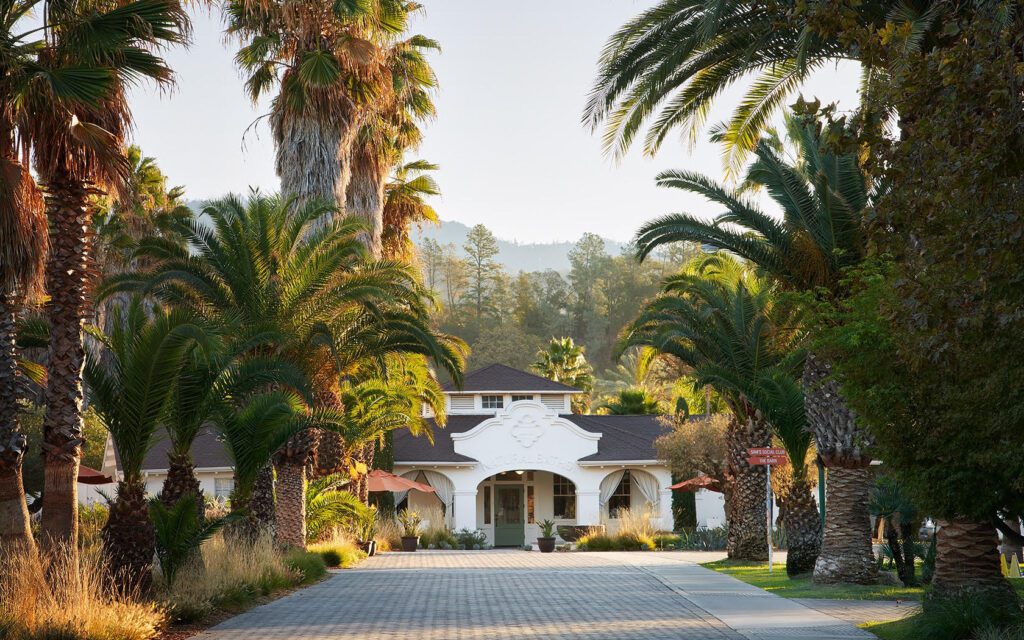 Generations have been drawn to Calistoga's ancient volcanic hot springs and bubbling muds. The steaming sites near the base of Mount Saint Helena were originally discovered by the indigenous Wappo tribe some 8,000 years ago. When American settlers arrived in the 1840s, the news of the hot springs' "healing powers" quickly spread thanks in large part to the enterprising publicity machine of Calistoga's founder, Samuel Brannan. A Mormon settler, Brannan was the first to publicize the California Gold Rush and later became the state's first millionaire. Upon first visiting the hot springs in 1859, Brannan set out to build a resort to rival Saratoga, New York. The town's name apparently came from a drunken boast that he would build the Saratoga of California, which came out as "the Calistoga of Sarafornia."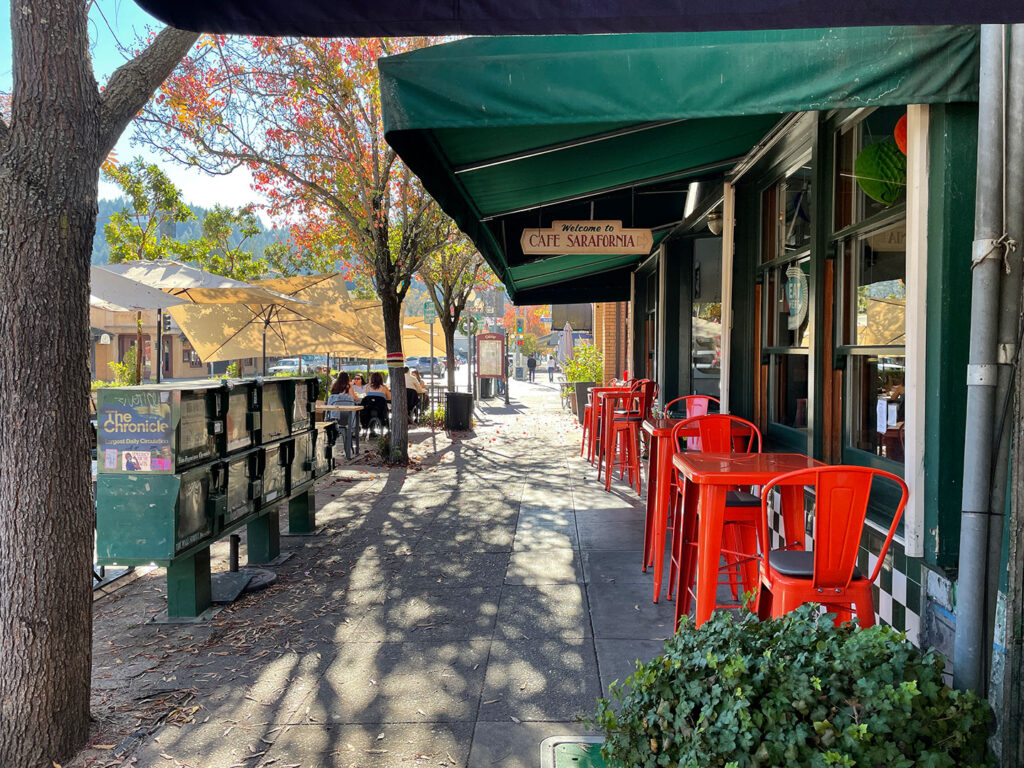 Today, a diverse collection of spas, ranging from low-key to luxurious, cater to countless girlfriend getaways, romantic weekends, and solo self-care. As the northernmost town in Napa Valley, Calistoga is a little less traveled and all the more charming. Set against a mountainous backdrop, Calistoga's Old West-style downtown has artistic flair and touches of a midcentury modern vibe. Boutique shops, art galleries, tasting rooms, restaurants, lodging, and nearly a dozen spas are all clustered within a walkable one-mile radius. Hop in the car, and over 50 up-valley wineries are just a quick drive away.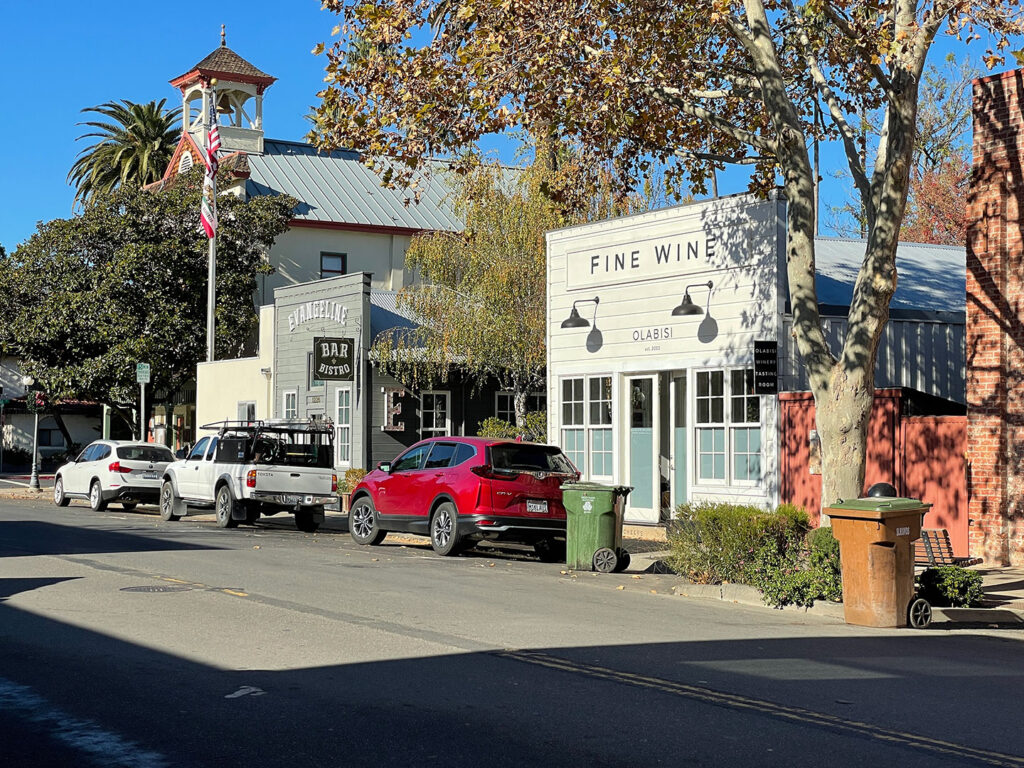 But here in the mud at Indian Springs, wine tasting was the furthest thing from my mind. I half-heartedly tried to explore the mud with my fingers but ultimately surrendered to the cocoon of warmth and steam. Coherent thoughts were fleeting, and I lost track of time. When the bath attendant asked me if was ready to get out, I shook my head no. I had no idea how I could possibly extract myself from the mud.
This was not a wise choice. Right after she left, I felt the return of the mud's weight pressing down on my chest and my body temperature seemed to rise. I made a futile effort to move but barely budged. The bath attendant was at my side within seconds and began scraping the mud from my body.
I have no memory of how she got me out of the tub, but moments later I was upright in a shower watching the mud stream from my legs down the drain. After the shower, I was led in a haze to a white clawfoot tub filled with hot mineral water for a soak, then to a sauna, and finally to a cool-down room to lie down with cucumber slices placed over my eyes.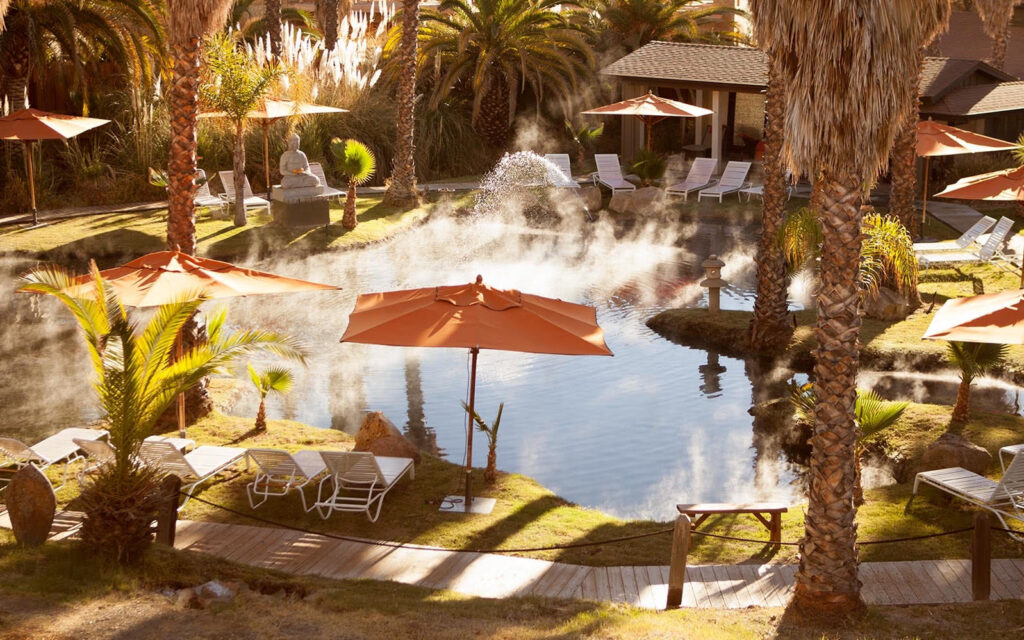 When I finally emerged from the bathhouse to rejoin my husband at the spa's "Buddha Pond" beneath the palm trees, I felt like a limp ragdoll. We cuddled up on a lounger beside the pond to compare notes on our mud baths and gulp down cucumber water and licorice candies. Later, we spent the rest of the afternoon floating around the resort's main pool: a steaming expanse of warm mineral water fed by onsite geysers. Draped over floaties and loosely holding onto each other's hands, we whispered and floated amid the silence trying to shed the stressors of the past two years.
Where to Stay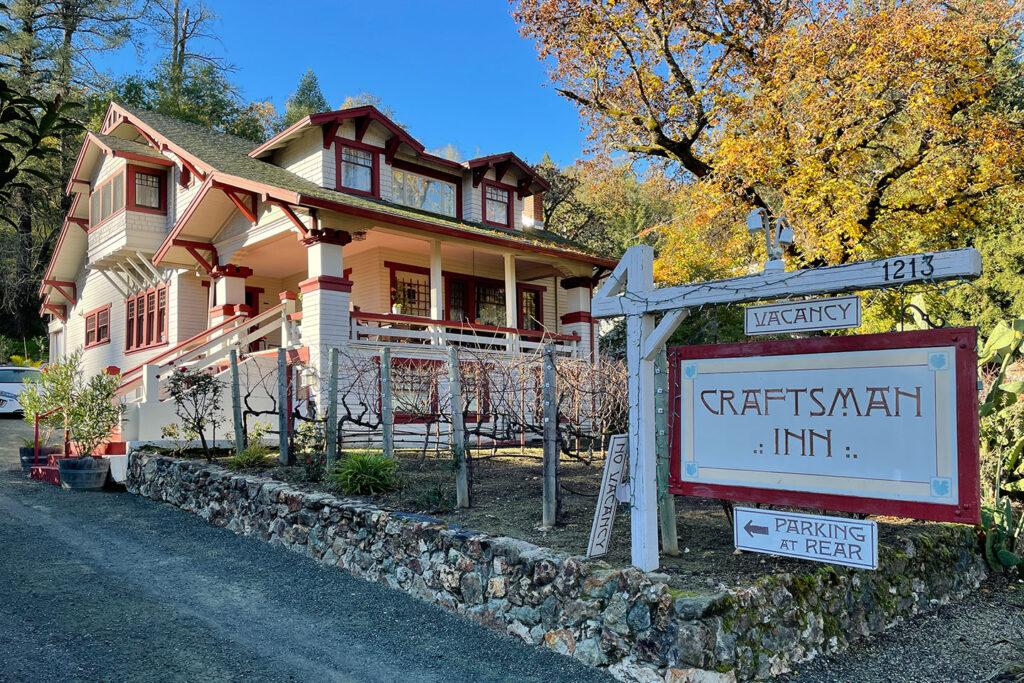 Calistoga Wine Way Inn and Craftsman Inn
My husband and I stayed at the Calistoga Wine Way Inn along Highway 29 at the entrance to downtown. Built at the turn of the century and lovingly restored, Wine Way Inn is Calistoga's oldest bed and breakfast and is one of the town's finest examples of Craftsman architecture. The inn's eight guest rooms range in size and price, but all are furnished in period style and include thoughtful amenities, including complimentary snack packs.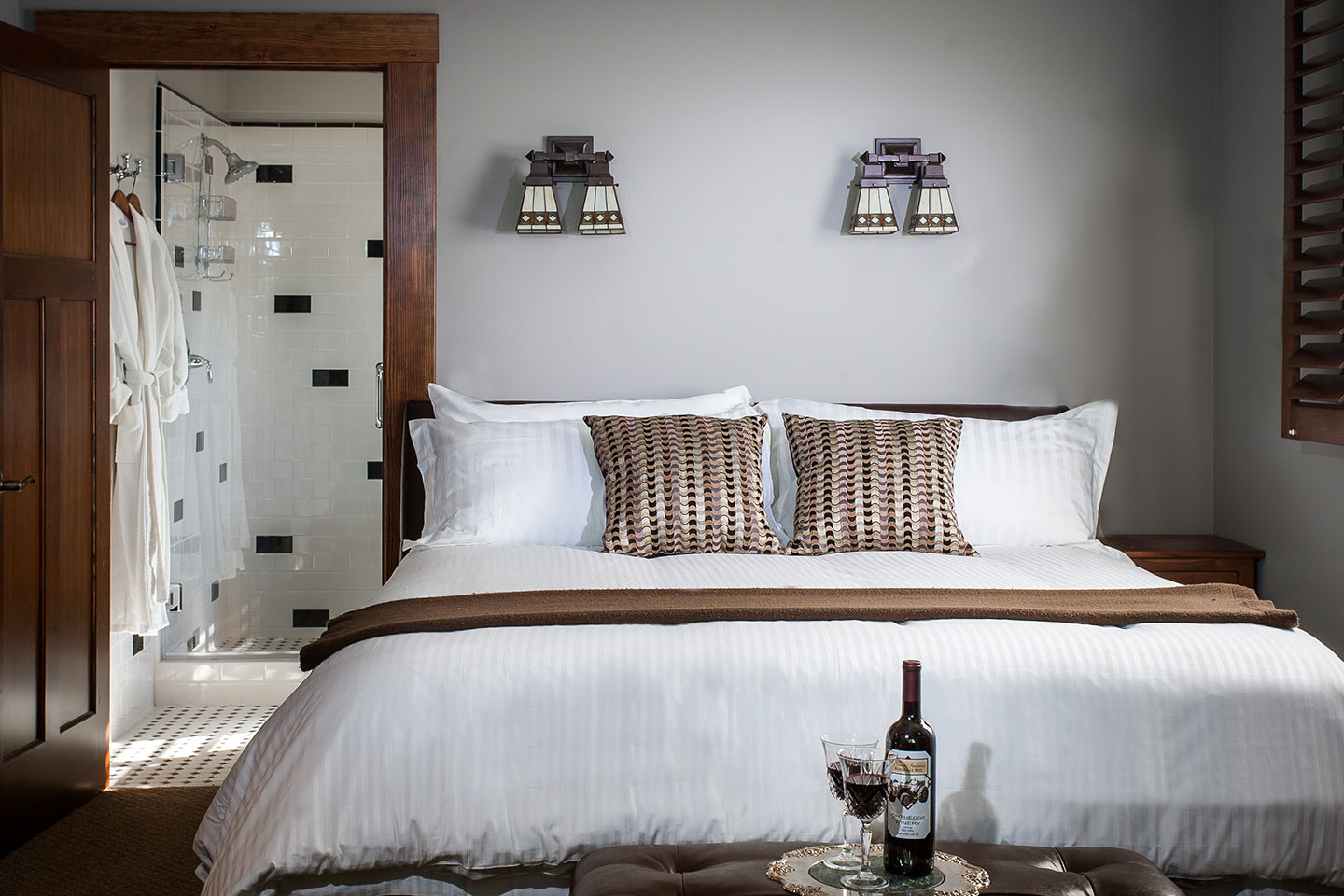 We stayed in the Lokoya Room with its Arts and Crafts-inspired décor, king-size bed, gas fireplace, a sitting area with a couch that can be converted to a queen-size sleeper. The spacious bath features a reclining clawfoot tub with spa jets and chromotherapy. A separate glass-enclosed shower is finished with bright white subway tile with black accents and has a thoughtfully offset shower faucet. The room is also equipped with cozy spa robes, a large flat-screen TV, a small refrigerator, and a Keurig coffeemaker.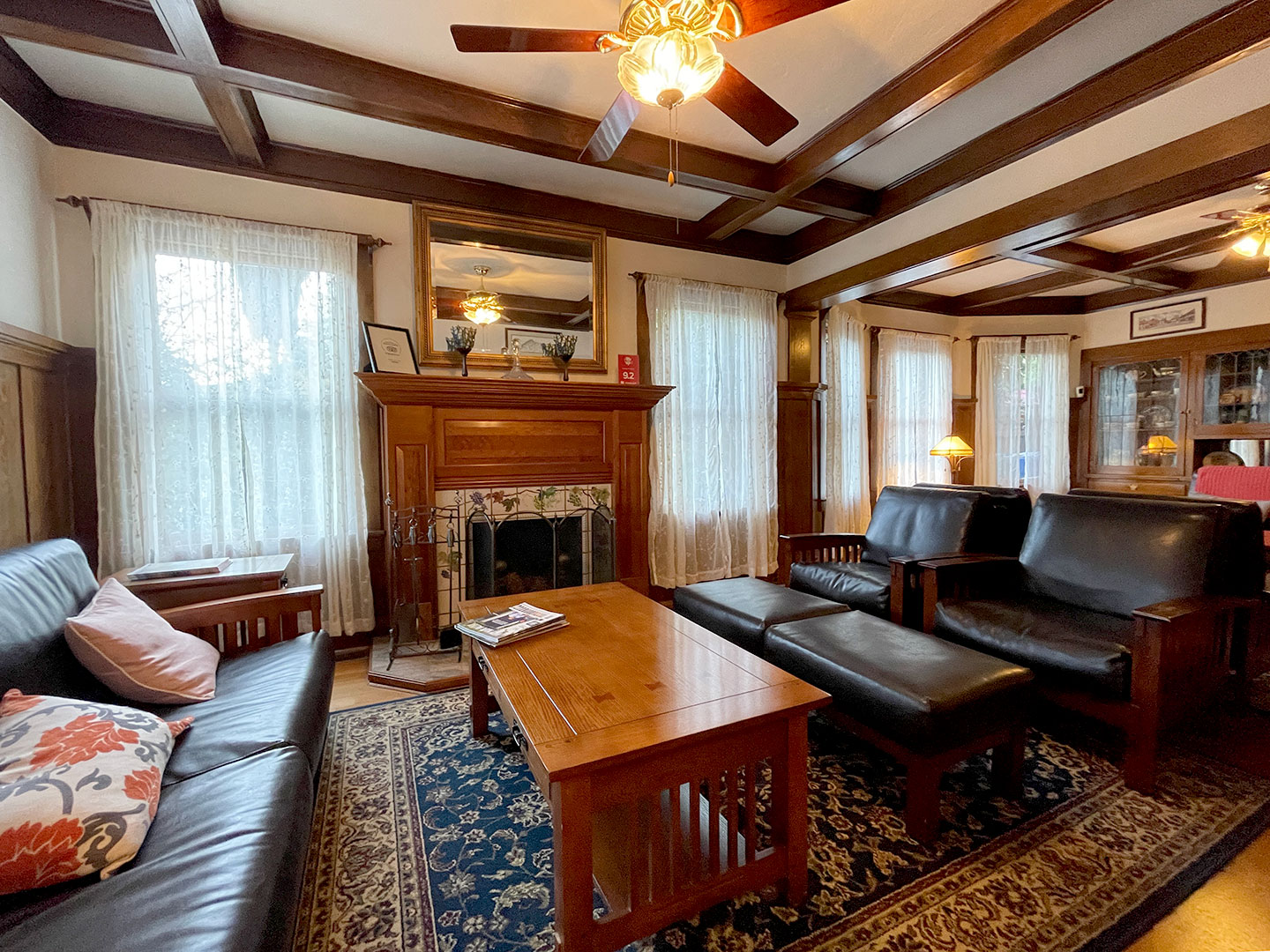 The inn's living room is an inviting space with box beam ceilings, a wood-burning fireplace, hardwood floors, beautiful rugs, and mission-style furniture. Behind the inn, a multi-level redwood deck with vibrant gardens climbs a steep slope to offer sweeping views of Mount St. Helena and the Palisades. At night, guests can gather around the fire pit and gaze at the stars above.
The inn's sister property, the Craftsman Inn, is located just two blocks down the road. The elegant rooms feature unique period architectural details; a few also offer two-person Jacuzzi tubs. A sunny wraparound porch overlooks grapevines in the front yard.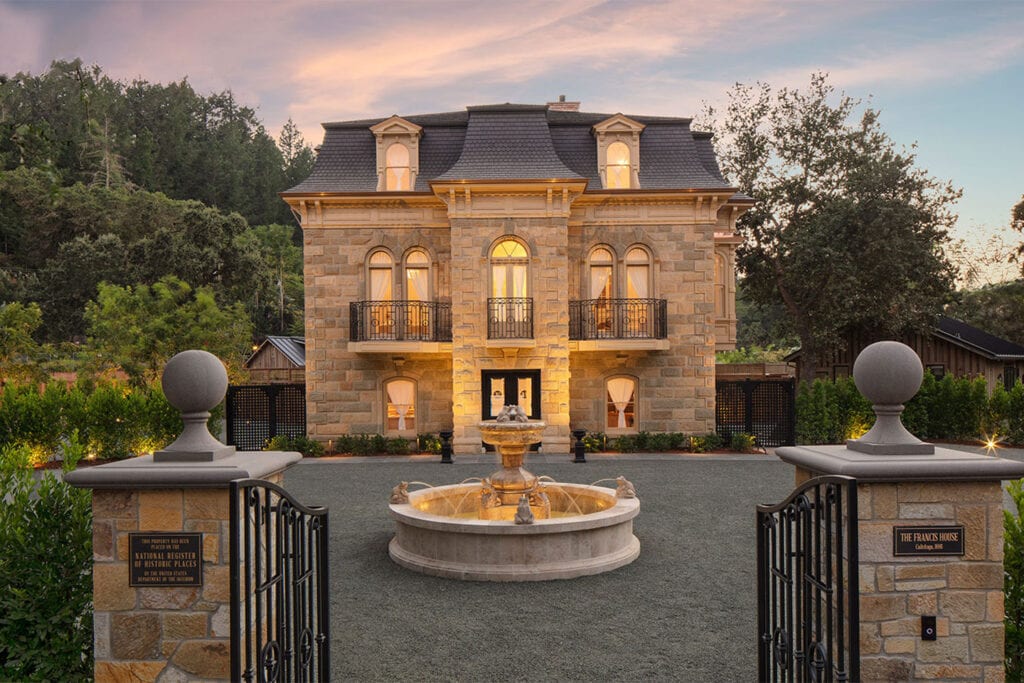 The Francis House
The Francis House is a small luxury resort hotel that brings old-world Parisian elegance to the heart of Calistoga. The exquisitely restored 1886 landmark features French Second Empire architecture with original stone walls. Inside, the opulent guest rooms are a celebration of contemporary French design, mixing old with new at every turn. Amenities include a heated pool, sauna, fire pit, tennis court, and extraordinary breakfasts.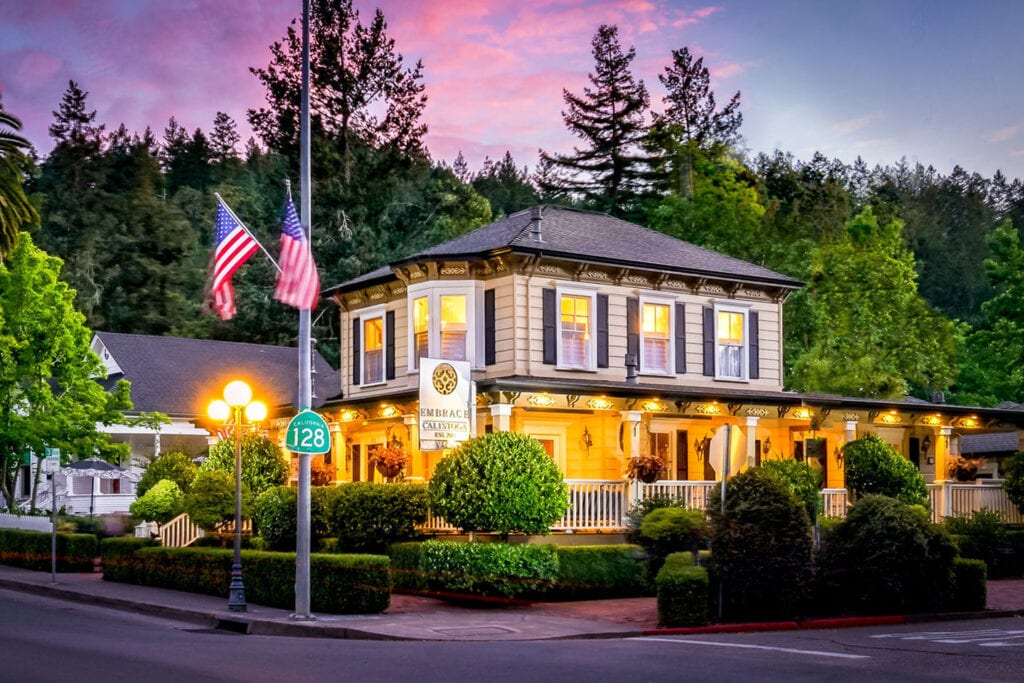 Embrace Calistoga
Built in 1873, Embrace Calistoga is a five-room luxury inn in downtown Calistoga. The elegant guest rooms feature a harmonious blend of styles incorporating Asian antiques, luxurious fabrics, touches of contemporary glamour, and original art collected from travels around the globe. A wide, welcoming, wraparound porch is the heart of the experience where guests gather for breakfast, happy hour, and watch the world pass by.