Best Places to Kayak and SUP in California
Whether you're a seasoned paddler looking for adventure or a beginner who just wants to get your feet wet, California has a plethora of paddling spots for kayakers and stand-up paddle boarders of all skill levels. Book a guided tour, rent kayaks and SUPs from local vendors, or bring your own gear to explore the Golden State's vast array of alpine lakes, coastal estuaries, sea caves, and urban waterways.
Sierra Nevada Mountains
South Lake Tahoe
The deep, crystal clear waters of Lake Tahoe are a kayaking and stand-up paddle boarding wonderland. Lake Tahoe is the largest alpine lake in North America. With 72 miles of shoreline, there is no shortage of spots to explore the lake's glassy depths to catch sight of fish and other marine life. SUP Tahoe rents stand-up paddle boards and kayaks by the hour or the day with options to keep the gear overnight for a sunrise paddle. Clearly Tahoe leads guided tours of the lake with uniquely transparent kayaks. Just half a mile from the shore in South Lake Tahoe, Black Bear Lodge is a luxurious retreat with lodge rooms and private cabins nestled in the pines.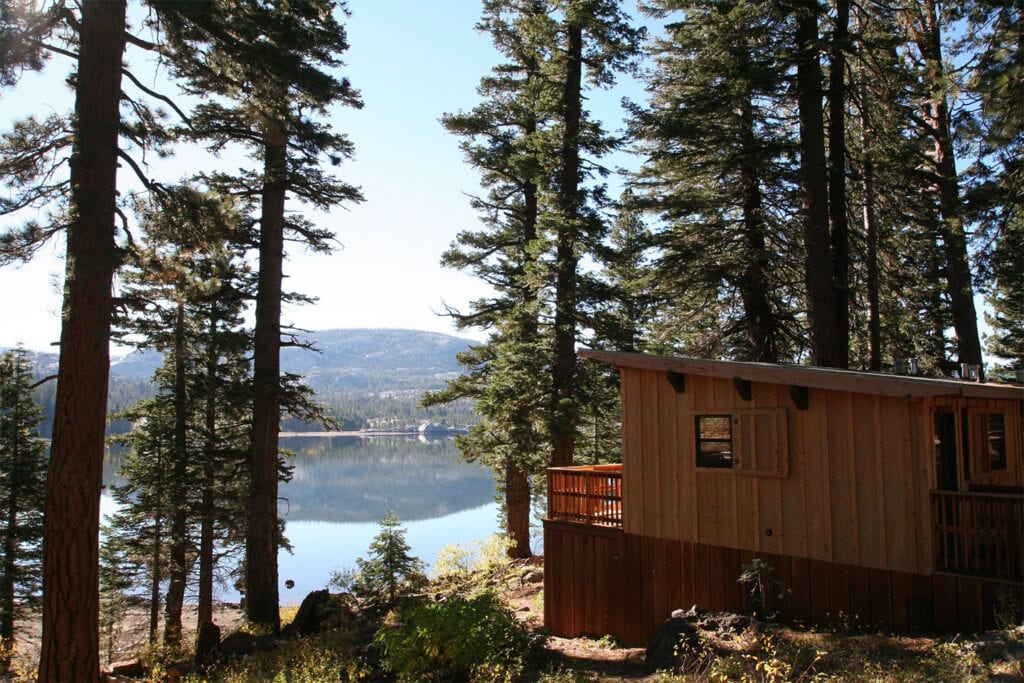 Silver Lake
Near Carson Pass in the High Sierra, the 525-acre Silver Lake is a beautiful alpine reservoir ringed by pine trees. Paddlers can explore the lake's seven miles of shoreline or paddle out to Treasure Island in the center of the lake for an idyllic picnic spot accessible only by boat. The lake is also a fishing paradise with the opportunity to catch rainbow, German brown, and Mackinaw Lake trout. Along the shoreline, the historic Kit Carson Lodge rents out SUPs, kayaks, and canoes by the hour. The lodge also offers charming cabins and hotel rooms with majestic views of the lake.
Donner Lake
Surrounded by snow-capped peaks, scenic Donner Lake (north of Lake Tahoe) offers serene waters for stand-up paddle boarding and kayaking. Paddlers often spot eagles soaring overhead, bears and deer along the shore, and fish jumping from the lake. With eight miles of shoreline, Donner Lake has multiple beaches and 35 public piers where guests can stop and picnic or just take a break. Public launches are available for visitors with their own gear, and Donner Lake Marina provides rentals of SUPs, kayaks, canoes, and hydro bikes. Donner Lake Inn is a cozy, lodge-style B&B just a three-minute walk from the lake and the marina.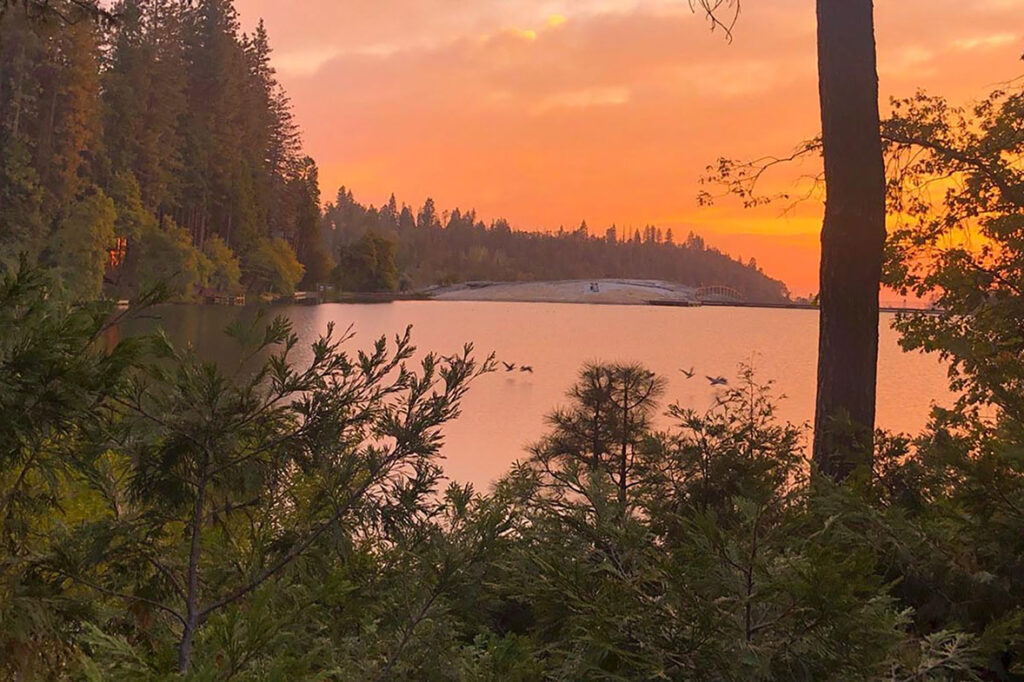 Pinecrest Lake and Twain Harte Lake
On the way to Sonora Pass in the High Sierra, two alpine lakes are popular spots for kayaking and paddleboarding. The 300-acre Pinecrest Lake is nestled amid the pines at 5,600 feet in the Stanislaus National Forest. The marina rents kayaks for exploring the lake as well as paddle boats and other watercraft. The more intimate, 40-acre Twain Harte Lake has crystal clear waters and rentals for SUPs and water bikes. Twain Harte Lake is a private lake that guests of the McCaffrey House Bed & Breakfast Inn can access for a small fee. The charming B&B is just five minutes Twain Harte Lake and 20 minutes from Pinecrest Lake.
Southern California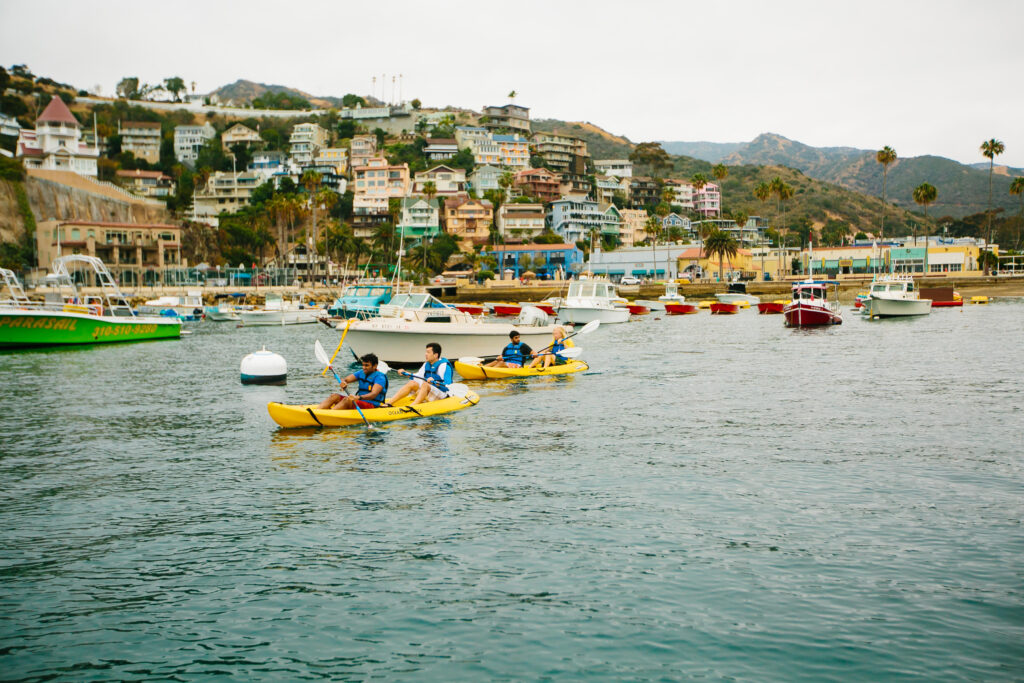 Catalina Island
Just off the coast of Southern California, Catalina Island's crystal-clear waters are teeming with marine life. Protected from wind and waves, the leeward side of the island provides a fascinating environment for kayakers and stand-up paddle boarders both above and below the surface. Gliding over kelp forests and colorful Garibaldi, paddlers often also catch sight of sea lions, dolphins, and bald eagles. The Wet Spot near the boat landing in Avalon rents kayaks and SUPs as well as snorkel gear for exploring the waters. Less than half a mile away, the Aurora Hotel beckons with its sleek, coastal-inspired guest rooms and rooftop deck overlooking the ocean.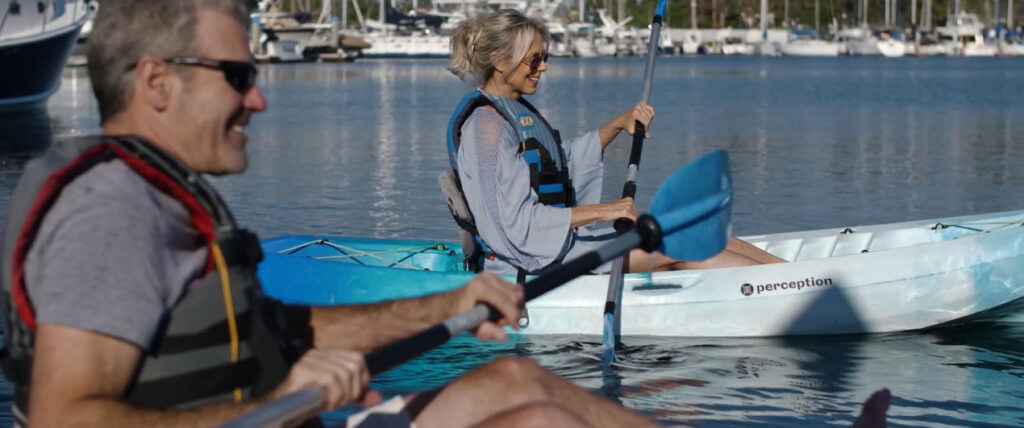 Coronado Island
From Coronado Island, paddle out onto San Diego Bay and enjoy the glittering waters and stunning views of downtown San Diego and the famous Coronado Bridge. Paddlers can catch sight of harbor seals and dolphins, and depending on the season, even a whale or two. Seaforth Boat Rentals Coronado rents SUPs and kayaks by the hour at the Glorietta Bay Marina. Near the Coronado Ferry Landing, Bike and Kayak Tours, Inc. provides rentals and guided tours of San Diego Bay, including special nighttime and Fourth of July fireworks tours by kayak. Close to both rental companies and just two blocks from the beach, 1906 Lodge exudes tranquility with an upscale coastal vibe.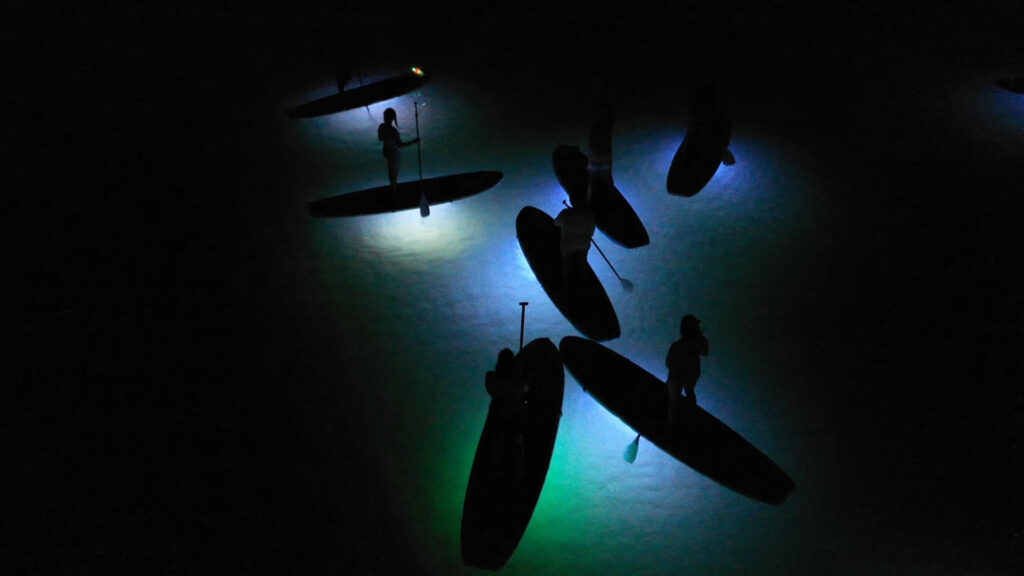 Mission Bay
Just up the coast in San Diego's beautiful Mission Bay, paddlers can take a guided nighttime tour with stand-up paddle boards equipped with LED lights. The high-intensity waterproof lights illuminate up to 40-foot around the board. Another popular activity on Mission Bay is the SUP yoga classes, which provide an incredible on-the-water yoga experience. The Mission Bay Sports Center leads tours and classes and provides rentals for SUPs, kayaks, and a range of other watercraft. In San Diego's hip uptown neighborhood of Hillcrest, the charming Hillcrest House is just a 15-minute drive from Mission Bay and close to many other San Diego attractions.
Northern San Diego County
Northern San Diego County's beaches and lagoons offer unique paddling experiences for kayakers and stand-up paddle boarders. Take a guided kayak tour of the La Jolla Ecological Reserve and Underwater Park to explore La Jolla's sea caves and catch sight of leopard sharks, Garibaldi, sea lions, and more. In addition to the tours, La Jolla Kayak also provides rentals for kayaks, SUPs, and snorkel gear. Further north, the calm waters of Carlsbad Lagoon (Aqua Hedionda) is a kayaking and SUP paradise attracting a multitude of birds and wildlife. Rentals are available for a variety of watercraft. Conveniently located between both attractions, the Inn at Moonlight Beach is the world's first WELL Certified hotel.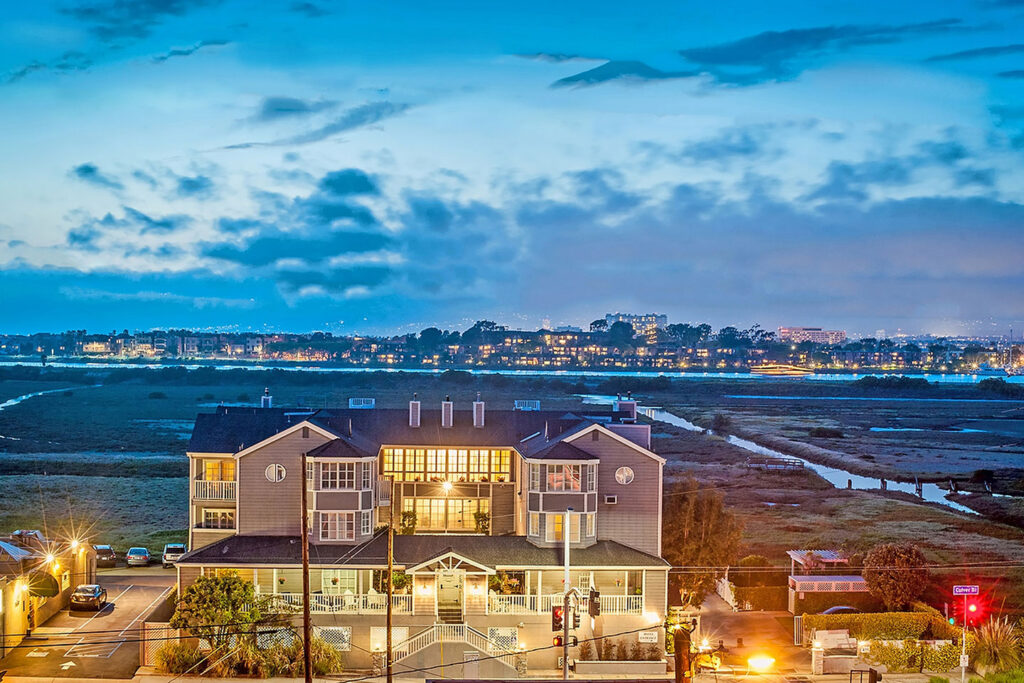 Marina del Rey
In Los Angeles, the calm harbor waters of Marina del Rey are a great destination for kayakers and stand-up paddleboarders. Amid the sailboats and yachts, paddlers can explore the marina's quiet coves and channels with views of the city. Pro SUP Shop staffs a rental truck at Marina Beach (a great spot for first-time paddlers) and offers a range of classes and tours, including sunset paddles and a sunrise paddle and meditation. Just a short drive from the marina, the peaceful Inn at Playa dey Rey overlooks the 600-acre Ballona Wetlands Ecological Reserve, which sits directly adjacent to the marina and is home to native coastal flora and fauna, including Snowy Egrets, Great Blue Herons, and Black Phoebes.
Northern California
Clear Lake
Clear Lake is an incredible kayaking destination with a network of water trails that showcase the lake's serene landscapes and over 300 species of birds. One popular route is the Rodman Slough Water Trail, located at the north end of the lake. Protected from the wind, the route showcases a wide variety of birds and wildlife, including a large blue heron rookery. On the southwest side of the lake, Clear Lake Water Loop 5 provides opportunities to see herons, pelicans, bobcats, deer, river otters, and bald eagles. The route also passes Soda Bay, where volcanic gasses still bubble to the surface, evidence of the region's restless geology. Kayaks and SUPs are available for rent from Disney Boat Rentals. The elegantly restored Tallman Hotel is just minutes from the lake.
Mendocino Coast
The rugged Mendocino Coast offers a variety of paddling adventures. Kayak Mendocino provides guided sea cave tours at Van Damme State Park, where paddlers will encounter diverse marine life and stunning natural beauty. In Fort Bragg, Liquid Fusion offers kayak rentals and guided tours of the Noyo River Estuary with harbor seals, sea lions, river otters, and an array of coastal birds along the water. Catch a Canoe & Bicycles Too provides custom-made redwood outrigger canoes, kayaks, and SUPs for exploring the undeveloped, eight-mile-long Big River. 
After paddling, consider a stay at the Noyo Harbor Inn, the Brewery Gulch Inn, or the Stanford Inn. The historic Noyo Harbor Inn is a beautifully restored Craftsman along the Noyo River with a private path down to the harbor. The Brewery Gulch Inn was built from virgin redwood eco-salvaged from the bottom of Big River. The inn's soaring architecture is a worthy tribute to the ancient trees. Stanford Inn is the venerable eco-resort that runs Catch a Canoe along Big River. The inn features a variety of wellness programs and plant-based cuisine inspired by their organic gardens.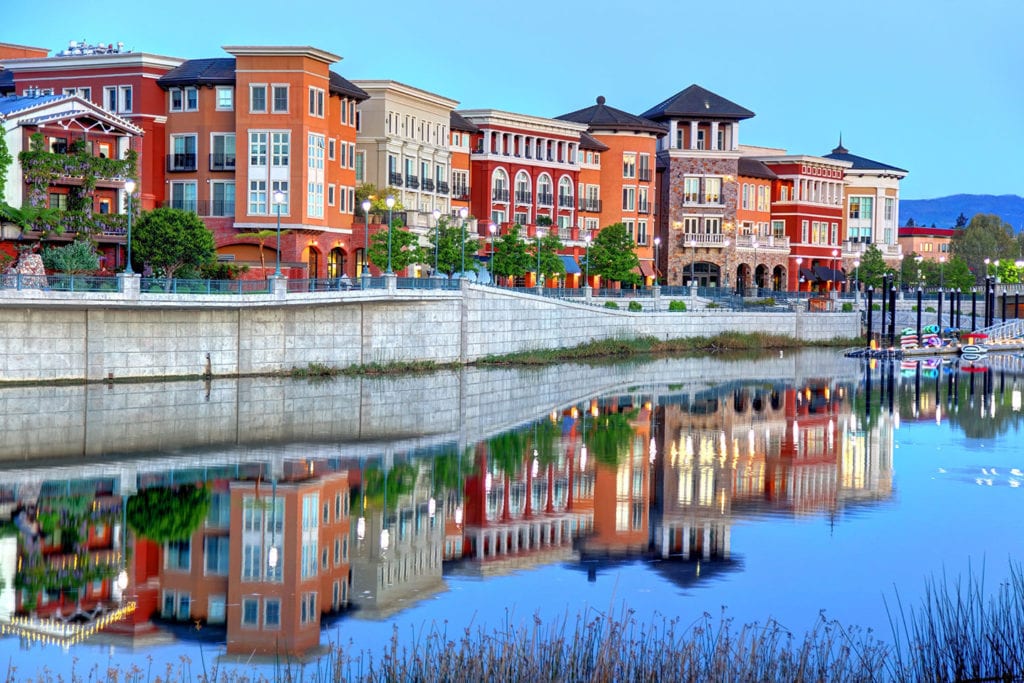 Downtown Napa
While everyone else is wine tasting, kayakers and stand-up paddle boarders can explore the peaceful tidal wetlands of the lower Napa River. At the convergence of saltwater and freshwater, paddlers encounter river otters and many native birds including red-tail hawks, osprey, egrets, and great blue herons. From downtown Napa's Main Street Dock, Napa Valley Paddle rents kayaks and SUPs for two hours or up to a full day. Paddlers can head upriver to Oxbow Preserve or downriver to Kennedy Park. Just a short walk from the dock, the historic Churchill Manor is an architectural treasure with elegant parlors, beautifully preserved woodwork, antiques, cozy fireplaces, and a wide, wraparound porch.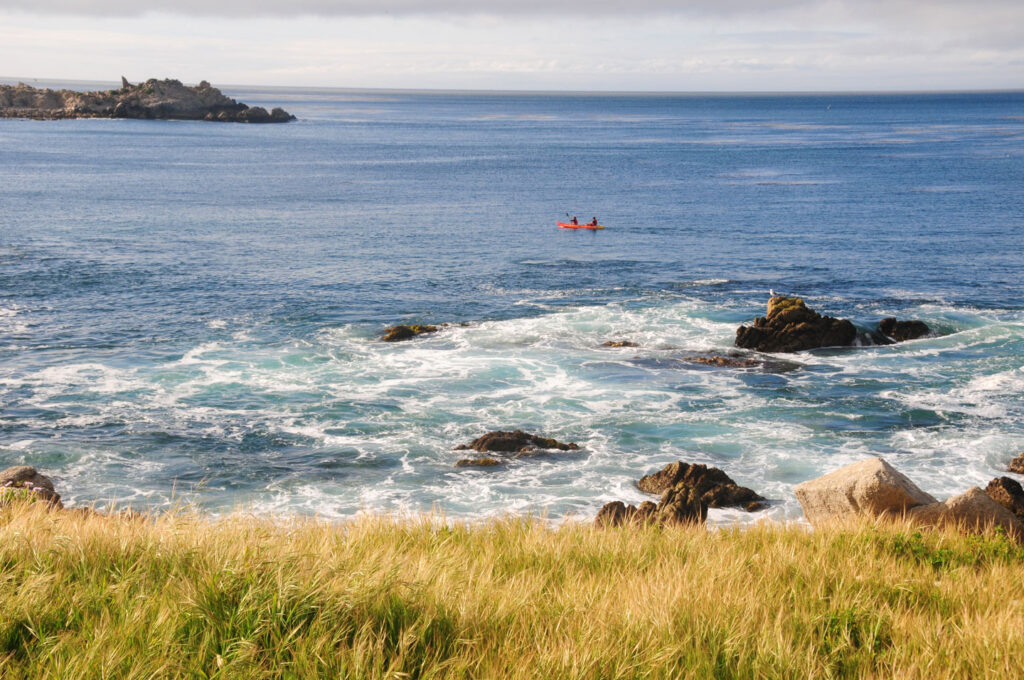 Monterey Bay
The Monterey Bay National Marine Sanctuary is a scenic paddling destination rich in marine life. Monterey Bay Kayaks offers several guided kayaking tours. Kayakers can choose to paddle the Monterey Harbor, along Cannery Row, or the rocky shoreline stretching from Monterey Beach to Lovers Point in Pacific Grove. Along the way, they'll catch sight of sea otters, harbor seals, sea lions, shorebirds, and the occasional dolphin. Special sunrise paddles and kayak fishing tours are also available. Monterey Bay Kayaks also boasts the largest fleet of kayak and SUP rentals. After a day on the water, be lulled to sleep by the crashing waves at the oceanfront Martine Inn in Pacific Grove.