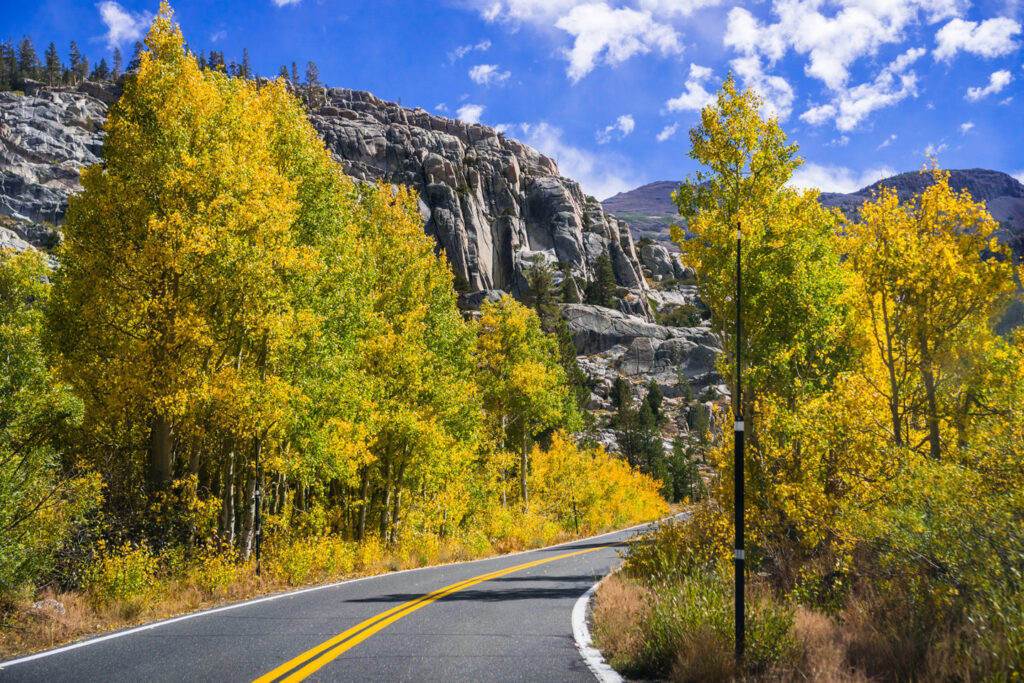 Best Places for Fall Color in California
In the crisp fall air of the Sierras, the leaves are just beginning to turn to hues of yellow and orange. Autumn enjoys an extended season in California due to the state's wide-ranging climates and elevation. High in the mountains, the leaves begin to turn in September, but at lower elevations, you can still find fall colors as late as November and December. The changing of the seasons provides a great excuse to take a road trip to enjoy the show. Below are just some of our favorite spots to catch fall color in California.
Mammoth Lakes
Leaf-peeping aficionados should head to the Eastern Sierra, where California's best fall colors are on display against dramatic alpine backdrops and bluebird skies. The aspen and other deciduous trees glow in vibrant hues of gold, orange, and crimson from September through October. Top spots in Mammoth Lakes include Mammoth Lakes Basin with its prized fishing holes and hiking trails, Mammoth Scenic Loop with a side trip to Inyo Craters, and Reds Meadow, which features spectacular fall foliage with views of Devils Postpile National Monument, Rainbow Falls, and the San Joaquin River. Just south of Mammoth Lakes, Convict Lake's vivid blue provides a stunning contrast to the bright gold aspens. The trail around the lake is an idyllic fall hike. North of Mammoth Lakes, the scenic June Lake Loop is especially stunning in fall, featuring waterfalls, four lakes, and a charming village. The Mono County Fall Color Report offers weekly updates on where to find the best fall colors.
Where to stay
The newly renovated Cinnamon Bear Inn is an ideal base camp for exploring the Eastern Sierra. Located in the heart of downtown Mammoth Lakes, the property features stylish new rooms with loads of creature comforts. The inn serves a continental breakfast buffet to fuel any adventure, and the knowledgeable staff will help make the most of your stay.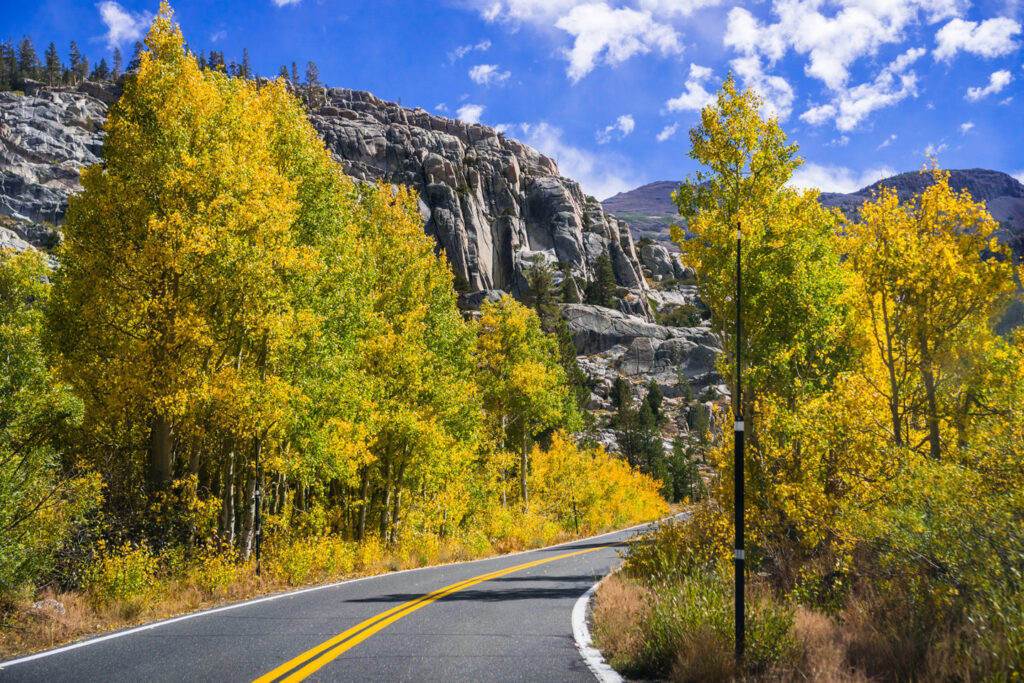 Sonora Pass
Every autumn, the aspens and oaks along California's Highway 108 put on a dazzling display of fall color against a backdrop of pine forests and bright blue skies. The scenic route winds through the Stanislaus National Forest, passing alpine lakes, meadows, and mountain vistas as it skirts the northern boundary for Yosemite National Park and climbs up to Sonora Pass. One of the best spots for fall color along theroute is the vista point at Donnell Lake. The vista point overlooks the lake and the Dardanelles, which are a series of volcanic ridges. In the fall, the trees are ablaze in fiery yellows and oranges and the colors stretch for miles along the ridges. Other great spots along Highway 108 for fall color include Pinecrest Lake, Sardine Meadow, Leavitt Falls Overlook, and Leavitt Meadow Overlook. The leaves begin turning in late September and peak in October.  
Where to stay
Nestled in a quiet forest hollow, the McCaffrey House Bed & Breakfast Inn is a charming mountain retreat near Twain Harte. The inn's eight delightful guest rooms feature cozy fire stoves, luxurious beds covered in beautiful quilts, and enchanting forest views from every room. Stays include a wine reception served fireside and a delicious breakfast each morning.
Truckee
North of Lake Tahoe, the historic town of Truckee is a spectacular fall destination as the aspen and maples change from green to gold to red.  One of the easiest hikes for leaf-peeping is the Legacy Trail, which is a paved walking and biking path that follows the Truckee River right from downtown. An easy, four-mile loop at Martis Creek Wildlife Area near Northstar runs along a meadow with beautiful flora and fauna. Another great hike for fall color is Coldstream Canyon, which starts just behind Donner Memorial State Park.  More local hikes above Donner Lake provide stunning views of the mountains and the lake ringed in a blaze of fall hues. The leaves around Truckee begin changing colors in mid-September and run through mid-to-late October.
Where to stay
In Truckee, Donner Lake Inn is nestled among over an acre of pine, maple, and aspen trees providing spectacular fall color. Through the fall season, the inn serves hot spiced apple cider and hearty breakfasts featuring locally grown apples. There's also an outdoor hot tub for soaking up the forest views.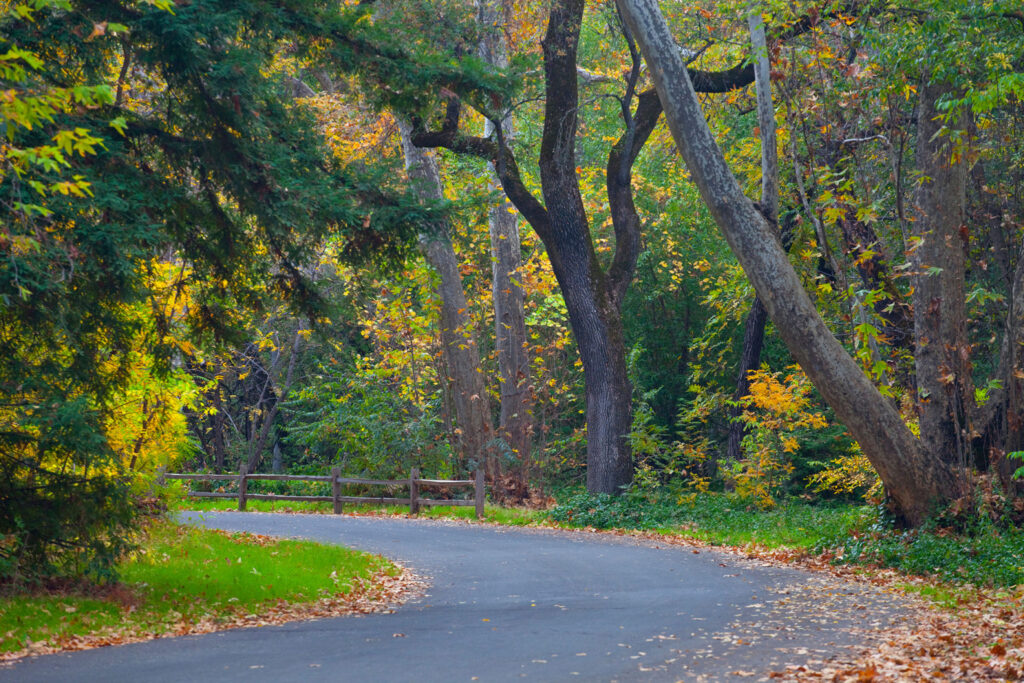 Chico
In autumn, the college town of Chico is ablaze with a fiery spectrum of deep reds, oranges, gold, and yellow. At Bidwell Park, which is one of the largest urban parks in the U.S., visitors can hike or bike among the 3,600 acres of oaks and sycamore trees. A series of graceful bridges connect the trails running along both sides of Big Chico Creek and provide picturesque views of the rushing waters lined with fall color. Visitors can also stroll along Chico's many tree-lined streets to take in the changing colors while fallen leaves crunch underfoot. The leaves typically begin turning colors in October and peak in early-to-mid-November. 
Where to stay
Within walking distance of downtown and Bidwell Park, the Goodman House Bed & Breakfast is a grand 1906 Colonial Revival on a broad, tree-lined esplanade. Its five beautifully appointed guest rooms feature antique furnishings, luxurious beds, and private baths, some with clawfoot tubs. A stay includes a delicious two-course breakfast served each morning.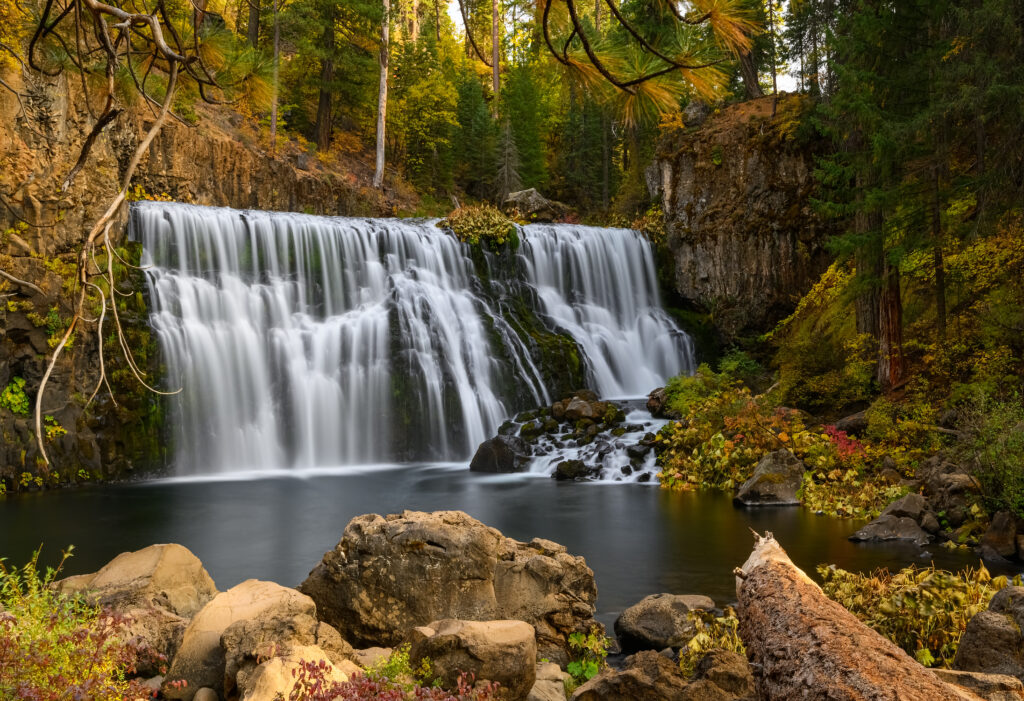 Mount Shasta
Each autumn, the lower slopes of Mount Shasta are painted in a kaleidoscope of color as the oaks, big leaf maples, aspen, and dogwoods turn yellow, orange, and red.  Early snowfall on the mountain's peak makes for an even more dramatic backdrop. Lake Siskiyou's shoreline trail provides stunning views of autumn leaves and a snowcapped Mount Shasta reflected in the lake. The scenic trails running alongside the McCloud River between the lower, middle, and upper falls are all the more stunning when the leaves turn to a blaze of fall color. Following Highway 89 east to McArthur-Burney Falls Memorial State Park, visitors will find more fall foliage with fiery splashes of color framing the stunning spring-fed Burney Falls.  The best time to see the changing colors in this region is usually mid-October.
Where to stay
In downtown McCloud, the Art and Crafts-style McCloud Hotel Bed & Breakfast features an inviting front porch, a cozy lobby, and two onsite restaurants. Just down the street, the McCloud Mercantile Hotel is housed inside the original 1895 mercantile and features stylish guest rooms inspired by the region's rich history. Steeped in history, the McCloud River Bed & Breakfast is a Victorian country inn nestled on five acres that has been lovingly restored with period details.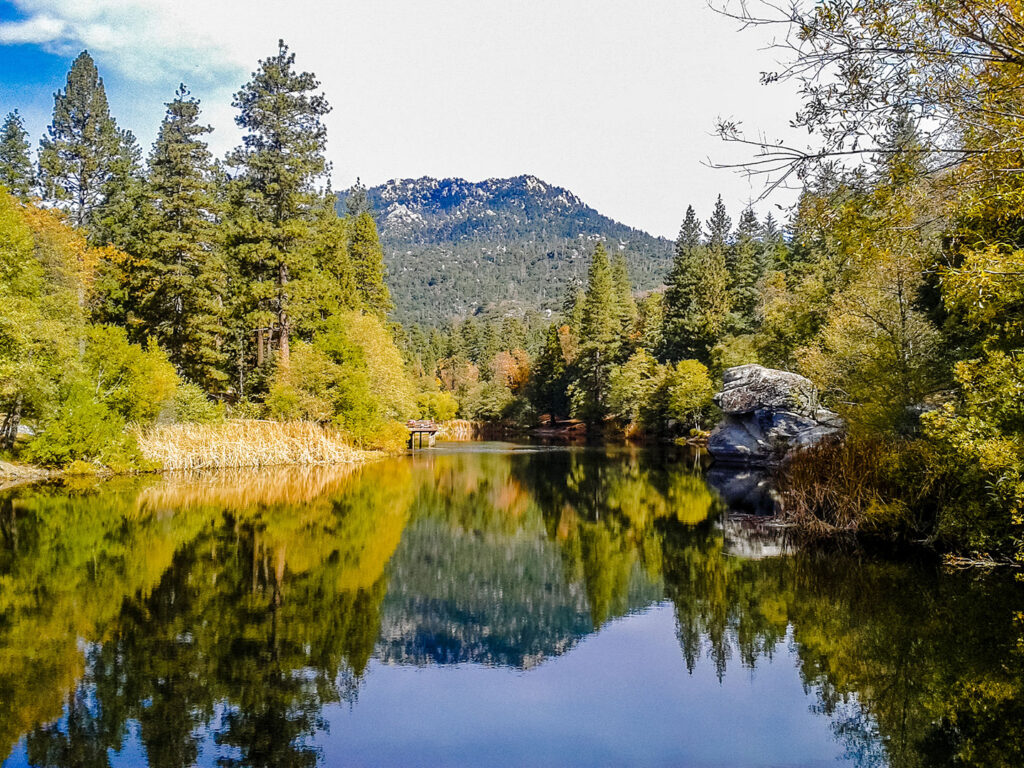 Two hours east of Los Angeles, the charming town of Idyllwild in the San Jacinto Mountains is one of the rare places in Southern California to catch a taste of autumn with blue skies and crisp mountain air. The Idyllwild Nature Center offers docent-led tours and a variety of hikes ranging from easy to challenging that offer pops of fall color amid the pines. Walking the creek side path along Strawberry Creek is another good place to see the changing leaves. The deciduous trees at nearby Lake Fulmor also put on a spectacular display each fall with vibrant hues of yellow and orange amid stands of Douglas fir and even some giant sequoias. The leaves usually begin changing at the end of September and will peak between late October and Thanksgiving. A perfect time to visit is during Idyllwild's annual Art Walk and Wine Tasting event, which showcases local wines and the work of local artists. This year's event will be held October 14, 2023.
Where to Stay
The historic Strawberry Creek Inn is a tranquil, woodsy retreat nestled along Strawberry Creek. The main house and courtyard offer nine cozy guest rooms, including some with fireplaces. The inn also boasts a private creek-side cottage, cozy outdoor seating areas, and delicious breakfasts. Guests can walk into the heart of town along a trail following the creek.  
Lake Fulmor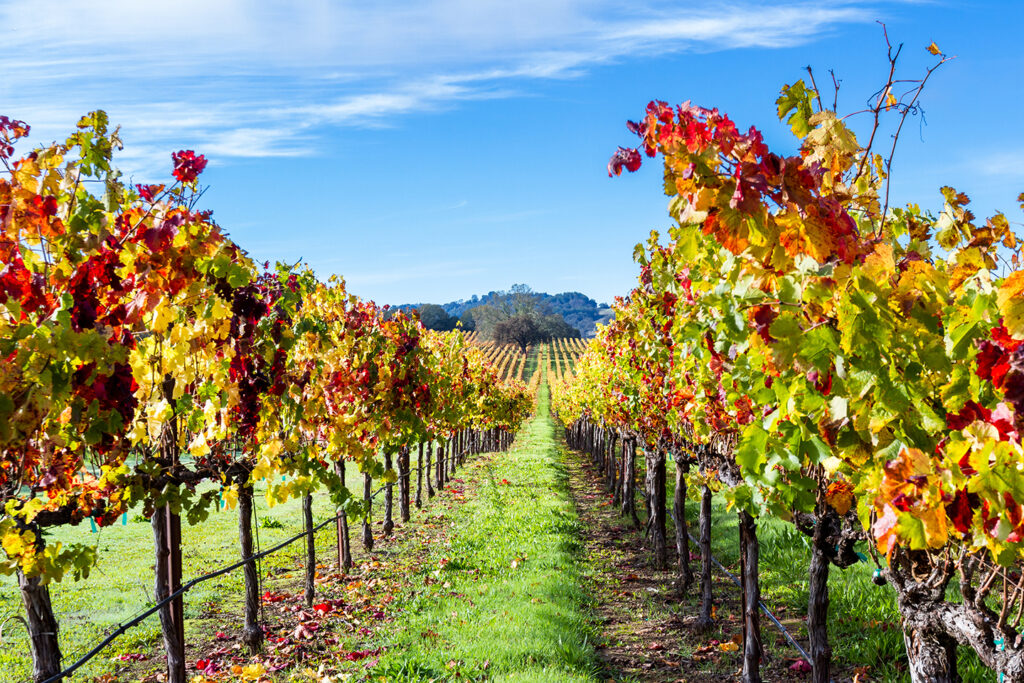 Napa Valley
In fall in Napa Valley, the lush grapevines turn orange and copper and the oak-studded hillsides take on a golden hue. Driving the Silverado Trail between Napa and Calistoga is a popular way to savor the changing fall colors and visit wineries along the way. At Far Niente in particular, the fan-shaped leaves of ginkgo trees turn bright yellow against a backdrop of grapevines. To see more trees in their autumn regalia, visitors can hike the trails at Bothe-Napa Valley State Park, where black oaks and big-leaf maples form a colorful canopy over the year-round creek. Visitors can also take in the mosaic of fall color from above by booking a hot air balloon ride. The golden oaks tend to peak in mid-to-late October while the timing of the color-changing grape vines vary by the varietal and can run through late November.  
Where to Stay
Completely redesigned in 2021, Milliken Creek Inn is a tranquil hideaway on the Silverado Trail with Japanese maples that put on a fiery show in the fall. Just outside of downtown Napa, Candlelight Inn is a romantic English Tudor nestled in a beautiful, wooded setting. In Yountville, the historic Maison Fleurie features an enchanting fireplace and a rooftop deck with views of Napa's rolling hills. Sister properties Calistoga Wine Way Inn and Craftsman Inn are Craftsman-style inns with beautifully appointed rooms and inviting outdoor spaces.