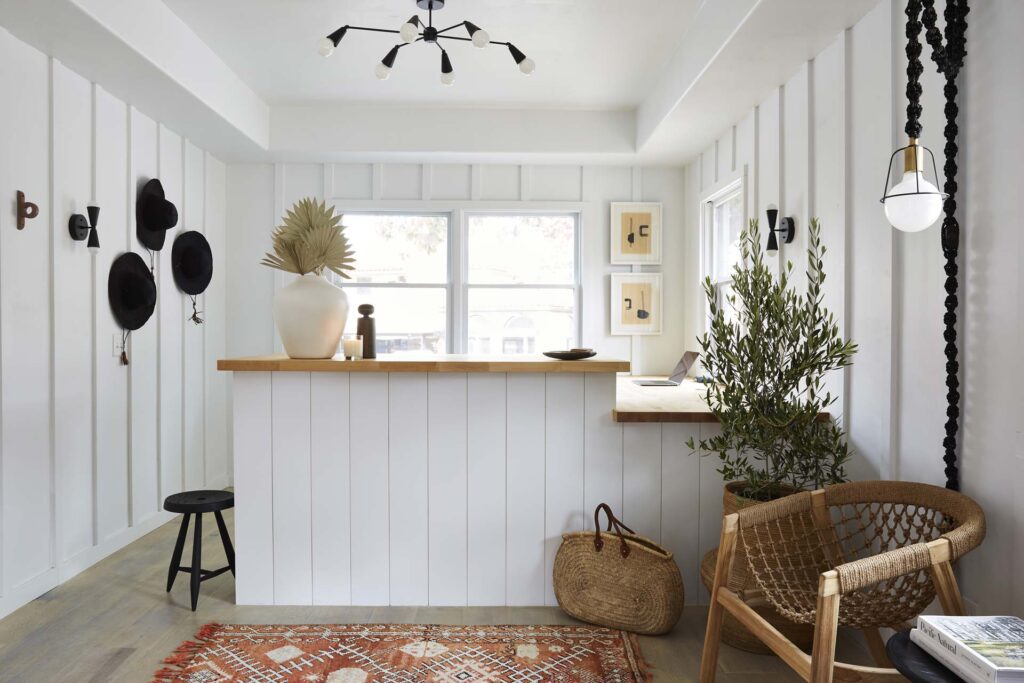 Best Boutique Hotels in California's College Towns
The return of college students to California campuses this fall also brings the return of parents for move-in day. My husband and I will be among the beleaguered parents carting our kid's stuff up to his dorm room for his freshman year of college and trying to hold it together upon saying goodbye.
But rather than drive back home in tears, I've booked a stay at a boutique hotel as a way to soften the blow and enjoy a bit of pampering on our first night as empty nesters. At the hotel, we'll be greeted with wine and hors d'oeuvres, sink into a luxurious bed, and enjoy a gourmet breakfast the next morning. Six weeks later, we'll come back for parents' weekend and more boutique hotel pampering. We also plan to drive down occasionally to see our son and catch a football game or attend a special event. Then if all goes well, we'll be back one last time in about four years for his graduation.
As the parent of a college freshman, I did my homework and checked out swanky boutique hotels and charming B&Bs near all of the universities my son considered for school. Below is a list of some of the best places I found to stay in California's college towns.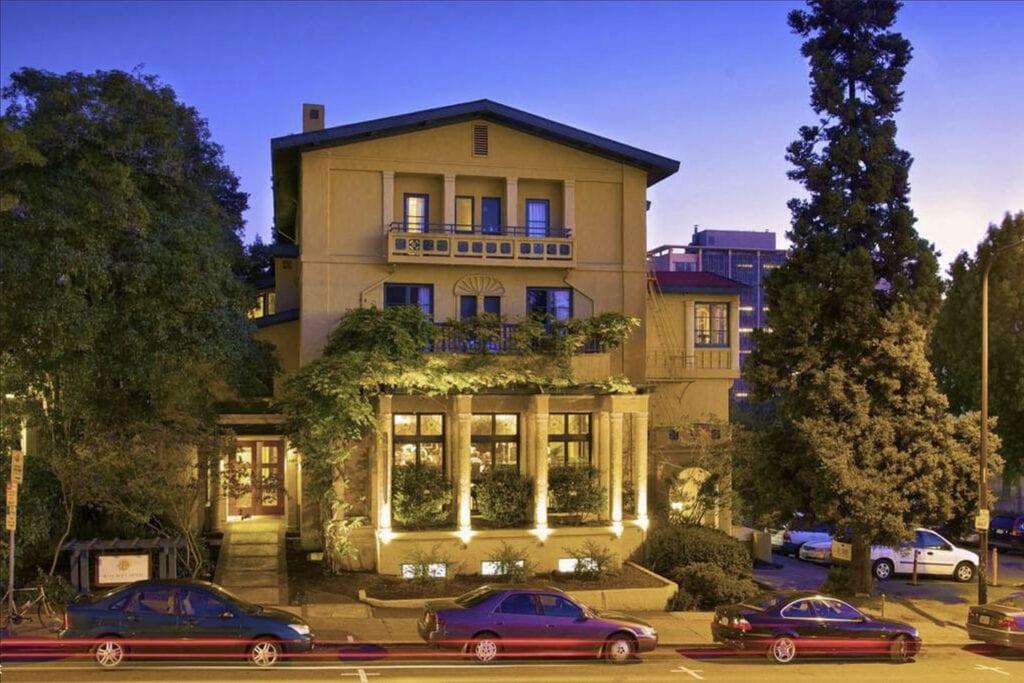 University of California, Berkeley
As the closest hotel to UC Berkeley, the historic Bancroft Hotel is an island of serenity located directly across the street from the university's vibrant south side. The boutique hotel was originally built in 1928 as the College Women's Club. Today, the beautifully restored Bancroft Hotel hosts visiting parents, professors and lecturers, alumni, and Cal Bears' football fans. The hotel is just a block from Memorial Stadium, three blocks from the Greek Theatre, and an easy walk from Berkeley's famed Gourmet Ghetto and Chez Panisse. The hotel's 22 newly renovated guest rooms were thoughtfully designed with eco-friendly features. Many of the rooms also offer balconies with views of San Francisco Bay, campus, and the Berkeley Hills.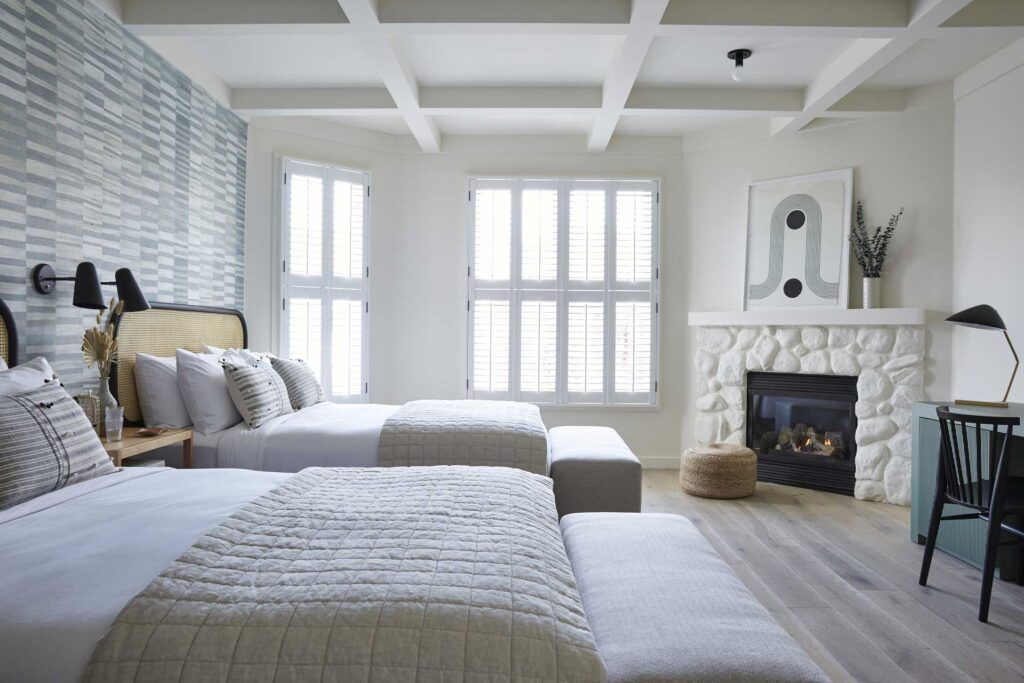 California Polytechnic University, San Luis Obispo
With several boutique hotels and B&Bs within two miles or less of California Polytechnic University, San Luis Obispo (better known as Cal Poly), visitors have no shortage of cool places to stay close to campus.  One of the closest hotels is San Luis Creek Lodge, which was recently redesigned with a sophisticated combination of contemporary farmhouse and Central Coast bohemian flair. The charming Petit Soleil Bed & Breakfast is just a mile from campus, but when guests step into the inn's cobblestone courtyard, they'll be instantly transported to the rustic charm of Provence. At the historic Heritage Inn Bed & Breakfast, college students are invited to join their visiting parents for a full breakfast served fireside in the dining room. Perched above a lively brewpub in the heart of downtown, the SLO Brew Lofts are a collection of five hip, upscale crash pads with exposed brick walls and gourmet kitchens. Also in downtown, the stylish new Hotel Cerro offers discounts to Cal Poly parents and features modern, spacious guest rooms, a rooftop pool, spa, and a fabulous restaurant.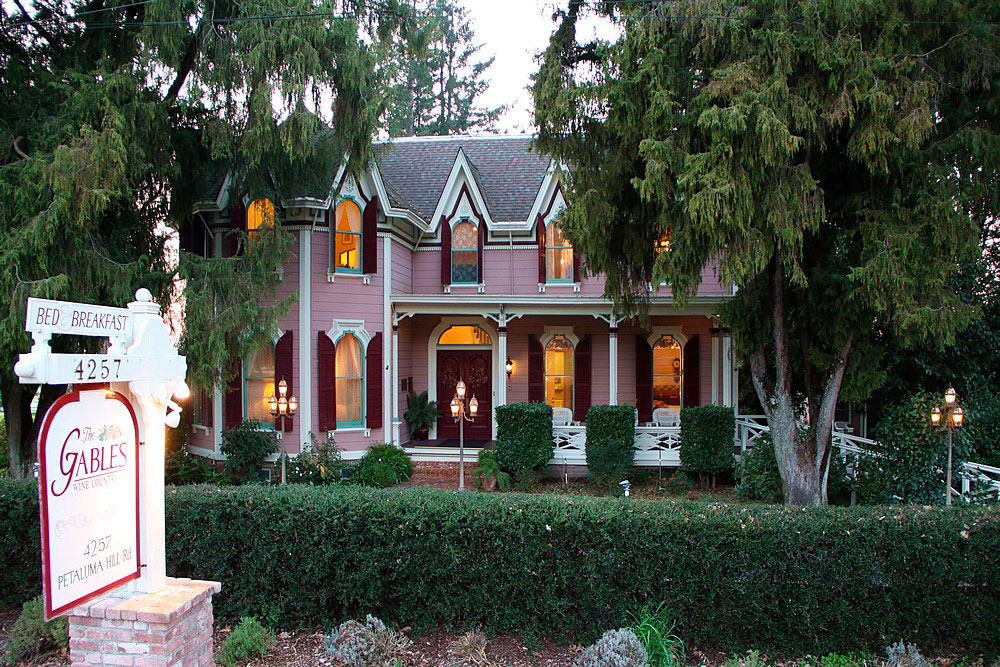 Sonoma State University
Visiting parents of students at Sonoma State University can receive a 10% discount on a stay at the Gables Wine Country Inn. The delightful Victorian bed and breakfast inn is located just three and a half miles north of campus in Sonoma wine country. The inn partners with the university's Green Music Center and regularly hosts visiting professors, guest speakers, prospective students and their parents, and others with ties to the university. The beautifully restored Victorian was built in 1877 and is nestled on three and a half acres with vineyard views. The inn's elegant rooms feature 12-foot ceilings, private baths with clawfoot tubs, fine antiques, and luxurious linens. A stay includes a three-course breakfast served each morning and a wine passport for complimentary wine tastings.
University of California, Santa Cruz
Nestled in the redwoods with views of the ocean, UC Santa Cruz is a destination onto itself with hiking trails and bike paths, an arboretum, a 30-acre organic farm, and a university library housing the archives of the Grateful Dead among others. Just down the hill from campus, visitors will find a plethora of boutique hotels and B&Bs. Among the closest is the Babbling Brook Inn, which is an enchanting oasis with elegant guest rooms tucked alongside a trickling stream lined with redwoods, lush gardens, and a waterwheel. The eco-friendly Pacific Blue Inn is a boutique hotel located between downtown and the beach offering complimentary cruiser bikes and a secluded garden courtyard with fire pits. At the oceanfront Sea & Sand Inn, every room has an ocean view and the inn is within an easy stroll of the wharf and Santa Cruz Beach Boardwalk. Perched on a bluff across from Cowell's Beach, West Cliff Inn is a beautifully renovated, three-story Italianate Victorian with a wraparound porch and ocean views. In a historic neighborhood near the Boardwalk, Cliff Crest Bed & Breakfast Inn is a restored 1887 Queen Anne Victorian exuding Old World charm and hospitality.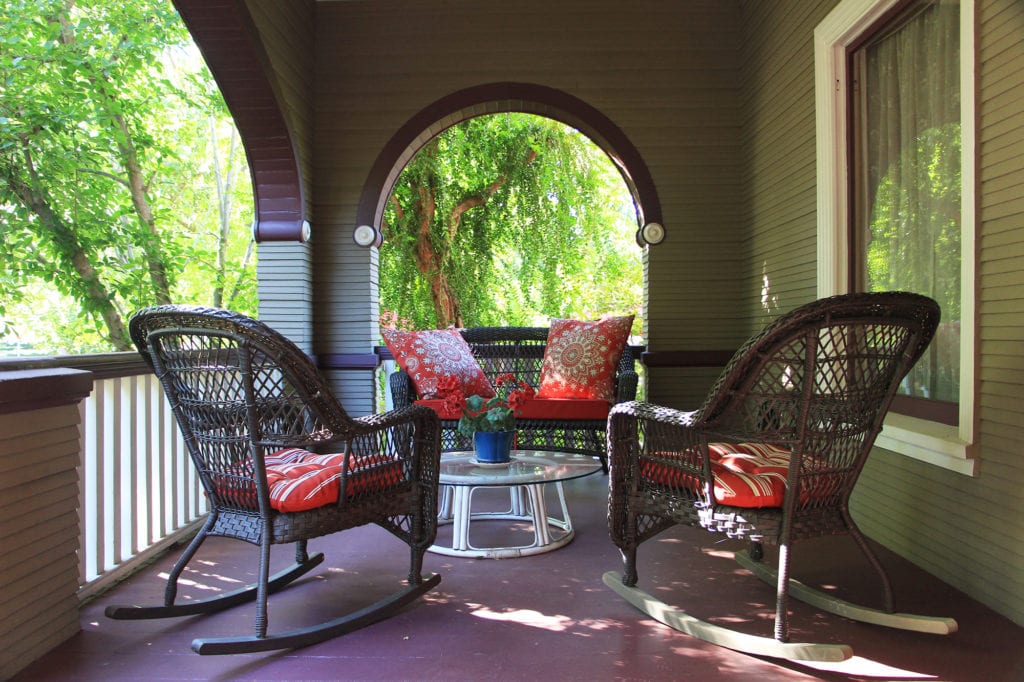 California State University, Chico
Just a mile from California State University at Chico, the historic Goodman House is a tranquil retreat close to campus. Nearly all of the university's attractions–including the Gateway Science Museum, the Janet Turner Print Museum, the stadium, and the rose garden—are within walking distance from the inn. Nestled on a beautiful tree-lined esplanade, the grand, three-story inn was built in 1906 and offers five elegant guest rooms with fine antiques, luxurious linens, robes, and private baths. Some of the rooms offer claw foot tubs and fireplaces. The inn serves a delicious, two-course breakfast each morning in the dining room, which features original stained glass windows. The inn also offers an inviting front porch and a shady side garden with outdoor seating.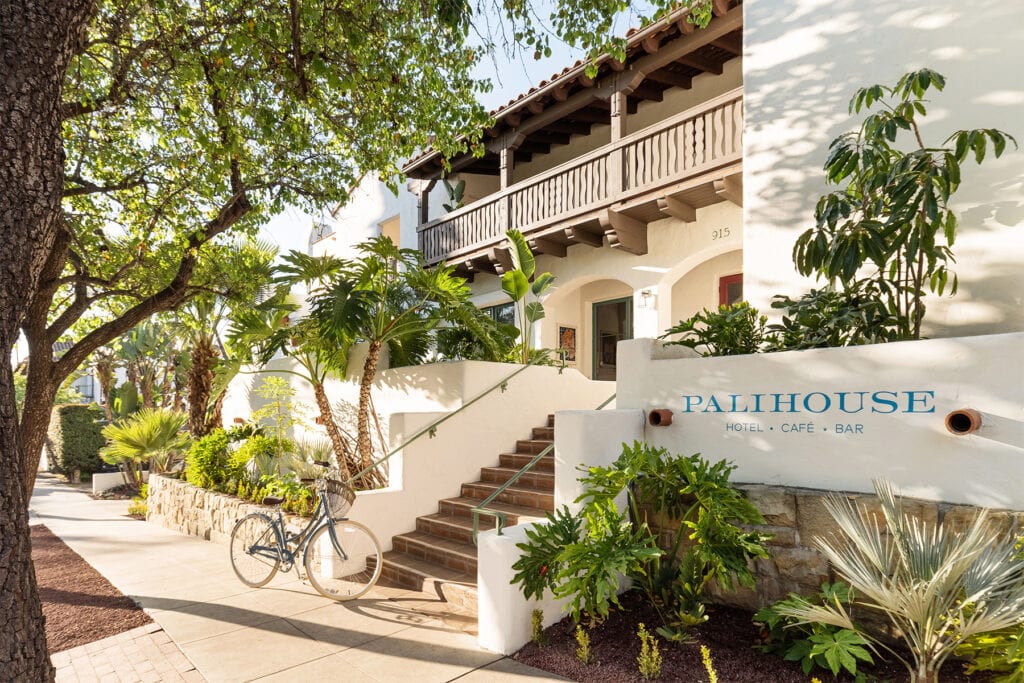 University of California, Santa Barbara
Located on the outskirts of town, UC Santa Barbara has no shortage of chain motels close to campus. But for a more authentic and charming Santa Barbara experience, university visitors should look closer to town. Designed for discerning travelers, Palihouse Santa Barbara offers guests an intimate and elegant coastal hideaway in a historic neighborhood with a tranquil Mediterranean-style courtyard and pool. Celebrating its 150th anniversary, The Upham Hotel is a landmark hotel combining modern amenities with historic charm and is the oldest continuously operating hotel in Santa Barbara. Hideaway Santa Barbara is a sophisticated new boutique hotel just three blocks from the beach featuring light-filled spaces, meticulously curated coastal décor, and a soothing color palette. A block from State Street, Haley Hotel is a nautically themed oasis featuring thoughtfully designed outdoor spaces and local art, furniture, and amenities. In Old Santa Barbara, A White Jasmine Inn and the Bath Street Inn are both historic B&Bs with charming accommodations, garden patios, and wonderful breakfasts.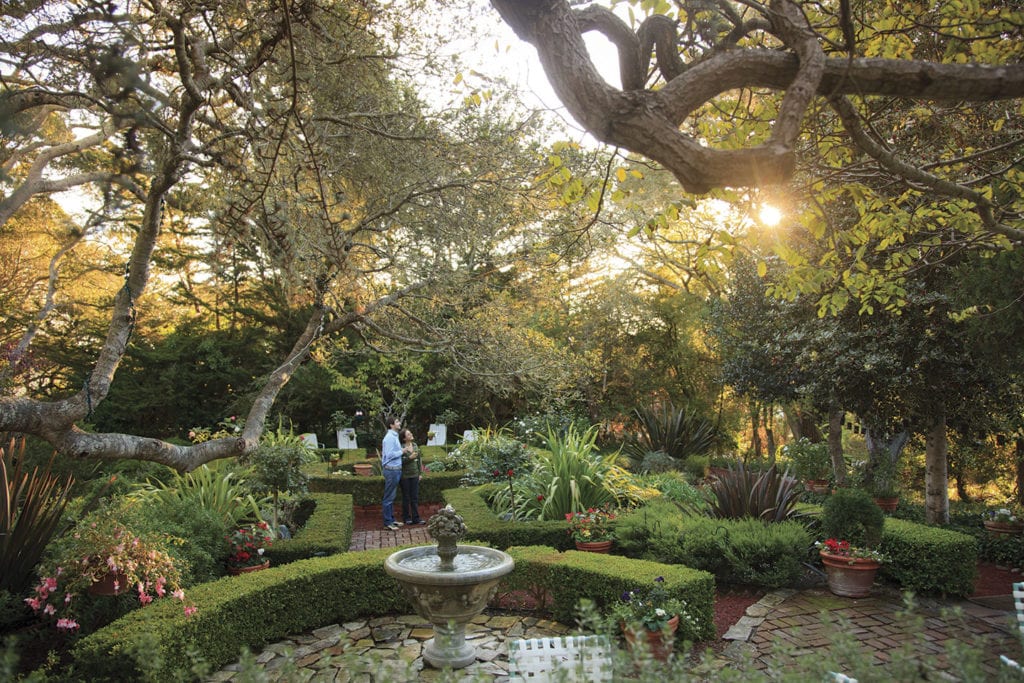 California State University, Monterey and other universities
While not typically considered a college town, Monterey has a surprising number of institutions of higher education, including California State University Monterey Bay, Monterey College of Law, the Naval Postgraduate School, and the Defense Language Institute Foreign Language Center, among others. Surrounded by over an acre of English gardens, Old Monterey Inn is a luxurious, 1929 Tudor mansion hidden among the trees in the heart of the city. The oceanfront Martine Inn offers mesmerizing views of the waves crashing against Pacific Grove's rocky coastline and elegantly appointed rooms with Victorian antiques, clawfoot tubs, and fireplaces. A few blocks away, the Green Gables Inn is a meticulously restored Queen Anne Victorian steeped in storybook style offering enchanting ocean views. Overlooking Lover's Point, the Victorian Seven Gables Inn exudes opulence at every turn and offers stunning views of the crashing waves from all of its guest rooms. Three blocks from Lover's Point, Centrella Inn is a striking Victorian built in 1889 with a broad front porch, backyard gardens, and a range of cozy guest rooms. Nestled in downtown Pacific Grove and within walking distance of shops and restaurants, the Gosby House Inn is a cheerful Victorian featuring charming rooms and a courtyard patio.