Best Boutique Hotels for Thanksgiving Dinner 2023
For Thanksgiving this year, why not let the chefs at California's boutique hotels whip up a gourmet feast for you and your family? With all the trimmings and none of the dishes to wash, it may just be the ultimate holiday hack. And while you're at it, why not book a hotel room and turn the long holiday weekend into a relaxing getaway?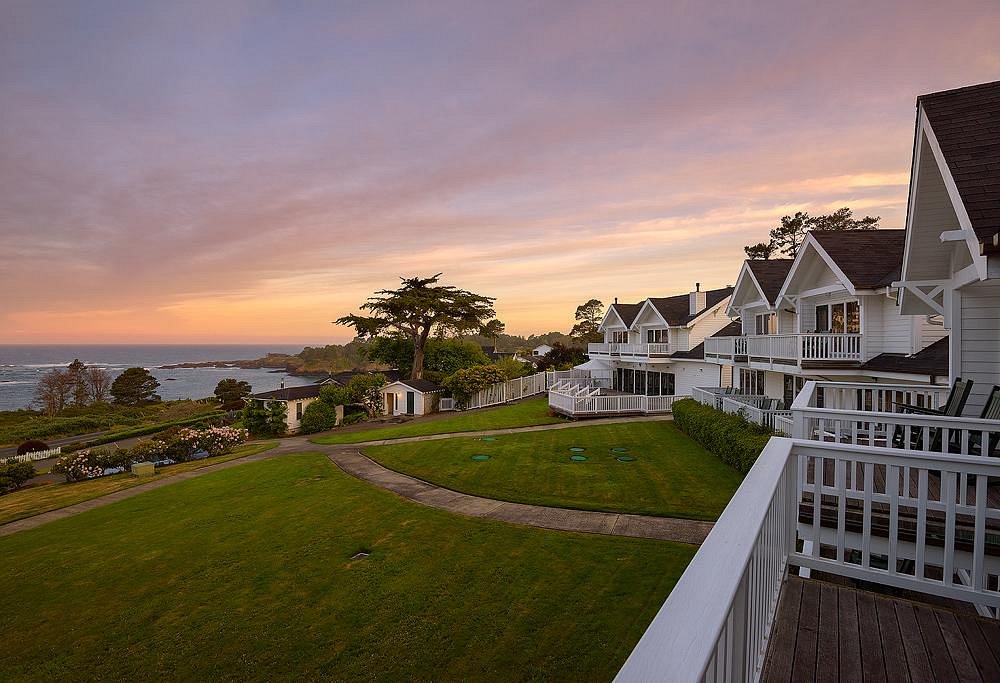 Little River Inn
The Little River Inn is throwing a Friendsgiving on the windswept Mendocino Coast. A twist on the traditional holiday, it's an opportunity for friends to celebrate with their chosen families, including a seasonal four-course feast on Saturday, November 18, 2023. In addition to the lavish meal, stays that include Saturday night will be discounted more as the number of rooms increases. Two rooms receive a 10% discount, three rooms get 15% off, four rooms are 20% off, and there's a whopping 25% discount on five or more rooms. A two-night and two-room minimum is required to receive the discount. Reservations must be made by November 10, either online using code FRIENDS23 or by calling 888-INN-LOVE. With sweeping ocean views, luxurious soaking tubs, cozy fireplaces, and more than 60 rooms to choose from, the inn promises a getaway that will be the talk of the friends' group chat for months to come.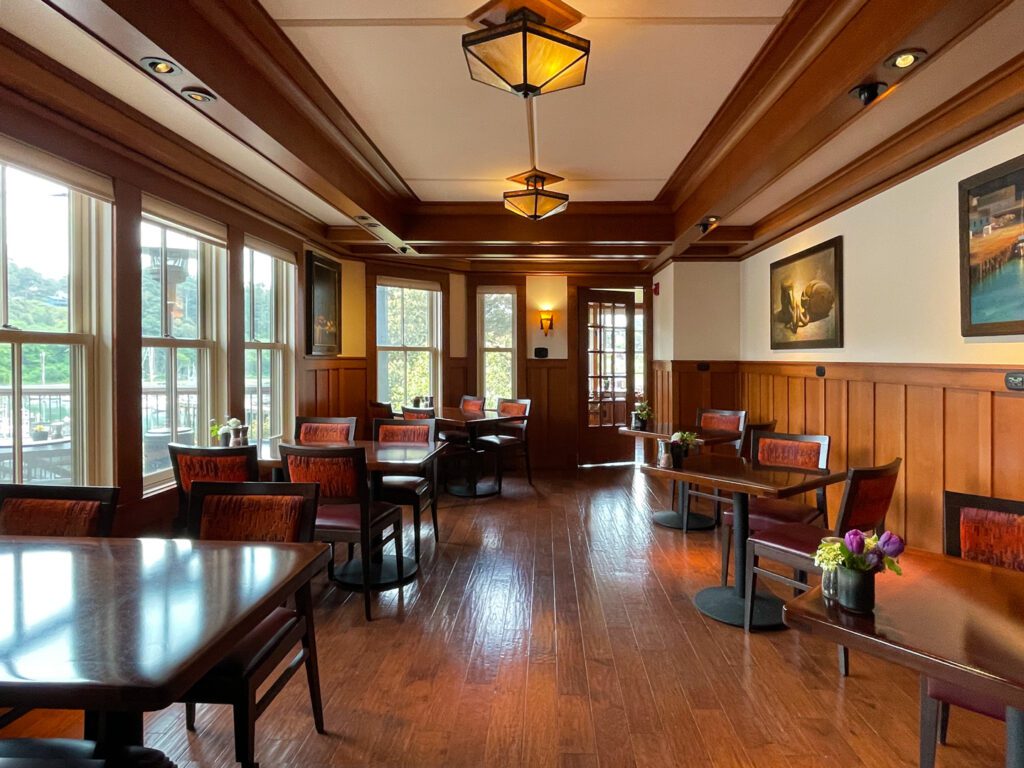 Noyo Harbor Inn – HarborView Bistro & Bar
Perched above the Noyo River in Fort Bragg, the beautifully restored Noyo Harbor Inn features Craftsman details and lush gardens winding down to the water's edge. The inn's inviting restaurant, the HarborView Bistro & Bar, overlooks the scenic river and has a fabulous menu on tap for Thanksgiving. The prix fixe menu includes options like a traditional roast turkey with all the fixings, braised brisket, and vegetarian and seafood offerings. A full wine pairing is available from their award-winning wine list, and seasonal cocktails are available from the bar. The cost is $85 per person, with an additional $45 for the optional wine pairing. For reservations, call 707-961-8000. Guests can also book a stay in one of the inn's 15 guest rooms featuring fine woodworking details, stunning views, and luxurious soaking tubs.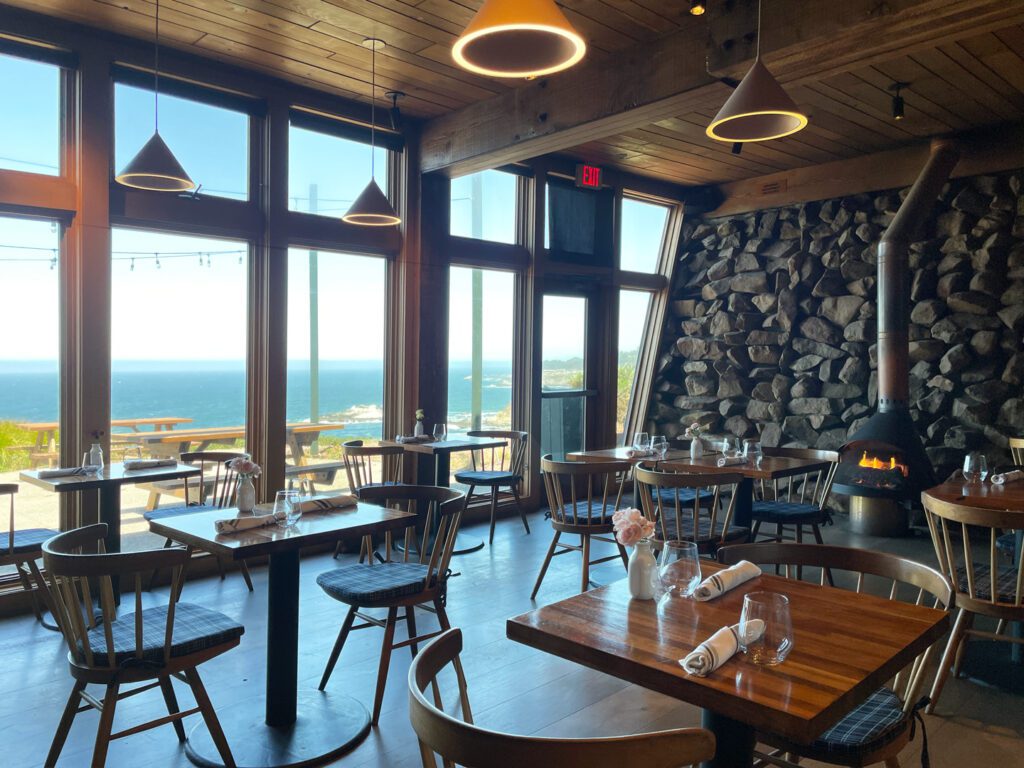 Timber Cove Resort – Coast Kitchen
Whether the goal is to reconnect with friends or gather with family, Coast Kitchen at Timber Cove Resort has it covered. In conjunction with Wayfarer Vineyards, the restaurant is offering a Friendsgiving menu from November 13-16, 2023. The three-course menu ($60 per person, plus $89 for an optional 2019 Wayfarer Pinot Noir or Chardonnay), starts with a choice of poached apple salad or pumpkin squash soup, progresses to a choice of pork, turkey, or vegetarian entrée with sides, then ends with a dessert of horchata bread pudding, gelato, or sorbet. On Thanksgiving Day, Coast Kitchen is once again offering its beloved Thanksgiving meal. Starting with a choice of seafood chowder, roasted squash salad, or local dressed oysters, the meal ($79 per person, or $35 for children 12 and under) continues with a turkey, squash risotto, or southern halibut entrée with family-style sides, then closes out with a dessert duo of pecan apple pie and pumpkin cheesecake, seasonal gelato, or sorbet. The inn also donates Thanksgiving dinner to their local school.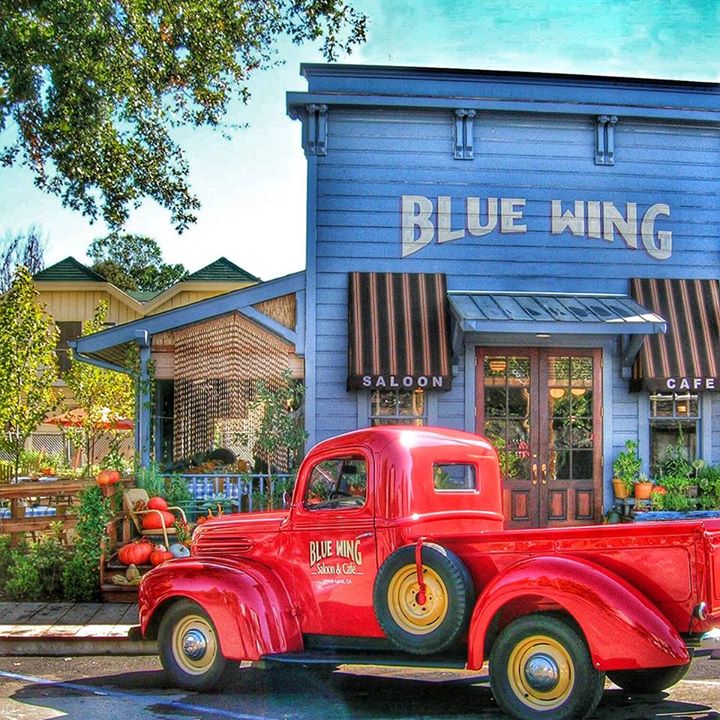 Tallman Hotel – Blue Wing Saloon
The Blue Wing Saloon at the historic Tallman Hotel in Upper Lake is serving up a fabulous three-course, prix fixe Thanksgiving dinner. The first course includes a choice of apple and celery soup with crème fraiche or a green salad with jack fruit, maple candied walnuts, fried goat cheese, and balsamic vinaigrette. For entrées, diners have a choice of roasted turkey with all the fixings, garlic and thyme roasted prime rib, crab-stuffed salmon, or mushroom risotto. Dessert choices are pumpkin cheesecake, crème brûlée, or apple pie with vanilla ice cream. Cost ranges from $65 to $80, but guests who book a two-night or longer stay that includes Thanksgiving Day will receive a $100 Blue Wing gift card that can be used for Thanksgiving dinner or any time within the next six months. Stays booked for Thanksgiving week (November 20-26, 2023) but not including Thanksgiving receive a $50 gift card. Reservations are available for seatings at 1:30 or 4:00 p.m. on Thanksgiving Day. For dinner reservations, call 707- 275-2233.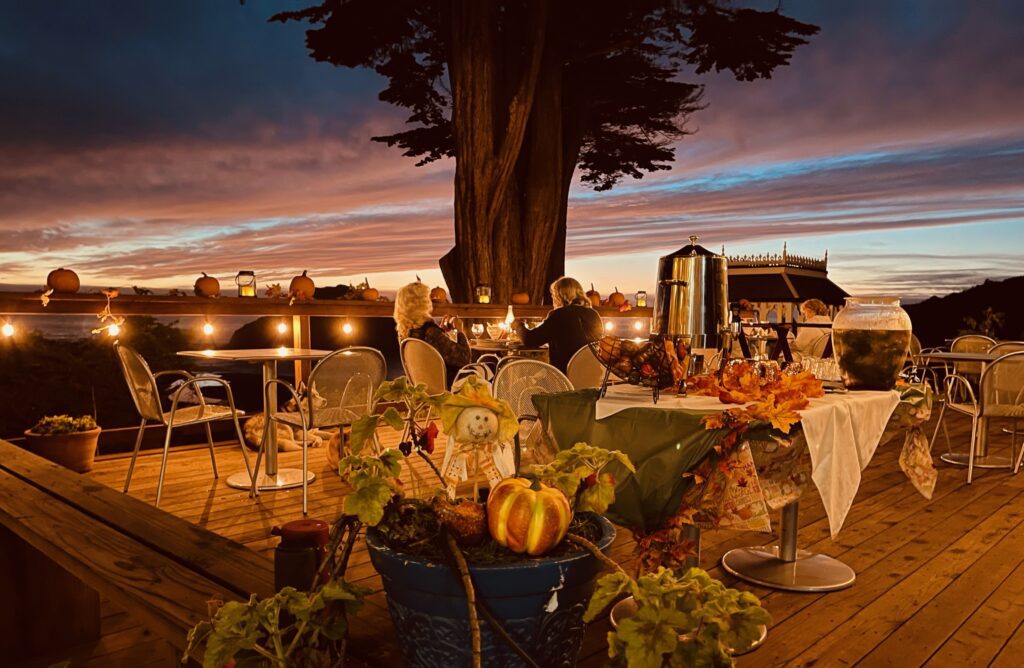 Elk Cove Inn & Spa – Sibo Restaurant
Enjoy stunning ocean views with an intimate Thanksgiving dinner prepared by Chef Victor Passalacqua at the historic Elk Cove Inn & Spa. Perched on a secluded bluff, the inn and its restaurant offer breathtaking views of the driftwood-strewn beach, majestic sea stacks, and the ocean beyond. This year's Thanksgiving menu will include homemade smoked salmon rillettes, roasted turkey, baked ham, crab cake with roasted red pepper coulis, and more. The dinner will be served family-style and include an array of sides and desserts. The cost is $85 per person. Reservations are required and can be made by calling 707-877-3321. After dinner, be lulled to sleep by the sound of the waves. The inn offers 16 guest rooms scattered between its 1883 mansion, bluff-top cottages, and luxury oceanfront suites. All the rooms feature fireplaces and luxurious amenities.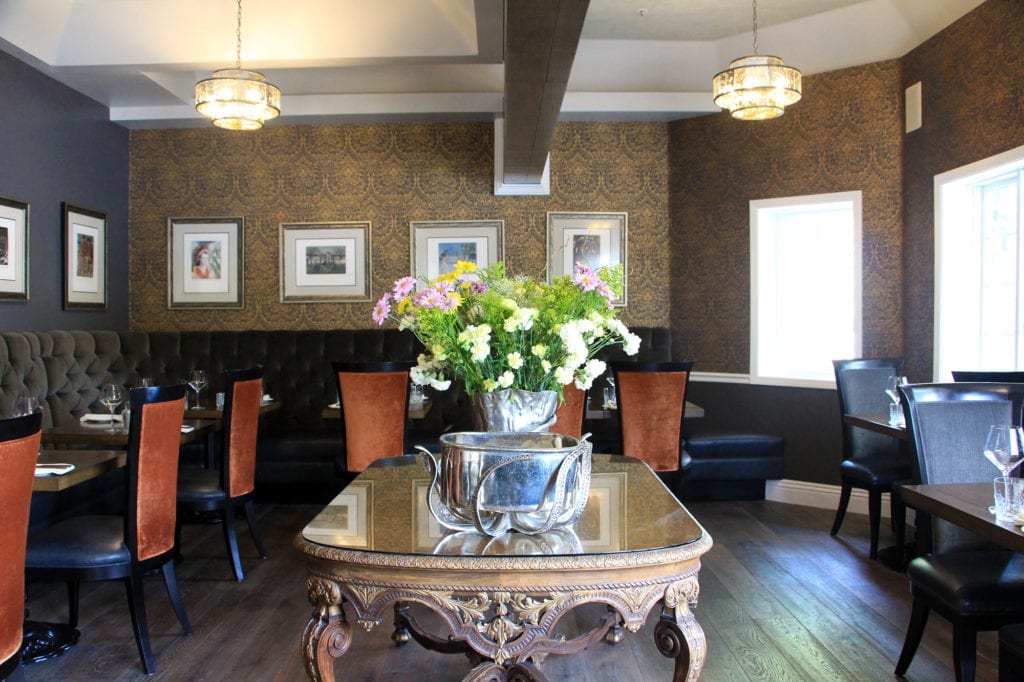 Mirabelle Inn – First & Oak
Known for its personalized seasonal tasting menus, First & Oak at Mirabelle Inn is changing things up a bit with a traditional feast on Thanksgiving Day. The elegant three-course menu celebrates the post-harvest bounty of the Santa Ynez Valley, and will include all of the classic Thanksgiving fare: turkey, potatoes, gravy, and the trimmings. Seatings for Thanksgiving are available at 4:00, 4:30, 6:30, and 7:00 p.m. The cost is $95 per guest. The three-story, half-timbered boutique hotel features 12 romantic guest rooms with a tasteful mix of chic wallpapers, antiques, and a touch of retro glamour. Guests who stay for Thanksgiving weekend will also get to experience the kick-off of Julefest, Solvang's month-long holiday celebration. Thanksgiving dinner reservations at First & Oak are available online, as are room reservations at Mirabelle Inn.
Brewery Gulch Inn
Book a Thanksgiving escape to the Brewery Gulch Inn on the Mendocino Coast and enjoy an incredible Thanksgiving dinner included with each stay. The exclusive, four-course plated dinner will be prepared by the inn's Executive Chef Stephen Smith, whose resume includes stints at Stars in San Francisco and as a personal chef to fashion designer Donna Karan. Guests will be able to pre-order their choice of entrée and choose from 4:00 PM or 5:45 PM seating times (first come, first served). The inn's Thanksgiving menu will start with a choice of butternut squash and roasted chestnut bisque or organic purple kale and quinoa salad. Main courses include rock cod with panko-pistachio crust, pan-seared prime filet mignon, or a traditional Thanksgiving turkey spread. For dessert, Chef Stephen will be offering chocolate pecan pie with bourbon-infused whipped cream. Reservations for the inn can be made online.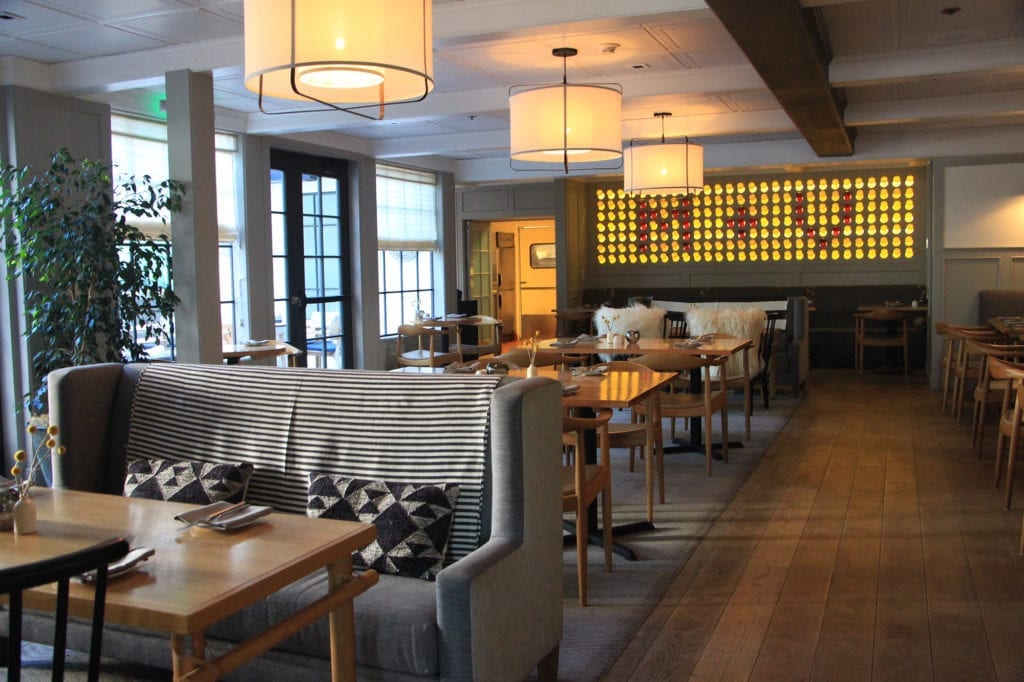 The Landsby – Mad & Vin
In the heart of Solvang, The Landsby's signature restaurant, Mad & Vin, specializes in delicious wine-country-inspired cuisine. Each dish is made with fresh, seasonal ingredients from California's central coast. Alongside its regular menu, this year the restaurant is offering a special Thanksgiving meal from 4:00 to 8:00 p.m. on November 23rd. The Thanksgiving menu offers a choice of entrées with perfectly paired sides: roasted turkey breast ($56), pesto-encrusted Alaskan halibut ($58), or prime rib ($68). For dessert (included in the above prices), guests can choose between chocolate bread pudding, pumpkin cheesecake, or berry crisp. The Landsby's bright and airy guest rooms are finished with blonde woods, brushed brass fixtures, leather accents, and warm, handcrafted furnishings, providing a refined, modern interpretation of Solvang's Danish roots. Dinner and room reservations are available online.
Farmhouse Inn – Farmhouse Restaurant
Recently named among the best hotels in Northern California by Condé Nast Reader's Choice Awards, Farmhouse Inn is bringing the spirit of its elevated, bespoke dining experience to Thanksgiving dinner at its Farmhouse Restaurant. Offering a chance to savor Sonoma County's agricultural bounty and the culinary delights of the season, the six-course menu starts with a chicory-dried cherry salad with buttermilk and osetra caviar dressing, progresses to delectable pasta and fish courses, then culminates with Perigord truffle stuffed roasted turkey. The meal winds down with a refreshing turkey consommé with garden herbs, followed by a decadent pecan pie. The inn's second dining venue, Farmstand, is offering a family-style Thanksgiving option. The menu features refreshing winter greens, Italian pasta dishes, heritage turkey or winter mushroom lasagna, traditional seasonal sides, and desserts. Room and dinner reservations are available online.
The Genevieve – The Victor
In the heart of Santa Barbara wine country, The Genevieve is hosting Thanksgiving at its new restaurant and bar, The Victor. Guests can order from Executive Chef Beto Huizar's regular menu or choose Turkey Two Ways, an innovative twist on favorite holiday classics that includes roasted turkey breast and leg confit, butternut squash stuffing, green bean almondine, pan gravy, and cranberry sauce. Seatings are available between 3:00 and 7:00 p.m. The cost for the turkey two ways option is $52 per person. Dinner and room reservations can be made online. The inn was renovated in 2017 and offers an atmosphere of understated, unspoiled luxury coupled with warm hospitality. Guests can indulge in spa treatments, cozy up to the fire pits, enjoy a whiskey nightcap with dessert, and receive complimentary wine tastings for two with the inn's exclusive tasting passport.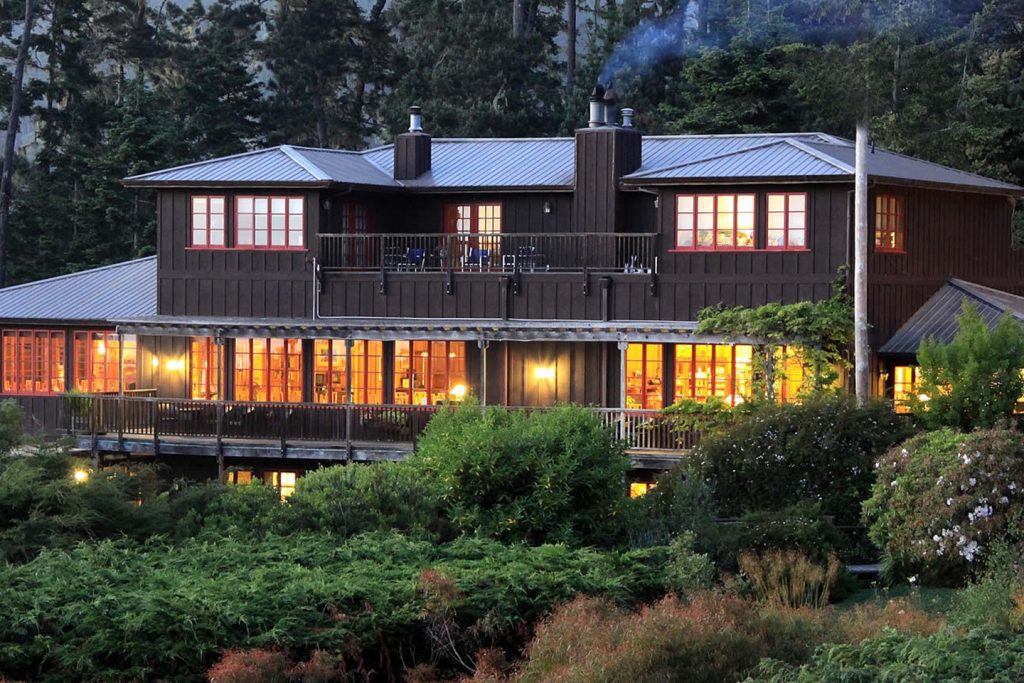 Stanford Inn by the Sea – Raven's Restaurant
For a sublime vegan Thanksgiving holiday, book a stay at the Stanford Inn by the Sea in Mendocino. The five-course, prix fixe menu features all plant-based foods with gluten-free and nut-free options. Featured entrees include mushroom crepes with grilled asparagus, sweet potato, and a sauvignon blanc reduction, an almond-hazelnut encrusted tofu or portobello with sage-chestnut stuffing, mashed potatoes, mushroom gravy, roasted seasonal vegetable, and cranberry-orange sauce, or autumn squash ravioli with cashew-cauliflower alfredo and braised greens. The cost is $105 per person. Reservations are required and can be made by calling 707-937-5615. Perched on a hillside with ocean views, the inn is nestled amid a verdant cascade of organic gardens and trees. Guest rooms exude a cozy, understated luxury and feature wood-burning fireplaces, hardwood floors with Persian rugs, fine linens, and beautifully crafted furnishings.
Granada Hotel & Bistro
Join the historic Granada Hotel & Bistro in downtown San Luis Obispo for a three-course prix fixe Thanksgiving feast. The menu features festive dishes both classic and reimagined. For the first course, diners have a choice of deviled egg with kewpie and Dijon, a classic Caesar salad, or caramelized yam with garlic brown butter. For the entrée, diners can choose from creamed green and casarecce pasta, chicken confit, or birria-braised short rib, all served with delicious seasonal accompaniments. Dinner is capped with a choice of fluffernutter pie, ice cream, or seasonal sorbet. The cost is $75 per person and reservations are available online. Also consider an overnight stay at the hotel with guest rooms featuring exposed brick walls, hand-crafted steel windows, Persian rugs, and original hardwood floors.
Skyview Los Alamos – Norman
Perched on a hillside overlooking Santa Barbara wine country, Skyview Los Alamos is an iconic 1950s roadside motel turned luxurious boutique resort. The five-acre outpost in the Santa Ynez Valley merges mid-century style with modern rustic chic. The resort's full-service restaurant, Norman, will serve a fantastic feast for Thanksgiving. The prix fixe dinner opens with an amuse Bouche of pickled baby beets with crispy prosciutto, chervil goat cheese, and candied kumquats, followed by the choice of winter squash soup, brussels sprouts, or yellowfin tartare as a starter. For the main course, guests can choose between roasted Cornish game hen, Duroc pork chop, or spaghetti squash with rosemary jasmine rice. Seasonal desserts and tempting add-ons round out the menu. The cost is $75 per person. Dinner and room reservations can be made online. The boutique hotel features a heated swimming pool, a fire pit, and a working vineyard. The renovated guest rooms are outfitted with hardwood floors, down duvets, leather club chairs, and marble-clad bathrooms. Several offer private patios overlooking the vineyards.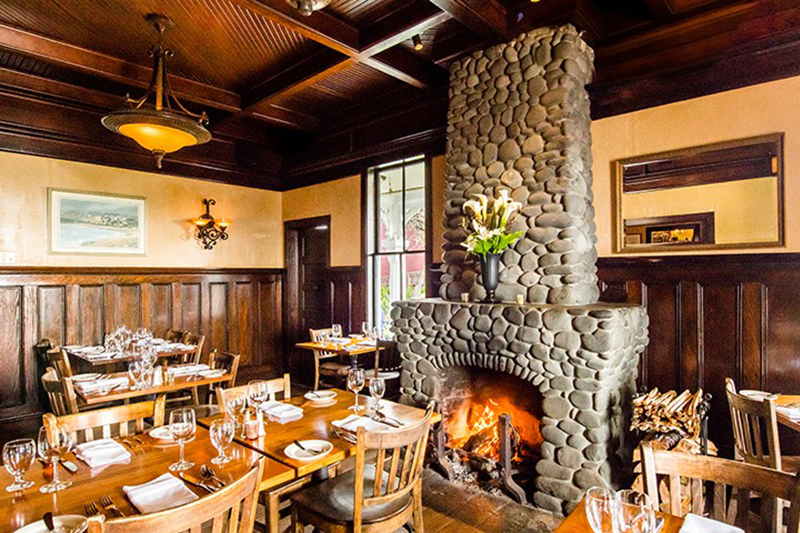 MacCallum House
Every Thanksgiving, the MacCallum House in Mendocino hosts a festive wine-paired dinner featuring traditional dishes prepared with local and seasonal ingredients. The MacCallum House set the standard in the early days of farm-to-table dining with Executive Chef Alan Kantor's long-time focus on sustainable farming. While the menu for this year's Thanksgiving dinner has not yet been announced, last year's dinner featured a wild mushroom bisque, hearts of romaine salad, roasted organic turkey with bourbon gravy, chestnut and sausage bread pudding, mashed Yukon Gold potatoes, and chocolate fudge brownie with pumpkin ice cream. Seatings for Thanksgiving are available at 3:00 and 6:00 p.m. For pricing and reservations, call 707-937-0289. The inn is one of Mendocino's finest Victorian landmarks and offers 19 beautiful guest rooms, many with spa tubs, fireplaces, private decks, and ocean views.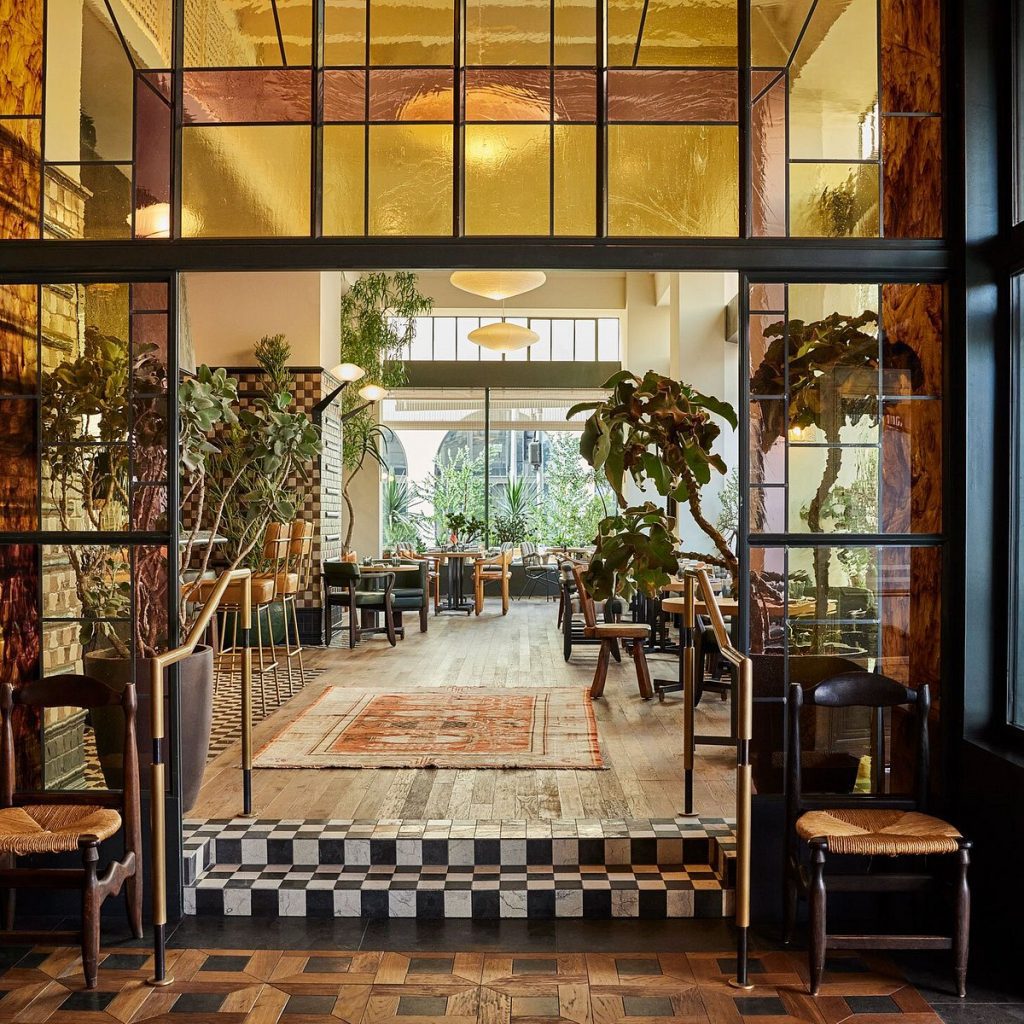 Downtown L.A. Proper Hotel – Caldo Verde
This Thanksgiving, savor the glamour of dining in downtown Los Angeles against a backdrop of city lights, historic architecture, fine art, and vintage style. At Caldo Verde inside Downtown L.A. Proper Hotel, the Thanksgiving menu offers a sophisticated spin on the traditional classics, with a vegan option and a festive assortment of Thanksgiving desserts. James Beard Award-winning chef Suzanne Goin and restaurateur Caroline Styne opened the restaurant inside the landmark hotel in October 2021. The setting features a wall of windows bathing the historic space in natural light, Morgan Peck ceramics and lighting, and a pair of monolithic Judson Studios' stained glassworks. The prix fixe Thanksgiving dinner is $120 per person or $55 for children 12 and under. In addition to Caldo Verde, the boutique hotel offers an intimate library lounge, a city-view rooftop pool, and one-of-a-kind suites. Dinner and room reservations can be made online.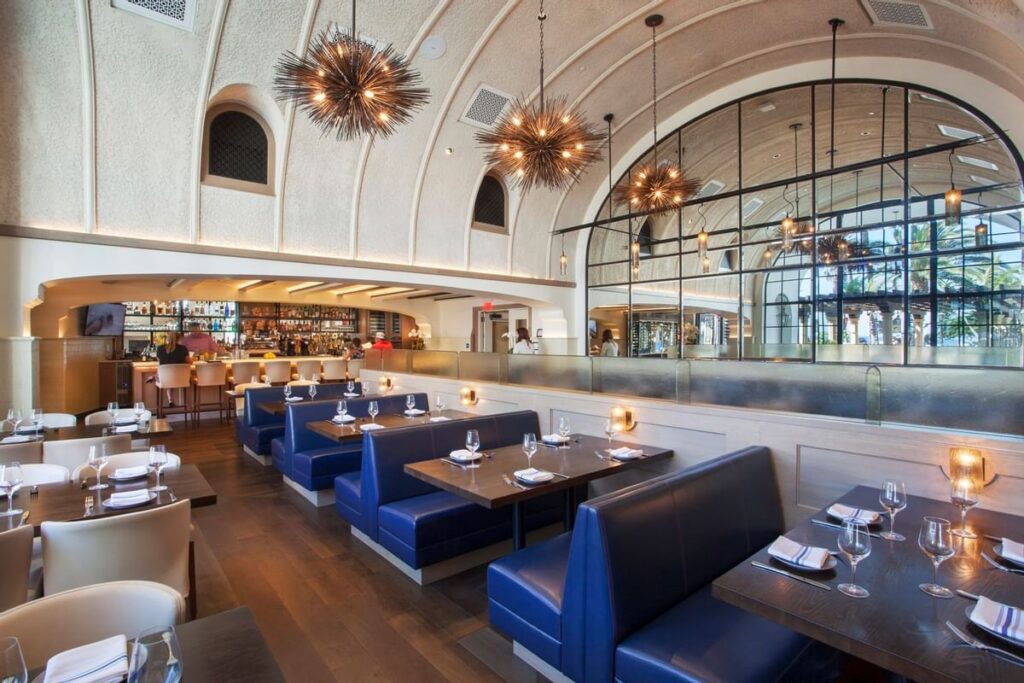 Santa Barbara Inn – Convivo Restaurant
Just off the lobby and pool of Santa Barbara Inn, Convivo Restaurant offers a captivating oceanfront setting, with a cozy outdoor terrace that's the perfect romantic complement to the dramatic Pacific Ocean. The restaurant is serving a Thanksgiving feast this year, from noon to 9:00 p.m. on Thanksgiving Day. With three- ($110) and four-course ($135) options, the menu features a variety of choices for each course. Antipasti choices include a winter squash soup with hazelnuts and pomegranates and chicken liver with crostone and strawberries. Second-course options include a seven-hour veal Bolognese or lemon ricotta cappellacci. For the main entrée, guests can choose among options that include roasted turkey with Manchego biscuit and kumquat-pomegranate marmalade or miso honey-roasted short ribs. And desserts range from a lemon tart with huckleberry to a chocolate caramel bar with salted caramel gelato. Dinner and room reservations are available online.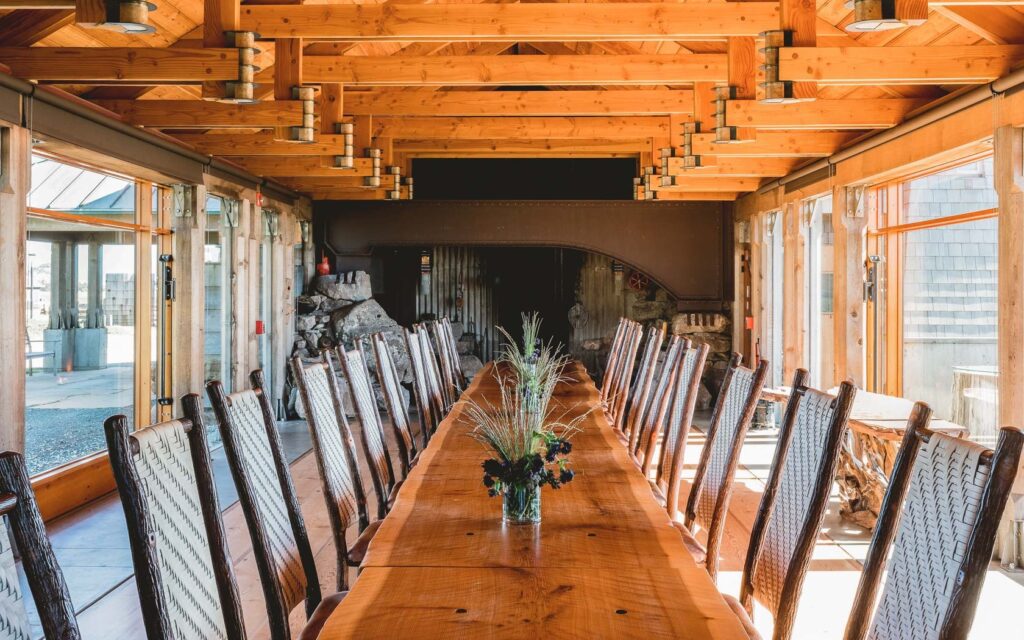 Inn at Newport Ranch
The Inn at Newport Ranch has a few open rooms for Thanksgiving weekend, made all the more enticing by a special dinner from Executive Chef, Patrick Meany. The inn serves elevated ranch cuisine highlighting the bounty of the Mendocino coast, with flavor profiles enhanced by cooking over live fire. The Thanksgiving menu this year features such delicacies as smoked potato gratin with chili, gnocchi with grain mustard and sage, Cornish game hen with thyme and wild mushrooms, and pumpkin pie with wild nutmeg ice cream. And with over 2,200 acres and 20 miles of trails meandering along the coastal bluffs and winding up into the hills, the inn offers a plethora of opportunities to hit the trail and work off the Thanksgiving meal. Reservations are available online, with a three-night minimum stay required over Thanksgiving.