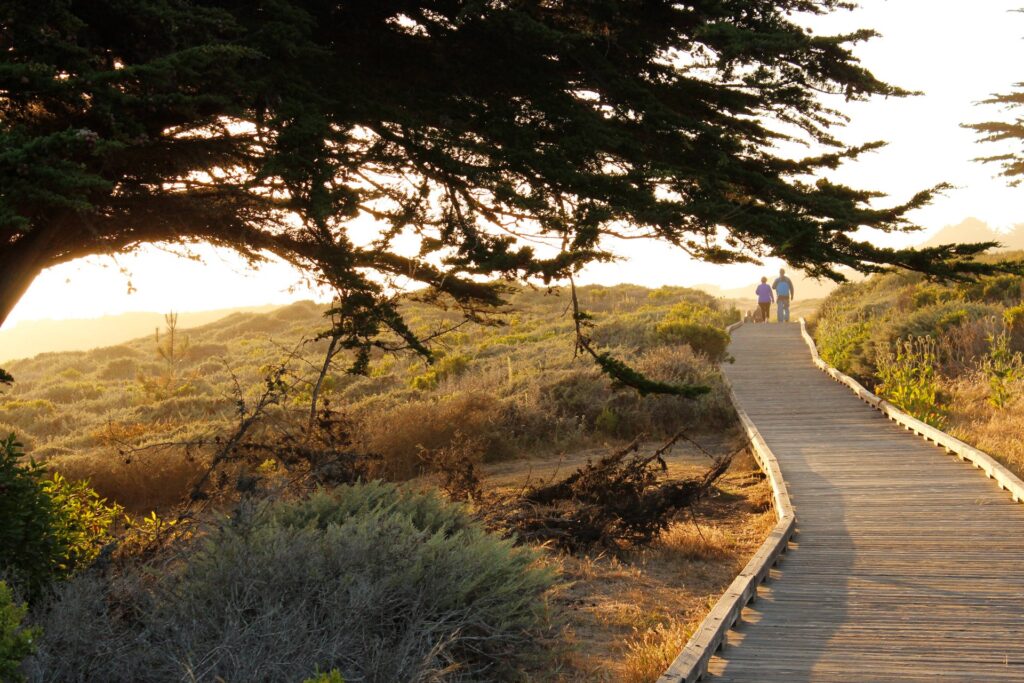 A Romantic Seaside Escape to Quiet Cambria
Many of California's beach towns exude romance, but the enchanting town of Cambria in northern San Luis Obispo County may take the cake. Nestled between the Monterey Pines and a dramatic coastline along Highway 1, the town seems to have been built entirely with romance in mind. Its quiet, intimate setting along the Central Coast offers breathtaking views, a mild climate, unique cultural gems, and splendid food and wine.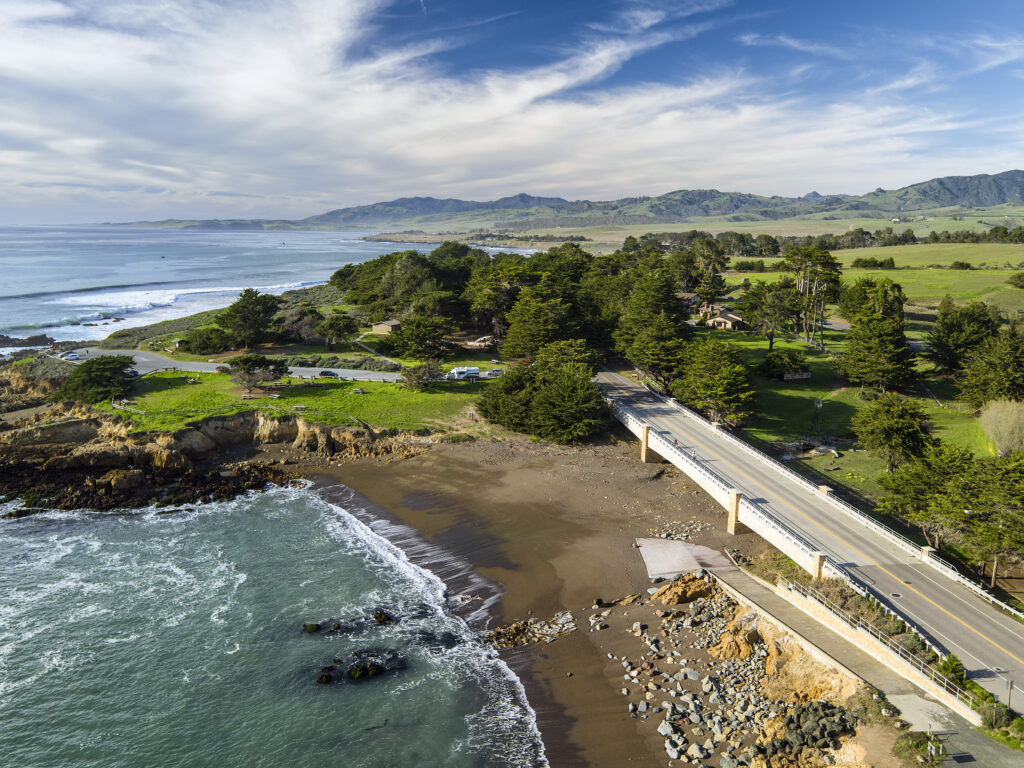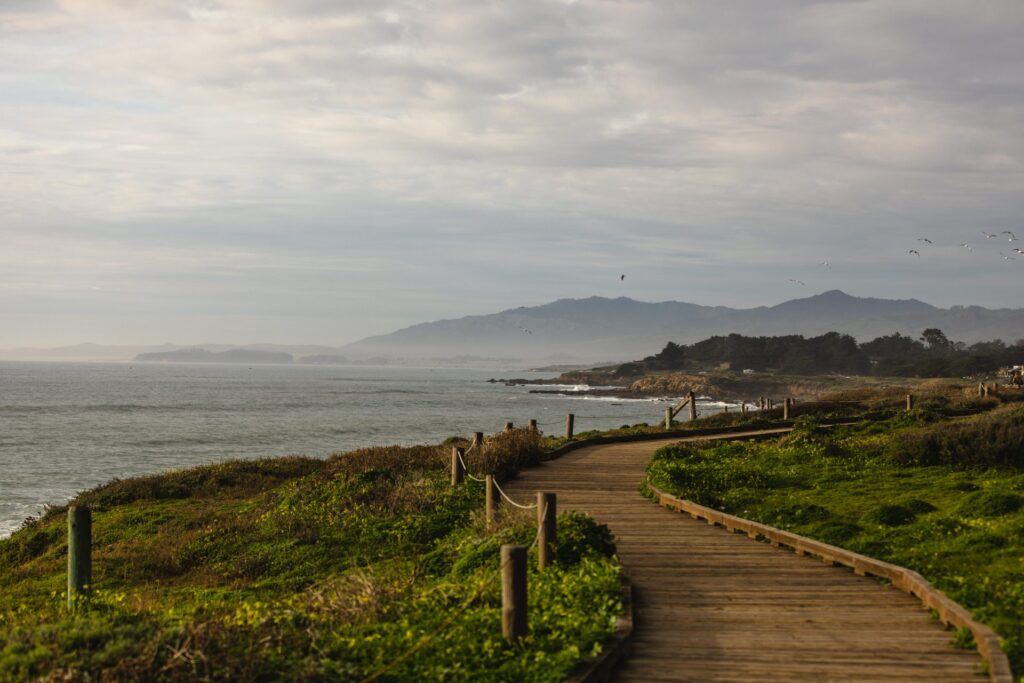 The boardwalk at Moonstone Beach is perhaps one of the most romantic strolls on the coast. A mile-long wooden boardwalk weaves among cypress trees, sandy coves, and rocky headlands. Along the way, benches allow couples to admire the breathtaking views and watch for migrating whales passing offshore. Stairs lead down to the coves, where beachcombing couples can explore tide pools, search for the beach's namesake moonstones, watch for dolphins and sea otters, or follow seabirds as they soar overhead.
Couples looking for a more exhilarating date will want to pack a picnic basket and head to Fiscalini Ranch Preserve. The preserve offers eight miles of trails crisscrossing a rare oceanfront expanse of nature and solitude. The romantic Bluff Trail meanders for more than a mile along the top of a dramatic ocean bluff with panoramic views. More trails climb up to the ridges with views stretching far into the horizon. Each spring, the preserve's vast meadows boast beautiful wildflower displays.
No trip to San Luis Obispo County would be complete without a wine tasting excursion, and the coast offers a unique take. The Pacific Coast Wine Trail (PCWT) passes a handful of boutique wineries along a 28-mile stretch of coastline, including Cutruzzola Vineyards tasting room in Cambria's West Village. The PCWT is unique in that each of its tasting rooms features handcrafted small production wines from local vineyards, often personally poured by the winemakers themselves. The tasting rooms offer a range of boutique Rhone, Bordeaux, Burgundian, Tuscan, and Alsatian varietal wines.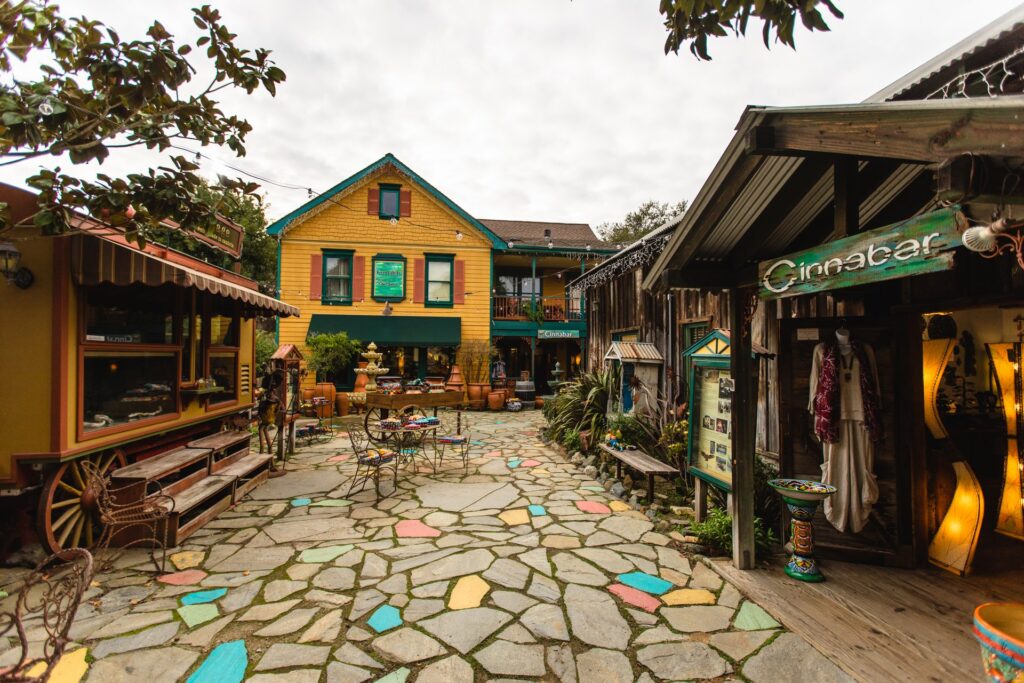 The town's rich history is sure to intrigue couples who crave the romance of bygone eras. The local historical society's self-guided walking tour provides insights into Cambria's past and historic architecture. Also worth a visit is the Piedras Blancas Light Station, first illuminated in 1875 as a beacon for sailors navigating the rugged coastline. Just a short drive away, the evening tour at the legendary 250,000-acre Hearst Castle is likely to include a spectacular sunset that feels even more extravagant amid the opulence and romance of 1930s Hollywood. (Hearst Castle is currently closed for road repairs but is expected to reopen later in 2022.)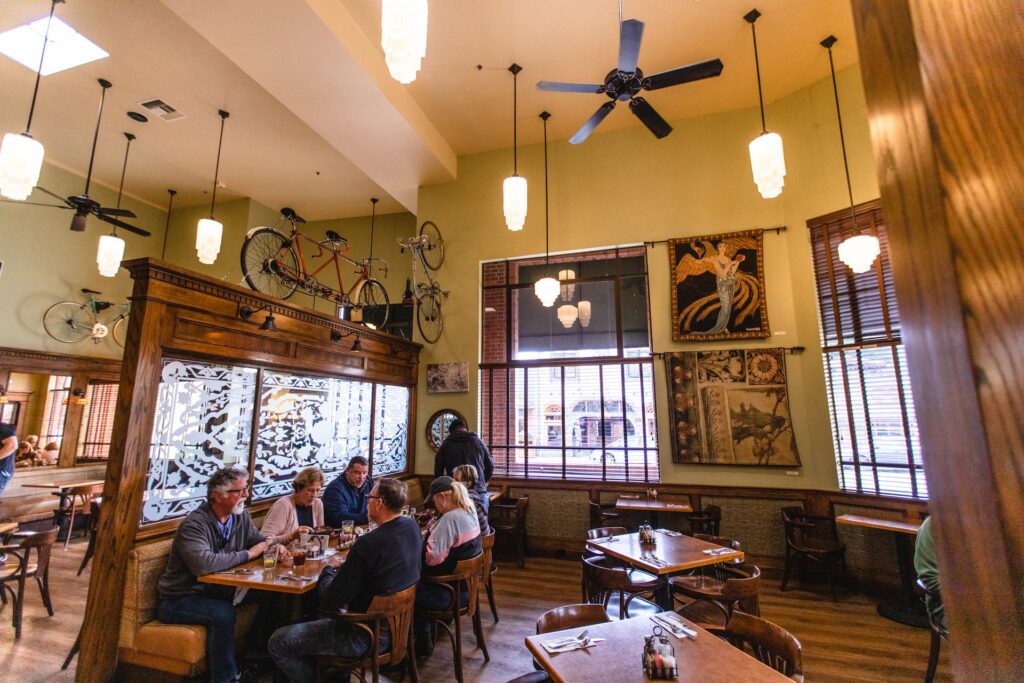 Cambria has the perfect dinner option for every couple ranging from elegant candlelit bistros to whimsical food trucks. Local seafood features prominently, with several establishments presenting live music by local talent. Cap off the evening with a shared dessert, which in Cambria, is likely to feature local olallieberries. These blackberry-raspberry hybrids thrive on the Central Coast and are often featured on local restaurant menus. The Linn family, often credited for putting the olallieberry on the map, have operated their wildly popular farm, fruit stand, and restaurant for decades. It's the perfect spot for sharing a slice of olallieberry pie.
Where to Stay
With the beauty of the Pacific to the west and rolling green hills to the east, this modern-yet-classic boutique hotel features 27 family- and dog-friendly guest rooms and suites, including a prominent collection of ocean view suites with whirlpool tubs.
Across from Moonstone Beach, this 60-room inn has an old English feel, complete with rounded thatched-style roofs and flower-lined brick paths. Inside, the driftwood-inspired design elements reflect the easy-going beach lifestyle. There's a fireplace in each of the newly renovated rooms, with many overlooking the beach.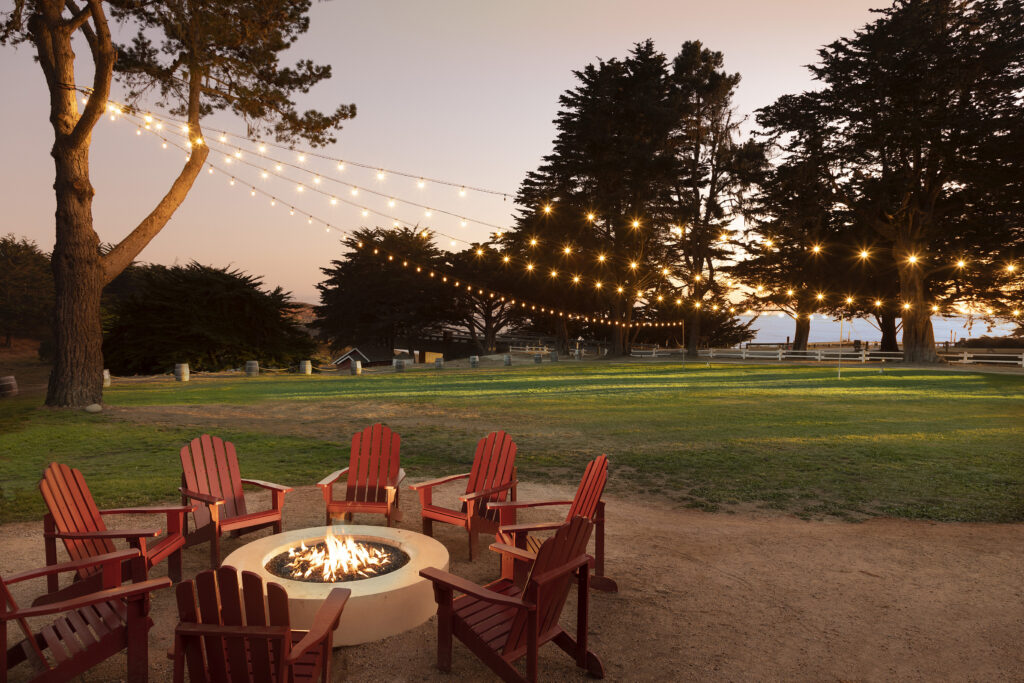 With 61 rooms stretched across nine seaside acres, this all-new ranch-inspired property features bold plaids and animal prints, beautifully restored vaulted wood ceilings, and rich leather accents. A private beach trail, fire pit, and family-friendly lawn games are among its more popular amenities.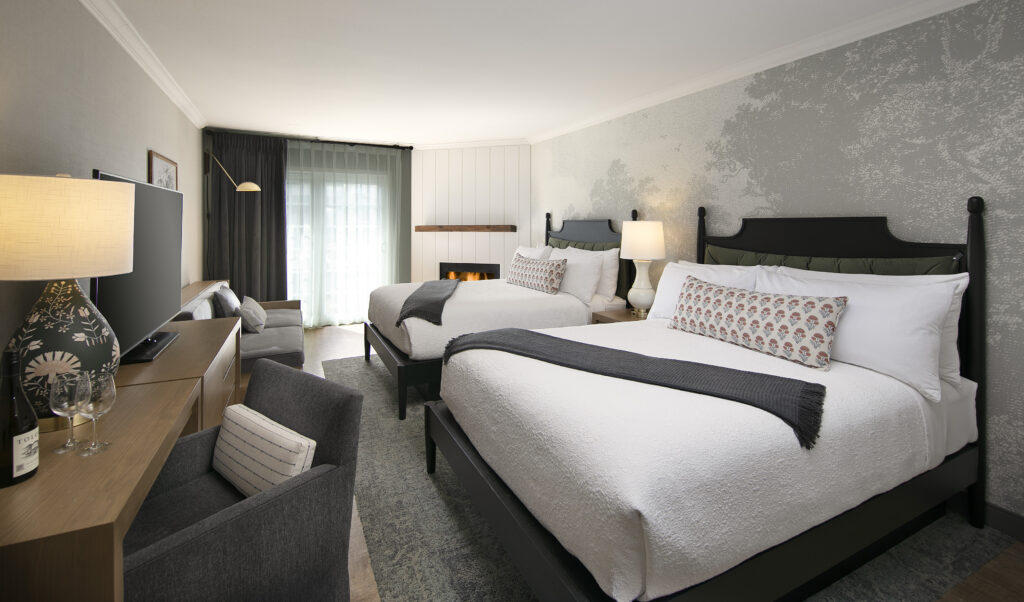 Contemporary décor and modern amenities make this 47-room oceanside inn ideal for couples seeking a romantic escape or a great adventure. Every room features a fireplace, and some offer jetted tubs and ocean-view terraces overlooking Moonstone Beach.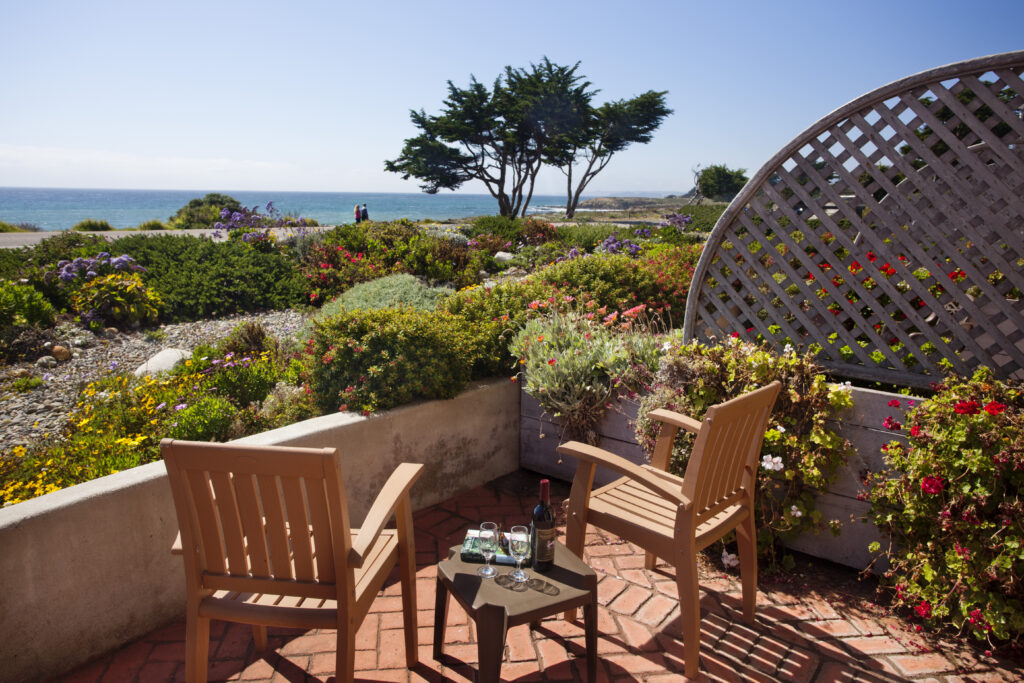 Overlooking Cambria's famous oceanfront boardwalk, this pet-friendly property offers 41 airy oceanside guest rooms and suites. Just steps from the shimmering shores of Moonstone Beach, the inn offers thoughtful amenities like cozy fireplaces, complimentary Wi-Fi, pampering robes, and upscale bath amenities.
Main photo courtesy of Vist SLO CAL/Highway 1 Discovery Route