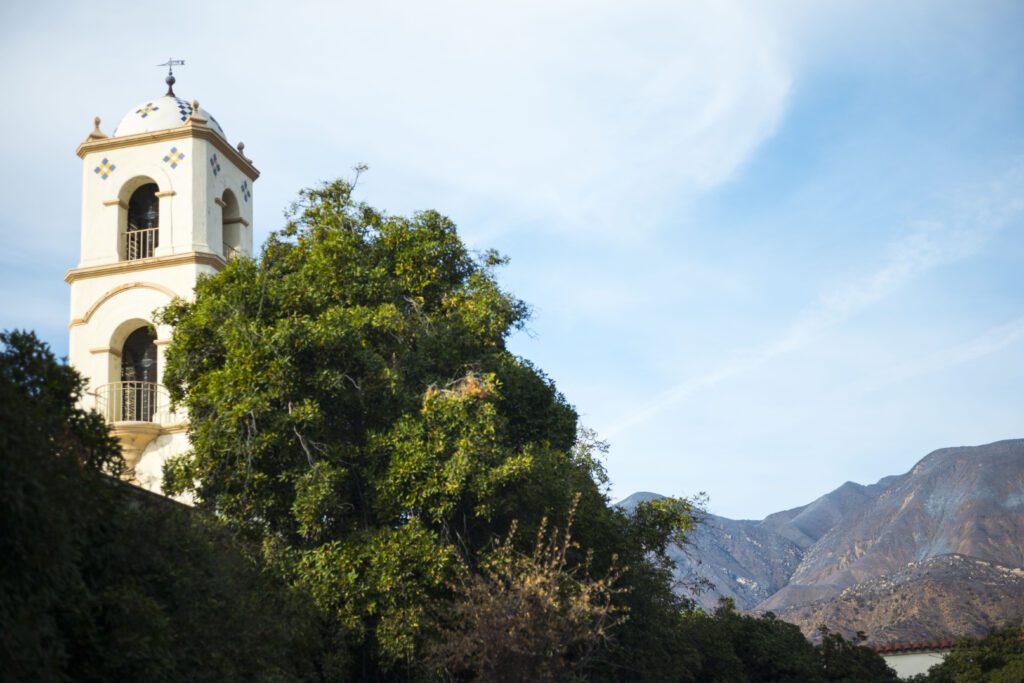 A Restorative Escape to Ojai, Southern California's Shangri-La
Nestled in an idyllic valley less than two hours from Los Angeles, Ojai is a world away from the city. Framed by rugged mountains and bathed in sunshine, the Ojai Valley is a tapestry of citrus groves, olive orchards, vineyards, and majestic oaks. Trails winding along the ridgelines offer stunning vistas for hikers and bikers. A charming village anchors the small town with beautiful architecture, sophisticated epicurean delights, and one-of-a-kind boutiques. Secret gardens, spas, and spiritual retreats round out the offerings for a rejuvenating weekend getaway.
Start your visit with a stroll through Ojai's historic downtown. The iconic bell tower, arcade, and other Spanish Colonial Revival gems were built after a fire destroyed the original town in 1917. Inspired by the City Beautiful Movement (which was introduced at the 1893 Chicago World's Fair), glassmaker and philanthropist Edward Drummond Libbey led the effort to rebuild and transform Ojai into a graceful destination. His legacy lives on in the architectural treasures that now house downtown shops, tasting rooms, eateries, and art galleries.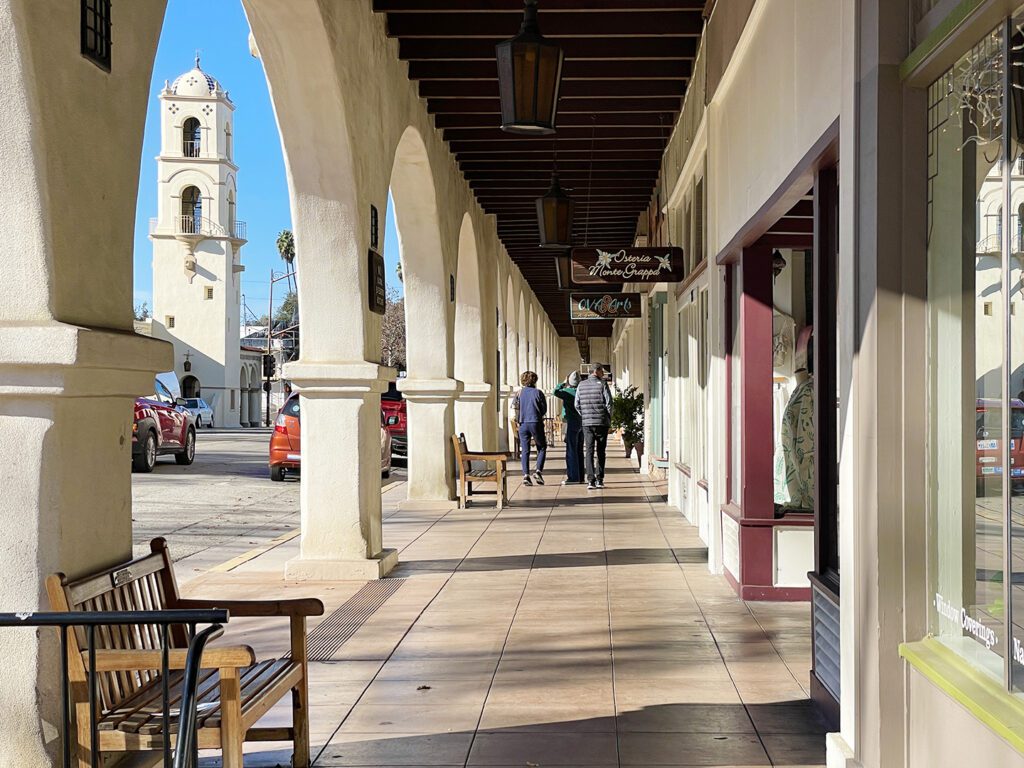 Among the highlights in downtown, you can shop for new and used books at the world's largest outdoor bookstore. Bart's Books has served Ojai since 1964 and features open-air aisles with over 130,000 titles ranging from rare out-of-print books to well-loved paperbacks. Tipple & Ramble, an enchanting indoor-outdoor wine bar, serves cheese and charcuterie with Central Coast wines and craft beer. Inside, you can shop for cool housewares and glamping gear while a vintage travel trailer doubles as a tasting bar in the outdoor garden patio.
You'll find another great outdoor patio at Ojai Rotie. The casual, chef/farmer-driven eatery serves up extraordinary rotisserie chicken, fresh sourdough, and innovative sides. Nestled among the historic arcade shops, Osteria Monte Grappa offers rustic Northern Italian and seafood dishes featuring local, seasonal ingredients. A relative newcomer to Ojai's restaurant scene, The Dutchess is a bakery by day and a trendy restaurant by night. Housed in a charming 1920s building, it serves inspired Burmese fare crafted from local ingredients. 
On Wednesday evenings in the summer, the city hosts free outdoor concerts in the amphitheater at Libbey Park. In addition, the amphitheater stage hosts a wide range of touring musicians. This summer's line-up includes Chris Isaak, Belinda Carlisle, Toad the Wet Sprocket, and Don McLean. The venue is also home to a free summer film series and the acclaimed Ojai Music Festival.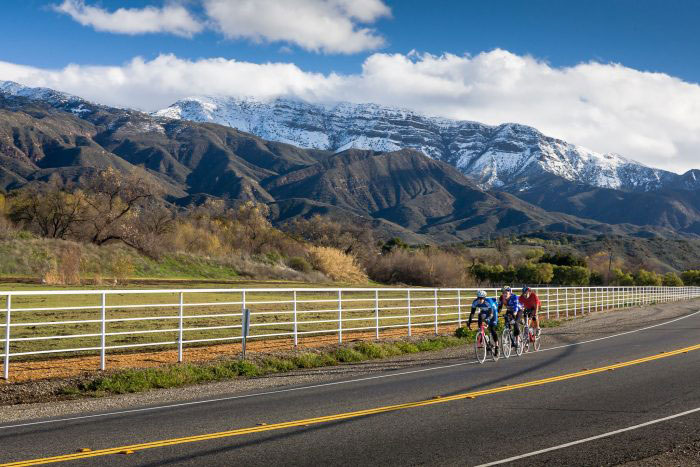 Beyond downtown, hit the trail on foot, by bike, or on horseback to explore Ojai's natural beauty. An easy out-and-back route along Shelf Road rewards hikers and bikers with sweeping views of Ojai Valley. A choice of Ventura River Bottom trails through the Ojai Valley Land Conservancy offers ridgeline views, fern-lined grottos, deep swimming holes, and rare wildflowers. The paved 15-mile Ojai Valley Trail connects the east end of town with the beach in Ventura.
In the foothills of Ojai near Lake Casitas, you'll find a hidden Eden at the Taft Gardens & Nature Preserve. The tranquil gardens are renowned for their rare and exotic plants. Self-guided tours of the 264-acre property are available with advance reservations.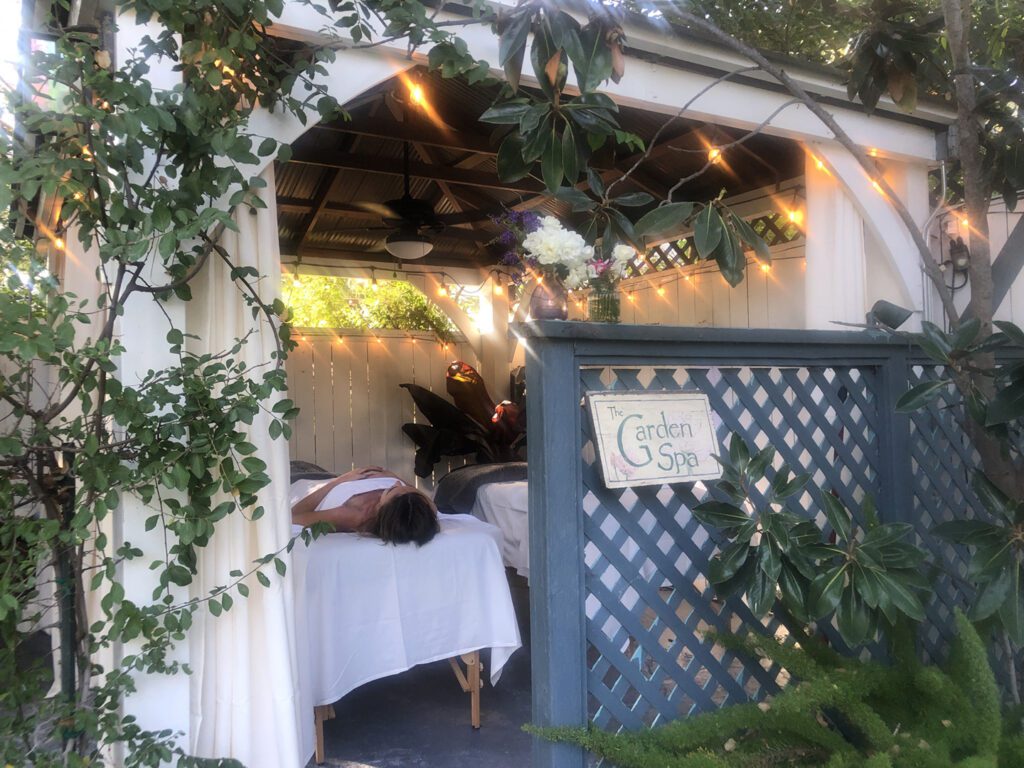 For blissful relaxation, book a treatment among the many spa options in Ojai. One of the most intimate spa settings is the Ojai Garden Spa at the Lavender Inn. In a private gazebo tucked at the back of the inn's secret gardens, you can indulge in an array of outdoor massage treatments. The spa also offers indoor massage options, body treatments featuring customizable blends of native herbs and salts, and holistic facials with locally-made skin care products. For a quick pick-me-up, unwind with a foot bath treatment in the gardens. Amid trickling fountains, colorful blooms, and majestic oaks, the gardens offer many secluded nooks and crannies to relax. In the evenings, the garden's pond, fed by a small waterfall, hosts a symphony of frogs.  
Where to Stay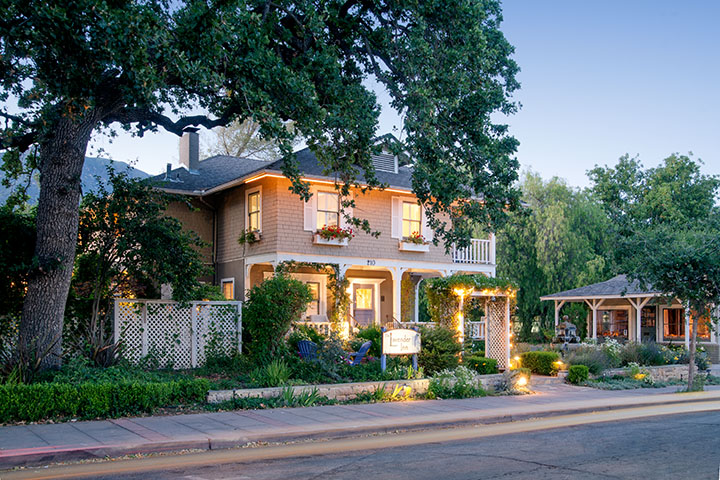 Lavender Inn
Ojai's most intimate day spa is also one of the town's most delightful places to stay. Just steps from downtown's restaurants and shops, the Lavender Inn was originally built in 1874 as Ojai's first schoolhouse. The beautifully restored inn offers seven charming guest rooms upstairs in the main house and a private cottage in the back. Each guest room is artfully designed with a blend of antiques and contemporary chic furnishings, rich color palettes, and thoughtful details like fresh flowers and cozy robes. Many of the rooms offer private balconies. From a few of the rooms, you can even catch sight of Ojai's celebrated "pink moment"—the fleeting moment at sunset when the mountains are bathed in a rosy glow.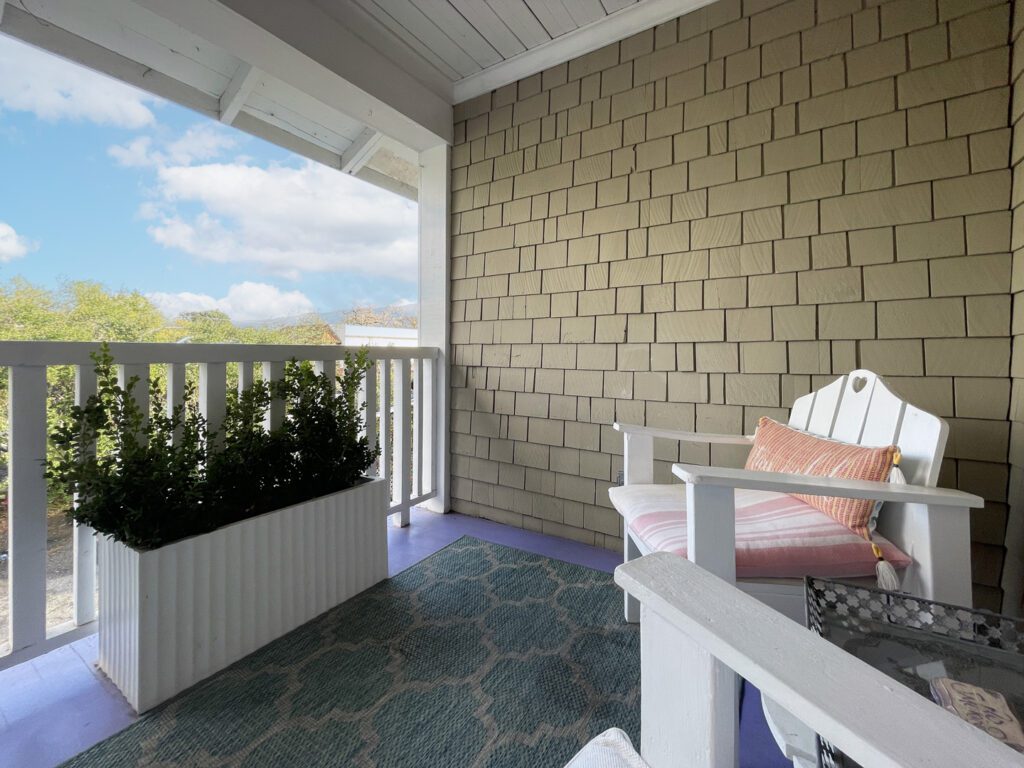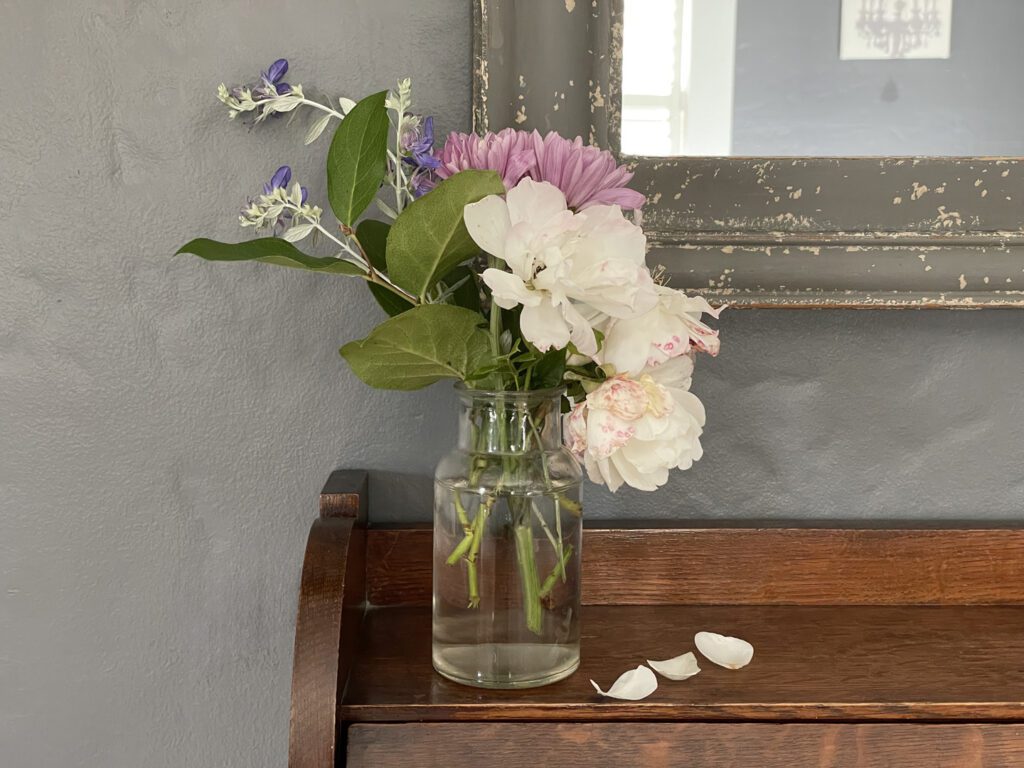 With a private entrance and French doors leading to a private backyard, the inn's 1,000-square-foot Provence Cottage is ideal for a romantic hideaway or an extended stay. The cottage is pet-friendly and offers a kitchenette, fireplace, and two televisions.
The inn serves a complimentary wine hour each evening, which can be enjoyed by the fire in the living room, on the porch, or in the gardens. Afterward, challenge your partner to a game of chess or cuddle up on the oversized porch swing. The inn's complimentary continental breakfast features house-made baked goods and fresh fruit, including Ojai's famed Pixie tangerines.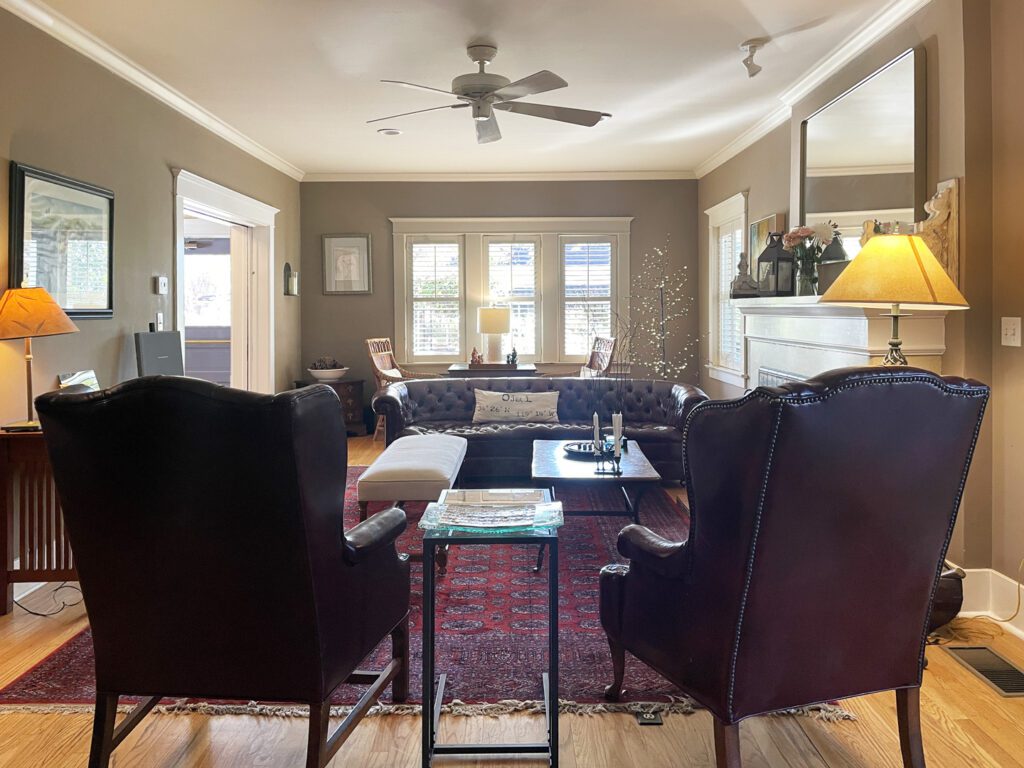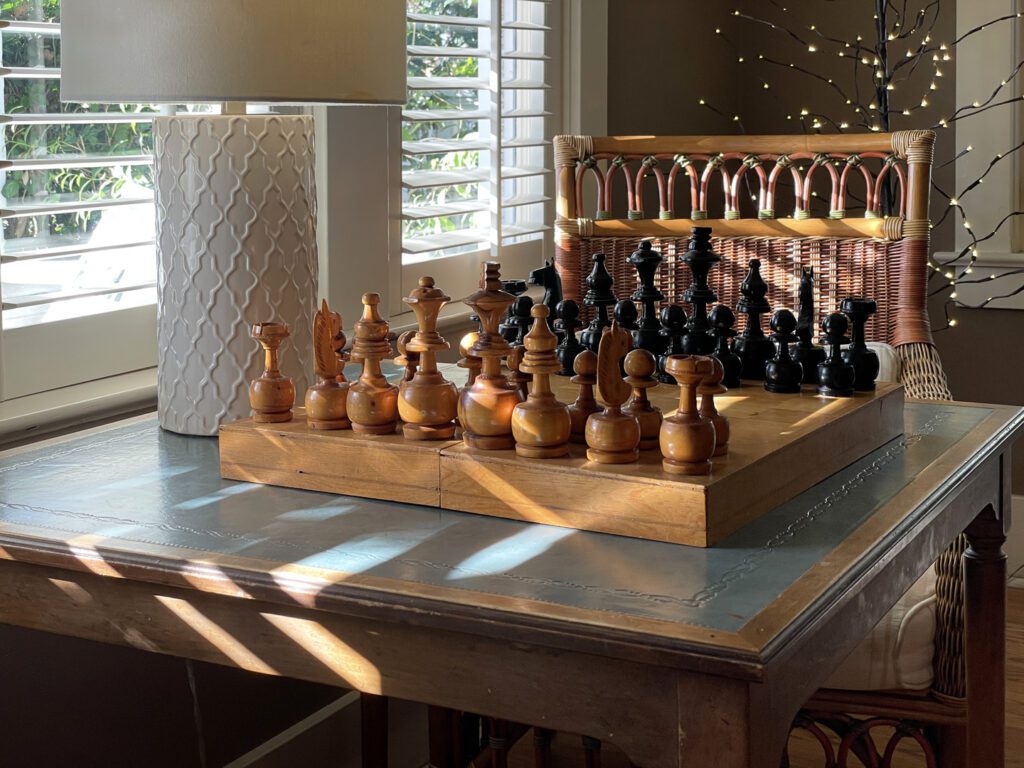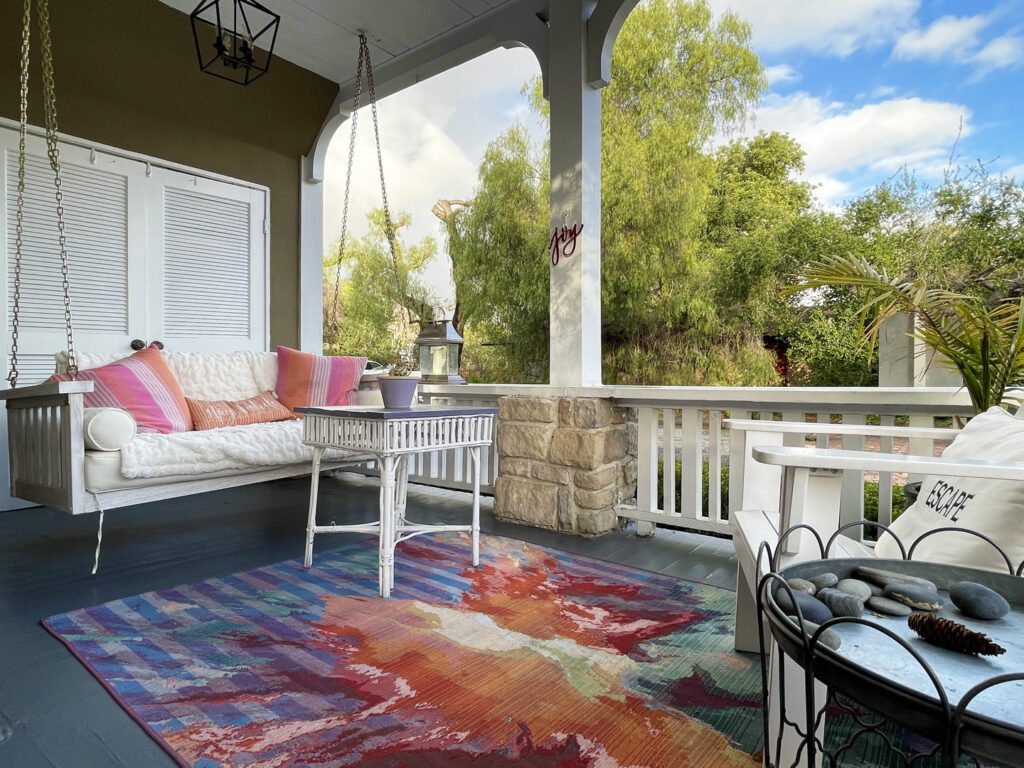 The owners of the Lavender Inn, Kathy and Mark Hartley, are passionate about preserving and restoring historic buildings. Their passion is evident in the meticulous restoration of the inn and their ongoing work to revamp the rooms and improve upon the guest experience.
In addition, the owners are committed to giving back to their community. One of their signature contributions is the free wellness retreats for under-served women undergoing cancer treatment. Called InnCourage, the inn's retreats offer women a three-day respite from their lives and the ravages of the disease. The retreats take a holistic approach to women's health while giving them time for relaxation, rejuvenation, and renewal.