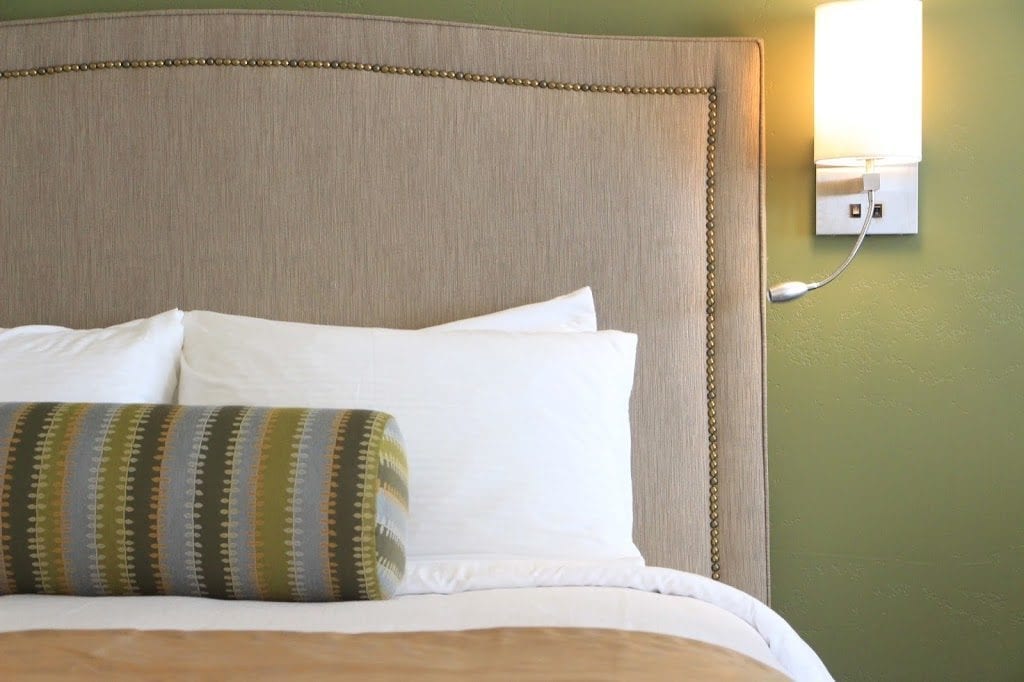 A New Boutique Hotel and a New Kind of Gold Rush in Plymouth, California
Founded during the Gold Rush and set amid the graceful rolling hills of Amador County, the rough-and-ready town of Plymouth seems poised to welcome a new rush of well-heeled visitors. In the last 20 years, the number of local wineries have flourished from a dozen to over 40. In the last decade, new shops and restaurants have popped up along Plymouth's Main Street and have begun to smooth the town's ragged edges. And just last year, a new boutique hotel opened and has already begun drawing guests from around the world.
I rolled into the sleepy town of Plymouth last September and immediately stumbled across the Amador Vintage Market. Owned by caterer Beth Sogaard, the tantalizing shop features a mouthwatering selection of fresh sandwiches, salads, charcuterie, artisan cheeses, desserts, and wines. It's the perfect place to grab fare for a wine country picnic. I picked up a scoop of gelato to wander through town. Next door, at the city park with a charming gazebo, vendors were starting to set up for the weekly Amador Farmers Market. The newly-opened Prospect Cellars was pouring wines in what had originally been the town's old post office. Across from the market, the kitchen staff were prepping for dinner at Taste, a restaurant that Wine Enthusiast Magazine named one of the Top 100 wine restaurants in America. Two doors down, I checked-in to Plymouth's newest and swankiest hotel, which just opened in February 2016.
The 16-room Rest, a Boutique Hotel, blends elements of the town's heritage and tongue-in-cheek humor with the contemporary furnishings and amenities you would expect to find at a luxury hotel. The owners, Tracey and Mark Berkner (who also own Taste), renovated two rundown apartment buildings to create the hotel. They salvaged some of the original, first-growth timbers from the buildings and repurposed them as sliding barn doors for the lobby office. The lobby's breakfast bar was made from old doors. The boards that hang above the bar were part of the building's original siding and feature faint scrawls of graffiti written in cursive, with pencil. The light-filled lobby also features vaulted ceilings, beautiful hardwood floors, a gas fireplace with comfortable seating, and a bank of windows along the far south wall. The computer at the check-in desk is comically hidden inside a vintage suitcase atop a rolling cart filled with other vintage suitcases. Stepping in from the street, the resulting hotel and its gracious hospitality is an unexpected delight.
The sweet desk clerk showed me to my room, passing along the windowed corridors overlooking an inviting courtyard. My room was a double queen on the second floor. Sunlight was pouring in through the plantation shutters. An elephant expertly folded from a towel greeted me from one of the beds. The spacious room offered a desk and a seating area and was decorated in soothing shades of sage, cream, and khaki with hints of pale blue and burnt orange. The elevated beds were triple-sheeted with luxurious white linens and incredibly comfortable.
The room held a number of thoughtful amenities for a wine country getaway: complimentary water, a wine opener and wine glasses, plates, napkins, and utensils, and a small refrigerator with an honor bar. The room also featured a large screen smart TV, complimentary Wi-Fi, in-room coffee and tea service, an iron and ironing board, and plush robes. The bath, with its polished granite and glass tiled-shower, was hidden behind a frosted glass door. The control knob for the shower was thoughtfully designed to be outside of the spray of the shower head. Rest serves wine and hors d'oeuvres each evening from 5 to 6 p.m. The night I was there, the staff was pouring two wines local wines–a rosé and a red blend–"made by Taste's sommelier Thomas Allen under his label, Fate Wines. The wines were good, but the hors d'oeuvres‖courtesy of Taste–were divine. Any description I could write about the smoked duck with figs or the crostini with eggplant and tomato would fail to describe how amazing they truly were.
I could hear the strains of live music coming from the farmers market. I grabbed one last crostini and headed down the street, where the market was in full swing. One vendor was making pizzas in a portable wood-fired oven. Others were selling vegetables and sampling wine. The market was packed with locals sharing tales of the wine harvest season. I had a dinner reservation at Taste that I didn't want to miss, so I left the market for the restaurant across the street. Like the hotel, stepping into the restaurant from the street is a bit like stepping into an alternate universe. It's an unexpectedly sophisticated urban bistro in a humble western town. The space features warm-hued walls, warm lighting, white table cloths, wood-plank floors, and a long wooden bar stretching across one wall. The service was impeccable. The restaurant's award-winning wine list showcases many local producers as well as an impressive collection of domestic and international wines. The menu offerings were impossible to choose from so I opted for mix of small plates starting with a fig, melon, and prosciutto salad with fresh basil, balsamic vinegar and wildflower honey. The late summer flavors lightly drizzled with the emulsified vinegar and honey were a superb combination. I also had the incredibly delicious Mushroom Cigars, which resemble egg rolls, but are made of phyllo dough stuffed with cremini, shiitake, and oyster mushrooms, fresh herbs, and goat cheese. I rounded out the dinner with pan-seared gnocchi with Sun Gold tomatoes, braised lamb, feta, and shaved zucchini.
Walking back to the hotel after dinner, I found a plate of cookies on the bar in the lobby with a hand-written note that read, "Cookies made with butter and love." Miles from home and my family, I was touched by the note-writer's kindness. I poured myself a cup of tea, took a cookie out to the hotel's rear patio–which glowed with string lights–and called my husband.
The hotel serves a continental breakfast in the lobby from 7 – 10 a.m. each morning. I had been trying to catch up on work in my room that morning, so I hastily ran downstairs to grab breakfast, which turned out to be a much larger spread than I anticipated. The woman busing the tray of empty plates and coffee mugs greeted me with a deep-felt warmth that stunned me. My immediate thought was this: this woman should be training people to work in hospitality, not busing dishes. She must have read the question on my face because she introduced herself as Tracey, the owner I had not yet met. She and her husband have formidable résumés in the food and hospitality industry and a tireless work ethic. All of this was starting to fall into place.
Tracey proceeded to show me the breakfast bar, which included a delicious assortment of pastries, homemade granola, yogurt, fresh fruits, juices, and more. She gently urged me to take a plate and enjoy breakfast in the courtyard. She spoke with such a calming effect that she made my concerns about my work dissipate like wisps of fog on a sunny day. I did exactly as she told me: I filled a plate and took it out to the courtyard, where I sat beside a collection of potted plants and a trickling fountain.
A few minutes later, I was joined by two men who were raving about the breakfast. They were from Sweden and had been traveling in the U.S. for a couple of weeks. They told me that this was the best breakfast they had had on their entire trip. I asked them where else have they had been. They rattled off their list: Walla Walla in Washington, Oregon's Willamette Valley, Napa and Sonoma, and now here, in Amador County. "For pleasure?" I asked, wondering how they had ever discovered Plymouth and Amador County among much better-known wine producing regions. "No, business, actually," one of the men said. They explained they were wine buyers for European markets.
And so it seems Plymouth and Amador County is not likely to remain little-known for long. A new kind of gold rush is on the horizon. Make your reservations now.
Rest, a Boutique Hotel
9372 Main Street
Plymouth, CA 95669
209-245-6315
www.hotelrest.net
Second to last photo Courtesy of Rest, A Boutique Hotel. All others by Ranee Ruble-Dotts for CABBI.