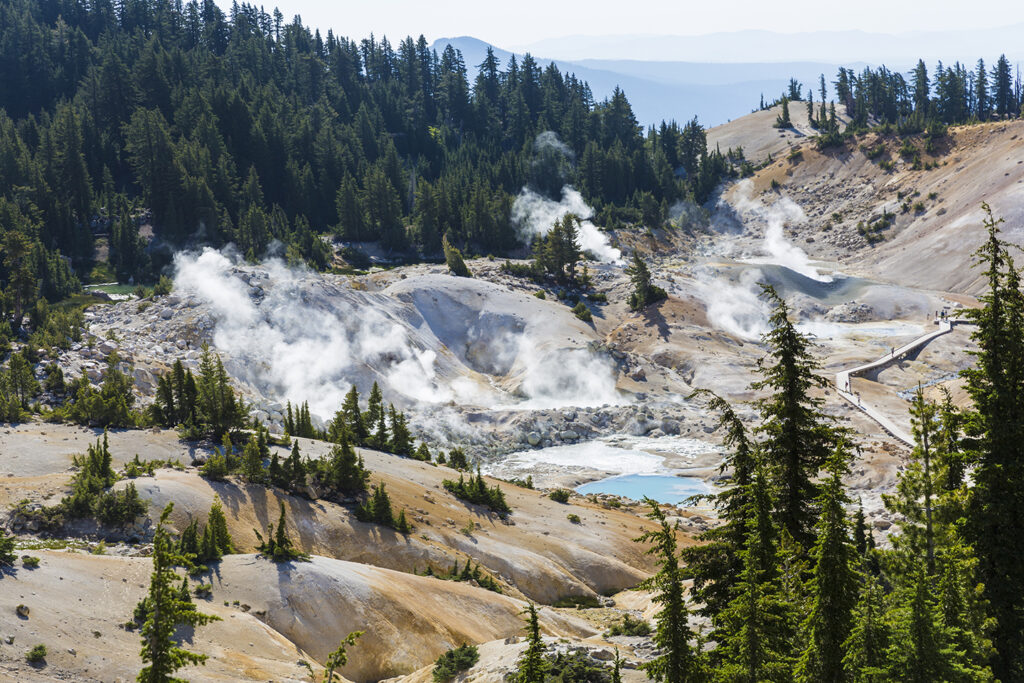 A Guide to Visiting California's National Parks in 2022
A little advance planning will go a long way to ensure an incredible trip to California's awe-inspiring national parks this summer. Amid rising visitor numbers, the most popular parks are introducing reservation systems, advance parking permits, and shuttle services. Some parks have some closures currently in effect due to fire or snow, while others are opening brand new attractions. We've compiled some tips on visiting the state's national parks this summer along with lists of great places to stay nearby.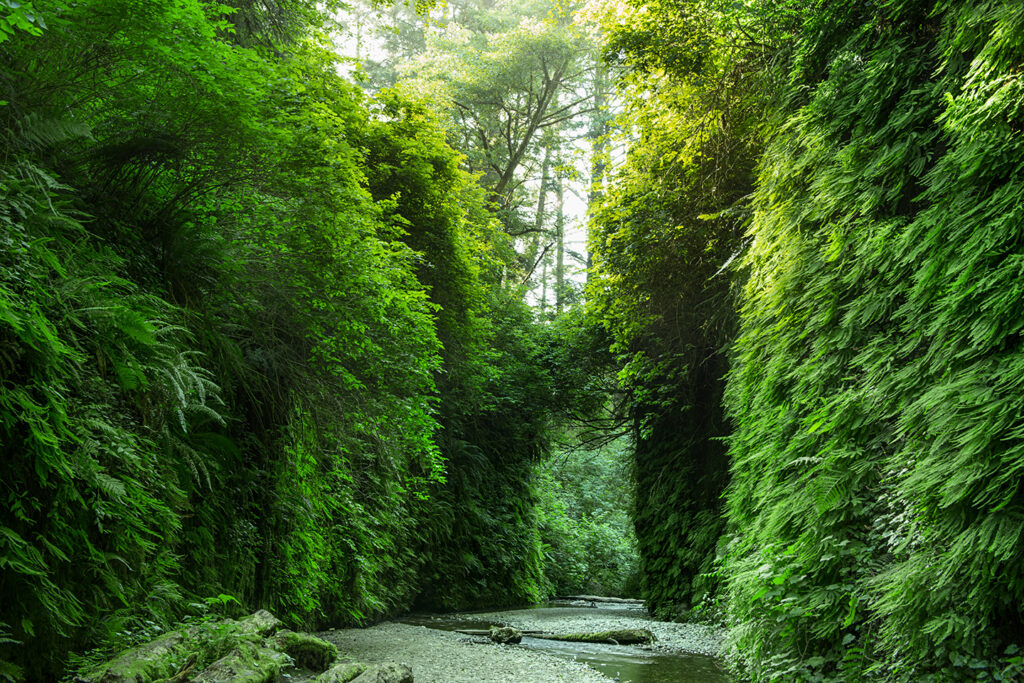 Redwood National and State Parks
The three parks comprising Redwood National and State Parks are home to prairies, oak woodlands, rivers, 40 miles of rugged coastline, and the tallest trees on Earth. The wildly popular Fern Canyon trail, which was a filming location for Jurassic Park and Star Wars, is introducing a pilot program to ease summer traffic flows. Between May and September, experiencing the trails' two-story fern- and waterfall-draped cliffs will require a free parking permit, available online up to the night before. Also requiring a permit this year are the Gold Bluffs Beach Day-Use Parking Area ($12) and the winding trail through Tall Trees Grove, a majestic cluster of coastal redwoods and home to 379-foot tall Hyperion, the world's tallest tree. Permits for the Tall Trees Grove require 24 hours' notice.
The good news is there's still hope for last-minute travelers and those who find that permits for the Fern Canyon trail have run out. It's possible to hike to the verdant chasm via the James Irvine Trail, a 10-mile hike round-trip. For an even more impromptu and less-crowded hike, the Skunk Cabbage Trail's dramatic understory under a rainforest canopy never disappoints. The trail is easily accessed from US Highway 101 and requires no advance planning.
Where to Stay
With easy access to easy access to Highway 101 and the Avenue of the Giants, The Redwood Riverwalk makes a great base camp for exploring the parks. The hotel even offers packed lunches for hikers to take on the road.
In Ferndale, the Victorian Inn combines Victorian charm with modern amenities. The elegant rooms feature high ceilings, original redwood trim, flat-screen TVs, and a 24-hour hot tea and coffee station. Some rooms also offer cozy fireplaces and large bay windows.
The AAA Four Diamond-rated Gingerbread Mansion Inn is a meticulously restored yellow and orange Victorian and one of the most photographed inns in Northern California. The opulent rooms are decorated with ornate beds, clawfoot tubs, and Victorian antiques.
The Carter House Inns are an enclave of four Victorian mansions that skillfully combine contemporary tastes with the gracious elegance of a bygone era. Guest rooms feature antique appointments, marble fireplaces, whirlpool tubs, and double-headed showers.
Built above the banks of the Eel River in 1926, the Tudor-styled Benbow Historic Inn is steeped in Old World charm and listed on the National Register of Historic Places. The inn offers a convenient location off Highway 101 and an award-winning restaurant and wine cellar.
On a cliff overlooking the ocean in the tiny fishing village of Shelter Cove, Inn of the Lost Coast is surrounded by rugged terrain and black sand beaches. Rooms include their own private balconies, a front row seat to the most stunning sunsets imaginable.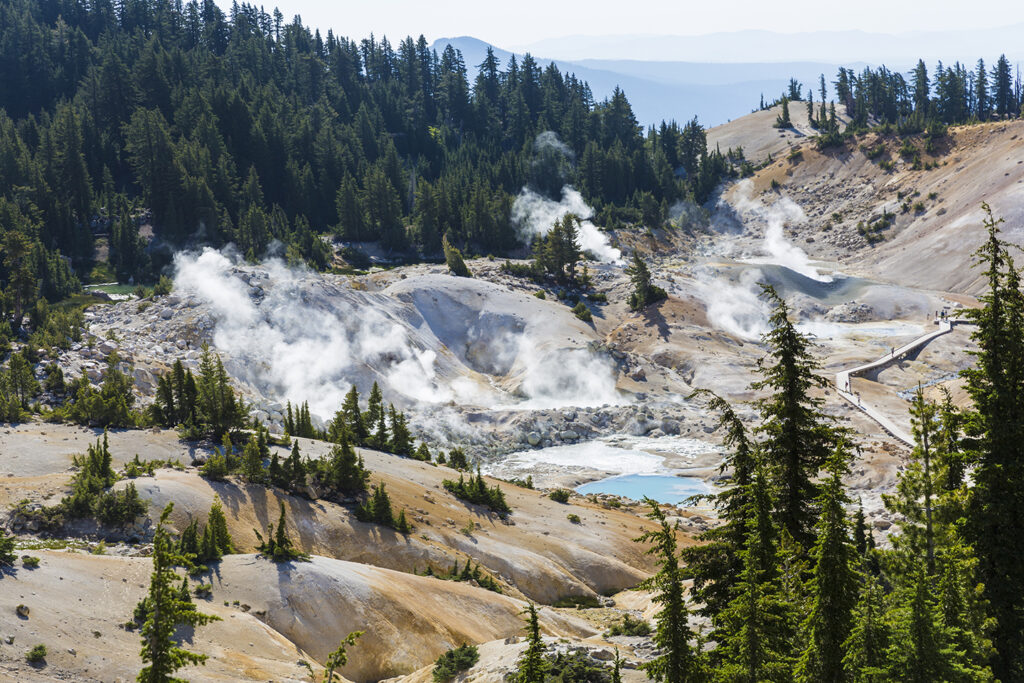 Lassen Volcanic National Park
The fumaroles, bubbling mud pots, and boiling lakes at Lassen Volcanic National Park are lesser known than the famous hydrothermal features at Yellowstone National Park. As a result, Lassen's attractions are far less crowded. Heavy snow cover through early June also tends to keep the crowds at bay.
Last summer's Dixie Fire, which burned several thousand acres along the park's eastern flank, will add a wrinkle for some backcountry visitors this year. The areas that were most heavily impacted by fire, such as Warner Valley, may remain closed through fall 2022. But the park's most popular sites, including Lassen Peak, Bumpass Hell, and Sulphur Works, were unaffected by the fire and will be accessible by car just as soon as the snow removal crews finish clearing the road (check here for updates on the snow removal progress). Until then, springtime visitors are encouraged to hike and bike sections of the park highway once they are cleared of snow but before they open to vehicles. Visitors can also hike the beautiful lower-elevation trails in the Manzanita Lake and Butte Lake areas.
Where to Stay
Highlands Ranch Resort sits on 175 acres at the edge of a bucolic meadow, against a backdrop of snowcapped peaks. Seven cottages are scattered along the edge of the meadow, all with private entrances, gas fireplaces, heated bathroom floors, and premium quality beds with luxurious linens. Two of the cottages feature private, outdoor hot tubs for two.
Yosemite National Park
From May 20 through September 30, 2022, day-use access to Yosemite's 3,000-foot-high cliffs, granite domes, and alpine lakes during peak hours (6:00 a.m. to 4:00 p.m.) will require a reservation. Summer reservations are available now and are valid for three consecutive days. Travelers should also note Glacier Point Road will be closed in 2022 for a major road improvement project, leaving no vehicle access to Glacier Point, Sentinel Dome, or Taft Point.
But there's no need to let these restrictions and closures get in the way of a Yosemite visit. In the case of sold-out dates, an additional allotment of day-use passes will be released seven days out. And those who drive into the park outside peak hours won't need a reservation at all. Access to areas served by Glacier Point Road will still be available via the Four Mile, Panorama, or Pohono Trails. Each of these hikes is somewhat strenuous, a fact likely to ensure an even quieter and less crowded visit. And if quiet and less crowded is the number one goal, visitors might want to head to the glaciated valley of Hetch Hetchy in the peaceful northwest corner of the park, Olmsted Point in the high country, or the old bridle path known as the Valley Loop Trail.
In other Yosemite news, the Yosemite Valley shuttle system is back after a two-year hiatus, with free service across the eastern valley. Also back this summer is the popular open-air Valley Floor Tour.
Where to Stay
Groveland Hotel is the oldest lodging venue in Yosemite's gateway community. The hotel offers a clean, modern aesthetic, complete with plush bedding, luxurious linens, wrap-around porches, and a delightful, tiered patio.
Near the southern entrance to Yosemite, Apple Blossom Inn is a quaint, country bed and breakfast inn nestled on five and a half acres with an organic apple orchard. The inn offers a hot tub overlooking Oakhurst Valley and the Sierras and the chance to see native wildlife.
Just an hour from Yosemite, McCaffrey House Inn is a three-story bed and breakfast in a quiet forest hollow near Twain Harte. With lower rates than lodging options closer to the park, the inn offers affordable luxury. For guests looking to get an early start, the inn offers breakfast to go.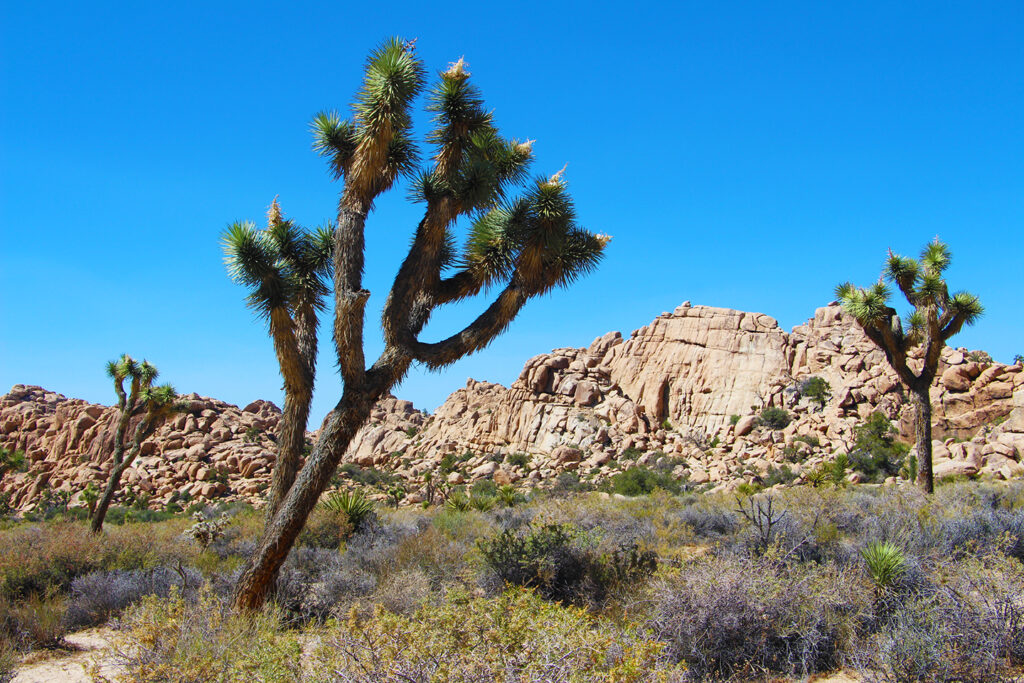 Joshua Tree National Park
Despite summertime temperatures that can soar above 100 degrees Fahrenheit, visitors have sought out the clear skies, distinctive flora, and other-worldly rock formations of Joshua Tree in record numbers in recent years. The park sits at the intersection of two distinct desert ecosystems, the Mojave and the Colorado, and features a stunning variety of plants, animals, and geologic features sculpted by strong winds and occasional torrents of rain. While there may be little hope of escaping the crowds this summer in Joshua Tree, visitors will do well to prepare for the unique climate and wildlife of this desert ecosystem. High heat and low humidity are all but guaranteed during summer months, but windstorms and low air quality are also possible. Visitors will want to dress appropriately, stay hydrated, and remain aware of their surroundings.
Where to Stay
El Morocco Inn & Spa is a Moroccan-inspired oasis, an immersive experience that makes guests forget they are only 30 minutes from Joshua Tree. With richly appointed guest rooms decorated in authentic Moroccan antiques and fabrics brought back from more than a dozen trips to Morocco, the inn looks inward to a warm, spring-fed mineral water pool.
The Presidio
At the foot of San Francisco's Golden Gate Bridge, the Presidio is a national park site like no other with two new attractions opening this summer. The Presidio Tunnel Tops will open in July and features 14 acres of new parkland built over the diverted highway that once bisected the park. The Tunnel Tops will reconnect the Presidio's Main Post with Crissy Field, the beach, and Golden Gate Bridge. It also adds scenic overlooks, trails, picnic areas, and gathering spaces with stunning bridge and city views, all surrounded by gardens and meadows that include 180 varieties of plants native to the Presidio. The historic Battery Bluff just opened in April. The six acres of restored parkland offer sweeping views of the Golden Gate, a multi-use trail, and access to historic military batteries not seen by the public since 1936.
When planning a Presidio visit, it's helpful to know that parking is limited and requires a paid permit. Visitors are encouraged take mass transit or bike into the park whenever possible. The PresidiGo Shuttle provides free transportation to and from downtown as well as several points within the park. Since the pandemic, select streets in the park have been closed to traffic or have limited vehicle access in an effort to create a more pedestrian and bike-friendly experience for visitors. The Presidio visitor center will reopen later this spring.
Where to Stay
Located in the heart of the Presidio's Main Post, the Lodge at the Presidio is the closest hotel to Golden Gate Bridge. The beautifully renovated boutique hotel is housed inside former U.S. Army barracks built between 1895 and 1897. Many of the guestrooms feature stunning views.
Tucked in a tranquil corner of the Main Post, the Inn at the Presidio exudes the understated luxury and comfort once reserved for Army officers. A nature trail behind the hotel winds through the eucalyptus trees to a viewpoint overlooking the bay and Alcatraz Island.
Just two blocks from the Presidio Gate and the Lyon Street Steps, the luxurious Hotel Drisco sits atop San Francisco's prestigious Pacific Heights neighborhood. The hotel offers complimentary e-bikes for exploring the park and the city. The hotel can also pack a picnic lunch for guests.