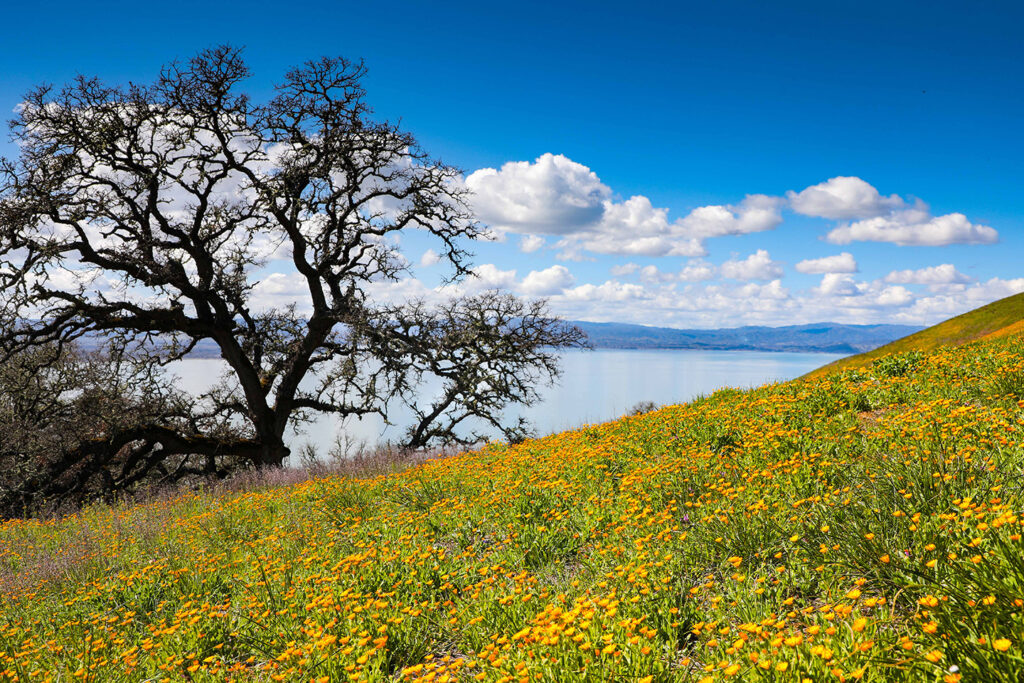 9 California Destinations for Spectacular Spring Wildflowers
As the first day of spring approaches, warmer temperatures and dazzling wildflower displays are not far off on the horizon. From north to south, we've gathered some of the best California travel destinations to see wildflowers this spring, along with inns promising a soft landing spot after a day on the trail.
Mendocino County
Through mid-May, the Noyo Headlands Coastal Trail is one of the best places to see springtime wildflowers in Mendocino County. The trail continues for miles atop the coastline, taking hikers along the rugged cliffs between Noyo Bay and Glass Beach. Between now and mid-May, the trail bursts into color with blue lupine, daisies, poppies, and Mendocino paintbrush. Along the way, hikers may also catch sight of migrating whales and oystercatchers.
Where to Stay: Just two minutes from the trail, Noyo Harbor Inn sits high above the Noyo River, offering sweeping views of the harbor, its peaceful waterway, and the endless forest beyond. The Art and Crafts-style inn is tucked among lush gardens that wind their way down to the water's edge.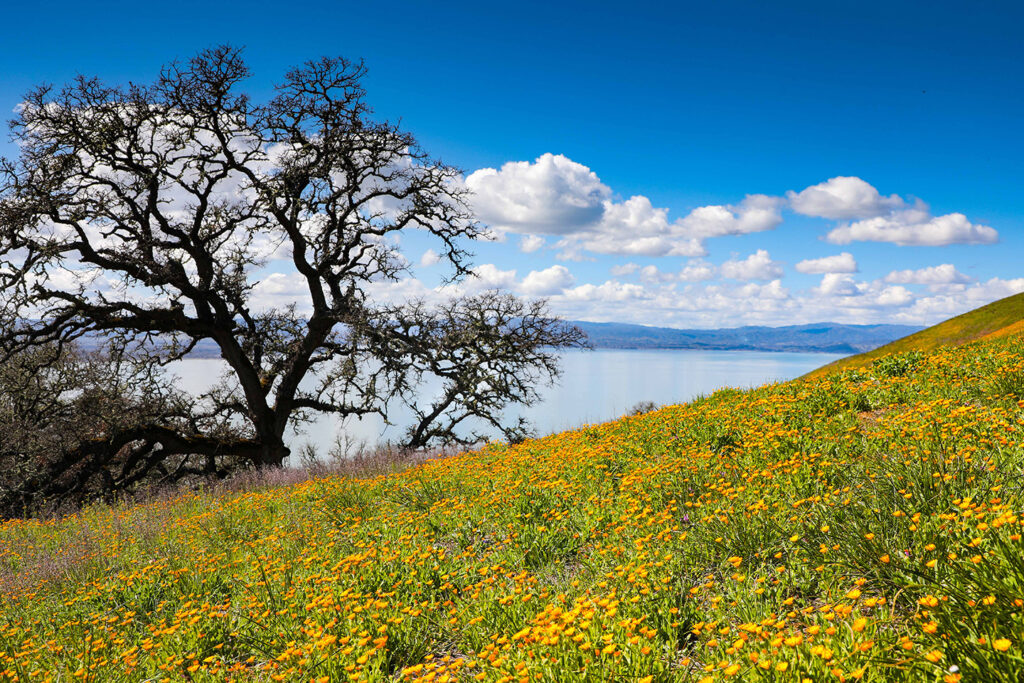 Lake County
Rumor has it that former First Lady Lady Bird Johnson was quite impressed when she saw Lake County's blooms. In spring, the area is awash in color, ranging from pastel yellow lupine to brilliant purple redbuds. The Redbud Trail and Highland Springs Recreation Area both offer reliable blooms and few crowds. A drive down Bear Valley Road (regularly named one of the top wildflowers viewing areas in Northern California) passes through over 16,000 acres carpeted with the state's best blooms.
Where to Stay: Tallman Hotel sits near the edge of the Mendocino National Forest in Upper Lake. The beautifully restored hotel evokes a bygone era with understated luxury and elegance. Every room offers a relaxing veranda or porch, while the lower garden rooms feature private patios with Japanese soaking tubs.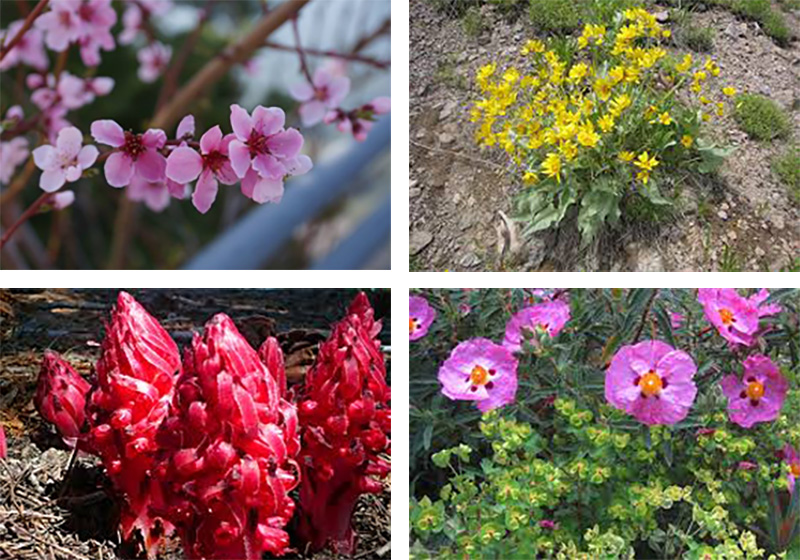 Donner Lake
20 miles northwest of Lake Tahoe, quieter Donner Lake offers a number of wildflower hikes with varying degrees of difficulty. Favorites include the paved Legacy Trail, Donner Summit Canyon, Donner Rim Trail, and the Judah Loop. After the snow melts in late May, wildflowers bloom at lower elevations and continue to climb in elevation with blooms lasting through August. Hikers may encounter purple lupine, yellow fiddleneck, Lewis's monkeyflower, little elephant's head, alpine shooting stars, corn lilies, monkshood, and the occasional rare red snow flower.
Where to Stay: On two forested acres across from the lake, Donner Lake Inn Bed and Breakfast features an inviting great room with a wood-burning fireplace, mountain-themed rooms with forest views, and a hot tub under the stars. The inn is centrally located to several trailheads.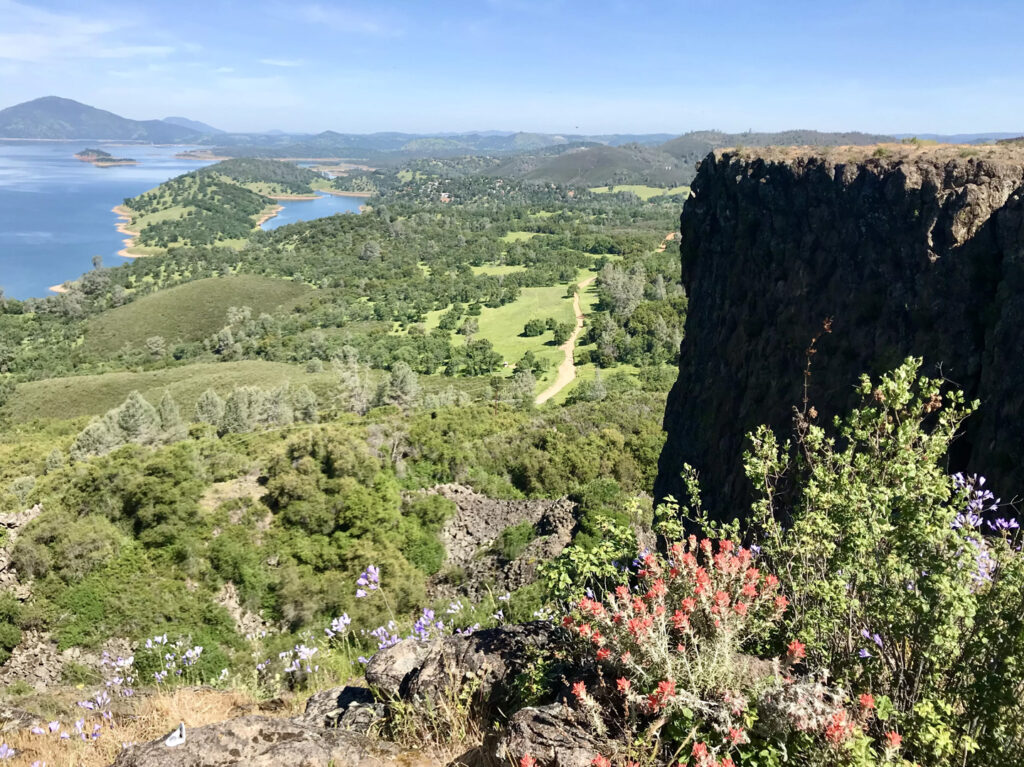 Tuolumne County
Thanks to varying elevations, Tuolumne County's wildflower season stretches from March to September. The earliest blooms show up at the New Melones Lake Area, which is the perfect spot for easy hikes and lupine spotting. Table Mountain Trail is more of a workout but features incredible views with buttercups, goldfields, and phacelia. In nearby Yosemite, the less-visited trail to Lukins Lake blooms with shooting stars, while in Tuolumne Meadows, rich blue gentians, alpine goldenrod, corn lilies, red columbine, and fireweed appear through the end of the season.
Where to Stay: Nestled in a quiet forest hollow near Twain Harte, the McCaffrey House Bed & Breakfast Inn is a charming three-story inn. The guest rooms feature cozy fire stoves, luxurious beds covered in beautiful quilts, and enchanting forest views from every room.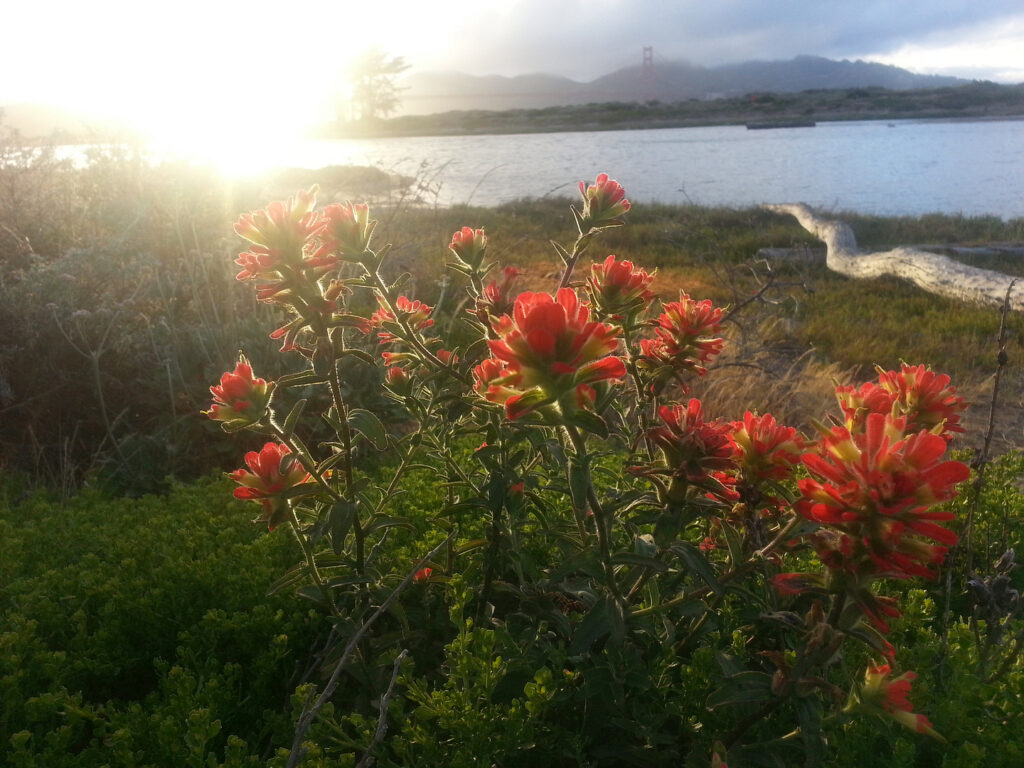 San Francisco
The Presidio is where western explorers first encountered California's state flower, the California poppy. The nearly 1,500-acre site was a military post until 1994 when it became the country's largest urban national park. As such, The Presidio has been continuously protected from urbanization for over two centuries. The park is now home to a diverse ecosystem of native plant species, many rare or endangered. With blooms starting in March, visitors can hike The Presidio's 25 miles of trails to find species like buckthorn, California goldfields, miniature lupine, beach strawberry, western blue-eyed grass, and thimbleberry.
Where to Stay: Housed inside beautifully renovated Army barracks, the Lodge at the Presidio features stunning views of San Francisco Bay and the Golden Gate Bridge. A few blocks away, the Inn at the Presidio offers the understated luxury and comfort once reserved for bachelor officers. Both hotels are idyllic basecamps for exploring the park.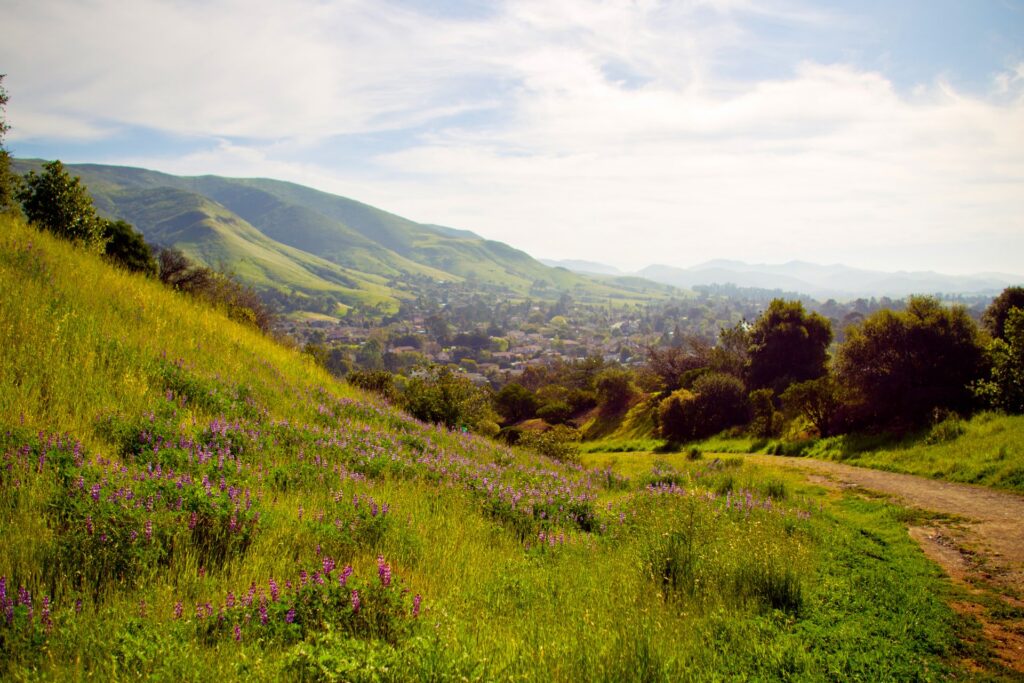 San Luis Obispo County
For those who prefer to admire California's spectacular wildflower displays from the comfort of a car, San Luis Obispo County offers two scenic wildflower drives. North of the city and past the town of Santa Margarita, Shell Creek Road guides visitors through a tapestry of baby blue eyes, California goldfields, and tidy tips. A bit further east, California poppies, lupines, and golden fiddlenecks stretch for miles along Bitterwater Road. Spring is the best time of year to catch sight of the wildflowers.
Where to Stay: Hotel Cerro is steps away from the best that downtown San Luis Obispo has to offer. This luxury boutique hotel boasts stylish, contemporary interiors and a stunning rooftop pool lined with lounge chairs for taking in the views of the surrounding hillsides.
Monterey Peninsula
A one-of-a-kind climate and ecosystem allow the Monterey Peninsula to host over 2,300 distinct species of wildflowers from over 140 families. The area's most colorful and majestic species can be found at Point Lobos State Reserve, including impressive stands of wild lupines. Monkeyflowers are but one of more than 350 species that thrive in the 3,500-acre Garland Ranch. Jack's Peak rises over a thousand feet, the highest point on the Monterey Peninsula, so it's fitting that shooting stars can often be seen blooming there.
Where to Stay: Nestled in the heart of downtown Pacific Grove and within a short drive of the area's best trails, the historic Centrella Hotel looks as though it's been plucked straight from a Victorian storybook, complete with period furnishings and clawfoot soaking tubs.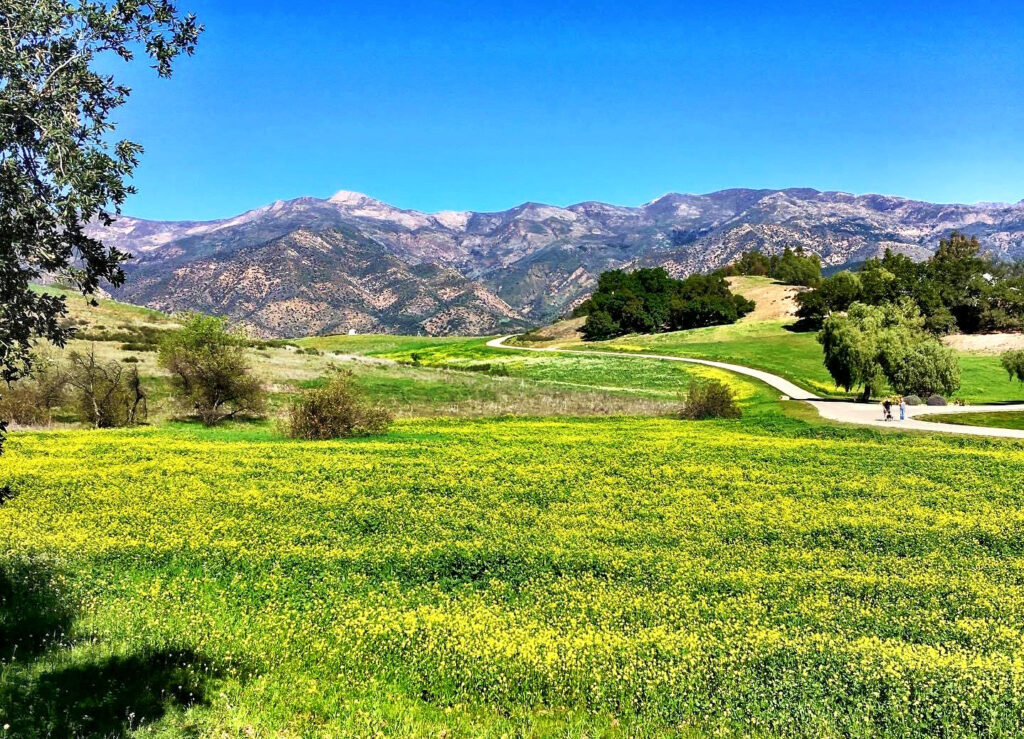 Ojai
At the base of Los Padres National Forest, Ojai boasts over 30 breathtaking wildflower hikes. Well into May, a diverse collection of wildflowers bloom, including bird's eyes, monkeyflower, fiddleneck, blue dicks, and scarlet bugler. The Ojai Meadows Preserve offers an easy stroll looping around protected wetlands and meadows against the stunning backdrop of the Topa Topa Mountains. On May 28, 2022, the preserve will host a free wildflower tour. Another nearby hike along Shelf Road also offers scenic views with beautiful blooms.
Where to Stay: The historic Lavender Inn features an on-site spa, culinary classes taught by visiting chefs, and seven antique-filled rooms featuring garden views, fireplaces, and balconies. The inn offers laminated trail maps and wildflower guides for guests.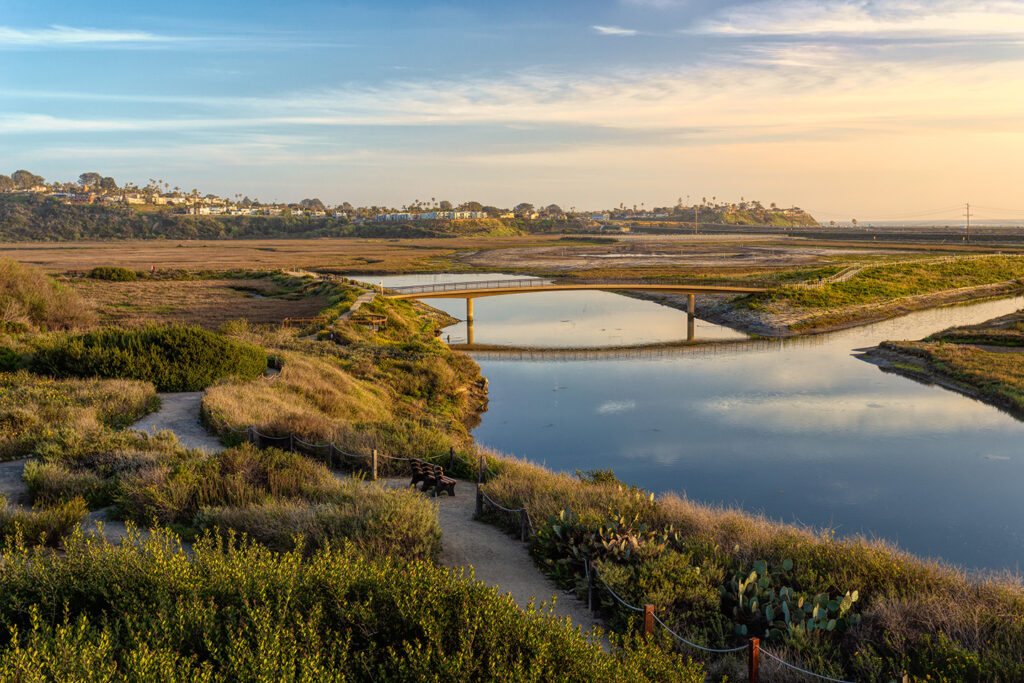 Encinitas
Nothing beats a beachside wildflower hike, which makes Encinitas' coastal wetland lagoons the perfect springtime hiking destination. The Batiquitos Lagoon Trail hike is easy and quiet, with a pleasant mix of sun and shade. San Elijo Lagoon includes seven miles of easy-to-moderate trails ranging from two to five miles, along with the quarter-mile, moderate-to-strenuous Annie's Canyon Trail. Starting as early as March and lasting through May, commonly spotted species include cattails, common tules, bulrush, marsh marigold, and wild hyacinth.
Where to Stay: The world's first WELL™ certified hotel, the Inn at Moonlight Beach harmoniously blends modern luxury with wellness in every detail. Amenities include eco memory foam mattresses, purified water from every tap, and Rabbit air filtration systems. The biodynamic gardens surrounding the inn abound with flowers, fruits, and vegetables.
Lead photo by Karen Pavone Photography