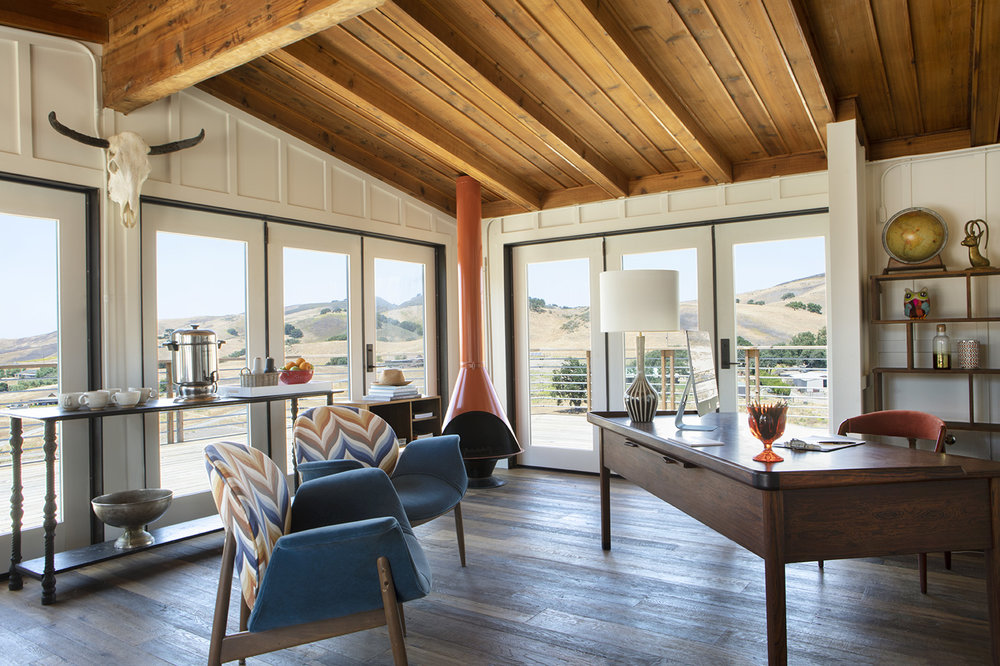 7 Revamped Motor Lodges for Your Next Road Trip
Some of the vintage motor lodges that sprung up along America's highways during the golden age of automobile travel have been revamped for a new generation of road trippers. In recent years, several aging roadside motels in California have been transformed into hip, new boutique hotels. Some honor the motels' mid-century architecture but infuse the properties with modern design. Others have been completely renovated to evoke another time or place altogether. In either case, travelers will find swanky new digs rebuilt from the relics of a past era.  For your next road trip through California, pull into one of these destination-worthy motor lodges for an inspired stay.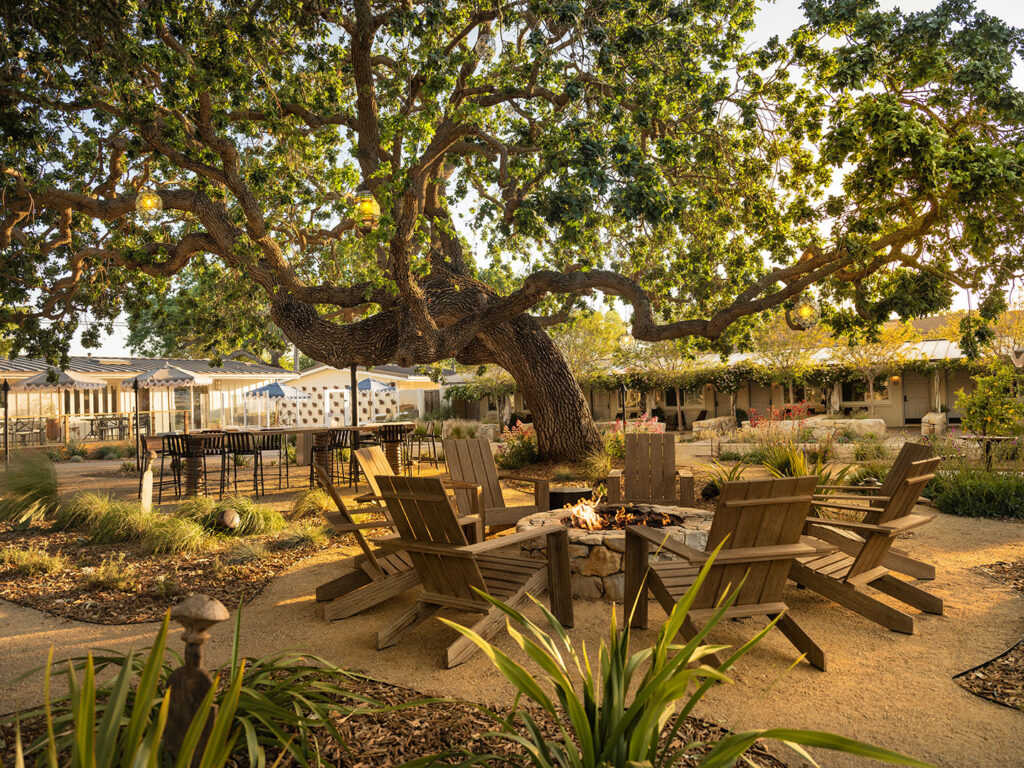 Hotel Ynez
On a stretch of highway between Solvang and Santa Ynez, the former Meadowlark Inn has been rejuvenated as a rustic-chic wine country escape. The new Hotel Ynez, which opened in March of 2021, exudes a tranquil, yet sophisticated vibe. The hotel's redesign was helmed by Kimberly Walker of the Nomada Hotel Group, which seeks to create authentic hospitality experiences for guests by repurposing historic spaces in collaboration with local artisans. The bright, spacious guest rooms feature a tapestry of global and local art and furnishings from Morocco, Oaxaca, and Santa Barbara. The rooms open to patios strung with woven hammocks overlooking a garden courtyard. Beneath the shade of sprawling,100-year-old oak trees, the courtyard features a bocce ball court, romantic loungers, and fire pits for enjoying an evening under the stars.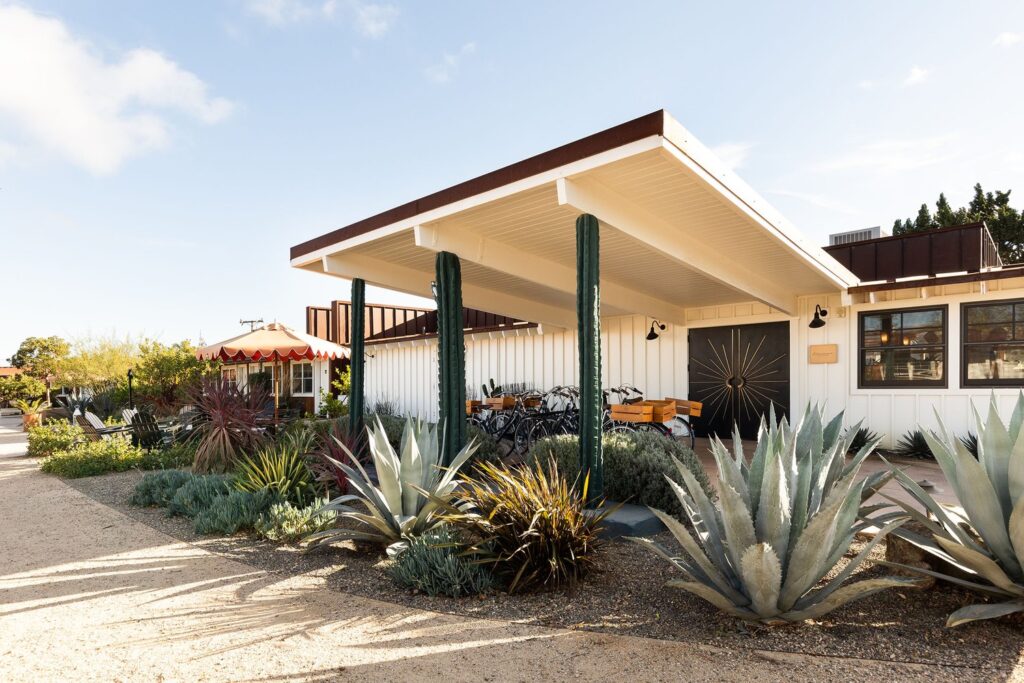 Skyview Los Alamos
Skyview Los Alamos is an iconic 1950's roadside motel turned luxurious boutique resort in the Santa Ynez Valley. Perched on a hilltop with stunning views of wine country, the five-acre outpost merges mid-century style with modern rustic chic. Nomada Hotel Group retained the mid-century architecture and heated pool but transformed the previously rundown motel with modern design and luxe amenities. The renovated rooms feature hardwood floors, flat panel televisions, down duvets, leather club chairs and marble-clad bathrooms. Many rooms have indoor fireplaces and private patios with stunning views. The resort also features a full restaurant and bar with poolside service, complimentary bikes for cruising into town, and a working vineyard. Guests are greeted with a glass of house rosé made from the pinot noir grapes grown on-site.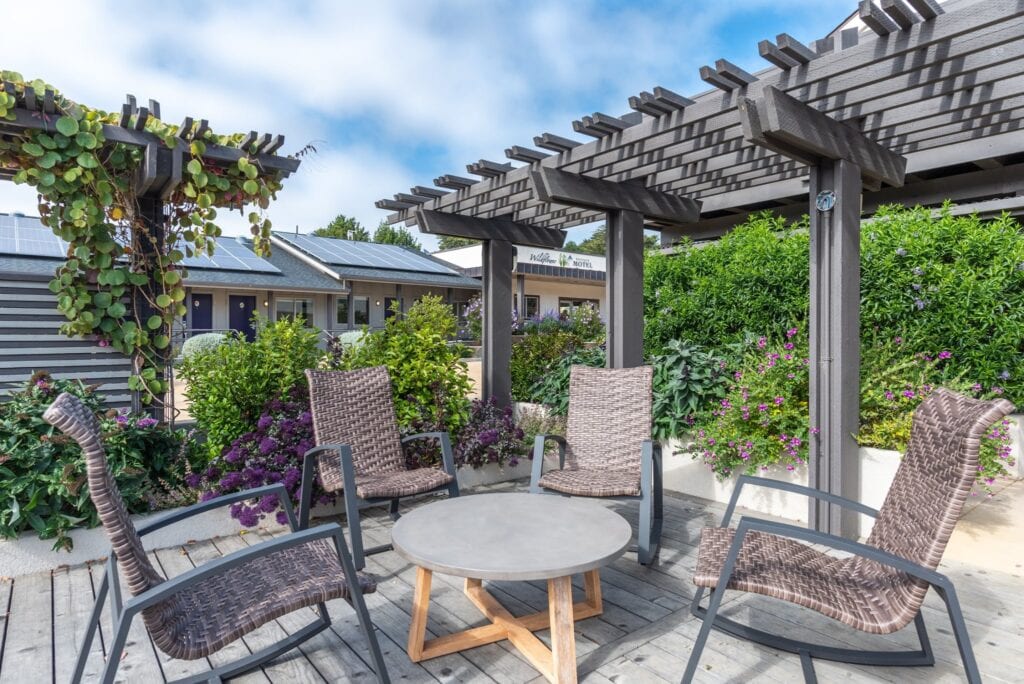 Wildflower Boutique Motel
Along Highway 1 in Point Arena on the Mendocino Coast, the Wildflower Boutique Motel had previously been an abandoned roadside motel. But a few years ago, new owners Laura Cover and Jeff Hansen transformed the old motel into a cozy, eco-friendly getaway with blooming gardens and modern décor. The motel's 14 guest rooms pay tribute to local wildflowers and feature custom furniture crafted from wind-fallen cypress trees, natural stone flooring, updated baths, organic cotton linens, and solar-powered, on-demand tankless water heaters. Solar arrays atop the motel's roof generate roughly 60 percent of the motel's electricity and each parking spot at the motel has its very own EV charging station. The inviting outdoor spaces feature walkways and patios lined with native blooms.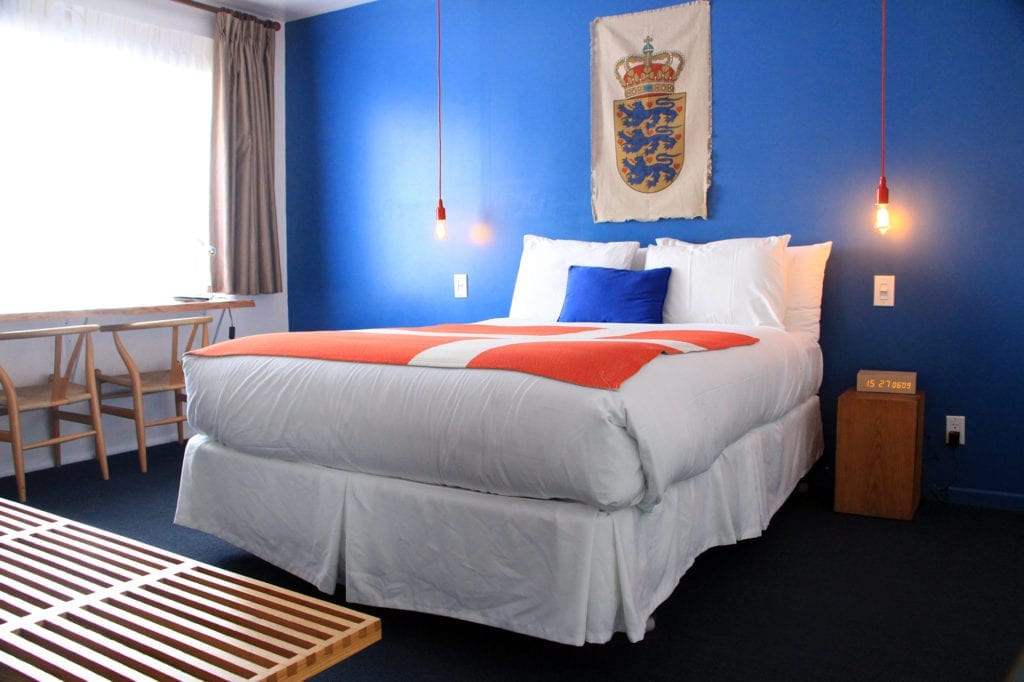 Hamlet Inn
Amid the Danish bakeries and windmills in downtown Solvang, Hamlet Inn is a former motor lodge turned budget-friendly hipster haven. The 15-room inn was revamped in 2011 by Kenny Osehan (CEO & Founder of the Shelter Social Club), who has developed a knack for transforming aging properties into works of art rooted in their destinations. The guest rooms have a minimalist aesthetic featuring modern Danish furnishings, electric blue accent walls, and Danish flag-inspired throws. Outside, the inn offers an outdoor gazebo, bocce ball, and complimentary bicycles for cruising around town. "When you inherit a structure with good bones and an old soul, it makes it easy to create a space when personality is already built into the property," said Osehan. "All you have to do is enhance what the original architecture screams for, and make sure it complements the town or environment it lives in."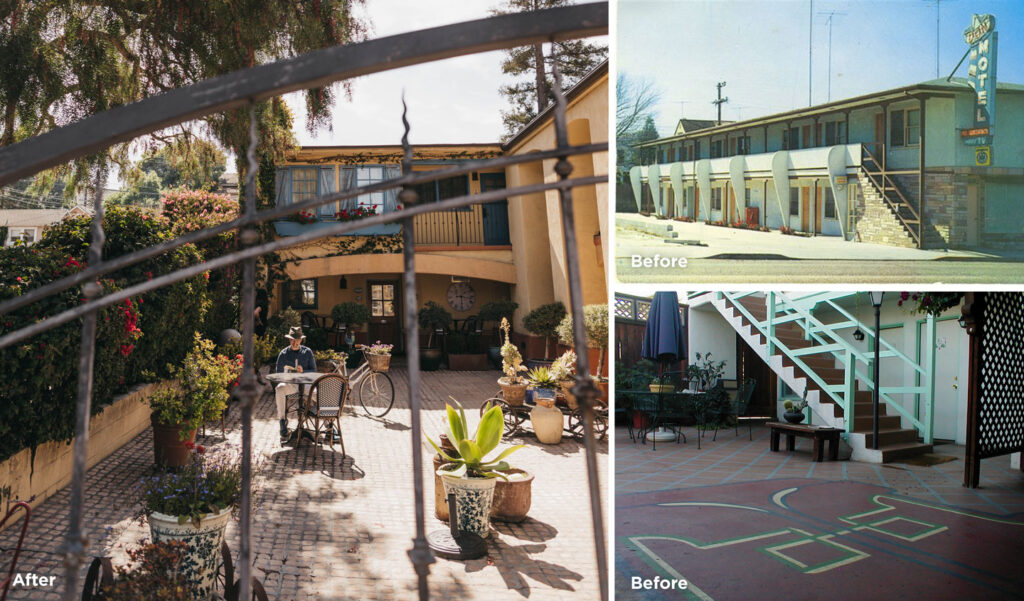 Petit Soleil Bed et Breakfast 
Decades before Petit Soleil Bed et Breakfast became the charming, Provencal-themed B&B that it is today, it had originally been built in 1952 as a motor lodge. Called the Don Motel, it was a popular stopping point between San Francisco and Los Angeles. In the early 1960s, the motel was renovated into a farrago of mid-century motor lodge and Southwestern bed and breakfast renamed the Adobe Inn. In 2002, owners John and Dianne Conner transformed the aging property into a B&B inspired by the south of France. They decorated with fabrics and furnishings reminiscent of Provence, replaced the carports with private cobblestone courtyards, and added French bistro tables for guests to savor the gourmet breakfasts and evening wine tasting. More upgrades are on tap as the Connors' daughter and son-in-law assume the reigns for the B&B this year.
El Morocco Inn & Spa 
El Morocco Inn & Spa was originally built in 1954 as the Caravan Spa-Tal. It was one of over 100 small hot springs spas built in Desert Hot Springs in the 1950s. Later renamed the Caravan Motel, the property had been neglected for years before former owners John Aguilar and Bruce Abney purchased the inn in 2000. Inspired by travels to Morocco, John and Bruce spent seven years remodeling the property into the Moroccan-themed oasis that it is today. The inn is a showcase of authentic Moroccan antiques, lanterns, and fabrics that John and Bruce brought back from more than a dozen trips to Morocco. While guests rave about the enchanting design, most come for the quiet, relaxing ambiance and the warm mineral spring waters sourced directly from the aquifer that lies beneath the city.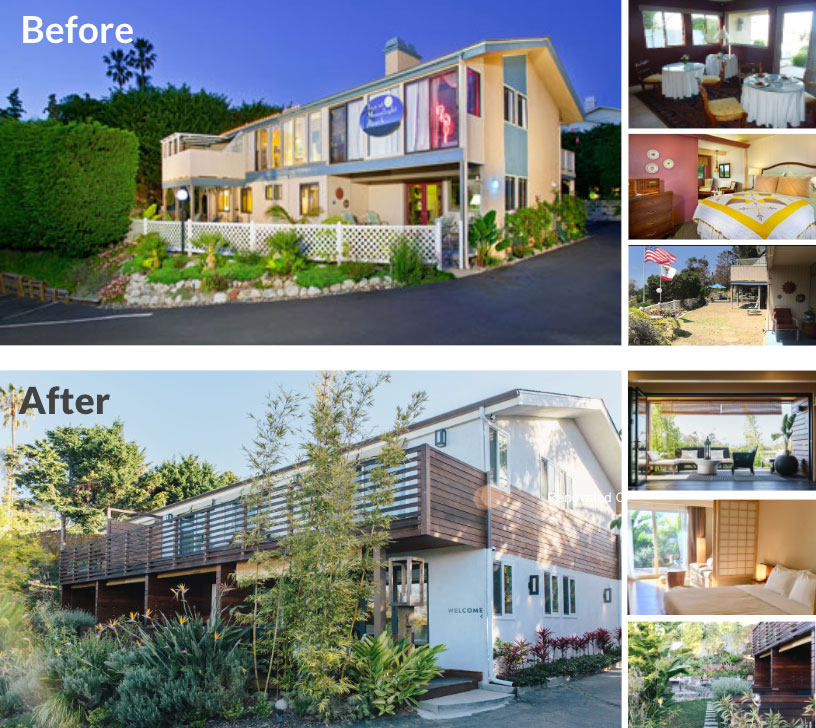 Inn at Moonlight Beach
Near the beach in Encinitas, the Inn at Moonlight Beach had originally been built in the 1970s as a motel-style bed and breakfast. The building underwent a series of expansions and then fell into disrepair. When Mike and Shangwen Kennedy purchased the property in 2017, it had suffered from years of neglect and a withered landscape. The Kennedys gutted the property and made extensive state-of-the-art renovations to modernize the inn and become the first WELL Certified hotel in the world. They also revived the landscape to create a lush and sustainable, biodynamic urban farm. The resulting property, which reopened in 2018, exudes a calming influence from the moment guests enter. The inn's modern, minimalist design incorporates elements of Feng Shui and offers an inspiring setting in harmony with nature.