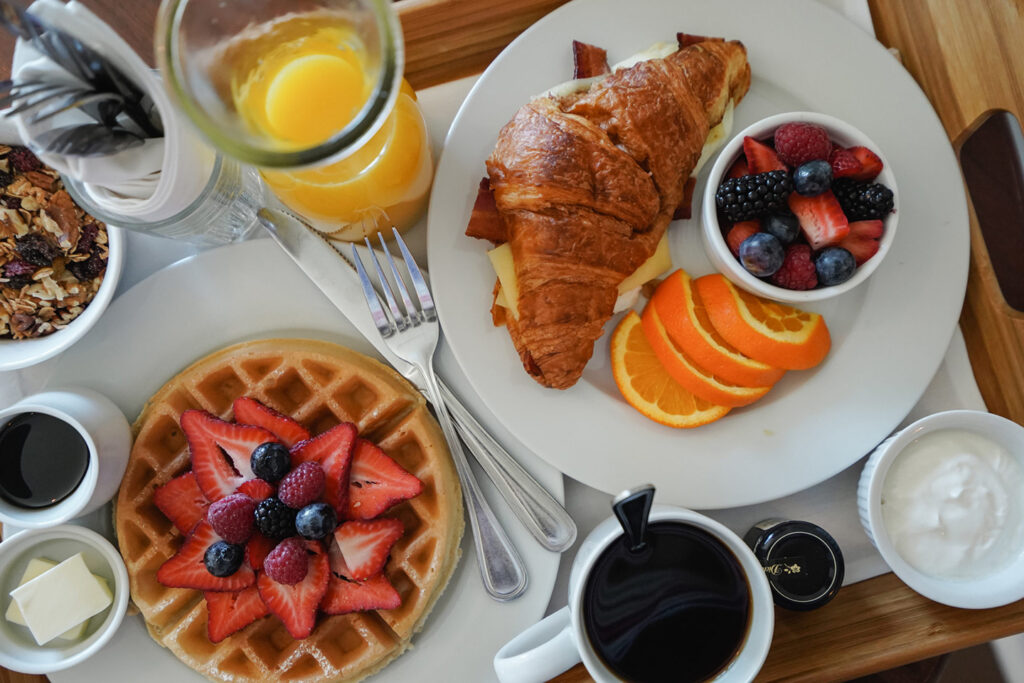 7 Over-the-Top Breakfast Experiences at California Boutique Inns
A bountiful breakfast at a leisurely pace is among the hallmarks of any great getaway, with bonus points for a fairy tale setting. Boutique inns have long understood this better than most, but some take breakfast to the extreme and pull out all the stops. Whether through unique specialties, multi-course pairings, or lavish buffets, these inns go far beyond bacon and eggs to create unforgettable, mouth-watering breakfast spreads.
The Francis House
While owner and innkeeper Dina Dwyer is committed to every detail of the guest experience at Calistoga's Francis House, among her most notable efforts are her unique and inspired breakfast creations. Rather than pre-planned menus, Chef Dina might take inspiration from her extensive travels, a hot new cookbook, or what catches her eye at the local farmers market. The result is always an unexpected, internationally influenced creation worthy of a close-up photograph. On any given morning, guests are as likely to be greeted by Dina's popular breakfast popovers as her more unexpected flavor combinations like activated charcoal waffles or lemon ricotta parsley pancakes. Or they might be surprised with a California Wine Country take on regional specialties like torta Española, labneh and roasted tomatoes, matzo brei benedict, or bibimbap.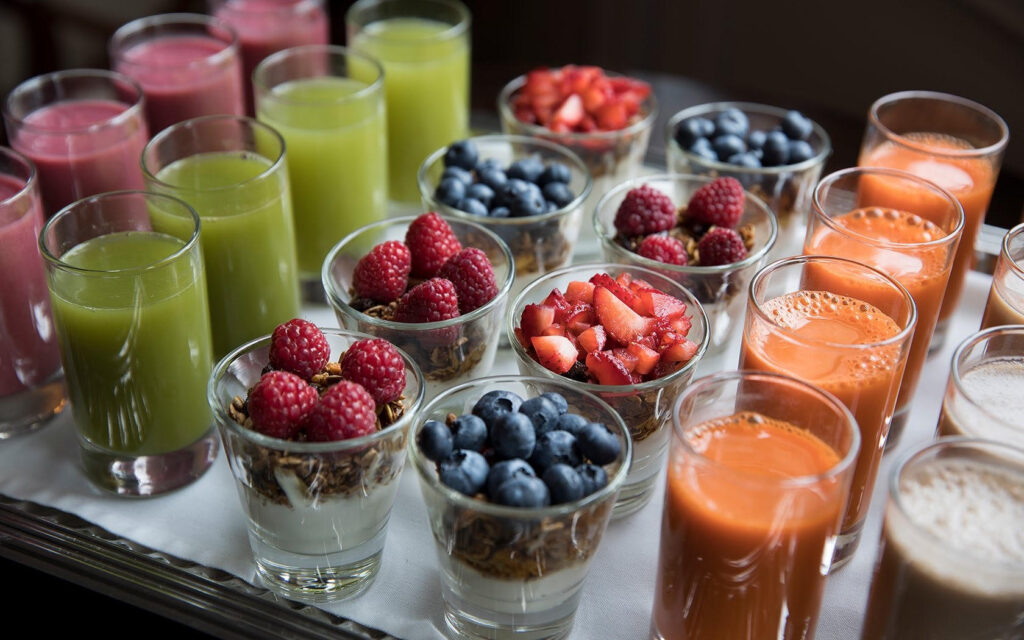 Hotel Drisco
Hotel Drisco likes to "under-promise and over-deliver," so guests sometimes expect the San Francisco hotel's complimentary continental breakfast to be a standard cereal and pastry spread. What guests experience instead is an uncommonly lavish affair served on fine-boned China. Alongside barista-made coffee drinks, whole-leaf teas, freshly squeezed juices, and protein shakes, guests can sample from two dozen local breads and pastries with a wide array of specialty spreads or fresh honey from the inn's own apiaries. There's also muesli imported from Germany and fruit parfaits featuring locally made granola. In place of bacon or sausage, the hotel offers European-inspired charcuterie items like sliced meats and cheeses, lox, avocado, and heirloom tomato. The hotel's recent addition of custom egg orders is a big hit with guests, allowing them to order eggs prepared any style or custom-made omelets with nearly any ingredient under the sun.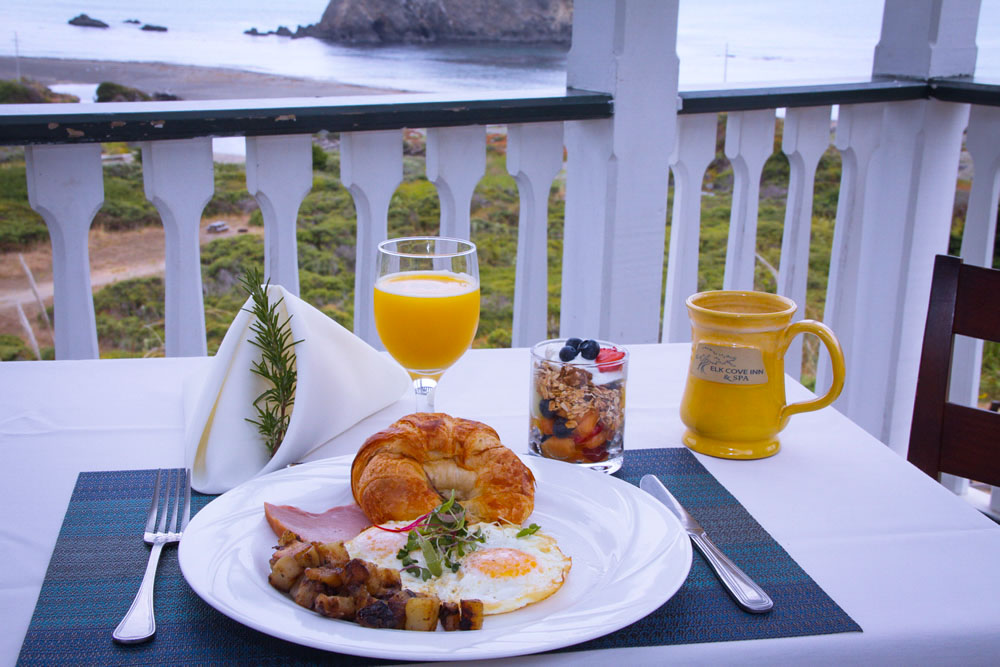 Elk Cove Inn
Chef Victor Passalacqua trained in Switzerland and owned restaurants in Florida before falling in love with the Northern California Coast. Prior to becoming the executive chef at Elk Cove Inn, his search for perfection brought him to the kitchens of grand chefs like Paul Bocuse, Edward Merard, and Georges Blanc. Now, his passion for the Mendocino Coast inspires him to create bountiful gourmet champagne breakfasts. Guests place orders the night before from a complimentary breakfast menu that includes a variety of egg preparations, potato sides, breakfast meats, fruit dishes, cereals, and breads. Guests can even request additions like eggs benedict, waffles, huevos rancheros, or avocado toast. In addition to juice, coffee, and tea, champagne and mimosas are always on offer. As a COVID precaution, breakfast is currently being delivered en suite, allowing guests to dine against the backdrop of a stunning ocean view.
Grand Reserve Inn
The hospitality at Grand Reserve Inn is first class all the way, but the Amador Wine Country inn's mimosa breakfasts are nothing short of extraordinary. Guests have described the gourmet affairs as "nearly a banquet of specially prepared dishes," "a breakfast and a half," and "like being served by Martha Stewart." With special touches like olive oil pressed from trees that grow on the property, the carefully composed meals feature signature specialties like berry pastry, maple-walnut muffins, smoked salmon asparagus quiche, and potato rosettes. The food at the Grand Reserve is perhaps rivaled only by the sweeping views. From the great room's arched windows or a broad patio edged with fire pits, guests look out over orderly vineyards as the mountains beyond stretch as far as the eye can see.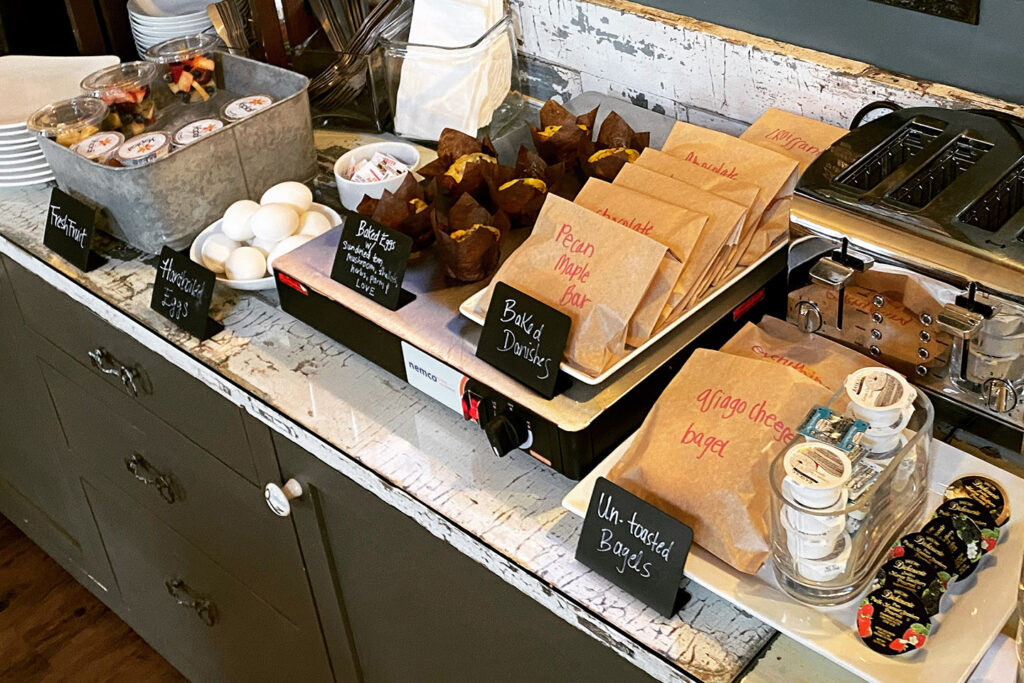 Rest, a boutique hotel
The lobby breakfast bar at Rest, a boutique hotel might look at first like an ordinary continental spread, but what makes the first meal of the day at this Sierra Foothills gem special is its sheer bounty. Freshly baked pastries and muffins emerge from the hotel's oven all morning long and there's a bagel bar, complete with a toaster for crisping and a choice of jam, cream cheese, or butter. Savory entrees might include baked eggs with sundried tomato and mushrooms and topped with savory parmesan cheese. The hotel serves the freshest of fruit salads, along with berry parfaits, yogurt, granola, assorted cereals, hot oatmeal, and hard-boiled eggs. Orange, cranberry, and pink grapefruit juices are available, along with tea and coffee. Guests are even able to upgrade breakfast to brunch by adding a split of sparkling wine, making every day feel like a lazy Sunday.
Inn at Moonlight Beach
What's over the top about breakfast at Inn at Moonlight Beach is its purity and simplicity. It's exactly what one would expect from Greater San Diego's premiere eco-conscious spa resort. Each morning, the innkeepers deliver a customized complimentary breakfast basket to your door filled with locally sourced, mostly organic artisanal treats. Featuring organic juices, multi-grain toast with gourmet jams, homemade overnight oats, and yogurt parfaits, the nourishing baskets can most accurately be described as simple, healthy, and delicious. Some basket items are made with herbs grown in the inn's biodynamic urban farm or with local raw honey, and vegan, gluten-free, vegetarian, and raw options are available. Guests are welcome to enjoy breakfast on their own private patio, in the garden, or at the beach.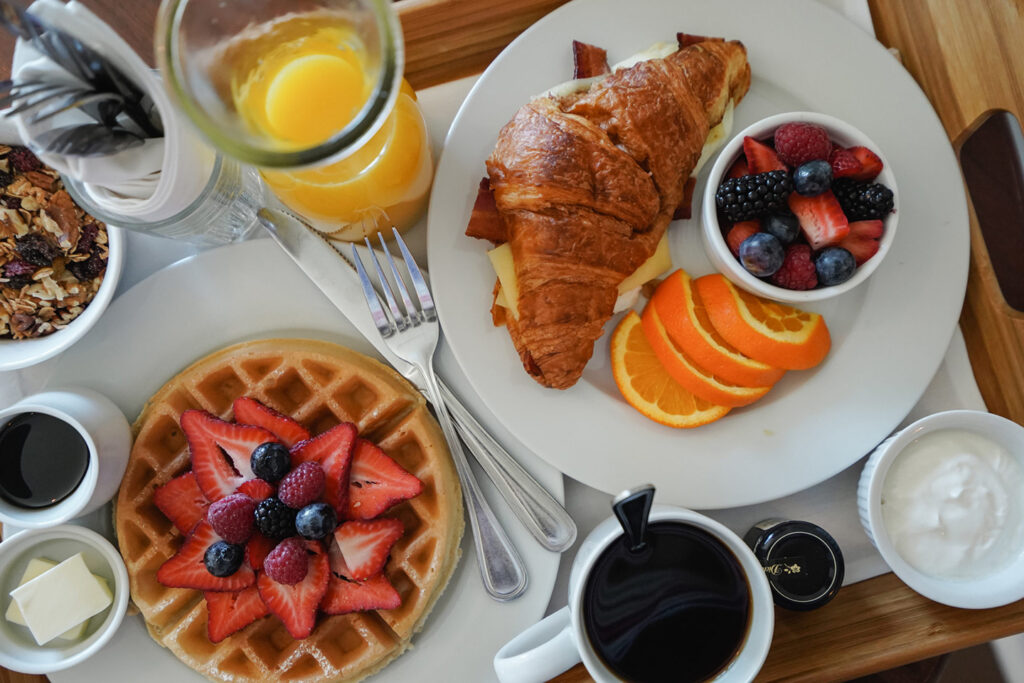 Milliken Creek Inn
Guests of Napa's Milliken Creek Inn are often surprised at the bounty of the breakfasts delivered to their guestrooms each morning, or anywhere guests choose on the inn's idyllic grounds. There's no wrong choice, as the entire property overlooks the Napa River and each of the recently updated accommodations features an ensuite iPad tablet (from which guests can order breakfast), a Tivoli music player, and a 55″ television with Apple TV. The luxurious breakfast spread is always made to order, with a wide array of options that include hearty omelets, homemade waffles, and freshly baked pastries. Eggs are prepared to each guest's specifications—whether over easy, over medium, poached, or scrambled—and paired with sides like breakfast potatoes, fruit, bacon, or sausage. For the ultimate breakfast luxury, guests can even add on a bottle of bubbly ($25) and make it a mimosa morning.