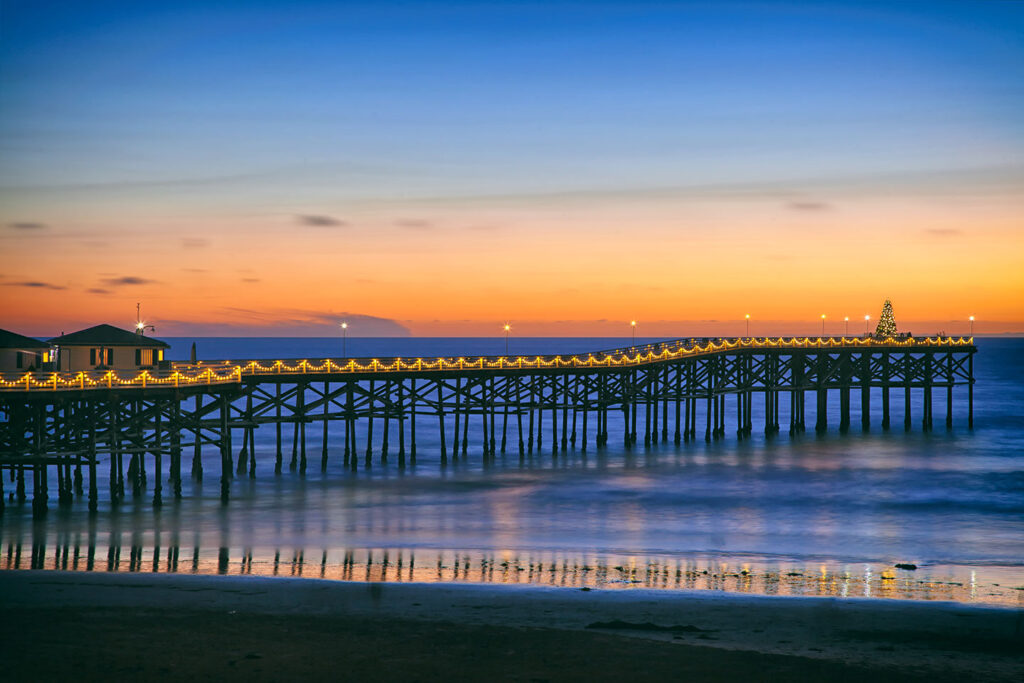 7 Festive California Getaways for the Holiday Season
From big cities and beach towns to desert oases and snowy alpine villages, destinations across California offer unique ways to celebrate the holiday season. We've compiled a list of our favorite vacation spots to soak up the holiday cheer. These seven destinations capture the magic of the season with dazzling lights, world-class shopping, and unique holiday events for an enchanting winter getaway.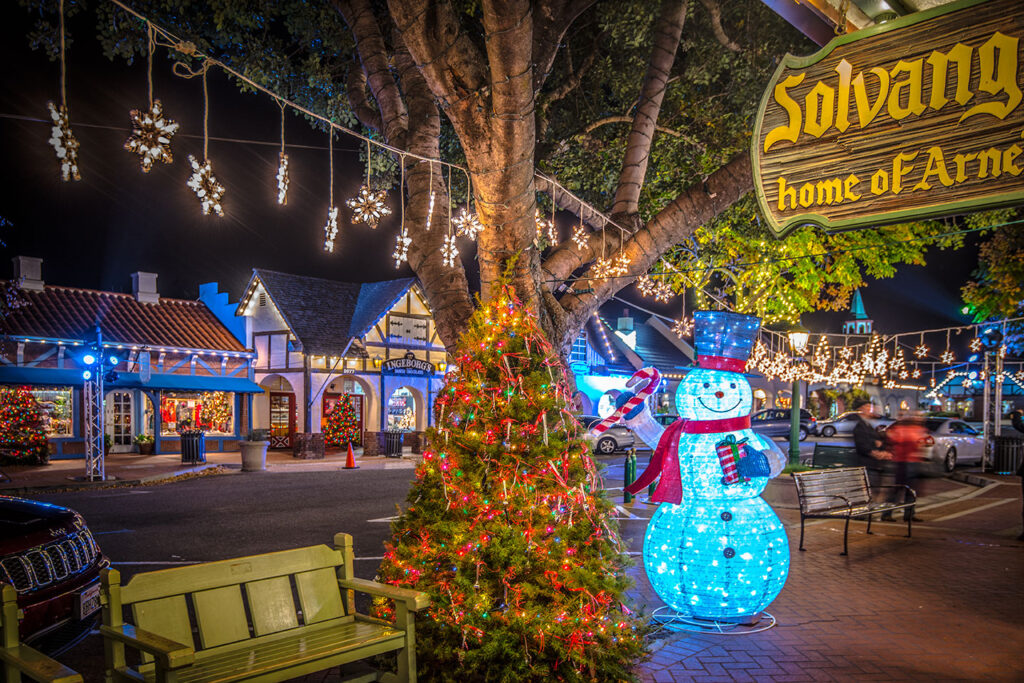 Solvang
The Danish village of Solvang was recently named by Oprah Daily as one of the "Most Magical Christmas Towns and Villages Across the World." During Julefest, the entire village is illuminated with twinkling lights, celebratory scenes, and Instagram-able holiday vignettes highlighting Solvang's native hygge holiday ambiance. The festivities for the month-long holiday celebration will run from November 27, 2021, through January 1, 2022. Returning favorites (modified to be pandemic-safer) include a tree lighting ceremony (December 3), the Julefest Parade (December 4), candlelight tours(every Saturday), and an all-digital Nisse Adventure, in which participants join in a city-wide hunt for the mysterious Solvang Nisse (Christmas elves). New additions to this year's festivities include a Nordpolen (North Pole) scene in Solvang Park and Solvang Food Tours led by the food and photography experts at Eat This, Shoot That!
Where to Stay in Solvang: Boutique hotels in Solvang range in design from the Old-World Danish storybook style to modern Scandinavian cool. Great choices for a holiday getaway include the newly-redesigned Hotel Ynez, The Landsby, Mirabelle Inn & Restaurant, Wine Valley Inn, Atterdag Inn, Hamlet Inn, New Haven Inn, The M Gardens, and Solvang's newest hotel, The Winston.
South Lake Tahoe
With snow-capped mountains, a deep blue lake, and the highest concentration of ski resorts in North America, Lake Tahoe is an unparalleled winter destination. The winter wonderland offers world-class downhill and cross-country skiing, snowshoeing, ice-skating, sledding, and snow tubing. After a day of snow-filled adventures, South Lake Tahoe's Heavenly Village beckons with a festive scene of twinkling lights, roaring fire pits, and vibrant shops. At the holidays, the village is all aglow for Heavenly Holidays, where visitors will find a 70-foot lit tree and illuminated ice sculptures. Kids can have breakfast with Santa, meet their favorite Disney characters, and take a spin on a holiday Ferris wheel. For adults, there's music, dancing, holiday-themed après ski parties, Santa's Pub Crawl, and a New Year's Eve celebration with live music and fireworks.
Where to Stay in South Lake Tahoe: A short walk from Heavenly Village and the gondola at Heavenly Mountain Resort, 7 Seas Inn is a stylishly remodeled vintage motor lodge that is hard to beat for its location, affordability, and hospitality. Just a mile from Heavenly, Black Bear Lodge is a refined mountain lodge that seamlessly blends rustic mountain style, modern touches, and a hip, upscale vibe.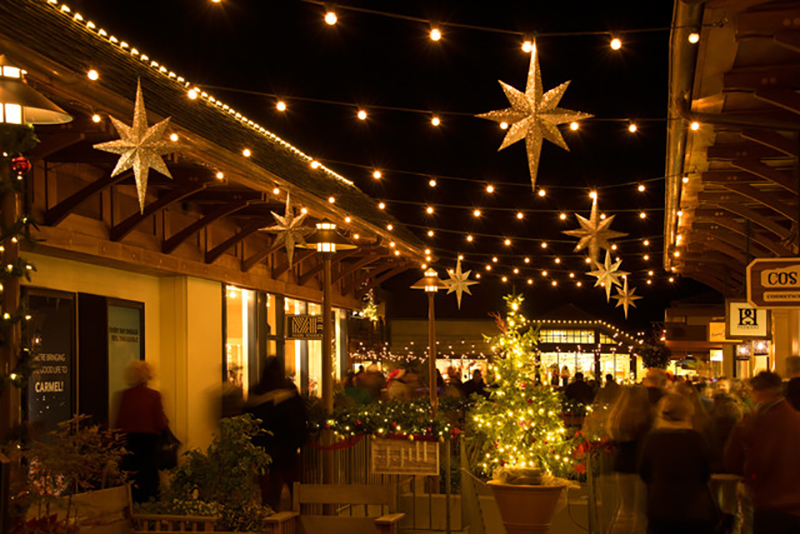 Carmel-by-the-Sea
This seaside enclave is a magical destination all year round, but during the holidays Carmel shines even brighter. Decked with lights and draped in evergreens, the city's storybook ambiance feels like a European Christmas market, with holiday gifts on offer from a diverse collection of high-end boutiques, art galleries, and wine shops. A towering tree at the city's major crossroads comes to life at the Holiday Tree Lighting (December 3), becoming the city's welcoming beacon throughout the holiday season. On the second Saturday of each month, the Carmel Art Walk allows visitors to tour 14 artist-owned galleries and experience the city's deep reverence for the arts. And the annual Homecrafters Marketplace(November 20) is one of the most anticipated events of the holidays, with 100 carefully curated local vendors selling their own handmade crafts and artwork.
Where to Stay in Carmel-by-the-Sea: Visitors will find a range of charming hotels in Carmel village. Top picks include the Zen-inspired Tradewinds Carmel, the upscale L'Auberge Carmel, the extraordinarily pet-welcoming Carmel Country Inn, the cozy Carmel Cottage Inn, the delightful Coachman's Inn, and the Bavarian-inspired Hofsas House.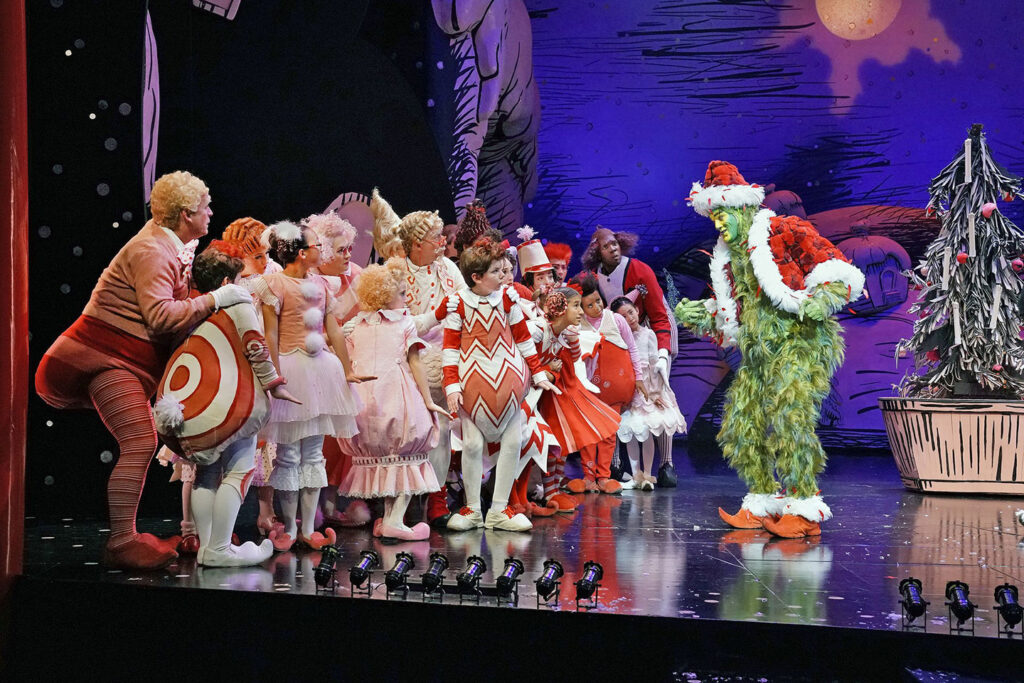 San Diego
Sunny days and warm temperatures don't come to mind when thinking about the holidays, but that doesn't stop San Diego from celebrating the season with exuberance. In fact, San Diego's perfect weather offers the chance to get out more to enjoy the holiday happenings only a larger city can provide. To start, holiday shopping in San Diego is a wonderland, with a wide range of options from brand name designers to local specialty stores. Many of the city's hip neighborhoods are known for their boutique shops, including the Gaslamp Quarter, Little Italy, Hillcrest, North Park, and South Park. For safe social distancing, San Diego offers a variety of drive-through and drive-in holiday events. A few favorites are the annual Christmas Tree Trail, the San Diego Bay Parade of Lights (December 12 and 19), and Taste of December Nights (December 3-5). This year's holiday-themed live performance events include The Old Globe Theatre Production of How the Grinch Stole Christmas and A Merry-Achi Christmas.
Where to Stay in San Diego: Within walking distance of Balboa Park, Hillcrest House Bed & Breakfast Inn is a handsome 1910 Craftsman inn nestled in the vibrant Hillcrest neighborhood. Two blocks from the beach and the shops and cafes on Coronado Island, the 1906 Lodge exudes tranquility with an understated elegance and coastal vibe. Both inns are festively adorned for the holidays.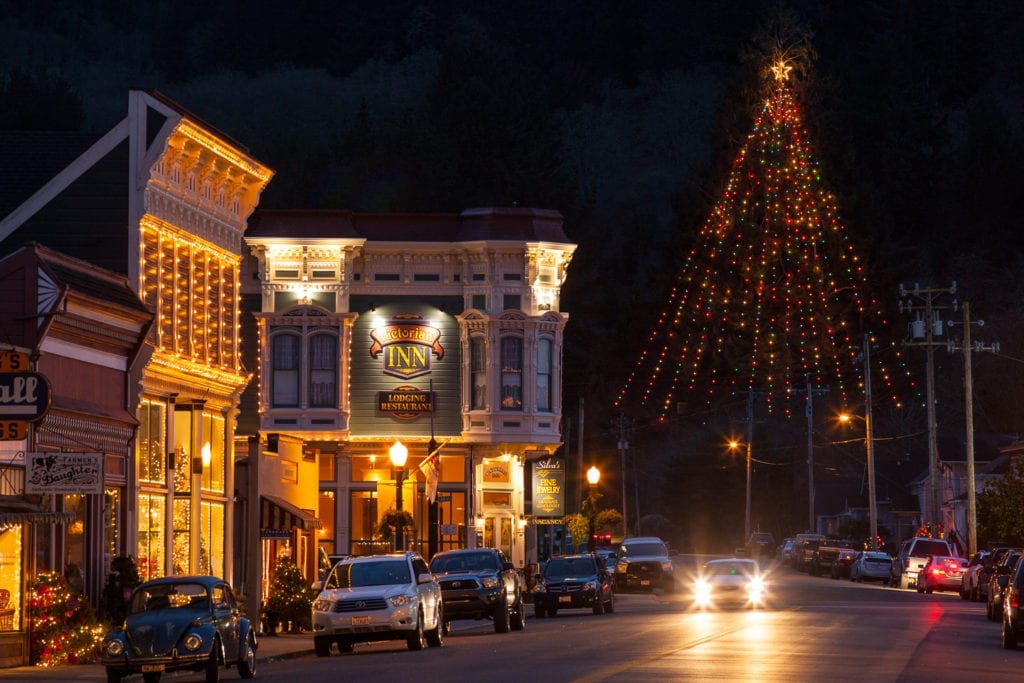 Ferndale
Visiting this dairy-farming town during the holidays is like stepping into an old-fashioned Christmas card. Nestled amid bucolic farms on California's Redwood Coast, the Victorian storefronts lining Main Street glow with twinkling lights. Lamp posts are wrapped in garland and topped with red ribbon bows. At the end of the street, America's tallest living Christmas tree towers over the scene. Despite its small size, the town abounds with mom-and-pop shops offering one-of-a-kind gifts, including Artisan Alley Studios (an association of artists specializing in everything from stained glass and wooden ship models to wool work and ceramics), Golden Gait Mercantile (one of the last authentic general stores), and Sweetness & Light (handmade chocolate and old-fashioned confections crafted on-site with local cream and butter). Popular holiday events include the Holiday Art, Home & Gift Fair (November 6), the Lighting of America's Tallest Living Christmas Tree (December 5), and the Christmas Lighted Tractor Parade (December 19).
Where to Stay in Ferndale: The Gingerbread Mansion Inn is a meticulously restored Victorian that dresses to the nines for the holidays and is one of the most photographed inns in Northern California. The grand Victorian Inn at the top of Main Street is also elaborately adorned for the season, with many rooms featuring cozy fireplaces and bay windows overlooking the town.
Palm Springs
Once the preferred getaway for Hollywood's elite, this nostalgic enclave of mid-century charm and modern quirk is the perfect destination for enjoying the winter desert landscape, upscale shopping, or just plain-old campy holiday fun. For a nature-inspired holiday, WildLights turns The Living Desert Zoo and Gardens into a sparkling winter wonderland, including an opportunity to visit reindeer and see more than a million colorful lights throughout the park. The annual Festival of Lights Parade (December 4), once voted one of the top 10 holiday parades in the country, features signature floats adorned in thousands of colorful holiday lights, huge balloon floats, and marching bands. And there's always a dizzying array of live music, theater, and nightlife available around town. This year's notable productions include Barry Manilow's A Gift of Love holiday concert (December 7-12), a live production of A Christmas Carol (December 11-12), and the Good Times Jazz Band New Orleans Christmas Show (December 16).
Where to Stay in Palm Springs: Within walking distance of downtown shopping, dining, and nightlife, Los Arboles Hotel is a historic boutique resort featuring a heated pool, Jacuzzi, and room service. At El Morocco Inn & Spa, cozy rooms with authentic Moroccan furnishings face inward to a hot spring-fed pool, surrounded by glowing lanterns, flowing fabrics, and romantic daybeds.
San Francisco
San Francisco during the holidays is like no other city, with its Victorian and Edwardian architecture, world-class shopping, and unique cultural events. Union Square is the city's holiday epicenter, with iconic stores like Neiman Marcus, Saks Fifth Ave, Macy's, and flagship stores of many major brands. Must-see holiday attractions at Union Square include the Chanukah Menorah (November 28-December 6), Macy's Great Tree decorated with over 1,500 ornaments (November 18-January 2), and the Union Square Ice Rink (November 3-January 17). Illuminate San Francisco entertains visitors with a year-round, city-wide collection of light art installations that puts a new spin on holiday lights, while events unique to the season include the San Francisco Ballet's annual Nutcracker performance (December 10-30), the Parol Lantern Festival (December 12), and Drag Queens on Ice (December 2). 
Where to Stay in San Francisco: San Francisco's historic boutique hotels are certain to be decked to the nines in their holiday finery. Some favorites that are closest to the festivities in Union Square and the Civic Center include the White Swan Inn, Petite Auberge, Cornell Hotel de France, The Queen Anne Hotel, and Chateau Tivoli.