6 Newly-Revamped Hotels to Visit in 2023
A new year inevitably invites thoughts of renewal and transformation. For inspiration toward that goal, why not stay at a newly revamped inn or boutique hotel? After all, if properties with rich histories and reputations can reimagine themselves, why can't we? In the spirit of "out with the old, in with the new," here are six California inns that have experienced impressive glow-ups and can't wait to show you their fresh new faces.
Short Stories
Once known as the Price is Right hotel for its location across from CBS Studios in West Hollywood, The Farmer's Daughter motel was recently reimagined as Short Stories, a new 66-room boutique hotel from Leo Grifka of Grifka Group. Casting away its former agrarian theme, the new design-driven property reopened in May 2022 offering modern guest rooms, a full-service restaurant and bar, and a secret garden courtyard with a lounge, outdoor dining spaces, and an outdoor pool. Designed by Grifka in collaboration with Kevin Klein Design, the new hotel features a "cultured California-contemporary" aesthetic with European touches such as terrazzo with stained woods and brass along with lush vegetation from landscape architect Rolling Greens. The resulting hotel is a tranquil retreat that elevates while honoring the local culture, history, and breezy vibe. Its West Hollywood location places guests within walking distance of The Grove Shopping Center, Los Angeles's Original Farmer's Market, the LACMA Museum District, and the West 3rd Street shopping district.
Cinnamon Bear Inn
Mammoth Lakes' premiere bed and breakfast recently finished the final details of a year-long renovation, just in time for the winter skiing and snowboarding season. Cinnamon Bear Inn cut no corners in upgrading its indoor spaces, including a complete lobby makeover, ultra-comfortable new beds and bedding, upgraded water heaters, and retro mini refrigerators with matching microwaves in every room. There's now new flooring throughout the property, including hardwood flooring in the lobby and first-floor rooms and noise-reducing carpeting in second-level units. New wall and ceiling finishes feature subdued colors and modern wallpaper that salutes Mammoth Mountain. Bathrooms and entryways now sport modern LED light fixtures for better visibility and ambiance. Architectural upgrades include an upgraded king suite with its own entrance and kitchenette, along with an A-frame family suite that now boasts an open floor plan and comfortably sleeps four adults and two children. For larger parties, the family suite can now be expanded to include the king suite, complete with a large private patio deck and a view of the Sierra Mountains.
Fireside Inn on Moonstone Beach
Returning guests to the Fireside Inn will find a refreshing makeover inspired by Cambria's idyllic coastal landscape. Reminiscent of the area's Monterey pines, rocky bluffs, and serene ocean views, the spacious rooms overlooking Moonstone Beach now sport a neutral color scheme, with touches of soft blues and greens. Organic textures of linen and distressed wood have been coupled with upscale brass and velvet accents to create guestrooms that are warm, inviting, and refined. Scenic wall murals, modern banquette seating, and custom artwork further reflect the local landscape and history, creating cozy retreats for guests to slow down, unwind, and connect to nature. Thoughtful amenities include luxury bath products, plush robes, and Perfect-Sleeper beds. Some of the inn's accommodations add even more luxury with ocean-view terraces. When combined with the inn's prime location—across from the boardwalk and minutes from San Luis Obispo County's legendary attractions—the fresh update makes for an even more inspiring setting for a romantic escape or leisurely adventure. 
Black Bear Lodge
The lodge rooms and cabins at Black Bear Lodge have always been unique in the way they combine rustic mountain style with a hip, upscale vibe. Now the lodge has expanded its offerings and its signature style. In October 2022, the owners bought the hotel next door (formerly Deerfield Lodge) and have been hard at work with renovations to make the 22 new rooms and suites available to guests. Incorporating vintage pieces and raw materials, they've sought to infuse the new spaces with the same warmth and character that guests have come to expect from Black Bear Lodge. For the rooms and suites in the newly renamed Rubicon building, that has meant adding vintage oil paintings, carved wooden mirrors, and other décor featuring leather and antique brass. The rooms also feature plush new bedding, river rock gas fireplaces, kitchenettes, and garden views. The owners removed the fencing that once divided the two properties to create a cohesive two-acre property with beautiful native Tahoe landscaping.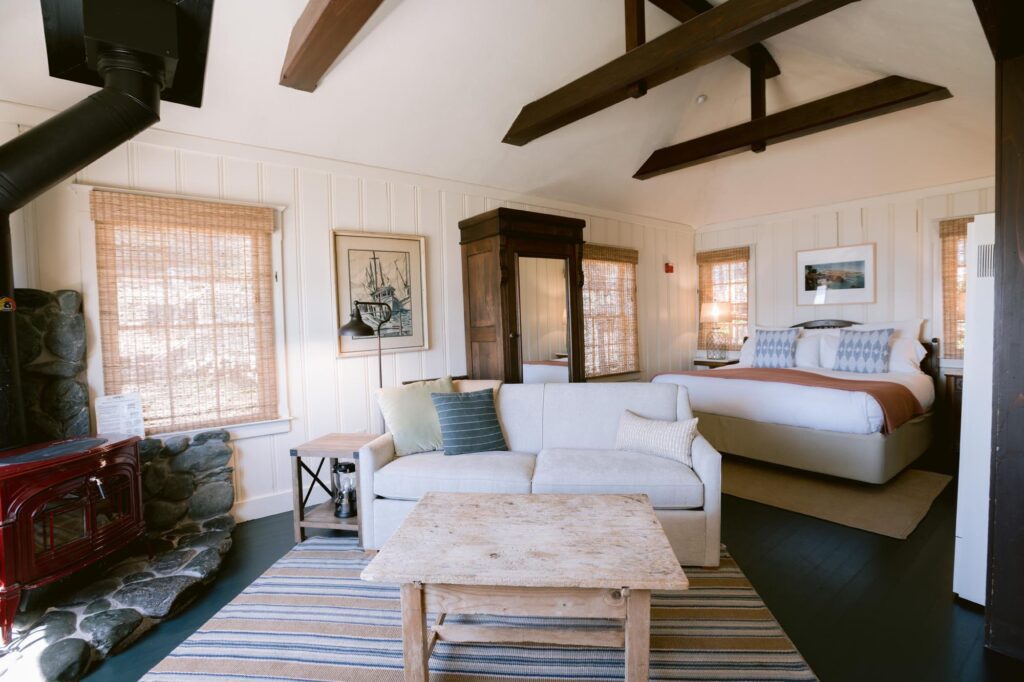 Nick's Cove
In February of 2022, Nick's Cove embarked on a long-anticipated facelift for its restaurant, bar, and cottages, along with a refresh of its branding and website. The owners are excited to unveil the completed new look, a seamless combination of comfort and refinement. The property collaborated with San Francisco-based design firm IDF Studio and branding partner Bootjack to outfit its bayside cottages with new furniture, linens, décor, wall coverings, flooring, and more. The fresh new look and feel, inspired by Tomales Bay's serene natural beauty and the rugged yet elegant charm of the California coastline, still evoke the spirit and legacy guests have come to expect. Rooms at the Cove have been brightened up and pared down a bit to bring in more light and a feeling of spaciousness, but the iconic vintage furnishings that most represent the property's history as a fishing enclave are still intact and thoughtfully incorporated. The original 1930s roadhouse bar now also has a more upscale look, combining wood and cast-iron furniture with white shiplap walls and deep blue accents that reflect the serenity of the bay.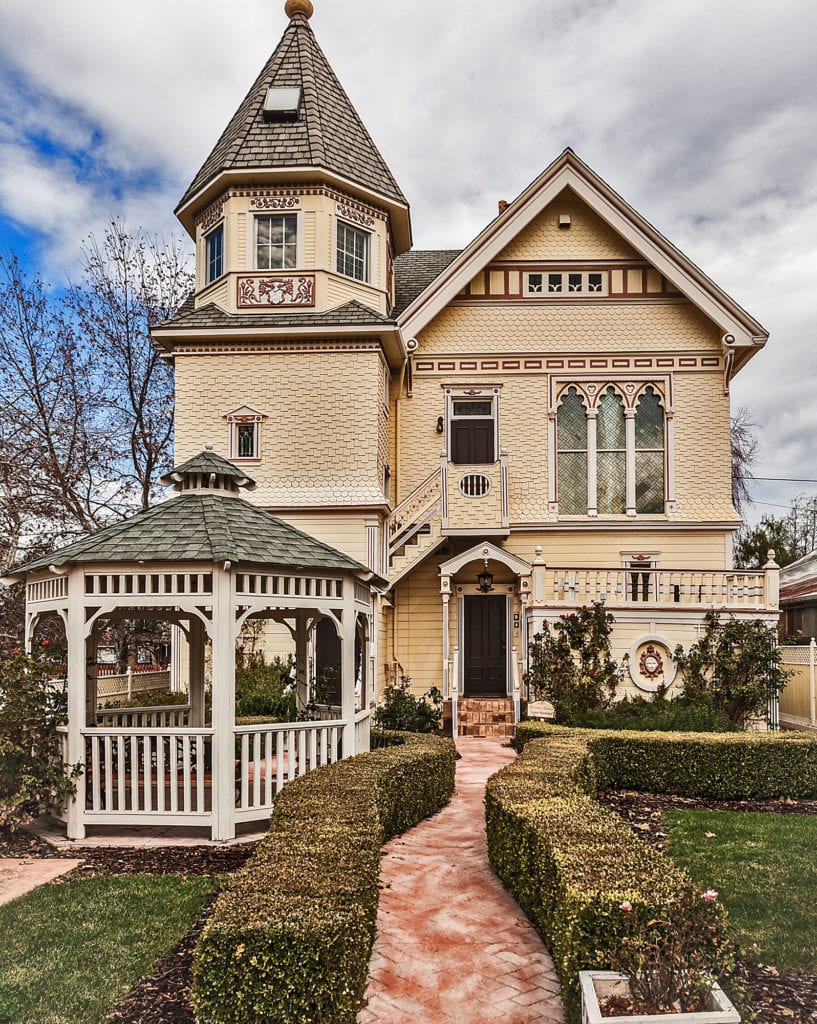 The Victorian Mansion Bed & Breakfast
Ever since the original owner of The Victorian Mansion created the inn's six over-the-top themed suites in the 1980s, they have enchanted visitors with curiosities like a coffee table made from a 750-pound cannon, an Egyptian sarcophagus, a chariot, and a 1956 Cadillac convertible. When current owner Rod Rigole purchased the property, he vowed to remain true to the original owner's vision. To that end, three glorious new suites are on the horizon, two of which are scheduled to open by the end of March 2023. The original owner had always wanted to add a Treehouse Suite to the property. Now, 30 years later, that vision is now coming to fruition. The Treehouse Suite will sit on a large tree base behind the inn and include features like an all-wood interior and outdoor cedar hot tub. At the base of the tree supporting the upper-level Treehouse Suite, Rigole is also adding a second suite, a Hobbit House. This cozy hideaway will feature rounded doors and windows plus wizardly trappings and a hidden ring. A third new suite, opening in 2024, the Castaway Suite will feature a capsized boat and the original Gilligan's Island radio.