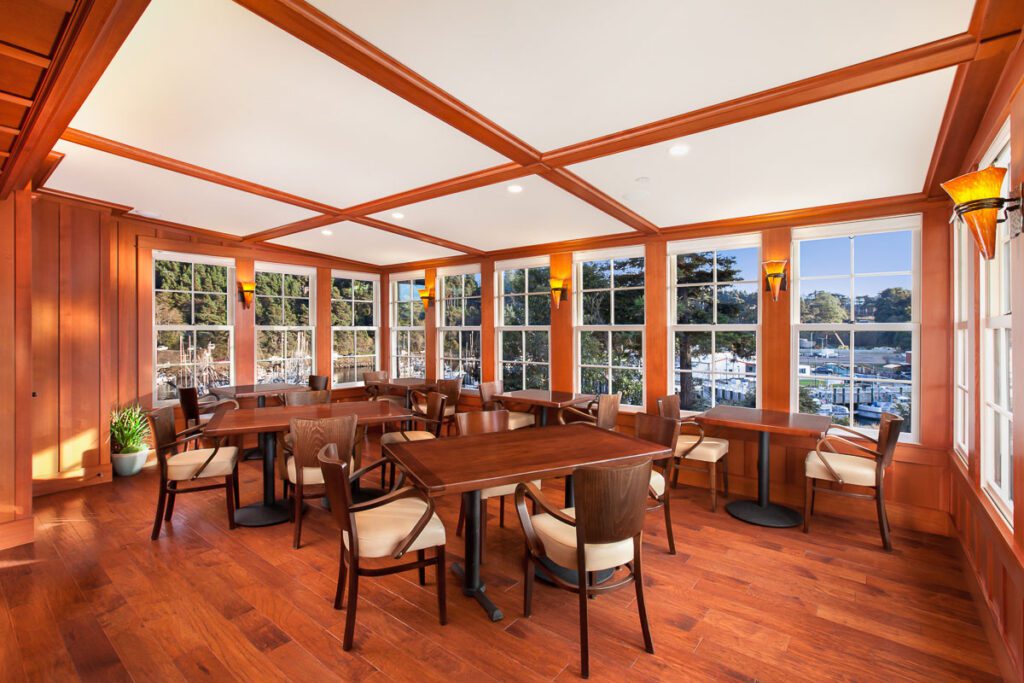 25 Boutique Hotels for an Unforgettable Corporate Retreat
After the pandemic brought in-person meetings to a standstill and forced office employees to work remotely, many small companies and work teams are grappling with how to re-energize, re-engage, and reconnect. With their inspiring locations, warm hospitality, and well-thought-out amenities, boutique inns have been carrying out this daunting task for years. Whether employers are looking for an exhilarating venue for an off-site meeting or a home away from home for a corporate retreat, here are some of the most impressive California inns and destinations for encouraging interaction, fostering learning and growth, and restoring focus.
Urban Retreats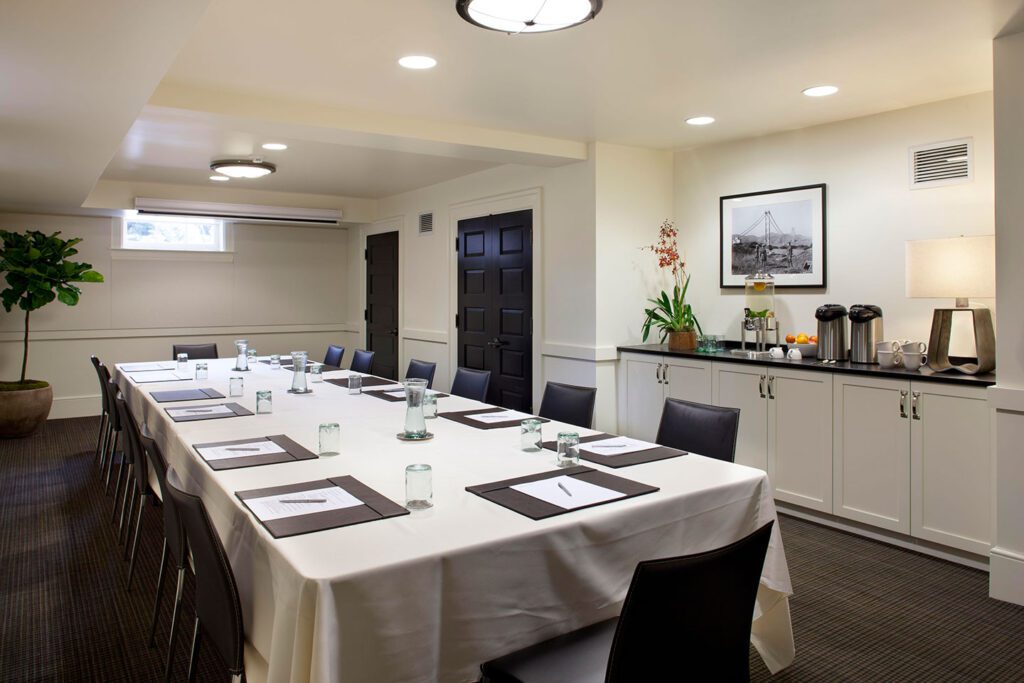 Inn at the Presidio
With 22 rooms and two 425 square-feet meeting spaces, San Francisco's Inn at the Presidio is the perfect host for small corporate meetings and retreats. The inn's inspirational setting inside the country's most unique National Park means the inn offers easy access to 1,500 acres of parkland, trails, and beaches. The Presidio is also home to historic architecture, museums, restaurants, and art installations, not to mention unparalleled views of the Golden Gate Bridge. Many of the park's attractions can be enjoyed by inn guests for free, including a hike to the famous Andy Goldsworthy sculptures or a group walk along the stunning new 14-acre Tunnel Tops. The park also has e-bikes available for a loop around the park. The inn's historic dining room and well-equipped conference room are ideal for meetings, break-out sessions, and meals prepared by on-site catering staff.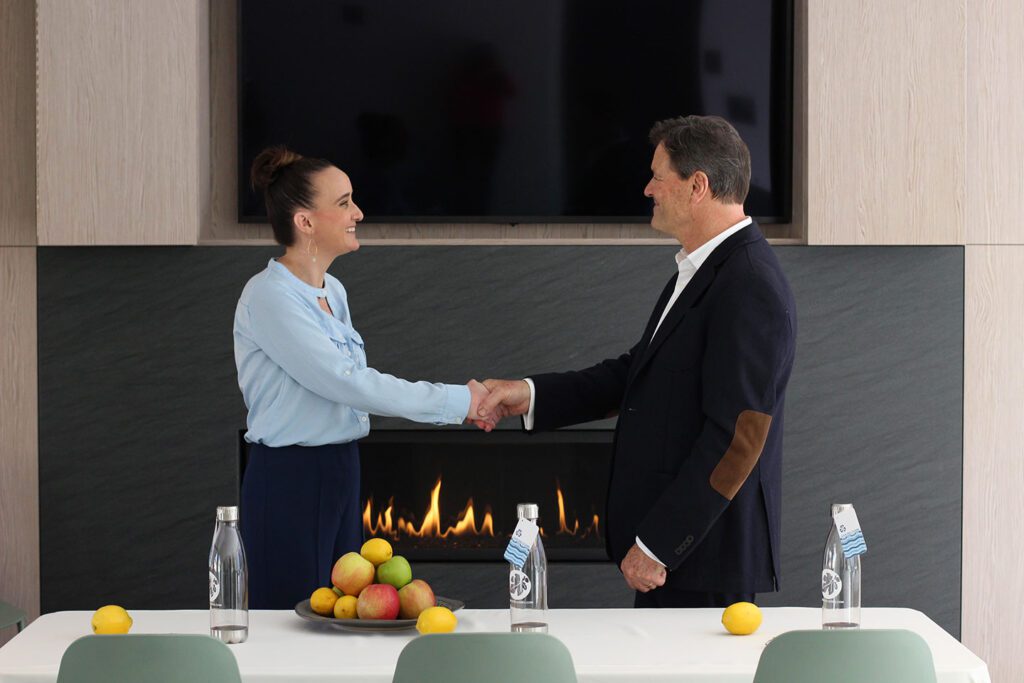 Hotel Cerro
Sophisticated event spaces, superlative service, and a convenient downtown San Luis Obispo location make Hotel Cerro the perfect choice for seamless meetings and gatherings. And thanks to a catering team packed with culinary talent, small groups are assured a menu highlighting Central California ingredients. The bright and airy Olive Tree private event space can accommodate up to 40 guests for a sit-down meal or up to 75 for cocktails. It opens onto its own garden and fire pit. The Fig Veranda hosts up to 40 people for a standing cocktail reception and is the perfect place for a welcome reception or laid-back meeting. When business is done for the day, employees can enjoy the hotel's full-service spa, Spa Cerro, or take a complimentary bike for a ride through historic downtown San Luis Obispo.
1906 Lodge at Coronado Beach
In San Diego, the 1906 Lodge at Coronado Beach offers an attractive meeting space that can accommodate up to 40 people with banquet seating. A 68-inch high-definition television is available for presentations. Other available venues include the lodge's 384-square-foot dining room and a 120-square-foot garden veranda and courtyard. Lunch can be catered in, and the innkeepers are happy to set up group dinners at numerous restaurants within walking distance from the inn. Free WiFi is provided throughout the property and many rooms have in-room desks. Not only is breakfast included, but complimentary wine is served each afternoon, providing a great way to unwind from a busy day. The inn is located two blocks from the beach and is just 10 minutes from San Diego International Airport and the convention center.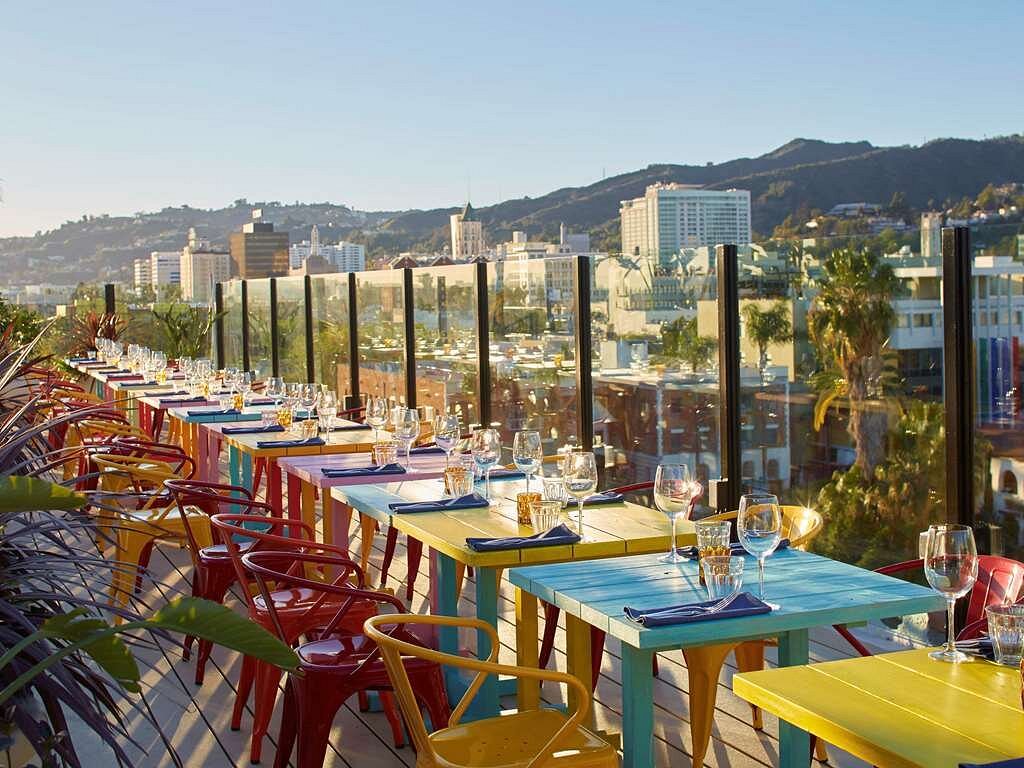 Mama Shelter Boutique Hotel
The rock 'n' roll-themed Los Angeles outpost of Mama Shelter offers a hip, boho chic take on work gatherings. A great fit for a creative startup or young team, the innovative international hospitality brand is known for its boutique living and meeting spaces focused on urban design, affordability, and new-wave glamour. The hotel is blocks away from the Hollywood Walk of Fame and the Chinese Theater, along with countless shops, bars, burrito stands, and vegan restaurants. Mama Shelter avoids "boring and anxious" meeting rooms in favor of adaptable, design-forward live-work spaces with features like LED screens, Bose audio systems, and foosball tables. The hotel's award-winning rooftop bar and patio have a nearly 360-degree view of the city, while its 70 guestrooms boast comfortable king beds and 27-inch iMacs for access to free television and movies, music, a video/photo booth, and internet access.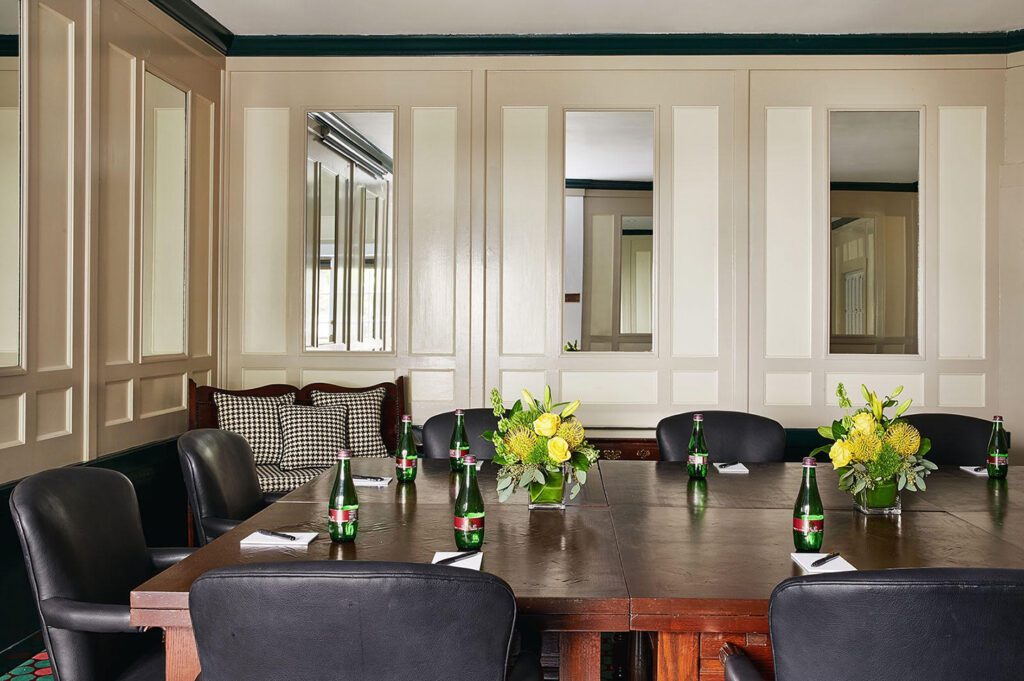 White Swan Inn
In the heart of San Francisco's Nob Hill but inspired by the Mod Era and the English countryside, White Swan Inn is a 26-room inn that effortlessly transforms itself into a self-contained company retreat. It features an intimate 420-square-foot board room that seats 12 and can host up to 24 standing, complete with smart TV, audiovisual hookups, and streaming capabilities. The White Swann Library is a cozy 190-square-foot room with a fireplace, ideal for interviews or intimate conversations. A charming 480-square-foot all-season garden patio accommodates up to 40 standing guests or 20 seated, perfect for breakout sessions, post-work refreshments, meet and greets, or luncheons. Guestrooms are colorful with cheeky flourishes, with features like in-room fireplaces, soaking tubs, and plush pillowtop beds. The cable cars, Chinatown, Union Square, museums, theaters, and world-class dining and shopping are all within walking distance.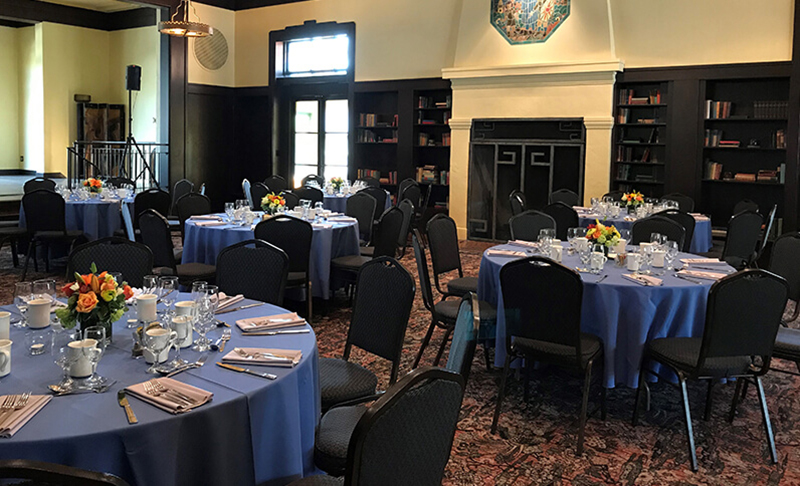 Bancroft Hotel
Across from the south side of the UC Berkeley campus, the Bancroft Hotel combines historic charm, modern amenities, and elegant décor. The hotel boasts a 3,000-square-foot Great Hall that can accommodate up to 300 guests. With soaring ceilings, stained glass windows, a raised stage, and two fireplaces, the elegant venue looks out onto the campus. The hotel is happy to provide projectors, screens, and speakers, and there is free Wi-Fi throughout the building. A catering team focuses on fresh, seasonal, and local cuisine, with the ability to design custom menus. Renovated by well-known green designer Kelly LaPlante, the 22 guestrooms offer eco-friendly amenities like organic bedding, bamboo towels, locally made organic soaps and shampoos, and curtains made from recycled soda bottles. Each room features artwork dedicated to a specific Berkeley academic department, and most have spectacular views and balconies.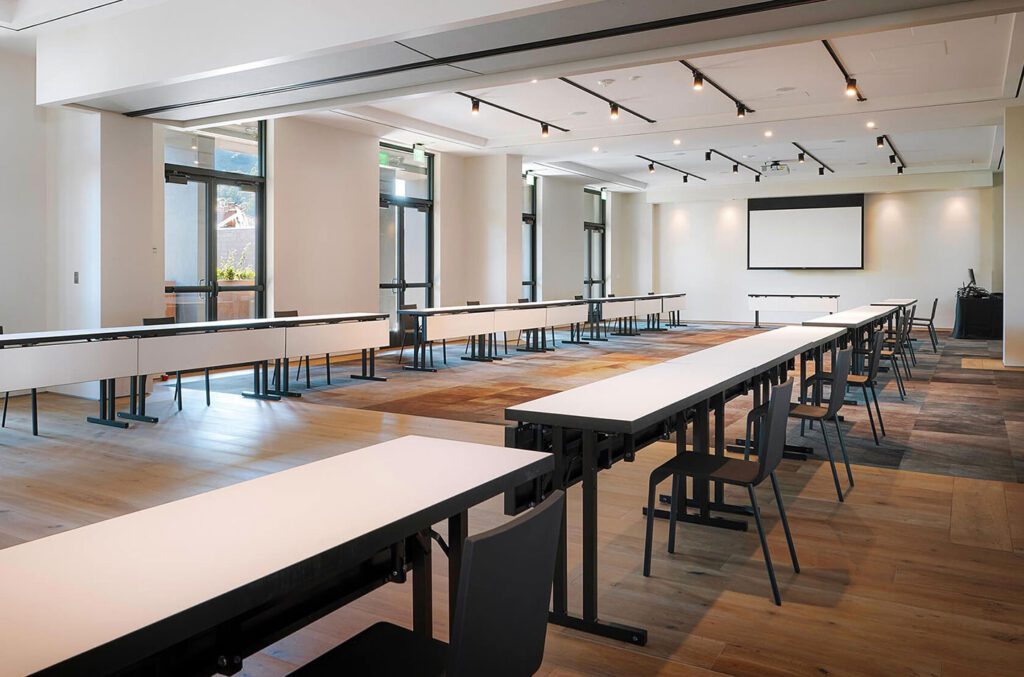 Hotel San Luis Obispo
Hotel San Luis Obispo is steps from downtown, the perfect location for a Central Coast corporate retreat. With loads of natural light, a welcoming modern aesthetic, state-of-the-art audiovisual capabilities, and catering by Chef Ryan Fancher, the hotel sets the bar for winning business gatherings. The Seven Sisters Ballroom is the hotel's main event hall. It seats up to 180, with views through large French doors to Mission-style rooftops and native pines. Other event spaces include the Bishop Peak Boardroom with floor-to-ceiling windows and a large-screen Bluetooth TV, as well as the elegant Wine Library displaying a collection of Central Coast wines. There are also several outdoor terraces and courtyards that function as casual gathering spaces. Rooms at the hotel are bright and spacious with a playful, modern aesthetic, each embodying San Luis Obispo's laid-back style inspired by ranch and beach.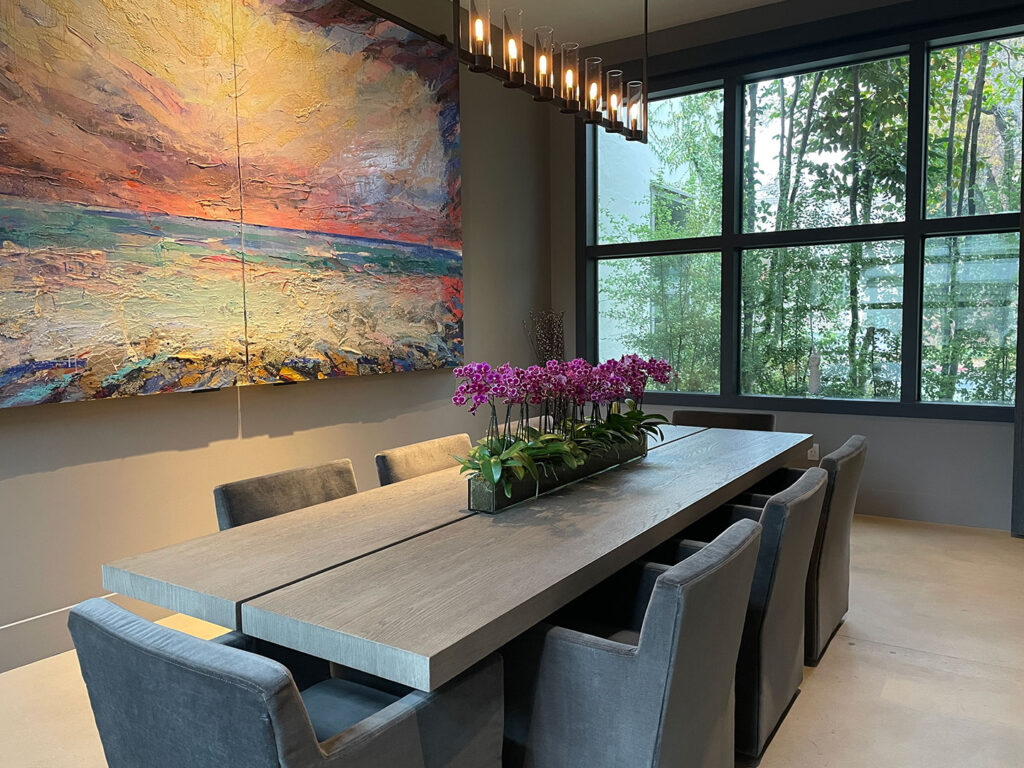 R Inn Napa
R Inn Napa is inspired by small European art hotels, catering to self-sufficient travelers who value design, features, and location. With self-check-in and access via keypad door codes, the property's unobtrusive hospitality—along with a convenient downtown Napa location—makes it a great choice for small meetings and retreats. Meeting spaces include a swanky lobby lounge with a fireplace and imported Italian chandeliers. There's also a versatile dining and board room with a large farm table and a 60-inch Zoom-compatible QLED smart TV. And in keeping with the inn's self-service model, a full gourmet kitchen is open to guests, making catering or hiring a chef simple and stress-free. Outdoor meeting spaces include an open-air living room and an enclosed garden. There's even a bocce ball court for team building. Each guestroom features unique original artwork, automatically adjustable beds, rainfall showerheads, and heated bidet toilets.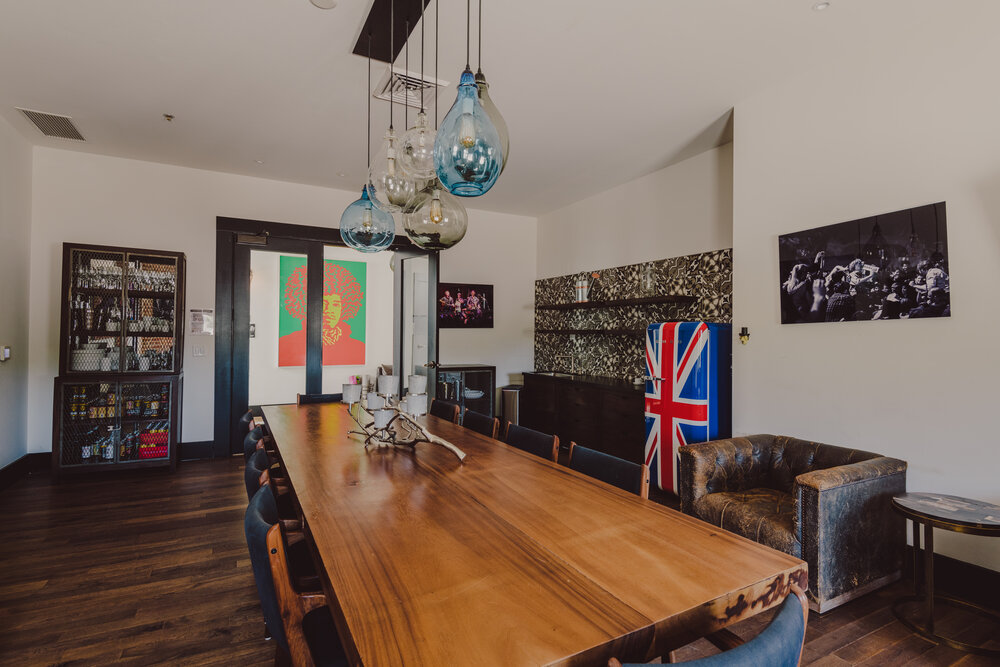 SLO Brew Lofts
The SLO Brew Lofts are a collection of five luxury vacation rentals in the center of downtown San Luis Obispo's entertainment district. Whether rented individually or as a full buyout for up to 32 guests, the lofts are well-suited for business meetings and retreats. Each loft has its own distinctive charm, but all include deluxe bathrooms with spa amenities, well-appointed kitchens with high-end appliances, and living rooms with fireplaces. Meeting planners can also book the Co-op Room, which features a farmhouse table with seating for 10, lounge chairs, a television, a projection screen, and a kitchenette. A well-appointed hallway, with cozy sitting areas for intimate conversations, connects the lofts and the Co-op Room. The SLO Brew Lofts are part of SLO Brew Gatherings, a collection of all-inclusive event venues designed to make event planning effortless through integrated catering, hospitality staffing, rentals, and audiovisual design.
Montecito Inn
Originally built by Charlie Chaplin and a small group of investors in 1928 as an upscale getaway, today the historic Montecito Inn takes pride in offering world-class service in a sophisticated, historical setting. With more than 1,100 square feet of elegant meeting space, the inn's Chaplin Room offers flexible seating layouts for up to 48 guests, along with free WiFi, audiovisual equipment rental options, and decorating and catering services. Guest rooms and suites at Montecito Inn are furnished in the classical Mediterranean influences of Santa Barbara and Montecito's unique style, which includes warm earth tones, decorative lines, and pastel colors. Standout amenities include Italian marble bathrooms and fireplaces. The inn is located within walking distance of Santa Barbara's top beaches, with boutique shopping and fine dining options just steps away. Other recreation options range from art galleries and live theater to hiking and whale watching.
Rural and Small Town Hideaways
Carmel Valley Lodge
Carmel Valley Lodge is a three-acre wonderland of outdoor art, flowers, and gardens, all in view of the Carmel Valley hills. It's located just a short walk from charming Carmel Valley Village, which boasts a plethora of restaurants and shops, along with over 20 wine tasting rooms. The lodge's San Souci Event Center features a commercial kitchen and fireplace, with an 1,800-square-foot event hall and adjoining 1,800-square-foot exterior patio accommodating up to 120 guests among flowers, trees, and twinkling fairy lights. Across the street is a large, grassy park, and the lodge also offers guided hikes through Big Sur and the Carmel Valley. There's even an electric vehicle charger onsite. Each guest room includes a fireplace and exposed wood-beamed ceilings, along with either a deck, balcony, or patio.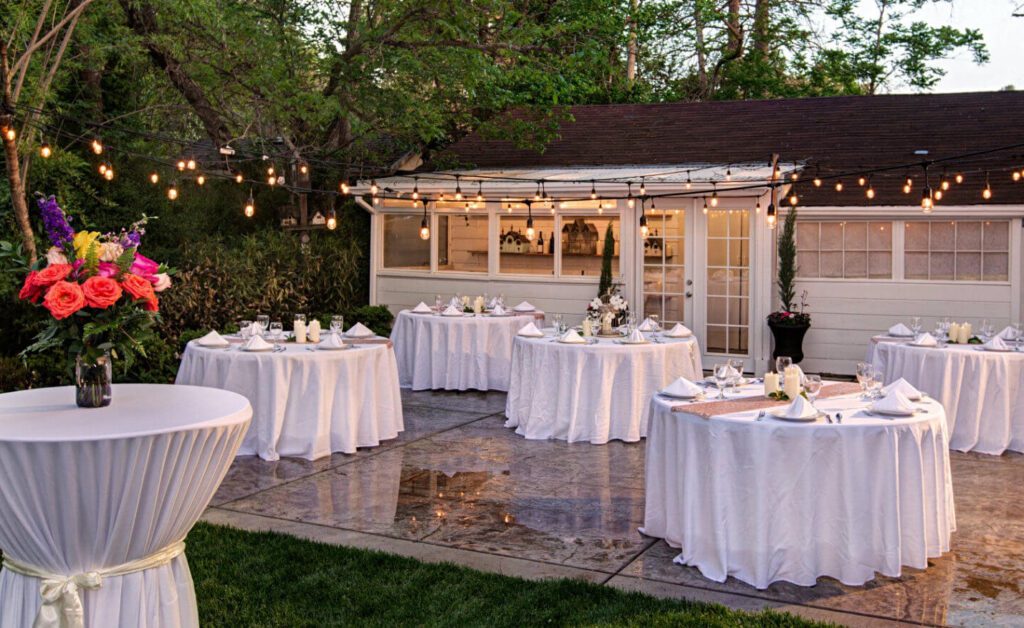 Dunbar House
In downtown Murphys deep in California Gold Country, Dunbar House is an 1880s Italianate-style inn steeped in an old-world charm. With six unique guestrooms, lush gardens, and an event and catering space that seats up to 30, the property offers a break from the typical hotel and banquet hall. The event space features a bar and French doors that open to a large garden patio and lawn strung with lights. The inn's guestrooms are tastefully appointed with antiques and period details while providing the comforts of today, including luxurious linens, cozy down comforters, oversized bath towels, and in-room coffee stations. Whole house rentals are available. Within walking distance, downtown Murphys' tree-lined streets and charming courtyards are brimming with historic architecture, fine restaurants, art galleries, and dozens of wine-tasting rooms. Many more wineries, golf courses, and Calaveras Big Trees State Park are just a short drive away.
Tallman Hotel
In the historic town of Upper Lake, Tallman Hotel is a handsome country hotel built in the 1890s. The hotel was completely restored and expanded to a 17-room luxury facility in 2006. The hotel offers conference space in the adjacent Riffe's Meeting House, which seats up to 40 people banquet style, 50 people theater style, or 20 people around an antique conference table. The room features high-speed internet, TV/DVD, projection screen, and other meeting essentials along with a small, upright piano. Other meeting spaces include the hotel's dining room, and an outside courtyard and heated veranda at the hotel's on-site restaurant, the Blue Wing Saloon & Cafe. Business travelers will appreciate the in-room desks, refrigerators, televisions, DVD players, and free WiFi. The hotel offers the friendly, personalized service of a traditional bed and breakfast combined with all the amenities associated with a luxury hotel.
Benbow Historic Inn
Listed on the National Register of Historic Places, Benbow Historic Inn was once a hideaway for the early Hollywood elite. Event spaces at this impressive Tudor estate above the banks of the Eel River include a covered terrace that seats 120, the 1,260-square-foot Bellows Room with a southern view of Reed Mountain, a 1,500-square-foot dining room with floor-to-ceiling windows, and a genteel 1,000-square-foot library off the lobby. The inn's on-site restaurant and historic 1920s bar offer custom menus for groups. Just down the road is Benbow KOA, where attendees will find an outdoor pool and splash park, Jacuzzi, playground sport court, game room, and nine-hole PGA-rated golf course. There's easy access to hiking, birding, kayaking, and the forests of the Redwood National and State Parks. Rooms at the inn are elegant, with features like vaulted ceilings, fireplaces, private balconies, and Jacuzzi or soaking tubs.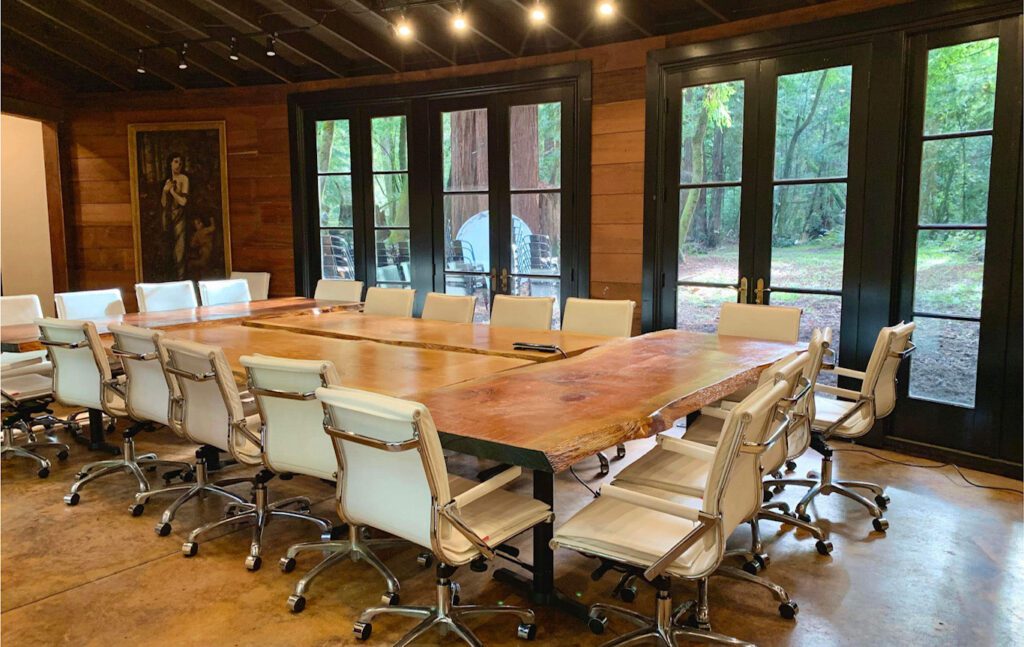 The Madrones and The Brambles
The Madrones was once a modest rural homestead in the heart of Anderson Valley wine country, but today it's a Mediterranean compound with vineyard views and the charm of an Italian country estate. With a restaurant, two tasting rooms, two retail spaces, and a spa, there's plenty to keep retreat attendees engaged. The property features several outdoor meeting spaces, including the Oak Terrace shaded by a stand of live oak trees and a private walled garden with a rose garden, pond, and over an acre of landscaping. The Brambles, a sister property just a stone's throw away, offers more rustic décor and two additional outdoor meeting options. Next door, Indian Creek Park sits in a grove of old-growth redwoods, with plenty of nature trails and picnic spots. Guest quarters at the Madrones feature award-winning architectural details, dramatic furnishings, and enticing views of the gardens, vineyards, hillside, or courtyard.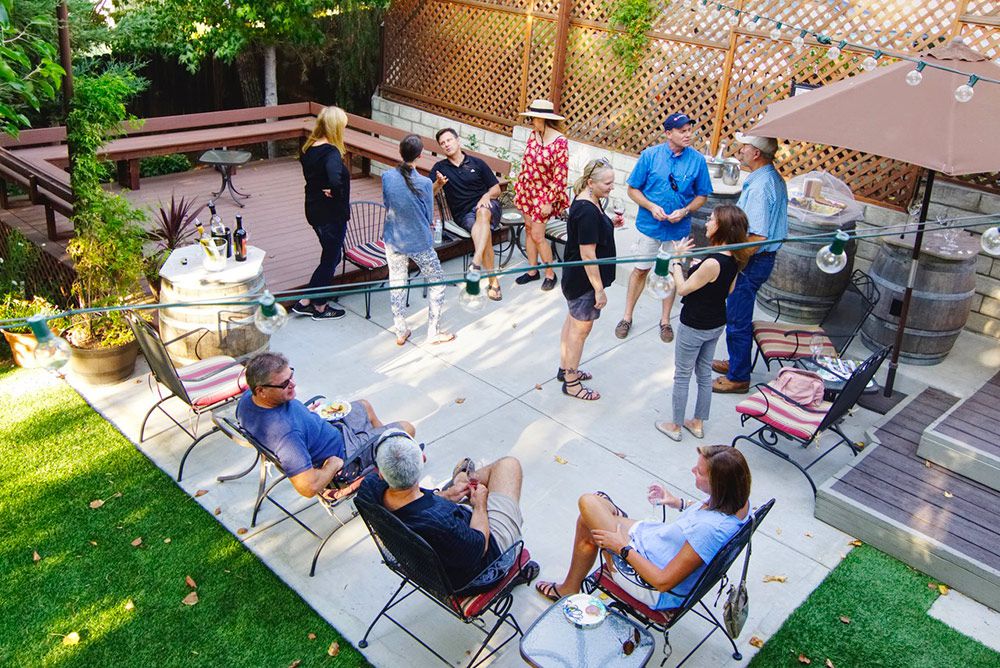 ForFriends Inn
Located on nearly an acre in the small wine country town of Santa Ynez, ForFriends Inn has everything needed to run a successful retreat. A mix of informal indoor and outdoor spaces provides options for large group meetings, small group breakout sessions, and catered events. The spaces include a 1,000-square-foot living room that holds up to 40, an equally large garden area, an expansive front porch, and even the inn's kitchen that seats up to 10 people around an island. Available meeting amenities include a projector and screen, a 48-inch monitor on a rolling stand, streaming services, easels and flipcharts, and on-site technical support. The inn also offers multiple catering options. Plus, with just 14 rooms, exclusive use of ForFriends is affordable. The inn is just a short walk from restaurants, shops, and entertainment. Santa Ynez Valley wineries and tasting rooms are just minutes away.
Grand Reserve Inn
Located just 50 miles southeast of Sacramento in Amador Wine Country, the Grand Reserve Inn is the perfect setting to keep any team productive and energized. The inn is a unique, flexible venue with its luxury suites, farm-to-table catering, all-day beverage service, and distraction-free environment. Indoor and outdoor meeting spaces are creative and adaptable, including a spacious Mediterranean living-dining room with a fireplace and chandelier and a lush lawn overlooking the vineyards. After a successful meeting, groups can enjoy VIP wine tasting at the inn's own Wilderotter Vineyards and gourmet dinners prepared by in-house chefs. Nearby, there's golf, shopping, live music, theatre, and dining. Five spacious guest suites feature sweeping vineyard views, private patios (most with sunrise or sunset views), rain showers, soaking tubs, and stone fireplaces. There's also the Wilderotter Vineyard House, a private oasis with two bedrooms and two full bathrooms.
Seaside Escapes
Hofsas House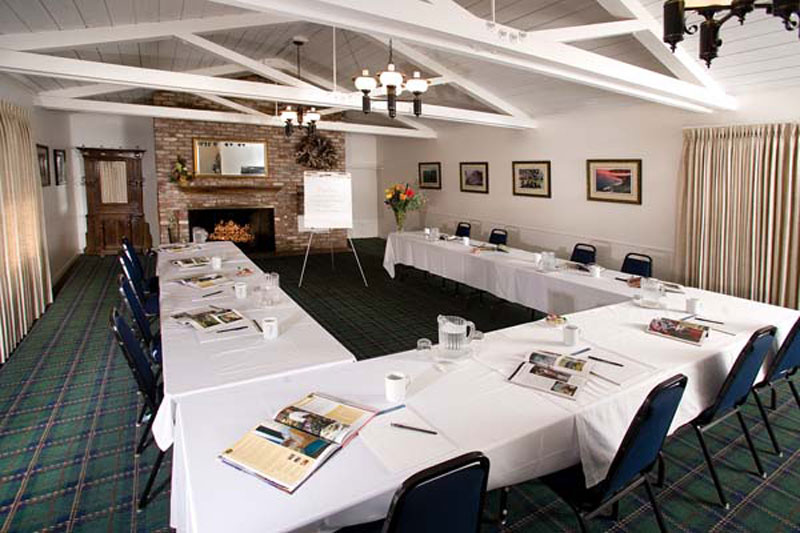 The Bavarian-inspired Hofsas House in Carmel-by-the-Sea caters to small meetings and retreats with its poolside meeting room, which features a fireplace and a full kitchen. The meeting room has natural light from two bay windows and can accommodate classroom seating for up to 24, banquet-style seating for 30, or a stand-up reception for 40. The room is ideal for private personal dining parties, where guests can bring their own chefs or work with local caterers. The hotel can also arrange a complimentary continental breakfast to be delivered to the meeting room for early morning meetings. Hofsas House owner and general manager Carrie Theis personally works with business travelers and event planners to help with their arrangements and provide catering recommendations. The family-owned hotel provides a peaceful respite and European charm within walking distance of Carmel's restaurants and shops, wine-tasting rooms, and the beach.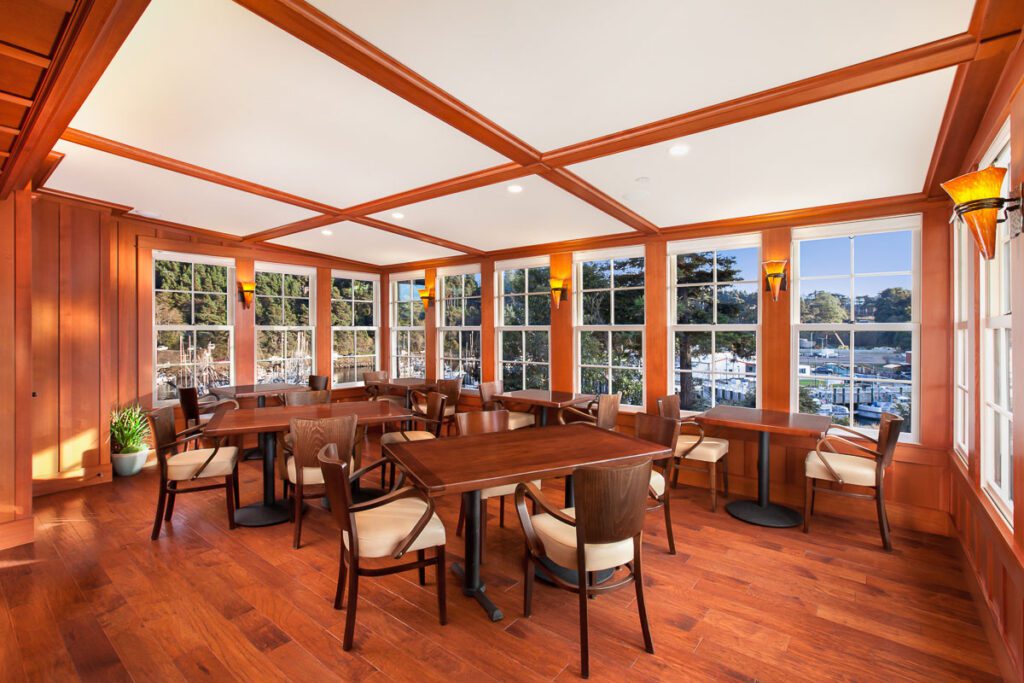 Noyo Harbor Inn
Overlooking a working harbor and the Noyo River, Noyo Harbor Inn offers a memorable setting for small meetings and corporate retreats. A 20- to 30-person conference room boasts a large screen for presentations, along with a gorgeous three-sided view of the river below. The 10 spacious and uniquely appointed guest rooms are spacious, feature Craftsman-style wood paneling, fireplaces, soaking tubs, and harbor views. A full-service restaurant featuring California Coastal Cuisine and a pre-Prohibition era-inspired bar highlight local ingredients and craft cocktails. The restaurant and bar can accommodate an outdoor event with drinks, appetizers, and a full menu or an indoor private dining event for up to 20 guests. Rates are competitive, and the inn is central to everything the North Coast has to offer for before- or after-conference fun: hiking, kayaking, fishing, cycling, and much more.
Inn of the Lost Coast
Inn of the Lost Coast is steps from the ocean in intimate Shelter Cove, the perfect setting for a destination business meeting, conference, retreat, or other corporate events. The 900-square-foot Sinkyone Room (also known as the art gallery) can accommodate 40 people and features panoramic views of Northern California's Pacific coastline. It's a great space for business luncheons, with catering available across the street at the inn's own Mi Mochima restaurant. A newly expanded sunset patio deck offers an outdoor meeting space that features photogenic views from atop the high cliffs of the iconic Lost Coast. The inn provides a free presentation screen, along with tables and chairs arranged in classroom, theater, banquet, or conference style. Each of the inn's 18 waterfront guestrooms and suites has an ocean view and a private balcony or patio. On-site recreation includes deep sea charter fishing and a nine-hole golf course.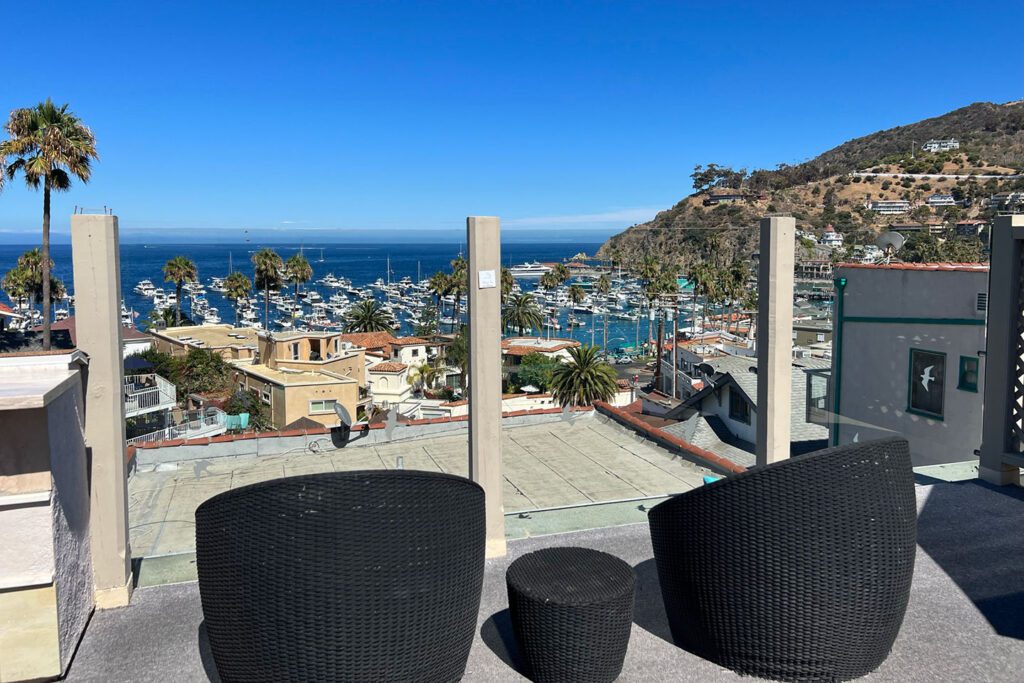 Aurora Hotel
At Aurora Hotel on Catalina Island, crisp, modern design meets unique personal touches, skillfully combining the best of bed and breakfasts and metropolitan boutique hotels. For corporate gatherings, the hotel's chic lobby invites conversation and connection, while its rooftop deck offers a sweeping ocean view. The hotel can accommodate up to 19 attendees and their plus ones, with room amenities like Tempurpedic mattresses, in-room Keurig coffee makers, luxurious robes, unique artwork, and flat-screen televisions. Just offshore from mainland Southern California, Catalina is far enough away to inspire out-of-the-box thinking, but close enough for quick travel times. Team-building activities on the island range from kayak races to an arboreal obstacle course, and group volunteer opportunities include everything from beach clean-ups to volunteering with the Catalina Conservancy.
Seal Cove Inn
Seal Cove Inn is a serene 10-room coastal retreat just 30 minutes from San Francisco. The inn is uniquely situated on a bluff above the Pacific Ocean and sheltered by a towering grove of cypress trees, allowing teams to interact in a private, distraction-free environment. For meetings, a designated conference room can be set up boardroom-style with a large conference table that seats 10 participants comfortably, but additional chairs may be added for larger presentations. A full catering menu is available, and Half Moon Bay boasts a variety of dining options that include fresh-off-the-boat seafood. All guest rooms feature a California king bed, a gas fireplace, and a balcony or terrace opening to the garden and ocean beyond. For team building and recreation, there are more than a half dozen beaches and marine wildlife refuges nearby, along with hiking, bicycling, horseback riding, whale watching, and golf.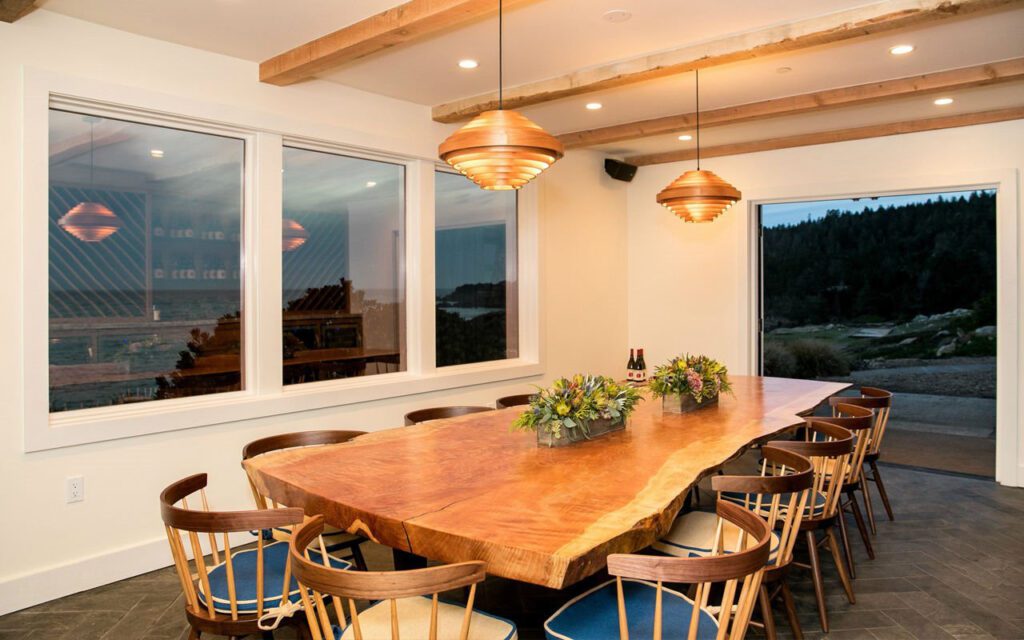 Timber Cove Resort
Perched on a bluff high above the Pacific Ocean, Timber Cove Resort serves as a spectacular backdrop for corporate gatherings, meetings, and retreats. Only two and a half hours from the Bay Area on the ruggedly breathtaking Sonoma coastline, the resort offers 46 guestrooms and suites. For meetings, the Ansel Adams Room is a private event space that accommodates up to 60 and boasts a private deck overlooking the property's namesake cove. The hotel's Great Room has a massive stone fireplace, and an adjacent lobby bar features wines from over 15 local wineries. An outdoor living room with a fire pit, ping-pong, and billiards invites playtime and camaraderie. Coast Kitchen, the resort's restaurant, highlights locally sourced ingredients and is flanked by a private dining room with a 12-foot redwood table and endless ocean views. Team building options on the Sonoma Coast include wine tasting, yoga, and guided hikes.
Stanford Inn by the Sea
The Stanford Inn by the Sea's relaxed, intimate setting encourages clear minds, positive personal interactions, and enhanced creativity. Overlooking the Pacific Ocean on the Mendocino Coast, the eco-resort and retreat center can accommodate groups of up to 50 people. There are two dedicated meeting rooms equipped with audiovisual technology, high-speed Wi-Fi, and Mendocino Bay views, along with non-traditional gathering spaces like the bio-intensive organic garden that supplies the inn's Ravens Restaurant. But it's the inn's ability to offer healing and stimulating group activities that really makes it stand out as a retreat venue. With on-staff nutritionists, massage and bodywork therapists, plant-based culinary instructors, artists, meditation counselors, and farming instructors, there's an almost endless array of workshops and sessions to help attendees heal, learn, and grow. The resort features 41 AAA Four Diamond eco-luxury guestrooms with private decks, wood-burning fireplaces, and views of the ocean, river, gardens, or pasture.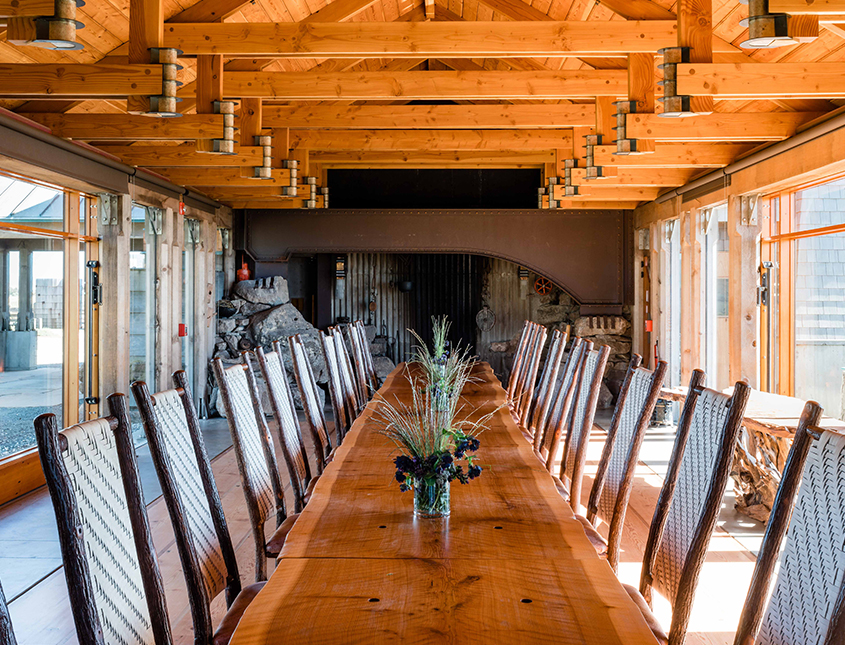 Inn at Newport Ranch
With 2,000 acres of land and 1.5 miles of rugged coastline, the Inn at Newport Ranch encompasses seven microclimates. That means retreat attendees can explore the redwood forest, hike along a rocky ridgeline, and stroll through a coastal meadow without ever leaving the inn. The Newport Room holds up to 49, with a live edge wood table and 360-degree windows that bring in ample natural light and an ocean view. The more intimate Redwood Room features bark paneling, dark wood accents, and leather seating. For a scenic breakout session, Council Bluff is perched atop a craggy ridge overlooking the ocean, with a rock circle and fire pit. The catering team is happy to co-create personalized menus. There are nine guestrooms spread across four buildings, most of which have stunning views and oceanfront decks.