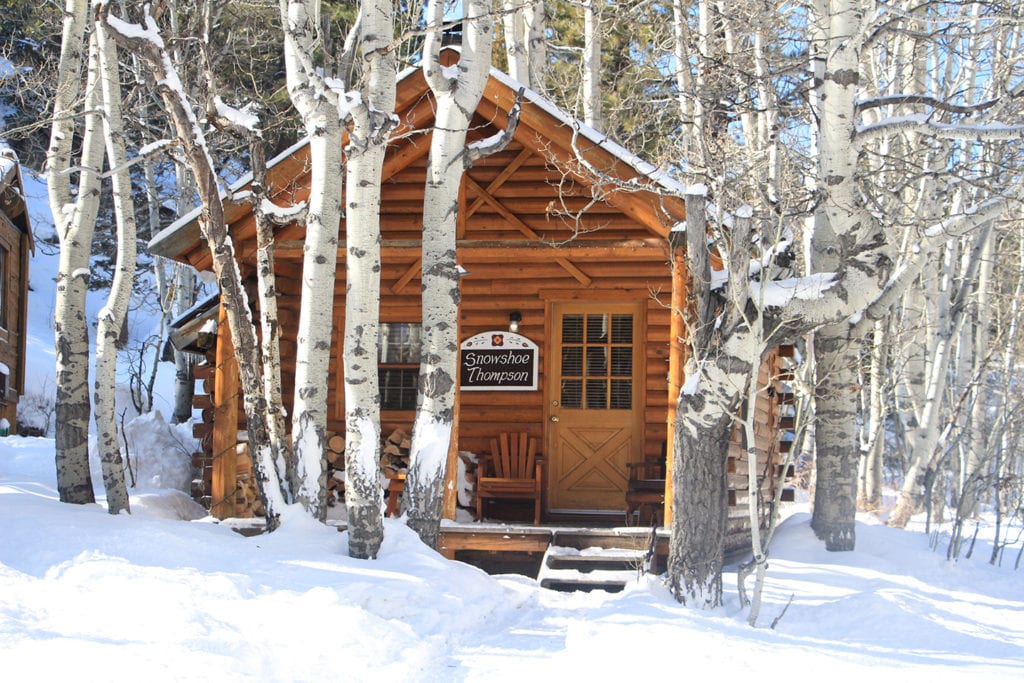 14 Cozy Winter Cabins in California
Like no other season, winter evokes that ancient urge to hunker down and snuggle up in a cozy, secluded cabin. From foggy shores to pine-scented forests to snow-capped mountains, we've compiled a list of our favorite California cabins to settle into for a long winter's night.
Sorensen's Resort - This historic 165-acre Hope Valley resort is blanketed in snow during winter. Cozy, rustic cabins, a wood-fired sauna, and a full-service restaurant provide a welcome respite from the elements. A snowshoe trail runs through the property, climbing through a mix of pines and aspen to a viewpoint overlooking Hope Valley.
Nick's Cove and Cottages - Imbued with a nostalgic charm, this collection of meticulously restored bungalows are a lure in winter amid the placid waters and moody skies of Tomales Bay. Handsome antiques, lofty beds, wood-burning fire stoves, and soft strains of jazz music comfort the soul. Photo by Jackie Greaney.
Albion River Inn - 22 spacious cottages line a coastal bluff in the Mendocino, all with the same mesmerizing views: grassy headlands, rocky islets, a wooden trestle bridge spanning the Albion River, and a protected cove where the river flows languidly into the sea. In the winter, it's an incredible perch for storm watching.
Black Bear Lodge - In South Lake Tahoe, four spacious cabins are nestled in the pines behind the main lodge. The Hideout Cabin's buttery smooth linens, three-sided river rock fireplace, and well-curated mix of modern and rustic chic furnishings create a sublime environment from which to watch the snow fall through large, icicle-framed windows.
Cottage Inn at Lake Tahoe - Beneath towering pines, enchanting 1938 cabins line Lake Tahoe's quiet western shore, with access to a private beach across the street. Warm interiors feature gas fireplaces, luxurious bedding, exposed wood beams, honey-hued pine walls, and whimsical décor. Enjoy mulled wine and hors d'oeuvres by the fire.
Carmel Cottage Inn - Five historic cottages are nestled just a block from Carmel Beach. One of the two-story cottages, Tradewinds, features an inviting living room warmed by a large brick fireplace and overstuffed couches, beds draped with beautiful quilts, a modern/retro kitchen, an outdoor patio, and balcony.
Tahoma Meadows Cottages - On the quiet western shore of Lake Tahoe—less than five minutes from Homewood Mountain Resort—you'll find a collection of vintage red cottages nestled under the pines. Built in the 1940s "Old Tahoe" style, the cottages feature homey décor and gas fireplaces. Some also have claw foot tubs and kitchens.
Highlands Ranch Resort - Along the edge of a bucolic meadow, seven cottages stand against a backdrop of snowcapped peaks. Each is outfitted with upscale, modern touches like oil-rubbed bronze fixtures, heated floors, and private outdoor Jacuzzi tubs. Ten minutes away, Lassen Volcanic National Park offers miles of cross country trails.
Bear Valley Cottage - A secluded country cottage with a breakfast-stocked kitchenette is the perfect launching point for exploring Point Reyes. The cottage sits on an acre shared by laying hens, honeybee hives, and an edible garden. Nearby winter wildlife viewing opportunities include gray whales, elephant seals, and elk.
Moonstone Cottages by the Sea - An enclave of three cottages tucked among cypress trees offers stunning ocean views and the soothing sounds of the waves. Each cottage features gas fireplaces, deep jetted spa tubs, and cozy bedding. Watch the sunset from the deck or take the binoculars out to catch sight of migrating gray whales.
Cottages at Napa Valley - Nestled along cobbled pathways under mature trees, these eight free-standing cottages leave no doubt why Gable and Lombard favored them for romantic getaways in the 1940s. Each has its own fully stocked wood-burning chiminea. Order a s'mores basket to roast over the fire on a cool winter evening.
Quiet Creek Inn - Ten woodsy cottages sit just a mile and a half from the Idyllwild village center, yet their secluded spot on seven acres makes them feel like they're a world away. Each has vaulted ceilings, wood-burning river rock fireplaces, and sliding doors that open to private decks overlooking Strawberry Creek.
Orchard Hill Country Inn - In the mountains above San Diego, 12 well-appointed cottages feature private porches, lofty beds draped with quilts, and gas fireplaces. Some also have whirlpool tubs. The ultimate in seclusion and serenity, there's also an idyllic pond ringed by hammocks and Adirondack chairs.
Howard Creek Ranch - A relaxing bohemian vibe permeates all the rustic cabins scattered across this 60-acre oceanfront farm, but the Sea View is unparalleled for its seclusion. Nestled in the forest high above the ranch, it features sweeping ocean views from its outdoor kitchen, private hot tub, and hammock strung among the trees.