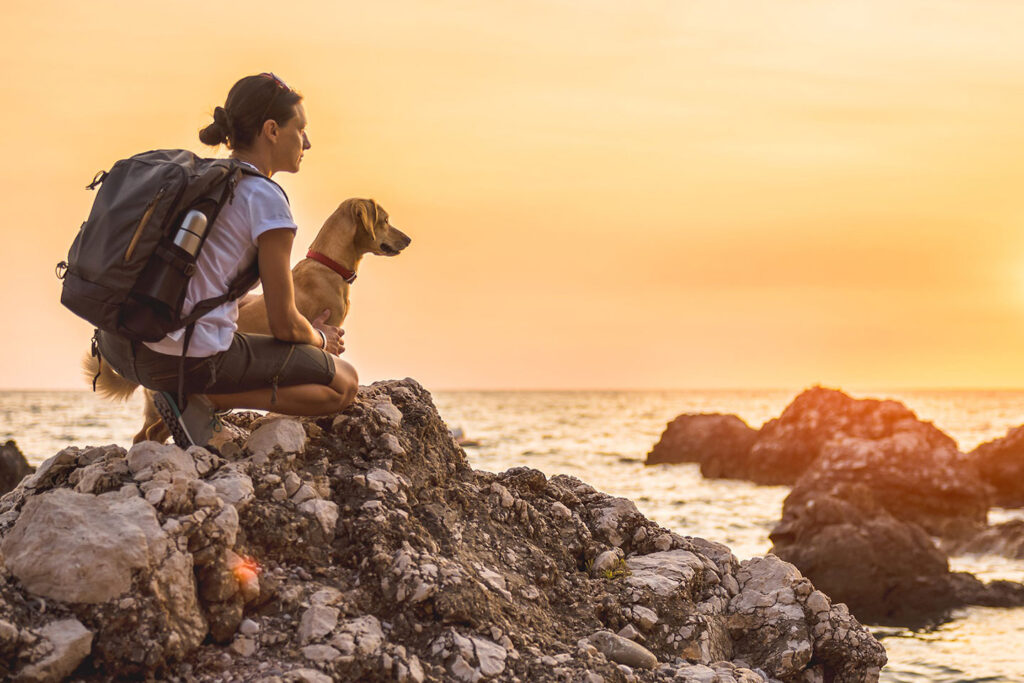 12 Most Pet-Friendly Boutique Hotels and B&Bs in California
California boutique hotels and B&Bs make it easy to travel on vacation with our furry, four-legged friends. There are more than 80 pet-friendly CABBI-member inns, many of which go out of their way to pamper pooches with special treats, blankets, and more. Below are just some of the most pet-friendly inns in the state; many more can be found on CABBI's website. Before traveling, please check each inn's website for pet fees, restrictions, and notification requirements.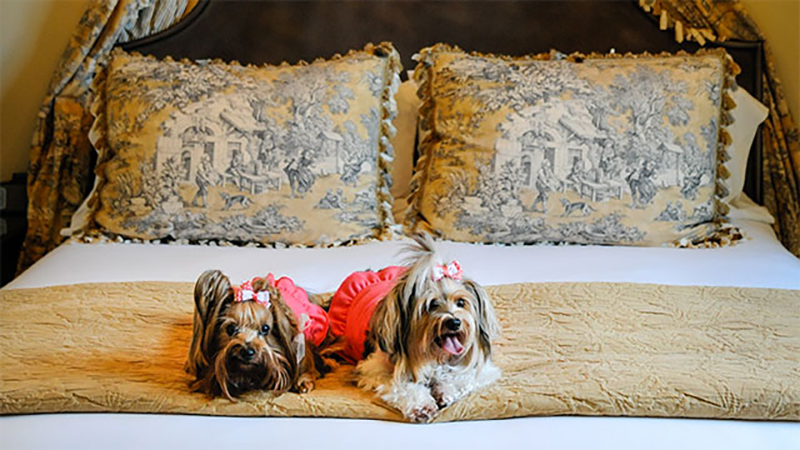 Enchante Boutique Hotel
With unique amenities for four-legged friends of all sizes, Enchante Boutique Hotel considers itself not just pet-friendly, but pet-forward. Their "Pampered Pooch" package includes a water bowl and filtered water upon arrival, a custom-designed luxury dog bed for use during the pet's stay, and a chef-prepared dog treat. The package also includes a one-hour session with an expert dog behaviorist, during which each furry traveler might learn fun new tricks, enjoy a walking tour of the village, or benefit from a behavior training lesson. The hotel employs a "Canine Concierge" eager to share information about the abundance of pet-friendly stores within walking distance and a list of nearby dog-friendly hiking trails and parks. Recently, the hotel's on-site bistro launched a "Ne-paw-leon" dog-specific menu, with offerings that include a Harris Ranch beef burger patty or grilled chicken breast with a side of sauteed fresh vegetables and an organic, gourmet dog bone for dessert. The hotel's outdoor patio provides ample room for human guests to dine with their pups. The hotel charges a one-time $30 per-pet fee.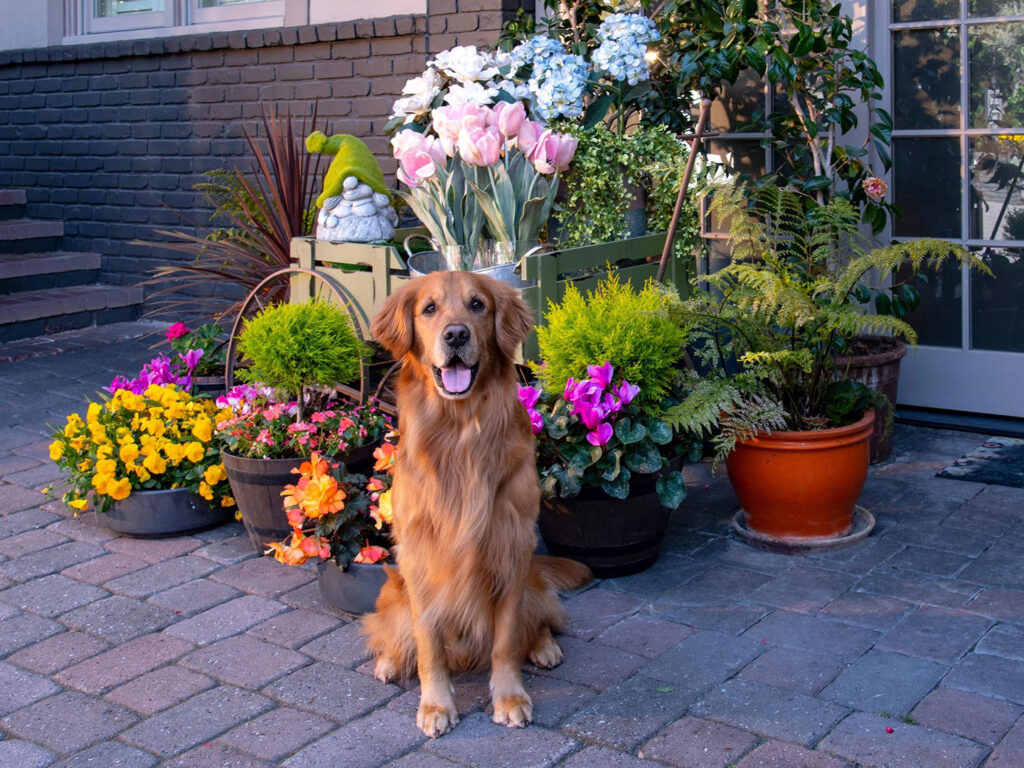 Carmel Country Inn
On the California Central Coast, Carmel-by-the-Sea has long been known as a welcoming destination for dogs, and the delightful Carmel Country Inn is among the most pet-friendly. Each of the inn's 12 romantic suites and studios is pet friendly, with no breed, size, or quantity restrictions. The inn's genuine commitment to pet-friendly travel is clear, with a dedicated web page for pets, an annual yearbook of pets currently in its 22nd printing, and frequent social media posts honoring recent pet guests. Pets are warmly welcomed with unlimited dog biscuits during their stay, along with pet placemats and sheets for covering the bed linens. A 100% leash-free Carmel Beach is just a short walk away from the inn. The inn's bathing station with a hose and towels is available for cleaning up after a romp on the sand. The inn also provides a list of pet-friendly restaurants, pet sitters, and other pet services in Carmel. Carmel Country Inn charges a pet fee of just $20 per pet, per day.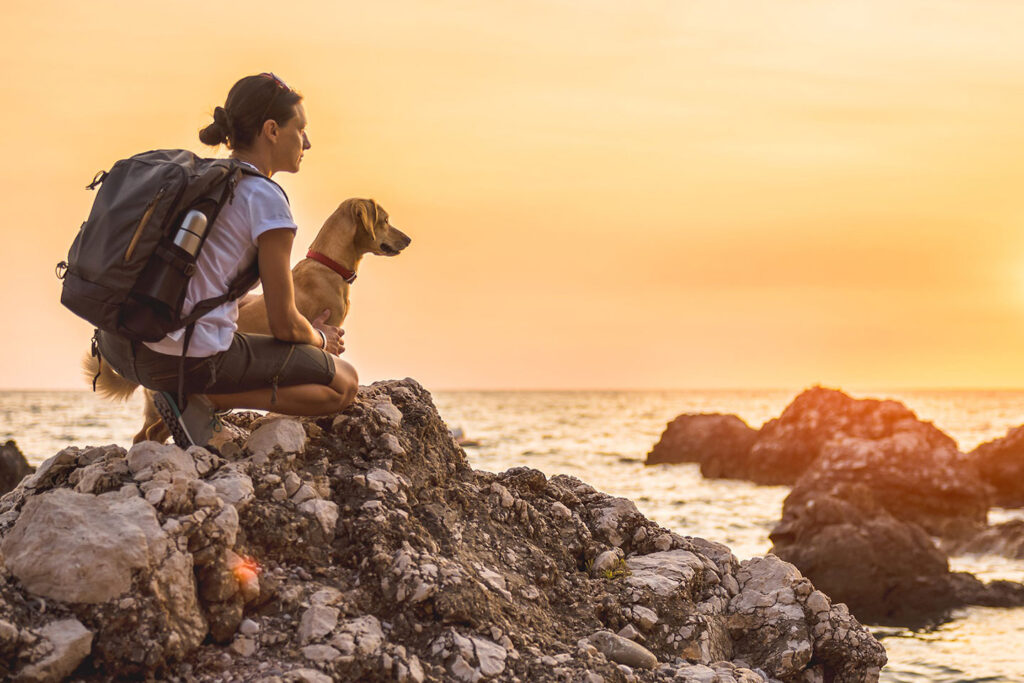 Inn of the Lost Coast
Located along the Pacific coastline in the small fishing community of Shelter Cove, the Inn of the Lost Coast is committed to helping guests "pamper their pooches on the Lost Coast." Upon arrival in one of the inn's spacious and comfortable pet-friendly rooms, guests will find a few treats just for their four-legged companions. There's even a spa suite designed to pamper both human and pet. A large grassy field next to the inn is perfect for morning walks or a mid-afternoon Frisbee toss, and a newly expanded deck is a great place to watch the sunset over coastal waters. At nearby Black Sands beach, there are miles of flat terrain to explore at low tide, perfect for a game of fetch. The surrounding community is incredibly pet friendly, with many establishments inviting furry friends to tag along for live music, tasty food, and great beer. The inn welcomes all breeds regardless of weight, with a $15.00 fee per night.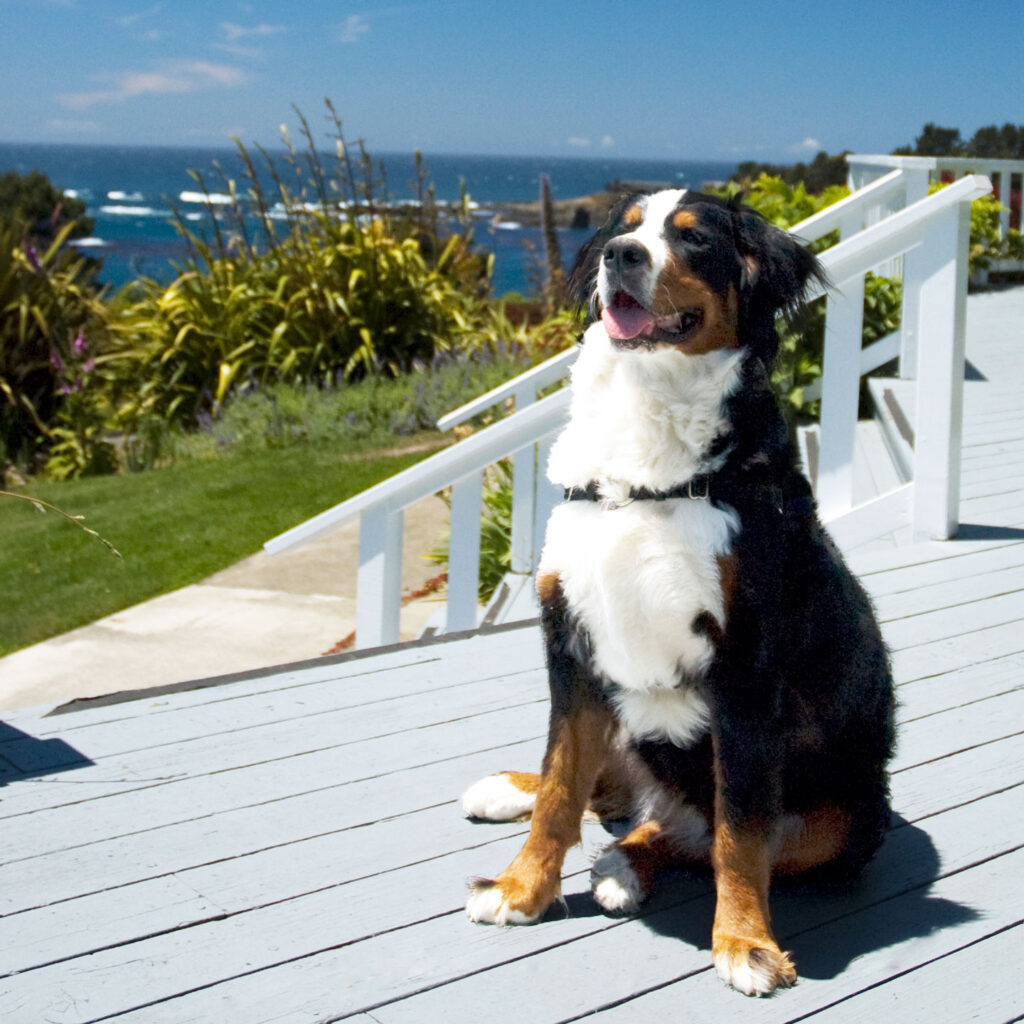 Little River Inn
What every dog wants most is an awesome new adventure, so Little River Inn has put together two fun-filled packages for guests and their furry family members. There's the River Dog Package, which features a day of kayaking on a redwood outrigger up the Big River Estuary, plus dinner on the inn's climate-controlled garden patio. The Water Dog Sea Cave Package also includes dinner and starts with a kayaking excursion (this time from Van Damme Beach), followed by a guided tour of nearby sea caves. Guests may also purchase tickets through the inn for local pet-friendly attractions like Mendocino Coast Botanical Gardens, the Skunk Train, and Gowan's Cider Tasting. Back at the inn, human companions will appreciate the helpful pet-related local resources the innkeepers have compiled. They'll also find the basics, like furniture coverings, pet towels, a pet bowl, and treats. There's no breed or weight restriction, and up to two pets per room are allowed. The pet fee is $30 per pet, per night.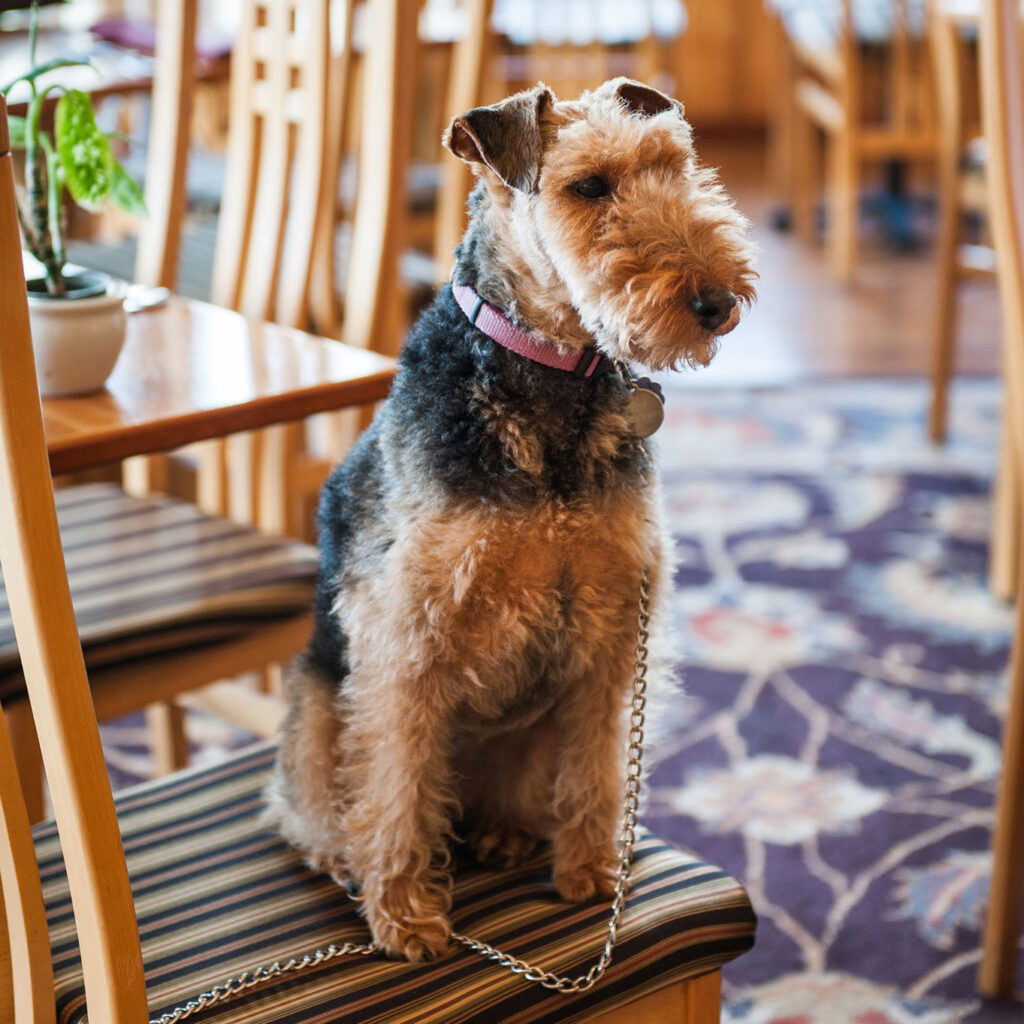 Stanford Inn by the Sea
Perched on a hillside overlooking the Pacific Ocean, The Stanford Inn by the Sea is a luxurious eco-friendly haven for pets and humans alike. According to Sunset Magazine, the inn "tops the list of best dog-friendly vacations." Stanford Inn was one of the first B&Bs in California to welcome pets nearly 40 years ago. In that time, it has hosted a variety of non-human visitors: dogs and cats as well as iguanas, parrots, pot belly pigs, and even a tortoise. There are no weight or breed restrictions. Pets are welcome in nearly all of the inn's facilities with the exception of the pool and the dining room, but guests can choose to dine with their dogs in the lobby. The innkeepers will happily accommodate special food requests and provide information on local veterinary services and pet sitters. Upon check-in, pets are greeted with a handmade, digestion-friendly treat, stainless steel food and water dishes, waste bags, and dog sheets to protect furniture and bedding. There is a $45.00 charge per stay for the first pet; additional pets are $22.50.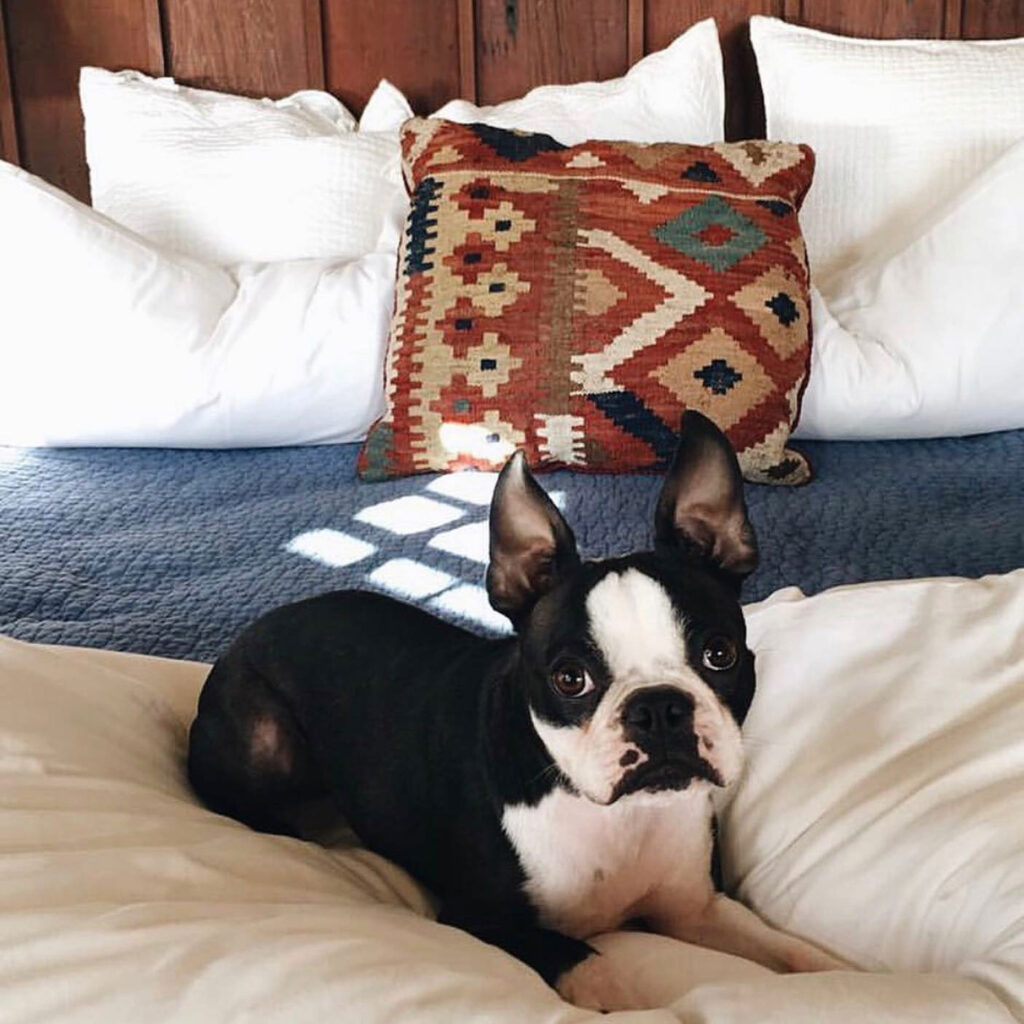 Nick's Cove & Cottages
Located about an hour north of San Francisco in a serene, sheltered cove on Tomales Bay, Nick's Cove & Cottages is not just pet-friendly, but pet-passionate. In fact, the inn was recently named one of the 30 best pet-friendly hotels in America by Reader's Digest. Upon arrival, the inn welcomes pups with homemade treats freshly baked by the pastry chef (along with BBQ oysters for the dog's human counterparts). The inn also supplies dog beds, a map of local dog-friendly beaches and trails, muddy paw towels, and water bowls. Guests can even schedule a canine massage with a local pet masseuse. Pets are welcome in most of the inn's 12 luxurious waterfront and water view cottages. The pet fee is $50 per pet, per stay. Every April, the inn offers a Pampered Pooch Package which includes all of the standard pet amenities plus a canine massage, stuffed toy, ball launcher, and a bottle of Nick's Cove Merlot for the humans.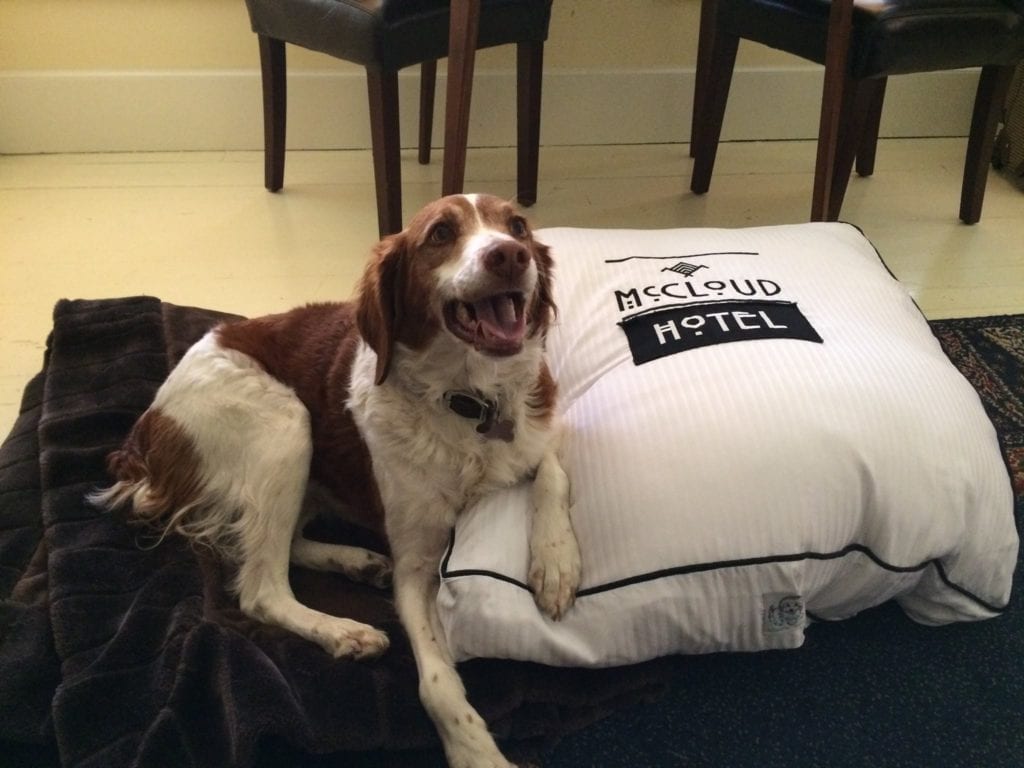 McCloud Hotel Bed & Breakfast
At Mount Shasta's McCloud Hotel Bed & Breakfast, dogs are welcome to stay in any of the historic hotel's 16 rooms and suites. The hotel's Wagging Tails Welcome package includes a custom-made pet bed, dog bowl, and pet treat upon arrival. The picturesque park across the street makes for an easy excursion with pets, and the inn provides courtesy pet waste bags to make cleaning up easy. Guests might also spend quality time with their pets while making s'mores around the gas fire pit, wandering through hidden nooks in the garden, or enjoying a lazy day on the McCloud River. The hotel's on-site restaurant even offers a gourmet "paw" menu for the pampered pet, featuring organic chicken and rice or prime wild-foraged beef from Mount Shasta Wild. Guests can dine with their pooch in the lobby or on the inn's outdoor terrace. The inn has a one-time pet fee of $30.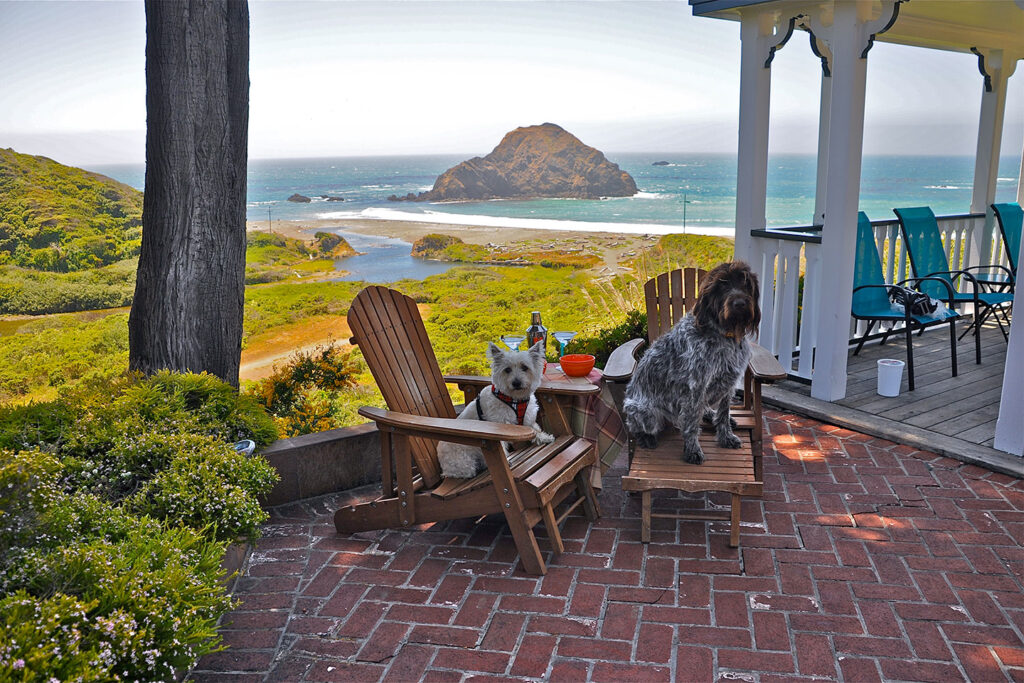 Elk Cove Inn & Spa
Elk Cove Inn & Spa warmly welcomes dogs and their humans to this breathtaking stretch of Mendocino County. Nestled in seclusion atop a bluff, the inn overlooks a mile of dramatic coastline and is surrounded by native trees. It has direct access via private stairs to the driftwood-strewn beach below and all the sticks a dog could want. The inn offers a variety of pet-friendly rooms, including garden view rooms, ocean-view cottages, and ocean-view suites. The innkeepers provide doggy treats at check-in along with a welcome basket that includes beach towels, sheets to cover the bed, a placemat, food, and water bowls, and pet waste bags. A pet relief area is located at the north end of the property's parking lot. Humans can dine with their furry friends on the outdoor terrace with sweeping ocean views. The inn charges $30 per night for each well-behaved pet (up to two).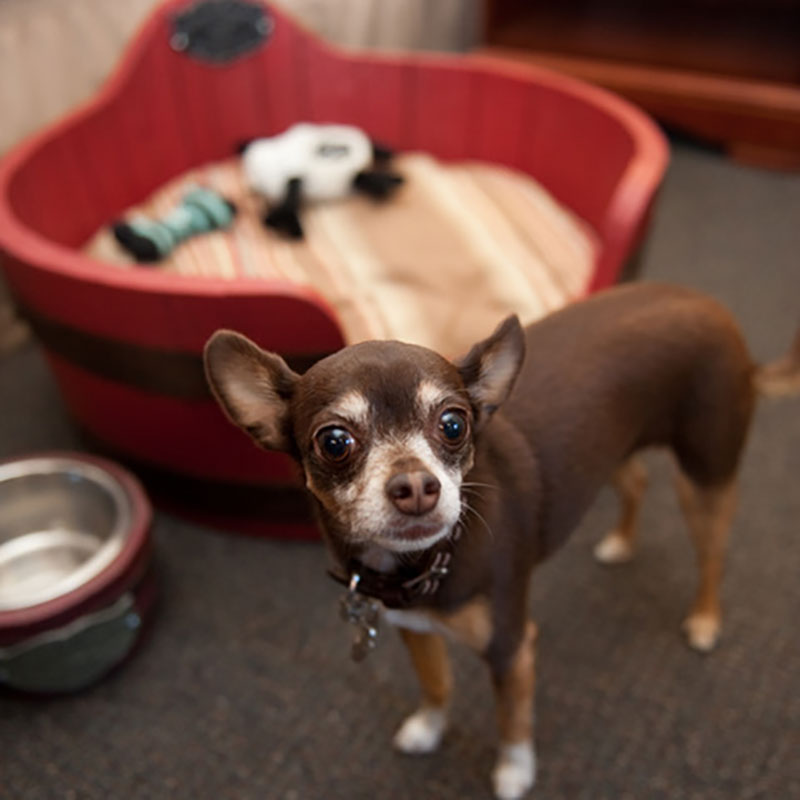 The Redwood Riverwalk Hotel
Humboldt County's 100-mile-long Redwood Coast is a misty and majestic slice of California that should be on every dog traveler's list. Pets are part of the family at The Redwood Riverwalk Hotel and guests traveling with their four-legged companions will find a welcoming blend of convenience, service, and comfort. Located right off Highway 101 in Fortuna, the hotel is the perfect base camp for exploring the Redwood Coast, home to the world's oldest and tallest redwood trees. The hotel even has a dedicated on-site, off-leash dog park, and each accompanying pet receives a welcome gift upon arrival. Just 200 feet behind the hotel, the scenic Eel River levee trail provides a great walk for guests and their pets with views of the Eel River Valley. The inn also offers a list of pet-friendly trails and beaches along the North Coast. The hotel has a one-time pet cleaning fee of $25.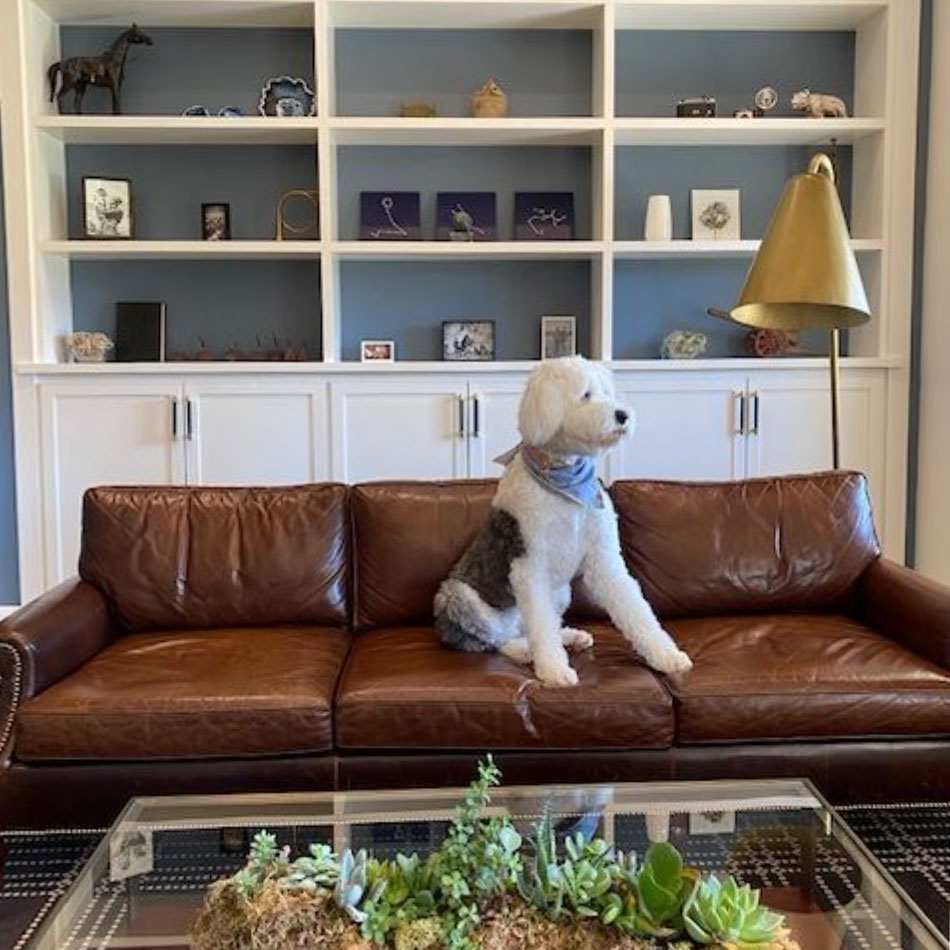 Inn at the Presidio and Lodge at the Presidio
Located in the heart of San Francisco's Presidio, the Inn at the Presidio and Lodge at the Presidio are ideal getaways for dog lovers, as both hotels are nestled on over 1,500 acres of parklands. While some National Parks don't allow dogs on hiking trails, furry friends are always welcome in the Presidio. There they'll enjoy dog-friendly beaches plus 24 miles of walking trails set against the stunning backdrop of the Golden Gate Bridge. Both hotels offer outdoor patios with fire pits, the ideal setting for complimentary evening wine and cheese with furry companions (the firepit at the Lodge also boasts a Golden Gate view!) Many of the guest rooms have access to broad, pet-friendly verandas with idyllic views of the Presidio's historic Main Post. There are plenty of restaurants with dog-friendly patios within walking distance. Both hotels offer the use of bowls, dog beds, and leashes. Up to two pets of any size are welcomed, with a one-time $40 pet fee per stay.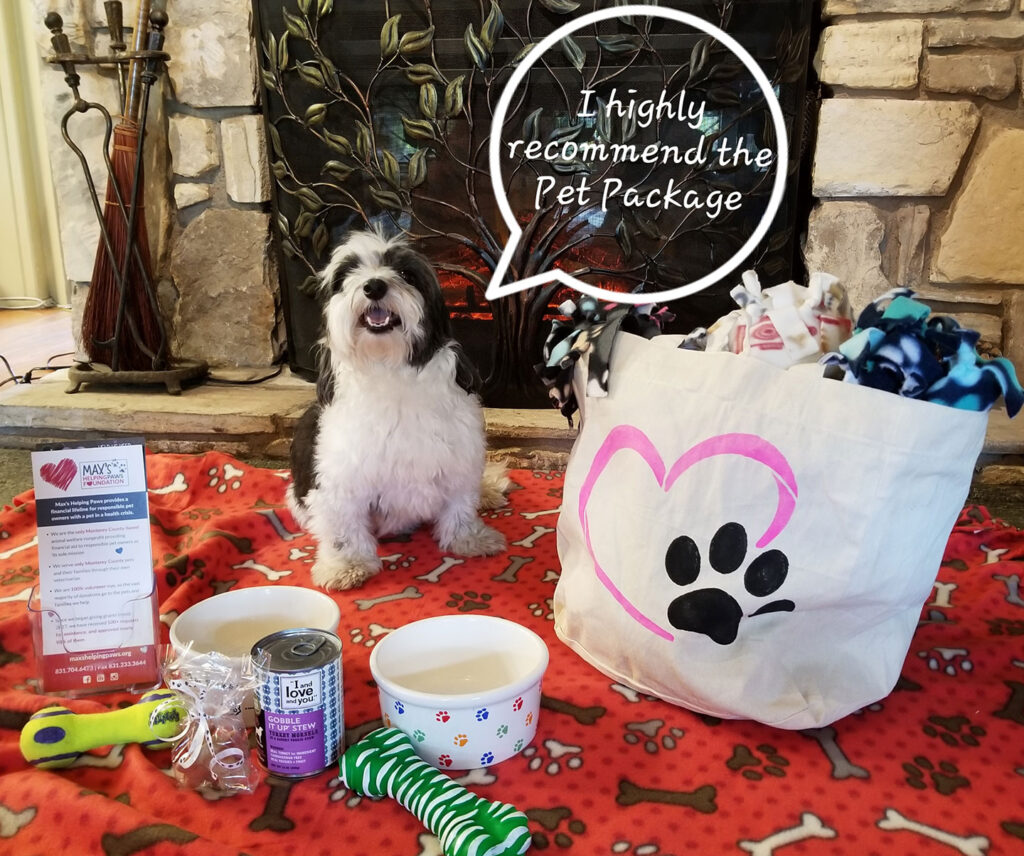 Carmel Valley Lodge
Carmel Valley Lodge is located near some of the very best playgrounds for four-legged companions. There's a park across the street from the lodge with bright green grass perfect for rolling, running, and playing fetch. There are also plenty of benches in the shade where humans can relax with their furry friends. Off-leash hiking trails are abundant and nearby, while Carmel Beach (only 20 minutes away and also off-leash friendly) stretches a mile in each direction. All pets receive a treat upon arrival, but the lodge also offers a Pamper Your Poop Package ($72) complete with a blanket, toy, organic food, and dish in a signature tote bag. There's a $25 per-dog fee per night, with no more than two dogs per room allowed.
The Landsby
The Landsby in Solvang believes vacations are meant for everyone, including furry friends. Guests and their four-legged companions are welcomed with pet waste bags and edible treats. The property's outdoor garden lounge space provides an oasis for human and non-human guests to relax. Nearby Grass Mountain is a great choice for those looking for a challenging hike to release some of that doggy energy, and a short walk along the Nojoqui Falls trail will reward both humans and dogs alike with up-close views of water cascading down an 80-foot wall of fern-lined sandstone. A maximum of two dogs are permitted per pet-friendly room. The weight of a single dog may not exceed 50 pounds and the combined weight of two dogs may not exceed 80 pounds. There is a non-refundable pet cleaning fee of $75 per stay, due upon check-in.