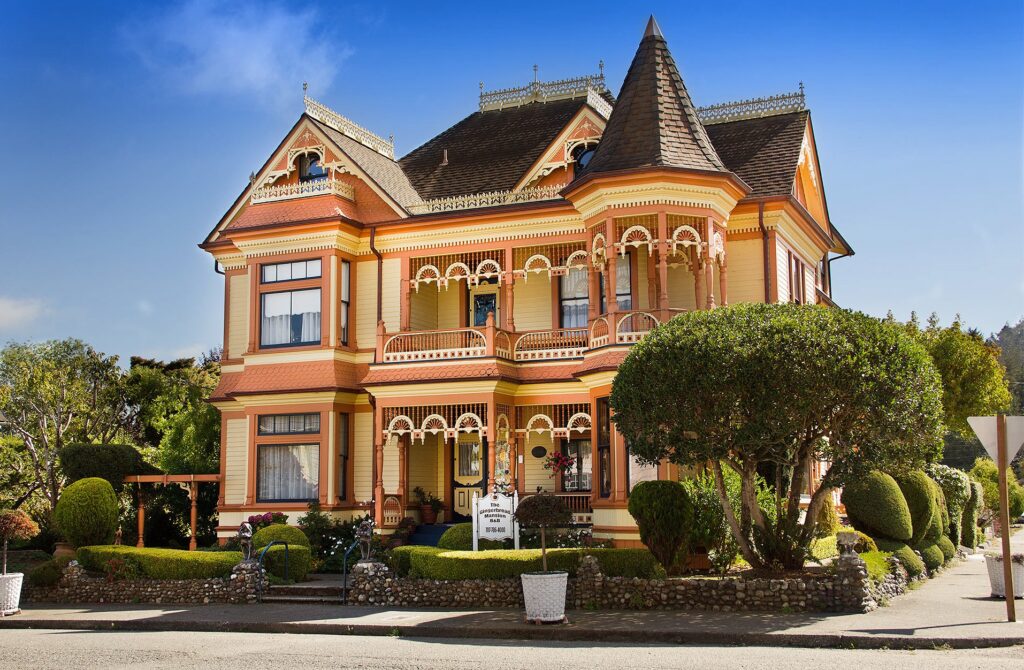 10 Victorian Hotels that Transport Guests to California's Gilded Age
California's best-preserved Victorian hotels and bed and breakfast inns are portals to a bygone era. Spurred by the Gold Rush, these extravagant buildings were constructed during the state's building boom and reflect the fine craftsmanship and opulence of the time. Below are some of our favorite Victorian hotels and B&Bs to experience California's Gilded Age with period-perfect architectural details and furnishings.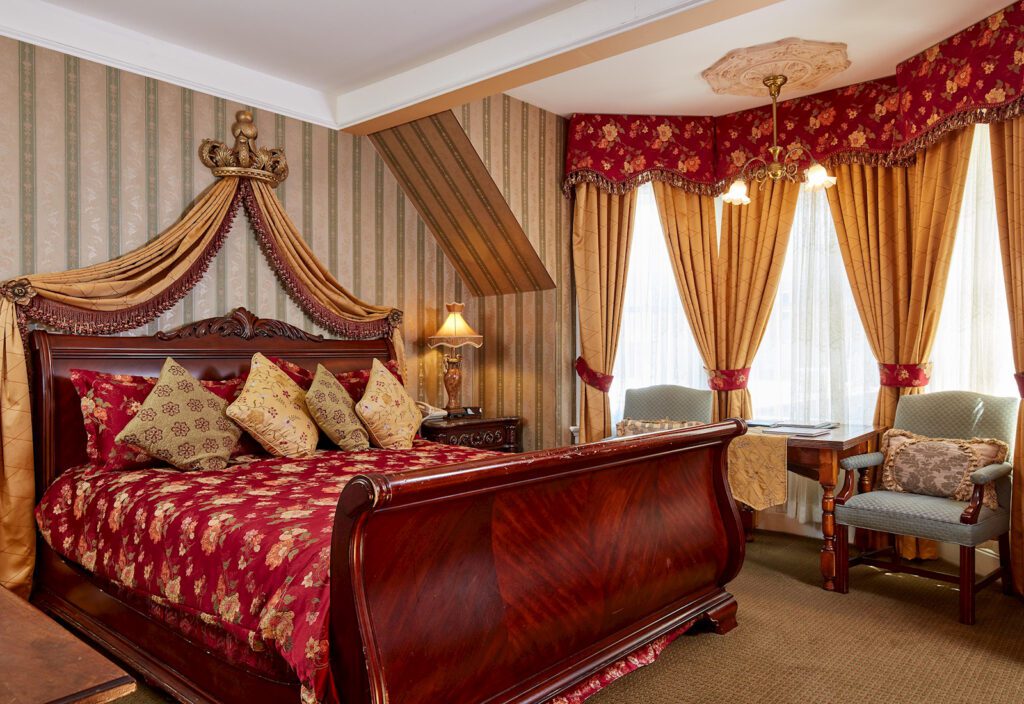 The Queen Anne Hotel
Enter through the etched glass doors of The Queen Anne Hotel in San Francisco and be transported to an opulent, bygone era. Rising from the wealth of the Gold Rush, the grand Victorian mansion was originally built in 1890 as a finishing school for girls. 90 years later, new owners restored the stunning turn-of-the-century architecture and reopened it as a hotel. Today, the hotel's lavish parlor welcomes guests with roaring fireplaces, crystal chandeliers, and exquisite antiques. A grand staircase leads to 48 elegant guest rooms and suites, all with luxurious amenities and lavish Victorian charm. Many of the rooms feature wood-burning fireplaces and floor-to-ceiling bay windows with dazzling views of Pacific Heights. In keeping with the period charm, the hotel serves afternoon tea and sherry in the parlor each day.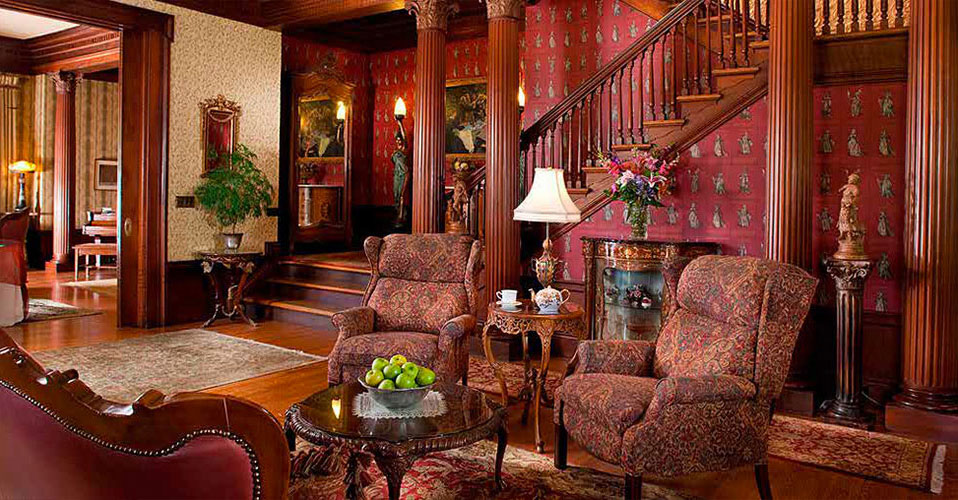 Churchill Manor
Steps from downtown Napa, Churchill Manor is an architectural treasure listed on the National Register of Historic Places. The 10,000-square-foot Second Empire mansion was built in 1889 for a prominent Napa banker. The mansion's old-world craftsmanship remains beautifully preserved. Original beveled glass doors open to four elegant parlors featuring fireplaces framed with redwood mantels and paneling. The parlors are separated by large doorways with massive redwood pocket doors. Six solid redwood-fluted Corinthian columns grace the grand staircase and the music room. Upstairs, 10 elegant guest rooms are each named for Napa Valley wine-growing regions and feature hand-painted doors and European antiques. The mansion's wide, wraparound porch overlooks an acre of beautiful gardens. Long-time owners Brian and Joanna serve evening wine and cheese and multi-course breakfasts with convivial hospitality.
Chateau Tivoli Bed & Breakfast Inn
Just three blocks from San Francisco's Painted Ladies at Alamo Square, the Chateau Tivoli Bed & Breakfast is a meticulously restored Victorian built in 1892. The mansion's 22 exterior paint colors and gold-leaf trim are just a prelude to the grandeur of the interiors. Step inside and guests will find a world of Victorian splendor with a grand oak staircase, hand-carved woodwork, Bradbury & Bradbury wallpapers, crystal chandeliers, Persian rugs, and antique furnishings from the estates of the Vanderbilts, Charles DeGaulle, and J. Paul Getty. The inn offers nine rooms ranging from budget hideaways to luxurious suites. The jewel-toned Luisa Tetrazzini Suite is particularly impressive with its carved oak canopy bed, marble double shower, and private parlor with a curved bay window and the original fireplace. Guests are treated to a full breakfast each morning in the dining room.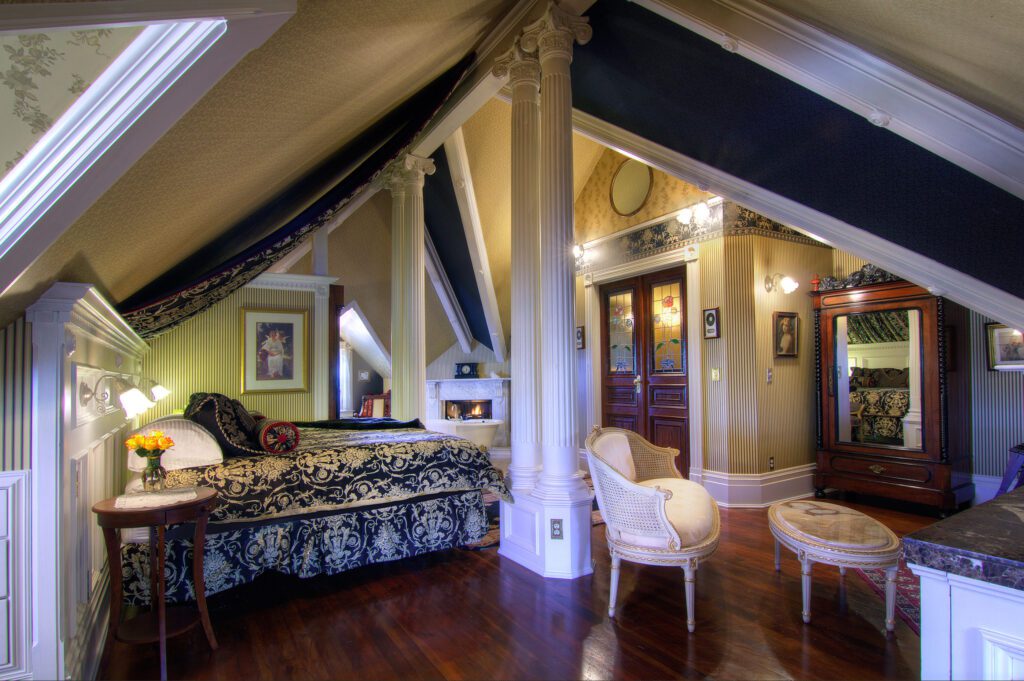 Gingerbread Mansion
In the Victorian village of Ferndale, staying at the Gingerbread Mansion Inn is like stepping into a Victorian fairytale. Originally constructed in 1895, the meticulously restored mansion incorporates Second Empire with Queen Anne and Eastlake styles. The mansion's 11 lavish guest rooms are ornately decorated with rich jewel tones, gilded antiques, and period wallpapers. The glamorous Fountain Suite features twin claw foot tubs placed side-by-side overlooking next to a fireplace with hand-painted tiles and a Victorian fainting couch. Enter through the double doors of the Empire Suite and you'll find an opulent California King bed flanked on either side by towering Corinthian columns. The suite features two fireplaces, including one set beside a claw foot tub. Each afternoon, the inn serves a complimentary high tea with hors d'oeuvres and sweets to enjoy in the mansion's parlors or the English garden.
Inn San Francisco
Capturing the romantic spirit of the Victorian era, Inn San Francisco is an 1872 Italianate Victorian mansion with 21 guest rooms in the heart of the city's vibrant Mission District. Classical music, candlelight, and high-ceilinged rooms furnished with elegant antiques invite guests to step back in time. The grand, deep green-hued double parlors welcome guests with marble fireplaces, large bay windows, gilded accents, and inviting nooks for reading or playing a game of chess. The guest rooms range from charming and cozy to stately and spacious, but all are furnished with beautiful antiques, lace curtains, and luxurious featherbeds. The mansion also features a rooftop deck with 360° views of the city and a private backyard garden with an inviting redwood hot tub. Stays include a generous, leisurely breakfast buffet served in the double parlors.
Simpson House Inn
Secluded behind tall hedges and surrounded by English gardens in a quiet historic neighborhood near State Street, the Simpson House Inn is the grand dame of Santa Barbara's bed and breakfast inns. The Victorian Estate was built in 1874 when the only method of travel to Santa Barbara was by stagecoach or ship. It was slated for demolition when Glyn and Linda Davies purchased the home in 1976 and embarked on a meticulous restoration. The overriding décor has a timeless, elegant quality that exudes sophistication and comfort. The six guest rooms in the main house feature antique wood beds, Persian rugs, claw foot tubs, and intricate Victorian wallpaper treatments. English-style cottages are tucked along the back of the garden. Stays include afternoon refreshments, evening wine and heavy hors d'oeuvres, dessert bites, and a gourmet breakfast served in the dining room or delivered to the guest room.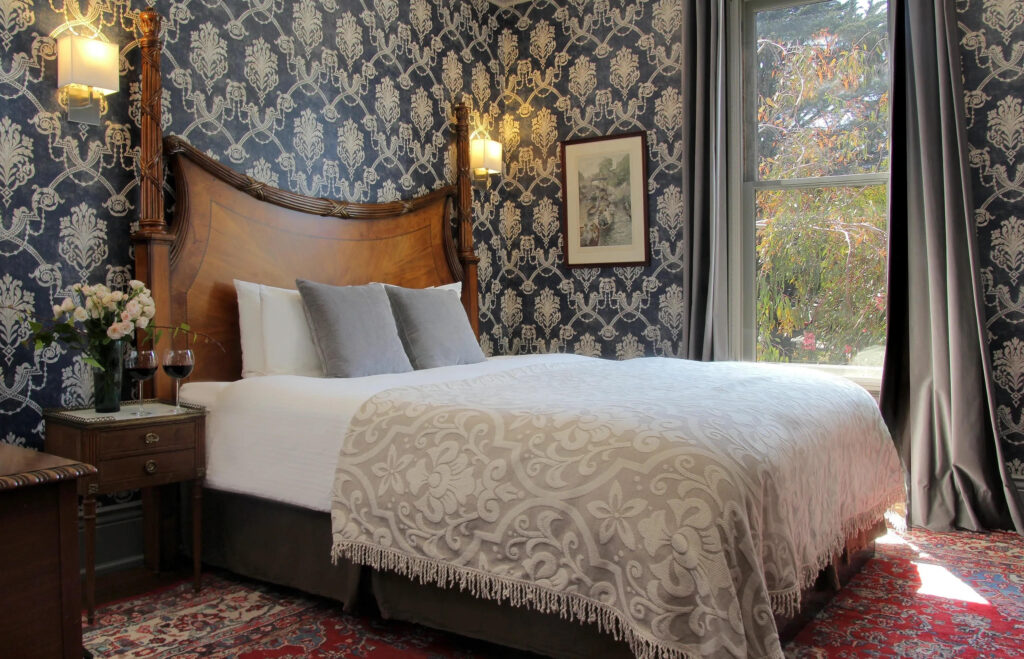 Monte Cristo Bed & Breakfast Inn
Originally built in 1875 as a bordello and saloon, the Monte Cristo Bed & Breakfast Inn is possibly the oldest surviving hospitality building in San Francisco. It remained standing through the devastating 1906 earthquake and later turned into a speakeasy at the height of Prohibition. If the walls could talk, they would undoubtedly have stories to tell. Owner and innkeeper Jack Su has carefully restored the two-story hotel to recreate an ambiance of a bygone era. The inn's 14 guest rooms are imbued with tasteful Victorian style and feature original wood floors, Persian rugs, Bradbury & Bradbury wallpapers, intricate crown molding, vintage light fixtures, and exquisite antiques. Among the few nods to the 21st Century are the luxurious ensuite marble bathrooms equipped with towel warmers and electronic bidets. Stays include a full breakfast served each morning.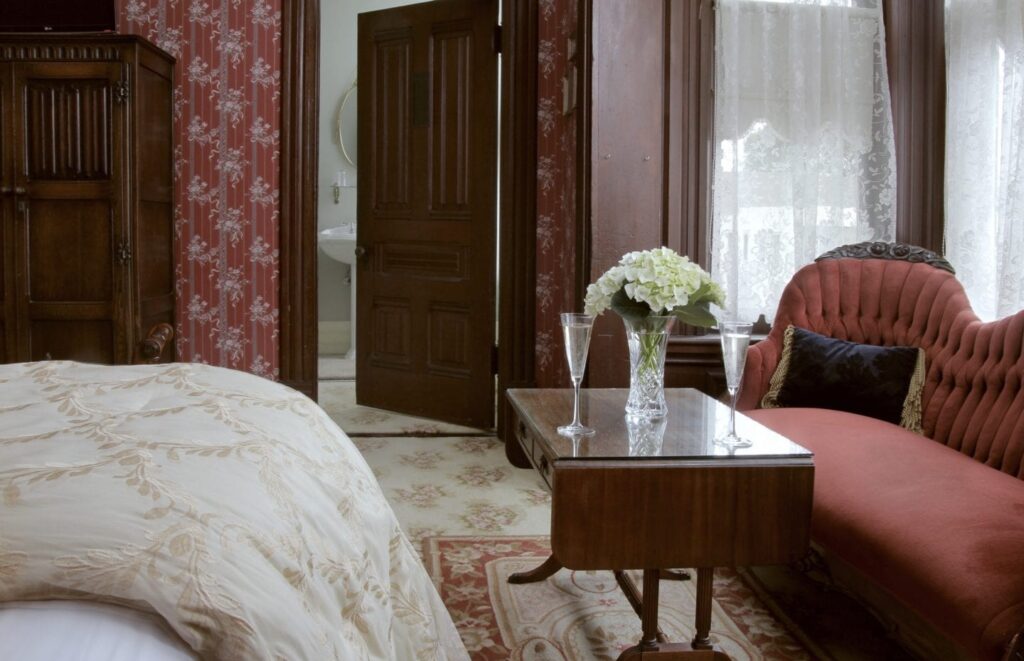 Victorian Inn
Seemingly bypassed by time, the picture-perfect town of Ferndale is lined with charming Victorian storefronts in the heart of California's Redwood Coast. Towering above the top of Main Street, the grand Victorian Inn beckons guests to experience the elegance and romance of the timber boom era. Built entirely of native redwood in 1890, the inn is an architectural treasure. The inn's elegant guest rooms feature 14-foot ceilings, original redwood trim, vintage fixtures, lace curtains, and antique furnishings. Some of the rooms also offer cozy fireplaces and large bay windows overlooking the town. The guest rooms are located on the second floor and share a common space with a kitchenette, seating areas, games, and self-serve coffee and tea. Downstairs, the inn houses the popular VI Restaurant, which provides fine dining in a romantic setting with a roaring fireplace and a grand piano.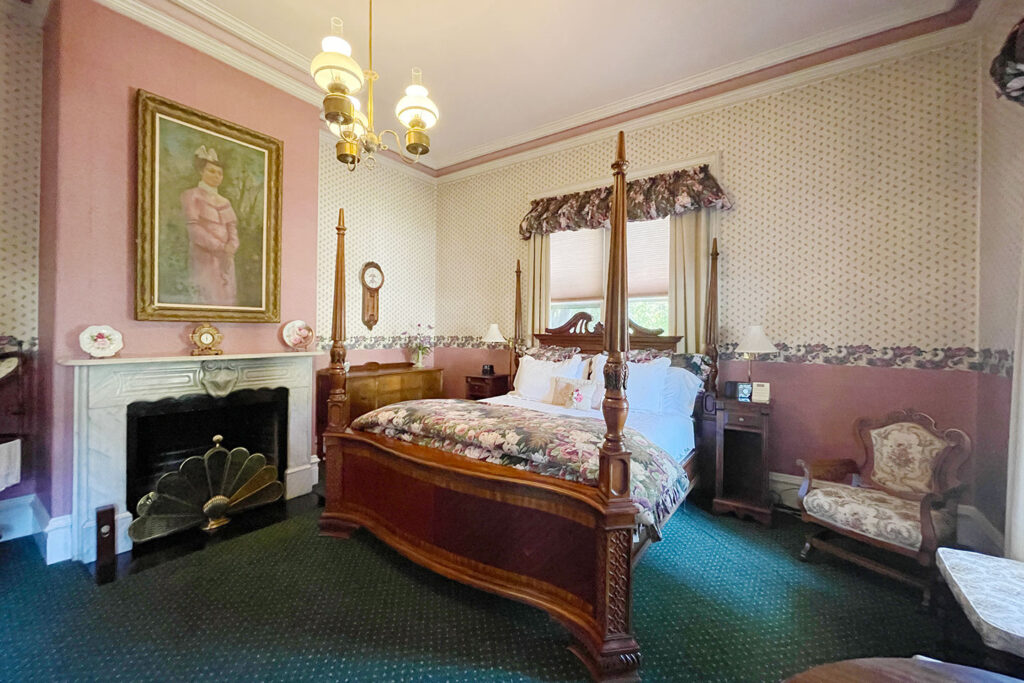 Gables Wine Country Inn
In the heart of Sonoma wine country, Gables Wine Country Inn is a beautifully restored Gothic Victorian built in 1877. The rose-hued mansion features gabled dormers with a turret and intricate wood trim. Inside, the mansion boasts three antique Italian marble fireplaces, an opulent mahogany spiral staircase, 12-foot ceilings, antique furnishings, and claw foot tubs in each of the main house guest rooms. One of the most spacious rooms is the Parlor Room, which features a massive king-sized four-poster bed and a marble fireplace. The inn is nestled on three and a half bucolic acres with an enchanting redwood grove, a small working vineyard, and an old barn that was part of the property's original cattle ranch. A stay includes a three-course breakfast served each morning and a wine passport for complimentary wine tastings.
Martine Inn
Overlooking the Monterey Bay in Pacific Grove, the Martine Inn offers commanding views of the waves crashing against the rocky shoreline. Originally the home of the Parke family (of Parke-Davis Pharmaceuticals), the inn features museum-quality antiques in every room, period-perfect wallpapers, and authentic paintings in the Plein Air tradition. Many of the inn's 25 guestrooms feature wood-burning fireplaces and claw foot tubs. Several also offer ocean views. A central courtyard is landscaped with a variety of roses and a carefully curated library is stocked with English classics and current gems. An antique billiard table stands in the game room. For car enthusiasts, the inn features an array of authentic vintage MG cars and racing memorabilia. The complimentary Victorian-style breakfast is a highlight of any stay at the Martine Inn. A chef-prepared gourmet entrée is served on fine China with antique silver and crystal.