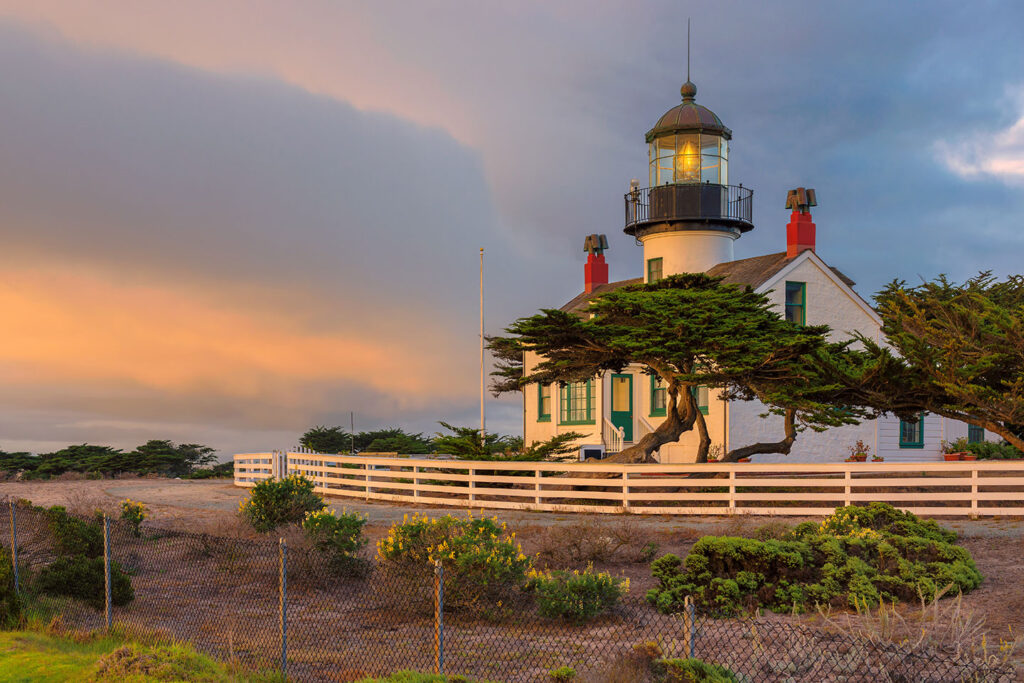 10 Charming Small-Town Getaways for Fall
As temperatures cool, the leaves turn vivid colors, and farms and vineyards harvest their fall bounty, some California destinations are at their peak. From the coast to the mountains and from north to south, these 10 charming small towns offer outdoor adventures, unique seasonal events and cuisine, and natural beauty that make them ideal for a cozy fall getaway.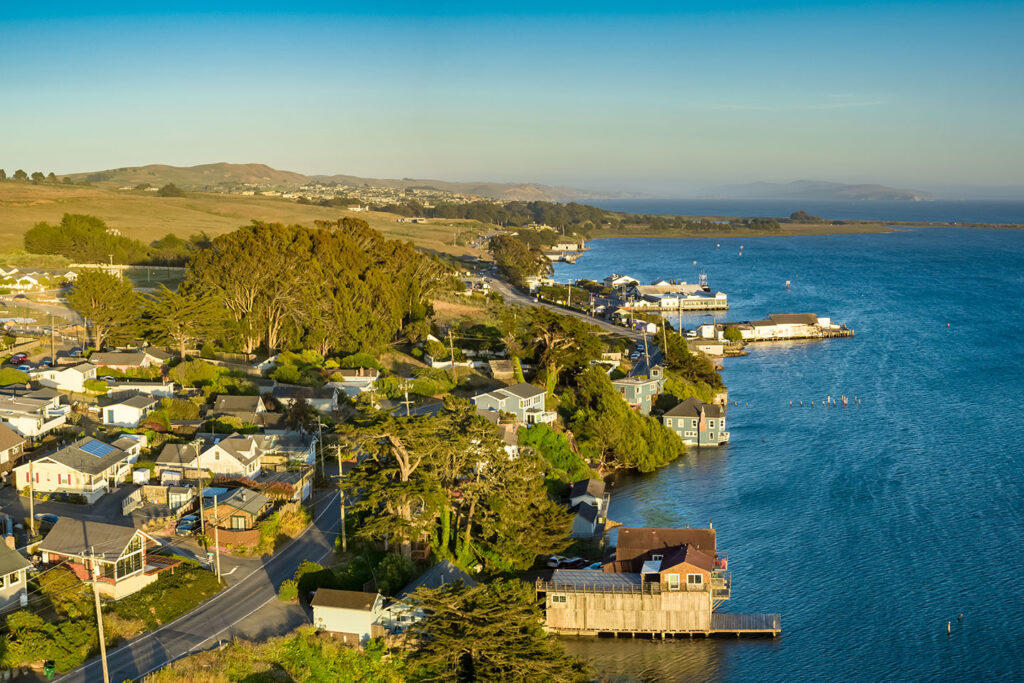 Bodega Bay
Alfred Hitchcock chose this sleepy beach community to film his famous horror film The Birds, thanks to its ghostly fog, quiet fishing harbor, and surrounding hills. These days, guests looking for a Halloween-themed getaway still like to stroll around town snapping photos of buildings and landscapes featured in the film. Fall is also an exciting time of year for some not-so-scary wildlife encounters, including bird-watching expeditions on local trails, whale watching from Bodega Head, or catching glimpses of cruising seals from a stand-up paddleboard or kayak. A variety of horseback riding opportunities abound, with miles of trails offering breathtaking ocean views from a mountaintop, meadow, sand dune, or beach. However visitors choose to pass the time in this picturesque fishing port, they'll likely work up a big appetite for the fresh Dungeness crab plucked from local waters.
Where to Stay: Just 300 yards from Bodega Bay and steps away from restaurants and galleries, Bodega Bay Inn is the quintessential California beach inn. The inn is known for its classy but laid-back Bodega Bay vibe, pet-friendly accommodations, and warm hospitality. Coincidentally, and as a nod to Alfred Hitchcock, the inn shares a name with the spooky hotel from the 'Puppet Master' horror series.
Santa Ynez
Located in northern Santa Barbara County, Santa Ynez is a short drive from the beaches of Santa Barbara and 125 miles up the coast from Los Angeles. Surrounded by rolling hills and rows of grapevines, the sophisticated cowboy town combines scenic beauty, rich history, and culinary delights. 1880s-era building facades and charming art galleries line the downtown area, while the surrounding valley offers horseback riding, hot air balloon rides, world-class hiking, and distinctive local wines. In fact, the Santa Barbara wine region is home to four distinct American Viticulture Areas (AVAs), which together produce more than a million cases each year. The valley is particularly gorgeous during the fall months, and the region celebrates the season with events that include fall harvest festivals, grape stomps, and wine and craft beer tastings.
Where to stay: ForFriends Inn is an immaculately detailed Craftsman farmhouse located in the center of town and surrounded by rolling hills, cattle ranches, horse farms, and over 200 vineyards and wineries. Santa Ynez Inn is a luxury Four Diamond inn that offers a bespoke experience of understated luxury and warm hospitality to those seeking an indulgent wine country getaway.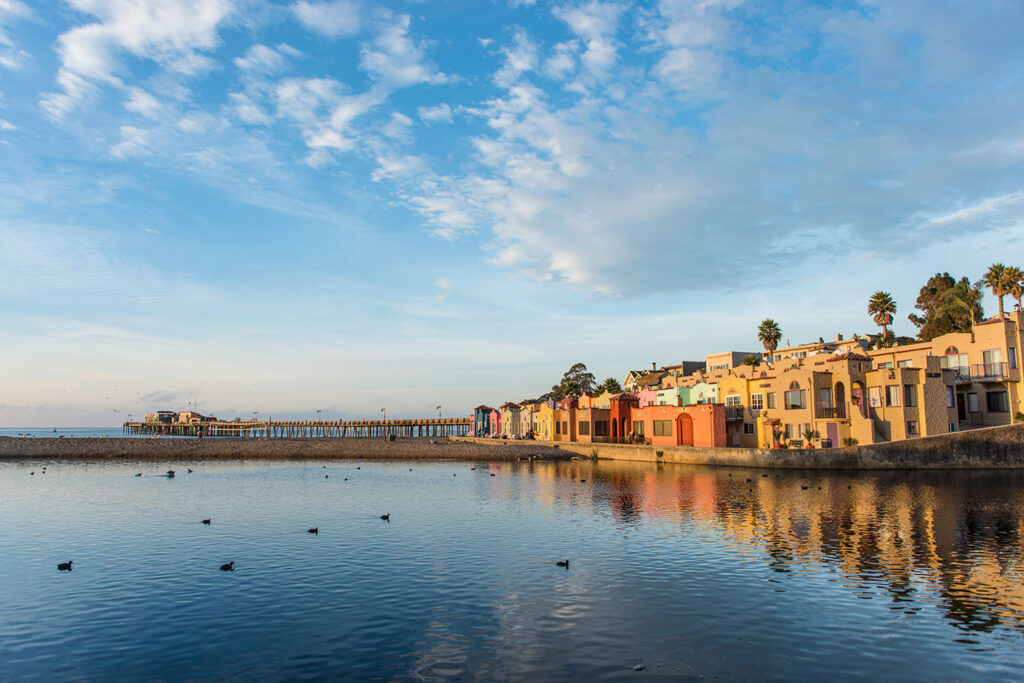 Capitola
Just south of Santa Cruz on the Monterey Bay, Capitola is the Pacific Coast's oldest seaside resort town. It features a bench-lined esplanade park that curves alongside pastel-colored beachside shops and restaurants before opening to a panoramic view of the sea. The nearby Capitola Wharf is ideal for a picnic lunch or a sunset stroll. A short drive away, vineyards drape the hills above nearby Soquel. In the fall, Capitola hosts a number of festivals: The Capitola Art & Wine Festival combines art, wine, music, and food, allowing guests to experience over 100 fine artists while sampling wines from 20 local wineries. The Capitola Beach Festival features a sand sculpture contest, fishing derby, rowboat races, horseshoe tournament, children's art, chalk art, and a lighted-boat nautical parade. During Capitola Plein Air, artists set up easels to capture the town's charms on canvas.
Where to Stay: On the Esplanade and with the beach just outside, Capitola Hotel features a serene courtyard and rooms inspired by Caribbean islands. In the town center, the Inn at Depot Hill boasts luxuriously appointed guest rooms that evoke famous international travel destinations. The Monarch Cove Inn is nestled among flower-filled gardens and a monarch butterfly habitat, all perched on a cliff overlooking Monterey Bay.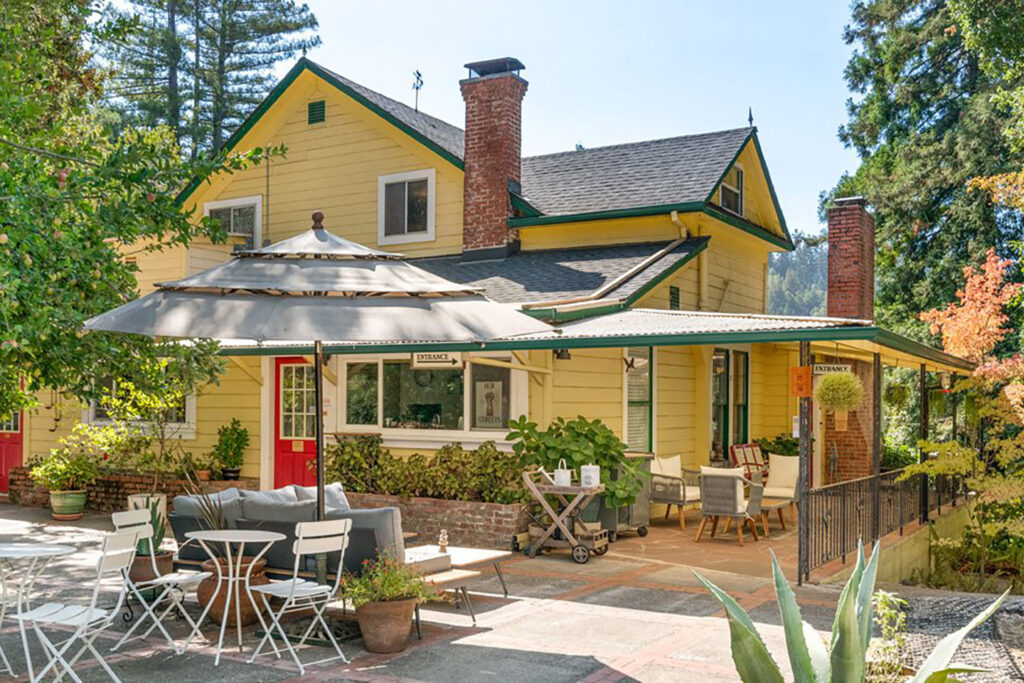 Guerneville
90 minutes north of San Francisco, Guerneville lies at the heart of the Russian River Valley. The town boasts a retro, eclectic Main Street lined with quaint shops, galleries, and eateries. Just a stone's throw away is Johnson's Beach, the heartbeat of town and primary access point to the river. One of the best times to enjoy the wildlife-rich river is during the fall, when crowds are smaller, the water is still clear, and the current is gentle. Food and wine lovers will find the region's bounty a delight, with more than 50 wineries within a 20-minute drive and abundant fall bounties of local apples and crabs. The undisputed star attraction of the region, however, is its population of ancient California Coast Redwoods—the tallest and among the oldest living things on the planet. In autumn, their majestic evergreen branches appear even greener against the pops of fall color.
Where to Stay: Mine + Farm is a 1906 farmhouse set on two-and-a-half acres. It espouses a modern approach to the bed and breakfast, with a focus on thoughtful design, a love of nature, and non-intrusive hospitality. The inn features made-in-California craft, local purveyors, farm-fresh eggs from the farm's own flock, and produce grown on the property.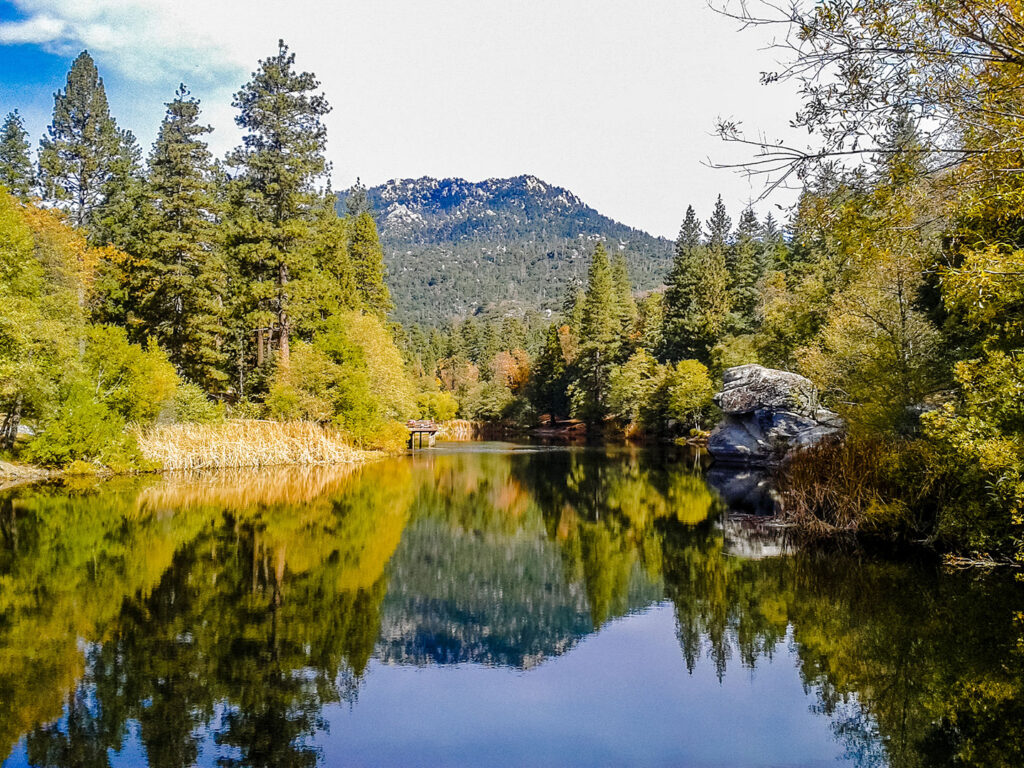 Idyllwild
Southern California is not generally known for its fall color, but along a scenic, winding drive up to the mountain town of Idyllwild in mid- to late-October, visitors will see the forests come alive with vibrant shades of gold, yellow, and orange. Surrounded by protected lands, the area is a year-round hiking mecca, but crisp air and endless views make fall one of the best times to get out on the trails. The town hosts a number of autumn festivals and events, including an authentic small-town Halloween Parade and Great Pumpkin Carnival, a Renaissance festival, and the Art Alliance Art Walk & Wine Tasting. Local restaurants and the town's own Middle Ridge Winery are known for live music from a thriving community of local musicians, and this year the Idyllwild Actors Theatre is presenting a local production of 'The Birds.'
Where to Stay: Spread across seven acres, Quiet Creek Inn features ten woodsy cottages lining Strawberry Creek. On the property, guests frequently encounter squirrels, rabbits, coyotes, bobcats, mule deer, and a variety of birds. Also along Strawberry Creek, the historic cedar-shingled Strawberry Creek Inn boasts nine rooms and a private cottage, more than an acre of natural gardens, and cozy outdoor seating areas.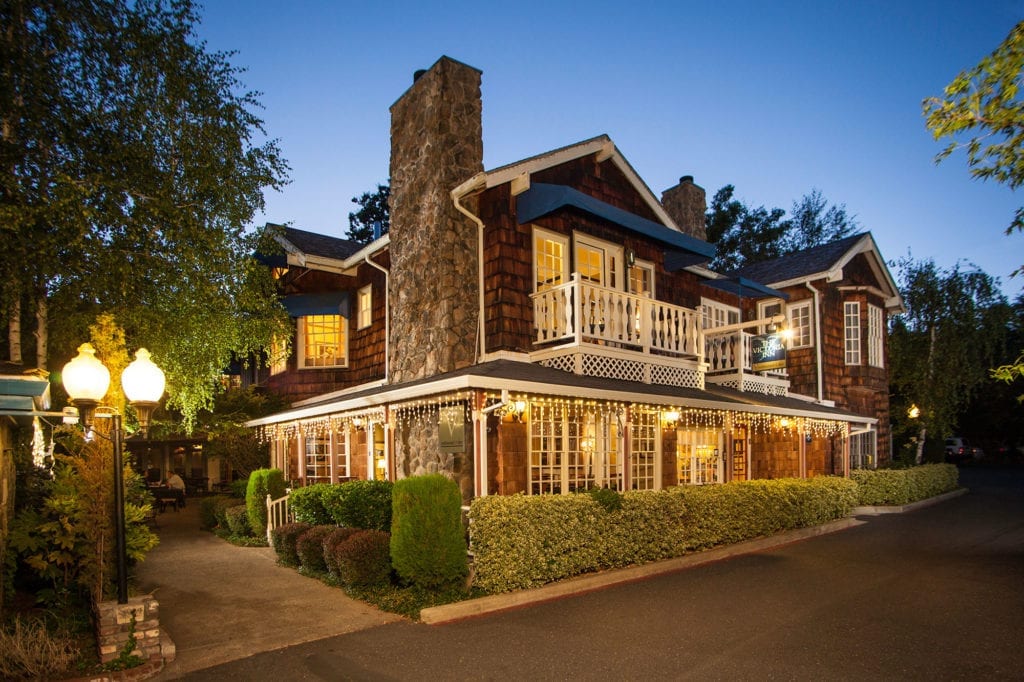 Murphys
Tucked in the Sierra Foothills is the old Gold Rush town of Murphys, a picturesque hamlet that features tree-lined streets and historic storefronts. Dozens of art galleries and wine tasting rooms line the town's charming streets. In autumn, the trees turn to a kaleidoscope of colors offering leaf-peeping while shopping, dining, or sipping al fresco in downtown Murphys. Visitors can find more fall color a short drive away at Calaveras Big Trees State Park and Ebbetts Pass National Scenic Byway. Also a quick drive from downtown, Murphys is home to over two dozen family-owned boutique wineries with tasting rooms that are far from the crowds of California's better-known wine regions. Murphys plays hosts to fall festivals each year, including the annual Dia de los Muertos celebration in early November. Visitors can also catch jazz and other live music in downtown most weekends.
Where to Stay: The cedar-shingled Victoria Inn exudes European charm with elegant décor, fireplaces, and claw-foot tubs. Dunbar House is a historic Italianate-style estate known for its white glove service and lush, well-manicured grounds. Courtwood Inn is a cedar log bed and breakfast set on a five-acre hilltop, with stunning views from every room.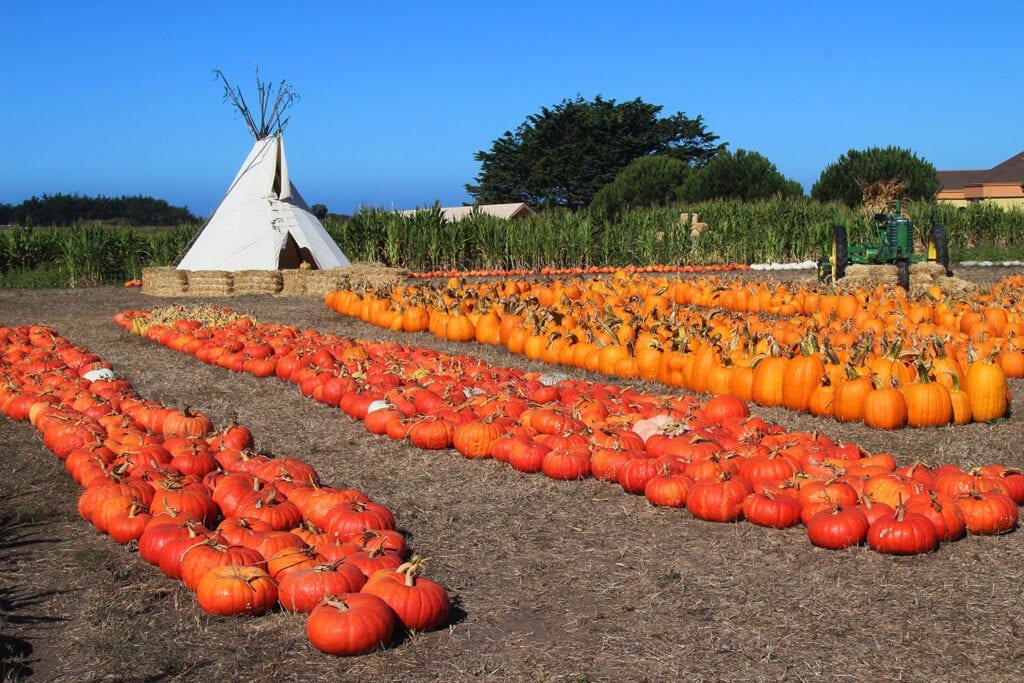 Half Moon Bay
Fondly regarded as the pumpkin capital of the world, Half Moon Bay produces more than 3,000 tons of pumpkins each year. Rich fall colors provide a scenic backdrop for fields of pick-your-own pumpkins, and local menus feature delicacies that include pumpkin cheese, pumpkin gnocchi, and even pumpkin beer. In a beautiful rural setting spread out along Highway 92 and Cabrillo Highway, visitors will find pumpkins in a wide variety of colors, shapes, and sizes. During the fall season, local farms offer pony rides, petting zoos, vintage tractor, hay, and train rides, hay and corn mazes, and haunted houses. The town's Main Street is a shopper's dream, with blocks of locally owned boutiques, galleries, and restaurants. This year, Bay Area artist Devlin Espeleta has hand-painted many of the store windows with cozy autumn scenes.
Where to stay: Mill Rose Inn is an easy walk to beaches, shops, and restaurants, and is renowned for its exuberant gardens and extravagant décor. Conveniently located on Main Street, Nantucket Whale Inn reflects the ambiance of a refined Nantucket Island home. Reminiscent of a European manor house, Seal Cove Inn sits on a bluff overlooking county parkland and the ocean beyond.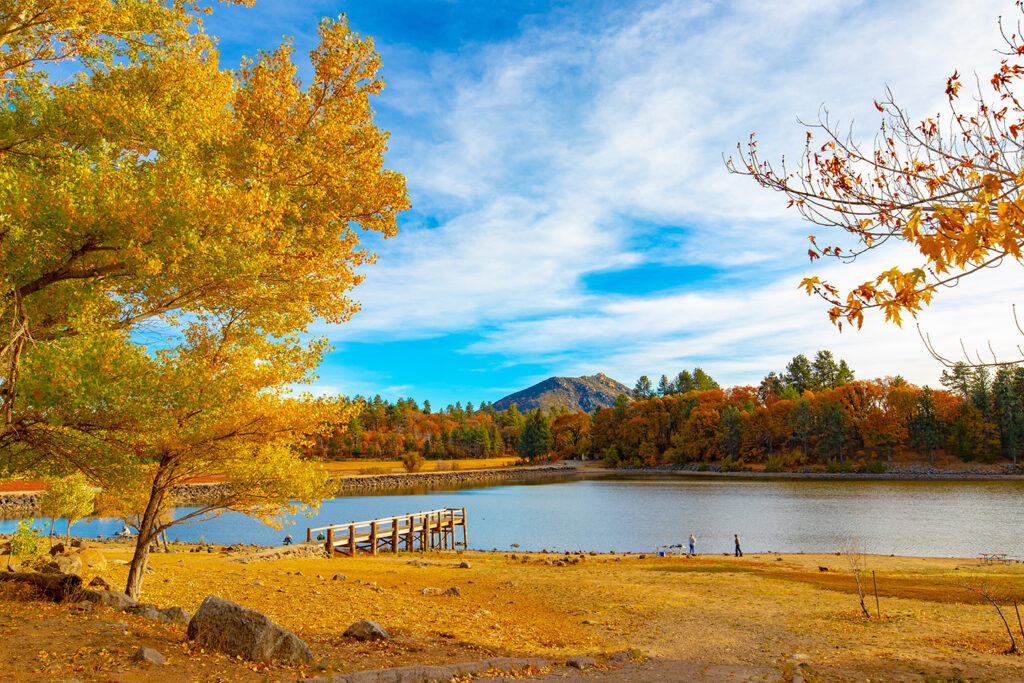 Julian
Nestled in the Cuyamaca Mountains an hour's drive from San Diego, the small town of Julian offers an easy escape to the country. The town's historic Main Street and its surrounding hillside streets are lined with old-fashioned restaurants, stores, and specialty shops. Despite San Diego county's reputation for beach weather, Julian's higher altitude creates spectacular shows of fall color, including black oak leaves that transition from bright greens to vivid golds and oranges. The area is known for its abundance of apple orchards, along with the apple pies and ciders that result from their harvest. Several farms and orchards in the area also offer u-pick apples, berries, and pumpkins. The mountains and valleys surrounding Julian create a microclimate perfect for growing wine, and 30 wineries along charming dirt roads combine to create a premiere wine destination.
Where to Stay: On five acres in the eastern hills of San Diego County, Orchard Hill Country Inn is an idyllic destination for exploring the inland wineries of North County. Among its popular amenities is an idyllic pond ringed with flowers, hammocks, and Adirondack chairs. The inn offers a variety of accommodations that feature whirlpool tubs, fireplaces, and private patios.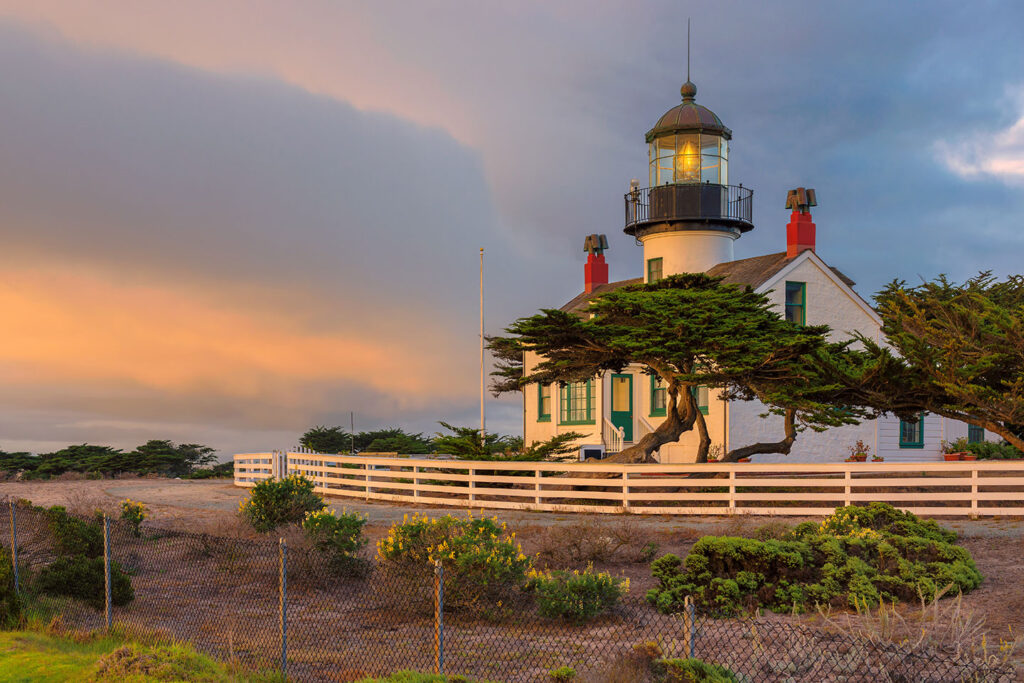 Pacific Grove
Known affectionately as Butterfly Town USA, Pacific Grove is a historic town on the coastal tip of the Monterey Peninsula. In the fall, the area attracts overwintering monarch butterflies by the thousands. The town celebrates the return of the monarchs each October with a Butterfly Parade that features school children dressed in orange and black butterfly wings. Visitors can also visit Point Pinos Lighthouse (the oldest continuously operating lighthouse on the West Coast), walk or bike the stunning coastal trail between the Monterey Bay Aquarium and Lover's Point, play a round of golf, go wine tasting, or explore historic downtown Pacific Grove with a self-guided walking tour. The area abounds with outdoor recreation, including cycling, hiking, whale watching, standup paddle boarding, and kayaking.
Where to Stay: Gosby House Inn is a Victorian mansion with a charming courtyard patio. Centrella Bed & Breakfast Innfeatures Victorian antique furnishings and clawfoot soaking tubs. Martine Inn is known for its museum quality antiques. Green Gables Inn is a Queen Anne Victorian steeped in storybook style. Seven Gables Inn exudes opulence, with crystal chandeliers, gilded-framed mirrors, and Persian rugs.
Truckee
Nestled in the Sierra Nevada mountains north of Lake Tahoe, Truckee has evolved into a destination hot-spot for outdoor enthusiasts. Mountain peaks rise above the historic old-west town, making it one of the most picturesque small towns in California. At the town's doorsteps, the Truckee River, Donner Memorial State Park, Tahoe National Forest, and more provide a plethora of outdoor adventures. During autumn, trails through the forests are ablaze with fall color, while cool, crisp mornings and warm, sunny afternoons make it for ideal hiking, trail running, rock climbing, and mountain biking. The vibrant mountain community also hosts a number of fall events, including the annual Foam Fest and several epic trail runs. (Truckee was unaffected by the recent Caldor Fire south of Lake Tahoe.)
Where to stay: Nestled on two forested acres across from Donner Lake, the contemporary mountain-themed Donner Lake Inn boasts an inviting great room with a wood-burning fireplace and in-room window benches for viewing the abundant wildlife. Frequent sightings include squirrels, deer, coyotes, migrating birds, and bald eagles soaring over the lake.